Navigation
LakesnWoods.com
Home Page
Contact Us
Privacy
Minnesota History Shop

Visit The Minnesota History Shop
www.minnesotahistoryshop.com
Historic maps
Historic books
Historic framed art
Historic postcards
Clothing with historic images
And much more!!!


Pelican Rapids Guide:
Photo Gallery
Location
Geography
Demographics
History
Government
Post Office
News
Weather
Street Map
Events
Attractions
Recreation
Lakes
Health Care
Schools
Churches
Media
Motels
Resorts
Campgrounds
Businesses
Aerial Photo
Topographic Map
Nearby Communities:
Barnesville
Dent
Detroit Lakes
Elizabeth
Erhard
Fergus Falls
Perham
Rothsay
Vergas
© 2004-2022
Lakeweb1 Internet Services
All Rights Reserved
DCMA, Defamation, Copyright and Trademark Infingement Policy
WANTED!
Do you have photos, historical accounts or other items pertaining to the Pelican Rapids area? Would you like to share this historical information with the world? LakesnWoods.com would like to publish your Pelican Rapids photos (current or historical) or historical accounts on this website. Original materials can be returned and your privacy will be respected.


(design available on over 100 different items!)

Pelican Rapids Minnesota Community Guide
---
Location:
---
Population:
Pelican Rapids (city)
1970
1980
1990
2000
2010
2000-2010 Change
Actual
Percent
Population
1,835
1,867
1,886
2,374
2,464
+90
+3.79
Land Area (sq. mile)
2.50
2.42
2.46
2.62
2.62
0
0.00
Density (persons per sq. mile)
734.00
771.49
766.67
905.76
940.46
+34.70
+3.79
Housing Units
658
853
844
962
984
+22
+2.29
Households
--
771
768
884
904
+20
+2.26
Persons Per Household
--
2.29
2.31
2.57
2.73
+0.16
+6.23
---
Geography:
Pelican Rapids is a city in Otter Tail County. U.S. Route 59 and Minnesota State Highway 108 are two of the main routes in the city. According to the United States Census Bureau, the city has a total area of 2.63 square miles (6.81 km2), of which 2.53 square miles (6.55 km2) is land and 0.10 square miles (0.26 km2) is water. The elevation is 1,306 feet (398 m).
From Wikipedia, the free encyclopedia.
---
Demographics:
As of the census of 2010, there were 2,464 people, 904 households, and 569 families residing in the city. The population density was 973.9 inhabitants per square mile (376.0/km2). There were 984 housing units at an average density of 388.9 per square mile (150.2/km2). The racial makeup of the city was 74.1% White, 5.8% African American, 0.9% Native American, 3.2% Asian, 0.7% Pacific Islander, 11.6% from other races, and 3.7% from two or more races. Hispanic or Latino of any race were 31.5% of the population.
There were 904 households of which 36.0% had children under the age of 18 living with them, 46.5% were married couples living together, 11.0% had a female householder with no husband present, 5.5% had a male householder with no wife present, and 37.1% were non-families. 33.0% of all households were made up of individuals and 19% had someone living alone who was 65 years of age or older. The average household size was 2.66 and the average family size was 3.42.
The median age in the city was 35.4 years. 28.6% of residents were under the age of 18; 9.2% were between the ages of 18 and 24; 23.9% were from 25 to 44; 21.1% were from 45 to 64; and 17.1% were 65 years of age or older. The gender makeup of the city was 49.6% male and 50.4% female.
---
---
History:
PELICAN RAPIDS, a city in sections 21, 22, 27, and 28 of Pelican Township, was platted in 1872 where the river descends with rapids over drift boulders and incorporated December 10, 1883. The Ojibwe gave to Lake Lida their name of the pelican, spelled Shada by Henry W. Longfellow's Song of Hiawatha, and they applied the same name to the Pelican River from this lake and Lake Lizzie to its junction with the Otter Tail River. W. G. Tuttle, considered its founder, came from New York in 1870 and built a sawmill; O. A. Edward Blyberg, first postmaster from 1872, when it was established, until 1886, first merchant, and first builder of a frame house, was born in Norway in 1850, came to the United States in 1865 and to this community in 1871; he also opened the first drugstore with Frank E. Blodgett; he died in 1921. The village had a Great Northern Railway station in section 27.
Courtesy Minnesota Historical Society
---
Government:
Pelican Rapids City Hall
315 North Broadway
PO Box 350
Pelican Rapids, MN 56572
Phone: (218) 863-7076
Fax: (218) 863-7077

Regular Business Hours:
Monday - Friday 8:00 am - 5:00 pm

City Council Meetings:
2nd and last Tuesday of the month at 5:00 pm


Title
Term Ends
Name and Address
Phone
Mayor
12/31/2022
Brent E. Frazier
100 1st Street SE - PO Box 255
Pelican Rapids, MN 56572
(218) 850-3770
Administrator/Clerk
appointed
Donald Solga
315 North Broadway
Pelican Rapids, MN 56572
(218) 863-7076
Council Member
12/31/2022
Steve Strand
725 5th Street SE
Pelican Rapids, MN 56572
(218) 863-5249
Council Member
12/31/2022
Curt Markgraf
217 2nd Avenue NE
Pelican Rapids, MN 56572
(218) 731-9036
Council Member
12/31/2024
Steve J Foster
101 1st Avenue NW
Pelican Rapids, MN 56572
(218) 329-1251
Council Member
12/31/2024
Kevin Ballard
31 2nd Avenue NW
Pelican Rapids, MN 56572
(218) 530-0029
(218) 863-3150
---
Post Office:
US Post Office
25 E Mill Street
Pelican Rapids, MN 56572
Phone: (218) 863-5201
Toll Free: (800) ASK-USPS

Regular Business Hours:
Week Days 8:00 am - 1:30 pm
2:15 pm - 4:30 pm
Saturday 8:00 am - 10:00 am
---
Utilities:
---
Major Employers:
---
---
News:
---
Weather:
---
Map:

Minnesota State Highway Map of the Pelican Rapids Minnesota area
---
Events:
---
---
Attractions:
---
Recreation:
Birchwood Golf Course
19711 430th Street
Pelican Rapids, MN 56572
Phone: (218) 863-6486
Lida Greens Golf Course
22950 State Highway 108
Pelican Rapids, MN 56572
Phone: (218) 863-1531
Web: www.lidagreensgolf.biz

Our nine hole executive course was built to take advantage of the natural lay and hazards of the land and several of our greens and tees provide a spectacular view of Lake Lida.

Maplewood State Park
39721 Park Entrance Road
Pelican Rapids, MN 56572
Phone: (218) 863-8383
Web: http://www.dnr.state.mn.us/state_parks
/maplewood/index.html

Eight major lakes and many ponds offer water lovers places to swim, fish, boat, and simply relax. Lake Lida has a sandy beach and large picnic areas for visitors. Drive along the scenic route to observe the wildlife: the park is host to 150 bird species and 50 species of mammals. The extensive trail system attracts hikers, horseback riders, and cross-country skiers.

Rolling Hills Golf Course
49930 County Highway 9
Pelican Rapids, MN 56572
Phone: (218) 532-2214

The 9-hole "Rolling Hills" course at the Rolling Hills Golf Course facility in Pelican Rapids, Minnesota features 2,740 yards of golf from the longest tees for a par of 35 . The course rating is 35 and it has a slope rating of 108. Designed by Jimmy Flem, the Rolling Hills golf course opened in 1966. Cyrill Flem manages the course as the Owner/Manager/Superintendent.
---
Lakes:
Lake Name
Size
(acres)
Lake info
Lake Map
Rec Map
Topo Map
Beers
267
Big Cormorant
3421
Crystal
1412
Elbow
91
Franklin
1087
Grass
70
Grove
n/a
n/a
Helgeson
n/a
n/a
n/a
Ida
580
Jacobs
103
Lida
n/a
n/a
North Lida
5513
South Lida
775
Lizzie
4035
Olaf
143
Pelican
3986
Pete
n/a
n/a
n/a
Prairie
1016
Sand
124
Star
4453
Sybil
706
Tamarack
392
Twenty-One
122
---
Health Care:
Sanford Health Pelican Rapids Clinic
211 E Mill Street
Pelican Rapids, MN 56572
Phone: (218) 863-6100
Toll Free: (800) 228-8685
Web: www.sanfordhealth.org

Sanford Health, one of the largest health systems in the United States, is dedicated to the integrated delivery of health care, genomic medicine, senior care and services, global clinics, research and affordable insurance. Headquartered in Sioux Falls, South Dakota, the organization includes 44 hospitals, 1,400 physicians and more than 200 Good Samaritan Society senior care locations in 26 states and nine countries.
---
Schools:
---
Churches:
Assembly of God Church
112 1st Street NE
Pelican Rapids, MN 56572
Phone: (218) 863-5642

Pastor:
Sunday Worship:

Calvary Evangelical Free Church
101 10th Avenue SE
PO Box 365
Pelican Rapids, MN 56572
Phone: (218) 863-2476
Web: www.calvaryefreechurch.com

Pastor: Bob Satterlie
Sunday Worship: 9:30 am

Central Lutheran Church
38953 County Highway 3
Pelican Rapids, MN 56572
Phone: (218) 863-8743

Pastor:
Sunday Worship:

Faith Lutheran Church
423 S Broadway
PO Box 386
Pelican Rapids, MN 56572
Phone: (218) 863-2926

Pastor: Roger L Rotvold
Sunday Worship:

First Congregational Church
25 1st Avenue NE
Pelican Rapids, MN 56572
Phone: (218) 863-1862

Pastor:
Sunday Worship:

Grove Lake Lutheran Church
17511 470th Street
Pelican Rapids, MN 56572
Phone: (218) 863-4273

Pastor:
Sunday Worship:

Our Redeemer Lutheran Church
10th Avenue S
Pelican Rapids, MN 56572
Phone: (218) 863-1897

Pastor:
Sunday Worship:

Pelican Rapids Baptist Church
300 2nd Street NW
Pelican Rapids, MN 56572
Phone: (218) 863-1626

Pastor:
Sunday Worship:

St. Leonard Catholic Church
36 1st Avenue NE
Pelican Rapids, MN 56572
Phone: (218) 863-5161

Pastor:
Sunday Worship:

St. Mary of the Lakes Catholic
20996 County Highway 20
Pelican Rapids, MN 56572
Phone: (218) 532-2502

Pastor:
Sunday Worship:

Trinity Lutheran Church
315 E Mill Street
Pelican Rapids, MN 56572
Phone: (218) 863-2424
Web: www.pelicanrapidstrinity.com

Pastor: Laurie Skow-Anderson
Sunday Worship: 10:30 am
---
Media:
Pelican Rapids Press
29 W Mill Street
PO Box 632
Pelican Rapids, MN 56572
Phone: (218) 863-1421
Fax: (218) 863-1423

Weekly paper published on Wednesdays with a circulation of 2713
---
Motels:
Cormorant Inn & Suites
10510 County Highway 5
Pelican Rapids, MN 56572
Phone: (218) 439-3535
Pelican Motel
900 N Broadway
Pelican Rapids, MN 56572
Phone: (218) 863-3281
Web: www.pelicanrapidsmotel.com

Sixteen smoking and non-smoking rooms
Check for motel rates and availability on:
---
Resorts:
Bayview Shores Resort
20393 S Pelican Drive
Pelican Rapids, MN 56572
Phone: (218) 532-2426
Cross Point Resort
39870 Cross Point Lane
Pelican Rapids, MN 56572
Phone: (218) 863-8593
Web: www.crosspointresort.com

Cross Point Resort is on South Lake Lida with easy access to North Lida as well. We have 48 acres which gives you plenty of room for nature hikes and sight seeing, and the view from our beach is Minnesota's beautiful Maplewood State Park. Peace and quiet surrounds us, yet we are only a few miles from Pelican Rapids.

Crystal Lida Resort & RV Park
26389 County Highway 4
Pelican Rapids, MN 56572
Phone: (218) 863-8155
Web: www.crystallidaresort.com

Whether you want a peaceful and quiet getaway, fishing on one of Ottertail County's top Walleye lakes, biking, golfing, or shopping, Crystal Lida Resort is the place for you!

End of the Road Resort

14146 N Beach Point

Pelican Rapids

,

MN

56572

Phone:

(218) 532-2365

‎

Jacob's Cove
23163 State Hwy 108
Pelican Rapids, MN 56572
Phone: (218) 863-4281
Web: www.jacobscove.com

We have (3) 2-Bedroom Units...(one is an upstairs unit) and (2) 3-bedroom units on the shore of the 6,400 acre Lake Lida, just 4 miles east of Pelican Rapids, Minnesota on Hwy 108 E. There are picnic tables, grills (gas and charcoal), an open area with a fire ring with wood for bonfires, fish cleaning area, tubes, and lake swimming. We have a sandy bottom swim area with a swim raft.

Lake Lizzie Shores Resort
47627 E Lake Lizzie Road
Pelican Rapids, MN 56572
Phone: (218) 863-5900
Web: www.lakelizzieshores.com

For four generations, Lake Lizzie Shores has been helping guests create memories like these that fill your everyday life with sparkle and fun. We hope you visit soon and start creating your own memories at Lake Lizzie Shores Resort and Campground.

Lakeside on Lida Resort
23479 430th Street
Pelican Rapids, MN 56572
Phone: (218) 863-8942
Web: www.lakesideonlida.com

If you are looking for an ideal place for a family vacation, you will find such a place at Lakeside on Lida Resort. We are located just five miles east of Pelican Rapids on the west central shore of Lake Lida in Ottertail County.

Leisure Lane Resort
20473 Leisure Drive
Pelican Rapids, MN 56572
Phone: (218) 863-4490
Web: www.leisurelaneresort.com

Discover a quiet, unhurried way of life at Leisure Lane Resort nestled in Pelican Rapids, Minnesota on Prairie Lake. Leisure Lane Resort offers a multitude of activities and lots of ways to relax.

Loghaven Resort
26199 County Highway 4
Pelican Rapids, MN 56572
Phone: (218) 863-8123
Maple Beach Resort
23532 State Highway 108
Pelican Rapids, MN 56572
Phone: (218) 863-5248

We are a cozy family resort that emphasizes discovery of the outdoors and the staple bait, we have a small store with groceries, a library and a restaurant that serves hamburgers.

Northshore Resort
26384 County Highway 4
Pelican Rapids, MN 56572
Phone: (218) 863-8043
Solinger's Resort
41569 Dawn Road
Pelican Rapids, MN 56572
Phone: (218) 863-4285
Web: www.solingersresort.com

We offer fifteen clean and attractive housekeeping cottages on spacious, well-kept grounds. Solinger's is a family resort with clean, sandy swimming and play areas, boats, fishing, and peaceful surroundings. Located on Lake Lida in Otter Tail County, four miles east of Pelican Rapids, Minnesota.

Swanie's Resort & Campground
12668 County Highway 5
Pelican Rapids, MN 56572
Phone: (218) 532-2583
---
Campgrounds:
Crystal Lida Resort & RV Park
26389 County Highway 4
Pelican Rapids, MN 56572
Phone: (218) 863-8155
Web: www.crystallidaresort.com

Whether you want a peaceful and quiet getaway, fishing on one of Ottertail County's top Walleye lakes, biking, golfing, or shopping, Crystal Lida Resort is the place for you!

Pelican Hills RV Park
20098 S Pelican Drive
Pelican Rapids, MN 56572
Phone: (218) 532-3726
Toll Free: (800) 430-2267
Web: www.pelicanhillspark.com

Pelican Hills RV Park with 175 sites is primarily a Seasonal Campground and RV Park. A limited number of sites are available by the Day, Week or Month. Call for availability.

Tony's Campground
10682 E Lake Ida Lane
Pelican Rapids, MN 56572
Phone: (218) 532-2537
---
---
Businesses:
---
---
Aerial Photo:
---
Topographic Map: [click map to enlarge, zoom in or zoom out]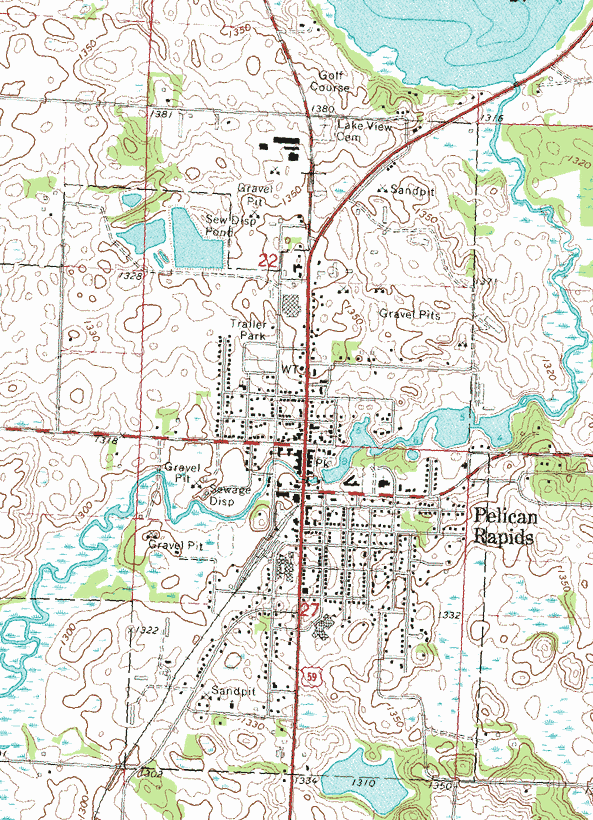 Topographic map is courtesy of the Minnesota DNR -
click map
to zoom or enlarge