Navigation
LakesnWoods.com
Home Page
Contact Us
Privacy
Minnesota History Shop

Visit The Minnesota History Shop
www.minnesotahistoryshop.com
Historic maps
Historic books
Historic framed art
Historic postcards
Clothing with historic images
And much more!!!


Fergus Falls Guide:
Photo Gallery
Location
Geography
Demographics
History
Government
Post Office
News
Weather
Street Map
Events
Attractions
Recreation
Lakes
Health Care
Schools
Churches
Media
Motels
Resorts
Campgrounds
Businesses
Aerial Photo
Topographic Map
© 2004-2022
Lakeweb1 Internet Services
All Rights Reserved
DCMA, Defamation, Copyright and Trademark Infingement Policy

WANTED!
Do you have photos, historical accounts or other items pertaining to the Fergus Falls area? Would you like to share this historical information with the world? LakesnWoods.com would like to publish your Fergus Falls photos (current or historical) or historical accounts on this website. Original materials can be returned and your privacy will be respected.

Fergus Falls Minnesota Community Guide
---
Location:
---
Population:
Fergus Falls (city)
1970
1980
1990
2000
2010
2000-2010 Change
Actual
Percent
Population
12,443
12,519
12,362
13,471
13,138
-333
-2.47
Land Area (sq. mile)
6.80
8.51
9.74
13.06
13.06
0
0.00
Density (persons per sq. mile)
1,829.85
1,471.09
1,269.20
1,031.49
1,005.97
-25.52
-2.48
Housing Units
4,134
4,927
5,385
5,909
6,342
+433
+7.33
Households
--
4,686
5,080
5,633
5,814
+181
+3.21
Persons Per Household
--
2.44
2.29
2.25
2.26
+0.01
+0.44
---
Geography:
Fergus Falls is a city in and the county seat of Otter Tail County, Minnesota. According to the United States Census Bureau, the city has a total area of 15.37 square miles (39.81 km2), of which 14.11 square miles (36.54 km2) is land and 1.26 square miles (3.26 km2) is water. Interstate 94 / U.S. Route 52 / U.S. Route 59 and Minnesota State Highway 210 (co-signed) and County Highways 1, 82 and 88 are the main routes in Fergus Falls. The elevation is 1,181 ft (360 m) above sea level.
From Wikipedia, the free encyclopedia.
---
Demographics:
---
---
History:
FERGUS FALLS, platted in August 1870, on a site that had been selected and named in 1857, was incorporated as a village February 29, 1872, and as a city March 3, 1881. Within the city limits, along a course of about three miles, the Otter Tail River descends nearly 70 feet, having originally comprised here a nearly continuous series of rapids, flowing over boulders of the glacial drift. The county seat was first located in 1868 at Otter Tail City and was removed to Fergus Falls in the later part of 1872. The township of this name, which included the north half of the present city area, was organized June 29, 1870.
The first permanent settler was Ernest Buse, who came in 1865 and became the first mayor; George Burdick Wright of Minneapolis, who came in 1867 and built a dam in 1870 and a sawmill and flour mill in 1871, was instrumental in the development of the community. The site was platted in August 1870 by George Wright. The post office began in 1870, with H. N. Hannigson (Henreich Hanigsen) as first postmaster.
James Fergus, for whom the township and city were named, was born in Lanarkshire, Scotland, October 8, 1813. "At the age of nineteen he came to America with the idea of improving his fortune. He located in Canada at first, where he spent three years and learned the trade of millwright. . . . In 1854 he removed to Little Falls, Minnesota, and, in company with C. A. Tuttle, built a dam across the Mississippi and platted a village. Here he remained for two or three years. During the townsite speculation fever, in the winter of 1856 and 1857, Joseph Whitford, a blacksmith and steamboat engineer, a natural frontiersman, possessed of uncommon courage, energy and prudence, proposed to go out and take up a townsite at what was known as Graham's Point, on the Red [Otter Tail] river. Mr. Fergus furnished the necessary outfit for this expedition. Procuring a dog train and a half-breed guide, Whitford went to Graham's Point and staked out a town. On their way back, at Red river, an Indian family told them of a better place for a town twenty miles distant. Leaving his half-breed to recruit, Whitford took an Indian as a guide and went to the place designated and staked off what is now Fergus Falls, the name being given by the exploring party in honor of the man who had furnished the outfit for the expedition. Mr. Fergus himself never visited the place.
"In 1862 Mr. Fergus drove his own team from Little Falls, Minnesota, to Bannock, Montana territory. He became quite prominent in territorial affairs and was influential in the organization of the new county of Madison in that territory, and held many positions of trust and responsibility. He served two terms in the Montana legislature, and was a member of the constitutional convention of 1887" (History of Otter Tail County, 1916, pp. 479, 480). Fergus County in Montana was named in his honor. He died near Lewistown in that county, June 25, 1902.
Courtesy Minnesota Historical Society
---
Government:
Fergus Falls City Hall
112 W Washington Avenue
Fergus Falls, MN 56537
Phone: (218) 332-5400
Fax: (218) 332-5449

Regular Business Hours:
Monday - Friday 8:00 am - 4:30 pm

City Council Meetings:
1st and 3rd Mondays of the month at 5:30 pm

Title
Term Ends
Name and Address
Phone
Mayor
12/31/2024
Ben Schierer
320 W Vernon Avenue
Fergus Falls, MN 56537
(218) 332-5445
City Administrator
appointed
Andrew Bremseth
112 W Washington Avenue
Fergus Falls, MN 56537
(218) 332-5403
Finance Manager
appointed
William Sonmor
112 W Washington Avenue
Fergus Falls, MN 56537
(218) 332-5407
Council Member - First Ward
12/31/2022
Krista Hagberg
622 E Gustavus Avenue
Fergus Falls, MN 56537
(218) 332-0332
Council Member - First Ward
12/31/2024
Jim Fish
3514 Pebble Shores Drive
Fergus Falls, MN 56537
(218) 205-4327
Council Member - Second Ward
12/31/2022
Scott Kvamme
702 E Lakeside Drive
Fergus Falls, MN 56537
(218) 739-5813
Council Member - Second Ward
12/31/2024
Tom Rufer
507 E Beech Avenue
Fergus Falls, MN 56537
(218) 394-7663
Council Member - Third Ward
12/31/2022
Justin Arneson
1024 Circle Lane
Fergus Falls, MN 56537
(218) 531-9564
Council Member - Third Ward
12/31/2024
Brent Thompson
1008 W Lincoln Avenue
Fergus Falls, MN 56537
(218) 640-6066
Council Member - Fourth Ward
12/31/2022
Karoline Gustafson
706 W Summit Avenue
Fergus Falls, MN 56537
(218) 531-9148
Council Member - Fourth Ward
12/31/2024
Anthony Hicks
510 W Cavour Avenue
Fergus Falls, MN 56537
(218) 731-5121
---
Post Office:
US Post Office
1011 Western Avenue
Fergus Falls, MN 56537
Phone: (218) 736-4714
Toll Free: (800) ASK-USPS

Regular Business Hours:
Weekdays 8:30 am - 5:00 pm
Saturday 8:30 am - 10:30 am
---
Utilities:
---
Major Employers:
---
---
News:
---
Weather:
---
Map: Area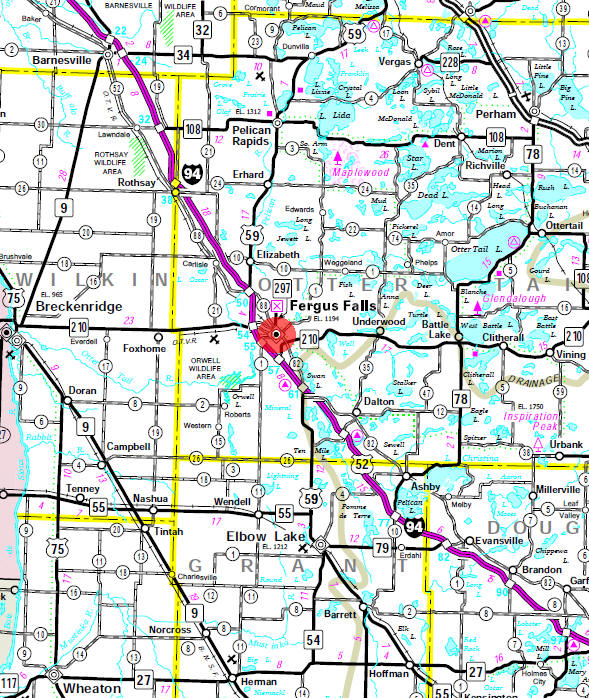 Minnesota State Highway Map of the Fergus Falls Minnesota area
---
Events:
---
---
Attractions:
---
Recreation:
---
Lakes:
---
Health Care:
---
Schools:
---
Churches:
---
Media:
---
Motels:
Check for motel rates and availability on:
---
Resorts:
---
Campgrounds:
---
---
Businesses:
---
---
Aerial Photo: Area
---
Topographic Map: [click map to enlarge, zoom in or zoom out]