Navigation
LakesnWoods.com
Home Page
Contact Us
Privacy
Minnesota History Shop

Visit The Minnesota History Shop
www.minnesotahistoryshop.com
Historic maps
Historic books
Historic framed art
Historic postcards
Clothing with historic images
And much more!!!


Rothsay Guide:
Photo Gallery
Location
Geography
Demographics
History
Government
Post Office
News
Weather
Street Map
Events
Attractions
Recreation
Lakes
Health Care
Schools
Churches
Media
Motels
Resorts
Campgrounds
Businesses
Aerial Photo
Topographic Map
© 2004-2022
Lakeweb1 Internet Services
All Rights Reserved
DCMA, Defamation, Copyright and Trademark Infingement Policy
WANTED!
Do you have photos, historical accounts or other items pertaining to the Rothsay area? Would you like to share this historical information with the world? LakesnWoods.com would like to publish your Rothsay photos (current or historical) or historical accounts on this website. Original materials can be returned and your privacy will be respected.

Rothsay Minnesota Community Guide
---
Location:
---
Population:
Rothsay (city)
1970
1980
1990
2000
2010
2000-2010 Change
Actual
Percent
Population
301
278
253
271
493
+222
+81.92
Land Area (sq. mile)
0.50
1.95
2.03
2.03
4.00
+1.97
+97.04
Housing Units
121
126
120
117
250
+133
+113.68
Households
--
116
107
103
211
+108
+104.85
Persons Per Household
--
2.40
2.36
2.63
2.34
-0.29
-11.03
---
Geography:
Rothsay is a city in Otter Tail and Wilkin counties in the State of Minnesota. Interstate Highway 94, Center Street, and Main Avenue are three of the main routes in the community.According to the United States Census Bureau, the city has a total area of 0.88 square miles (2.28 km2), all of it land. The elevation is 1,211 feet (369 m).
From Wikipedia, the free encyclopedia.
---
Demographics:
As of the census of 2010, there were 493 people, 211 households, and 140 families residing in the city. The population density was 560.2 inhabitants per square mile (216.3/km2). There were 250 housing units at an average density of 284.1 per square mile (109.7/km2). The racial makeup of the city was 98.8% White, 0.8% Native American, and 0.4% Asian. Hispanic or Latino of any race were 0.2% of the population.
There were 211 households of which 32.7% had children under the age of 18 living with them, 49.8% were married couples living together, 9.5% had a female householder with no husband present, 7.1% had a male householder with no wife present, and 33.6% were non-families. 28.4% of all households were made up of individuals and 11.4% had someone living alone who was 65 years of age or older. The average household size was 2.34 and the average family size was 2.80.
The median age in the city was 37.1 years. 25.8% of residents were under the age of 18; 5.7% were between the ages of 18 and 24; 28.8% were from 25 to 44; 24% were from 45 to 64; and 15.8% were 65 years of age or older. The gender makeup of the city was 51.3% male and 48.7% female.
---
---
History:
ROTHSAY, a city in sections 25 and 36 of Tanberg, governed with Otter Tail County, was named by officers of the railway company for Rothesay, a seaport and watering place about 30 miles west of Glasgow, Scotland. This is the only use of the name in the United States. The city was incorporated as a village on March 5, 1883. The Great Northern Railway came in 1879, and the post office began in 1880 with postmaster Anders B. Pederson.
Courtesy Minnesota Historical Society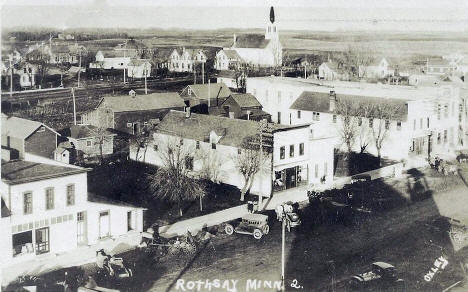 General view, Rothsay Minnesota, 1910
LakesnWoods.com Postcard and Postcard Image Collection - click to enlarge

Visit The Rothsay Photo Gallery for more recent and historic area photos
---
Government:
Rothsay City Hall
108 2nd Street NW
PO Box 117
Rothsay, MN 56579
Phone: (218) 867-2254
Fax: (218) 867-2147

Regular Business Hours:
Monday - Thursday 9:00 am - 3:00 pm

City Council Meetings:
1st Monday of the month at 7:00 pm


Title
Term Ends
Name and Address
Phone
Mayor
12/31/2022
Joe Tillman
506 W Main Avenue
Rothsay, MN 56579


(701) 371-5992
Clerk/Treasurer
appointed
Lisa Zimmerman
PO Box 117
Rothsay, MN 56579
(218) 867-2254
Council Member
12/31/2022
Darrell "Tolly" Tollefson
111 2nd Street SE
Rothsay, MN 56579
(218) 770-8966
Council Member
12/31/2022
Daryl Schleeter
109 1st Avenue SW
Rothsay, MN 56579
(218) 867-2333
Council Member
12/31/2024
Anthony Harris
115 3rd Street SW
Rothsay, MN 56579
(701) 866-9227
Council Member
12/31/2024
Tulsa-Leigh Kugler
316 NW Terrace Drive
Rothsay, MN 56579
(218) 770-4609
---
Post Office:
US Post Office
211 1st Street SW
Rothsay, MN 56579-9998
Phone: (218) 867-2447
Toll Free: (800) ASK-USPS

Regular Business Hours:
Week Days 8:00 am - 12:00 pm
Saturday 7:45 am - 8:45 am
---
---
Utilities:
---
Major Employers:
Employer
Products/Services
Employees

n/a
---
---
News:
---
Weather:
---
Map:
View Larger Map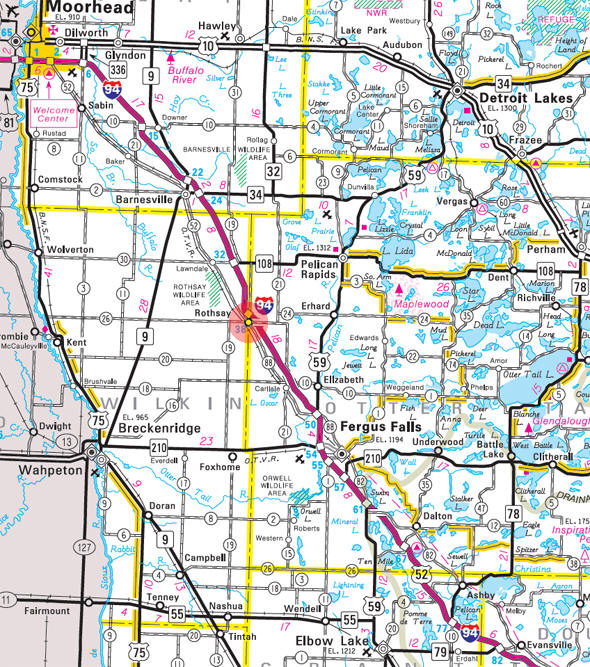 Minnesota State Highway Map of the Rothsay Minnesota area
---
Events:
---
---
Attractions:
---
Recreation:
---
Lakes:
Lake Name
Size
(acres)
Lake info
Lake Map
Rec Map
Topo Map
none in the immediate area
---
Health Care:
---
Schools:
Rothsay School
123 2nd Street NW
Rothsay, MN 56579
Phone: (218) 867-2117
---
Churches:
Hamar Lutheran Church
102 Main Avenue W
Rothsay, MN 56579
Phone: (218) 867-2166
Hedemarken Lutheran Church
13208 300th Street
Rothsay, MN 56579
Phone: (218) 736-7723
Little Bethany Lutheran
Rothsay, MN 56579
Phone: (218) 493-4300
New Life Lutheran Parish
102 Main Avenue W
Rothsay, MN 56579
Phone: (218) 867-6557
Our Savior's Church
105 1st Street SW
Rothsay, MN 56579
Phone: (218) 867-2421
Rothsay Baptist Church
122 2nd Street NW
Rothsay, MN 56579
Phone: (218) 867-2268
South Immanuel Church
38041 County Highway 21
Rothsay, MN 56579
Phone: (218) 867-2327
---
Media:
---
Motels:
Comfort Zone Inn
412 Center St N
Rothsay, MN 56579
Phone: (218) 867-2777
Check for motel rates and availability on:
---
Resorts:
---
Campgrounds:
---
---
Businesses:
Comfort Zone Inn
412 Center St N
Rothsay, MN 56579
Phone: (218) 867-2777
County Garage
1503 303rd Avenue
Rothsay, MN 56579
Phone: (218) 867-2594
Endless Energy-Agri-S-C
33316 County Highway 11
Rothsay, MN 56579
Phone: (218) 867-2336
Evelo Inc
14314 County Highway 28
Rothsay, MN 56579
Phone: (218) 867-2724
Fosse Transport
123 3rd Avenue SE
Rothsay, MN 56579
Phone: (218) 867-2256
Goltz Insurance
203 1st Avenue SW
Rothsay, MN 56579
Phone: (218) 867-2772
Grina Funeral Home
125 Center Street N
Rothsay, MN 56579
Phone: (218) 867-2260
Kacee's Home Care
507 Main Avenue W
Rothsay, MN 56579
Phone: (218) 867-2722
Kapow Photo
412 Center Street N
Rothsay, MN 56579
Phone: (218) 867-2299
Kathy's Day Care
307 4th Street SE
Rothsay, MN 56579
Phone: (218) 867-2196
Lindberg Motor Co
112 1st St SW
Rothsay, MN 56579
Phone: (218) 867-2355
Neuleib Repair Shop
118 Center Street N
Rothsay, MN 56579
Phone: (218) 867-2105
Ohe's Gravel & Dirt
13727 County Highway 28
Rothsay, MN 56579
Phone: (218) 867-2516
Ole & Lena's Pizzeria
134 1st Avenue SW
Rothsay, MN 56579
Phone: (218) 867-2500
Original Heating Man
13165 300th Street
Rothsay, MN 56579
Phone: (218) 736-4949
Oscar/Parke Mutual Ins Co
301 N Circle Drive
Rothsay, MN 56579
Phone: (218) 867-2440
Partners
203 1st Avenue SW
Rothsay, MN 56579
Phone: (218) 867-1234
PNS Inventory Service
38401 County Highway 21
Rothsay, MN 56579
Phone: (218) 863-4313
Productive Advertising
13165 300th Street
Rothsay, MN 56579
Phone: (218) 736-4949
Rothsay City Hall
108 2nd Street NW
Rothsay, MN 56579
Phone: (218) 867-2254
Rothsay Community Center
115 2nd St SW
Rothsay, MN 56579
Phone: (218) 867-2343
Rothsay Farmers Co-Op
305 1st Avenue SW
Rothsay, MN 56579
Phone: (218) 867-2135
Rothsay Fire Department
108 2nd St NW
Rothsay, MN 56579
Phone: (218) 867-2310
Rothsay Garage
108 Main Avenue W
Rothsay, MN 56579
Phone: (218) 867-2740
Rothsay Police Department
Rothsay, MN 56579
Phone: (218) 867-2242
Rothsay Powershouse Liquors
436 Center Street N
Rothsay, MN 56579
Phone: (218) 867-2110
Rothsay School
123 2nd Street NW
Rothsay, MN 56579
Phone: (218) 867-2117
Rothsay Seed Company
315 Main Avenue W
Rothsay, MN 56579
Phone: (218) 867-2263
Rothsay Store Front
106 2nd Street SW
Rothsay, MN 56579
Phone: (218) 867-2328
Rothsay Superintendent's Office
123 2nd Street NW
Rothsay, MN 56579
Phone: (218) 867-2735
Rothsay Telephone Company
137 1st Street NW
Rothsay, MN 56579
Phone: (218) 867-2111
Rothsay Truck Stop & Cafe Inc
544 Center Street N
Rothsay, MN 56579
Phone: (218) 867-2381
Rothsay Waste Water
108 Main Avenue W
Rothsay, MN 56579
Phone: (218) 867-2740
Shirley's Service
106 Center St S
Rothsay, MN 56579
Phone: (218) 867-2163
State Farm Insurance
Rothsay, MN 56579
Phone: (218) 867-2750
Studio 3 Hair Design
201 1st Street NW
Rothsay, MN 56579
Phone: (218) 867-2102
Super Cars
10346 County Highway 24
Rothsay, MN 56579
Phone: (218) 867-2419
Trosvik Inc
39640 County Highway 11
Rothsay, MN 56579
Phone: (218) 867-2298
US Post Office
211 1st Street SW
Rothsay, MN 56579
Phone: (218) 867-2447
Velo Turkey Farms
14314 County Highway 29
Rothsay, MN 56579
Phone: (218) 867-2614
Wanda's Day Care
415 Main Avenue W
Rothsay, MN 56579
Phone: (218) 867-2169
Wells Fargo Bank
119 2nd Street SW
Rothsay, MN 56579
Phone: (218) 867-2121
Wilkin County Garage 78
Main Avenue
Rothsay, MN 56579
Phone: (218) 867-2269
---
---
Aerial Photo:
---
Topographic Map: [click map to enlarge, zoom in or zoom out]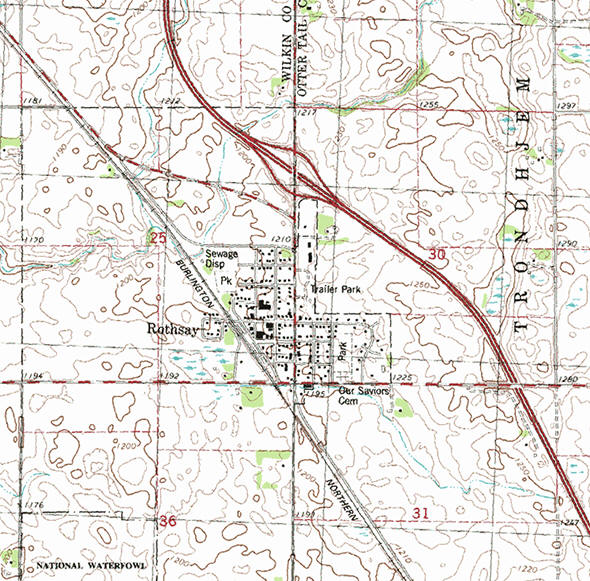 Topographic map is courtesy of the Minnesota DNR -
click map
to zoom or enlarge