Navigation
LakesnWoods.com
Home Page
Contact Us
Privacy
Minnesota History Shop

Visit The Minnesota History Shop
www.minnesotahistoryshop.com
Historic maps
Historic books
Historic framed art
Historic postcards
Clothing with historic images
And much more!!!


Dent Guide:
Photo Gallery
Location
Geography
Demographics
History
Government
Post Office
News
Weather
Street Map
Events
Attractions
Recreation
Lakes
Health Care
Schools
Churches
Media
Motels
Resorts
Campgrounds
Businesses
Aerial Photo
Topographic Map
© 2004-2022
Lakeweb1 Internet Services
All Rights Reserved
DCMA, Defamation, Copyright and Trademark Infingement Policy
WANTED!
Do you have photos, historical accounts or other items pertaining to the Dent area? Would you like to share this historical information with the world? LakesnWoods.com would like to publish your Dent photos (current or historical) or historical accounts on this website. Original materials can be returned and your privacy will be respected.


(design available on over 100 different items!)

Dent Minnesota Community Guide
---
Location:
---
Population:
Dent (city)
1970
1980
1990
2000
2010
2000-2010 Change
Actual
Percent
Population
156
167
177
192
192
0
0.00
Land Area (sq. mile)
0.20
0.33
0.34
0.38
0.38
0
0.00
Density (persons per sq. mile)
780.00
506.06
520.59
501.00
501.00
0
0.00
Housing Units
64
76
79
80
88
+8
+10.00
Households
--
72
72
77
78
+1
+1.30
Persons Per Household
--
2.32
2.46
2.49
2.46
-0.03
-1.20
---
Geography:
Dent is a city in Otter Tail County, Minnesota. Minnesota State Highway 108 serves as a main route in the community. According to the United States Census Bureau, the city has a total area of 0.38 square miles (0.98 km2), all of it land. The elevation is 1,375 ft (419 m) above sea level.
From Wikipedia, the free encyclopedia.
---
Demographics:
As of the census of 2010, there were 192 people, 78 households, and 53 families residing in the city. The population density was 505.3 inhabitants per square mile (195.1/km2). There were 88 housing units at an average density of 231.6 per square mile (89.4/km2). The racial makeup of the city was 95.3% White, 1.0% Native American, and 3.6% from two or more races. Hispanic or Latino of any race were 1.0% of the population.
There were 78 households out of which 29.5% had children under the age of 18 living with them, 52.6% were married couples living together, 10.3% had a female householder with no husband present, 5.1% had a male householder with no wife present, and 32.1% were non-families. 26.9% of all households were made up of individuals and 7.6% had someone living alone who was 65 years of age or older. The average household size was 2.46 and the average family size was 2.92.
The median age in the city was 38.3 years. 25.5% of residents were under the age of 18; 8.3% were between the ages of 18 and 24; 22.4% were from 25 to 44; 29.2% were from 45 to 64; and 14.6% were 65 years of age or older. The gender makeup of the city was 45.8% male and 54.2% female.
---
---
History:
DENT, a city in section 34 on the Soo Line in Edna Township, platted August 19, 1903, and incorporated September 8, 1904, was named for the variety of corn called Northwestern Dent Corn that was used so abundantly by farmers of the area. The post office was established in 1900.
Courtesy Minnesota Historical Society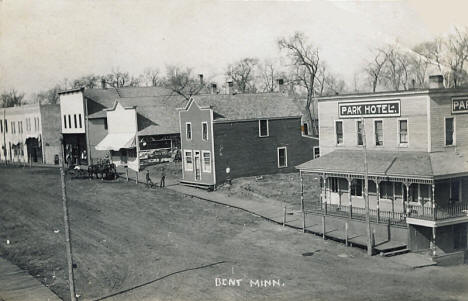 Main Street, Dent Minnesota, 1918
LakesnWoods.com Postcard and Postcard Image Collection- click image to enlarge

Visit The Dent Photo Gallery for more recent and historic area photos
---
Government:
Dent City Hall
108 Main Street
PO Box 126
Dent, MN 56528
Phone: (218) 758-2233

Regular Business Hours:
unknown

City Council Meetings:
2nd Tuesday of the month at 7:00 pm


Title
Term Ends
Name and Address
Phone
Mayor
12/31/2022
Perry A Coleman
204 1st Avenue N
Dent, MN 56528
(218) 758-2218
(218) 346-9774
Administrator/Clerk
appointed
Karen E Johnson
108 Main Street
Dent, MN 56528
(218) 758-2233
Treasurer
appointed
Dan O'Boyle
36846 Ruddy Duck Drive
Dent, MN 56528
(218) 758-3553
Council Member
12/31/2022
Dawn Boyne
203 Maple Street
Dent, MN 56528
(218) 640-3662
Council Member
12/31/2022
Daniel Nodsle
305 Elm Street
Dent, MN 56528
(218) 849-6179
Council Member
12/31/2024
Ryan Strugar
303 Maple Street
Dent, MN 56528
(218) 343-2717
(218) 758-6508
Council Member
12/31/2024
Ashley Sonnenberg
201 Elm Street
Dent, MN 56528
(218) 850-1911
(218) 758-6104
---
Post Office:
US Post Office
108 Main Street
Dent, MN 56528
Phone: (218) 758-2021
Toll Free: (800) ASK-USPS

Regular Business Hours:
Week Days 12:00 pm - 4:00 pm
Saturday 11:00 am - 12:00 pm
---
---
Utilities:
---
Major Employers:
Employer
Products/Services
Employees

n/a
---
---
News:
---
Weather:
---
Map: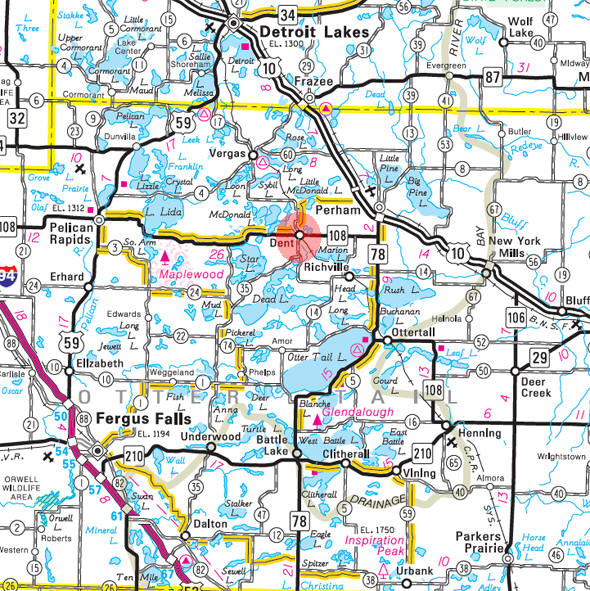 Minnesota State Highway Map of the Dent Minnesota area
---
Events:
---
---
Attractions:
---
Recreation:
---
Lakes:
Lake Name
Size
(acres)
Lake info
Lake Map
Rec Map
Topo Map
Big McDonald
992
Dead
7,535
East Silent
310
Little McDonald
1,312
Marion
1,624
Paul
346
Round
173
Star
4,454
Tenter
83
West McDonald
597
n/a
Wolf
73
n/a
---
Health Care:
---
Schools:
---
Churches:
Dent United Methodist Church
301 Main Street
Dent, MN 56528
Phone: (218) 346-7420
Web: www.pdumc.com

Pastor: Rev. Robert Pesola
Sunday Worship: 9:00 am

Immanuel Lutheran Church
2nd Avenue and Maple Street
Dent, MN 56528
Phone: (218) 758-2942

Pastor: Larry Schmidt
Sunday Worship: 9:00 am

Sacred Heart Church of Dent
36963 State Highway 108
Dent, MN 56528
Phone: (218) 758-2700

Pastor: Fr. George Michael
Sunday Mass: 8:30 am

St. John's Lutheran Church - LCMS
40989 355th Avenue
Dent, MN 56528
Phone: (218) 758-2470

Pastor: Dr. Karl Weber
Sunday Worship: 9:30 am
---
Media:
---
Motels:
Check for motel rates and availability on:
---
Resorts:
Big McDonald Resort
34654 Big McDonald Lane
Dent, MN 56528
Phone: (218) 758-2369
Toll Free: (888) 497-0995
Web: www.bigmcdonaldresort.com

We invite you to vacation with us on beautiful Big McDonald Lake. Our resort is the only one on this quiet 1,000 acre spring-fed lake located in Otter Tail County, known as "Lakes Country" for its 1,048 enchanted lakes nestled amidst rolling hills and expansive hardwood forests. Big McDonald Lake boasts water clarity of up to 25 feet, among the cleanest in the state. Our eight cabins are located on level grounds within 40 feet of the water and offer excellent views. Easily accessible from I-29 or I-94, for fishing, boating, swimming or just plain old relaxing, you can experience it all.



Cozy Cove Resort
38811 Cozy Cove Road
Dent, MN 56528
Phone: (218) 758-2431
Web: www.cozycovemn.com

We cater to families, serious fishermen and people who just want to relax and be comfortable. We can provide everything you need for a week, a few days, or a weekend stay. The Resort, which is the only one on Marion Lake, has a grassy lake side lawn, with beautiful shade trees, a playground area, volleyball area, and a sandy and well-protected swimming beach. The kids will enjoy catching bluegills with their hands at the swimming dock.

East Silent Lake Resort
30424 410th Street
Dent, MN 56528
Phone: (218) 758-2716
Web: www.eastsilentresort.com

East Silent Lake Resort Resort is an 11-cabin Minnesota family resort located on a quiet country road in Minnesota's Otter Tail County "lakes" area. A long lane covered by a beautiful canopy of maples, oaks and birch leads to our comfortable lakeside cottages. You will enjoy the many East Silent Lake activities that our clear, sparkling lake has to offer such as, skiing, tubing, fishing, snorkeling, canoeing, swimming and boating. Children will love the variety of water toys available. Other fun activities include sand volleyball, basketball, lawn games, campfires, bird watching, biking and playing on our safe playground.

Frank's Lodge and Campground
30570 Lodge Loop
Dent, MN 56528
Phone: (218) 758-2876
Web: frankslodgeandcampground.homestead.com

We are a small family run resort and campground located on the West arm of Star Lake near Dent Minnesota. We consider this our own "Golden Pond" and we invite you, avid fishermen, nature lovers, family and friends to enjoy it for a few days or weeks. Our Cozy housekeeping cabins are completely furnished and linens are supplied. One fishing boat is furnished with each cabin and Bait and motors are available. We also have boat launching access. We have campground space available for RV's , overnight and seasonal.

Galaxy Resort
39578 County Highway 41
Dent, MN 56528
Phone: (218) 758-2841
Web: www.galaxyresort.com

This charming resort nestled at the northernmost bay of Star Lake offers both recreation and leisure. The resort is located in the heart of Minnesota's beautiful Lakes Area, just 30 minutes from the towns of Detroit Lakes and Fergus Falls. The Galaxy Resort promises something for all ages. Enjoy clean, comfortable cabins with full kitchens, front decks and individual boat piers. The Galaxy family welcomes you to relax on the sandy beach, dine in the newly remodeled restaurant, relax in the pub or fish, water-ski and swim the waters just steps from your cabin.

Heart Beach Resort
38052 County Highway 35
Dent, MN 56528
Phone: (218) 758-3130
Web: www.heartbeachresort.com

Spend a relaxing, fun filled weekend at one of Minnesota's most beautiful lakes. At Heart Beach Resort you can enjoy fishing from morning till dusk and then break out the filets over our grills. With 5 cabins and 10 camping sites you will have no trouble getting a little shut eye under the gorgeous, tranquil Minnesota skyline. Get away! Come to a resort where you can put your worries away. We look forward to seeing you soon.

Kimps Kamp Resort
38267 White Haven Road
Dent, MN 56528
Phone: (218) 758-2555
Pocahontas Resort
38034 County Highway 35
Dent, MN 56528
Phone: (218) 758-2598
Web: www.pocahontasresort.com

Each air-conditioned cabin features two double beds, a bath with tub and shower; kitchen with refrigerator, stove, coffee maker and toaster. Cooking utensils, dishes and silverware are provided. Double beds are complete with linens. There is a couch, table and chairs in each cabin. Cabins are excellent for up to 4 people. Cabins can accommodate five people using the fold-out couch. A picnic table is available for each cabin and each two cabins have a private dock.

Rocky's Resort
31370 State Highway 108
Dent, MN 56528
Phone: (218) 758-2811
Spruce Lodge Resort
32151 380th Street
Dent, MN 56528
Phone: (218) 758-2922
Web: www.sprucelodgeresort.com

Ruth Felton welcomes you to relax under a shade tree near any one of our eight modern cabins, each with a deck and located a stone's throw from the lake. All cabins are fully equipped for light housekeeping, includes microwave oven

White Haven Resort
38045 White Haven Road
Dent, MN 56528
Phone: (218) 758-2600

Relaxation on 12 secluded wooded acres. Quiet 8,000 acre natural environment lake. Great fishing. Clean, modern, housekeeping 1 & 2 bedroom carpeted cottages, two are log. Microwaves, Lund boats, pontoon, boat lifts & canoes. Full RV & tent facilities. No pets.
---
Campgrounds:
---
---
Businesses:
A & D Bobcat Service
43069 County Highway 35
Dent, MN 56528
Phone: (218) 640-1938
A Friend's Getaway
37551 395th Street
Dent, MN 56528
Phone: (218) 758-2770
Web: www.afriendsgetaway.com

Are you looking for a NEW place to scrapbook or quilt? A Friend's Getaway is the place for you! This country retreat was newly established in April 2010, by 3 women who have the passion for scrapbooking, quilting and other crafts. We are located 1 mile from Dent, MN on 2.87 acres; the house has 3600 square feet of a relaxing but energetic atmosphere. A Friend's Getaway was established to provide a safe and inviting getaway, a home away from home, for people to gather, relax, and create friendships to last a lifetime.

Advanced Buildings
43069 County Road 35
Dent, MN 56528
Phone: (218) 758-2526
Antonsen Well Drilling Inc
40936 Beaver Dam Road
Dent, MN 56528
Phone: (218) 758-3090
Aqua Marine & Storage
203 2nd Avenue S
Dent, MN 56528
Phone: (218) 758-2370 ‎
Backwoods Welding
35391 County Highway 41
Dent, MN 56528
Phone: (218) 758-2490
Barry Janssen Construction
35244 Big McDonald Lane
Dent, MN 56528
Phone: (218) 758-3828
Big McDonald Resort
34654 Big McDonald Lane
Dent, MN 56528
Phone: (218) 758-2369
Toll Free: (888) 497-0995
Web: www.bigmcdonaldresort.com

We invite you to vacation with us on beautiful Big McDonald Lake. Our resort is the only one on this quiet 1,000 acre spring-fed lake located in Otter Tail County, known as "Lakes Country" for its 1,048 enchanted lakes nestled amidst rolling hills and expansive hardwood forests. Big McDonald Lake boasts water clarity of up to 25 feet, among the cleanest in the state. Our eight cabins are located on level grounds within 40 feet of the water and offer excellent views. Easily accessible from I-29 or I-94, for fishing, boating, swimming or just plain old relaxing, you can experience it all.



Bob's Carpet Cleaning
305 N 1st Avenue
Dent, MN 56528
Phone: (218) 758-3323
Braaten Accounting
1 Main Street
Dent, MN 56528
Phone: (218) 758-2910

Dent, MN 56528

Phone: (218) 758-2924

Web:

www.campjoy.net

Camp Joy has grown and developed in meeting the spiritual needs of the community and surrounding areas. Camp Joy today, consists of 14 cabins (Each with 10 beds), Chapel & Dining Hall which each seat 150 people, Staff House with 5 bedrooms & kitchen, Cooks housing, Class-rooms, Canteen and rest facilities.

Central States Mechanical
Highway 355
Dent, MN 56528
Phone: (218) 346-3300
Charles Brasel Construction
35185 County Highway 35
Dent, MN 56528
Phone: (218) 758-2509
Cozy Cove Resort
38811 Cozy Cove Road
Dent, MN 56528
Phone: (218) 758-2431
Web: www.cozycovemn.com

We cater to families, serious fishermen and people who just want to relax and be comfortable. We can provide everything you need for a week, a few days, or a weekend stay. The Resort, which is the only one on Marion Lake, has a grassy lake side lawn, with beautiful shade trees, a playground area, volleyball area, and a sandy and well-protected swimming beach. The kids will enjoy catching bluegills with their hands at the swimming dock.

Creative Marketing
31848 Shallow Shores Drive
Dent, MN 56528
Phone: (218) 758-2668
Custom Windows
31716 Shallow Shores Drive
Dent, MN 56528
Phone: (218) 758-3888
Dent Cenex
112 Main Street
Dent, MN 56528
Phone: (218) 758-3300
Web: www.perhamcoop.com
Dent Equity Mill Inc
102 Main Street
Dent, MN 56528
Phone: (218) 758-2354
Dent Fire Department
201 1st Avenue
Dent, MN 56528
Phone: (218) 758-2233
Dent Lakes Granite Inc
37243 State Highway 108
Dent, MN 56528
Phone: (218) 758-2187
Dent Senior Citizens Center
203 Main Street
Dent, MN 56528
Phone: (218) 758-2650
Dent's Triple Play Liquors
107 Main Street
Dent, MN 56528
Phone: (218) 758-9495
Ducharme Agency
39961 County Highway 41
Dent, MN 56528
Phone: (218) 758-2525
Ducharmer/Farmers Union
35354 Northern Lights Trail
Dent, MN 56528
Phone: (218) 758-2505
East Silent Lake Resort
30424 410th Street
Dent, MN 56528
Phone: (218) 758-2716
Web: www.eastsilentresort.com

East Silent Lake Resort Resort is an 11-cabin Minnesota family resort located on a quiet country road in Minnesota's Otter Tail County "lakes" area. A long lane covered by a beautiful canopy of maples, oaks and birch leads to our comfortable lakeside cottages. You will enjoy the many East Silent Lake activities that our clear, sparkling lake has to offer such as, skiing, tubing, fishing, snorkeling, canoeing, swimming and boating. Children will love the variety of water toys available. Other fun activities include sand volleyball, basketball, lawn games, campfires, bird watching, biking and playing on our safe playground.

Exta-Pro Feeds
32553 430th Street
Dent, MN 56528
Phone: (218) 346-5200
Farmers State Bank
101 First Avenue North
Dent, MN 56528
Phone: (218) 758-2100
Web: www.fsbdent.com

Since 1904, Farmers State Bank has provided banking services to the surrounding area. Our full service bank is locally owned and operated, with offices in Dent and Perham. We offer a variety of checking, savings, and lending products to meet your needs. Products that will help you reach your financial goals and dreams. Our friendly staff is committed to giving you the personal service you deserve. We take pride in our communities and are committed to their prosperity and growth. Let us show you why we have been A Tradition of Trust since 1904.

Floppie Crappie Bait and Tackle
202 Main Street
Dent, MN 56528
Phone: (218) 758-3567
Web: www.floppiecrappie.com
Frank's Lodge and Campground
30570 Lodge Loop
Dent, MN 56528
Phone: (218) 758-2876
Web: frankslodgeandcampground.homestead.com

We are a small family run resort and campground located on the West arm of Star Lake near Dent Minnesota. We consider this our own "Golden Pond" and we invite you, avid fishermen, nature lovers, family and friends to enjoy it for a few days or weeks. Our Cozy housekeeping cabins are completely furnished and linens are supplied. One fishing boat is furnished with each cabin and Bait and motors are available. We also have boat launching access. We have campground space available for RV's , overnight and seasonal.

Galaxy Resort
39578 County Highway 41
Dent, MN 56528
Phone: (218) 758-2841
Web: www.galaxyresort.com

This charming resort nestled at the northernmost bay of Star Lake offers both recreation and leisure. The resort is located in the heart of Minnesota's beautiful Lakes Area, just 30 minutes from the towns of Detroit Lakes and Fergus Falls. The Galaxy Resort promises something for all ages. Enjoy clean, comfortable cabins with full kitchens, front decks and individual boat piers. The Galaxy family welcomes you to relax on the sandy beach, dine in the newly remodeled restaurant, relax in the pub or fish, water-ski and swim the waters just steps from your cabin.

Gary Honer Saw & Tool
34684 State Hwy 108
Dent, MN 56528
Phone: (218) 758-2182
Grass Roots Landscaping
43093 County Highway 85
Dent, MN 56528
Phone: (218) 342-3265
Hair Central
110 Main Street
Dent, MN 56528
Phone: (218) 758-2200
Heart Beach Resort
38052 County Highway 35
Dent, MN 56528
Phone: (218) 758-3130
Web: www.heartbeachresort.com

Spend a relaxing, fun filled weekend at one of Minnesota's most beautiful lakes. At Heart Beach Resort you can enjoy fishing from morning till dusk and then break out the filets over our grills. With 5 cabins and 10 camping sites you will have no trouble getting a little shut eye under the gorgeous, tranquil Minnesota skyline. Get away! Come to a resort where you can put your worries away. We look forward to seeing you soon.

Hexum Buildings Corporation
37325 State Highway 108
Dent, MN 56528
Phone: (218) 758-2180
Web: www.hexumbuildings.com

Hexum Buildings has been serving West Central Minnesota and Eastern North Dakota for over 25 years, and over that time has earned the reputation of being one of the areas finest post-frame building contractors. Hexum Buildings prides themselves on affordable buildings, quality workmanship, and an experienced crew and mean it when they say "We build the best for less"!

Hollywood's
30995 State Highway 108
Dent, MN 56528
Phone: (218) 758-2835
Jake Palubicki Construction
38601 355th Avenue
Dent, MN 56528
Phone: (218) 758-3640
K & S Construction
35666 Fawn Oaks Trail
Dent, MN 56528
Phone: (218) 758-3303
Ken's Gun Repair & Sales LLC
33797 Downy Drive
Dent, MN 56528
Phone: (218) 758-2868
Kimps Kamp Resort
38267 White Haven Road
Dent, MN 56528
Phone: (218) 758-2555
Kratzke Swings
204 Main Street
Dent, MN 56528
Phone: (218) 758-2275
L M Sharpening Wheels Inc
42176 Engstrom Beach Road
Dent, MN 56528
Phone: (218) 758-2297
Lakes Loader Service
Highway 108 E
Dent, MN 56528
Phone: (218) 758-2829
Lynn D Thompson Insurance
32025 Finch Circle
Dent, MN 56528
Phone: (218) 758-3333
Mills Auto Outlet
203 N 1st Avenue
Dent, MN 56528
Phone: (218) 758-3006
Nat's Other House
36030 State Highway 108
Dent, MN 56528
Phone: (218) 758-3285
Nootzi's on Main Cafe
106 Main Street
Dent, MN 56528
Phone: (218) 758-9492
Olson Wood Floors
33152 Mac Circle
Dent, MN 56528
Phone: (218) 758-3503
Ottertail Cedar Log Furniture
201 State Highway 108
Dent, MN 56528
Phone: (218) 758-3810
Web: www.cedarlog.com

We proudly create beautiful white cedar log furniture designed to bring the comfort and warmth of a great northwoods "getaway" lodge into your home 12 months out of the year setting you "Just North of the Tension Line". Utilizing the native Minnesota resource of Northern White Cedar, Ottertail Cedar Log Furniture offers beautiful hand-crafted log furniture.

Peg Legs Bar and Grill
104 N 1st Avenue
Dent, MN 56528
Phone: (218) 758-8000
Peter Paul Furs
38350 County Highway 35
Dent, MN 56528
Phone: (218) 758-7444
Pocahontas Resort
38034 County Highway 35
Dent, MN 56528
Phone: (218) 758-2598
Web: www.pocahontasresort.com

Each air-conditioned cabin features two double beds, a bath with tub and shower; kitchen with refrigerator, stove, coffee maker and toaster. Cooking utensils, dishes and silverware are provided. Double beds are complete with linens. There is a couch, table and chairs in each cabin. Cabins are excellent for up to 4 people. Cabins can accommodate five people using the fold-out couch. A picnic table is available for each cabin and each two cabins have a private dock.

Pride Auto Pro's Inc
203 N 1st Avenue
Dent, MN 56528
Phone: (218) 758-2017
Pro Systems
43150 Shenandoah Loop
Dent, MN 56528
Phone: (218) 342-2022
Protective Financial Solutions
32412 355th Street
Dent, MN 56528
Phone: (218) 758-3016
Rock Pile Golf
31748 380th Street
Dent, MN 56528
Phone: (218) 758-3737
Rocky's Resort
31370 State Highway 108
Dent, MN 56528
Phone: (218) 758-2811
Rodney Wagenman Construction
31147 State Highway 108
Dent, MN 56528
Phone: (218) 758-2960
Sabbin Dairy Farm Inc
39585 365th Avenue
Dent, MN 56528
Phone: (218) 758-2447
Service Lighting Co Inc
33023 380th Street
Dent, MN 56528
Phone: (218) 758-2991
Spruce Lodge Resort
32151 380th Street
Dent, MN 56528
Phone: (218) 758-2922
Web: www.sprucelodgeresort.com

Ruth Felton welcomes you to relax under a shade tree near any one of our eight modern cabins, each with a deck and located a stone's throw from the lake. All cabins are fully equipped for light housekeeping, includes microwave oven

Stoll Electric
37247 County Highway 35
Dent, MN 56528
Phone: (218) 758-3050
Stoll Insurance Agency
101 1st Avenue N
Dent, MN 56528
Phone: (218) 758-2100
Stone Mountain Builders
38726 Beaver Dam Road
Dent, MN 56528
Phone: (218) 758-2636
Timber Frame Builders
33719 State Highway 108
Dent, MN 56528
Phone: (218) 758-7347
Todd's Handyman Service
31229 Minnesota Street
Dent, MN 56528
Phone: (218) 758-3042
United Sportsman Club
36007 380th Avenue
Dent, MN 56528
Phone: (218) 758-2412
US Post Office
108 Main Street
Dent, MN 56528
Phone: (218) 758-2021
Toll Free: (800) ASK-USPS
Web: www.usps.com
White Haven Resort
38045 White Haven Road
Dent, MN 56528
Phone: (218) 758-2600
Wilcox Construction
34680 Buddy Lane
Dent, MN 56528
Phone: (218) 758-2644
Wildlife Unlimited Taxidermy
Dent, MN 56528
Phone: (218) 758-3244
Williams Towing & Recovery
37296 County Highway 35
Dent, MN 56528
Phone: (218) 758-2869
Zipperhead Video
31891 Shallow Shores Drive
Dent, MN 56528
Phone: (218) 758-2563
---
---
Aerial Photo:
---
Topographic Map: [click map to enlarge, zoom in or zoom out]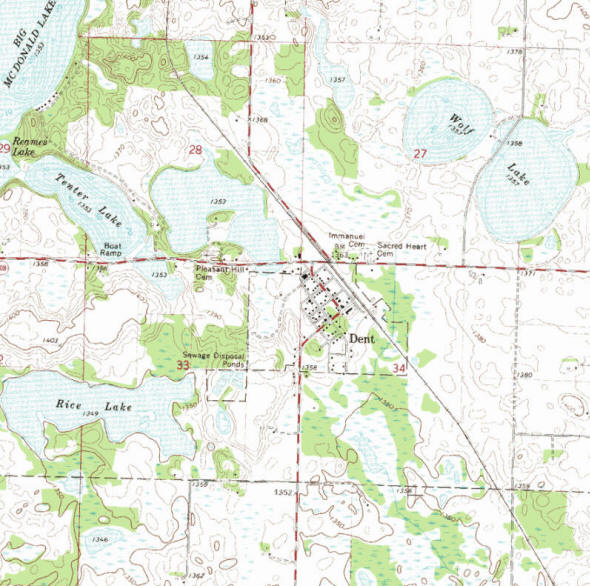 Topographic map is courtesy of the Minnesota DNR -
click map
to zoom or enlarge