Navigation
LakesnWoods.com
Home Page
Contact Us
Privacy
Minnesota History Shop

Visit The Minnesota History Shop
www.minnesotahistoryshop.com
Historic maps
Historic books
Historic framed art
Historic postcards
Clothing with historic images
And much more!!!


Effie Guide:
Photo Gallery
Location
Geography
Demographics
History
Government
Post Office
News
Weather
Street Map
Events
Attractions
Recreation
Lakes
Health Care
Schools
Churches
Media
Motels
Resorts
Campgrounds
Businesses
Aerial Photo
Topographic Map
Nearby Communities:
Big Falls
Bigfork
Craig
Deer River
Grand Rapids
International Falls
Jessie Lake
Littlefork
Marcell
Mizpah
Northome
Suomi
Talmoon
Wirt
© 2004-2022
Lakeweb1 Internet Services
All Rights Reserved
DCMA, Defamation, Copyright and Trademark Infingement Policy
WANTED!
Do you have photos, historical accounts or other items pertaining to the Effie area? Would you like to share this historical information with the world? LakesnWoods.com would like to publish your Effie photos (current or historical) or historical accounts on this website. Original materials can be returned and your privacy will be respected.


(design available on over 100 different items!)

Effie, Minnesota Community Guide
---
Location:
---
Population:
Effie
1970
1980
1990
2000
2010
2000-2010 Change
Actual
Percent
Population
165
141
130
91
123
+32
+35.16
Land Area (sq. mile)
4.00
3.80
5.60
3.99
3.99
0
0.00
Density (persons per sq. mile)
41.25
37.11
23.21
22.81
30.83
+8.02
+35.16
Housing Units
72
73
70
56
68
+12
+21.42
Households
--
45
47
36
48
+12
+33.33
Persons Per Household
--
3.13
2.77
2.53
2.56
+0.03
+1.19
---
Geography:
Effie is a city in Itasca County, Minnesota. Minnesota State Highways 1 and 38 are two of the main arterial routes in the community. According to the United States Census Bureau, the city has a total area of 3.64 square miles (9.43 km˛), all of it is land. The elevation is 1,388 ft (423 m) above sea level.
From Wikipedia, the free encyclopedia.
---
Demographics:
As of the census of 2010 there were 123 people, 48 households, and 29 families residing in the city. The population density was 33.8 inhabitants per square mile (13.1/km2). There were 68 housing units at an average density of 18.7 per square mile (7.2/km2). The racial makeup of the city was 95.9% White, 0.8% African American, 1.6% Asian, and 1.6% from two or more races.
There were 48 households of which 31.3% had children under the age of 18 living with them, 47.9% were married couples living together, 8.3% had a female householder with no husband present, 4.2% had a male householder with no wife present, and 39.6% were non-families. 31.3% of all households were made up of individuals and 12.5% had someone living alone who was 65 years of age or older. The average household size was 2.56 and the average family size was 3.24.
The median age in the city was 32.8 years. 26.8% of residents were under the age of 18; 8.9% were between the ages of 18 and 24; 26.8% were from 25 to 44; 22.7% were from 45 to 64; and 14.6% were 65 years of age or older. The gender makeup of the city was 51.2% male and 48.8% female.
From Wikipedia, the free encyclopedia.
---
History:
Effie, a city seven miles north of Bigfork in Unorganized Territory of Effie, T. 62N, R. 26W, section 27, with a station of the Minneapolis and Rainy River Railway, incorporated June 10, 1940. Its post office began in 1903, with Eva R. Wenaus, postmaster, in the store owned by her husband, O. R. Wenaus; named for Effie Wenaus, daughter of Eva.
Courtesy of the Minnesota Historical Society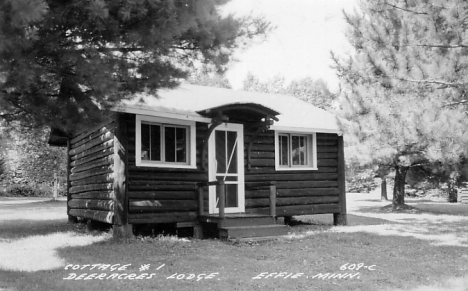 Deercrest Lodge, Effie Minnesota, 1940s
LakesnWoods.com Postcard and Postcard Image Collection - click to enlarge

Visit The Effie Photo Gallery for more recent and historic area photos


---
Government:
Effie City Hall
100 SW State Highway 38
PO Box 129
Effie, MN 56639
Phone: (218) 743-6767

Office Hours:
By appointment - call

City Council Meetings:
2nd Monday of the month at 6:00 pm


Title
Term Ends
Name and Address
Phone
Mayor
12/31/2022
Greta Drewlow
102 SW State Highway 38
Effie, MN 56639
(218) 417-0081
Clerk/Treasurer
appointed
Carolyn Schmit
PO Box 129
Marcell, MN 56657
(218) 556-9578
Council Member
12/31/2022
Thomas Lamont
105 State Highway 1 E
Effie, MN 56639
(218) 244-1163
Council Member
12/31/2022
Lillian Longtin
201 Summit Avenue NE
Effie, MN 56639
(218) 743-3836
Council Member
12/31/2024
James W. Astry
110 NE State Highway 1
Effie, MN 56639
(218) 743-2644
Council Member
12/31/2024
Angela Walker
PO Box 129
Effie, MN 56639
(218) 929-2919
---
Post Office:
US Post Office
98 Highway 1 NE
Effie, MN 56639-6035
Phone: (218) 743-3561
Toll Free: (800) ASK-USPS

Regular Business Hours:
Week Days 6:00 am - 9:00 pm
Saturday 6:00 am - 9:00 pm


Sunday

7:00 am - 8:00 pm


---
Utilities:
---
Major Employers:
Employer
Products/Services
Employees

n/a
---
News:
---
Weather:
---
Map: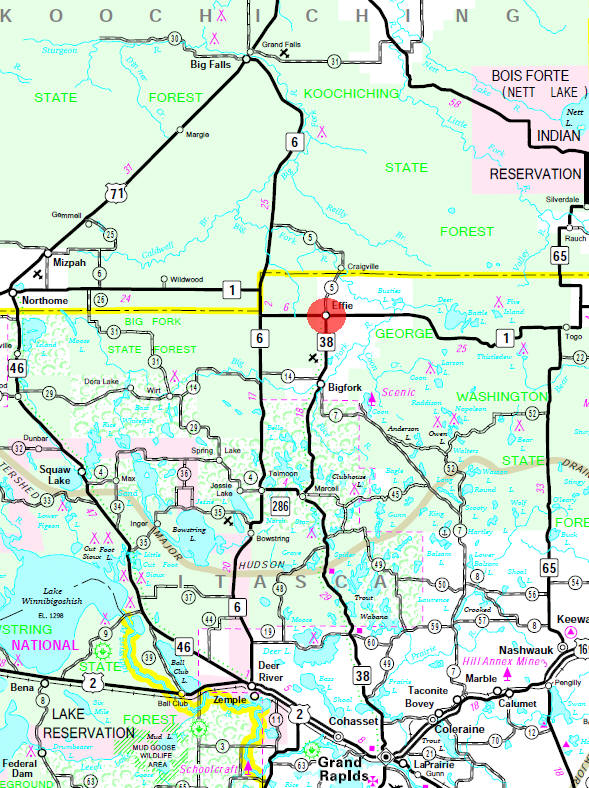 Minnesota State Highway Map of the Effie Minnesota area
---
Events:
North Star Stampede Rodeo

The Rodeo just outside of Effie is a full-featured one. Everything you will find in rodeos across the West is on display here. The contestants are mostly home grown, but some veteran cowboys from all parts of the U.S. and Canada come to do their thing at the Minnesota's North Star Rodeo.

It's a ceremonial re-creation of how it was done during pioneer times conducted safely under the rules of the Minnesota Rodeo Association. The events mentioned above are all contested each day of the three day rodeo.
---
Attractions:
Giant Metal Mosquito



A six foot long metal statue of Minnesota's State Bird, the mosquito. Located at the intersection of State Highway 38 and State Highway 1.
---
Recreation:
Edge of the Wilderness Scenic Byway



The Byway meanders 47 miles north from Grand Rapids to Effie, Minnesota. You are invited to come and celebrate our northern hospitality, hometown pride and the treasures of our natural heritage. Minnesota, midway between America's east and west coasts, is home to 12,000 lakes. It is filled with beautiful country and all the treasures of the four seasons. The Edge of the Wilderness is the rustic slice of this great state, with more than 1,000 lakes and one mighty river nearby, all in a landscape of remarkable natural beauty. It offers some of Minnesota's most popular fishing, hunting, camping, trail, winter sports and resort opportunities. For more information on what to see and do within the Edge of the Wilderness communities, call or visit the U.S. Forest Service District Office in Marcell, or contact your local Office of Tourism.
---
Lakes:
Lake Name
Size
(acres)
Lake info
Lake Map
Rec Map
Topo Map
Busties
237
Connors
143
Deer
1748
Pickerel
293
Round
54
Shine
70
---
---
Health Care:

none - served by Hospital and Clinic in Bigfork
---
Schools: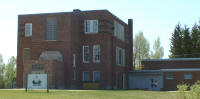 Old Effie School
---
Churches:
---
Media:
---
Motels:
---
Resorts:
---
Campgrounds:
---
Businesses:
Camp Deer
65576 County Road 533
Effie MN 56639
Phone: (218) 743-3663
Craigville Cabins
35813 Craigville Road
Effie MN 56639
Phone: (218) 743-3048

Rent a cabin in the great north woods, canoe down the Bigfork river, hiking trails, horse trails, ATV trails, fishing and hunting. Also have RV sites. Open 7 days a week.

Deer Lake Charlie's
66501 County Road 533
Effie MN 56639
Phone: (218) 743-3082
Effie Cafe
100 NW State Highway 1
Effie MN 56639
Phone: (218) 743-3607

The Effie Cafe is a small restaurant located at the intersections of Hwys 1 & 38 in Effie, MN. The atmosphere is comfortable, the food is delicious, the company is it's finest. Most items on the menu are completely homemade and cooked to your liking. The Effie Cafe is known for it's large pancakes, massive orders of biscuits & gravy, juicy burgers and unmatched delicacy of it's busti browns!

Effie Country Service
101 SE Highway 38
Effie MN 56639
Phone: (218) 743-3616
Web: www.effiecountryservice.com

Effie Country Service is a trusted dealer of Mastercraft, Yokohama, Toyo, Firestone, Goodyear, Bridgestone, Summit, Michelin, and Pirelli tires, serving the Effie, Big Fork, Marcell, Talmoon, Spring Lake, Northome, Big Falls, Little Fork, and Togo Minnesota areas. In addition to car tires, light truck and SUV tires, we carry forestry, agricultural, trailer, and commercial truck tires and more at affordable, discounted prices. We offer brake inspections and repair, automotive engine repair, check engine lights and diagnostics, and other valuable services.

Honey Bear Septic Service
33851 County Road 228
Effie MN 56639
Phone: (218) 743-3297

Lovdahl Logging
34384 County Road 40
Effie MN 56639
Phone: (218) 743-6812
Neighborhood Tavern
Highway 38
Effie MN 56639
Phone: (218) 743-3286



Weekly Neighborhood Tavern Events: HAPPY HOUR 4-6 TUES-FRI BINGO - WEDNESDAYS 6PM MEAT RAFFLE - FRIDAYS 6PM

North Country Septic Systems
24972 N Deer Lake Road
Effie, MN 56639
Phone: (218) 743-3423

North Star Rodeo
68270 County Road 5
Effie, MN 56639
Phone: (218) 743-3893

Come on up and join us for our rodeo, the North Star Stampede. It's the longest-running open rodeo in the country, brought to you by Minnesota's oldest rodeo company. You may not have heard of it, but there is a full-featured rodeo in Minnesota just an easy 220-mile drive from the Twin Cities. The North Star Stampede Rodeo is located just outside the small town of Effie in the northwestern part of our state. Each year the rodeo runs during the last weekend of July.

Northwoods Custom Cabinets
35009 County Road 42
Effie, MN 56639
Phone: (218) 743-6275

Riverside Hair Shoppe
30560 State Highway 1
Effie, MN 56639
Phone: (218) 743-3225
---
Aerial Photo:
---
Topographic Map: [click image to enlarge, zoom in or zoom out]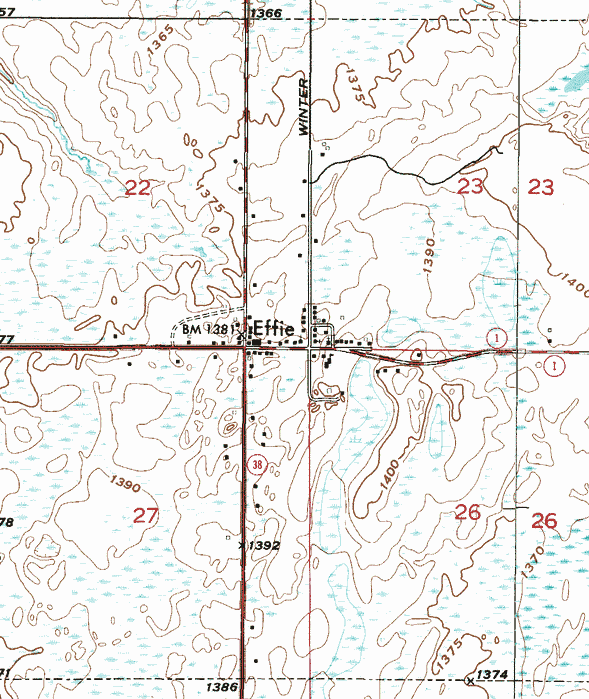 Topographic map is courtesy of the Minnesota DNR - click map to zoom or enlarge