Navigation
LakesnWoods.com
Home Page
Contact Us
Privacy
Minnesota Gift Guide
Deer River Guide:
Photo Gallery
Location
Geography
Demographics
History
Government
Post Office
News
Weather
Street Map
Events
Attractions
Recreation
Lakes
Health Care
Schools
Churches
Media
Motels
Resorts
Campgrounds
Businesses
Aerial Photo
Topographic Map
© 2004-2022
Lakeweb1 Internet Services
All Rights Reserved
DCMA, Defamation, Copyright and Trademark Infingement Policy
WANTED!
Do you have photos, historical accounts or other items pertaining to the Deer River area? Would you like to share this historical information with the world? LakesnWoods.com would like to publish your Deer River photos (current or historical) or historical accounts on this website. Original materials can be returned and your privacy will be respected.


(design available on over 100 different items!)

Deer River, Minnesota Community Guide
---
Location:
Known as the Gateway to the Chippewa National Forest, Deer River is surrounded by more than a million acres of spectacular forests, 1,300 lakes, and 923 miles of rivers and streams making it an ideal Northern Minnesota destination. Deer River offers a relaxed paced lifestyle, an affordable cost of living, and a friendly community with excellent healthcare and education.

Deer River is host to two large community festivals each summer, the World's Largest Wild Rice Festival and the Bar-b-que & Brew Festival. Celebrate centuries of Native American heritage at the White Oak Learning Center, where visitors step back in time and experience the Fur Trade era. Deer River is also home to one of the Leech Lake Band of Ojibwe's three Minnesota casinos.

The area offers something for everyone: there is fishing for walleye and northern pike; kayaking; boating; leisure bike rides; hiking; hunting; cross county skiing; and snowmobiling. Located three hours north of the Twin Cities, the community offers local commerce, attractions, businesses, services, culture, lodging and shopping. Residents and visitors alike enjoy spectacular scenery, miles of unspoiled beauty, an abundance of wildlife, history of northern Minnesota and endless year-round recreation and warm friendly hospitality.
---
Population:
| Deer River (city) | 1900 | 1910 | 1920 | 1930 | 1940 | 1950 | 1960 | 1970 | 1980 | 1990 | 2000 | 2010 |
| --- | --- | --- | --- | --- | --- | --- | --- | --- | --- | --- | --- | --- |
| Population | 251 | 900 | 1044 | 832 | 987 | 1033 | 992 | 815 | 907 | 838 | 903 | 930 |
| Land Area (sq. mile) | -- | -- | -- | -- | -- | -- | -- | 0.70 | 0.69 | 0.73 | 1.06 | 1.29 |
| Density (persons per sq mile) | -- | -- | -- | -- | -- | -- | -- | 1164 | 1314 | 1147 | 850 | 721 |
| Housing Units | -- | -- | -- | -- | -- | -- | -- | 321 | 373 | 392 | 415 | 434 |
| Households | -- | -- | -- | -- | -- | -- | -- | -- | 351 | 341 | 389 | 397 |
| Persons Per Household | -- | -- | -- | -- | -- | -- | -- | -- | 2.58 | 2.46 | 2.32 | 2.34 |
---
Geography:
Deer River is a city in Itasca County, Minnesota. According to the United States Census Bureau, the city has a total area of 1.29 square miles (3.34 km²), all of it land. The elevation is 1,293 feet above sea level. U.S. Route 2 and Minnesota State Highways 6 and 46 are three of the main routes in the community.
From Wikipedia, the free encyclopedia.
---
Demographics:
As of the census of 2010, there were 930 people, 397 households, and 212 families residing in the city. The population density was 720.9 inhabitants per square mile (278.3/km2). There were 434 housing units at an average density of 336.4 per square mile (129.9/km2). The racial makeup of the city was 83.8% White, 0.1% African American, 11.5% Native American, 0.1% from other races, and 4.5% from two or more races. Hispanic or Latino of any race were 0.3% of the population.
There were 397 households of which 28.2% had children under the age of 18 living with them, 37.5% were married couples living together, 10.8% had a female householder with no husband present, 5.0% had a male householder with no wife present, and 46.6% were non-families. 39.8% of all households were made up of individuals and 19.4% had someone living alone who was 65 years of age or older. The average household size was 2.25 and the average family size was 3.05.
The median age in the city was 39.8 years. 24.6% of residents were under the age of 18; 9% were between the ages of 18 and 24; 20.8% were from 25 to 44; 24% were from 45 to 64; and 21.6% were 65 years of age or older. The gender makeup of the city was 44.9% male and 55.1% female.
From Wikipedia, the free encyclopedia.
---
---
History:
Before the community of Deer River was ready for any influx of settlers in 1900, the same pattern of development occurred there as in the county seat. The Indians were first on the scene, then came the fur traders, and finally the lumbermen.

One John Richardson was probably the first to describe the area in which the village of Deer River now stands. He came up the Mississippi from St. Paul. That was in 1861. The only building in sight was a trapper's shack on the little hill where the Wallace residence now stands. Most of the area was swamp; a few knolls and hills protruded. The land was not surveyed until 1875-76.

Logging operations commenced in the county around 1870. In the next twenty-five years loggers gradually moved westward to Deer River and northward as far as they could. Because the Mississippi and other streams were handy, loggers cut timber there almost as soon as along the Prairie River and around Pokegama.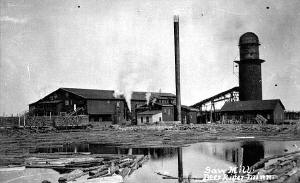 Sawmill in Deer River - 1900
Very likely the first homesteader was August A. Chase; he settled on the shore of Chase's Lake in 1889. A number of people shortly moved in from Duluth. They included Mike J. Deering, Thomas R. Armstrong, Gust and John Hedquist, Angus McNevin, John Larson, Louis Swanson, Steve Hagan, Magnus Edlund, Oscar Norman and Louis Samuelson.

Erick Moberg made a homestead entry for land in Deer River Township July 24, 1891. He received the final certificate for his land seven years later. This was probably the first homestead entry within the township.

John Larson also made a homestead entry in 1891, on July 29. August Chase did not file a claim for his land until 1892 and did not receive the patent for it until the following year. Other homesteaders who filed claims in 1892 and 1893 were Patrick Maher, Magnus Edlund, Oscar Norman, Thomas R. Armstrong and Agnus McNevin.

The township was formally organized February 20, 1894. More settlers began to move in. Within two years the Duluth, Superior and Western Railway was extended as far as Deer River. The place became a thriving lumberjack town. Then the M. & R. Railway was built north out of Deer River in 1897 and by August 29 the following year the Great Northern under Jim Hill finished its extension from Fosston east to Deer River. The town rapidly increased in size.

Other early settlers included Hugh Mackay, Jane Welsh, Frank Madden, Barney Gillon, Mary Bridget Grant, Donald H. McNiven, Alex Rose, James Woolford, John Main, Samuel McElroy, Murry J. Taylor, Joseph Woods, William J. Buell, John Wade and John Deering.

Although village records were burned in a fire in 1912, records in the county courthouse prove that the village was officially incorporated January 22, 1898. At that time the town contained a neat depot, three hotels crowded every day with lumberjacks, three stores, several restaurants, but no church. A log schoolhouse had been built some five years before. Logging companies were employing 1000 to 1500 men and had constructed 26 miles of rails northward; in 1898 timber outfits were "banking" 35 million feet of logs.

That year three blocks of Deer River's streets had been graded; a fine village well had been dug, and water "clear as crystal" flowed from a depth of 88 feet. Wheat was selling in Duluth at $1.19 a bushel; flour was about $2.00 a hundred pounds; Arbuckle coffee, unground, 20 cents a pound; shotgun shells, 98 cents a box; oak and maple firewood, $1.50 a cord.

The greatest excitement of the day came when the daily train pulled in about noon. That was as important as a steamboat landing at a small-town wharf along the Mississippi. Everyone left home and stores and bars to gather around the depot. Newcomers and visitors always had a large crowd to look them over, and that same crowd was anxious to see what freight the train would deliver.

Other entertainment that year of 1898 included a "pugilistic bout" in the "table room" of Kelly's Saloon between Tom Murray of Grand Rapids and Jack Cross of Montana. Fifty tickets at $1.00 each were sold. Two weeks later the governor ordered that Deer River prize fighting be stopped.

Citizens of the town must have been excited when a headline in the Deer River newspaper for November 19, 1898, read "To Raise Cattle Here." That week Frank Caldwell and his son Bert were going up to Bowstring Lake to build several large buildings for a stock ranch. They were working for a group of Duluth men who had formed a company to raise cattle on the wild meadows around Bowstring. To the citizens of the town this must have seemed like real progress. No doubt settlers nearby would have enjoyed the beef, too. What exactly came of this enterprise no one knows.

In 1898, too, a pneumonia epidemic claimed the lives of several Deer River settlers. This was recorded in one of the first issues of the Itasca News which had been reestablished after a fire had destroyed the plant two years before. While the Battle of Manila stole the headlines across the nation, the villagers resolved to put a tax on the dogs and to set a poll tax of one day's labor or $1.50 on every person living in the town. The village attorney claimed that Mr. Brooks could not be compelled to build a sidewalk from his store to the jail. Action and excitement! The village was progressing, preparing the way for settlers.

For some years Deer River remained a rough and tumble muddy town. It was moved out of the swamp to the point where the M. & R. crossed the Great Northern in 1899. But it was not until 1906 that residents were able to vote a bond issue of $12,000 to build roads and bridges in the township. Before that the "boys" along "Whiskey Row" had had no desire to pay for such unnecessary luxuries as roads. They never used them and they felt that others could always wade, swim or boat along the roads as well as along the creeks.
The population even swelled out to the south beyond the limits of Deer River itself. Zemple, the little town on the other side of the tracks to the south of Deer River, was officially organized in 1911. The first council meeting was held in June of that year. At the first election 28 people voted. The town was named for R. T. Zemple who owned most of the land and was elected the first village president. Some of the first settlers in the area included Robert Mayo, Bazil Mayo, Bruno Nordahl, Ole Dahl, Carl Dahl, Vern Sprague, Mrs. H. Johtonen, Mrs. Octavia Nellis, Frank Reed, Eli Simm, Albert Folsom, J. W. Ellis, William Reed and the Newkirks.
Pines, Mines and Lakes - The Story of Itasca County
© 1960 James E. Rottsolk and the Itasca Historical Society
---
Government:
Deer River City Hall
60 2nd Street SE
PO Box 70
Deer River, MN 56636
Phone: (218) 246-8195
Fax: (218) 246-9540

Regular Business Hours:
Monday - Friday 8:00 am - 4:30 pm

City Council Meetings:
2nd and 4th Mondays at 6:00 pm

Title
Term Ends
Name and Address
Phone
Mayor
12/31/2024
Steven R. Geving
301 4th Street SE - PO Box 339
Deer River, MN 56636
(218) 398-7250
(218) 246-9234
City Administrator
appointed
Mark Box
60 2nd Street SE - PO Box 70
Deer River, MN 56636
(218) 246-8195
(218) 246-8691
Council Member
12/31/2022
Barbara Serfling
531 4th Street SE - PO Box 354
Deer River, MN 56636
(218) 246-8066
Council Member
12/31/2022
Daniel Graf
511 4th Street SE
Deer River, MN 56636
(218) 246-9671
Council Member
12/31/2024
Patrick Richards
25 4th Avenue NE - PO Box 301
Deer River, MN 56636
(218) 244-0971
Council Member
12/31/2024
Christopher Reed
532 5th Street SE - PO Box 731
Deer River, MN 56636
(218) 244-9705
---
Post Office:
US Post Office
12 1st Avenue NE
Deer River, MN 56636
Phone: (218) 246-8440
Toll Free: (800) ASK-USPS

Regular Business Hours:
Week Days 8:30 am - 12:00 pm
1:00 pm - 4:15 pm
Saturday Closed
---
Utilities:
---
Major Employers:
---
News:
---
Weather:
---
Map: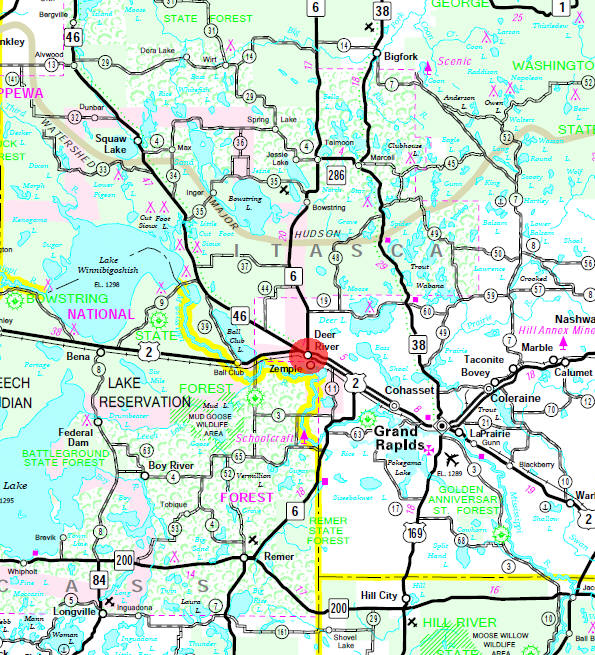 Minnesota State Highway Map of the Deer River Minnesota area
---
Events:
Wild Rice Festival

First weekend in July

For more than 65 years the Deer River area has celebrated the World's Largest Wild Rice Festival. Originally, the festival was established to bring the community together to celebrate the abundance of one of the area's natural staples, wild rice. Though wild rice still grows abundantly in some of the area lakes and rivers, the advent of "paddy rice" which is grown commercially and harvested mechanically, has made the once regional product a national available commodity.
Annual White Oak Rendezvous

Early August

Visit our fully constructed 1798 Northwest Company Fur Post with staff dressed in the clothing of the period. They will be showing you the lifestyle of the people who lived here in northern Minnesota during the fur trade period. Walk through history and experience music, dance, blackpowder shooting, military drills, storytelling, voyageur competition, or even walk the mile long Gil Quaal Nature Trail. The site hosts four different performance areas continuously both days. One stage is an acoustic stage and the other has a sound system. The musicians also walk around the grounds to give performances to you as you pass. Folk and ethnic music, old time country, and cloggers are the type of performances presented.
---
Attractions:
White Oak Casino
45830 Hwy 2 West
Deer River, MN 56636
Phone: (218) 246-9600
Web: www.whiteoakcasino.com

The casino floor features over 300 of the newest slot machines with denominations from 1¢ to $1.00 and include Wide Area Progressives with jackpots starting at $100,000! White Oak Casino features two blackjack tables. (Like we said, "We're the BEST Little Casino In Minnesota.") Table limits are $5 to $100, and when available or requested, we bump the limit up to $25 to $200.
White Oak Learning Center
1655 Division Street
Deer River, MN 56636
Phone: (218) 246-9393
Web: whiteoakhistoricalsociety.org

We are a non-profit organization providing living history interpretations of the fur trade era within the Great Lakes region. We operate The White Oak Learning Centre & White Oak Fur Post near Deer River, Minnesota. Housed within the White Oak Learning Centre are the The Great Hall, The Rick Balen Library, and the White Oak Society Office. Our goal is to expand today's horizons with a hands-on experience of the past.
---
Recreation:
Blueberry Hills Golf Course
44510 Golf Course Road
Deer River, MN 56636-3150
Phone: (218) 246-8010
Web: www.golfdeerriver.com

Northern Minnesota is home to some of the best golf in the state. Built by a small group of local business owners in the 70s, the course is set on gently rolling hills with stands of mature, native trees. At Blueberry Hills, we are proud of our course and the natural beauty that surrounds it If you are looking for a place to spend a relaxing afternoon, connect with local friends or rent for your private event... Blueberry Hills golf course is the perfect location for you!

Chippewa National Forest
1235 Division Street
Deer River, MN 56636
Phone: (218) 246-2123
Web: www.fs.usda.gov/main/chippewa/home

The Chippewa National Forest, located in the heart of northern Minnesota, is a celebration of seasons, culture and environment. The Chippewa National Forest is the first National Forest established east of the Mississippi River in 1908 and is the home to more lakes and wetlands than any other National Forest. The forest was originally known as the Minnesota National Forest. The name was changed in 1928 to honor the original inhabitants. Today, the Forest and Leech Lake Band of Ojibwe share goals and offer visitors a chance to experience Anishinabe culture and learn about the past from prehistory to early, logging-era and Civilian Conservation Corps days.
King's Courtyard

King's Courtyard, a wonderland of fantasy and imagination for all children. This playground, constructed in 1993 by area volunteers using money raised by local fund raisers and donations, is a dream come true for our young people. It is located at King Elementary School. From Highway 2, turn south at Shay's Family Restaurant, (4th St.) to the end of the street. Turn left to the school and veer left through the parking lot to the playground. It is open to the public.
---
Lakes:
Lake Name
Size
(acres)
Location
Lake info
Lake Map
Rec Map
Topo Map
Ball Club
3936
2 mi W
Bass
2427
4 mi NE
Bowstring
9220
12 mi N
Chase
209
3 mi NE
Cutfoot Sioux
2768
10 mi NW
Deer
4097
5 mi NE
Jessie
1753
14 mi N
Little Bowstring
319
10 mi N
Little Winnie
938
10 mi NW
Moose
1273
8 mi NE
Sand
3391
18 mi NW
White Oak
905
.5 mi S
n/a
Winnibigoshish
58544
10 mi NW
---
Health Care:
Essentia Health - Deer River Hospital and Clinic
1025 10th Ave NE
Deer River, MN 56636
Phone: (218) 246-8275
Web: www.essentiahealth.org

Essentia Health-Deer River is a 20-bed critical access hospital serving patients in and around Deer River, Minn. The modern building includes a long-term care facility and is adjacent to Essentia Health's Deer River clinic. Together, the three facilities create a convenient medical campus to serve the communities health care needs.
---
Schools:
---
Churches:
Apostolic Faith Church
212 2nd Street SE
Deer River, MN 56636
Phone: (218) 246-2243

Pastor: Rev. Gerald Schultz
Sunday Worship: 10:00 am and 6:00 pm


Ball Club Assembly of God
30970 Artic Road
PO Box 56
Deer River, MN 56636
Phone: (218) 246-2511

Pastor: Greg Baudeck
Sunday Worship: 10:30 am

Bethany Lutheran Church - ELCA
35297 State Highway 6
Deer River, MN 56636
Phone: (218) 246-8398
Web: www.bethanydr.com

Pastor: Lisa
Sunday Worship: 9:30 am

Clara Lutheran Church
41447 Little Clara Drive
Deer River, MN 56636
Phone: (218) 246-8101

Pastor: n/a
Sunday Worship: 9:00 am

Deer River Bible Church
33276 State Highway 6
Deer River, MN 56636
Phone: (218) 246-9570
Web: www.deerriverbiblechurch.com

Pastor: Steve Berg Sr.
Sunday Worship: 10:45 am

Deer River Church of God
304 4 Avenue SE
Deer River, MN 56636
Phone: (218) 246-8760

Pastor: Rev. Lee Pederson
Sunday Worship: 10:00 am

Evangelical Covenant Church
213 Main Avenue
Deer River, MN 56636
Phone: (218) 246-8062

Pastor: Ron Grossman
Sunday Worship: 11:00 am

CLOSED

Independent Apostolic Lutheran Church
33589 County Road 89
Deer River, MN 56636
Phone: (218) 246-2187

Pastor: n/a
Sunday Worship: n/a

Jesse Lake Lutheran Church - ELCA
45834 County Road 4
Talmoon, MN 56637
Phone: (218) 832-3883
Web: www.jesselakesuomilutheranparish.com

Pastor: Sue Johnson
Sunday Worship: 10:30 am
Redeemer Lutheran Church - LCMS
517 5th Street NE
PO Box 606
Deer River, MN 56636
Phone: (218) 246-8154
Web: www.redeemer-lcms.com

Pastor: James Anthony
Sunday Worship: 10:30 am

St. Joseph's Catholic Church
51061 Wolf Drive, Ball Club
Deer River, MN 56636
Phone: (218) 246-8105
Web: www.deerrivercatholic.com

Pastor: Fr. Steve Daigle
Saturday Mass: 5:00 pm
Sunday Mass: none

St. Mary's Catholic Church
105 First Street NE
Deer River, MN 56636
Phone: (218) 246-8582
Web: www.deerrivercatholic.com

Pastor: Fr. Steve Daigle
Saturday Mass: none
Sunday Mass: 11:00 am

Suomi Evangelical Lutheran Church - ELCA
42935 County Road 48
Deer River, MN 56636
Phone: (218) 832-3883
Web: www.jesselakesuomilutheranparish.com

Pastor: Sue Johnson
Sunday Worship: 10:30 am

United Methodist Church
27 First Avenue NE
Deer River, MN 56636
Phone: (218) 246-8591
Web: www.deerriverumc.org

Pastor: Gay Albers
Sunday Worship: 10:00 am
---
Media:
Western Itasca Review
15 1st Street NE
PO Box 427
Deer River, MN 56636
Phone: (218) 246-8533
Toll Free: (888) 685-0800
---
Motels:
Gosh Dam Place
38589 State Highway 46
Deer River, MN 56636
Phone: (218) 246-8202
Web: www.goshdamplace.com

Nestled in the pines and hardwoods of northern Minnesota lake country, Gosh Dam Place provides the simple comforts of life. Our ten unit motel is open year round and provides the following amenities: Cable TV / Wi-Fi Air Conditioning Mini Refrigerator Microwave Outside Plugins Pet Friendly Fish Cleaning Room - Heated Well Lit Parking for Trailers, Boats, etc. Adjacent Store has Gas, Bait & Licenses
White Oak Inn & Suites
201 4th Avenue NW
PO Box 128
Deer River, MN 56636
Phone: (218) 246-9400
Toll Free: (877) 633-5504
Web: www.whiteoakinnandsuites.com

Whether you are a business traveller or are making the Northwoods your Minnesota vacation destination, we invite you to experience our first-class hospitality. Relax and unwind in our indoor heated pool and whirlpool, or sit in our hotel lobby beside the fireplace and check your email using our wireless high-speed internet access. Wake up to a free continental breakfast, scan the daily USA Today newspaper or catch the weather on TV. We specialize in providing comfortable and affordable accommodations with an outstanding list of amenities.
---
Resorts:
Backwoods Resort
36679 County Road 238
Deer River, MN 56636-4093
Phone: (218) 246-2542
Ball Club Lake Lodge
34858 County Road 39
Deer River, MN 56636
Phone: (218) 246-8908
Bowen Lodge
58485 Bowens Road
Deer River, MN 56636
Phone: (218) 246-8707
Toll Free: (800) 331-8925
Web : www.bowenlodge.com

Picture yourself on a Northern Minnesota Fishing lake with hundreds of miles of pristine shoreline, an endless sky of dazzling stars, a comfortable cabin nestled in the majestic Northwoods. The only morning alarm is the call of the loon and your own eagerness to hit the water! That's what you'll experience at Bowen Lodge on Lakes Winnibigoshish and Cutfoot Sioux, known here in Deer River as "Big Winnie" and "Cutfoot".

Bowstring Lodge
49775 County Road 192
Deer River, MN 56636
Phone: (218) 832-3736
Bowstring Shores Resort
49231 County Road 173
Deer River, MN 56636
Phone: (218) 832-3101
Toll Free: (888) 832-3101
Web: www.bowstringshores.com

Bowstring Shores Resort is a Northern Minnesota resort on Bowstring Lake where you can fish, play and relax year round with the whole family. Come vacation with us for fun, laughter and Minnesota sunshine. We are sure our accommodations, prices, and hospitality will meet with your approval. Our family operated resort offers 13 housekeeping cottages in a variety of sizes. Our cabins are guaranteed clean, attractive and comfortable.

Cedarwild Resort
35951 County Road 238
Deer River, MN 56636
Phone: (218) 246-8680
Web: www.cedarwild.com

Come. Enjoy renewal and reconnection time with your family and friends in the quiet, natural wonder of the north woods. There is a beautiful place called CEDARWILD on Moose Lake which offers your family life-enhancing vacation time. You will create memories of the fun days and peaceful nights which will bring you back again to what is most important. Your hosts, Steve and Paulie enjoy enhancing the tradition by which Cedarwild Resort is recognized: "A friendly sort of place". For more than 50 years, families have been returning to Cedarwild to share the adventures of fishing on two great lakes, renew friendships, and to enjoy the numerous activities and the serenity of Cedarwilds special ambience.
Cut Foot Sioux Resort
44394 State Hwy 46
Deer River, MN 56636-2669
Phone: (218) 246-8706
Toll Free: (800) 752-7357
Web: www.cutfootsiouxresort.com

Located on Little Cut Foot Sioux Lake, with access to Big Cut Foot Sioux and Big Winnie (Lake Winnibigoshish). Tie your boat to your own dock in the resort's protected harbor. Cut Foot has a handicap accessible lodge and cabins, plus a fishing dock for the handicapped and children. Our well equipped, clean cabins are located near the water...NO STEEP banks or steps to climb. Cut Foot is a place where you bring the whole family. You'll enjoy many of our activities, such as the children's playground, canoes, fun bugs, paddle boats, kayaks, evening campfires and hiking in the wood to watch the wildlife.

Eagle Nest Lodge
58671 Eagle Nest Road
Deer River, MN 56636
Phone: (218) 246-8701
Toll Free: (800) 356-3775
Web: www.eaglenestlodge.net

We offer 14 exceptionally clean and comfortable housekeeping cabins from 1 bedroom that sleeps 4, up to 5 bedrooms that can sleep 19 people. Our 600' natural sand beach is raked and manicured daily so you can relax in the beach chairs and loungers, soaking up the sunshine while the kids and the rest of the family play in the sand and water. When you're done at the beach, make sure you stop by The Lodge for a snack or to pick out a couple souvenirs of your trip. Cutfoot Sioux and Lake Winnibigoshish comprise Minnesota's fifth largest lake, with more than 72,000 acres of water and less than one percent of the shoreline developed. We are located in the Chippewa National Forest, and the wildlife and scenery here are breathtaking

Geiger's Trails End
51713 Trails End Road
Deer River, MN 56636
Phone: (218) 832-3231
Toll Free: (800) 617-4589
Web: www.geigerstrailsend.com

You are invited to Geiger's Trails End Resort. Spend a memorable vacation with us on Bowstring Lake. Our resort is designed with your comfort in mind, with lakeside vacation. Get ready to REEL in unforgettable vacation memories. Geiger's is a family resort in the secluded Chippewa National Forest. With our clean and comfortable lakeside vacation homes, we're a cut above the rest. We also offer a large visiting lodge with a game room, TV, and a sandy beach -- perfect for hot summer days -- and a playground with swings, a slide and more!

Georgene's Haven
50241 County Road 35
Deer River, MN 56636
Phone: (218) 832-3076
Web: www.georgeneshaven.com

Georgene's Haven is a quiet family resort located on beautiful Bowstring Lake and in the Chippewa National Forest. Bowstring Lake has been named Minneapolis Star Tribune's "Lake of the Week" several occasions and has the reputation for being one of the best Walleye, Northern and Crappie lakes in Minnesota. Bowstring Lake's 9000 acres offers twenty-three miles of shoreline that leads way to many a fishing hot spot! Whether you wish to camp or stay in a cabin, Georgene's Haven offers both accommodations along the shoreline of Bowstring Lake.

High Banks Resort
17645 N Highbanks Road NE
Deer River, MN 56636
Phone: (218) 246-2560
Toll Free: (800) 365-2560
Web: www.highbanks.com

High Banks is centrally located on the Northeast side of Lake Winnibigoshish where we offer our guests great fishing and an excellent place to relax in the secluded Chippewa National Forest with family & friends.

Hundred Acre Wood Resort
32228 County Road 39
Deer River, MN 56636
Phone: (218) 246-8520
Web: www.hundredacrewoodresort.com

We offer a variety of amenities to make your stay with us as comfortable as possible. Cable with HBO and bathrooms with showers are available in every cabin. We provide complimentary WiFi access, sand beach volleyball, horseshoe pits, badminton court, playground and coming in 2018 9-hole Frisbee golf course. We have all your equipment needed covered, from boats with outboard motors and fish finders to Ice-houses and augers. Whether this is your first visit, or you have been a guest many times, we want your experience to be excellent. Our staff is always available to help with any questions or concerns you may have.
Jessie View Resort
45756 County Road 35
Deer River, MN 56636
Phone: (218) 832-3678
Toll Free: (877) JESSIEV
Web: www.jessieview.com

Jessie View Resort is a Northern Minnesota resort and campground located in one of the most scenic regions in the country, the Chippewa National Forest. A true four-season resort, the atmosphere of Jessie View changes with the season. From serious early-season fisherman, to the sounds of laughing children on the beach, to the peaceful cool, crisp air that surrounds us in the Fall and Winter. Whatever you enjoy can be found as you soak in the fresh breezes off the lake and our Minnesota cabins pamper you with modern amenities to make you feel at home.

Lakewood Lodge
52856 County Road 35
Deer River, MN 56636
Phone: (218) 659-2839
Toll Free: (800) 495-8437
Web: www.lakewoodlodge.com

Lakewood Lodge specializes in providing year-round fun-filled Minnesota family resorts vacations and awesome fishing on a quiet bay of Sand Lake. We are located 38 miles northwest of Grand Rapids in northern Minnesota and offer 14 exceptionally clean lake cabins, a fantastic swimming beach, kids activities, and great fall and winter getaways and sportsmen's opportunities.

Little Winnie Resort
55671 County Road 9
Deer River, MN 56636
Phone: (218) 246-8501
Toll Free: (800) 346-8501
Web: www.littlewinnie.com

Little Winnie Resort is a year-round Minnesota Family Vacation Resort unlike any other. It boasts a secluded location in northcentral Minnesota with 70 acres of resort surrounded by thousands of acres of the Chippewa National Forest. The resort offers direct access to Little Winnibigoshish Lake, a beautiful pristine lake left untouched by development.

Moose Lake Resort
36712 County Road 248
Deer River, MN 56636-4086
Phone: (218) 246-8675
Toll Free: (800) 424-8544
Web: www.mooselkresort.com

When God created the heavens and the earth we are sure that He must have spent extra time at Moose Lake Resort! With 40+ acres of awe inspiring beauty, clear pristine water, 1100 feet of sandy shoreline, and the Chippewa National Forest right in our backyard, we are truly blessed to be able to invite others to come and share it with us. We are a Ma & Pa, family owned and operated, Northern Minnesota resort that offers rest and relaxation for the entire family. Our goal is to make your Minnesota vacation with us pleasant, enjoyable and relaxing!

Northern Acres Resort
47292 Bowstring Access
Deer River, MN 56636
Phone: (218) 659-2845
Toll Free: (866) BOWSTRING
Web: www.northern-acres.com

Our small, family-oriented resort and campground is located on Bowstring Lake in the heart of the Chippewa National Forest. Come and enjoy our quiet, unspoiled surroundings, beautiful sunrises over Bowstring Lake, excellent fishing for walleye, crappie and jumbo perch and other outdoor sports, scenic walking trails through the woods, many kinds of birds and wildlife, and the area's varied recreational opportunities. Watching eagles and osprey soaring down to catch a fish or watching a great blue heron nibbling at minnows in the shallows can be a real treat.

Northland Lodge
17207 Winnie Dam Road NE
Deer River, MN 56636
Phone: (218) 246-8531
Web: www.northlandlodge.com

Nestled in the trees on the shores of Big Winnie, Northland Lodge is a great place to take a break from the busy city life. We will quickly become a family favorite. Whether you're from Iowa, Chicago, or the heart of Minneapolis, we have a vacation spot for you to enjoy. This relaxing Lake Winnie Resort offers 12 modern housekeeping cabins, a large campground with RV hookups, a private dock to some of the best walleye fishing in Minnesota, and a heated swimming pool with a waterslide - Northland Lodge has something for everyone.
Pines Resort and Campground
17221 Winnie Dam Road NE
Deer River, MN 56636-5000
Phone: (218) 246-8546
Toll Free: (800) 342-1552
Web: www.thepinesresort.com

Fresh, cool summer breezes whisper through our pines where twelve cabins are on the shore of Winnie Dam Bay on Lake Winnibigoshish in the Chippewa National Forest. Lake Winnibigoshish is the home of the State Record Muskie. It is also noted for walleye, northern, perch, and bass. The 95% uninhabited shoreline is wooded with oak, maple, birch and pine trees where deer and other wildlife are abundant.

Sand Haven Resort
49092 Empty Bar Loop
Deer River, MN 56636
Phone: (218) 659-2862
Web: www.sandhavenresort.com

SandHaven Resort is the perfect destination to reconnect with family and friends. We are one of the top MN Resorts in the Northwoods and are nestled in the Chippewa National Forest on a quiet bay of Sand Lake. We are approximately 38 miles northwest of Grand Rapids, MN. Whatever the reason for your visit you'll find spaces for fun and relaxation as well as cozy spots for privacy. This family resort offers 14 comfortable cabins in sizes from one to five bedrooms. With amenities like resort wide Wi-Fi, HD Direct TV, fireplaces, dishwashers and air conditioning, SandHaven Resort is where lasting memories are made.
Sand Lake Lodge Resort
54832 Rainbow Road
Deer River, MN 56636
Phone: (218) 659-2867
Web: www.sandlakelodge.com

Deep in the Heart of the Chippewa Forest, where time seems to have stood still for hundreds of years, is Sand Lake, a picturesque lake just miles from the mighty Mississippi. Sand Lake Lodge Resort has been nestled along the shoreline among the towering red and white pine trees for over 50 years and we invite you to come join us and experience the beauty, relaxation, and tranquility of the great Minnesota north woods. Our seventeen acre resort surrounded by the Chippewa National Forest will seclude you in its magestic beauty.
Satko's Fawn Lake Resort
36670 County Road 238
Deer River, MN 56636
Phone: (218) 246-8608
Web: www.satkosfawnlakeresort.com

This peaceful, well-kept resort is located in North Central Minnesota. It's on the edge of the Chippewa National Forest and only minutes from fishing Deer & Moose Lakes, as well as several other area lakes. Come and enjoy the relaxed family atmosphere along with great fishing!
Shady Shore Resort
40012 County Road 19
Deer River, MN 56636
Phone: (218) 246-8665
Web: www.shadyshoreresort.com

Family owned and operated since 1936, Shady Shore Resort is in the business of providing simple, rejuvenating vacations for people looking to escape the hustle and bustle of everyday life. The Resort's 35 acres of lakeside property were originally homesteaded by Swedish-immigrant, Gust Hedquist, in 1892 and still don the impressive White Pines integral to the area's historic logging industry. Maintaining some of that old-world feel, Shady Shore's nine lakeside cabins are supplied with the amenities necessary for a simple, relaxing vacation and offer aesthetic touches unique to the resort's history and location
Snug Harbor Resort & Campground
50351 County Road 35
Deer River, MN 56636
Phone: (218) 832-3466
Toll Free: (800) 419-5289
Web: www.snugharborresort.com

Snug Harbor Resort & Campground is located on the shores of Bowstring Lake in northeastern Minnesota, and is completely surrounded by the Chippewa National Forest. The resort is 222 miles north of Minneapolis and St. Paul, 37 miles northwest of Grand Rapids, Minnesota, and 22 miles north of Deer River, Minnesota.

Starck's Tamarack Lodge
4314 Winnie Dam Lane NE
Deer River, MN 56636
Phone: (218) 246-8515
Toll Free: (866) 494-7325
Web: www.tamarack-lodge.com

Tamarack Lodge is a four season family-friendly resort located on the shores of Lake Winnibigoshish (Lake Winnie) in the heart of northern Minnesota. Nestled in a protected bay shaded by towering pines and stands of birch, we offer everything you need for a memorable fishing or family vacation. Our peaceful resort is open year-round and has been the vacation destination of choice for many of our guests and their families for over 20 years!
---
Campgrounds:
Deer Lake Campground

Deer Lake Campground is located on scenic Cut Foot Sioux Lake, next to Lake Winnibigoshish, in the heart of the Chippewa National Forest. Visitors come to the area for boating, trophy muskie fishing and beautiful scenery. The campground is situated on the western shore of Cut Foot Sioux Lake and is split into two separate loops. The North Deer Loop is covered by a hardwood forest of maple and oak, with some mature pine trees scattered throughout the area. South Deer Loop is forested with mature red and white pines.
---
Businesses:
---
Aerial Photo: [click photo to enlarge, zoom in or zoom out]
---
Topographic Map: [click map to enlarge, zoom in or zoom out]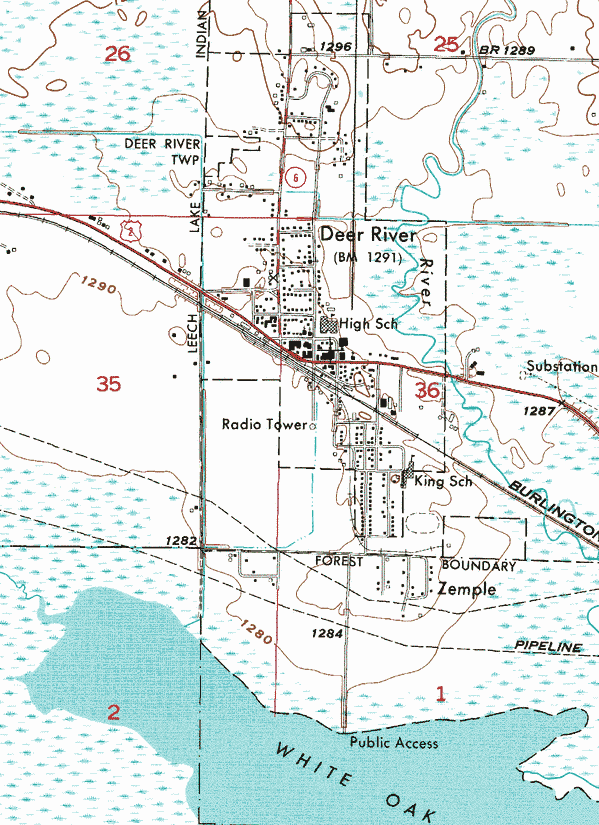 Topographic map courtesy of the Minnesota DNR - click map to zoom or enlarge
---