Navigation
LakesnWoods.com
Home Page
Contact Us
Privacy
Minnesota History Shop

Visit The Minnesota History Shop
www.minnesotahistoryshop.com
Historic maps
Historic books
Historic framed art
Historic postcards
Clothing with historic images
And much more!!!


Craig Guide:
Photo Gallery
Location
Geography
Demographics
History
Government
Post Office
News
Street Map
Events
Attractions
Recreation
Lakes
Health Care
Schools
Churches
Media
Motels
Resorts
Campgrounds
Businesses
Aerial Photo
Topographic Map
© 2004-2023
Lakeweb1 Internet Services
All Rights Reserved
DCMA, Defamation, Copyright and Trademark Infingement Policy
WANTED!
Do you have photos, historical accounts or other items pertaining to the Craig area? Would you like to share this historical information with the world? LakesnWoods.com would like to publish your Craig photos (current or historical) or historical accounts on this website. Original materials can be returned and your privacy will be respected.

Craig Minnesota Community Guide
---
Location:
---
Population: Unincorporated
South Koochiching
(unorganized teritory)
1970
1980
1990
2000
2010
2000-2010 Change
Actual
Percent
Population
900
363
289
267
189
-78
-29.21
Land Area (sq. mile)
159.40
848.50
844.34
844.38
844.38
0
0.00
Density (persons per sq. mile)
5.65
0.43
0.34
0.32
0.22
-0.10
-29.21
Housing Units
436
226
400
408
385
-23
-5.64
Households
--
129
123
121
97
-24
-19.83
Persons Per Household
--
2.81
2.35
2.21
1.95
-0.26
-11.76
---
Geography:
South Koochiching is an unorganized territory in Koochiching County, Minnesota. According to the United States Census Bureau, the unorganized territory has a total area of 845.5 square miles (2,189.7 km²), of which 844.4 square miles (2,186.9 km²) of it is land and 1.1 square miles (2.8 km²) of it (0.13%) is water.
From Wikipedia, the free encyclopedia.
---
Demographics:
As of the census of 2000, there were 267 people, 121 households, and 86 families residing in the unorganized territory. The population density was 0.3 people per square mile (0.1/km²). There were 408 housing units at an average density of 0.5/sq mi (0.2/km²). The racial makeup of the unorganized territory was 94.76% White, 3.75% Native American, and 1.50% from two or more races. Hispanic or Latino of any race were 0.37% of the population.
There were 121 households out of which 22.3% had children under the age of 18 living with them, 58.7% were married couples living together, 5.0% had a female householder with no husband present, and 28.9% were non-families. 26.4% of all households were made up of individuals and 12.4% had someone living alone who was 65 years of age or older. The average household size was 2.21 and the average family size was 2.60.
In the unorganized territory the population was spread out with 18.0% under the age of 18, 4.9% from 18 to 24, 21.3% from 25 to 44, 33.7% from 45 to 64, and 22.1% who were 65 years of age or older. The median age was 49 years. For every 100 females, there were 118.9 males. For every 100 females age 18 and over, there were 119.0 males.
The median income for a household in the unorganized territory was $33,250, and the median income for a family was $35,417. Males had a median income of $37,188 versus $15,938 for females. The per capita income for the unorganized territory was $16,295. About 2.2% of families and 6.5% of the population were below the poverty line, including 2.4% of those under the age of 18 and 17.3% of those 65 or over.
---
---
History:
CRAIGSVILLE, a village in section 36 of T. 63N, R. 26W, was named for a logging foreman in the area named Craig; it was platted in 1924 by James Reid. The site had such extensive logging around it that during logging season up to 5,000 loggers might be found in the local taverns. Its post office, 1915-52, was established in Itasca County and transferred to Koochiching County in 1918; it had a station of the Minneapolis and Rainy River Railway.
Courtesy Minnesota Historical Society
Excerpted from the Book
Tim-BERRR!
Pine Logging in the Bigfork River Valley
© 1991 Benhart Rajala
Deer River was wild and wide open. But rated X, right along with Saginaw, Muskegon, Hurley, and Portland and Bangor (back east where it all began) was Craig.
Craig, or Craigville, looked the part. The thirty-some odd buildings that lined its one-sided street were nearly all "blind pigs"—a term for a business that sold rotgut while pretending to be something else. Interspersed among the dens of iniquity and gambling joints, at a safe distance apart, were a couple of general stores, a depot, two hotels with "Good Eating Restaurants" for those who bothered stopping to eat, a sawmill and lumber camp, and Finn baths for boiling off a few layers of the winter's accumulated scale and crud.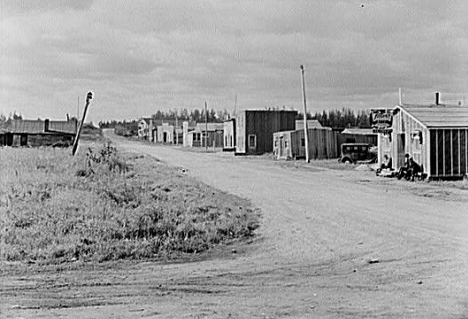 Main street. Craigville, Minnesota, 1937
Courtesy US Library of Congress - click image to enlarge
Scattered among these were the lairs of the "maidens," one aptly named "The Big Ship" for dryland sailors and lumberjacks, where you could, if you had the money, buy everything that made Sodom and Gomorrah famous. Some of the notorious ladies occupying these premises (which Jack Molan referred to as "them Horizontal Recreation Parlors") had such names as: Ole Milly, Dutch Mary (who claimed the performance record in terms of quantity, comparing the numbers of her customers with the ties in Backus' railroad); Big Alice (who had whiskers, and talked rougher than most tough lumberjacks); There was Big Tit Tillie, Scarface Jean, Box-car Nell, Tamarack Lil—more than one of whom claimed to have given away a million dollars' worth before they knew it was worth money—along with many nameless broads and battle axes, one they even said must have been split with a broadaxe herself. They all came to offer romance or a reasonable facsimile thereof to the 4,000 to 5,000 lonely and sometimes woman-shy jacks who were on their way in from the woods, or the log drivers passing through. They came to Craig from other haunts, with quite a lot of mileage behind them. When the boom ended, they left for greener pastures, and may well be plying their trade along a skid row someplace. The last of 'em hung tough, handling the trade all alone from World War II until the bitter end.
Craig had other more potent attractions for the jacks even than the society of friendly ladies. That was the "moonshine" or rotgut booze that flowed freely, illegal or not, at all hours of the day or night, and the gambling for high stakes against the professionals who were always ready to relieve a man of his hard-earned stake.
If this had been all that went on in Craig, it would never have acquired the lurid reputation that it had throughout the years of logging. But it had two natural features, a hill and a river, that were made-to-order for the unscrupulous bloodsuckers who didn't mind a bit of robbery or murder if they could get away with it, even when there were such easy ways of getting the lumberjack's money in the open. It was no secret that men who stumbled up the hill to the bunkhouse with any money at all left were apt to be hit over the head with a blunt instrument and rolled back down, under the cover of darkness, there to be slipped into the river or pushed through a hole in the ice. Most of the time their bodies were never found. If they were, nobody inquired very far—a lumberjack was likely to be a man with no family and no known relatives. Inquiry for a missing man seldom came from Outside, unless he was wanted by the law or pursued by a deserted wife.
If the body did come to light, nobody got very excited. It wasn't unusual for log drivers to see a man's body surface in their working area.
When Charles Bibeau and his partner, a cheeful, happy-go-lucky, singin', whistlin' Tennesseean were poling logs from a jargo near Craig, a dead body popped to the surface between the logs. The Tennesseean froze from shock, in mid-whistle, and became sick. "I'm gonna quit," he said, shivering. "What kind of people is these, anyhow?" He finally compromised by getting stinking drunk, with such a terrible hangover the next day he was no use on the drive and was nearly drowned himself, unable to keep his balance on the jargo. As for the body, the coroner came and got it, and that was the end of the matter.
Even the children of the community were aware of the seamier activities. One spring morning, when the usual pair of students went to the spring at the river's edge, for water to fill the school's water-cooler, they noted what looked like a basketball bobbing along in the water. They waited for it to come within reach, so they could snag it for their playground fun. When it got close, they saw it was not a basketball after all—it was the back of a man's head, carried northward by the current.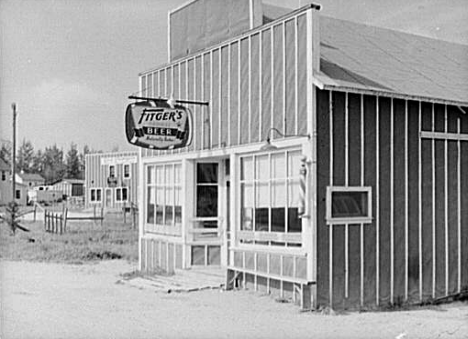 Beer Parlor and Barber Shop, Craigville Minnesota, 1937
Courtesy US Library of Congress - click image to enlarge
How many men disappeared in this fashion was anybody's guess. Friendless, homeless men were never missed.
Not all killings were secret affairs. Grudge fights helped fill the burial grounds, too, and entertained the general population besides. The most famous was the duel between Cunningham and McGinty.
Both of these men were tough gamblers from Bemidji, working as house gamblers in two of the establishments. Some trouble arose between them—possibly it was just that the town was too small for two hot-shot gamblers, and there was not much business that winter.
At any rate, a run-in took place in the moonshine bar where the bartender was Cunningham's friend. He came to Cunningham's assistance with a stove poker, striking a mighty blow that bent the poker in the shape of a U. McGinty, cold-cocked, must have been part lumberjack—he was felled, but not knocked out. He got to his feet and left, but the next day he was back. He spoke coldly to the bartender.
"Go home and tell your wife goodbye," he said. "I'm going to get Cunningham first, and then I'll take care of you." He left the joint and went on up the hill, looking for Cunningham.
The worried bartender got word to Cunningham about the threat, and when McGinty returned, Cunningham was armed and waiting, standing sheltered by the end of the bar. Even so, McGinty got his shots off first. He fired wide, striking his enemy in the chest both times, in spite of the protection of the bar. Cunningham fell, but he got off one shot that dropped McGinty dead.
There were no repercussions from the law, but the party-line telephones really buzzed as the excited citizens discussed the latest commotion with a mixture of ghoulish glee and pleasurable horror. Most sympathy was for McGinty, who, though a tough ex-pug, was normally mild-mannered and would not hurt an ordinary person without provocation.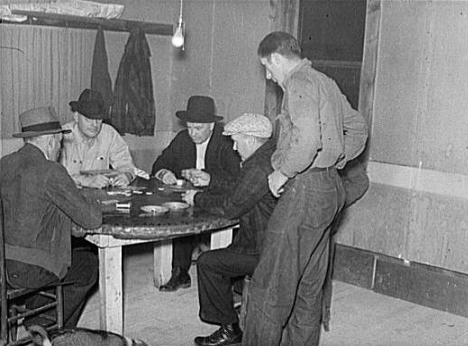 Card game in a saloon in Craigville Minnesota, 1937
Courtesy US Library of Congress - click image to enlarge
You didn't have to be a professional gambler to get into trouble with the card sharks. Bill Laine was a shrewd man with a deck of cards, and always hoped to double his winter's logging stake so he could send to the old country for his wife and daughter. He hit a winning streak, and came out of a game with a fairly substantial windfall. The word got around, and before he could leave town with it, he was shot in the street, and left for dead. Fortunately for him, he didn't die—but the hospital stay most certainly took care of any profit he might have made. Nobody was ever charged with the shooting.
Some of the businesses gave the jacks something for their money, but they were outnumbered by those who considered them scum who would never know what had become of their stake anyway, so jacks were fair game for any operator, fair or foul. Jim Stewart, an ex-logger himself, attempted to run a decent place. Along with his saloon, he kept some fine horses for hire. He had a customer of surly nature who had been drinking on the cuff too long, by Stewart's standards, and he demanded payment. The man refused. Stewart took his rifle, and shot the man dead. He surrendered himself to the authorities, who put him away in prison for the rest of his life.
When Prohibition was enacted, a town that was rough got even rougher. Presumably since the operators were outside the law to begin with, a little more crime wouldn't weigh very heavily on anyone's conscience. The town received a transfusion of cold-eyed freebooters, who feared nobody, dared to do anything that looked like providing a profit, and brazened it out in front of everybody except the "revenooer."
The federal revenue officers tried from time to time to do something about Craig, but it was a losing battle. To begin with, the nearest county agency for law enforcement was at International Falls. It was connected to Craig only by a very roundabout route on a commercial railway that took the better part of two days to get there, or a sixty-mile logging railroad. A friendly railroader could easily tip off the barkeepers and bootleggers, so that when the officers finally did pull off a raid, there was no evidence to be picked up. For their part, the bootleggers had an Early Warning System that was never fully revealed. When the Revenue Men were suspected of being in the vicinity, the wily operators had ingenious methods of breaking all the bottles of illegal "moonshine." Some of them had storage shelves in their cellars or back rooms that could be tripped by a rope attached. When the "feds" burst in the door, the bartender gave a quick yank; down went the shelf, and there went the evidence. Others had slides of one sort or another, or relied on their trusty hammer.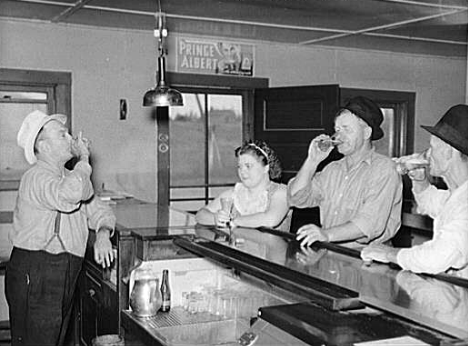 A drink on the house. Lumberjacks, proprietor and lady attendant in saloon. Craigville, Minnesota, 1937
Courtesy US Library of Congress - click image to enlarge
The more philosophical or cynical ones let themselves be picked up from time to time, and hauled off to the judge, where they paid a fine (easily recouped) and added a little gratuity on the side to help keep nosy lawmen off their backs. This was considered a sort of civic duty and sometimes an insurance against bothersome raids. One lone Dick-Tracy type did arrest and line up a group who drove themselves to Bemidji in their own cars, paid their fines, and returned to business as usual.
The bartenders were always alert to avoid the raids if there was a sporting chance. Naturally they were suspicious of strangers. One man who arrived in a Cadillac, wearing a suit, appeared so obviously a high-ranking Federal man out for blood that the proprietors went into action on sight, smashing their bottles and dumping their wares. They were really mad when they learned he was a boss boot-legger, coming to give them a little competition.
One particular saloon keeper can serve as an example of the kind of men who gave the town its reputation. It has been said that in his later years he "got religion" so the deeds which were attributed to him had best not be remembered in his name. But it is interesting to note how many instances of rough brutality and downright skullduggery are credited to him by the men who passed through.
He ran a rough-and-tumble, knock-down-drag-out sort of saloon business, and was said to have got many a man's money when he was too befuddled by drink to know where it went. One eyewitness said he knocked a drunk Finlander down with a club, killing him, and then dragged him down to the waterhole in the river ice, from which water was dipped by some townspeople. (The river, by the way, was commonly used by many of the saloon keepers as the source of water for cooking or diluting the moonshine. Nobody seemed to ever worry about pollution.) The waterhole proved too small to shove the man through, and soon the tavern-keeper was seen running back with his axe to enlarge it, cursing all the time about his troubles. But the man was harder-headed than he had supposed. When the bartender got back, the Finlander was gone. He'd come to, and gone back to the whiskey row.
A watchman at Reid's mill happened into the place when things were pretty quiet. The saloon keeper was annoyed. "What the hell's wrong; nobody's buyin' drinks," he complained. "Can't keep this place open for you guys if you ain't buyin'." He looked at a dirty, unkempt jack slumped over the bar, in a drunken stupor. "Oh, Joe, here—he'll buy a round." Reaching into the man's pocket, he extracted the roll of bills that represented the remains of Joe's stake, and peeled one off. "He'll need that to buy a drink when he wakes up," he explained, and shoved it back into the man's pocket. The rest of the roll he took back to the till, and gave everybody a drink on the unconscious Joe. The men drank, but afterward agreed that it would be wise never to get drunk in that joint.
Taking advantage of lumberjacks was fairly easy, with the "banking" method the jacks used. When they hit town, they often handed their check to the first bartender they visited, with the understanding that anything they spent in his place was to be deducted from it, along with a small cash advance. That way, they reasoned, they wouldn't be risking that someone would kill them for the money they carried, as they made their unsteady way up the row of moonshine joints. From time to time, as they used up the advance, they'd come back for more money, until it was all gone. An honest bartender gave them all they had coming. A crooked one grabbed at the chance to siphon most of it into his own pocket, and frequently got away with it. A lumberjack on a toot could easily lose track of his spending, and he had only the bartender's word for it when he was broke.
This particular saloon-keeper was an expert at bullying the jacks and browbeating them into giving up the battle when he said they were out of money. The men might dispute his word, but they never got any money back that he didn't want to give them. There are two unimpeachable witnesses for one such event in his joint. One of them, Swan Freeberg, was a much-respected company foreman. He swore me to secrecy, telling me that if word of the story got out, he feared for his life.
It started out as the usual tale of the drunk making his boozy way up the street after depositing his check with the bartender. When he needed funds, he returned, half-shot, and asked for some of his money. The bartender swore some mighty oaths. "&#$!%$#$&X! you dirty bum, get out!" he said. "You haven't got any money. You've used it all. Now get out!"
Evidently the jack wasn't all that drunk. He swore furiously that he did too have money coming. He'd only taken twenty dollars, and should have several hundred left. The bartender had better hand it over, or else He looked threatening. The bartender thought it over for a moment.
Well, maybe the guy actually did have some left, he said. He didn't think so, but maybe there was a mistake. He'd go in the back room and check the books. Meanwhile, here was a drink—and he placed a glass in front of the man. He disappeared into his back room, and the men in the bar heard the back door shut as he ducked out.
Moments later a rifle cracked. A bullet tore through the tarpaper wall and the man dropped to the floor, killed instantly.
Before the men around the bar had time to sort things out, the bartender came briskly in the back door and entered the bar.
"What the hell's happened here? Who shot that guy?" he demanded. No one knew, other than that a bullet had burst through the rough boards, and the man fell dead.
"You guys help me get him out of here," the bartender ordered. Some dazed customers helped him drag the body out back and cover it with snow, while the bartender mopped up the blood.
Swan Freeberg's story ended there, except that he added that he never again had a drink in that bar. He saw quite clearly what had happened. After placing the drink on the bar, the bartender went into his back room, picked up his rifle, and left by the back door. By counting the one-by-four slats on the building wall he knew exactly where the man was standing, drink in hand, and let him have it. Next day Swan went behind the building and checked it out. But when he told me this story, in 1938, he made it clear I was not to divulge it, even though it had happened nearly twenty years earlier. All those present had been threatened, if they ever talked.

The epilogue came from another witness. He said that the next morning, he and another man went to check on the corpse, to see if the victim could be identified. What they found was a trail to the river, showing where something heavy had been dragged. A clinching event took place in the spring. When log drivers reported finding the body of the man with a bullet hole in his back, the bartender shrugged. "Man! I never figgered anybody'd ever find, him, under the ice," he said. It didn't appear to rest heavy on his conscience.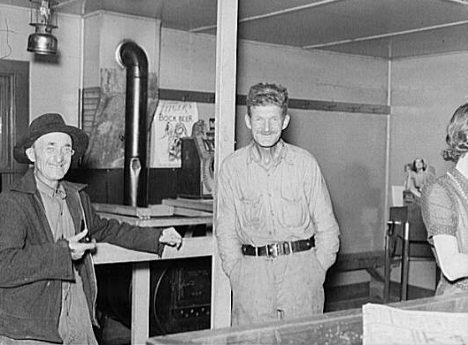 Lumberjacks in a saloon in Craigville Minnesota, 1937
Courtesy US Library of Congress - click image to enlarge
Because Craig was known to be a hell-raising place, that's where the boys went when that was what they wanted to raise. Bartenders kept a certain amount of order to prevent their places from being demolished in drunken brawls, and usually had a blackjack, or something like it, handy, which they had no restraint about using.
They didn't always figure to a nicety the exact amount of persuasion needed. One saloon keeper trying to subdue a noisy timber beast miscalculated his own strength. He hit him with a hatchet, through cap and hair, and the man dropped like a poleaxed steer, spreading blood all over the pine board floor.
The barkeep was a bit jolted. He hadn't meant to be that rough, and, anyway, a corpse on the floor was bad for business. He got a little nervous. There was one other patron at the time, one Tamarack Jack, whom he persuaded to drag the fallen man out to a snowbank to await later disposal. Tamarack Jack agreed to do the favor for twenty-five dollars, and he did.
Once he got the victim outside, he realized he was still breathing. However, he reasoned it was no business of his, and he wanted to earn his twenty-five dollars, so he dragged the limp body to a snowbank and left him, returning to the tavern to finish his refreshments. He was still there later, when the door opened, and a swaying, bloody, wild-eyed figure entered the joint, heading uncertainly for the bar.
The saloon keeper took one look at the unrecognizable apparition, his hair matted, his face invisible behind a mask of blood and dirt, his clothes awry, dirty and sopping. Possibly he'd had a few snorts to steady his nerve. His eyes bugged out, he grabbed the bar with both hands, and began to shriek:
"Jeez! It ain't you—I killed you!" and when the Incredible Hulk kept coming, he bolted out the back door like a rabbit into its warren, never to return.


Lumberjack with bandaged head after being beaten up and "rolled" in a saloon on Saturday night in Craigsville Minnesota, 1937
Courtesy US Library of Congress - click image to enlarge
From all the stories about the denizens of Craig, it appears that many of the saloon owners were not really tough guys, but bullies who took advantage of men they would be afraid to meet in a fair fight. Joe Poliquin was different. He was not a big man, but well-built and quick. He never backed up from anybody if he thought action was called for. Joe was a merry and jovial-spirited fellow, not given to quarreling. He did barbering, and was a jack-of-all trades. When Prohibition was repealed, he had a liquor store and bar. His eyes were unlike any I ever saw, their color a cross between that of a rainbow trout and a speckled trout, that sparkled when he was up to some devilment.
He had a place in Effie where people gathered to play pool and enjoy late evening lunches. One night, after a show, I was there when the notorious Craig bully mentioned earlier came in. He had with him an old lumberjack, MacLaren, whom he was abusing. Several times he hit MacLaren, cracking him on the side of the neck and knocking him down. He was proceeding to kick the old fellow, when Joe ran up to him and struck him a good wallop in the solar plexus. "Get out!" he said, "And don't come back unless you can behave. If you bother that old man any more, you'll get worse." The bully turned and left without a word.
As a young man, traveling by train to Montana to see the Dempsey—Gibbons championship fight, Joe happened to meet Jack Dempsey in the aisle. Joe tossed his turkey on a seat, punched Dempsey in the belly, and stepped back quickly. "Haw-haw-haw!" he said. "I just wanted to see what it felt like to sock the world's champion!" For a second he was ready to run at the killer expression that crossed Dempsey's face, but kept his own broad grin in place. Dempsey relaxed, and they shook hands. It gave Joe a story he was fond of telling again and again. "Dempsey's belly was hard as a rock," he would say.
There were other people in the area near to Craig besides the riffraff, and living with the flagrant vice and degeneracy did nothing to make their lives pleasant. One of these was Pete Wiegant, (whose name somehow came out "Wiggins" on the local tongues), the unkempt depot agent, who handled most communication with the outside world. Originally a first-class telegraph operator, he ended up in the lumberjack hangout as a kind of recluse. He was also the postmaster, and often delivered the mail to the various places along the street that were too busy to pick it up themselves. Being a bachelor with not too much skill in cooking, he liked to time these deliveries at mealtimes, so as to be invited to sit down to dinner. His was the only telephone in town. When someone came to use it, and thanked him for it, he would say sourly, "That won't buy any bread."
But he gave no support to the lawless element. The Reverend Herb Peters visited him once, in the company of a New York minister. They found him in his den, where he lived like a hermit, dirty and unshaven, in the old dilapidated Minneapolis and Rainy River depot in Craig. Pete rose to the occasion, offering them "coffee that's stronger than whiskey, but better for you."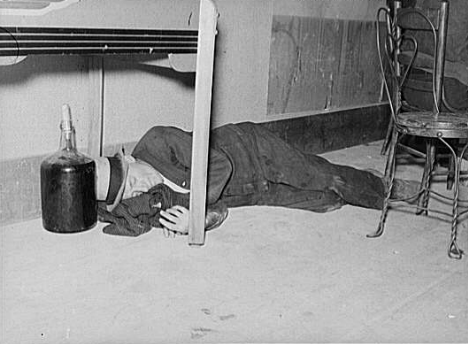 Lumberjack under the table in a saloon in Craigville Minnesota, 1937
Courtesy US Library of Congress - click image to enlarge
Men who might otherwise have been decent, hardworking husbands and fathers succumbed to the effects of the rotgut that passed for whiskey in the joints. The citizens of Craig heard frantic screams at the river bank one spring day, and ran down to see what was happening. At the water's edge two people were struggling; a man, crazed by drink, was trying to drown his Indian wife, holding her head in the water, while she fought with all her strength to escape.
Hardened though they were to violent deaths, the case of one bootlegger caused a feeling of horror to spread throughout the north country. With his wife and three small children, he was living in a shack near Craigville, while working in the woods. Unfortunately, he was spending a good bit of his time and pay in the dives.
The poison of the raw moonshine worked on his brain until something snapped. He grew moody, morose, unpredictable. Coming home one day in a mindless fury, he seized his wife and slashed her throat. He did the same to their infant son. The little girl fled from the shack in terror, and the wife, horribly cut and bleeding but not dead, staggered out and hid in the woods with her crazed husband in pursuit. She eluded him, and finally made her way to the home of a neighbor.
This was something for the law to handle. But (as has been said) the law of Koochiching was in International Falls, a two-day trip away, and the drunken murderer was on the loose, probably armed. In desperation they called the closest lawman they knew of, a deputy sheriff of Itasca County stationed at Bigfork, eleven miles south.
This deputy wasn't much for size, being only about five and a half feet tall. But he was an ex-river-driver, Fred Peloquin, so he didn't scare easily. He got his revolver and came right up.
There wasn't much the callers could tell him. They knew only that the maddened man was somewhere in the forest. Fred went in after him. The deputy found the man, too, but didn't arrest him. The man had killed himself.
Events of this nature aroused a feeling of desperation in the hearts of the sober, sensible people. One of them took time to write this appeal, which was published in the newspapers of the time:
"For God's sake, help us clear Koochiching county of its hundreds of bootlegger joints and stills.

"For God's sake, help us clean up the dives in Craig, Gemmell, Big Falls, and International Falls.

"For God's sake, help us protect law-abiding citizens who are at the mercy of the booze elements which are setting up a kingdom second to Chicago and Herrin.

"For God's sake, help us clean up the hell-hole of Craig, where they knock 'em cold with blunt instruments and tuck the lifeless bodies beneath the ice of the Big Fork River to be washed down with the spring thaws.

"For God's sake, help us in a county where women are beaten to death and the culprits are seldom prosecuted.

"For God's sake, help us protect the innocent and prosecute the crooks, gamblers, resort proprietors, rum runners, intoxicated auto drivers, and wild women.

"For God's sake, help us uphold the spirit of the town marshal at Big Falls, shot down in bold murder at the hands of the element that is endeavoring to do away with Federal patrol of highways in Koochiching.

"For God's sake, help us in our fight to restore law and order in a county which is overrun with illicit booze traffic, where graft and corruption flourish, where the Constitution of the United States is treated as a scrap of paper and the law of the state of Minnesota is taunted." (Duluth Herald)
After the repeal of Prohibition, Craig was never as bad as it had been when whiskey could only be obtained from men who were outside the law. But it still was the lumberjack's favorite hangout, and as such was a sort of informal employment agency. Along with International Falls, Bemidji, Virginia, Superior and Duluth, it was a place where men "went down" for their "vacations," and were to be found when they woke up from their bout with drunkenness, broke and hungry. Usually they were happy to be given a ride back to camp, half-sick and sorry, where they would get into shape with a few good hot meals and start accumulating a stake for their next drunk. The barkeepers had no patience with the men when they had spent all their money, and would often phone for someone to come and get them out of their way. Knowing that the old fellows frequently didn't have a friend who would give them that help, the loggers usually obliged.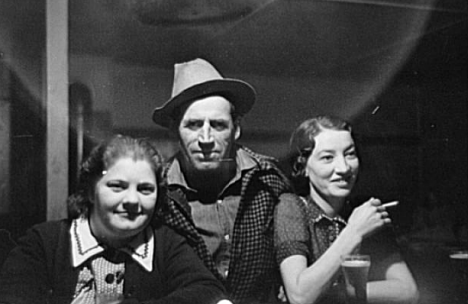 Lumberjack and two "attendants" in saloon of Craigsville Minnesota, 1937
Courtesy US Library of Congress - click image to enlarge
There were some occupational hazards, though. Frequently the men coming back from their sprees were hung over, and sick, and smelly, and not sober enough to be responsible for their behavior. They meant no harm, but the juice of their Copenhagen when they'd spit out the window stripped the paint off the side of many a boss' car.
During the war, there was a logging camp on each side of Craig, about a mile from the town's lively bars. One logger hired a team of cooks that were soon famous as world-beaters. In order to keep his crew from deserting to the other camp, his competitor was forced to find an equally competent grubslinger. That raised a fresh problem. The men kept walking back and forth from one camp to the other, trying to determine where they would get the best meal; but somehow they never made it all the way. With a rip-roaring tavern halfway between, offering all kinds of exciting inducements as well as room service, a good share of the crew from both camps got hung up between. Both loggers said it was the most changeable crew they'd ever had.
The most monumental battle I ever witnessed occurred between two partner-brothers who went on a spree together. Whatever started the fracas I don't recall, but it wasn't long before they were swinging at each other. They were both big, tough bruisers, and a haymaker from either one would knock the other back some ten feet, where he'd fetch up against the wall or furniture, and come back swinging. They slugged each other back and forth for some time, and the damage was of epic proportions. Their shirts were torn, their faces banged up, and the furnishings of the tavern were broken and upset. The tavern keeper was dancing about begging them to desist, to have pity on his place, grabbing futilely at their arms. It only made them madder. All their attention was concentrated on their private war, and if the bartender got in their way he was swept aside like an irritating twig in the woods. Their breaths came in great heaving gusts. Presently they began to lay hands on the chairs, tearing them apart and using them as weapons. They broke up the chairs, the tables, the bottles and glasses and whatever else they could seize. The mirror was shattered, the place a shambles, but they kept pounding each other until both were exhausted and one had a broken arm and the other a goose egg on his head as big as a fist. They were practically unconscious when I hauled them back to camp, broke and sick besides.
The ironic sequel was that, since they were cutting partners, the one who had broken his brother's arm now had to work twice as hard, sawing, while the cripped brother used his left arm; and all over something so insignificant it wasn't worth being mad about the next day.
But all that wild life is gone. Craig is a ghost town now. The dilapidated remains of a few tar-papered saloons lurch toward the river, overshadowed by the young growth of brush and trees. The river slips tranquilly on its meandering way, looking innocent, with no hint of its turbulent history.
Eventually all the "ladies" went, and the taverns folded, as the lifestyle in the woods changed. The last leaf on the tree was a lady who drove a Cadillac, and so bedazzled a Minneapolis newspaper writer that he fatuously described her as something of a den mother to the teenagers of the area, who buzzed up to her establishment in search of someplace that didn't mind ignoring a little thing like their being underage.
A curious traveler viewing Craig now sees an eerie row of deserted leaning buildings that slope toward the bridge. Weeds choke the doorways and hide the blank and broken windows. There is no sign of the lusty, brawling spirit that whooped it up in the dingy bars and back rooms. The people who made it that way—the jacks and saloon keepers and women—are long gone, and mostly forgotten.
But in its day, Craig was famous, as far away as Arizona. A traveler from there told me of seeing a Great Northern box car, bearing on its side the familiar mountain goat and the slogan, "See America first." Under it, some unknown lonesome lumberjack had scrawled, "P.S.— Don't miss Craigville."
Excerpted from the Book
Tim-BERRR!
Pine Logging in the Bigfork River Valley
© 1991 Benhart Rajala
Visit The Craig Photo Gallery for more recent and historic area photos

---
Government:
Unorganized territory administered by Koochiching County
---
Post Office: none since 1952 , now served by the Effie Post Office
US Post Office
98 Highway 1 NE
Effie, MN 56639-6035
Phone: (218) 743-3561
Toll Free: (800) ASK-USPS

Regular Business Hours:
Week Days 6:00 am - 9:00 pm
Saturday 6:00 am - 9:00 pm
Sunday 7:00 am - 8:00 pm


---
---
Utilities:
---
Major Employers:
Employer
Products/Services
Employees
n/a
---
---
News:
---
Weather:
---
Map: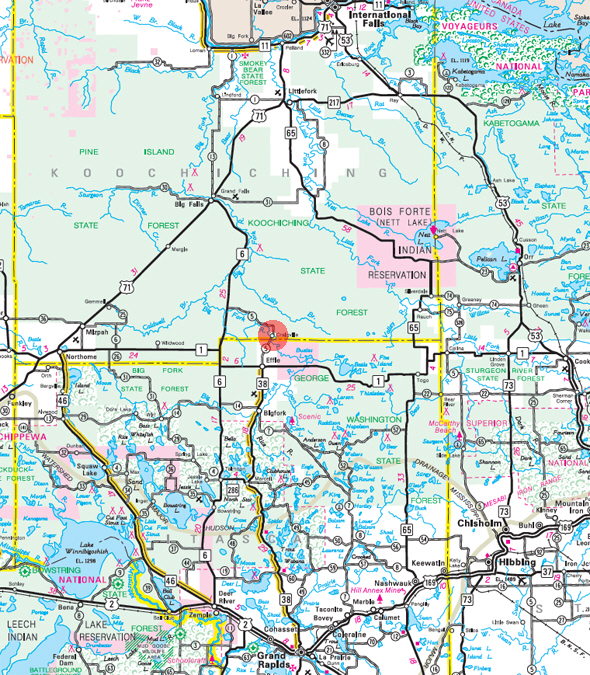 Minnesota State Highway Map of the Craigville Minnesota area
---
Events:
---
---
Attractions:
---
Recreation:
---
Lakes:
Lake Name
Size
(acres)
Location
Lake info
Lake Map
Rec Map
Topo Map
none in the immediate area
---
Health Care:
---
Schools:
---
Churches:
---
Media:
---
Motels:
---
Resorts:
---
Campgrounds:
---
---
Businesses:
---
---
Aerial Photo: [click photo to enlarge, zoom in or zoom out]
---
Topographic Map: [click map to enlarge, zoom in or zoom out]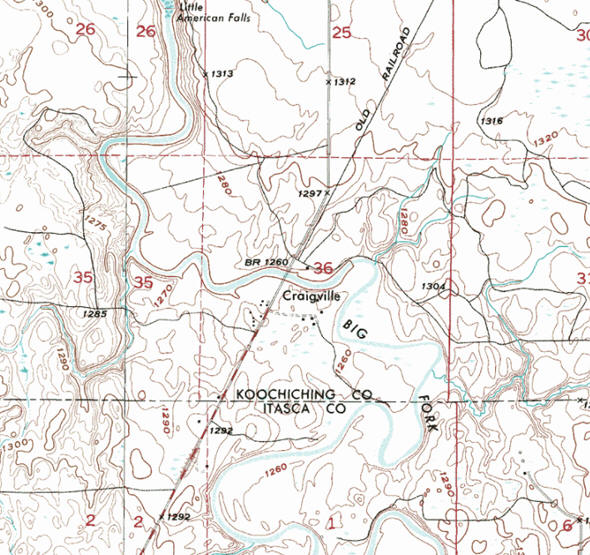 Topographic map is courtesy of the Minnesota DNR -
click map
to zoom or enlarge
---