Navigation
LakesnWoods.com
Home Page
Contact Us
Privacy
Minnesota History Shop

Visit The Minnesota History Shop
www.minnesotahistoryshop.com
Historic maps
Historic books
Historic framed art
Historic postcards
Clothing with historic images
And much more!!!


Littlefork Guide:
Photo Gallery
Location
Geography
Demographics
History
Government
Post Office
News
Street Map
Events
Attractions
Recreation
Lakes
Health Care
Schools
Churches
Media
Motels
Resorts
Campgrounds
Businesses
Aerial Photo
Topographic Map
© 2004-2023
Lakeweb1 Internet Services
All Rights Reserved
DCMA, Defamation, Copyright and Trademark Infingement Policy
WANTED!
Do you have photos, historical accounts or other items pertaining to the Littlefork area? Would you like to share this historical information with the world? LakesnWoods.com would like to publish your Littlefork photos (current or historical) or historical accounts on this website. Original materials can be returned and your privacy will be respected.

Littlefork Minnesota Community Guide
---
Location:
---
Population:
Littlefork (city)
1970
1980
1990
2000
2010
2000-2010 Change
Actual
Percent
Population
824
918
838
680
647
-33
-4.85
Land Area (sq. mile)
1.00
1.16
1.15
1.18
1.19
+0.01
+0.85
Density (persons per sq. mile)
824.00
791.38
728.70
577.07
543.70
-33.37
-5.78
Housing Units
289
356
333
302
296
-6
-1.99
Households
--
331
303
268
258
-10
-3.73
Persons Per Household
--
2.63
2.63
2.37
2.33
-0.04
-1.69
---
Geography:
Littlefork is a city in Koochiching County, Minnesota. U.S. Route 71 and State Highways 65 and 217 are three of the main routes in the community. According to the United States Census Bureau, the city has a total area of 1.19 square miles (3.08 km2), all of it land. The elevation is 1,115 ft (340 m) above sea level.
From Wikipedia, the free encyclopedia.
---
Demographics:
As of the census of 2010, there were 647 people, 258 households, and 154 families residing in the city. The population density was 543.7 inhabitants per square mile (209.9/km2). There were 296 housing units at an average density of 248.7 per square mile (96.0/km2). The racial makeup of the city was 99.1% White, 0.2% African American, 0.3% Native American, 0.2% from other races, and 0.3% from two or more races. Hispanic or Latino of any race were 0.6% of the population.
There were 258 households of which 24.0% had children under the age of 18 living with them, 49.2% were married couples living together, 7.4% had a female householder with no husband present, 3.1% had a male householder with no wife present, and 40.3% were non-families. 33.3% of all households were made up of individuals and 19.4% had someone living alone who was 65 years of age or older. The average household size was 2.33 and the average family size was 3.04.
The median age in the city was 47.3 years. 23% of residents were under the age of 18; 5.7% were between the ages of 18 and 24; 18.6% were from 25 to 44; 28.8% were from 45 to 64; and 23.8% were 65 years of age or older. The gender makeup of the city was 45.7% male and 54.3% female.
From Wikipedia, the free encyclopedia.
---
---
History:
IN THE CLOVER
Littlefork (1,153 alt., 608 pop.), on the great horseshoe bend of the river of the same name, a tributary of Rainy River, is the principal community in one of the best agricultural regions in the Minnesota Arrowhead country.
Some of the early voyageurs and explorers, no doubt, traveled over the inland waterways that now form the northern boundary of Minnesota, paddled along the Little Fork, and visited this site. The first white men known to enter the region were lumbermen who worked along the Little Fork and Big Fork rivers, floating logs down to Rainy River.
Settlers arrived about 1905 and found the region covered with fine stands of cedar, spruce, balsam, tamarack, and some white pine. Logging was the chief industry for many years, and even today a large amount of timber is hauled to the mills at International Falls (see International Falls).
As the land was cleared, agriculture developed in the fertile valley of the Little Fork River. The chief money crops, clover seed and alfalfa, yield from six to ten bushels per acre on cut-over land, and cash returns of $100 to $150 per acre are not unusual.
For many years, a lack of good roads retarded the development of Littlefork, but today it is the second largest community in Koochiching County, and the market and trade center for the district. A potato wholesale association, organized for cooperative shipping, maintains a warehouse. Littlefork has two schools, a high (north end Main St.) and an elementary (Main St. bet. 6th and 7th Sts.).
There is good hunting for bear and deer, and for pintail and ruffed grouse. The 100-foot tower of the State Ranger Station (3rd St. bet. State 65 and Main St.) affords a fine view of the surrounding territory.
A 19-mile graveled shortcut connects Littlefork with Ray on US 53.
From the WPA Guide to the Minnesota Arrowhead Company
©1941 by the Minnesota Arrowhead Association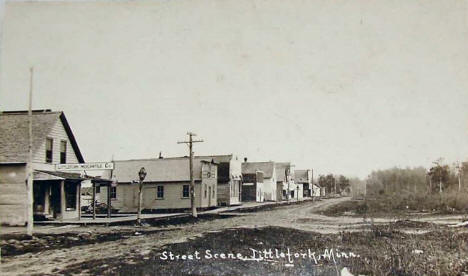 Street scene, Littlefork Minnesota, 1910?
LakesnWoods.com Postcard and Postcard Image Collection- click image to enlarge

Visit The Littlefork Photo Gallery for more recent and historic area photos

---
Government:
Littlefork City Hall
901 Main Street
PO Box 135
Littlefork, MN 56653
Phone: (218) 278-6710
Fax: (218) 278-4622

Regular Business Hours:
Monday - Friday 8:00 am - 4:30 pm

City Council Meetings:
3rd Thursday of the month at 7:00 pm

Title
Term Ends
Name and Address
Phone:
Mayor
12/31/2022
Michael L. Fort
1024 4th Avenue
Littlefork, MN 56653
(701) 330-0879
(218) 278-6228
Clerk/Administrator
appointed
Sonja E. Pelland
901 Main Street
Littlefork, MN 56653
(218) 278-6710
Council Member
12/31/2022
Destry Hell
4900 N River Drive
Littlefork, MN 56653
(218) 278-6775
Council Member
12/31/2022
Kevin Sather
613 Spruce Street
Littlefork, MN 56653
(218) 278-4355
Council Member
12/31/2024
Quen Kennedy
1220 10th Avenue
Littlefork, MN 56653
(218)244-6359
Council Member
12/31/2024
Loren Lehman
101 McPherson Street
Littlefork, MN 56653
(218) 278-2445
---
Post Office:
US Post Office
716 3rd Avenue
Littlefork, MN 56653-2001
Phone: (218) 278-6630
Toll Free: (800) ASK-USPS

Regular Business Hours:
Week Days 9:00 am - 12:00 pm
1:00 pm - 4:00 pm
Saturday 9:30 am - 10:30 pm
---
---
Utilities:
---
Major Employers:
---
---
News:
---
Weather:
---
Map: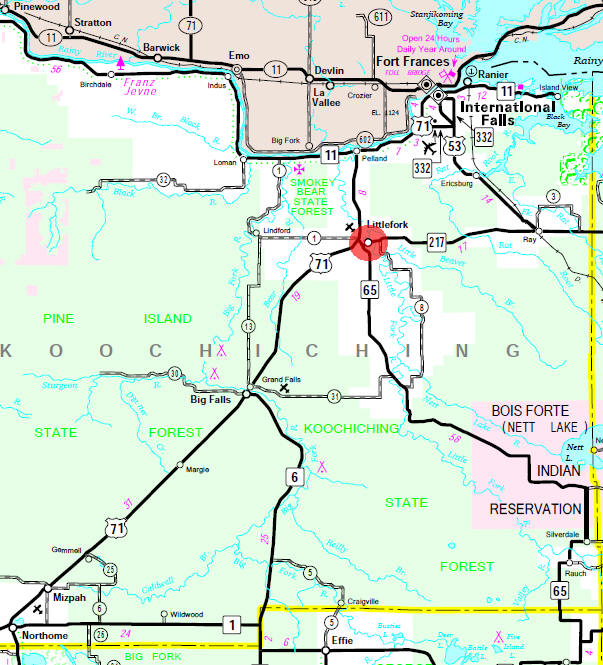 Minnesota State Highway Map of the Littlefork Minnesota area
---
Events:
Snow Fun Days

Second Weekend in February

A great weekend crammed with indoor and outdoor events for all ages. Cure cabin fever and give Ol' Man Winter a stiff kick in the pants!
---
Attractions:
---
Recreation:
Lofgren Park

Littlefork is home to Lofgren Park. Lofgren Park offers a variety of conveniences and recreational activities including:

12 rv/camper sites
Ten/rustic campsites (almost unlimited)
Electric and water hook-ups
Available dumpsite (not operated by Lofgren Park)
Showers and restrooms

Tennis court
Basketball court
Boat landing
Baseball field
Picnic areas
Pavilion
Nature trails

Daily rates
No hook-ups or tents $5.00
a Hook-ups/RV's $9.00
Weekly rates
No hook-ups $25.00
a Hook-ups $48.00
---
Lakes:
Lake Name
Size
(acres)
Location
Lake info
Lake Map
Rec Map
Topo Map

none in the immediate area
---
Health Care:
Littlefork Medical Center
912 Main Street
Littlefork, MN 56653
Phone: (218) 278-6634
Web: www.littleforkmedicalcenter.com

Littlefork Medical Center's 60-bed, long-term care facility prides itself in providing the highest quality of care and services to all persons in a home-like atmosphere. The highly trained, multi-disciplinary staff consists of medical, nursing, lab and x-ray, social services, physical therapy, activities, dispensary, dietary, housekeeping, laundry, maintenance, clerical and billing services.
---
Schools:
Littlefork Big Falls School
700 Main Street
Littlefork, MN 56653
Phone: (218) 278-6641
Web: www.isd362.k12.mn.us

The Littlefork-Big Falls School District is located in north-central Minnesota, just 10 miles from the Canadian-U.S. border. Encompassing nearly 900 square miles, the district serves an estimated 350 students in grades K-12. An active preschool program adds nearly 60 students and serves youth ages 3-5. We are celebrating our 10th Anniversary in our new K-12 school building in Littlefork. This $10,000,000 facility houses some of the best cutting edge technology you will find in a public school.
---
Churches:
Littlefork Baptist Church
McPherson & 4th Street
Littlefork, MN 56653
Phone: (218) 278-6695

Sunday Service: 11:00am

Littlefork Evangelical Free Church
121 E Highway 217
PO Box 43
Littlefork, MN 56653
Web: www.littleforkchurch.com

Sunday Service: 10:00am
June - August: 9:00am

Littlefork Lutheran Church
1210 6th Avenue
Littlefork, MN 56653
Phone: (218) 278-6240

Sunday Service: 11:00am

St. Columban's Catholic Church
PO Box 214
Littlefork, MN 56653
Phone: (218) 278-6638

Sunday Mass: 8:30am
---
Media:
served by International Falls media
---
Motels:
Home Town Cafe & Motel
112 Main Street
Littlefork, MN 56653
Phone: (218) 278-4788
---
Resorts:
none - many available in the Rainy Lake - Ash River - Orr area
---
Campgrounds:
---
Businesses:
Andy's Sales & Service
708 4th Avenue
Littlefork, MN 56653
Phone: (218) 278-6619
Big Fork Lure Company
5905 County Road 77
Littlefork, MN 56653
Phone: (218) 278-4393
Web: www.bigforklures.com
Big Fork Lures is a specialized wood fishing lure manufacture that's been in business since 1989. Our focus from the beginning has been to produce a line of baits that are of the highest quality, design and finish. It's our belief that if you consistently offer excellent products and service the customer will be your best form of advertisement. Our lures have a proven track record of catching fish on pressured waters when others fail.
Brown's Garage Door Service
3945 County Road 10
Littlefork, MN 56653
Phone: (218) 283-3162
D J's Big Spoon
332 Main Street
Littlefork, MN 56653
Phone: (218) 278-6613
De Lack Logging
1029 Laurel Street
Littlefork, MN 56653
Phone: (218) 278-4710
Dent Benders Paintless Dent Removal
Littlefork, MN 56653
Phone: (218) 278-4747
DNR - Forestry Division
421 3rd Avenue
Littlefork, MN 56653
Phone: (218) 278-6651
Fairchild Sign Company
313 Main Street
PO Box 61
Littlefork, MN 56653
Phone: (218) 278-4143
Toll Free: (800) 950-4791
Fax: (218) 278-4158
First National Bank of Deerwood
201 Main Street
Littlefork, MN 56653
Phone: (218) 278-4800
Gayle's Country Cutter
413 Main Street
Littlefork, MN 56653
Phone: (218) 278-6222
Green Forest Inc
PO Box 256
Littlefork, MN 56653
Phone: (218) 278-6691
Home Town Cafe & Motel
112 Main Street
Littlefork, MN 56653
Phone: (218) 278-4788
J & D Family Foods
320 Main Street
Littlefork, MN 56653
Phone: (218) 278-4585
Jackpine Chateau
1101 9th Avenue
Littlefork, MN 56653
Phone: (218) 278-4834
James Kennedy Trucking and Gravel
Littlefork, MN 56653
Phone: (218) 278-4342
Jim's Disposal Service
5851 Highway 65
Littlefork, MN 56653
Phone: (218) 278-4380
Joy's Floral & Gifts
7520 Town Road 93
Littlefork, MN 56653
Phone: (218) 283-6779
Junker's Lumber
5877 County Road 77
Littlefork, MN 56653
Phone: (218) 278-4555
Keep It Cut Lawn Care
220 Front Street
Littlefork, MN 56653
Phone: (218) 278-4533
Koochiching County Land & Forest
PO Box 211
Littlefork, MN 56653
Phone: (218) 278-6643
Larson Lumber & Building Center
313 Main Street
Littlefork, MN 56653
Phone: (218) 278-6624
Little Logging
PO Box 502
Littlefork, MN 56653
Phone: (218) 278-4381
Littlefork Ambulance Service
901 Main Street
Littlefork, MN 56653
Phone: (218) 278-4870
Littlefork Chamber of Commerce
313 Main Street
Littlefork, MN 56653
Phone: (218) 278-6617
Web: www.littlefork.org

Littlefork City Clerk
901 Main Street
Littlefork, MN 56653
Phone: (218) 278-6710
Littlefork Community Education
901 Main Street
Littlefork, MN 56653
Phone:
Littlefork Community Center
220 Main Street
Littlefork, MN 56653
Phone: n/a
Littlefork Fire Department
900 Main Street
Littlefork, MN 56653
Phone: (218) 278-6666
Littlefork Liquor Store
208 Main Street
Littlefork, MN 56653
Phone: (218) 278-6672
Littlefork Lutheran Church
1210 6th Avenue
Littlefork, MN 56653
Phone: (218) 278-6240
Littlefork Maintenance Department
900 Main Street
Littlefork, MN 56653
Phone: (218) 278-4215
Littlefork Medical Center
912 Main Street
Littlefork, MN 56653
Phone: (218) 278-6634
Web: www.littleforkmedicalcenter.com

Littlefork Medical Center's 60-bed, long-term care facility prides itself in providing the highest quality of care and services to all persons in a home-like atmosphere. The highly trained, multi-disciplinary staff consists of medical, nursing, lab and x-ray, social services, physical therapy, activities, dispensary, dietary, housekeeping, laundry, maintenance, clerical and billing services.

Littlefork Town Hall
900 Main Street
Littlefork, MN 56653
Phone: (218) 278-4215
Littlefork Water Plant
900 Main Street
Littlefork, MN 56653
Phone: (218) 278-4215
Mel's Corner Service
200 Main Street
Littlefork, MN 56653
Phone: (218) 278-6670
Merkling's Welding
208 Cedar Street
Littlefork, MN 56653
Phone: (218) 278-4225
Minnkota Power Co-Op
Littlefork, MN 56653
Phone: (218) 278-6246
North Star Electric Co-Op
5405 Electric Avenue
Littlefork, MN 56653
Phone: (218) 278-6658
Northern Echo Movies
Littlefork, MN 56653
Phone: n/a
Northern Timberline Equipment
6000 County Road 8
Littlefork, MN 56653
Phone: (218) 278-6203
Perfect Image Automotive
300 Main Street
Littlefork, MN 56653
Phone: (218) 278-6644
Pine View Recovery Center
912 Main Street
Littlefork, MN 56653
Phone: (218) 278-4607
Polkinghorne's Hardware Hank
404 Main Street
Littlefork, MN 56653
Phone: (218) 278-6611
Salon 71
4439 Highway 71
Littlefork, MN 56653
Phone: (218) 278-4108
Shephards Landing Christian
117 Front Street
Littlefork, MN 56653
Phone: (218) 278-4138
Silver Creek Insurance
Littlefork, MN 56653
Phone: (800) 397-4516
Web: www.silvercreekins.com
Sixty Five Express
Highway 65 & 71
Littlefork, MN 56653
Phone: (218) 278-6792
Tollefsrud Builders Supply Inc
Littlefork, MN 56653
Phone: (218) 278-6730
US Post Office
716 3rd Avenue
Littlefork, MN 56653-2001
Phone: (218) 278-6630
Toll Free: (800) ASK-USPS
Web: www.usps.com
Veterans of Foreign Wars
301 Main Street
Littlefork, MN 56653
Phone: (218) 278-4662
Wells Fargo Bank
401 Main Street
Littlefork, MN 56653
Phone: (218) 278-6621
William Electric Works
1420 Central Road
Littlefork, MN 56653
Phone: (218) 278-4822
Williams' Garbage Service
1512 8th Avenue
Littlefork, MN 56653
Phone: (218) 278-4315
Wimmer Law Office PA
401 Main Street
Littlefork, MN 56653
Phone: (218) 278-4100
Wimmers Body Shop
221 Mcpherson Street
Littlefork, MN 56653
Phone: (218) 278-4346
Worthman Specialties
1213 10th Avenue
Littlefork, MN 56653
Phone: (218) 278-6655
Ziemba Trucking Inc
6002 County Road 1
Littlefork, MN 56653
Phone: (218) 278-6735
---
---
Aerial Photo:
---
Topographic Map: [click map to enlarge, zoom in or zoom out]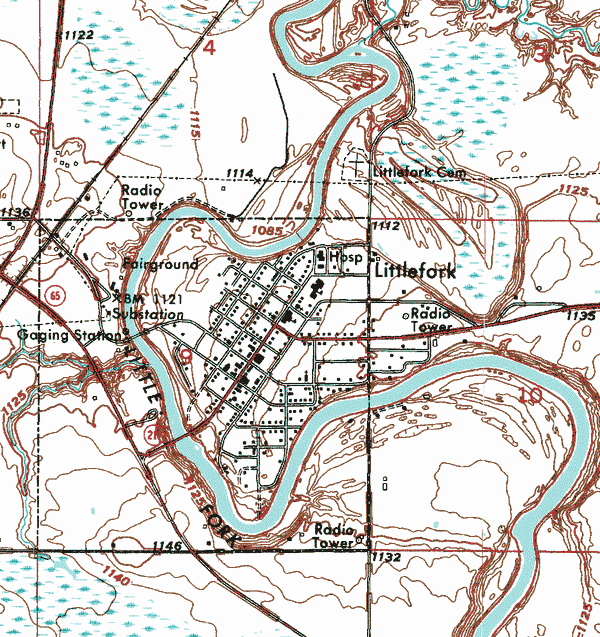 Topographic map is courtesy of the Minnesota DNR -
click map
to zoom or enlarge