Navigation
LakesnWoods.com
Home Page
Contact Us
Privacy
Minnesota History Shop



Visit The Minnesota History Shop
www.minnesotahistoryshop.com
Historic maps
Historic books
Historic framed art
Historic postcards
Clothing with historic images
And much more!!!

Virginia Guide:
Photo Gallery
Location
Geography
Demographics
History
Government
Post Office
News
Weather
Street Map
Events
Attractions
Recreation
Lakes
Health Care
Schools
Churches
Media
Motels
Resorts
Campgrounds
Businesses A-M
Businesses N-Z
Aerial Photo
Topographic Map
Nearby Communities
Angora
Aurora
Babbitt
Biwabik
Buhl
Chisholm
Cook
Embarrass
Ely
Eveleth
Gilbert
Hibbing
Hoyt Lakes
Kinney
McKinley
Mountain Iron
Soudan
Tower
© 2004-2023
Lakeweb1 Internet Services
All Rights Reserved
DCMA, Defamation, Copyright and Trademark Infingement Policy
WANTED!
Do you have photos, historical accounts or other items pertaining to the Virginia area? Would you like to share this historical information with the world? LakesnWoods.com would like to publish your Virginia photos (current or historical) or historical accounts on this website. Original materials can be returned and your privacy will be respected.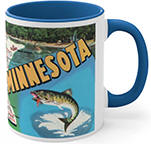 (design also available on many other different items!)

Virginia Minnesota Gallery
---
---
---
---
---
---
---
---
---
---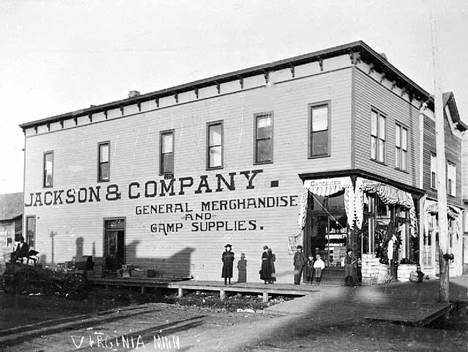 Jackson and Company, General Merchandise, Virginia Minnesota, 1895
Courtesy Minnesota Historical Society - click image to enlarge or purchase
---
---
---
---
---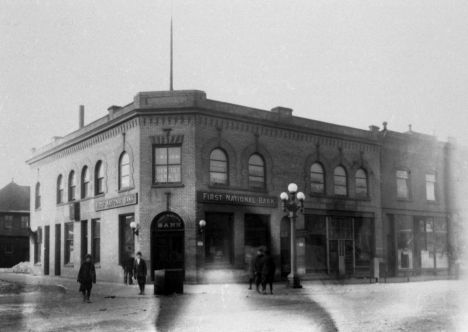 Exterior view of the First National Bank of Virginia, Minnesota, 1903
Courtesy Iron Range Research Center - click image to enlarge
---
---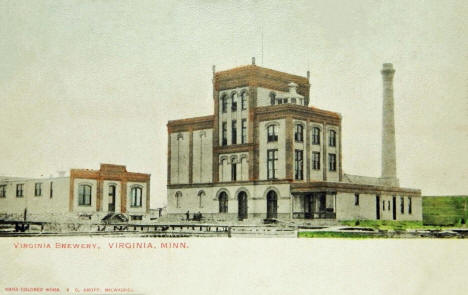 Virginia Brewery, Virginia Minnesota, 1905
LakesnWoods.com Postcard and Postcard Image Collection - click to enlarge
---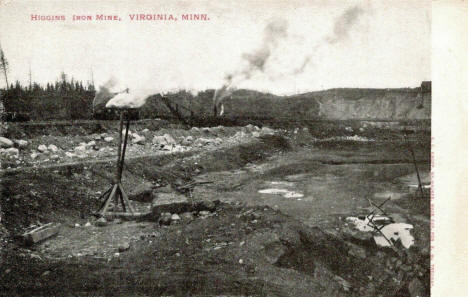 Higgins Iron Mine, Virginia Minnesota, 1905
LakesnWoods.com Postcard and Postcard Image Collection - click to enlarge
---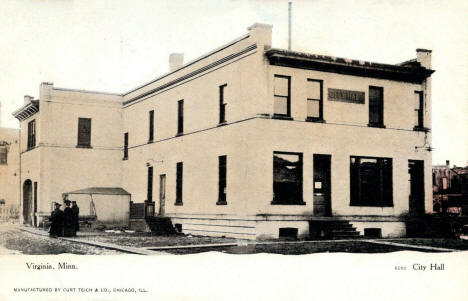 City Hall, Virginia Minnesota, 1907
LakesnWoods.com Postcard and Postcard Image Collection - click to enlarge
---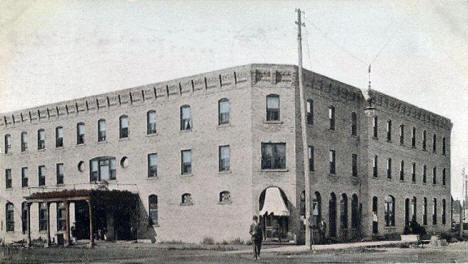 The Fay Hotel, Virginia Minnesota, 1907
LakesnWoods.com Postcard and Postcard Image Collection - click to enlarge
---
---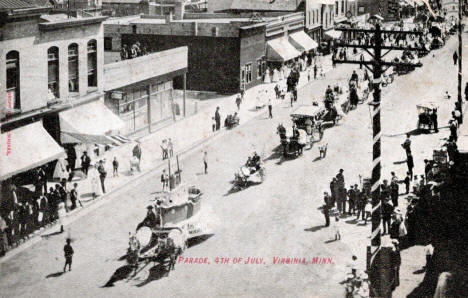 Independence Day Parade, Virginia Minnesota, 1908
LakesnWoods.com Postcard and Postcard Image Collection - click to enlarge
---
---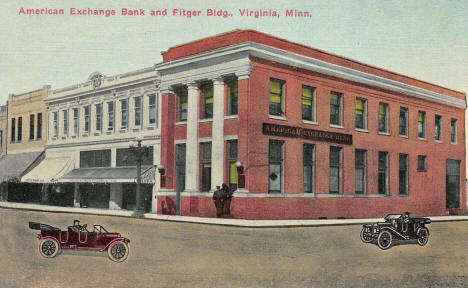 American Exchange Bank and Fitger Building, Virginia Minnesota, 1908
LakesnWoods.com Postcard and Postcard Image Collection - click to enlarge
---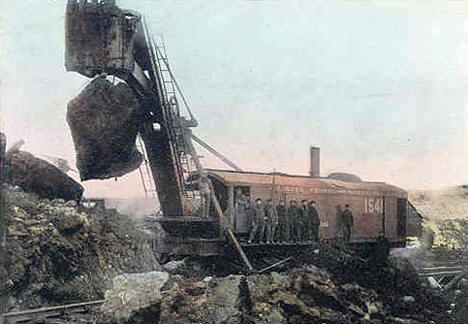 Stripping the Iroquois Mine in Virginia Minnesota, 1908
LakesnWoods.com Postcard and Postcard Image Collection
---
---
---
---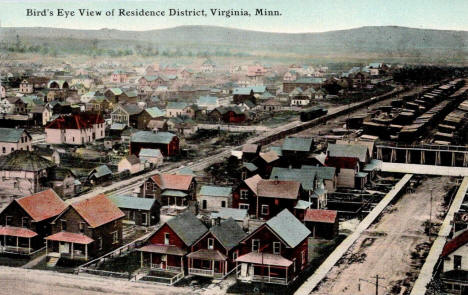 Birds eye view of residence district, Virginia Minnesota, 1910
LakesnWoods.com Postcard and Postcard Image Collection - click to enlarge
---
---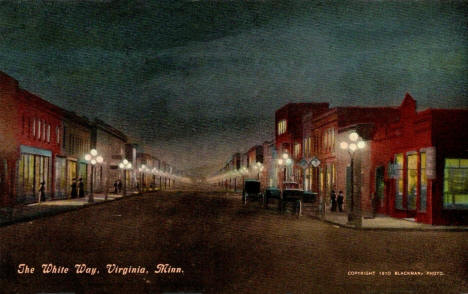 The White Way, Virginia Minnesota, 1910
LakesnWoods.com Postcard and Postcard Image Collection - click to enlarge
---
---
---
---
---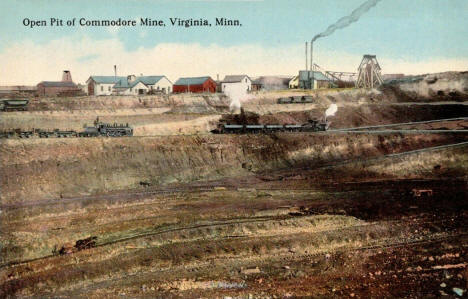 Open Pit of the Commodore Mine, Virginia Minnesota, 1910
LakesnWoods.com Postcard and Postcard Image Collection - click to enlarge
---
---
---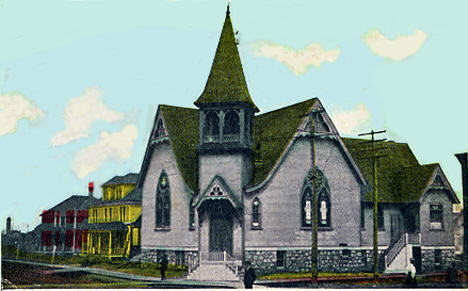 Presbyterian Church, Virginia Minnesota, 1910
LakesnWoods.com Postcard and Postcard Image Collection
---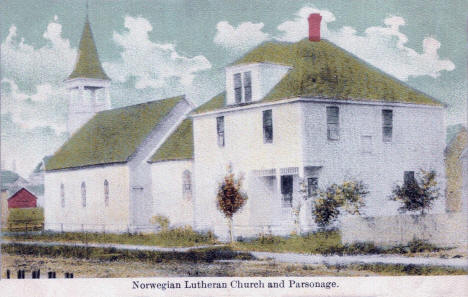 Norwegian Church and Parsonage, Virginia Minnesota, 1910
LakesnWoods.com Postcard and Postcard Image Collection - click to enlarge
---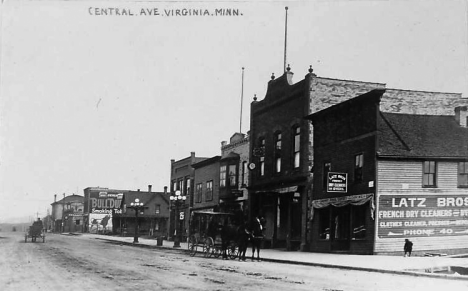 Central Avenue, Virginia Minnesota, 1910
LakesnWoods.com Postcard and Postcard Image Collection - click to enlarge
---
---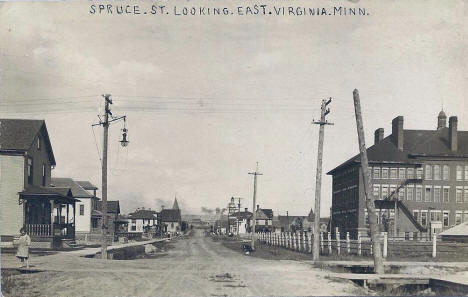 Spruce Street looking east, Virginia Minnesota, 1910
LakesnWoods.com Postcard and Postcard Image Collection - click to enlarge
---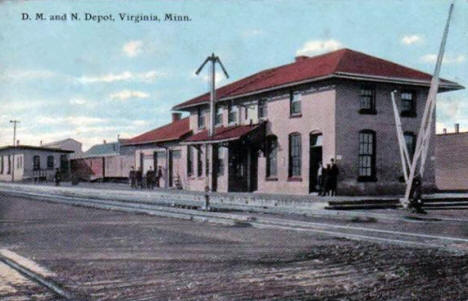 D. M. and N. Depot, Virginia Minnesota, 1910s
LakesnWoods.com Postcard and Postcard Image Collection- click image to enlarge
---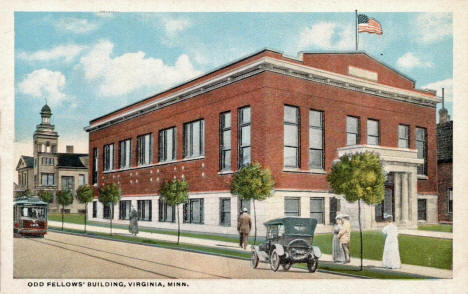 Odd Fellows Building, Virginia Minnesota, 1910s
LakesnWoods.com Postcard and Postcard Image Collection- click image to enlarge
---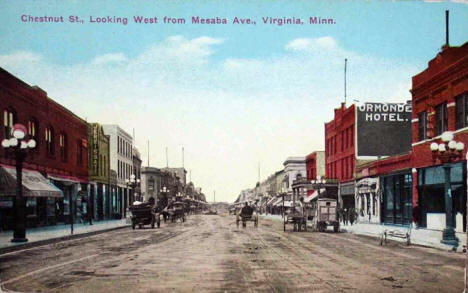 Chestnut Street looking west from Mesaba Avenue, Virginia Minnesota, 1910s?
LakesnWoods.com Postcard and Postcard Image Collection- click image to enlarge
---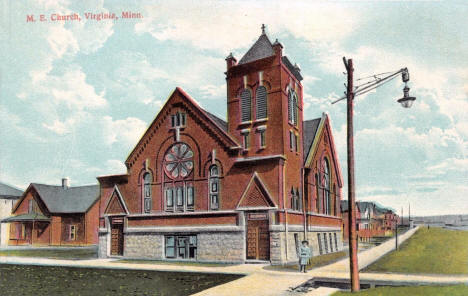 Methodist Episcopal Church, Virginia Minnesota, 1910s
LakesnWoods.com Postcard and Postcard Image Collection- click image to enlarge
---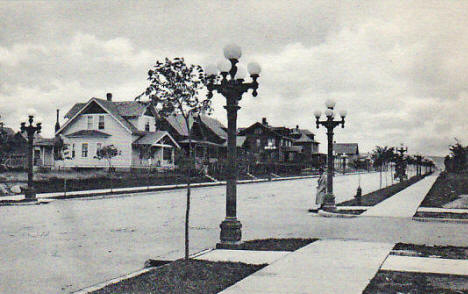 Central Avenue, Virginia Minnesota, 1910s
LakesnWoods.com Postcard and Postcard Image Collection - click to enlarge
---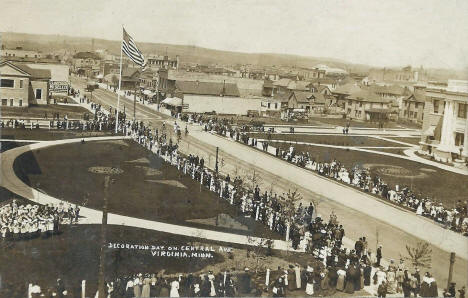 Decoration Day on Central Avenue, Virginia Minnesota, 1910s
LakesnWoods.com Postcard and Postcard Image Collection - click to enlarge
---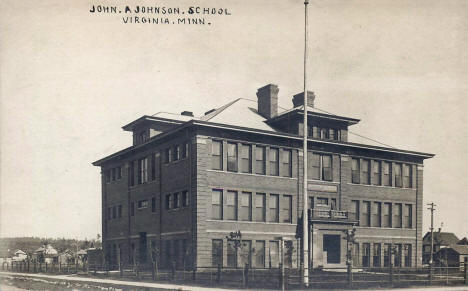 John A. Johnson School, Virginia Minnesota, 1910s
LakesnWoods.com Postcard and Postcard Image Collection - click to enlarge
---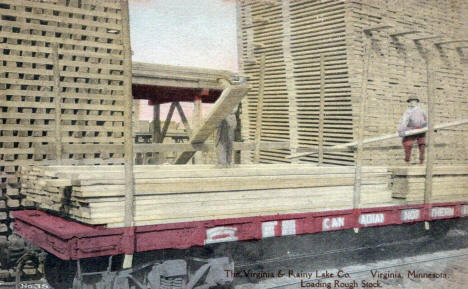 Loading Rough Stock, The Virginia & Rainy Lake Company, Virginia Minnesota, 1910s
LakesnWoods.com Postcard and Postcard Image Collection - click to enlarge
---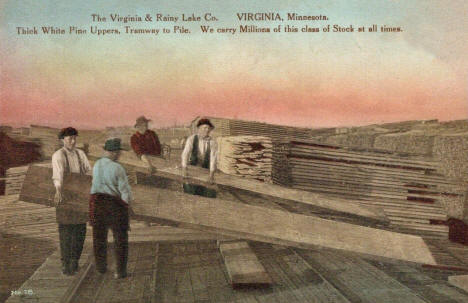 The Virginia & Rainy Lake Company, Virginia Minnesota, 1910s
LakesnWoods.com Postcard and Postcard Image Collection - click to enlarge
---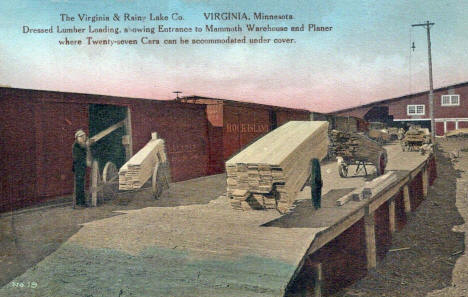 The Virginia & Rainy Lake Company, Virginia Minnesota, 1910s
LakesnWoods.com Postcard and Postcard Image Collection - click to enlarge
---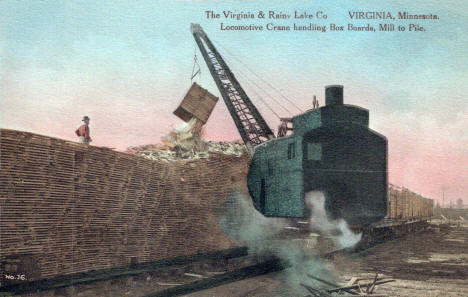 The Virginia & Rainy Lake Company, Virginia Minnesota, 1910s
LakesnWoods.com Postcard and Postcard Image Collection - click to enlarge
---

The Virginia & Rainy Lake Company, Virginia Minnesota, 1910s
LakesnWoods.com Postcard and Postcard Image Collection - click to enlarge
---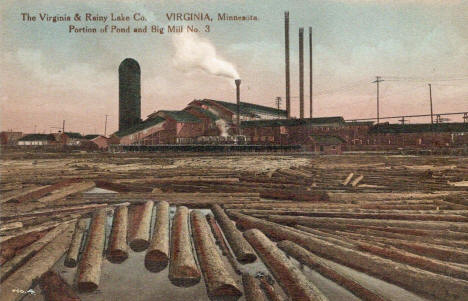 The Virginia & Rainy Lake Company, Virginia Minnesota, 1910s
LakesnWoods.com Postcard and Postcard Image Collection - click to enlarge
---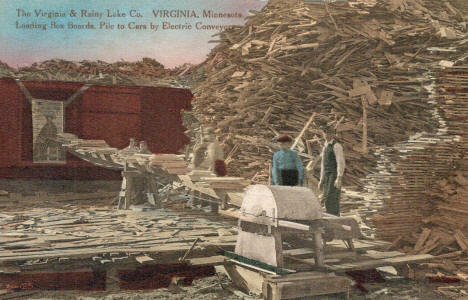 The Virginia & Rainy Lake Company, Virginia Minnesota, 1910s
LakesnWoods.com Postcard and Postcard Image Collection - click to enlarge
---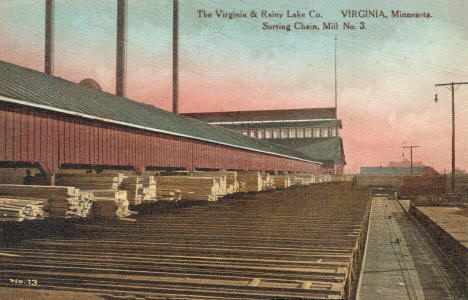 Mill Number 3, The Virginia & Rainy Lake Company, Virginia Minnesota, 1910s
LakesnWoods.com Postcard and Postcard Image Collection - click to enlarge
---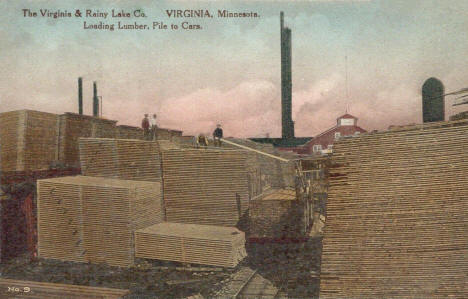 The Virginia & Rainy Lake Company, Virginia Minnesota, 1910s
LakesnWoods.com Postcard and Postcard Image Collection - click to enlarge
---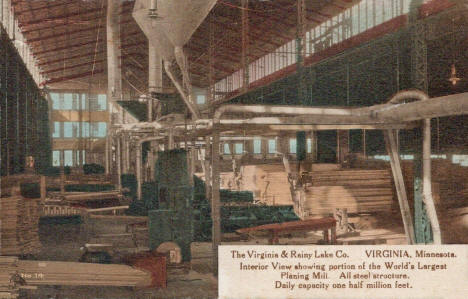 The Virginia & Rainy Lake Company, Virginia Minnesota, 1910s
LakesnWoods.com Postcard and Postcard Image Collection - click to enlarge
---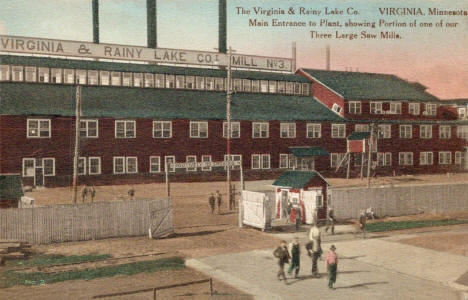 The Virginia & Rainy Lake Company, Virginia Minnesota, 1910s
LakesnWoods.com Postcard and Postcard Image Collection - click to enlarge
---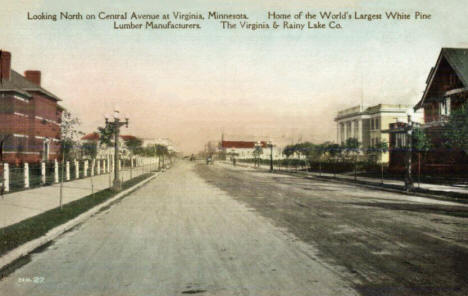 Looking north on Central Avenue, Virginia Minnesota, 1910s
LakesnWoods.com Postcard and Postcard Image Collection - click to enlarge
---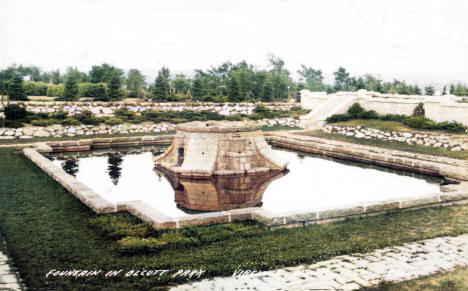 Fountain at Olcott Park, Virginia Minnesota, 1910s
LakesnWoods.com Postcard and Postcard Image Collection - click to enlarge
---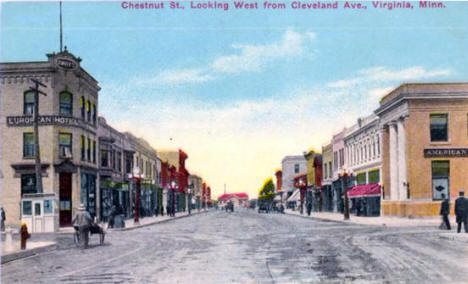 Chestnut Street looking west from Cleveland Avenue, Virginia Minnesota, 1911
LakesnWoods.com Postcard and Postcard Image Collection- click image to enlarge
---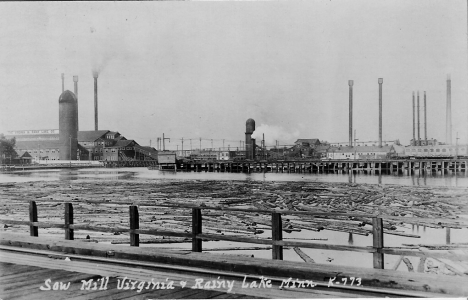 Virginia and Rainy Lake Company Sawmill, Virginia Minnesota, 1911
LakesnWoods.com Postcard and Postcard Image Collection - click to enlarge
---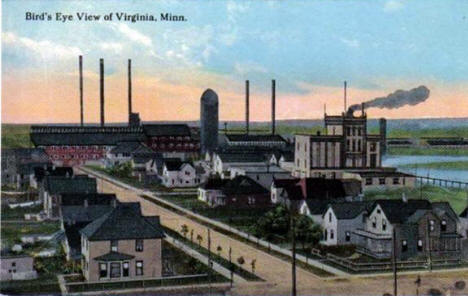 Birds Eye View of Virginia Minnesota, 1912
LakesnWoods.com Postcard and Postcard Image Collection - click to enlarge
---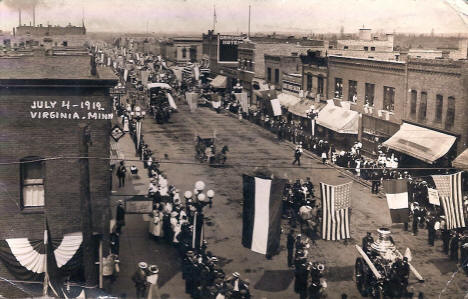 Fourth of July parade down Main Street in Virginia Minnesota, 1912
LakesnWoods.com Postcard and Postcard Image Collection - click to enlarge
---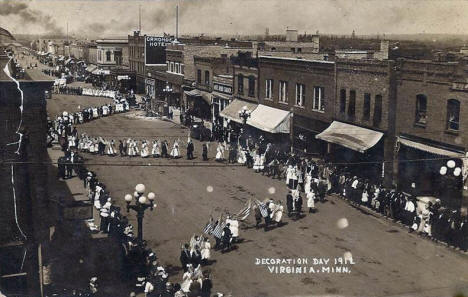 Decoration Day Parade, Virginia Minnesota, 1912
LakesnWoods.com Postcard and Postcard Image Collection - click to enlarge
---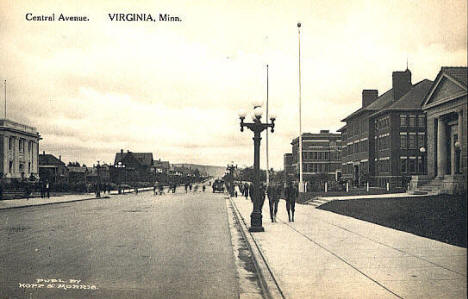 Central Avenue, Virginia Minnesota, 1912
LakesnWoods.com Postcard and Postcard Image Collection - click to enlarge
---
---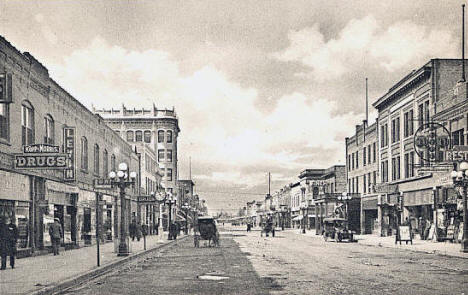 Chestnut Street, Virginia, Minnesota, 1912
LakesnWoods.com Postcard and Postcard Image Collection- click image to enlarge
---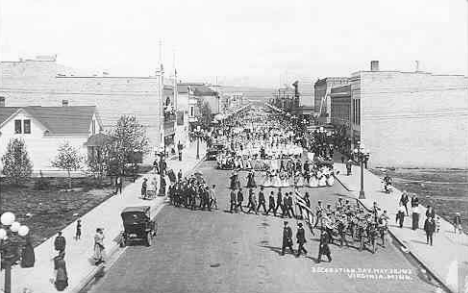 Decoration Day Parade in Virginia Minnesota, 1913
LakesnWoods.com Postcard and Postcard Image Collection
---
---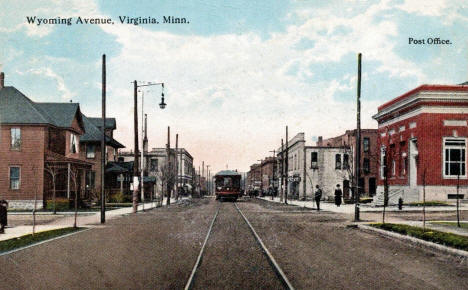 Wyoming Avenue, Virginia Minnesota, 1913
LakesnWoods.com Postcard and Postcard Image Collection
---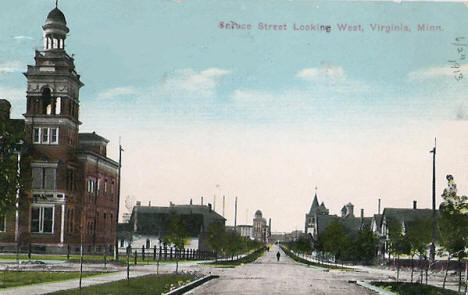 Spruce Street looking west, Virginia Minnesota, 1913
LakesnWoods.com Postcard and Postcard Image Collection- click image to enlarge
---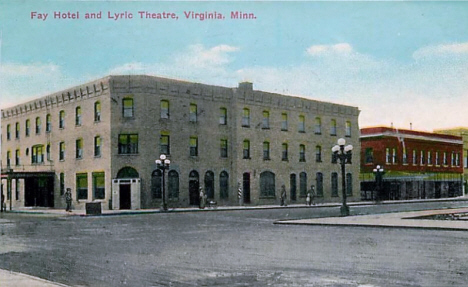 Fay Hotel and Lyric Theatre, Virginia Minnesota, 1913
LakesnWoods.com Postcard and Postcard Image Collection- click image to enlarge
---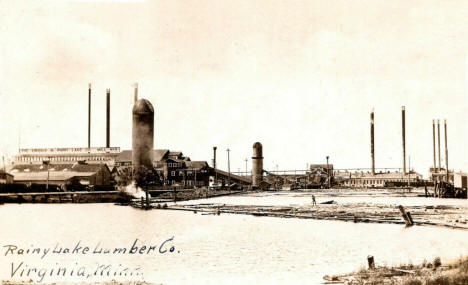 Rainy Lake Lumber Company, Virginia Minnesota, 1914
LakesnWoods.com Postcard and Postcard Image Collection- click image to enlarge
---
---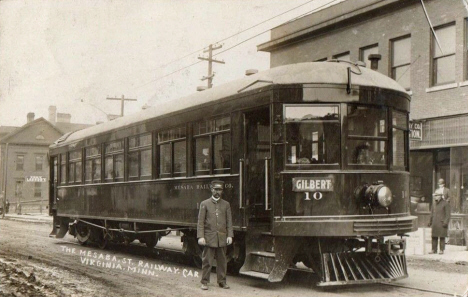 The Mesaba Street Railway, Virginia Minnesota, 1914
LakesnWoods.com Postcard and Postcard Image Collection- click image to enlarge
---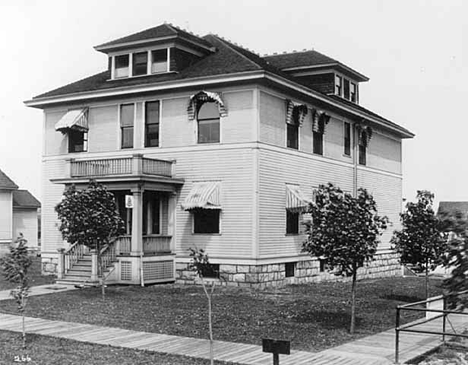 Oliver Iron Mining Company office building, Virginia Minnesota, 1914
Courtesy Minnesota Historical Society - click image to enlarge or purchase
---
---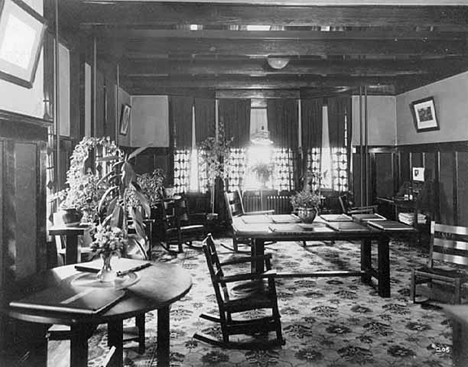 Reading Room, Oliver Iron Mining Company clubhouse, Virginia Minnesota, 1914
Courtesy Minnesota Historical Society - click image to enlarge or purchase
---
---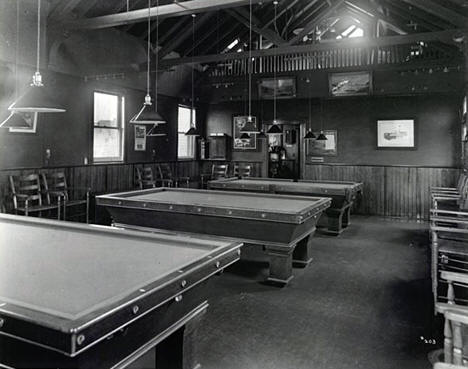 Billiard room, Oliver Iron Mining Company clubhouse, Virginia Minnesota, 1914
Courtesy Minnesota Historical Society - click image to enlarge or purchase
---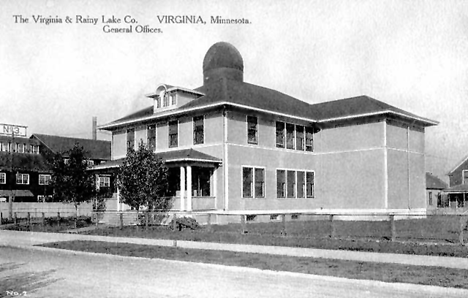 General office of the Virginia and Rainy Lake Company, Virginia Minnesota, 1915
Courtesy Minnesota Historical Society - click image to enlarge or purchase
---
---
---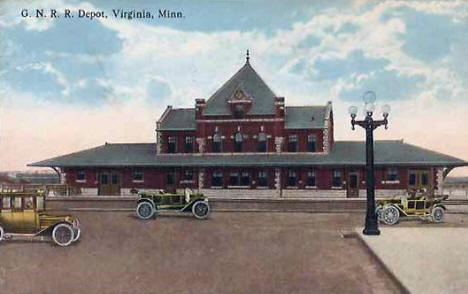 Great Northern Railroad Depot, Virginia Minnesota, 1916
LakesnWoods.com Postcard and Postcard Image Collection- click image to enlarge
---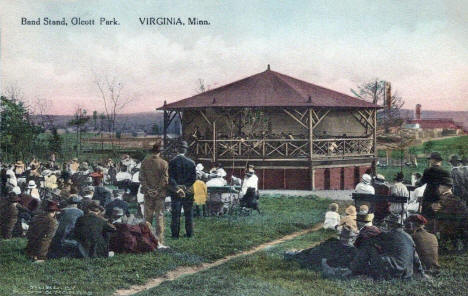 Band Stand, Olcott Park, Virginia Minnesota, 1917
LakesnWoods.com Postcard and Postcard Image Collection- click image to enlarge
---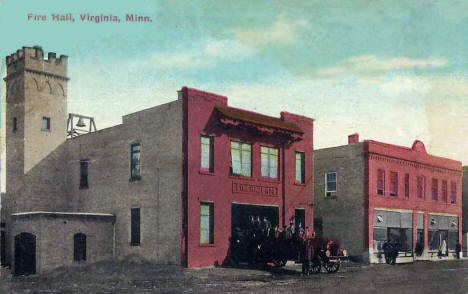 Fire Hall, Virginia Minnesota, 1918
LakesnWoods.com Postcard and Postcard Image Collection- click image to enlarge
---
---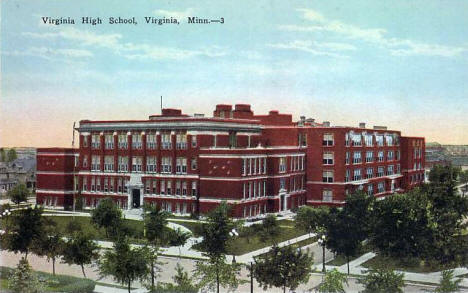 High School, Virginia Minnesota, 1920
LakesnWoods.com Postcard and Postcard Image Collection - click to enlarge
---
---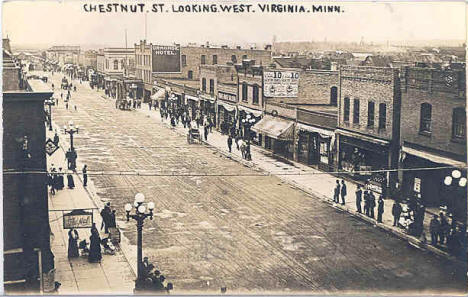 Chestnut Street looking west in Virginia Minnesota, 1920s?
LakesnWoods.com Postcard and Postcard Image Collection
---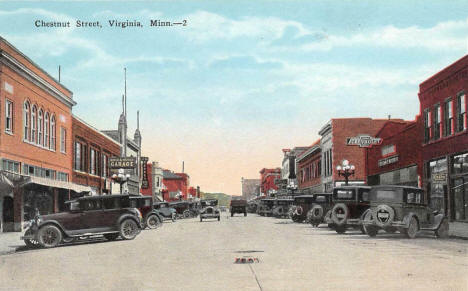 Chestnut Street, Virginia Minnesota, 1920s
LakesnWoods.com Postcard and Postcard Image Collection - click to enlarge
---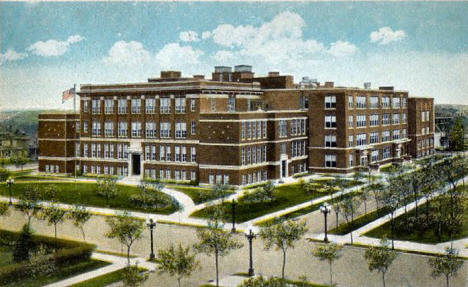 Technical High School, Virginia Minnesota, 1920s
LakesnWoods.com Postcard and Postcard Image Collection - click to enlarge
---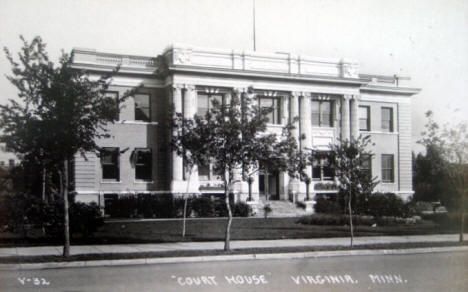 Court House, Virginia Minnesota, 1920s
LakesnWoods.com Postcard and Postcard Image Collection - click to enlarge
---
---
---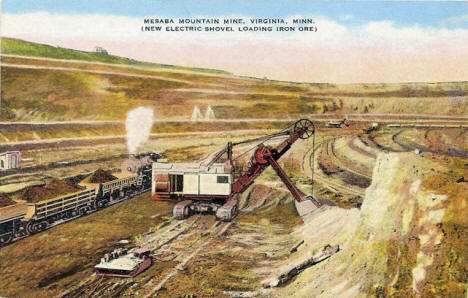 Mesaba Mountain Mine, Virginia Minnesota, 1930s?
LakesnWoods.com Postcard and Postcard Image Collection - click to enlarge
---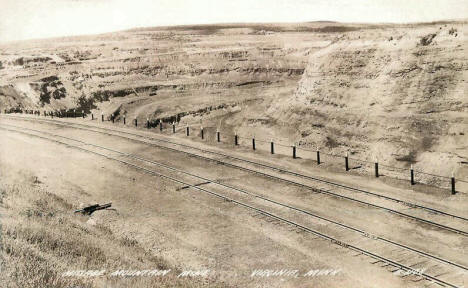 Missabe Mountain Mine, Virginia Minnesota, 1930s
LakesnWoods.com Postcard and Postcard Image Collection - click to enlarge
---
---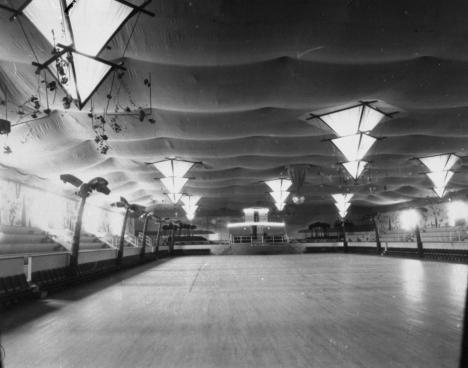 Virginia Recreational Building's dance hall, Virginia, Minnesota, 1930s
Courtesy Iron Range Research Center - click image to enlarge
---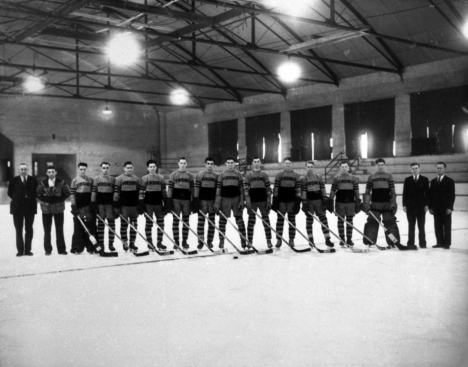 Virginia City Hockey Team group portrait, Virginia Recreational Building, Virginia Minnesota, 1930s
Courtesy Iron Range Research Center - click image to enlarge
---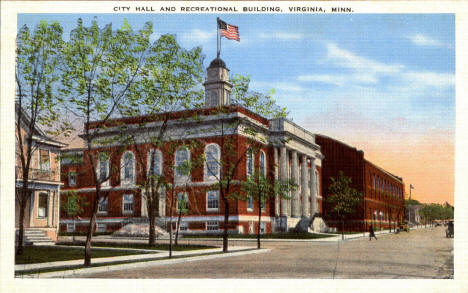 City Hall and Recreational Building, Virginia Minnesota, 1930s
LakesnWoods.com Postcard and Postcard Image Collection - click to enlarge
---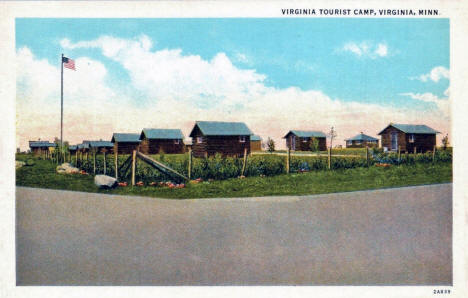 Virginia Tourist Camp, Virginia Minnesota, 1932
LakesnWoods.com Postcard and Postcard Image Collection - click to enlarge
---
---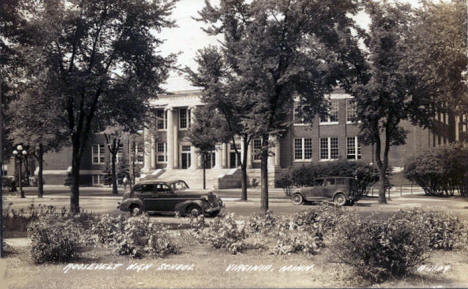 Roosevelt High School, Virginia Minnesota, 1938
LakesnWoods.com Postcard and Postcard Image Collection - click to enlarge
---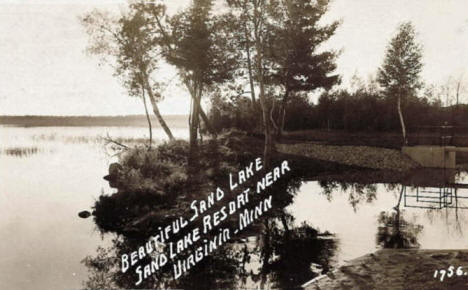 Sand Lake Resort, Virginia Minnesota, 1940
LakesnWoods.com Postcard and Postcard Image Collection - click to enlarge
---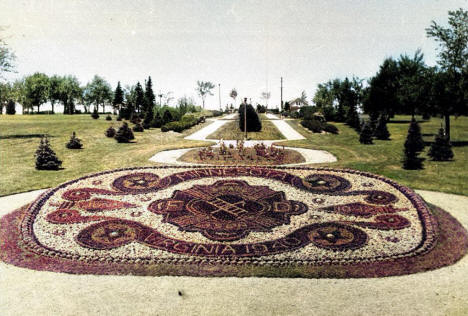 Flower bed honoring the Minnesota State Fire Department Association in Olcott Park, Virginia Minnesota, 1940
LakesnWoods.com Postcard and Postcard Image Collection - click to enlarge
---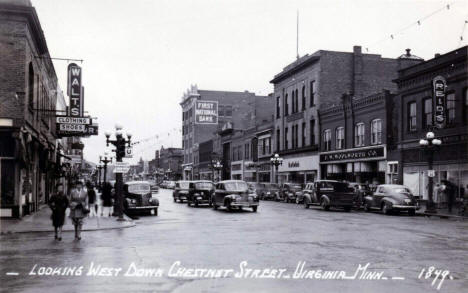 Looking west down Chestnut Street, Virginia Minnesota, 1940s
LakesnWoods.com Postcard and Postcard Image Collection - click to enlarge
---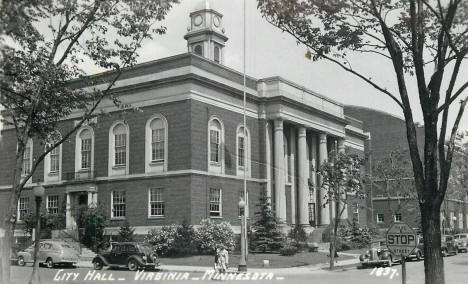 City Hall, Virginia Minnesota, 1940s
LakesnWoods.com Postcard and Postcard Image Collection - click to enlarge
---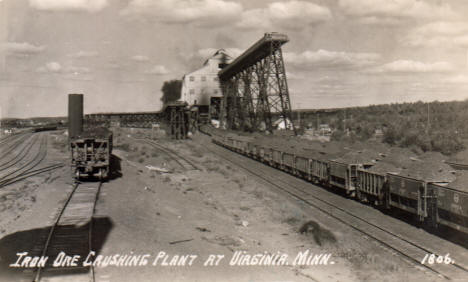 Iron Ore Crushing Plant, Virginia Minnesota, 1940s
LakesnWoods.com Postcard and Postcard Image Collection - click to enlarge
---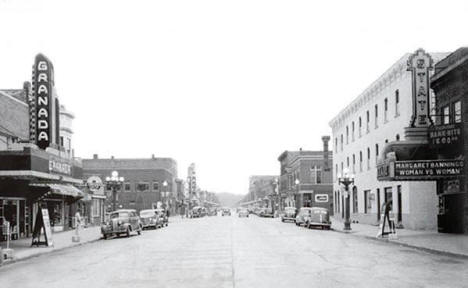 Main Street, Virginia Minnesota, 1950
LakesnWoods.com Postcard and Postcard Image Collection - click to enlarge
---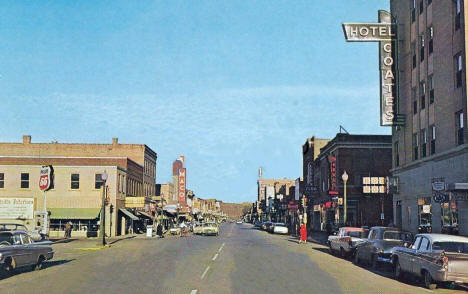 Street scene, Virginia Minnesota, 1950s
LakesnWoods.com Postcard and Postcard Image Collection - click to enlarge
---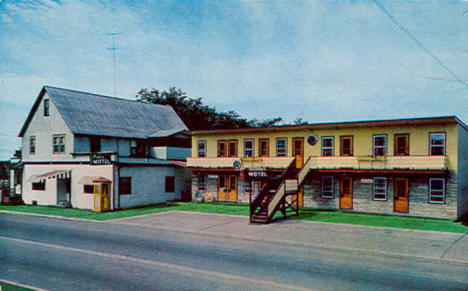 Andy's Double Decker Motel, Virginia Minnesota, 1950s?
LakesnWoods.com Postcard and Postcard Image Collection
---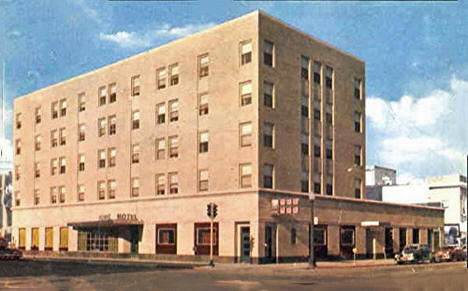 Hotel Coates, Virginia Minnesota, 1950s
LakesnWoods.com Postcard and Postcard Image Collection
---
---
---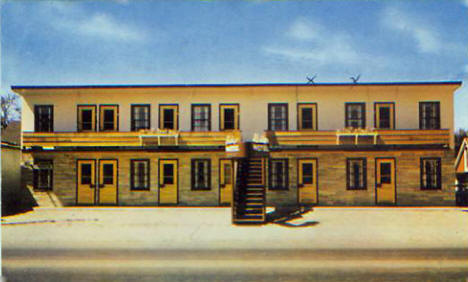 Andy's Double Decker Motel, Virginia Minnesota, 1953
LakesnWoods.com Postcard and Postcard Image Collection- click image to enlarge
---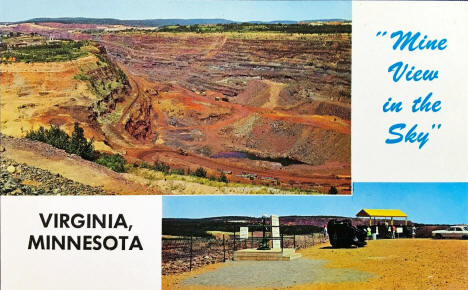 Iron Ore Mine, Virginia Minnesota, 1960s
LakesnWoods.com Postcard and Postcard Image Collection- click image to enlarge
---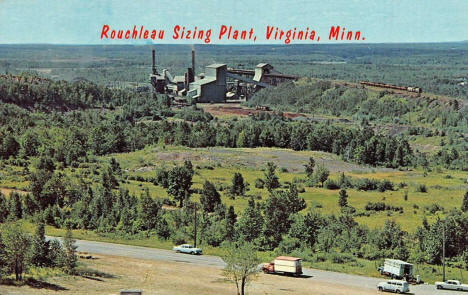 Rouchleau Sizing Plant, Virginia Minnesota, 1960s
LakesnWoods.com Postcard and Postcard Image Collection- click image to enlarge
---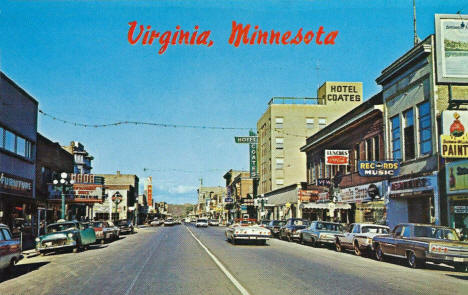 Chestnut Street, Virginia Minnesota, 1960s
LakesnWoods.com Postcard and Postcard Image Collection- click image to enlarge
---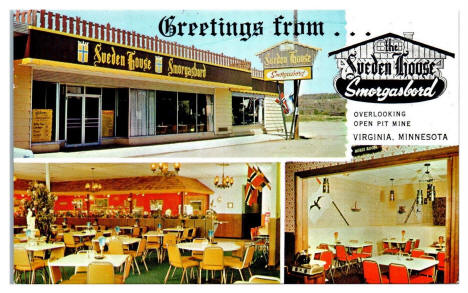 Sveden House Smorgasbord, Virginia Minnesota, 1960s
LakesnWoods.com Postcard and Postcard Image Collection- click image to enlarge
---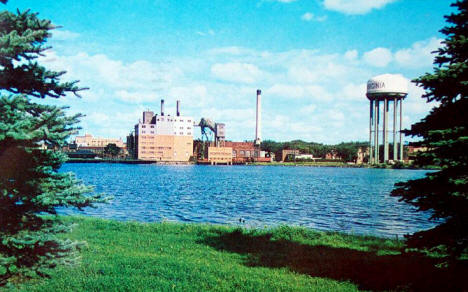 Virginia Minnesota Power Plant and Water Tower, 1965
LakesnWoods.com Postcard and Postcard Image Collection - click to enlarge
---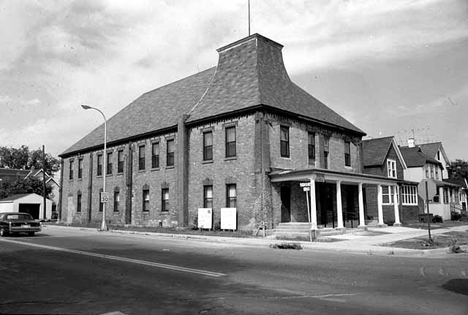 Valon Toute Raittiusseura (Finnish Temperance Hall), Virginia Minnesota, 1985
Courtesy Minnesota Historical Society - click image to enlarge or purchase
---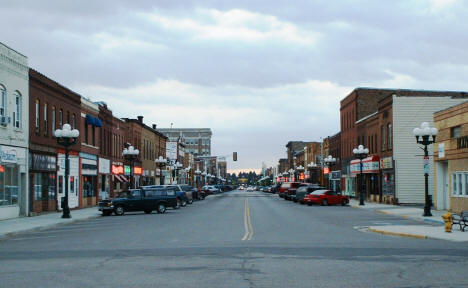 Street Scene, Virginia Minnesota, 2004
LakesnWoods.com Photo
---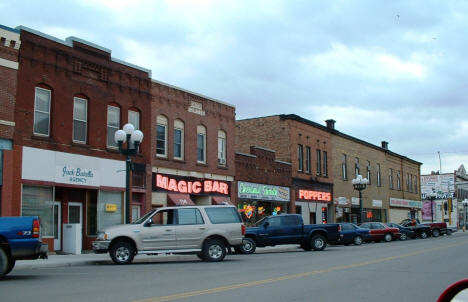 Street Scene, Virginia Minnesota, 2004
LakesnWoods.com Photo
---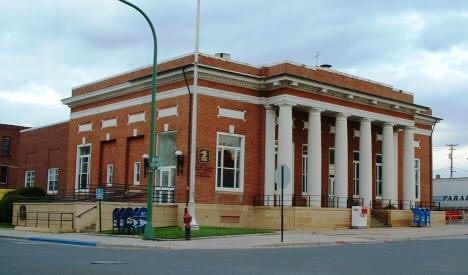 US Post Office, Virginia Minnesota, 2004
LakesnWoods.com Photo
---
---