Navigation
LakesnWoods.com
Home Page
Contact Us
Privacy
Minnesota History Shop

Visit The Minnesota History Shop
www.minnesotahistoryshop.com
Historic maps
Historic books
Historic framed art
Historic postcards
Clothing with historic images
And much more!!!


Soudan Guide:
Picture Gallery
Geography
Demographics
History
Government
Post Office
News
Weather
Street Map
Events
Attractions
Recreation
Lakes
Health Care
Schools
Churches
Media
Motels
Resorts
Campgrounds
Businesses
Aerial Photo
Topographic Map
© 2004-2023
Lakeweb1 Internet Services
All Rights Reserved
DCMA, Defamation, Copyright and Trademark Infingement Policy
WANTED!
Do you have photos, historical accounts or other items pertaining to the Soudan area? Would you like to share this historical information with the world? LakesnWoods.com would like to publish your Soudan photos (current or historical) or historical accounts on this website. Original materials can be returned and your privacy will be respected.

Soudan Minnesota Community Guide
---
Location:
---
Population:
Breitung Township
1970
1980
1990
2000
2010
2000-2010 Change
Actual
Percent
Population
907
933
755
662
n/a
Land Area (sq. mile)
113.90
54.74
49.14
23.00
23.00
0
0.00
Density (persons per sq. mile)
7.96
17.04
15.36
28.78
n/a
Housing Units
531
898
851
523
n/a
Households
--
341
317
292
n/a
Persons Per Household
--
2.61
2.27
2.22
n/a
---
Geography:
Soudan is an unincorporated community in Breitung Township, St. Louis County, Minnesota. The community is located immediately east of the city of Tower on Minnesota Highway 169 / Minnesota Highway 1. According to the United States Census Bureau, Breitung Township has a total area of 38.8 square miles (100.6 km˛), of which, 23.0 square miles (59.6 km˛) of it is land and 15.9 square miles (41.1 km˛) of it (40.80%) is water. The elevation is 1,358 ft (414 m) above sea level.
From Wikipedia, the free encyclopedia.
---
Demographics:
As of the census of 2000, there were 662 people, 292 households, and 190 families residing in the township. The population density was 28.8 people per square mile (11.1/km˛). There were 523 housing units at an average density of 22.7/sq mi (8.8/km˛). The racial makeup of the township was 97.89% White, 0.45% African American, 0.76% Native American, 0.30% Asian, 0.15% from other races, and 0.45% from two or more races. Hispanic or Latino of any race were 0.45% of the population.
There were 292 households out of which 21.9% had children under the age of 18 living with them, 54.8% were married couples living together, 5.8% had a female householder with no husband present, and 34.6% were non-families. 29.1% of all households were made up of individuals and 15.4% had someone living alone who was 65 years of age or older. The average household size was 2.22 and the average family size was 2.75.
In the township the population was spread out with 20.1% under the age of 18, 4.7% from 18 to 24, 24.3% from 25 to 44, 28.9% from 45 to 64, and 22.1% who were 65 years of age or older. The median age was 46 years. For every 100 females there were 110.8 males. For every 100 females age 18 and over, there were 110.8 males.
The median income for a household in the township was $40,750, and the median income for a family was $51,250. Males had a median income of $40,000 versus $29,107 for females. The per capita income for the township was $20,134. About 10.9% of families and 17.3% of the population were below the poverty line, including 31.5% of those under age 18 and 7.6% of those age 65 or over.
From Wikipedia, the free encyclopedia.
---
---
History:
The Township of Breitung is named after Edward Breitung who came from Michigan to help start the iron ore mine and the first shipment of ore came from the "Breitung Pit". The first shipment of iron ore from Minnesota occurred in Breitung Township on July 31, 1884 and a celebration of that great event was held in the Township of Breitung Town Hall on July 31, 2014. State, County, local and other dignitaries spoke on this milestone and afterwards a large gathering of residents from around the area took note of the historic date and the activities which occurred 130 years ago.
The Vermilion Range Old Settlers' Association organized in 1914, is what the name implies. The workers at the Breitung Pit alongside the workers at the Soudan Underground Mine began setting aside this time as a day off from the hard work at the mine to celebrate the good fortune of the area with a picnic at McKinley Park on Lake Vermilion just a mile down the road. The group meets annually on McKinely Park on the third Saturday in July. This makes an opportunity for the pioneers to get together and recount some of the happenings in the early years on the Vermilion Range. The picnic and program is organized by the Association President and directors which have been composed of the volunteer area citizens and Township of Breitung board members. The chef and his assistants who prepare and serve the booyah (a beef and vegetable soup) gladly volunteer for this special day in July. Registration for this noteworthy event nearly topped 360 this year plus the folks just visiting or stopping by! That is a lot of booyah!
Courtesy Breitung Township
Soudan, a village in section 28, Breitung Township (T. 62N, R. 15W), near Tower, and its mine, which was the first in this state to ship iron ore, in 1884, were so named by D. H. Bacon, general manager of this mine, because the severe winter cold here is very strongly contrasted with the tropical heat of the Soudan (or Sudan) region in Africa. The village had a post office, established as Tower Mines in 1887 and changed to Soudan in 1888; associated with Tower Junction.
Courtesy Minnesota Historical Society
---
Government:
Breitung Township
PO Box 56
Soudan, MN 55782
Phone: (218) 753-6020

Regular Business Hours:
Tuesday - Thursday 12:00 pm - 4:00 pm

Town Board Meetings:
4th Tursday of the month at 12:00 pm



Title
Term Ends
Name & Address
Phone:
Clerk
2022
Dianna V. Sunsdahl
20 Center Street - PO Box 56
Soudan, MN 55782
(218) 753-6020
(218) 753-7534
Treasurer
2023
Jorgine Gornick
17 Gordon Street - PO Box 296
Soudan, MN 55782
(218) 753-6020
(218) 753-5331
Supervisor
2022
Timothy S. Tomsich
5039 Sundeen - PO Box 83
Soudan, MN 55782
(218) 753-6020
(218) 753-4220
Supervisor
2024
Charles J. Tekautz
67 Jasper Street - PO Box 113
Soudan, MN 55782
(218) 753-6020
(218) 753-4370
Supervisor
2023
Gregory N. Dostert
5424 Highway 169 - PO Box 153
Soudan, MN 55782
(218) 753-6020
(218) 753-3047
---
Post Office:
US Post Office
31 1st Avenue
Soudan, MN 55782-5000
Phone: (218) 753-6410
Toll Free: (800) ASK-USPS



Regular Business Hours:
Week Days 8:30 am - 12:00 pm
1:00 pm - 4:00 pm
Saturday 8:45 am - 9:45 am
Latest Collection at Post Office:
Week Days 4:15 pm
Saturday 9:45 am
---
Utilities:
---
Major Employers:
Employer
Products/Services
Employees

n/a
---
News:
---
Weather:
---
Map: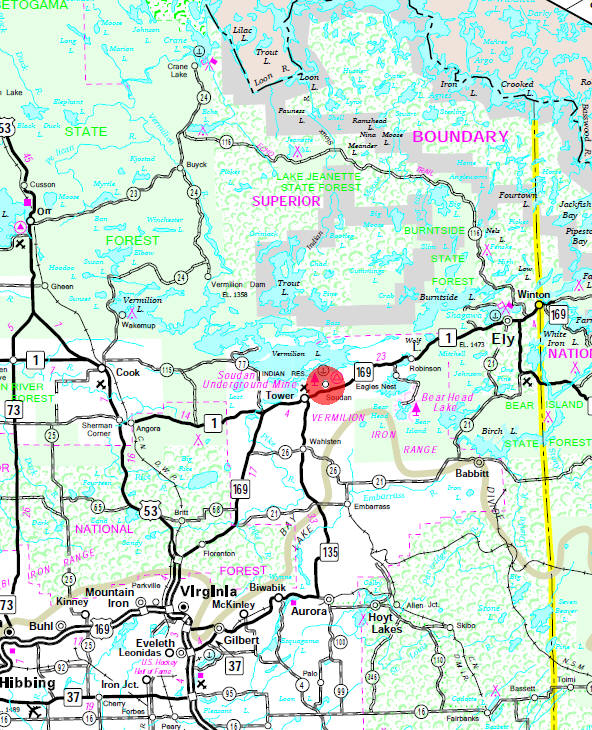 Minnesota State Highway Map of the Soudan Minnesota area
---
Attractions:
Soudan Underground Mine State Park
1379 Stuntz Bay Road
Soudan, MN 55782
Phone: (218) 753-2245

A century slips by when you visit this park. Visitors wear hard hats and journey down 2,341 feet via a "cage." On the 27th level, the transportation shifts to a rail car for a ride back into the mine as you listen to the stories of the mining days. Above ground visitors can explore the dry house, drill shop, crusher house and engine house. Visitors also can walk the boardwalk past one of the deepest open mine pits or hike the trails in the park through a northern hardwood conifer forest, past the famous Soudan Iron Formation.
---
Recreation:
McKinley Park Campground
Box 382
Soudan, MN 55782
Phone: (218) 753-5921
Email: info@mckinleypark.net

Enjoy the beauty and history of the area in a family friendly atmosphere. Come and stay with us at McKinley Park Campground, located in Soudan, Minnesota on the shores of beautiful Lake Vermilion. McKinley Park Campground offers breath-taking sunsets, terrific fishing and the hospitality of our new managers,

Mesabi Trail

The Taconite State Trail stretches 165 miles from Grand Rapids to Ely and intersects with the Arrowhead State Trail just west of Lake Vermillion. Portions are paved for biking and in-line skating. The remainder of the natural surface trail is used primarily for snowmobiling in the winter. The trail goes through a few areas that have standing water in the summer, however portions of the trail are suitable for horseback riding, hiking, and mountain biking.

The Taconite Trail winds through forests of birch and aspen intertwined with pine, leading the visitor by many isolated lakes and streams. From Grand Rapids heading north, you see the impact of the taconite and iron mining industry. The northern portion of the trail terrain is rolling and tree covered as it winds through state and national forest land.

Eight trail waysides and picnic facilities offer scenic vistas of the hills, lakes and rivers of this area. The trail also links three state parks: Bear Head Lake, Soudan Underground Mine, and McCarthy Beach. The landscape in and around Bear Head Lake State Park is very rolling and rocky.
---
Lakes:
Lake Name
Size
(acres)
Lake info
Lake Map
Rec Map
Topo Map
Burntside
7314
Bearhead
674
Cummings
1121
Eagles Nest #1
322
Eagles Nest #2
408
Eagles Nest #3
1001
n/a
Lost
768
Pine
912
n/a
Trout
7425
Vermilion
39272
---
Events:
---
Schools:
---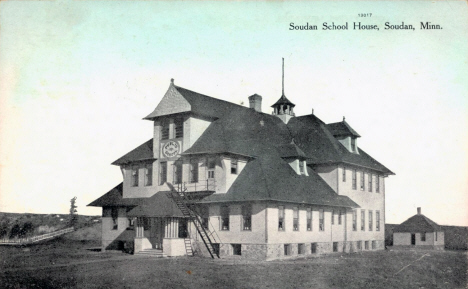 School, Soudan Minnesota, 1909
---
Churches:
St. Paul's Lutheran Church
Church Street
Soudan, MN 55782
Phone: (218) 753-5341
Soudan Baptist Church
Soudan, MN 55782
Phone: (218) 753-3902
---
Media:
---
Business Directory:
Barb's Cutting Edge
34 5th Avenue
Soudan, MN 55782
Phone: (218) 753-5900
Bite-Em Bait & Tackle
30 Main Street
Soudan, MN 55782
Phone: (218) 753-8070
FWP Guide Service
PO Box 115
Soudan MN 55782
Phone: (218) 753-2079
Hinkel Construction
25 South Street
Soudan MN 55782
Phone: (218) 753-6501
McKinley Park Campground
PO Box 382
Soudan, MN 55782
Phone: (218) 753-5921

Enjoy the beauty and history of the area in a family friendly atmosphere. Come and stay with us at McKinley Park Campground, located in Soudan, Minnesota on the shores of beautiful Lake Vermilion. McKinley Park Campground offers breath-taking sunsets, terrific fishing and the hospitality of our new managers, Jerry and Susie Chiabotti. McKinley Park Campground is seasonal, opening May 1st and closing September 30th. You will find our office, convenience store, laundry, and restroom/shower area are centrally located in the campground with a large parking area nearby.

Mr.PCGuy.com
36 2nd Avenue #206
Soudan, MN 55782
Phone: (218) 750-0575

MrPcGuy.com provides top-notch computer and technical service for individuals and small businesses along with great customer support - a combination that can't be beat!

Northern Minnesota Home Inspections Inc
13 South Street
Soudan, MN 55782
Phone: (218) 753-6314
Parkside Homes Inc
Soudan, MN 55782
Phone: (218) 753-5876
R Semo Contracting
Soudan, MN 55782
Phone: (218) 753-2402
Soudan Community Store
30 Main Street
Soudan, MN 55782
Phone: (218) 753-2205
Vermilion Housing Corp
PO Box 306
Soudan, MN 55782
Phone: (218) 753-6111
---
Aerial Photo:
---
Topographic Map: [click map to enlarge, zoom in or zoom out]