Navigation
LakesnWoods.com
Home Page
Contact Us
Privacy
Minnesota History Shop

Visit The Minnesota History Shop
www.minnesotahistoryshop.com
Historic maps
Historic books
Historic framed art
Historic postcards
Clothing with historic images
And much more!!!


Mountain Iron Guide:
Photo Gallery
Location
Geography
Demographics
History
Government
Post Office
News
Weather
Street Map
Events
Attractions
Recreation
Lakes
Health Care
Schools
Churches
Media
Motels
Resorts
Campgrounds
Businesses
Aerial Photo
Topographic Map
© 2004-2023
Lakeweb1 Internet Services
All Rights Reserved
DCMA, Defamation, Copyright and Trademark Infingement Policy
WANTED!
Do you have photos, historical accounts or other items pertaining to the Mountain Iron area? Would you like to share this historical information with the world? LakesnWoods.com would like to publish your Mountain Iron photos (current or historical) or historical accounts on this website. Original materials can be returned and your privacy will be respected.

Mountain Iron Minnesota Community Guide
---
Location:
As its name suggests, the City of Mountain Iron was literally built on a mountain of iron. It was here, in 1890, that Leonidas Merritt first discovered iron ore, launching the mining era that uncovered the fabulous wealth beneath the Mesabi Range. Today, a two-and-a-half ton, 10-foot high statue of Merritt stands in the heart of the city. A 1910 Baldwin locomotive, class S-4 Switcher, is also located in the downtown district.

Situated at the crossroads of Highways 53 and 169, Mountain Iron is Minnesota's third largest city in geographic size, covering 52 square miles and boasting six lakes within its limits.

Visitors can get a birds-eye view of USS/Minntac's taconite mining operations at either the Wacootah Overlook or the Minntac Mine Overlook.

In August, the city hosts the annual "Leonidas Merritt Days Festival" to celebrate the area's tradition of mining, with activities for the entire family to enjoy.

Courtesy Iron Range Tourism Bureau
---
Population:
Mountain Iron (city)
1970
1980
1990
2000
2010
2000-2010 Change
Actual
Percent
Population
3,400
4,134
3,362
2,999
2,869
-130
-4.33
Land Area (sq. mile)
13.50
50.81
49.36
49.44
71.31
+21.87
+44.24
Density (persons per sq. mile)
251.85
81.36
68.11
60.66
41.90
-18.76
-30.93
Housing Units
1,076
1,607
1,422
1,409
1,442
+33
+2.34
Households
--
1,469
1,350
1,326
1,336
+10
+0.75
Persons Per Household
--
2.81
2.49
2.26
2.15
-0.11
-4.87
---
Geography:

Mountain Iron is a city in St. Louis County, Minnesota, in the heart of the Mesabi Iron Range. U.S. Highway 169 serves as a main arterial route in the city. According to the United States Census Bureau, the city has a total area of 71.31 square miles (184.69 km²), of which, 68.52 square miles (177.47 km²) of it is land and 2.79 square miles (7.23 km²) of it is water. The elevation is 1,486 ft (453 m) above sea level.

From Wikipedia, the free encyclopedia.
---
Demographics:
As of the census of 2010, there were 2,869 people, 1,336 households, and 796 families residing in the city. The population density was 41.9 inhabitants per square mile (16.2 /km2). There were 1,442 housing units at an average density of 21.0 per square mile (8.1 /km2). The racial makeup of the city was 96.8% White, 0.3% African American, 0.7% Native American, 0.2% Asian, and 2.0% from two or more races. Hispanic or Latino of any race were 0.6% of the population.
There were 1,336 households of which 24.8% had children under the age of 18 living with them, 44.7% were married couples living together, 10.3% had a female householder with no husband present, 4.6% had a male householder with no wife present, and 40.4% were non-families. 35.9% of all households were made up of individuals and 14.4% had someone living alone who was 65 years of age or older. The average household size was 2.14 and the average family size was 2.72.
The median age in the city was 45.4 years. 20.7% of residents were under the age of 18; 7.2% were between the ages of 18 and 24; 21.8% were from 25 to 44; 33% were from 45 to 64; and 17.4% were 65 years of age or older. The gender makeup of the city was 49.8% male and 50.2% female.
From Wikipedia, the free encyclopedia.
---
History:
Mountain Iron, a city in Nichols Township (T. 58N, R. 18W), first settled in the spring of 1892, was incorporated as a village on November 28, 1892, separated from the township on May 16, 1908, and reincorporated on June 20, 1913. Its name is from the Mountain Iron Mine, the earliest to ship ore from the Mesabi Range, in August 1892. The post office began as Marfield in 1892, with Roscoe Merritt as postmaster, changed to Mount Iron in 1894, and to Mountain Iron in 1913; it had a Duluth, Missabe and Iron Range Railroad station in section 3.
Courtesy Minnesota Historical Society
---
Government:
Mountain Iron City Hall
8586 Enterprise Drive S
Mountain Iron, MN 55768
Phone: (218) 748-7570
Fax: (218) 748-7573

Regular Business Hours:
Monday - Friday 7:30 am - 4:00 pm

City Council Meetings:
1st and 3rd Monday at 6:30 pm



Title
Terms Ends:
Name & Address:
Phone:
Mayor
12/31/2024
Peggy C. Anderson
5466 Garden Drive N
Mountain Iron, MN 55768
(218) 735-8911
City Administrator
appointed
Craig J. Wainio
8586 Enterprise Drive S
Mountain Iron, MN 55768
(218) 748-7570
Councilor
12/31/2022
Stephen Skogman
8867 Quartz Street
Mountain Iron, MN 55768
(218) 735-8378
Councilor
12/31/2022
Julie Buria
8424 Centennial Drive
Virginia, MN 55792
(218) 290-5473
Councilor
12/31/2024
Joe Prebeg, Jr.
5380 Mineral Avenue
Mountain Iron, MN 55768
(218) 290-7215
Councilor
12/31/2024
Edmund "Ed" Roskoski
5409 North Court
Mountain Iron, MN 55768
(218) 749-4204
---
Post Office:
US Post Office
5756 Mountain Avenue
Mountain Iron, MN 55768-9636
Phone: (218) 735-8900
Toll Free: (800) ASK-USPS

Regular Business Hours:
Week Days 8:15 am - 12:30 pm
1:30 pm - 4:30 pm
Saturday Closed
---
---
Utilities:
---
Major Employers:
---
News:
---
Weather:
---
Map: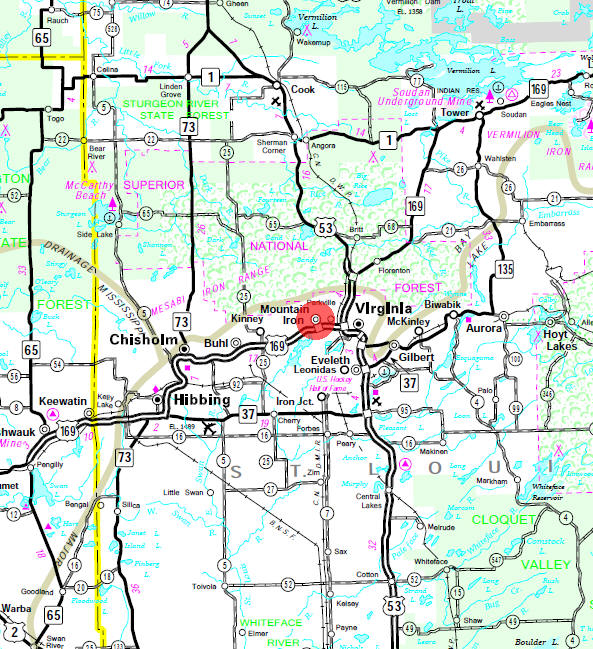 Minnesota State Highway Map of the Mountain Iron Minnesota area
---
Events:
---
Attractions:
---
Recreation:
Ann's Acres Park
8390 Tamarack Drive
Mountain Iron, MN 55768
Phone: (218) 748-7570
Downtown Park
8864 Main Street
Mountain Iron, MN 55768
Phone: (218) 748-7570
Mesabi Trail

The Taconite State Trail stretches 165 miles from Grand Rapids to Ely and intersects with the Arrowhead State Trail just west of Lake Vermillion. Portions are paved for biking and in-line skating. The remainder of the natural surface trail is used primarily for snowmobiling in the winter. The trail goes through a few areas that have standing water in the summer, however portions of the trail are suitable for horseback riding, hiking, and mountain biking.

The Taconite Trail winds through forests of birch and aspen intertwined with pine, leading the visitor by many isolated lakes and streams. From Grand Rapids heading north, you see the impact of the taconite and iron mining industry. The northern portion of the trail terrain is rolling and tree covered as it winds through state and national forest land.

Eight trail waysides and picnic facilities offer scenic vistas of the hills, lakes and rivers of this area. The trail also links three state parks: Bear Head Lake, Soudan Underground Mine, and McCarthy Beach. The landscape in and around Bear Head Lake State Park is very rolling and rocky.

Parkville Park
Nichols Street
Mountain Iron, MN 55768
Phone: (218) 748-7570
South Grove Park
8766 Mud Lake Road
Mountain Iron, MN 55768
Phone: (218) 748-7570
West Two Rivers Campground
4988 Campground Road
Mountain Iron, MN 55768
Phone: (218) 748-7570
West Virginia Park
8373 Unity Drive
Mountain Iron, MN 55768
Phone: (218) 748-7570
Wolf Park
4958 Butler Road
Mountain Iron, MN 55768
Phone: (218) 748-7570
---
Lakes:
Lake Name
Size
(acres)
Lake info
Lake Map
Rec Map
Topo Map
Doherty
71
Kendall
52
n/a
Little Sandy
n/a
n/a
Majestic
52
Mashkenode
101
Minntac West Pit
3000
n/a
Mott Pit
15
n/a
Sand
701
Sandy
n/a
n/a
West Two Rivers Reservoir
713
---
Health Care:
Fairview Mesaba Clinic - Mountain Iron
8496 Enterprise Drive S
Mountain Iron, MN 55768
Phone: (218) 741-2250
Web: www.range.fairview.org

Fairview Mesaba Clinic-Mountain Iron offers a team of dedicated physicians focused on improving the health of our communities. The family physicians at Fairview Mesaba Clinic-Mountain Iron are your connection to complete family health care. They have special skills in family medicine, obstetrics, gynecology, acupuncture, pediatrics, geriatrics, Urology and Orthopedic Surgery and Sports Medicine.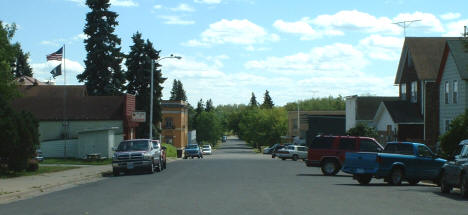 ---
Schools:
---
Churches:
---
Media:
---
Motels:
Americinn Lodge & Suites
5480 Mt. Iron Drive
Mountain Iron, MN 55768
Phone: (218) 741-7839
Toll Free: (888) 741-7839
Web: www.americinn.com

Our Virginia hotel offers a variety of room types, including spacious suites with whirlpools and fireplaces, that are perfect for business or leisure travelers in Minnesota. Come to our Virginia MN hotel and be treated to an inviting pool, great service, free breakfast, and quiet nights!

Holiday Inn Express

8570 Rock Ridge Drive

Mountain Iron

,

MN

55768

Phone: (218) 741-7411

‎

Newly opened in 2009, features 79 guest rooms including 16 suites. Fitness center and indoor pool. Conveniently located just 1 mile west of Hwy 53, on MN Hwy 169
---
Resorts:
---
Campgrounds:
---
Business Directory:
Adventures Restaurant & Pub
5475 Mountain Iron Drive
Mountain Iron, MN 55768
Phone: (218) 741-7151
Web: www.adventuresrestaurants.com

Adventures Restaurant and Pub mixes great American classics with a touch of the wild. Two stone fireplaces and a starlit ceiling make this woodsy atmosphere cozy and comfortable for it's guests. Adventures is also know for it's famous 2 for 1 Happy Hour Monday through Friday.

American Bank
8401 Unity Drive
Virginia, MN 55792
Phone: (218) 741-0816
Web: www.ambnk.com

American Bank of the North is privately held and is a subsidiary of Mesaba Bancshares, a multi-bank holding company. The total operations has 12 branch offices and 2 administrative offices in Northeastern Minnesota.
American Legion
5748 Mountain Avenue
Mountain Iron, MN 55768
Phone: (218) 735-8514
Arrowhead Library System
5528 Emerald Avenue
Mountain Iron, MN 55768
Phone: (218) 741-3840
Web: www.arrowhead.lib.mn.us



Arrowhead Library System enhances the value of all types of libraries to their communities by cultivating collaboration, technological innovation, and professional development; and enriches the quality of life by providing direct services for those without a public library and access to electronic resources for all pe

ople in northeastern Minnesota.
Babich Automotive
5579 Nichols Avenue
Mountain Iron, MN 55768
Phone: (218) 741-0271
Benchmark Engineering Inc
8878 Main Street
Mountain Iron, MN 55768
Phone: (218) 735-8914
Web: www.bm-eng.com



We are a locally owned and operated Civil engineering and land surveying firm in northern Minnesota. All of our personnel are local residents and their livelihood is dependent on providing high quality consultant engineering and land surveying services to local government agencies, local industries and citizens.

Carquest Auto Parts
8415 N Enterprise Drive
Mountain Iron, MN 55768
Phone: (218) 741-7346
Web: www.carquest.com



CARQUEST Auto Parts is owned and operated by Advance Auto Parts, Inc., the largest automotive aftermarket parts provider in North America, servicing both the do-it-yourself and professional installer markets.

Cherry Stitches
4251 Tamminen Road
Mountain Iron, MN 55768
Phone: (218) 263-7972
Cinema 6
8426 Enterprise Drive S
Mountain Iron, MN 55768
Phone: (218) 741-2008
Web: www.cectheatres.com



CEC Theatres currently operates over 150 screens in Minnesota, Iowa, Wisconsin and Nebraska. With company headquarters still located in St. Cloud, MN, CEC Theatres remains a family-owned company with a commitment to bringing state-of-the-art theatre facilities to the communities it serves.

Diamond Willow Assisted Living
8583 Unity Drive
Mountain Iron, MN 55768
Phone: (218) 741-1500
Web: www.diamondwillowassistedliving.com



Named to reflect the mining heritage within the community, Wacoutah Suites opened in October 2006 and Leonidas Suites opened in February 2007. A beautiful family/sun room connects the two homes, which are located in a residential area.

DRCC South Grove
8790 Arbor Ln
Mountain Iron, MN 55768
Phone: (218) 735-8737
Dustcoating Inc
8933 Slate Street
Mountain Iron, MN 55768
Phone: (218) 735-8717
Eddie's Range Roll Off Svc
5366 Mineral Avenue
Mountain Iron, MN 55768
Phone: (218) 749-2783
Edge Properties
4937 Spirit Lake Road
Mountain Iron, MN 55768
Phone: (218) 735-8619
Eichorn's Mini-Storage
5550 Enterprise Drive NE
Mountain Iron, MN 55768
Phone: (218) 741-8247
Elder Services Network
8880 Main Street
Mountain Iron, MN 55768
Phone: (218) 735-8637
Empowerment Services-Minnesota
8398 Spruce Drive
Mountain Iron, MN 55768
Phone: (218) 749-8872
Fairview Mesaba Clinics
8496 Enterprise Drive S
Mountain Iron, MN 55768
Phone: (218) 741-2250
Web: www.range.fairview.org



Fairview Mesaba Clinics - Mountain Iron understands the health care needs of area residents. Providing high quality health care for the entire family from newborn to geriatric - our team of physicians offer a full range of primary and specialty care.



First National Bank of Buhl
5539 Nichols Avenue
Mountain Iron, MN 55768
Phone: (218) 749-3190
Web: www.fnbob.com



First National Bank of Buhl is a full service, locally owned bank serving the surrounding communities of Mountain Iron and Buhl, Minnesota. Our site is full of information about the products and services we offer to make your life easier.

Forest Management System
8937 Slate Street
Mountain Iron, MN 55768
Phone: (218) 735-8500
GE Company
5521 Mineral Avenue
Mountain Iron, MN 55768
Phone: (218) 749-6100
Greta's Gym-Ultimate Dog Sports
5581 Nichols Avenue
Mountain Iron, MN 55768
Phone: (218) 262-8900
H J Mc Gregor House Moving
4860 Butler Road
Mountain Iron, MN 55768
Phone: (218) 735-8876
Hill Wood Products Minntac
8819 Old Highway 169
Mountain Iron, MN 55768
Phone: (218) 749-3331
Hoover Construction Co Shop
8824 Old Highway 169
Mountain Iron, MN 55768
Phone: (218) 741-7145
Jim Ohman Shop
100 Mesabi Avenue
Mountain Iron, MN 55768
Phone: (218) 245-1020
Jim's Cleaning & Home Mntnc Co
8341 Jasmine Street
Mountain Iron, MN 55768
Phone: (218) 741-5633
K & K Cleaning
8738 Fairview Ln
Mountain Iron, MN 55768
Phone: (218) 735-8775
Web: www.kandkcleaning.com



K & K Cleaning Inc has been offering cleaning services in Mountain Iron, MN based on integrity, excellence, and trust for 29 years now. We take pride of the quality of our services that allowed us to stay in the business for more than two decades and counting.

Lake Country Power
8535 Park Ridge Drive
Mountain Iron, MN 55768
Phone: (218) 741-8137
Web: www.lakecountrypower.coop



Lake Country Power is a Touchstone Energy® Cooperative serving parts of eight counties in Aitkin, Carlton, Cass, Itasca, Koochiching, Lake, Pine and St. Louis. We provide electricity and other energy related services to nearly 43,000 members in the rural parts of northern Minnesota.

Lake Trales Base Camp
9700 E Hayes Road
Mountain Iron, MN 55768
Phone: (218) 258-4228
Lehman Fabricating
8322 Jasmine Street
Mountain Iron, MN 55768
Phone: (218) 741-2438
M T Timber LLC
8937 Slate Street
Mountain Iron, MN 55768
Phone: (218) 735-8400
Mac's Bar & Grill
8881 Main Street
Mountain Iron, MN 55768
Phone: (218) 735-8402
Magnum Kennels
5249 Mineral Avenue
Mountain Iron, MN 55768
Phone: (218) 735-8447
Mark Wilcox Computer Services
8942 Willow Drive
Mountain Iron, MN 55768
Phone: (218) 735-8212
Web: www.wilcoxcomputers-mn.com



Mark S Wilcox Computer Services, Inc. in Mountain Iron, MN is a one stop shop for all your computer needs. We have received top certifications in the industry, and we make sure that we bring quality new computers for individual needs.

Martin Engineering Us Steel
8819 Old Highway 169
Mountain Iron, MN 55768
Phone: (218) 741-2743
Massich Trucking
8918 Maxwell Road
Mountain Iron, MN 55768
Phone: (218) 749-2442
Minntac
8819 Old Highway 169
PO Box 417
Mountain Iron, MN 55768
Phone: (218) 749-7331
Web: www.ussteel.com



U. S. Steel's Minnesota Ore Operations, located on the Mesabi Iron Range in northern Minnesota, is composed of two facilities: Minntac in Mt. Iron and Keetac in Keewatin. At these facilities, iron-bearing rock called taconite is mined and processed into iron ore pellets for use in U. S. Steel's steelmaking facilities. Annual production capability at Minntac is approximately 16 million net tons of pellets, while Keetac can produce approximately six million net tons of pellets each year.

Motion Industries Inc
8405 N Enterprise Drive
Mountain Iron, MN 55768
Phone: (218) 749-8663
Mountain Iron Headstart
5529 Emerald Avenue
Mountain Iron, MN 55768
Phone: (218) 749-6306
Mountain Iron Park & Rec Dept
8586 Enterprise Drive S
Mountain Iron, MN 55768
Phone: (218) 748-7570
Mountain Iron Public Library
5742 Mountain Avenue
Mountain Iron, MN 55768
Phone: (218) 735-8625
Mountain Iron Wastewater Plant
8808 Grant Drive
Mountain Iron, MN 55768
Phone: (218) 735-8559
Mt Iron Community Ctr
8586 Enterprise Drive S
Mountain Iron, MN 55768
Phone: (218) 748-7570
Mt Iron Short Stop
5539 Nichols Avenue
Mountain Iron, MN 55768
Phone: (218) 749-1424
Mt Timber Wood Products
8937 Slate Street
Mountain Iron, MN 55768
Phone: (218) 735-8600
Nelson Williams Inc
8330 Jasmine Street
Mountain Iron, MN 55768
Phone: (218) 741-1080
Nhs Mt Manor
5700 Mountain Avenue
Mountain Iron, MN 55768
Phone: (218) 735-1103
North Country Library Co-Op
5528 Emerald Avenue
Mountain Iron, MN 55768
Phone: (218) 741-1907
Northeast Service Cooperative
5525 Emerald Avenue
Mountain Iron, MN 55768
Phone: (218) 741-0750
Web: www.nesc.k12.mn.us



Established by the legislature in 1976 as a nonprofit public corporation, the Northeast Service Cooperative has met the needs of its regional membership for more than twenty-five years. Today, the Northeast Service Cooperative serves 32 school districts and 79 cities, counties and other governmental agencies throughout Northeast Minnesota.

Northland Auto Svc
8377 Enterprise Drive N
Mountain Iron, MN 55768
Phone: (218) 749-6456
Northland Small Engine Repair
8377 Enterprise Drive N
Mountain Iron, MN 55768
Phone: (218) 749-6474
Nutrition Center For Elderly
8876 Main Street
Mountain Iron, MN 55768
Phone: (218) 735-8480
Oberfoell Auctioneers
4937 Spirit Lake Road
Mountain Iron, MN 55768
Phone: (218) 735-8619
Park Place Apartments
8529 Parkvilla Drive # 102
Mountain Iron, MN 55768
Phone: (218) 749-4450
Pellets Plus
8937 Slate Street
Mountain Iron, MN 55768
Phone: (218) 735-1100
Perkins Restaurant
8586 Rock Ridge Drive
Mountain Iron, MN 55768
Phone: (218) 741-3325
Web: www.perkinsrestaurants.com
Raintree Apartments
8517 Raintree Drive
Mountain Iron, MN 55768
Phone: (218) 741-9062
Senior Citizens Center
8876 Main Street
Mountain Iron, MN 55768
Phone: (218) 735-1096
Silicon Energy LLC
8787 Silicon Way
Mountain Iron, MN 55768
Phone: (218) 789-1710
Web: www.silicon-energy.com



Silicon Energy is a business out to make a difference. We've already made progress by bringing to market a durable solar module "unmatched in its lifespan" that's made in the US.

South Grove Skating Rink
8766 Mud Lake Road
Mountain Iron, MN 55768
Phone: (218) 735-8325
Spring Creek Canoes & Kayaks
8873 Main Street
Mountain Iron, MN 55768
Phone: (218) 735-8719
Star Homes & Builders
5478 Mountain Iron Drive
Mountain Iron, MN 55768
Phone: (218) 741-7506
TBG Construction
5205 Highway 25
Mountain Iron, MN 55768
Phone: (218) 262-3301
Tra-Bran Kennel
5350 Sainio Road
Mountain Iron, MN 55768
Phone: (218) 735-8998
Tree-Bee-Gone Construction
5205 Highway 25
Mountain Iron, MN 55768
Phone: (218) 741-3301
Trophy Shop
5684 Mineral Avenue
Mountain Iron, MN 55768
Phone: (218) 735-8551
U-Haul Co
8377 Enterprise Drive N
Mountain Iron, MN 55768
Phone: (218) 749-1412
United States Steel Corp
8819 Old Highway 169
Mountain Iron, MN 55768
Phone: (218) 749-7420
US Post Office
5756 Mountain Avenue
Mountain Iron, MN 55768
Phone: (218) 000-1111
USX Corporation
PO Box 417
Mountain Iron, MN 55768
Phone: (218) 749-7450
Vermilion Range Construction
10101 Allavus Road
Mountain Iron, MN 55768
Phone: (218) 263-4552
Wayne Kraabel Construction
8537 Raintree Drive
Mountain Iron, MN 55768
Phone: (218) 741-2193
West-Two Rivers Campground
4988 Campground Road
Mountain Iron, MN 55768
Phone: (218) 735-8831
---
Aerial Photo:
---
Topographic Map: [click map to enlarge, zoom in or zoom out]