Navigation
LakesnWoods.com
Home Page
Contact Us
Privacy
Minnesota History Shop

Visit The Minnesota History Shop
www.minnesotahistoryshop.com
Historic maps
Historic books
Historic framed art
Historic postcards
Clothing with historic images
And much more!!!

Gilbert Guide:
Photo Gallery
Location
Geography
Demographics
History
Government
Post Office
News
Street Map
Events
Attractions
Recreation
Lakes
Health Care
Schools
Churches
Media
Motels
Resorts
Campgrounds
Businesses
Aerial Photo
Topographic Map
Nearby Communities
Aurora
Babbitt
Biwabik
Buhl
Cherry
Cook
Eveleth
Hibbing
Hoyt Lakes
Kinney
Mountain Iron
Soudan
Tower
Virginia
© 2004-2023
Lakeweb1 Internet Services
All Rights Reserved
DCMA, Defamation, Copyright and Trademark Infingement Policy
WANTED!
Do you have photos, historical accounts or other items pertaining to the Gilbert area? Would you like to share this historical information with the world? LakesnWoods.com would like to publish your Gilbert photos (current or historical) or historical accounts on this website. Original materials can be returned and your privacy will be respected.

Gilbert Minnesota Gallery
---
---
---
---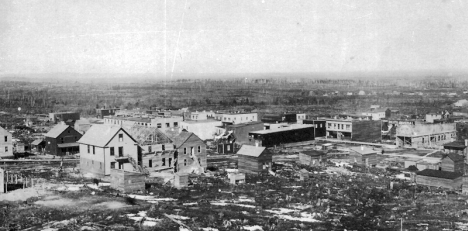 Early Gilbert Minnesota, 1909?
Courtesy Gary L. Gorsha - click image to enlarge
---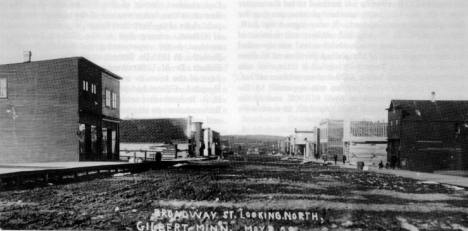 Broadway looking north, Gilbert Minnesota, 1909?
Courtesy Gary L. Gorsha - click image to enlarge
---
---
---
---
---
---
---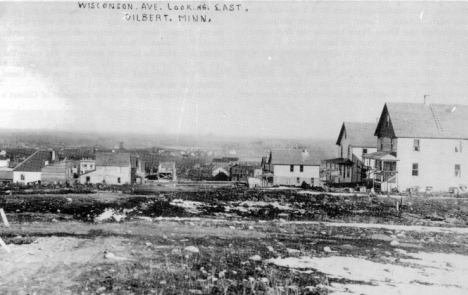 Wisconsin Avenue looking east, Gilbert Minnesota, 1910s
Courtesy Gary L. Gorsha - click image to enlarge
---


Michigan Avenue looking east, Gilbert Minnesota, 1910s
Courtesy Gary L. Gorsha - click image to enlarge
---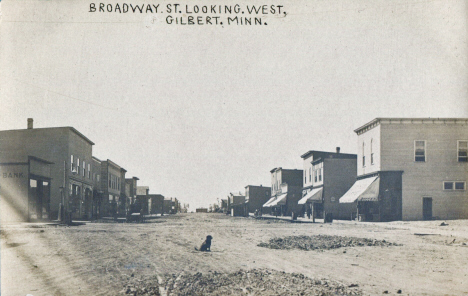 Broadway Street looking west, Gilbert Minnesota, 1910s
LakesnWoods.com Postcard and Postcard Image Collection - click to enlarge
---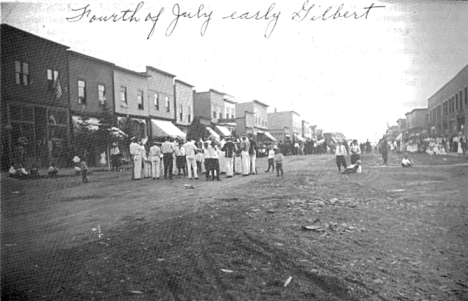 Fourth of July celebration in Gilbert Minnesota. 1910s?
Courtesy Gary L. Gorsha - click image to enlarge
---
---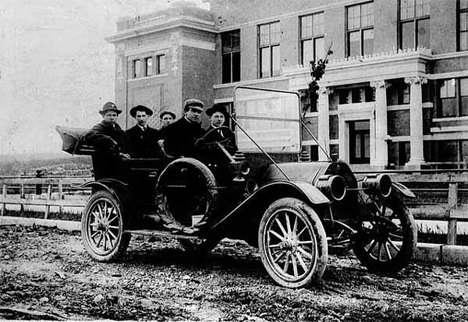 Patrick J. Hogan at the wheel of EMF automobile,
first car in Gilbert Minnesota, 1911
Courtesy Minnesota Historical Society - click image to enlarge or purchase
---
---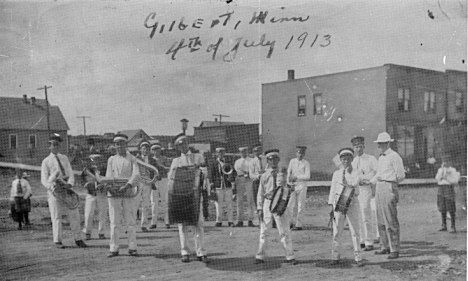 Fourth of July celebration, Gilbert Minnesota, 1913
Courtesy Gary L. Gorsha - click image to enlarge
---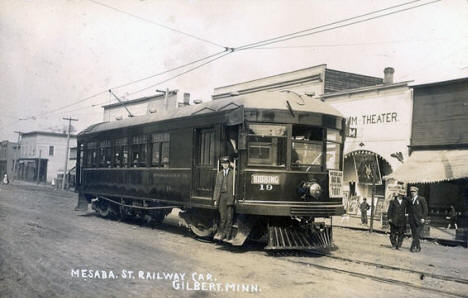 Mesaba Street Railway Car, Gilbert Minnesota, 1913
LakesnWoods.com Postcard and Postcard Image Collection - click to enlarge
---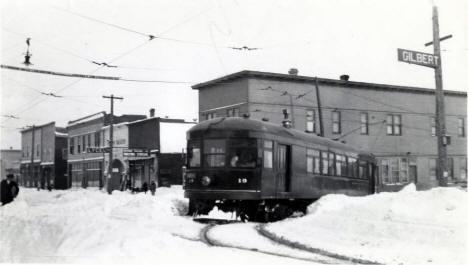 Inter-urban street car at Broadway and Wisconsin, Gilbert Minnesota, 1914
Courtesy Minnesota Streetcar Museum - click image to enlarge
---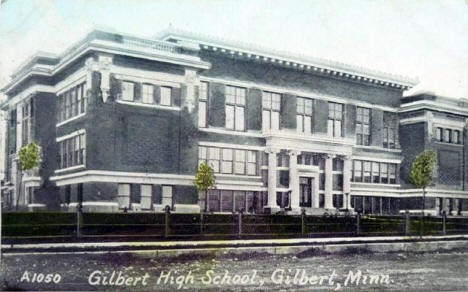 Gilbert High School, Gilbert Minnesota, 1918
LakesnWoods.com Postcard and Postcard Image Collection - click to enlarge
---
---
---
---
---
---
---
---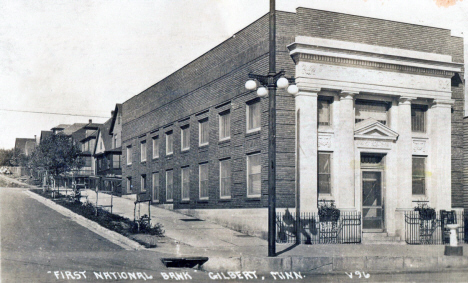 First National Bank, Gilbert Minnesota, 1930s
LakesnWoods.com Postcard and Postcard Image Collection - click to enlarge
---
---
---
---

Street scene, Gilbert Minnesota, 2009
LakesnWoods.com Postcard and Postcard Image Collection - click to enlarge
---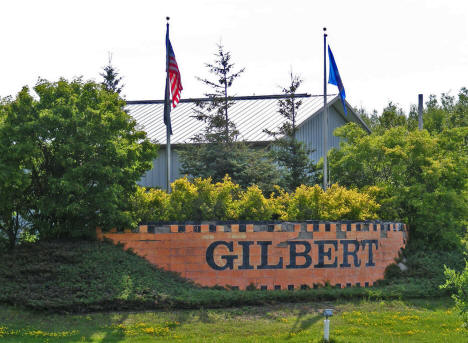 Welcome sign, Gilbert Minnesota, 2009
LakesnWoods.com Photo - click image to enlarge
---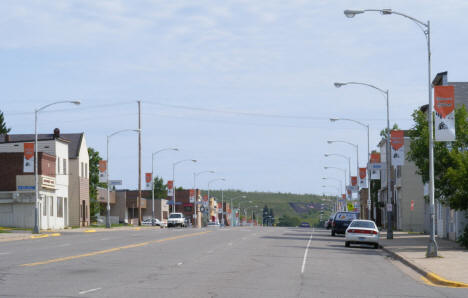 Street scene, Gilbert Minnesota, 2009
LakesnWoods.com Photo - click image to enlarge
---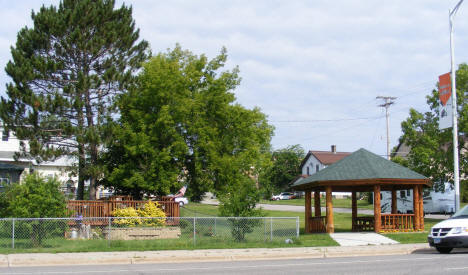 Park, Gilbert Minnesota, 2009
LakesnWoods.com Photo - click image to enlarge
---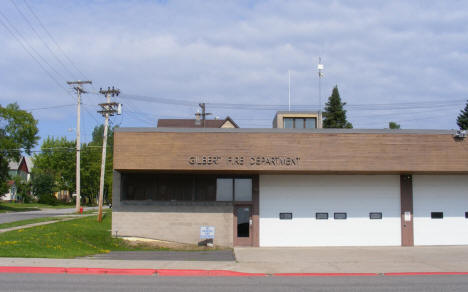 Fire Department, Gilbert Minnesota, 2009
LakesnWoods.com Photo - click image to enlarge
---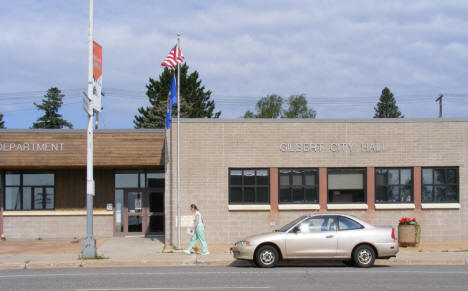 City Hall and Police Department, Gilbert Minnesota, 2009
LakesnWoods.com Photo - click image to enlarge
---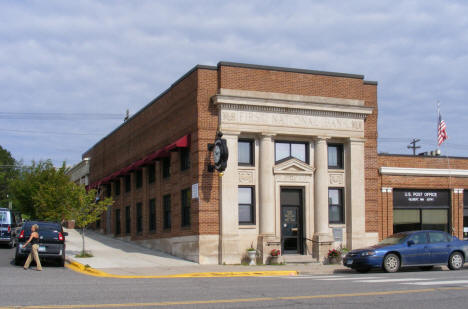 First National Bank and US Post Office, Gilbert Minnesota, 2009
LakesnWoods.com Photo - click image to enlarge
---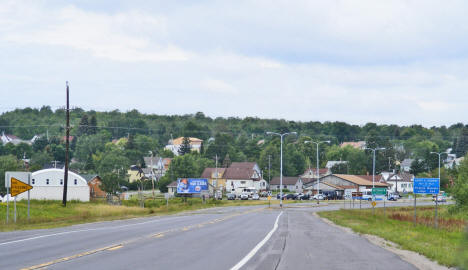 View entering Gilbert Minnesota from the west, 2009
LakesnWoods.com Photo - click image to enlarge
---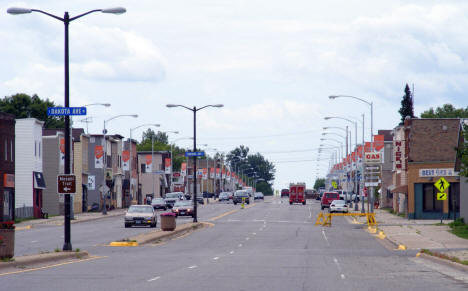 Street scene, Gilbert Minnesota, 2009
LakesnWoods.com Photo - click image to enlarge
---
---