Navigation
LakesnWoods.com
Home Page
Contact Us
Privacy
Minnesota History Shop

Visit The Minnesota History Shop
www.minnesotahistoryshop.com
Historic maps
Historic books
Historic framed art
Historic postcards
Clothing with historic images
And much more!!!


Squaw Lake Guide:
Photo Gallery
Location
Geography
Demographics
History
Government
Post Office
News
Weather
Street Map
Events
Attractions
Recreation
Lakes
Health Care
Schools
Churches
Media
Motels
Resorts
Campgrounds
Businesses
Aerial Photo
Topographic Map
Nearby Communities:
Bemidji
Bena
Blackduck
Bowstring
Cass Lake
Deer River
Northome
Grand Rapids
Jessie Lake
Talmoon
© 2004-2022
Lakeweb1 Internet Services
All Rights Reserved
DCMA, Defamation, Copyright and Trademark Infingement Policy
WANTED!
Do you have photos, historical accounts or other items pertaining to the Squaw Lake area? Would you like to share this historical information with the world? LakesnWoods.com would like to publish your Squaw Lake photos (current or historical) or historical accounts on this website. Original materials can be returned and your privacy will be respected.

Squaw Lake Minnesota Community Guide
---
Location:
---
Population:
Squaw Lake (city)
1970
1980
1990
2000
2010
2000-2010 Change
Actual
Percent
Population
113
162
139
99
107
+8
+8.08
Land Area (sq. mile)
0.90
0.78
0.82
0.82
0.82
0
0.00
Density (persons per sq. mile)
125.56
207.69
169.51
120.65
130.49
+9.84
+8.08
Housing Units
45
63
89
56
63
+7
+12.50
Households
--
50
51
35
39
+4
+11.43
Persons Per Household
--
3.24
2.73
2.83
2.74
-0.09
-3.18
---
Geography:
Squaw Lake is a city in Itasca County, Minnesota. Minnesota State Highway 46 serves as the main arterial in the community. According to the United States Census Bureau, the city has a total area of 0.83 square miles (2.15 km˛), of which, 0.80 square miles (2.17 km˛) of it is land and 0.03 square miles (0.08 km˛) of it is water. The elevation is 1,339 ft (408 m) above sea level.
From Wikipedia, the free encyclopedia.
---
Demographics:
As of the census of 2010, there were 107 people, 39 households, and 26 families residing in the city. The population density was 133.8 inhabitants per square mile (51.7/km2). There were 63 housing units at an average density of 78.8 per square mile (30.4/km2). The racial makeup of the city was 46.7% White, 51.4% Native American, 0.9% Asian, and 0.9% from two or more races.
There were 39 households of which 41.0% had children under the age of 18 living with them, 35.9% were married couples living together, 28.2% had a female householder with no husband present, 2.6% had a male householder with no wife present, and 33.3% were non-families. 23.1% of all households were made up of individuals and 7.7% had someone living alone who was 65 years of age or older. The average household size was 2.74 and the average family size was 3.23.
The median age in the city was 35.9 years. 29.9% of residents were under the age of 18; 6.5% were between the ages of 18 and 24; 28.9% were from 25 to 44; 18.8% were from 45 to 64; and 15.9% were 65 years of age or older. The gender makeup of the city was 50.5% male and 49.5% female.
From Wikipedia, the free encyclopedia.
---
---
History:
Squaw Lake, a city in section 20 of Max Township, incorporated December 17, 1940, as a village; its post office began in 1923. It was developed as a trade center and had several CCC camps in the area; also a station on the Great Northern Railway.
Courtesy Minnesota Historical Society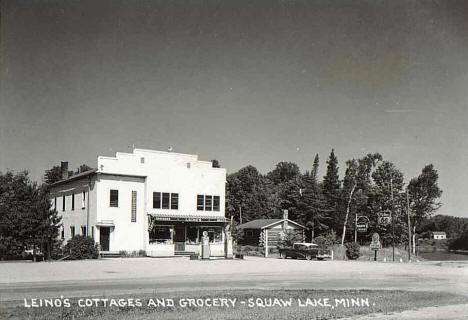 Leino's Cottages and Grocery, Squaw Lake, Minnesota, 1950s
LakesnWoods.com Postcard and Postcard Image Collection - click to enlarge

Visit The Squaw Lake Gallery for more historic and recent area photos

---
Government:
City of Squaw Lake
51272 State Highway 46
PO Box 382
Squaw Lake, MN 56681
Phone: (218) 659-4256

City meetings are held on the second Monday of every month in the Squaw Lake Community Center at 7:00pm

Title

Term ends

Name and Address
Phone
Mayor
12/31/2022
Joan Lecuyer
60504 Natures Lake Pkwy
Squaw Lake, MN 56681
(612) 250-4877
(218) 659-4344
Clerk - Treasurer
appointed
Jacqueline Schuemann
51406 State Highway 46
Squaw Lake, MN 56681
(218) 659-4570
Council Member
12/31/2022
Pete Strugar
51613 State Highway 46
Squaw Lake, MN 56681
(763) 843-6877
Council Member
12/31/2022
Sandra Leino
51815 Maple Avenue
Squaw Lake, MN 56681
(218) 659-4299
Council Member
12/31/2024
Cory Smith
51911 State Highway 46
Squaw Lake, MN 56681
(612) 499-0225
Council Member
12/31/2024
Brian Schuemann
51406 State Highway 46
Squaw Lake, MN 56681
(218) 659-4570
---
Post Office:
US Post Office
51879 State Highway 46
Squaw Lake, MN 56681-4500
Phone: (218) 659-4492
Toll Free: (800) ASK-USPS

Regular Business Hours:
Week Days 8:00 am - 12:00 pm
Saturday 10:00 am - 12:00 pm


---
Utilities:
---
Major Employers:
Employer
Products/Services
Employees
n/a
---
---
News:
---
Weather:
---
Map: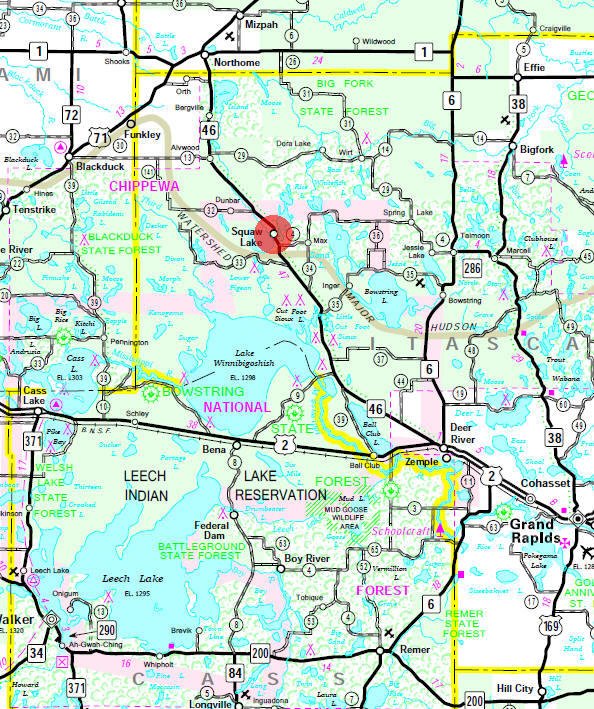 Minnesota State Highway Map of the Squaw Lake Minnesota area
---
Events:
---
---
Attractions:
---
Recreation:
---
Lakes:
Lake Name
Size
(acres)
Lake info
Lake Map
Rec Map
Topo Map

Alice

40
n/a
Cut Foot Sioux
2,776
n/a
Dixon
622
Dunbar
268
Farley
41
n/a
Greeley
23
n/a
Hale
n/a
n/a
n/a
Little Sand
353
n/a
Lower Pigeon
85
n/a
Middle Pigeon
178
n/a
Natures
2,249
n/a
One Loaf
17
n/a
Round
2,860
Sand
1,897
n/a
Simpson
n/a
n/a
n/a
Sioux
71
n/a
Sunken
55
n/a
Upper Pigeon
85
n/a
Virgin
60
n/a
Wart
14
n/a
---
Health Care:
---
Schools:
---
Churches:
Centennial Lutheran Church - LCMS
Highway 46
Squaw Lake, MN 56681
Phone:(218) 659-4350

Pastor: Rev James W Anthony
Sunday Worship: 8:00 am

Gilfillan Memorial Episcopal Church
Squaw Lake, MN 56681
Phone: (218) 335-8526
St. Catherine Catholic Church
61559 County Rd 26
Squaw Lake, MN 56681
Phone: (218) 659-4353

Pastor: n/a
Sunday Mass: 11:00 am
Saturday Mass: 7:00 pm
(Holiday weekends only)
---
Media:
---
Motels:
The Hill Restaurant & Motel
51506 State Highway 46
Squaw Lake, MN 56681
Phone: (218) 659-9220
Toll Free: (888) 659-9220

The Hill is located on State Hwy 46 in Squaw Lake, Minnesota. With fine dining, a comfortable lounge, Motel, Bunkhouse, and Laundry facilities, the Hill is an excellent place to stop and relax over night on your trip to Canada, or stay for a week and check out all that the Squaw Lake area has to offer. There is excellent fishing, cross country and snowmobile trails near by, and a vast selection of other outdoor activities to choose from
---
Bed & Breakfasts:
My Lake Home Bed and Breakfast
50917 East Dixon Lake Road
Squaw Lake MN 56681
Phone: (218) 654-4797
Web:

www.mylakeome.com

This brand new lakeside round home is nestled peacefully in the Chippewa National Forest on the waters edge of Dixon Lake. The unique design with elegance and the north woods ambiance is warm, welcoming, and comfortable. Daily wine and cheese and a hearty sumptuous breakfast is included. Enjoy over 200 acres of cross country ski trails right outside our door.
---
Resorts:
Barney's Resort
55756 County Highway 4
Spring Lake, MN 56680
Phone: (218) 659-2929
Web: www.barneysresort.com



At Barney's we make life simple. Get away from the rush of everyday life and relax. Enjoy time away in a large 2 bedroom cabin. Each cabin has vaulted ceilings, knotty pine interior, large deck, log siding, full kitchen and bath, cable TV, wireless internet,fish cleaning house & dock space. We offer free use of our 6 kayaks and 2 canoes.

Bojou Lodge Resort
50496 Bojou Road
Squaw Lake, MN 56681
Phone: (218) 659-4203
Web: www.bojouresort.com

Spring in the north woods of Minnesota produces great fishing. Cool clear nights bring out more stars than you ever thought possible, accompanied by the unique serenade of the loons.

Bright Star Resort
62563 County Road 149
Squaw Lake, MN 56681
Phone: (218) 659-4337
Web: www.brightstarresortmn.com

Bright Star Resort is located on the beautiful waters of Round Lake in the quaint little town of Squaw Lake, where friends and family gather to enjoy the great outdoors together. Round Lake was voted lake of the week by the Minneapolis Star Tribune in August of 2000, but many people find Round Lake to be their lake of the week all year round. From fishing to hunting, hiking to snowmobiling you can enjoy it all from the comforts of Bright Star Resort's all weather cabins. All cabins have decks or screen porches, kitchens, two bedrooms and hide-a-bed couches.

Dixon Lake Resort
49442 Dixon Lake Resort Road
Squaw Lake MN 56681
Phone: (218) 659-4612
Web: www.dixonlakeresort.com



We have a little bit of everything as a full service resort, including lakeside cabins, seasonal RV sites, hunting, ATV trails, dark house spearing, children's activities, lodge w/bar restaurant. Great supply of fun for the whole family, group of friends, reunions, guys' fishing/hunting trips, or that get-away you've been looking for.

Leino's Riverside Resort
PO Box 458
Squaw Lake, MN 56681
Phone: (218) 659-4299
Toll Free: (877) 522-0182
Web:

www.huntandfishsquawlake.com

Nestled on the Popple River between Squaw Lake and Round Lake in Northern Minnesota's Chippewa National Forest, you'll find the traditional fishing and hunting experience you've been looking for. At Leino's Riverside Resort we provide comfortable, quiet, all-season lodging in modern cabins. Treat yourself to a rich hunting and fishing experience!

Wausota Resort
61493 Wausota Road
Squaw Lake, MN 56681
Phone: (218) 659-4246
Web: www.wausota.com



Nestled deep in the lush Minnesota Northwoods, Wausota Resort is surrounded by beauty, serenity and excitement. Wausota Resort and Campground is located in the Chippewa National Forest on beautiful Round Lake, near Squaw Lake, Minn. Minnesota is known as the 'Land of 10,000 Lakes', and Wausota Resort, in Northern Minnesota is located in Itasca County which has over 1,000 of Minnesota's many lakes.
---
Campgrounds:
---
Businesses:
Bar Bell Bee Ranch
63333 County Road 149
Squaw Lake, MN 56681
Phone: (218) 659-4469
Web: www.barbellbee.com



Honey, in many varieties, fresh from the north woods of Minnesota.

Dun-Rite Construction and Cabinetry
50917 E. Dixon Lake Road
Squaw Lake, MN 56681
Phone: (218) 659-4797

Quality cabinets and customer satisfaction is what I am about. Need an odd space filled, traditional or unique pieces I am the one to call. Honest reliable and quality work done quick. Local Construction abilities are endless also. License #20631858 Call for a quote on any job.

Hidden Hair Schaak
50758 State Highway 46
Squaw Lake, MN 56681
Phone: (218) 659-4221
Hill Restaurant & Motel
51506 State Highway 46
Squaw Lake, MN 56681
Phone: (218) 659-9220
Toll Free: (888) 659-9220
Web: www.thehillandmotel.com

RESTAURANT & BAR CLOSED DUE TO FIRE
MOTEL UNDAMAGED AND OPEN

The Hill is located on State Hwy 46 in Squaw Lake, Minnesota. With fine dining, a comfortable lounge, Motel, Bunkhouse, and Laundry facilities, the Hill is an excellent place to stop and relax over night on your trip to Canada, or stay for a week and check out all that the Squaw Lake area has to offer. There is excellent fishing, cross country and snowmobile trails near by, and a vast selection of other outdoor activities to choose from
Hoot'n Holler
58988 State Highway 46
Squaw Lake, MN 56681
Phone: (218) 659-9225

Max Mini Store


50758 State Highway 46
Squaw Lake, MN 56681
Phone: (218) 659-4235

Whether you're headed to the cabin, woods, lake or even the Canadian border, the Max Mini Store is a great place to make your pit stop.

Mertes Garage
51470 State Highway 46
Squaw Lake, MN 56681
Phone: (218) 659-4270
Polar Insulating
51041 State Highway 46
Squaw Lake, MN 56681
Phone: (218) 659-4351
Web: www.polarinsulating.com



Living in northern Minnesota, we know the importance of a well-insulated home or business, both for your comfort and to make the best use of your energy dollars. With experience working on a wide variety of both commercial and residential projects, we can help you maximize the energy efficiency of your buildings, saving you money for years to come. Contact us for your next project. You'll be glad you did!

Sandstrom's Diamond S Ranch
Squaw Lake, MN 56681
Phone: (218) 659-4777
Squaw Lake Community Center
52201 State Highway 46
Squaw Lake, MN 56681
Phone: (218) 659-4256
Two-Point Gun Club
Squaw Lake, MN 56681
Phone: (218) 659-4532
US Post Office
51879 State Highway 46
Squaw Lake, MN 56681
Phone: (218) 659-4492
Web: www.usps.com
Williams Septic & Electric
52034 Silk Road
Squaw Lake, MN 56681
Phone: (218) 659-4216
| | |
| --- | --- |
| Leino's Store, 1950 | 2003 |
---
---
Aerial Photo:
---
Topographic Map: [click image to enlarge, zoom in or zoom out]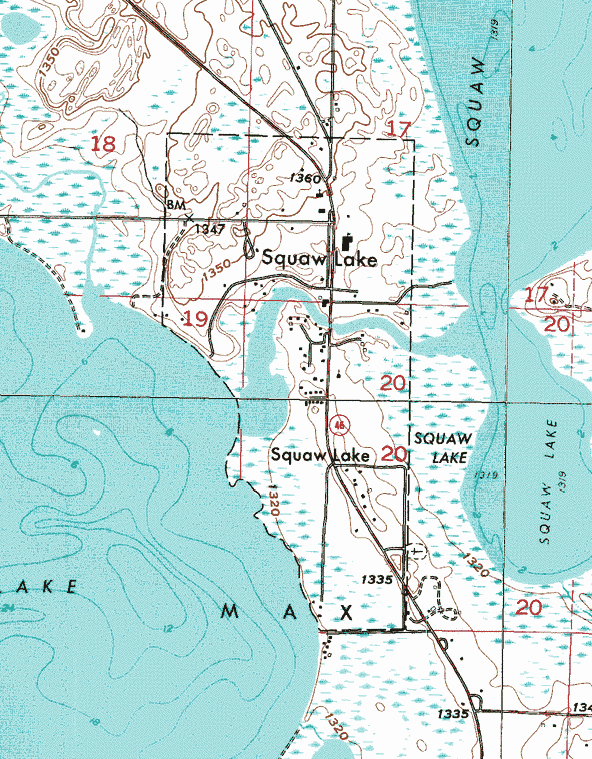 Topographic map is courtesy of the Minnesota DNR - click map to zoom or enlarge