Navigation
LakesnWoods.com
Home Page
Contact Us
Privacy
Minnesota History Shop

Visit The Minnesota History Shop
www.minnesotahistoryshop.com
Historic maps
Historic books
Historic framed art
Historic postcards
Clothing with historic images
And much more!!!


Lake Wilson Guide:
Photo Gallery
Location
Geography
Demographics
History
Government
Post Office
News
Weather
Street Map
Events
Attractions
Recreation
Lakes
Health Care
Schools
Churches
Media
Motels
Resorts
Campgrounds
Businesses
Aerial Photo
Topographic Map
© 2004-2023
Lakeweb1 Internet Services
All Rights Reserved
DCMA, Defamation, Copyright and Trademark Infingement Policy

WANTED!
Do you have photos, historical accounts or other items pertaining to the Lake Wilson area? Would you like to share this historical information with the world? LakesnWoods.com would like to publish your Lake Wilson photos (current or historical) or historical accounts on this website. Original materials can be returned and your privacy will be respected.

Lake Wilson Minnesota Community Guide
---
Location:
---
Population:
Lake Wilson (city)
1970
1980
1990
2000
2010
2000-2010 Change
Actual
Percent
Population
378
380
319
270
251
-19
-7.04
Land Area (sq. mile)
0.40
0.53
0.42
0.42
0.42
0
0.00
Density (persons per sq. mile)
945.0
716.9
759.5
650.0
597.6
-52.4
-8.06
Housing Units
144
164
150
135
139
+4
+2.97
Households
--
154
145
128
128
0
0.00
Persons Per Household
--
2.47
2.20
2.11
1.96
-0.15
-7.06
---
Geography:
Lake Wilson is a city in Murray County, Minnesota. Minnesota State Highways 30 and 91 are two of the main routes in the community. According to the United States Census Bureau, the city has a total area of 0.50 square miles (1.29 km˛), of which, 0.42 square miles (1.09 km˛) of it is land and 0.08 square miles (0.21 km˛) of it is water. The elevation is 1,660 ft (506 m) above sea level.
From Wikipedia, the free encyclopedia.
---
Demographics:
As of the census of 2010, there were 251 people, 128 households, and 72 families residing in the city. The population density was 597.6 inhabitants per square mile (230.7/km2). There were 139 housing units at an average density of 331.0 per square mile (127.8/km2). The racial makeup of the city was 99.6% White and 0.4% Asian. Hispanic or Latino of any race were 2.0% of the population.
There were 128 households of which 15.6% had children under the age of 18 living with them, 52.3% were married couples living together, 3.1% had a female householder with no husband present, 0.8% had a male householder with no wife present, and 43.8% were non-families. 40.6% of all households were made up of individuals and 15.6% had someone living alone who was 65 years of age or older. The average household size was 1.96 and the average family size was 2.61.
The median age in the city was 51.2 years. 16.7% of residents were under the age of 18; 4.9% were between the ages of 18 and 24; 19.2% were from 25 to 44; 35.2% were from 45 to 64; and 24.3% were 65 years of age or older. The gender makeup of the city was 52.6% male and 47.4% female.
---
---
History:
LAKE WILSON, a city in sections 12 and 13 of Chanarambie, platted in 1883 and incorporated as a village on July 12, 1900, was named by Jonathan E. Wilson, formerly of Chicago, Ill., who also named the nearby lake for himself. He owned at one time 17,000 acres of land in this vicinity (W. H. Stennett, Place Names of the Chicago and Northwestern and the Chicago, St. Paul, Minneapolis and Omaha Railways, 1908, p. 180). The village had a station of the Chicago, St. Paul, Minneapolis and Omaha Railroad, and the post office opened in 1883.
Courtesy Minnesota Historical Society
Visit The Lake Wilson Photo Gallery for more recent and historic area photos
---
Government:
Lake Wilson City Hall
350 N 1st Street
Lake Wilson, MN 56151
Phone: (507) 879-3130

Regular Business Hours:
Tuesday and Thursday 9:30 am - 1:30 pm

City Council Meetings:
1st Thursday of each month at 7:00 pm

Title

Term Ends

Name
Phone
Mayor
12/31/2022
Michael Chapman
240 Melanie Avenue
Lake Wilson, MN 56151
(507)

879-3569

City Clerk
appointed
Melanie VanderSchaaf
PO Box 128
Lake Wilson, MN 56151
(507)

879-3130

Council Member
12/31/2022
not available
address not available
Lake Wilson, MN 56151
not available
Council Member
12/31/2022
Justin Burreau
130 N Roosevelt Street
Lake Wilson, MN 56151
(507)

220-0287

Council Member
12/31/2024
Diane Scotting
250 East Street N
Lake Wilson, MN 56151
(507) 760-0901
Council Member
12/31/2024
Kindel Nelson
230 Prairie Avenue
Lake Wilson, MN 56151
(507)

879-3320
---
Post Office:
US Post Office
137 Broadway Avenue
Lake Wilson, MN 56151-9615
Phone: (507) 879-3469
Toll Free: (800) ASK-USPS

Regular Business Hours:
Week Days 8:00 am - 11:15 am
12:15 pm - 3:00 pm
Saturday 8:30 am - 9:15 am
---
Utilities:
---
Major Employers:
| | | |
| --- | --- | --- |
| Employer | Products/Services | Employees |
| n/a | n/a | n/a |
---
---
News:
---
Weather:
---
Map: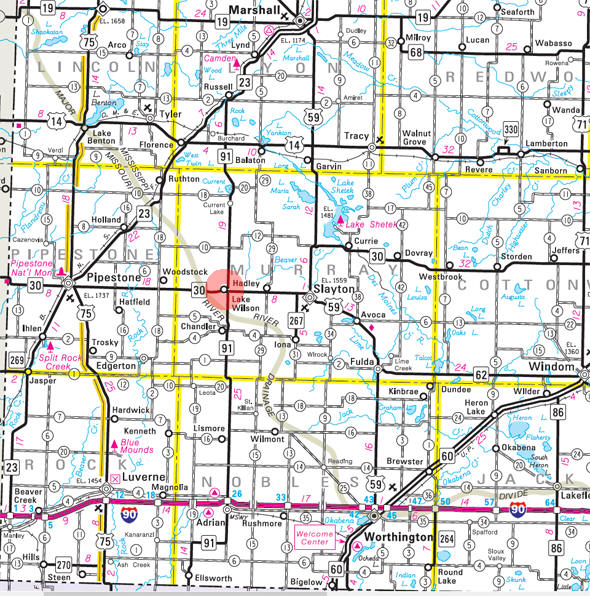 Minnesota State Highway Map of the Lake Wilson Minnesota area
---
Events:
---
---
Attractions:
---
Recreation:
Casey Jones State Trail



The Casey Jones State Trail consists of three segments. The longest segment is 13 miles of former railroad grade between the city of Pipestone and the Pipestone/Murray county line. Five miles of this segment from Pipestone to County Road 16 is paved. The remaining 8 miles are natural-surfaced. A second, small, natural-surfaced segment runs west 1.5 miles from the city of Lake Wilson. The third portion of the trail is a 6 mile, paved loop between Lake Shetek State Park and the city of Currie.

Heins Park



no information available
---
Lakes:
---
Health Care:
---
Schools:
The Lake Wilson school was torn down in the 1990s and students attended school in Chandler. The tornado of 1992 destroyed the Chandler-Lake Wilson School, taking off nearly the entire second floor. After the tornado the school consolidated with Slayton creating Murray County Central.




Courtesy of the

Worthington Globe - click image to enlarge

Murray County Central Schools
Independent School District #2169
2420 28th Street
Slayton, MN 56172
Phone: (507) 836-6184
Fax: (507) 836-6375
Web: www.mcc.mntm.org

Grades: PK-12
Students:
Central High School
2420 28th Street
Slayton, MN 56172
Phone: (507) 836-6184
Fax: (507) 836-8827

Grades: PK-1 and 7-12
Students:
West Elementary School
2640 Forest Avenue
Slayton, MN 56172
Phone: (507) 836-6450
Fax: (507) 836-6610

Grades: 2-6
Students:
---
Churches:
---
Media:
---
Motels:
Check for motel rates and availability on:
---
Resorts:
---
Campgrounds:
---
---
Businesses:
AG VS, Inc.
118 Broadway Avenue
Lake Wilson, MN 56151
Phone: (507) 371-8480
Web: www.agvsinc.com



We are a family owned business that started in February, 2010. Jason grew up on the family farm and worked as a mechanic at a dealership for 15 years before starting our own business. Melanie has a degree in business. We are the parents of four daughters, Kayla (9), Raegan (7), Rebecca (3), and Kennedy (1). They keep us busy along with being involved in our local community, church, and school. At Ag VS, Inc we strive to provide our customers with outstanding service and quality repair work. We also sell a wide variety of technology that helps farmers to move forward with their farming operations.

American Legion Post 285
Broadway Avenue
Lake Wilson, MN 56151
Phone: (507) 879-3505
Blue Hilltop
443 Center Avenue
Lake Wilson, MN 56151
Phone: (507) 879-3593
Web: www.bluehilltop.com



Blue Hilltop, Inc. is a family owned and operated dealership of heavy machinery for cattle and hay. Founded in 1982 by the Berreau family it was later taken over in 1989 by sons Jon and Dana Berreau and moved to its current location in Lake Wilson, MN. The business has grown over the years and is considered Southwest Minnesota's leader in feeding and manure handling equipment. We carry a variety of name brands such as Artex, Haybuster, Kuhn Knight, Roto-Mix and Schuler. Whatever you need for your cattle operation, we have it!

Buffalo Ridge's Wildrose
109 N Broadway Avenue
Lake Wilson, MN 56151
Phone: (507) 879-3260
Cenex
587 State Highway 30
Lake Wilson, MN 56151
Phone: (507) 879-3279
Chandler Co-op Fertilizer Department
907 State Highway 91
Lake Wilson, MN 56151
Phone: (507) 879-3342
Chapman Trucking
561 Carrie Avenue
Lake Wilson, MN 56151
Phone: (507) 879-3296
David Kooiker Trucking
310 11th Street
Lake Wilson, MN 56151
Phone: (507) 879-3373
Diane's Cafe and Catering
117 Broadway Avenue
Lake Wilson, MN 56151
Phone: (507) 879-3376
EC Electric
768 80th Avenue
Lake Wilson, MN 56151
Phone: (507) 879-3316
Grimmius Trucking
632 131st Street
Lake Wilson, MN 56151
Phone: (507) 227-2835
Jack's Barber Shop
124 Broadway Avenue
Lake Wilson, MN 56151
Phone: (507) 879-3125
Kaleidoscope Interiors
460 Prairie Avenue
Lake Wilson, MN 56151
Phone: (507) 879-3293
Karen Hurd Tax & Accounting
261 Broadway Avenue N
Lake Wilson, MN 56151
Phone: (507) 879-3290
Lake Wilson City Hall
110 N Broadway Avenue
Lake Wilson, MN 56151
Phone: (507) 879-3130
Lake Wilson Clothing Center
101 Broadway
Lake Wilson, MN 56151
Phone: n/a



In the little town of Lake Wilson, MN, is the Lake Wilson Clothing Center, "The Boutique," as it is affectionately known to the 320 townspeople. This small community is located in what could be considered the middle of nowhere. The Boutique, run completely by 10 RSVP (Retired and Senior Volunteer Program) volunteers, is the only inexpensive source of clothing in the area. The average price of a piece of clothing runs about fifty cents. Individuals come from a radius of about two hours away to get in on the good deals. The area is mostly farmland, and as many reports have shown, small farmers are struggling to survive. Many individuals have voiced that without this center they could not afford to clothe their families. In addition, the center provides free clothing to disaster stricken families.

Lake Wilson Fire Department
220 Briadway Avenue
Lake Wilson, MN 56151
Phone: (507) 879-3224
Manderscheid Brothers Construction
979 20th Avenue
Lake Wilson, MN 56151
Phone: (507) 879-3242
Mark's Tire and Service
360 Center Avenue
Lake Wilson, MN 56151
Phone: (507) 879-3110
Masonic Lodge
129 Broadway
Lake Wilson, MN 56151
Phone: (507) 879-3225
Monogram Meat Snacks Warehouse
440 Paul Avenue
Lake Wilson, MN 56151
Phone: (507) 879-3
Minnwest Bank
300 Broadway Avenue
Lake Wilson, MN 56151
Phone: (507) 879-3221
Web: www.minnwestbank.com



At Minnwest Bank, we build relationships with doers — the people who start with a dream and are committed to turning it into reality. We know relationships don't come easy. We believe they start with handshakes, continue with conversations and take a shared commitment to withstand the test of time. We believe they develop between people — like you and us — who are receptive and responsive and have shared values.

Schmitz Grain Inc.
285 Broadway Avenue
Lake Wilson, MN 56151
Phone: (507) 879-3230
Senior Citizens Center
137 Broadway Avenue
Lake Wilson, MN 56151
Phone: (507) 879-3505
Stacey's Country Boutique
410 141st Street
Lake Wilson, MN 56151
Phone: (507) 879-3414
Taylor'd Cakes
611 College Avenue
Lake Wilson, MN 56151
Phone: (507) 879-3591
Web: www.taylorcakes.com



We are a small bakery located in southwest Minnesota specializing in custom cake decorating and design. We would love to provide you with a perfect, unique, and delicious dessert for your special day!

US Post Office
137 Broadway Avenue
Lake Wilson, MN 56151-9615
Phone: (507) 879-3469
Web: www.usps.com
Virginia's Beauty Shop
520 Esther Avenue
Lake Wilson, MN 56151
Phone: (507) 879-3312
---
---
Aerial Photo:
---
Topographic Map: [click map to enlarge, zoom in or zoom out]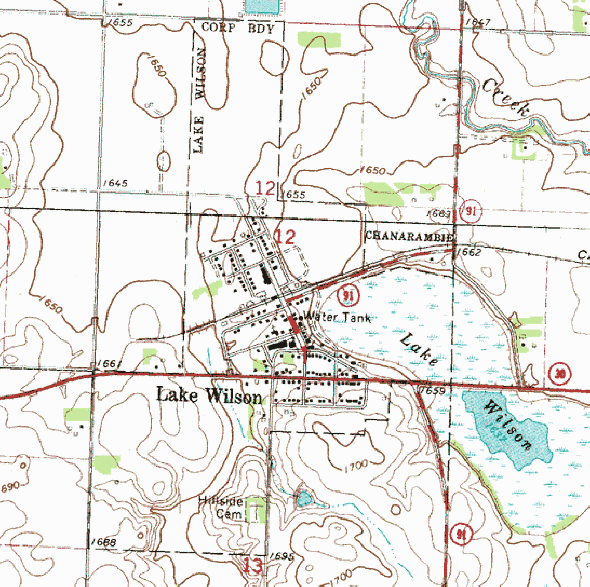 Topographic map is courtesy of the Minnesota DNR - click map to zoom or enlarge