Navigation
LakesnWoods.com
Home Page
Contact Us
Privacy
Minnesota History Shop

Visit The Minnesota History Shop
www.minnesotahistoryshop.com
Historic maps
Historic books
Historic framed art
Historic postcards
Clothing with historic images
And much more!!!


Gully Guide:
Photo Gallery
Location
Geography
Demographics
History
Government
Post Office
News
Weather
Street Map
Events
Attractions
Recreation
Lakes
Health Care
Schools
Churches
Media
Motels
Resorts
Campgrounds
Businesses
Aerial Photo
Topographic Map
Nearby Communities:
Bagley
Bemidji
Brooks
Clearbrook
Crookston
Erskine
Fosston
Gonvick
Lengby
McIntosh
Oklee
Trail
© 2004-2023
Lakeweb1 Internet Services
All Rights Reserved
DCMA, Defamation, Copyright and Trademark Infingement Policy
WANTED!
Do you have photos, historical accounts or other items pertaining to the Gully area? Would you like to share this historical information with the world? LakesnWoods.com would like to publish your Gully photos (current or historical) or historical accounts on this website. Original materials can be returned and your privacy will be respected.

Gully Minnesota Community Guide
---
Location:
---
Population:
Gully (city)
1970
1980
1990
2000
2010
2000-2010 Change
Actual
Percent
Population
96
116
128
106
66
-40
-37.74
Land Area (sq. mile)
2.10
1.71
2.01
2.01
2.01
0
0.00
Density (persons per sq. mile)
45.71
67.84
63.68
52.73
32.84
-19.89
-37.72
Housing Units
46
56
65
66
53
-13
-19.70
Households
--
52
54
52
38
-14
-26.92
Persons Per Household
--
2.23
2.37
2.04
1.74
-0.30
-14.71
---
Geography:
Gully is a city in Polk County, Minnesota. State Highway 92 and County Road 2 are major routes in the community. According to the United States Census Bureau, the city has a total area of 0.26 square miles (0.67 km2), all of it land. The elevation is 1,276 ft (389 m).
From Wikipedia, the free encyclopedia.
---
Demographics:
As of the census of 2010, there were 66 people, 38 households, and 15 families residing in the city. The population density was 253.8 inhabitants per square mile (98.0/km2). There were 53 housing units at an average density of 203.8 per square mile (78.7/km2). The racial makeup of the city was 100.0% White.
There were 38 households of which 23.7% had children under the age of 18 living with them, 26.3% were married couples living together, 7.9% had a female householder with no husband present, 5.3% had a male householder with no wife present, and 60.5% were non-families. 57.9% of all households were made up of individuals and 23.7% had someone living alone who was 65 years of age or older. The average household size was 1.74 and the average family size was 2.73.
The median age in the city was 47 years. 22.7% of residents were under the age of 18; 4.5% were between the ages of 18 and 24; 21.1% were from 25 to 44; 24.3% were from 45 to 64; and 27.3% were 65 years of age or older. The gender makeup of the city was 54.5% male and 45.5% female.
---
---
History:
GULLY Township and its city in sections 34 and 35 are named for a gully or ravine there crossed by the railway, adjoining the highest beach ridge of Glacial Lake Agassiz. The city was incorporated as a village on July 16, 1924; the early townsite had a Soo Line station, a roller mill, a hotel, and a lumberyard; the post office was established in 1896.
Courtesy Minnesota Historical Society
---
Government:
Gully City Hall
120 Main Street S
PO Box 26
Gully, MN 56646
Phone: (218) 268-4591

Regular Business Hours:
unknown

City Council Meetings:
1st Wednesday of each month, call for time
Title
Term Ends
Name and Address
Phone
Mayor
12/31/2022
Cathy Bergerson
206 W 2nd Avenue
Gully, MN 56646
(218) 268-4666
City Clerk
appointed
Barbara Sellers
120 Main Street S - PO Box 26
Gully, MN 56646
(218) 268-4205
Treasurer
appointed
Cheryl Nybo
120 Main Street S - PO Box 26
Gully, MN 56646
(218) 268-4577
Council Member
12/31/2022
Ramona Emerson
143 S Main Street
Gully, MN 56646
(218) 268-3005
Council Member
12/31/2022
Jamie Melander
address unavailable
Gully, MN 56646
n/a
Council Member
12/31/2024
Donna Marshall
332 S Main Street
Gully, MN 56646
(218) 268-3013
Council Member
12/31/2024
name unavailable
address unavailable
Gully, MN 56646
n/a
---
Post Office:
US Post Office
101 S Main Street
Gully, MN 56646-2000
Phone: (218) 268-4150
Toll Free: (800) ASK-USPS

Regular Business Hours:
Week Days 9:00 am - 1:00 pm
Saturday 9:30 am - 11:00 am
---
---
Utilities:
---
Major Employers:
Employer
Products/Services
Employees
n/a
---
---
News:
---
Weather:
---
Map: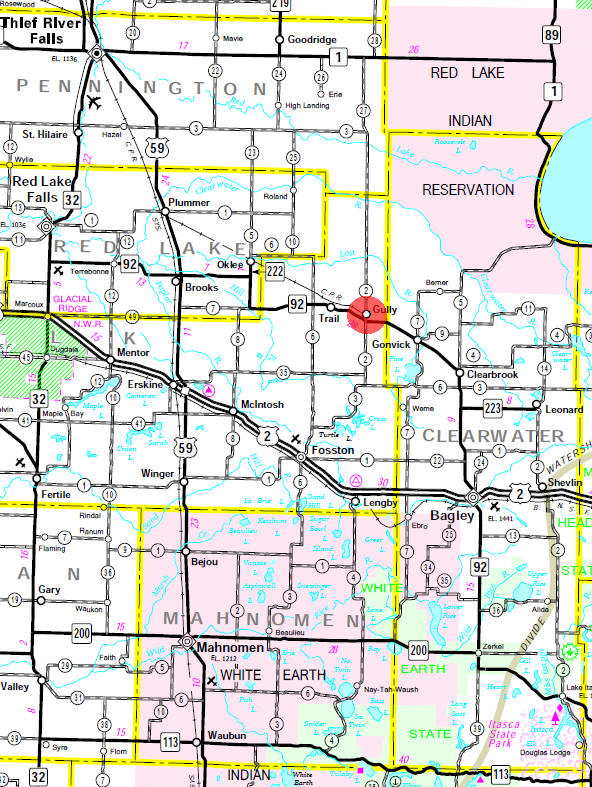 Minnesota State Highway Map of the Gully Minnesota area
---
Events:
---
---
Attractions:
---
Recreation:
---
Lakes:
---
Health Care:
---
Schools:
---
Churches:
---
Media:
---
Motels:
---
Resorts:
---
Campgrounds:
---
Businesses:
Agassiz Hills Guest House
326 Brovold Lane S
Gully, MN 56646
Phone: (218) 268-4350

Agassiz Hills Guest House is located in Gully, just off Highway 92 in Northwestern Minnesota. The home is a recently redecorated 1930ís bungalow, with living room, kitchen, one bath, and two bedrooms (one queen and one full-size bed) for guest usage. A large private yard offers a peaceful environment with opportunities to view song-birds and wildlife. Maximum occupancy is four. Owners will rent to only one family or group at a time.

Berg Well Drilling and Repair
28029 420th Avenue SE
Gully, MN 56646
Phone: (218) 268-4548


Cenex-Gully Tri-Coop Assn
1 S Main Street
Gully, MN 56646
Phone: (218) 268-4185



Our automotive technicians have over 30 years of shop experience to help get and keep your car running at its best. Our shop services include Oil changes Tire repairs Tire rotations Mounting and balancing tires Alternator repair Belt installation and replacement Other minor maintenance




Circle V Ranch Express
39505 330th Street E
Gully, MN 56646
Phone: (218) 268-3031


Gloryland Gospel Team
39474 285th Street SE
Gully, MN 56646
Phone: (218) 268-4241

The Gloryland Gospel Team was founded August 3, 1969. On July 12, 1971, it was incorporated as a non-profit religious organization registered in the state of Minnesota under the official title of the Gloryland Evangelistic Association, Inc. The ministry of this organization is interdenominational in character and is available to all churches and communities, large and small. It has extended over much of the United States and Canada, wherever invitations are given. The Team consists of two brothers and their wives: Rev. Gary and Lois Johnson of Gully, MN; and Rev. David and Brenda Johnson of Bagley, MN.

Gully Cafe
301 Main Street S
Gully, MN 56646
Phone: (218) 268-4570


Gully City Hall
120 Main Street S
PO Box 26
Gully, MN 56646
Phone: (218) 268-4591

Regular Business Hours:
unknown

City Council Meetings:
1st Wednesday of each month, call for time
Gully Tri-Coop Elevator Co
108 E Saint Paul Avenue
Gully, MN 56646
Phone: (218) 268-4188


Gully Tri-Coop Lumber & Supply
112 E Street Paul Street


Gully, MN 56646
Phone: (218) 268-4177


Hill River Electric
141 S Main Street
Gully, MN 56646
Phone: (218) 268-4013


Julie's Hair Care
39837 270th Street SE
Gully, MN 56646
Phone: (218) 268-4125


North Country Home Inspections
33309 380th Avenue SE
Gully, MN 56646
Phone: (218) 435-1960


Nyland Dairy
31716 380th Avenue SE
Gully, MN 56646
Phone: (218) 268-4564


Schoolhouse Grocery
301 S Main Street
Gully, MN 56646
Phone: (218) 268-4551


Shorty's Place
10 S Main Street
Gully, MN 56646
Phone: (218) 268-4199


US Post Office
101 S Main Street
Gully, MN 56646-2000
Phone: (218) 268-4150
Toll Free: (800) ASK-USPS

Regular Business Hours:
Week Days 9:00 am - 1:00 pm
Saturday 9:30 am - 11:00 am
---
---
Aerial Photo:
---
Topographic Map: [click map to enlarge, zoom in or zoom out]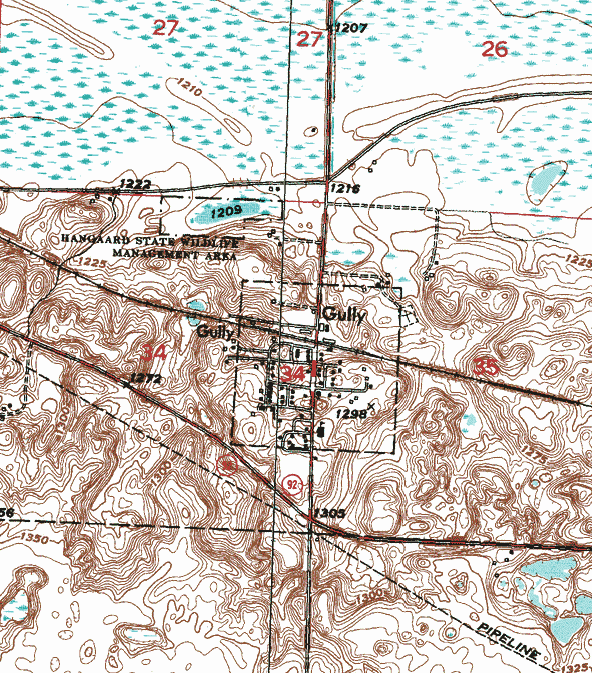 Topographic map is courtesy of the Minnesota DNR - click map to zoom or enlarge