Navigation
LakesnWoods.com
Home Page
Contact Us
Privacy
Minnesota History Shop

Visit The Minnesota History Shop
www.minnesotahistoryshop.com
Historic maps
Historic books
Historic framed art
Historic postcards
Clothing with historic images
And much more!!!


Oklee Guide:
Photo Gallery
Location
Geography
Demographics
History
Government
Post Office
News
Weather
Street Map
Events
Attractions
Recreation
Lakes
Health Care
Schools
Churches
Media
Motels
Resorts
Campgrounds
Businesses
Aerial Photo
Topographic Map
© 2004-2023
Lakeweb1 Internet Services
All Rights Reserved
DCMA, Defamation, Copyright and Trademark Infingement Policy
WANTED!
Do you have photos, historical accounts or other items pertaining to the Oklee area? Would you like to share this historical information with the world? LakesnWoods.com would like to publish your Oklee photos (current or historical) or historical accounts on this website. Original materials can be returned and your privacy will be respected.

Oklee Minnesota Community Guide
---
Location:
---
Population:
Oklee (city)
1970
1980
1990
2000
2010
2000-2010 Change
Actual
Percent
Population
536
536
441
396
435
+39
+9.85
Land Area (sq. mile)
0.80
0.84
0.72
0.66
0.66
0
0.00
Density (persons per sq. mile)
670.0
638.1
612.5
603.7
659.1
+55.39
+9.09
Housing Units
187
242
234
229
225
-4
-1.75
Households
--
226
211
196
195
-1
-0.51
Persons Per Household
--
2.37
2.09
2.02
2.23
+0.21
+10.40
---
Geography:
Oklee is a city in Red Lake County, Minnesota, United States on Minnesota State Highway 222. According to the United States Census Bureau, the city has a total area of 0.60 square miles (1.55 km2), all of it land. The elevation is 1,152 ft (351 m) above sea level.
From Wikipedia, the free encyclopedia.
---
Demographics:
As of the census of 2010, there were 435 people, 195 households, and 110 families residing in the city. The population density was 725.0 inhabitants per square mile (279.9/km2). There were 225 housing units at an average density of 375.0 per square mile (144.8/km2). The racial makeup of the city was 88.3% White, 9.0% Native American, 0.2% Asian, and 2.5% from two or more races. Hispanic or Latino of any race were 0.7% of the population.
There were 195 households of which 25.6% had children under the age of 18 living with them, 42.6% were married couples living together, 8.7% had a female householder with no husband present, 5.1% had a male householder with no wife present, and 43.6% were non-families. 37.4% of all households were made up of individuals and 21.1% had someone living alone who was 65 years of age or older. The average household size was 2.23 and the average family size was 2.91.
The median age in the city was 39.3 years. 24.6% of residents were under the age of 18; 6.8% were between the ages of 18 and 24; 24.9% were from 25 to 44; 22.2% were from 45 to 64; and 21.4% were 65 years of age or older. The gender makeup of the city was 50.6% male and 49.4% female.
---
---
History:
OKLEE, a city in sections 1 and 12 of Lambert, incorporated as a village on February 6, 1914, bears the name of Ole K. Lee, a Scandinavian settler, on whose farm the village was built. The Soo Line came in 1909, and the townsite was platted by Tri-State Land Company, who purchased the land from Lee that year.
Courtesy Minnesota Historical Society
When the Soo Line Railroad was built in 1910, towns began springing up along the tracks to make use of the new transportation facilities. Oklee was such a town. The small village of Lambert, one mile and a half west of present Oklee had been in existence for several years but it was more that a mile from the railroad. An enterprising man named O.K. Lee, who dealt in real estate, sold some of the Lambert businessmen on the advantages of being closer to the railroad and thus created the birth of Oklee, so named in honor of the owner of the land.
Many of the businesses of Lambert were moved into Oklee along with the building. Even St. Francis Xavier Church was moved into town. Before long, many homes and businesses sprung up in a short time and Oklee was a busy town.
Since Oklee was built near the Lost River, there was always a water problem after rains. At that time the banks of the river were quite low and frequently overflowed. Consequently, Oklee had problems with their streets whenever the rains came. This was rectified in later years when the streets were dug out and surfaced.
While the village of Lambert was predominantly of French ancestry, early Oklee was made up of French, Norwegians and a few other Nationalities. It became a town that worked together to provide the essentials of a good life, such as a fine school system and several churches in the area of the community of Oklee.
The land surrounding Oklee was flat and fertile and provided income for both farmers and merchants alike. Farming has always been the backbone of the community of Oklee.
While many of our farmsteads have disappeared, we still have many farms in our area that have been in the family for several generations and some over a century.
It is our hope that every individual will share in the pride we feel in our town and surrounding townships.
The recorded history of the ownership of the land on which the Village of Oklee is located dates back to the receiver's receipt issued by the U.S. Government June 22, 1882 to John C. Fitzgerald who became the first legal owner of the west one-mile quarter of section 1, township 150 N. He sold the quarter to Cornelius O'Neill. Since then ownership changed hands several times. It was acquired by Ole and Anne Vattendahl in 1896 who retained ownership for several years. The Tri-State Land Company, a corporation, purchased the land from E.E. Quenroe in 1910.
Mary O'Neill acquired a patent April 12, 1888 to the adjoining quarter to the east. After several changes in ownership the land was purchased by Edward o. Erickson in 1905 who sold it to O. K. Lee in 1909. Mr. Lee sold it to the Tri-State Land Company which had the town site surveyed, platted and named Oklee.
Polk County, but on December 31, 1896 Polk County was divided into two counties to form Polk and Red Lake County with the county seat at Red Lake Falls. Red Lake County at this time included what is now Pennington County, but differences of opinion developed between the people of the northern and southern halves of Red Lake County over the location of the court house, which led to the division of Red Lake County to form Red Lake and Pennington County, November 23, 1910.
The year 1905 is remembered as being very wet. The summer and fall rains made it impossible to harvest the crops on the village site. It, however, was good weather for ducks, as Oklee was situated in an excellent hunting area for water fowl.
In 1909 the Soo Line Railroad surveyed the course of the proposed route in preparation for locating and laying the roadbed. Oklee became the shipping point for freight, but mail which came in had to be addressed to Lambert until 1914 although the post office was located in Oklee. The first lots on the village site were auctioned off at a public sale to individual buyers in the spring of 1910. The corner lots were sold for $300 each and the other lots for $250. The lots were sold before there was railroad service or even tracks laid. However, the railroad was in the process of building the roadbed and in September, 1910 the first passenger train came to Oklee.
The summer of 1910 was unusually dry. There was no water in Lost River. The channel was void of water and in its place was green grass. This condition had its advantages as it made it a good year for construction work.
The next few years were destined to bring about change in the town site as there was considerable building activity as new business enterprises came in to locate in what promised to become a prosperous community.
Several buildings were erected on the village site during 1910. Peter Husby, local manager of the I.O. Manger Lumber Yard, of McIntosh, brought in the first loads of lumber from McIntosh and erected the first temporary building in Oklee. The one room building served both as an office and a home.
Courtesy Red Lake County
---
Government:
Oklee City Hall
301 Main Street
PO Box 190
Oklee, MN 56742
Phone: (218) 796-5183
Fax: (218) 796-5798

Regular Business Hours:
Monday - Friday 8:00 am - 4:30 pm

City Council Meetings:
2nd Monday ofthe month at 6:00 pm


Title
Term Ends
Name and Address
Phone
Mayor
12/31/2022
Lori Gulseth
306 Lambert
Oklee, MN 56742
(218) 796-4551
Clerk
appointed
Derek Cross
PO Box 190
Oklee, MN 56742
(218) 796-5183
Council Member
12/31/2022
not available
not available
Council Member
12/31/2022
not available
not available
Council Member
12/31/2024
Paul T. Cyr
1 Park Avenue - PO Box 249
Oklee, MN 56742
(218) 456-2000
Council Member
12/31/2024
Matthew Genova
409 Main Street - PO Box 164
Oklee, MN 56742
(218) 686-3790
(218) 796-4550
---
Post Office:
US Post Office
206 2nd Avenue
Oklee, MN 56742-9998
Phone: (218) 796-5127
Toll Free: (800) ASK-USPS

Regular Business Hours:
Week Days 8:00 am - 11:30 am
12:00 pm - 2:30 pm
Saturday 9:00 am - 10:00 am
---
Utilities:
---
Major Employers:
---
---
News:
---
Weather:
---
Map:
View Larger Map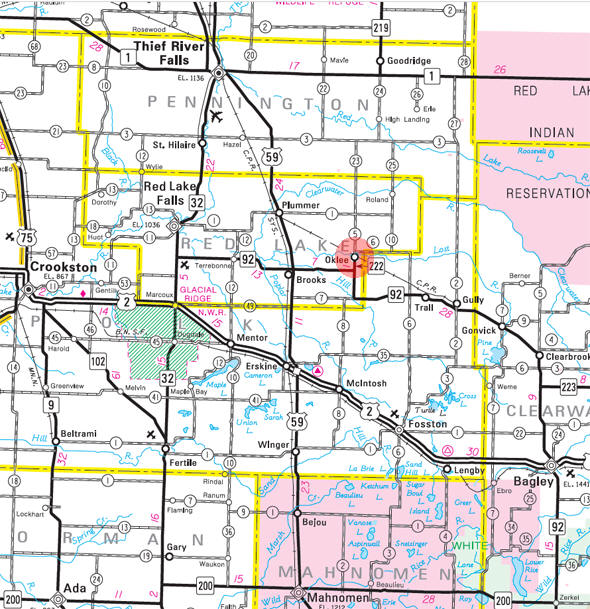 Minnesota State Highway Map of the Oklee Minnesota area
---
Events:
Snowmobile Safari
Oklee, MN 56742
Phone: (218) 796-5494

Sponsored by the Moonlighters Snowmobile

Third Sunday of January
Red Lake County Fair
Oklee, MN 56742
Phone: (218) 253-2990

Carnival, livestock exhibits, art show, kiddie parade, live grandstand show.

July
Sedestal Laget
Oklee, MN 56742
Phone: (218) 796-5486

Norwegian Heritage Event

July
---
---
Attractions:
---
Recreation:
---
Lakes:
Lake Name
Size
(acres)
Lake info
Lake Map
Rec Map
Topo Map

none in the immediate area
---
Health Care:
---
Schools:
---
Churches:
Oak Park Lutheran Church
13478 330th Avenue SE
Oklee, MN 56742
Phone: (218) 796-5130
Salem Lutheran Church
29531 180th Street SE
Oklee, MN 56742
Phone: (218) 796-5375
St. Francis Xavier
301 Governor Street
Oklee, MN 56742
Phone: (218) 796-5844
Zion Lutheran Church
308 Lambert Street
Oklee, MN 56742
Phone: (218) 796-5128
---
Media:
Oklee Herald
Main Street
Oklee, MN 56742
Phone: (218) 796-5181
---
Motels:
---
Resorts:
---
Campgrounds:
Oklee City Park & Campgrounds
Oklee, MN 56742
Phone: (218) 796-5183

One campground located on the N edge of town. A second campground located two miles south of Oklee. Picnicking in North parks.
---
---
Businesses:
Bernier's Cabinets
106 Main Street
Oklee, MN 56742
Phone: (218) 796-5105
C B Kustom & Collision
102 Red Lake County 5
Oklee, MN 56742
Phone: (218) 796-4862
Cenex Convenience Store
302 Governor Street
Oklee, MN 56742
Phone: (218) 796-5184
Corner Pub
209 Main Street
Oklee, MN 56742
Phone: (218) 796-5153
Country Stich'n
604 Lambert Street
Oklee, MN 56742
Phone: (218) 796-5744
Cyr Truck Lines
308 Main Street
Oklee, MN 56742
Phone: (218) 796-5118
D & R Grocery
101 Main Street
Oklee, MN 56742
Phone: (218) 796-5168
Dave's Electric
13633 290th Avenue SE
Oklee, MN 56742
Phone: (218) 796-5565
First Care Clinic
Governor Street & 3rd Avenue
Oklee, MN 56742
Phone: (218) 796-4525
Head Start
207 N Main Street
Oklee, MN 56742
Phone: (218) 796-5144
Inter-County Community Council
207 N Main Street
Oklee, MN 56742
Phone: (218) 796-5144
Jack's Attic
301 Main Street
Oklee, MN 56742
Phone: (218) 796-4510
Johnson Funeral Service Inc
105 Governor Street
Oklee, MN 56742
Phone: (218) 796-5177
Kiddie Zoo Daycare
12080 290th Avenue SE
Oklee, MN 56742
Phone: (218) 796-4572
Little Stars Child Care
301 Main Street
Oklee, MN 56742
Phone: (218) 796-5006
Machinewell Inc
801 Elevator Road
Oklee, MN 56742
Phone: (218) 796-5040
Oak Park Lutheran Church
13478 330th Avenue SE
Oklee, MN 56742
Phone: (218) 796-5130
Oklee Ambulance
Main Street
Oklee, MN 56742
Phone: (218) 796-5788
Oklee Cafe
301 Main Street
Oklee, MN 56742
Phone: (218) 796-5666
Oklee City Clerk
301 Main Street
Oklee, MN 56742
Phone: (218) 796-5183
Oklee Craft & Senior Center
Main Street & 2nd Avenue
Oklee, MN 56742
Phone: (218) 796-5149
Oklee Farmers Co-Op Elevator
806 Elevator Road
Oklee, MN 56742
Phone: (218) 796-5125
Oklee Fire Department
Main Street
Oklee, MN 56742
Phone: (218) 796-5788
Oklee Herald
Main Street
Oklee, MN 56742
Phone: (218) 796-5181
Oklee Highway County Maintenance Shop
County Road 5
Oklee, MN 56742
Phone: (218) 796-5199
Oklee Launderette & Car Wash
Oklee, MN 56742
Phone: n/a
Oklee Locker
210 Main Street
Oklee, MN 56742
Phone: (218) 796-5599
Oklee Lumber Inc
301 Lambert Street
Oklee, MN 56742
Phone: (218) 796-5131
Oklee Quilting Supply Inc
205 Main Street
Oklee, MN 56742
Phone: (218) 796-5151
Web: www.okleequilting.com

Oklee Quilting Inc : - 100% Cotton Batting 100% Polyester Craft Fleece Broadcloth Pillow Forms 100% Polyester Bonded Batting Gift Certificates quilting supplies, oklee minnesota, shop, online shopping

Oklee School District
100 Governor Street
Oklee, MN 56742
Phone: (218) 796-5136
Toll Free: (877) 898-2501
Fax: (218) 796-5139
Web: www.oklee.k12.mn.us

Olson Truck Lines
28666 220th Street SE
Oklee, MN 56742
Phone: (218) 796-5115
Red Lake County Garage
Oklee, MN 56742
Phone: (218) 796-5199
Salem Lutheran Church
29531 180th Street SE
Oklee, MN 56742
Phone: (218) 796-5375
Security State Bank
201 Main Street
Oklee, MN 56742
Phone: (218) 796-5157
Web: www.ssboklee.com
Simply Hair
104 Toupin Street
Oklee, MN 56742
Phone: (218) 796-4835
St. Francis Xavier Church
301 Governor Street
Oklee, MN 56742
Phone: (218) 796-5844
Swede's Paradise
18112 340 Avenue SE Trail
Oklee, MN 56742
Phone: (218) 796-5260
Swenson Equipment & Distributing
302 Main Street
Oklee, MN 56742
Phone: (218) 796-5120
TJ's Tavern
Oklee, MN 56742
Phone: (218) 796-5153
Twisted Tower Computers
104 Main Street
Oklee, MN 56742
Phone: (218) 796-4772
Web: www.twistedginger.com
US Post Office
206 2nd Avenue
Oklee, MN 56742
Phone: (218) 796-5127
Zion Lutheran Church
308 Lambert Street
Oklee, MN 56742
Phone: (218) 796-5128
---
---
Aerial Photo:
---
Topographic Map: [click map to enlarge, zoom in or zoom out]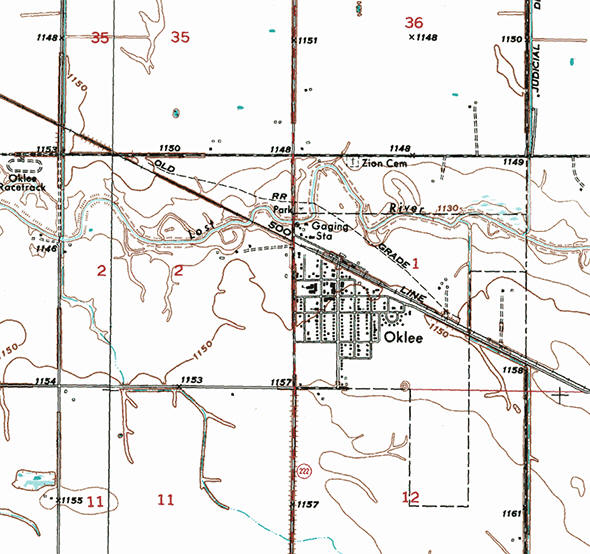 Topographic map is courtesy of the Minnesota DNR - click map to zoom or enlarge