Navigation
LakesnWoods.com
Home Page
Contact Us
Privacy
Minnesota Gift Guide

Butterfield Guide:
Photo Gallery
Location
Geography
Demographics
History
Government
Post Office
News
Weather
Street Map
Events
Attractions
Recreation
Lakes
Health Care
Schools
Churches
Media
Motels
Resorts
Campgrounds
Businesses
Aerial Photo
Topographic Map
© 2004-2021
Lakeweb1 Internet Services
All Rights Reserved
Defamation, Copyright and Trademark Infingement Policy
WANTED!
Do you have photos, historical accounts or other items pertaining to the Butterfield area? Would you like to share this historical information with the world? LakesnWoods.com would like to publish your Butterfield photos (current or historical) or historical accounts on this website. Original materials can be returned and your privacy will be respected.

Butterfield Minnesota Community Guide
---
Location:
---
Population:
Butterfield (city)
1970
1980
1990
2000
2010
2000-2010 Change
Actual
Percent
Population
619
634
509
564
586
+22
+3.90
Land Area (sq. mile)
0.40
0.51
0.43
0.44
0.44
0
0.00
Density (persons per sq. mile)
1,547.50
1,243.14
1,183.72
1,289.91
1,331.82
41.91
+3.25
Housing Units
228
239
210
235
238
+3
+1.28
Households
--
230
198
232
220
-12
-5.17
Persons Per Household
--
2.76
2.57
2.43
2.66
+0.23
+9.47
---
Geography:
Butterfield is a city in Watonwan County, Minnesota. Minnesota State Highway 60 serves as a main route in the community. According to the United States Census Bureau, the city has a total area of 0.45 square miles (1.17 km²), all of it land. The elevation is 1,188 ft (362 m) above sea level.
From Wikipedia, the free encyclopedia.
---
Demographics:

As of the census of 2010, there were 586 people, 220 households, and 149 families residing in the city. The population density was 1,302.2 inhabitants per square mile (502.8/km2). There were 238 housing units at an average density of 528.9 per square mile (204.2/km2). The racial makeup of the city was 72.7% White, 0.9% African American, 0.2% Native American, 7.3% Asian, 0.3% Pacific Islander, 17.1% from other races, and 1.5% from two or more races. Hispanic or Latino of any race were 25.6% of the population.

There were 220 households of which 31.8% had children under the age of 18 living with them, 53.6% were married couples living together, 8.2% had a female householder with no husband present, 5.9% had a male householder with no wife present, and 32.3% were non-families. 28.2% of all households were made up of individuals and 10.9% had someone living alone who was 65 years of age or older. The average household size was 2.66 and the average family size was 3.21. The median age in the city was 35 years. 24.1% of residents were under the age of 18; 12% were between the ages of 18 and 24; 22.9% were from 25 to 44; 24.3% were from 45 to 64; and 16.7% were 65 years of age or older. The gender makeup of the city was 50.7% male and 49.3% female.
---
---
History:
BUTTERFIELD Township, organized in January 1872, and its city in section 27, which was platted by the St. Paul and Sioux City Railroad on September 13, 1880, and was incorporated February 26, 1895, were named "for William Butterfield, the owner of the townsite and its first settler" (Stennett, Place Names of the Chicago and Northwestern Railways, 1908, p. 50). Its post office was established in 1879; most of the early settlers were German-speaking Mennonite immigrants from Austria-Hungary and Russia who came in the mid-1870s.
Courtesy Minnesota Historical Society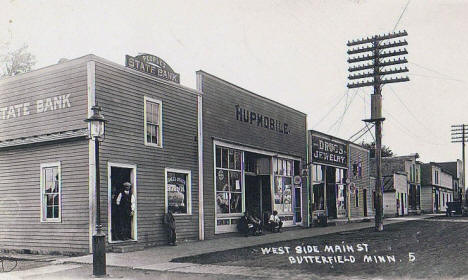 West side of Main Street, Butterfield Minnesota, 1919
LakesnWoods.com Postcard and Postcard Image Collection - click to enlarge
Visit The Butterfield Photo Gallery for more current and historic photos
---
Government:
Butterfield City Hall
103 2nd Street N
PO Box F
Butterfield, MN 56120
Phone: (507) 956-2501
Fax: (507) 956-2275

Regular Business Hours:
Monday - Friday 8:00 am - 3:30 pm
(closed 11:30 am - 12:00 pm)

City Council Meetings:
2nd Monday of the month, call for time


Title
Term Ends
Name and Address
Phone
Mayor
12/31/2020
Philip Buhler
360 1st Street N
Butterfield, MN 56120
(507) 227-0412
Clerk/Treasurer
appointed
Leslie Heffele
103 2nd Street N - PO Box F
Butterfield, MN 56120
(507) 956-2501
Council Member
12/31/2022
James Warwick
525 Elwell Street
Butterfield, MN 56120
(507) 630-0142
Council Member
12/31/2022
Leslie Schloman
245 2nd Street S
Butterfield, MN 56120
(507) 822-2128
Council Member
12/31/2020
Nick Mathistad
500 1st Street S
Butterfield, MN 56120
(507) 317-7409
Council Member
12/31/2020
Kenneth Pankratz
410 1st Street N
Butterfield, MN 56120
(507) 327-7362
---
Post Office:
US Post Office
105 2nd Street N
Butterfield, MN 56120-5022
Phone: (507) 956-3751
Toll Free: (800) ASK-USPS

Regular Business Hours:
Week Days 8:00 am - 12:00 pm
Saturday 8:30 am - 9:00 am
---
---
Utilities:
---
Major Employers:
Employer
Products/Services
Employees

n/a
---
---
News:
---
Weather:
---
Map:

Minnesota State Highway Map of the Butterfield Minnesota area
---
Events:
Butterfield Summer Sizzler

2nd weekend in July

The Butterfield Summer Sizzler was promoted as a day for the community. A day for the Butterfield Community Club Auxiliary to have their Flea Market and 1st Lutheran Church to have their ice cream social and as a day for families and people of all ages. The weekend also consists of a slow-pitch softball tournament. There is music at Buckshots Bar and Grill on Friday and Saturday night. All events take place out at the beautiful Voss Park located just northwest of Butterfield, unless otherwise noted.

Butterfield Threshing Bee

3rd full weekend of August.

The BTA and the Threshing Bee started in 1966/67, with the Threshing Bee beginning first. After the event which caused over a thousand people to show up (and at that time, it was just a one-day show) the guys then decided to form a committee to see about putting on a show annually. Almost forty years later (in 2006), the show is still going strong. The committee includes nine men who each are responsible for different areas of the show and the grounds. Please click HERE (not yet linked, sorry) to see a history of the bee as told in the souvenir paper that the Observer/Advocate prints yearly for those attending the bee.
---
---
Attractions:
Pioneer Town

Many of the historic buildings found on the park grounds have local historical significance and are filled with genuine artifacts from the pioneering past. Take a step back in time to the days of the pioneers - when the land lay untamed and the promise of a new life in a new country thrilled the hearts of the European immigrants to this area. buildings include a log cabin, general store, blacksmith shop, the original First Presbyterian Church, Tuberg Mill and many more.
---
Recreation:
---
Lakes:
Lake Name
Size
(acres)
Lake info
Lake Map
Rec Map
Topo Map
Butterfield
n/a
n/a
Kansas
396
n/a
Sulem
n/a
n/a
n/a
---
Health Care:
---
Schools:
---
Churches:
Butterfield Community Bible Church
100 Chapman Avenue
Butterfield, MN 56120
Phone: (507) 956-3591


Pastor: Tim Hall
Sunday Worship: n/a



First Lutheran Church - ELCA
420 2nd Street
PO Box 188
Butterfield, MN 56120
Phone: (507) 956-2821


Pastor: Marilla Whitney
Sunday Worship: 9:00 am

First Mennonite Church
32040 630th Avenue
Butterfield, MN 56120
Phone: (507) 956-3306


Pastor: Leroy Reynolds


Sunday Worship: n/a
Kansas Lake Lutheran Church
County Road 10
Butterfield, MN 56120
Phone: (507) 639-7925


Pastor: n/a


Sunday Worship: n/a
Closed 2011
St. Matthew's Evangelical Lutheran Church
315 N 5th Street
Butterfield, MN 56120
Phone: (507) 956-2002


Pastor: n/a
Sunday Worship: n/a

Closed
---
Media:
---
Motels:
Check for motel rates and availability on:
---
Resorts:
---
Campgrounds:
Sands Country Cove Campground
39312 680th Avenue
Butterfield, MN 56120
Phone: (507) 380-2093
Web: www.gocampin.net/sandscountrycove

Sands Country Cove Campground...come for the relaxation and peaceful setting of sunsets and sunrises. We offer 26 large 40 x 80 sites that offer full hookup 20, 30, 50 amp services. We have Schwan's ice cream treats for those hot summer days. We sell ice, pizza, pop, chips, bottled water and firewood in case you run out.

Voss Park Campground
PO Box 209
Butterfield, MN 56120
Phone: (507) 956-2040

The Voss Park campground is conveniently located adjacent to the park ground and all the action at the Bee. The prices are kind to your purse. You can park your RV or camper for $12, without electricity, $14 with electricity or $15 for full hook-up. As usual, the custom is "first come, first served" so don't wait too long to pull in to get the camping spot you want. Joyce Peek, caretaker of Voss Park, always come at the start of the summer and lives in a trailer on the campground during the summer months.
---
---
Businesses:
Adrian Manufacturing Inc
34702 640th Avenue
Butterfield, MN 56120
Phone: (507) 956-3090
Web: www.adrianmfg.com

We manufacture the Adrian Quick-Pit drive-over auger and the Turb-O-K-Vac grain vacuum. We pride ourselves on high quality, labor-saving products that work, and excellent customer service. Please review the information on our website and let us know if we can be of service to you. Customer satisfaction is very important to us.

Andy's Auto Repair
135 4th Street N
Butterfield, MN 56120
Phone: (507) 956-2144
Buckshot's Bar
505 Hubbard Avenue
Butterfield, MN 56120
Phone: (507) 956-2409
Buhler Construction Company
125 Hubbard Avenue
Butterfield, MN 56120
Phone: (507) 956-3981
Butterfield City Hall
103 2nd Street N
PO Box F
Butterfield, MN 56120
Phone: (507) 956-2501
Web: www.butterfieldmn.com
Butterfield Foods Company
225 Hubbard Avenue
Butterfield, MN 56120
Phone: (507) 956-5103
Web: www.butterfieldfoods.com

Butterfield Foods Company has a long heritage of delivering quality ready-to-cook whole chickens to the food industry. Since 1970 we have provided wholesome dressed light hens for use in America's most popular meals. Our flavorful and lean chicken is found in prepared meals nationwide and is also exported across the globe.

Butterfield Library
111 2nd Street N
Butterfield, MN 56120
Phone: (507) 956-2361
Butterfield Liquor Store
101 2nd Street N
Butterfield, MN 56120
Phone: (507) 956-3371
Butterfield/Ness Insurance
203 Hubbard Avenue
Butterfield, MN 56120
Phone: (507) 956-5806
Casey's General Store
101 Prairie Avenue
Butterfield, MN 56120
Phone: (507) 956-5217
Web: www.caseys.com
Fast Farms
32269 630th Avenue
Butterfield, MN 56120
Phone: (507) 877-5917
Hall & Carlson Performance
40089 620th Avenue
Butterfield, MN 56120
Phone: (507) 956-2800
Jim Falk Farm
63800 350th Street
Butterfield, MN 56120
Phone: (507) 956-3636
Linscheid Brothers Repair
35644 620th Avenue
Butterfield, MN 56120
Phone: (507) 956-3603
Linscheid Farming
35644 620th Avenue
Butterfield, MN 56120
Phone: (507) 956-3603
Linscheid Truck Sales
61681 State Highway 60
Butterfield, MN 56120
Phone: (507) 956-2667
Minnesota Duroc Breeders
61409 430th Street
Butterfield, MN 56120
Phone: (507) 736-2756
Royal Travel
62646 350th Street
Butterfield, MN 56120
Phone: (507) 956-5200
Sands Country Cove Campground
39312 680th Avenue
Butterfield, MN 56120
Phone: (507) 380-2093
Web: www.gocampin.net/sandscountrycove

Sands Country Cove Campground...come for the relaxation and peaceful setting of sunsets and sunrises. We offer 26 large 40 x 80 sites that offer full hookup 20, 30, 50 amp services. We have Schwan's ice cream treats for those hot summer days. We sell ice, pizza, pop, chips, bottled water and firewood in case you run out.

Sue's Golden Comb
205 Hubbard Avenue
Butterfield, MN 56120
Phone: (507) 956-2444
TNK Transport Inc
25 Maple Avenue
Butterfield, MN 56120
Phone: (507) 885-0086
Triumph State Bank
100 2nd Street N
Butterfield, MN 56120
Phone: (507) 956-2801
Web: triumphbanks.aghost.net
True Value Hardware
116 2nd Street N
Butterfield, MN 56120
Phone: (507) 956-2161
Web: ww3.truevalue.com/butterfieldtruevalue
US Post Office
105 2nd Street N
Butterfield, MN 56120-5022
Phone: (507) 956-3751
Toll Free: (800) ASK-USPS
Web: www.usps.com
---
---
Aerial Photo:
---
Topographic Map: [click map to enlarge, zoom in or zoom out]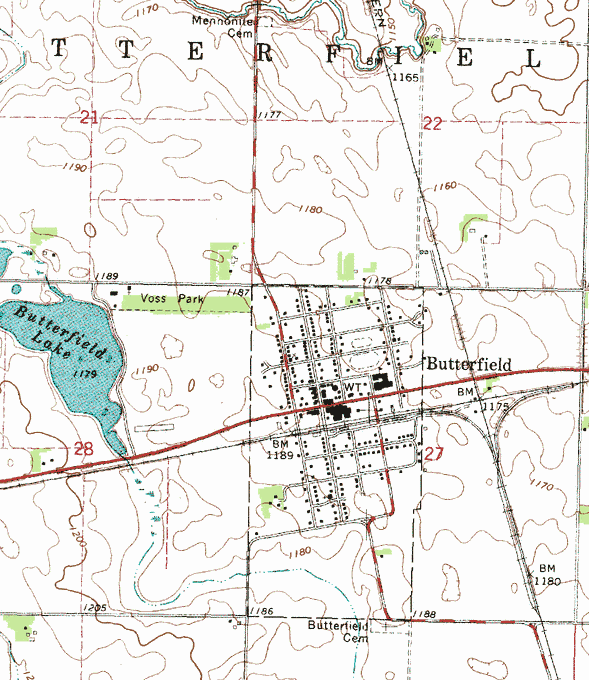 Topographic map is courtesy of the Minnesota DNR - click map to zoom or enlarge