Navigation
LakesnWoods.com
Home Page
Contact Us
Privacy
Minnesota Gift Guide

Mountain Lake Guide:
Photo Gallery
Location
Geography
Demographics
History
Government
Post Office
News
Weather
Street Map
Events
Attractions
Recreation
Lakes
Health Care
Schools
Churches
Media
Motels
Resorts
Campgrounds
Businesses
Aerial Photo
Topographic Map
© 2004-2021
Lakeweb1 Internet Services
All Rights Reserved
Defamation, Copyright and Trademark Infingement Policy
WANTED!
Do you have photos, historical accounts or other items pertaining to the Mountain Lake area? Would you like to share this historical information with the world? LakesnWoods.com would like to publish your Mountain Lake photos (current or historical) or historical accounts on this website. Original materials can be returned and your privacy will be respected.

Mountain Lake Minnesota Community Guide
---
Location:
---
Population:
Mountain Lake (city)
1970
1980
1990
2000
2010
2000-2010 Change
Actual
Percent
Population
1,986
2,277
1,906
2,082
2,104
+22
+1.06
Land Area (sq. mile)
1.00
1.39
1.34
1.35
1.53
+0.18
+13.33
Density (persons per sq. mile)
1,986.0
1,638.1
1,422.4
1,540.3
1,375.2
-165.1
-10.72
Housing Units
727
973
883
896
923
+27
+3.01
Households
--
930
798
817
829
+12
+1.47
Persons Per Household
--
2.32
2.24
2.41
2.48
+0.07
+2.90
---
Geography:
Mountain Lake is a city in Cottonwood County, Minnesota. Minnesota State Highway 60 serves as a main route in the city. According to the United States Census Bureau, the city has a total area of 1.55 square miles (4.01km˛), of which, 1.53 square miles (3.96 km˛) of it is land and 0.02 square miles (0.05 km˛) of it is water. The elevation is 1,302 ft (397 m) above sea level.
From Wikipedia, the free encyclopedia.
---
Demographics:
As of the census of 2010, there were 2,104 people, 829 households, and 526 families residing in the city. The population density was 1,375.2 inhabitants per square mile (531.0/km2). There were 923 housing units at an average density of 603.3 per square mile (232.9/km2). The racial makeup of the city was 82.8% White, 0.8% African American, 0.2% Native American, 10.3% Asian, 0.1% Pacific Islander, 3.9% from other races, and 1.9% from two or more races. Hispanic or Latino of any race were 10.7% of the population.
There were 829 households of which 31.4% had children under the age of 18 living with them, 49.9% were married couples living together, 9.4% had a female householder with no husband present, 4.1% had a male householder with no wife present, and 36.6% were non-families. 34.0% of all households were made up of individuals and 18.3% had someone living alone who was 65 years of age or older. The average household size was 2.48 and the average family size was 3.16.
The median age in the city was 39.3 years. 27.6% of residents were under the age of 18; 7.8% were between the ages of 18 and 24; 20.6% were from 25 to 44; 23.1% were from 45 to 64; and 20.7% were 65 years of age or older. The gender makeup of the city was 48.7% male and 51.3% female.
---
---
History:
The city of Mountain Lake was formally platted on May 25, 1872. It has had a post office in operation since 1871.
The name "Mountain Lake" is usually attributed to early settler, William Mason. The city's official website recalls, "the first white settler to the area, William Mason, found a shallow 900-acre lake with three islands. The two smaller islands just broke the water's surface. The third much larger, higher island looked to Mason like a mountain rising from the lake. He named the lake Mountain Lake and the island Mountain Island." The top of the island was covered with trees, and could be seen for miles around, thus serving as a landmark to early settlers. The story continues that in 1871 the St. Paul & Sioux City Railway had selected "Midway" as the name of the village, since it was located midway between Saint Paul, Minnesota and Sioux City, Iowa. However, Mason insisted that the village being platted be named "Mountain Lake".

Demand for more tillable farmland and construction advances led to the draining of the original lake in 1905-06, which was located in Mountain Lake township, southeast of town. However, in 1937-38 a dam, bridge, and outlet were constructed by the Works Progress Administration at a new site in Midway township to create a new Mountain Lake. This lake, located on the north edge of town, also has an island.
The large island of the original lake – now just a hill amidst the surrounding cornfields – became a county park which has since 1973 been listed on the National Register of Historic Places. Archeological evidence suggests that early settler William Mason was not the first to appreciate the unique qualities of the original lake's island. Artifacts unearthed in a 1976 dig indicated evidence of habitation as early as 500 BC, thus making the location the oldest human habitation yet to be discovered in the state of Minnesota.
The coming of the railroad in 1873 played a big role in the expansion of the village. By the time Mountain Lake was formally incorporated in 1886, it had a population of three hundred people, primarily composed of Mennonites immigrating from southern Russia (present-day Ukraine).
In 1873, Mennonite immigrants from the Ukraine (at that time, Ukraine was part of the Russian Empire) began to arrive in Mountain Lake, having been recruited by William Seeger, a member of the Minnesota State Board of Immigration. Seeger had specifically targeted Mennonites, "because they were believed to be hard workers of good character." The majority of these Mennonite families came from the Molotschna Colony, located near the present-day city of Melitopol, Ukraine. However, a number of Manitoba Mennonites originally from the Chortitza Colony, near the present-day Ukrainian city of Zaporizhia, also settled in the Mountain Lake area. By 1880, it is estimated that some 295 Mennonite families had settled there.
Because Mountain Lake was already an established community and its surrounding farmland largely surveyed, the Mennonites could not arrange themselves in the traditional communal villages they had been accustomed to in their Ukrainian colonies. This forced them to adapt to American-style, single family farms and to live amongst their non-Mennonite neighbors. As settlement continued, the Mennonites of Mountain Lake had soon established a successful and cohesive community, "based primarily on agriculture and local commerce." For many decades thereafter, they retained the speaking of Plautdietsch, the Mennonite variation of Low German.
On October 14, 1889, the Konference der Vereinigten Mennoniten-Brueder von Nord America, was founded in Mountain Lake. Elder Aaron Wall, founder of the Bruderthaler Church of Mountain Lake and Elder Isaac Peters of the Ebenezer Church of Henderson, Nebraska were instrumental in the establishment of this new Mennonite denomination. Known today as the Fellowship of Evangelical Bible Churches (FEBC), for many years the conference was popularly called the Bruderthaler Conference, because of the influential nature of the Mountain Lake founding church. In 1914 the name was officially changed to The Defenceless Mennonite Brethren in Christ of North America. The name was changed once again, in 1937, to Evangelical Mennonite Brethren (EMB). The denominational headquarters was located in Mountain Lake until 1956.
Around the year 1905, several local men founded the Mennonite hospital of Mountain Lake. The institution struggled until 1912, when it was sold and reorganized as the Bethel Deaconess Hospital. The physicians in charge were Dr. Piper of Mountain Lake and Dr. Sogge of Windom, who were assisted by three deaconess sisters. The hospital was managed by a local board of directors consisting of one member from each of the town's five Mennonite churches.
From Wikipedia, the free encyclopedia.
MOUNTAIN LAKE Township, organized May 6, 1871, derived its name from its former large lake, in which a mountainlike island rose with steep shores and nearly flat top about 40 feet above the lake, having similar outlines to those of the surrounding bluffs and general upland. "The upper part of the island was covered with trees, which could be seen for many miles. This spot served as a landmark and a guide for many of the early settlers. . . . The lake, as known to pioneers, is no more; it has long since been drained, and grains and grasses grow in its old bed." The city of Mountain Lake, of Midway and Mountain Lake Townships, was platted May 25, 1872. The post office was established in 1871, first located in Paul Seegers's general store. The village had a flour mill and grain elevators and a station of the Chicago, St. Paul, Minneapolis and Omaha Railroad in section 30. The village grew with an influx of Dutch-German Mennonites from southern Russia until about 1910.
Courtesy Minnesota Historical Society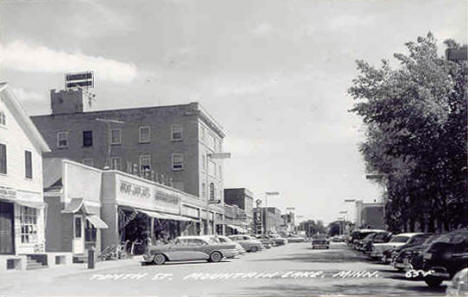 Tenth Street, Mountain Lake Minnesota, 1950's
LakesnWoods.com Postcard and Postcard Image Collection - click to enlarge

Visit The Mountain Lake Photo Gallery for more recent and historic area photos
---
Government:
Mountain Lake City Hall
930 3rd Avenue
PO Box C
Mountain Lake, MN 56159
Phone: (507) 427-2999

City Hall Hours
Monday - Friday 9:00 am- 4:00 pm

City Council Meetings
First and third Mondays of every month at 6:30 pm at City Hall Council Chambers.


Title
Term Ends
Name and Address
Phone
Mayor
12/31/2020
Mike Nelson
617 6th Avenue
Mountain Lake, MN 56159
(507) 381-7986
City Administrator/Clerk
appointed
Michael Schulte
930 3rd Avenue
Mountain Lake, MN 56159
(507) 427-2999
Council Member
12/31/2022
Dana Kass
1113 Castle Drive
Mountain Lake, MN 56159
(507) 227-0761
Council Member
12/31/2022
Andy Ysker
1304 6th Avenue
Mountain Lake, MN 56159
(507) 822-0394
Council Member
12/31/2020
David Ryan Savage
520 10th Street
Mountain Lake, MN 56159
(507) 822-3903
Council Member
12/31/2020
Darla J. Kruser
1413 2nd Avenue
Mountain Lake, MN 56159
(612) 554-7274
---
Post Office:
US Post Office
211 10th Street N
Mountain Lake, MN 56159-1659
Phone: (507) 427-2434
Toll Free: (800) ASK-USPS
Fax: (507) 427-2315

Regular Business Hours:
Week Days 9:00 am - 11:30 am
12:30 pm - 4:30 pm
Saturday 9:30 am - 10:30 am
---
Utilities:
---
Major Employers:
---
---
News:
---
Weather:
---
Map:

Minnesota State Highway Map of the Mountain Lake Minnesota area
---
Events:
---
---
Attractions:
Heritage Village Museum
1803 Mountain Lake Road
Mountain Lake, MN 56159
Phone: (507) 427-2023



From the 1884 Mennonite Homestead to the Prairie Interpretive Center, twenty buildings preserve our rich Mennonite and Lutheran heritage. Join us for a festival of ethnic food, fun, and entertainment every second Saturday in September. Open afternoons 1:00-5:00 p.m. May 15-Sept 15. Heritage Village, on the southwest edge of Mtn. Lake, near the intersection of County Road #1 and MN Hwy 60, was established in 1972 to remember and celebrate the Russian-Mennonite and German-Lutheran immigrants that were early settlers in the area. Visitors stroll through 21 buildings filled with displays depicting pioneer life. Many of the buildings were built in the 19th century and have been lovingly preserved and restored.




---
Recreation:
Mountain Lake Golf Course
56500 Lakeshore Drive
Mountain Lake, MN 56159
Phone: (507) 427-3869



Enjoy our beautiful lakeside nine-hole golf course. Open to the public, except Tuesdays and Thursdays. Tee times are required May through September. Cart and club rentals also available. Affordable green fees.




---
Lakes:
Lake Name
Size
(acres)
Lake info
Lake Map
Rec Map
Topo Map
Eagle
105
n/a
n/a
Long
97
n/a
n/a
Mountain
230
n/a
---
Health Care:
Sanford Clinic Mountain Lake
308 8th Street N
Mountain Lake, MN 56159
Phone: (507) 427-3332



Choose the best for you and your family. Sanford Health Mountain Lake Clinic in Minnesota offers family medicine and mammography.




---
Schools:
---
Churches:
Alliance Church
809 5th Avenue
PO Box 534
Mountain Lake, MN 56159
Phone: (507) 427-2886

Pastor: Kevin Walzak
Sunday Service: 8:00 am and 10:45 am


Bethel Mennonite Church
301 9th Street N
PO Box 542
Mountain Lake, MN 56159
Phone: (507) 427-3075

Pastor: Galen Kauffman
Sunday Service: 10:30 am


Center Point Church
810 3rd Avenue
PO Box 532
Mountain Lake, MN 56159
Phone: (507) 427-2215

Pastor: David Savage
Sunday Service: 10:00 am and 2:00 pm (Spanish)


Community Bible Church
500 Klein Street
Mountain Lake, MN 56159
Phone: (507) 427-2536

Pastor: Dan Strutz
Sunday Service: 10:00 am


Cornerstone Bible Church
1019 Prince Street
PO Box 605
Mountain Lake, MN 56159
Phone: (507) 427-2208

Pastor: Nathan Janzen
Sunday Service: 10:15 am


First Presbyterian Church
1217 6th Avenue
PO Box 485
Mountain Lake, MN 56159
Phone: (507) 427-3209

Pastor: Linda Becken
Sunday Service: 9:00 am


Lakeview Gospel Church
1002 10th Street N
PO Box 631
Mountain Lake, MN 56159
Phone: (507) 427-2046

Pastor: Merwin Dick
Sunday Service: 10:30 am


Trinity Lutheran Church - LCMS
1418 2nd Avenue
Mountain Lake, MN 56159
Phone: (507) 427-2451

Pastor: Rev. David Fretham
Sunday Service: 8:00 am


---
Media:
Mountain Lake Observer Advocate
1025 2nd Avenue
PO Box 429
Mountain Lake, MN 56159
Phone: (507) 427-2725
Fax: (507) 427-2724

Weekly newspaper published on Wednesdays with a circulation of 1,714


---
Motels:
Check for motel rates and availability on:
---
Resorts:
---
Campgrounds:
Island View Campground
Prince Street and Golf Course Road
Mountain Lake, MN 56159
Phone: (507) 427-2999



Two blocks N of the city's wind turbine. 18 RV/trailer sites, pull-thrus. Elec./water/sewer. Fire rings & picnic tables. New bathroom/showers on-site. City park w/new playground. Biking/hiking trail. Golf course. Lake access. Fishing pier. Disc golf. Take Co. Rd. 27 exit off Hwy. 60 into Mt. Lake; follow Golf Course Dr., watch for signs.




---
---
Businesses:
Apex Clean Energy
306 10th Street N
Mountain Lake, MN 56159
Phone: (507) 427-0479



Apex has been built with a singular focus: to speed the shift to clean electricity. Drawing from their experience with several of the nation's leading renewable energy companies, Apex's founders set out to create a company with the capacity to excel in every phase of project realization, from origination and financing to construction and asset management.




B & K Sales
58560 370th Street
Mountain Lake, MN 56159
Phone: (507) 427-2186



We are your Central Boiler Outdoor Wood Furnace dealer serving Mountain Lake, MN and the surrounding area. Tired of rising heating costs? Why not install a Central Boiler Outdoor Furnace. Give us a call we offer quality service and fair prices. Call for the latest Rebate information. We also offer financing and cash discounts. Give us a call if you have any questions or would like a quote.




Balzer Inc.
2309 3rd Avenue
PO Box 458
Mountain Lake, MN 56159
Phone: (507) 427-3133



Balzer remains a hometown employer whose people take pride in the work they do. Balzer has made a commitment to help producers be good stewards for agricultural environments. Balzer products are sold through a nationwide dealer network assisted by qualified, factory trained Balzer sales and service representatives.




Bluestem Farm Supply
55346 390th Street
Mountain Lake, MN 56159
Phone: (507) 427-2097


Bob's Auto and Truck Repair
32852 590th Avenue
Mountain Lake, MN 56159
Phone: (507) 427-3619


Casey's General Store
401 3rd Avenue
Mountain Lake, MN 56159
Phone: (507) 427-2524

Through the years, Casey's success has been attributed to our clean stores and friendly employees who pride themselves in customer service. Casey's customers have come to know us for our helpful employees, clean stores and wide selection of freshly prepared food items.


Cenex
1130 3rd Avenue
Mountain Lake, MN 56159
Phone: (507) 427-3813


Country Pride True Value
1100 3rd Avenue
Mountain Lake, MN 56159
Phone: (507) 427-2333



We are a full line True Value hardware store with Lumber, Flooring, Plumbing, Auto service and Convenience Store departments.




Cut and Curl Boutique
1420 6th Avenue
Mountain Lake, MN 56159
Phone: (507) 427-2361


E & D Wood and Things
89755 580th Avenue
Mountain Lake, MN 56159
Phone: (507) 639-6097


Fast Distributing
54859 County Road 44
Mountain Lake, MN 56159
Phone: (507) 427-3861



Founded in 1990 by Verlyn Fast, a farmer seeking to increase the productivity of his own operations, the mission of FAST Manufacturing Inc. is to provide quality products at competitive prices, backed by dependable service. Today, FAST represents farmers and engineers coming together to produce high quality sprayer and liquid fertilizer equipment that is both practical and productive. A large portion of FAST employees are, or have been, directly involved in farming operations.




Good Samaritan Society - The Village
745 Basinger Memorial Drive
Mountain Lake, MN 56159
Phone: (507) 427-2464


Good Samaritan Society - The Lodge of Mountain Lake
602 7th Avenue
Mountain Lake, MN 56159
Phone: (507) 427-2294


Hall's Handy Heating and Cooling
237 11th Street N
Mountain Lake, MN 56159
Phone: (507) 956-2288



Hall's Handy Heating & Cooling is here to serve you with over 15 years of experience in the heating and cooling industry. Founded by John and Teri Hall we deliver exceptional services, quality materials, and guaranteed work without compromising your nest egg. Our slogan is "convenience without compromise". "Convenience" means our services are so handy, you count on us to make things easy and prompt.




Hanson Agency
235 10th Street N
Mountain Lake, MN 56159
Phone: (507) 427-3500



Complete insurance and real estate services




Hanson Plumbing LLC
1018 3rd Avenue
Mountain Lake, MN 56159
Phone: (507) 427-3506


Heritage Village Museum
1803 Mountain Lake Road
Mountain Lake, MN 56159
Phone: (507) 427-2023



From the 1884 Mennonite Homestead to the Prairie Interpretive Center, twenty buildings preserve our rich Mennonite and Lutheran heritage. Join us for a festival of ethnic food, fun, and entertainment every second Saturday in September. Open afternoons 1:00-5:00 p.m. May 15-Sept 15. Heritage Village, on the southwest edge of Mtn. Lake, near the intersection of County Road #1 and MN Hwy 60, was established in 1972 to remember and celebrate the Russian-Mennonite and German-Lutheran immigrants that were early settlers in the area. Visitors stroll through 21 buildings filled with displays depicting pioneer life. Many of the buildings were built in the 19th century and have been lovingly preserved and restored.




Herrig's Construction Inc.
2505 3rd Avenue
Mountain Lake, MN 56159
Phone: (507) 427-2822


Hoek Outdoors
1007 Estate Drive
Mountain Lake, MN 56159
Phone: (507) 427-3336

Our desire to provide our customers with hassle free shoreline equipment is also why Hoek Outdoors offers guaranteed lowest pricing for FLOE products along with free set-up, delivery, and first year installation. The mission at Hoek Outdoors is to have happy, satisfied customers and our level of service and expertise helps us to fulfill this mission.


JSK Bridal
206 10th Street N
Mountain Lake, MN 56159
Phone: (507) 636-0028



We believe that feeling beautiful is for everyone, no matter the style, size, age, or budget. Nestled in the small town of Mountain Lake, we know that genuine hometown service matters and that is why we carry everything you need to outfit your special day. From gowns to veils and alterations to tuxedos, we have you covered. Come get to know us and let us make it easy and fun to be your own kind of beautiful!




Karen's Little Care Bears
1616 Prince Street
Mountain Lake, MN 56159
Phone: (507) 427-0250



I have lots of space for the children to move around in. There are lots of bright colors, activities, for learning the basic's. In bad weather we have a large basement for shelter. Full kitchen downstairs. When weather permits they have a large play area outback, fenced in.




KBQ Inc.
38781 570th Avenue
Mountain Lake, MN 56159
Phone: (507) 427-2821



The home farm has been family-owned since being purchased from the railroad in the 1800's. Since then is has become a Century Farm recognized in the state of Minnesota. In its earlier history, it focused on finishing barns and farrowing operations. In 1981 farrowing operations were phased out and contract finishing slowly developed. In 1991 more expansion took place in the form of a new finishing barn. Later in 1993 the farm began focusing on genetic control of hogs to deliver consistency, lean meat, efficiency and maximum pig flow. In 1994, KBQ Inc was born. It now has multiple farrowing farms and many finisher farms. KBQ strives for to be on the technological forefront.







Klassen Land Cattle Partnership
55617 County Road 13
Mountain Lake, MN 56159
Phone: (507) 427-3520



Klassen Land and Cattle is a fourth generation family owned and operated crop and livestock farm located near Mt. Lake, Minnesota. Our primary commodities include: corn, soybeans, alfalfa and grain-fed beef. Our logo, Optimizing Acres was chosen to reflect both the philosophy and mission of our operation. We are a family run farm that strives to produce the highest quality yields possible by utilizing the latest in technology with a firm commitment to land stewardship.




Krienke Foods International
1716 Stuart Avenue
Mountain Lake, MN 56159
Phone: (507) 427-0014


Laker Apartments
1225 3rd Avenue
Mountain Lake, MN 56159
Phone: (507) 427-2450


Land Title and Abstract Company Inc.
225 10th Street N
Mountain Lake, MN 56159
Phone: (507) 427-3233


Matchless Gift LLC
255 10th Street N
Mountain Lake, MN 56159
Phone: (507) 427-3110



The Matchless Gift is a gift & floral shop with a hometown heart and upscale style.




Maynards of Mountain Lake
1049 3rd Avenue
Mountain Lake, MN 56159
Phone: (507) 427-2220



We are your local community connection for high quality foods, friendly service and great prices. Our family-owned store offers a convenient one-stop shop where you can find everything you need from the everyday essentials to specialty items from around the world. Our friendly staff is here to help you find exactly what you're looking for and to offer you assistance regarding all the products we carry.




Midstates Equipment and Supplies
606 County Road 1
Mountain Lake, MN 56159
Phone: (507) 427-3807



Midstates Equipment & Supply is a Minnesota grown, family owned and operated company, serving the Upper Midwest region since 1990. Midstates has strived to build and maintain a quality reputation by serving the needs of the Paving Maintenance Industry with the finest materials and equipment available coupled with the best customer service unmatched in the industry.




Midway Auto Body and Glass
604 County Road 1
Mountain Lake, MN 56159
Phone: (507) 427-3807


Midway Farm Equipment Inc.
602 County Road 1
Mountain Lake, MN 56159
Phone: (507) 427-3414



Midway Farm Equip. has been an AGCO-Allis dealer in Mountain Lake since 1932. Inventory includes whole goods and parts for AGCO, Gleaner, New Idea, White, Balzer, Feterl, Hiniker, M & W, Wilrich, Parker, and many other manufacturers. Stop in and meet the experienced and trained staff who can help you with all your farm equipment needs.




Mountain Lake Apartments
1050 3rd Avenue
Mountain Lake, MN 56159
Phone: (507) 427-3829


Mountain Lake Automotive
1801 3rd Avenue
Mountain Lake, MN 56159
Phone: (507) 427-3789

At Mountain Lake Automotive, we've served hundreds of customers throughout Minnesota! Our impressive inventory of used models at our dealership near Mankato, New Ulm, Fairmont, Jackson, St. James, Windom and Worthington ensures we have something for every taste and budget, vehicles ranging from $2,000-$50,000.


Mountain Lake City Hall
930 3rd Avenue
PO Box C
Mountain Lake, MN 56159
Phone: (507) 427-2999

City Hall Hours
Monday - Friday 9:00 am- 4:00 pm

City Council Meetings
First and third Mondays of every month at 6:30 pm at City Hall Council Chambers.


Mountain Lake Community Center
1027 2nd Avenue
Mountain Lake, MN 56159
Phone: (507) 427-2151



The Community Center is located at 1027 Second Avenue. It is available to rent for your event. Available after 1PM on weekdays, and all day on weekends. For rental information call Dawn Fast at 507-427-2999 ext #7.




Mountain Lake Family Fitness
208 10th Street N
Mountain Lake, MN 56159
Phone: (507) 427-8900


Mountain Lake Fire Department
356 11th Street
Mountain Lake, MN 56159
Phone: (507) 427-2999



The Mountain Lake Fire Department has 25 trained volunteer fire fighters and equipment for fire-fighting and rescue.




Mountain Lake Floral
314 10th Street N
Mountain Lake, MN 56159
Phone: (507) 427-6800



We're a local Mountain Lake, Minnesota florist proudly serving the area for over 35 years. Our shop is family-owned and operated and offers a lovely variety of fresh flowers and creative gift ideas to suit any style or budget. It is our pleasure to assist you with any local, as well as worldwide deliveries and remember that corporate accounts are always welcome.




Mountain Lake Golf Course
56500 Lakeshore Drive
Mountain Lake, MN 56159
Phone: (507) 427-3869



Enjoy our beautiful lakeside nine-hole golf course. Open to the public, except Tuesdays and Thursdays. Tee times are required May through September. Cart and club rentals also available. Affordable green fees.




Mountain Lake Observer Advocate
1025 2nd Avenue
PO Box 429
Mountain Lake, MN 56159
Phone: (507) 427-2725
Fax: (507) 427-2724

Weekly newspaper published on Wednesdays with a circulation of 1,714


Mountain Lake Public Library
1054 4th Avenue
Mountain Lake, MN 56159
Phone: (507) 427-2506


Mountain Power and Hydraulics
502 County Road 1 S
Mountain Lake, MN 56159
Phone: (507) 427-3339



Mountain Power Hydraulics manufacturers custom hydraulic and pneumatic cylinders for mobile and industrial applications. A privately owned company located in Mountain Lake, Minnesota, all products are 100% manufactured in Minnesota and shipped both nationally and Internationally for various applications.




New Vision Co-op
37308 County Road 8
Mountain Lake, MN 56159
Phone: (507) 427-2421



With roots reaching back to 1901, New Vision Co-op serves more than 2,000 member-owners in southwest Minnesota, northwest Iowa and eastern South Dakota from 19 locations. Founded by farmers and based on member ownership, our primary focus has always been the success of our members.




Observer Advocate
1025 2nd Avenue
PO Box 429
Mountain Lake, MN 56159
Phone: (507) 427-2725
Fax: (507) 427-2724

Weekly newspaper published on Wednesdays with a circulation of 1,714


OK Enterprises LLC
42733 570th Avenue
Mountain Lake, MN 56159
Phone: (507) 427-3520



Over 20 years ago, OK Enterprises began building its own drum for forage harvesters, and it grew from there. We can custom build forage harvesters to your specifications, including drums, kernel processors, discharge spouts and more. We are not a franchised dealer, but a fellow farmer who wants to understand your operation, help you buy what you need, and in turn, earn your trust and respect.




Our Hometown Cafe
1205 3rd Avenue
Mountain Lake, MN 56159
Phone: (507) 427-0106


Parkwood Place Apartments
801 3rd Avenue
Mountain Lake, MN 56159
Phone: (507) 427-2080


Peterson Drug and Gifts
1007 3rd Avenue
Mountain Lake, MN 56159
Phone: (507) 427-2707



Peterson Thrifty White Drug has been serving the Mountain Lake area since November 1983. As a part of the Mountain Lake healthcare delivery team Peterson Thrifty White Drug is committed to helping you achieve optimal health. Peterson Thrifty White Drug provides the highest level of personal pharmacy services and medical equipment sales and service.




Pop'd Kerns
1716 Stuart Avenue
Mountain Lake, MN 56159
Phone: (507) 427-2128



Pop'd KernsTM all natural corn snacks are certain to satisfy your taste buds and tame your appetite with their irresistible combination of tantalizing taste and perfect crunch. All four distinctive Pop'd KernsTM flavors provide a delicious and convenient way to help you satisfy your craving for salty snacks. Whether it's in the afternoon, on the ride home or just sitting on the couch, Pop'd KernsTM is the all natural great tasting gluten free snack with the perfect crunch.




Pro Shed
42668 600th Avenue
Mountain Lake, MN 56159
Phone: (507) 427-2002



We are your neighbors from Mountain Lake, MN, dedicated to serving you with affordable, high quality outdoor storage sheds. Located at Elmendorf Christian Community, we invite you to stop in and see our sheds in person. We strive to give you the level of service and quality you deserve, from the first phone call or email to the construction and delivery of your storage shed.




Progressive Chiropractic
304 10th Street N
Mountain Lake, MN 56159
Phone: (507) 427-3878


Quad Brothers Construction
37891 600th Avenue
Mountain Lake, MN 56159
Phone: (507) 427-3888


Salon 310 Inc.
310 10th Street N
Mountain Lake, MN 56159
Phone: (507) 427-2554



We offer Hair Services, Nail Services, Skin Services, Massage, Tanning




Sanford Clinic Mountain Lake
308 8th Street N
Mountain Lake, MN 56159
Phone: (507) 427-3332



Choose the best for you and your family. Sanford Health Mountain Lake Clinic in Minnesota offers family medicine and mammography.




Schwartz Farms
30847 530th Avenue
Mountain Lake, MN 56159
Phone: (507) 678-2000



As a premier pork producer, Schwartz Farms, Inc. is well-positioned for the challenges that undoubtedly lie ahead. We are proud of our legacy, and we remain confident the future of Schwartz Farms, Inc. will be equally rewarding




Sheila K's Salon and Spa
723 11th Street N
Mountain Lake, MN 56159
Phone: (507) 427-3622


Sturm Funeral Home
420 10th Street N
Mountain Lake, MN 56159
Phone: (507) 427-2755

Please feel free to browse our pages to learn more about pre-planning a funeral and grief support, as well as the traditional funeral and cremation services that we have to offer. If you have any questions or concerns please feel free to contact us at anytime, we are available by phone or e-mail, or drop by the office in person. We are always here to help.


Ten Thousand Villages
218 10th Street N
Mountain Lake, MN 56159
Phone: (507) 427-3468



Ten Thousand Villages in Mountain Lake, MN, is a fair trade retailer of artisan-crafted home decor, personal accessories and gift items from across the globe. Featuring products from more than 130 artisan groups in some 38 countries, we are part of a network of over 390 retail outlets throughout the United States selling Ten Thousand Villages products.




Thate's Tree Service
418 W Margaret
Mountain Lake, MN 56159
Phone: (800) 225-8733

Thate's Tree Service has provided southern Minnesota and northern Iowa with complete professional tree care for 40 years. We have the equipment and experience to serve your Commercial, Residential, and Agricultural needs. No project is too big or small. Professional and insured — Leave it to the Experts!


Total Look
715 Mountain Lake Road
Mountain Lake, MN 56159
Phone: (507) 427-3427


Town-N-Country Daycare
450 12th Street N
Mountain Lake, MN 56159
Phone: (507) 427-3303


United Prairie Bank
1141 3rd Avenue
Mountain Lake, MN 56159
Phone: (507) 427-2422



At United Prairie Bank, we'll help you get there. We provide personalized service and top of line products and services for personal, agribusiness and business.




US Post Office
211 10th Street N
Mountain Lake, MN 56159-1659
Phone: (507) 427-2434
Toll Free: (800) ASK-USPS
Fax: (507) 427-2315

Regular Business Hours:
Week Days 9:00 am - 11:30 am
12:30 pm - 4:30 pm
Saturday 9:30 am - 10:30 am

Watonwan Enterprises Inc.
2308 County Road 27
Mountain Lake, MN 56159
Phone: (507) 427-2986


---
---
Aerial Photo:
---
Topographic Map: [click map to enlarge, zoom in or zoom out]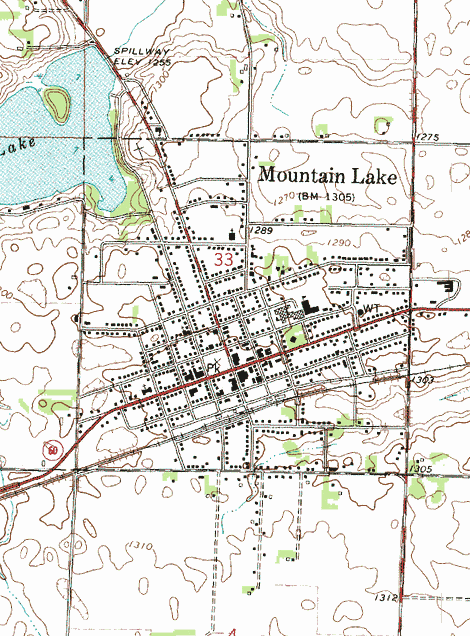 Topographic map is courtesy of the Minnesota DNR - click map to zoom or enlarge