Navigation
LakesnWoods.com
Home Page
Contact Us
Privacy
Minnesota History Shop

Visit The Minnesota History Shop
www.minnesotahistoryshop.com
Historic maps
Historic books
Historic framed art
Historic postcards
Clothing with historic images
And much more!!!


Mountain Lake Guide:
Photo Gallery
Location
Geography
Demographics
History
Government
Post Office
News
Weather
Street Map
Events
Attractions
Recreation
Lakes
Health Care
Schools
Churches
Media
Motels
Resorts
Campgrounds
Businesses
Aerial Photo
Topographic Map
© 2004-2023
Lakeweb1 Internet Services
All Rights Reserved
DCMA, Defamation, Copyright and Trademark Infingement Policy
WANTED!
Do you have photos, historical accounts or other items pertaining to the Mountain Lake area? Would you like to share this historical information with the world? LakesnWoods.com would like to publish your Mountain Lake photos (current or historical) or historical accounts on this website. Original materials can be returned and your privacy will be respected.

Mountain Lake Minnesota Community Guide
---
Location:
---
Population:
Mountain Lake (city)
1970
1980
1990
2000
2010
2000-2010 Change
Actual
Percent
Population
1,986
2,277
1,906
2,082
2,104
+22
+1.06
Land Area (sq. mile)
1.00
1.39
1.34
1.35
1.53
+0.18
+13.33
Density (persons per sq. mile)
1,986.0
1,638.1
1,422.4
1,540.3
1,375.2
-165.1
-10.72
Housing Units
727
973
883
896
923
+27
+3.01
Households
--
930
798
817
829
+12
+1.47
Persons Per Household
--
2.32
2.24
2.41
2.48
+0.07
+2.90
---
Geography:
Mountain Lake is a city in Cottonwood County, Minnesota. Minnesota State Highway 60 serves as a main route in the city. According to the United States Census Bureau, the city has a total area of 1.55 square miles (4.01km˛), of which, 1.53 square miles (3.96 km˛) of it is land and 0.02 square miles (0.05 km˛) of it is water. The elevation is 1,302 ft (397 m) above sea level.
From Wikipedia, the free encyclopedia.
---
Demographics:
---
---
History:
The city of Mountain Lake was formally platted on May 25, 1872. It has had a post office in operation since 1871.
The name "Mountain Lake" is usually attributed to early settler, William Mason. The city's official website recalls, "the first white settler to the area, William Mason, found a shallow 900-acre lake with three islands. The two smaller islands just broke the water's surface. The third much larger, higher island looked to Mason like a mountain rising from the lake. He named the lake Mountain Lake and the island Mountain Island." The top of the island was covered with trees, and could be seen for miles around, thus serving as a landmark to early settlers. The story continues that in 1871 the St. Paul & Sioux City Railway had selected "Midway" as the name of the village, since it was located midway between Saint Paul, Minnesota and Sioux City, Iowa. However, Mason insisted that the village being platted be named "Mountain Lake".

Demand for more tillable farmland and construction advances led to the draining of the original lake in 1905-06, which was located in Mountain Lake township, southeast of town. However, in 1937-38 a dam, bridge, and outlet were constructed by the Works Progress Administration at a new site in Midway township to create a new Mountain Lake. This lake, located on the north edge of town, also has an island.
The large island of the original lake – now just a hill amidst the surrounding cornfields – became a county park which has since 1973 been listed on the National Register of Historic Places. Archeological evidence suggests that early settler William Mason was not the first to appreciate the unique qualities of the original lake's island. Artifacts unearthed in a 1976 dig indicated evidence of habitation as early as 500 BC, thus making the location the oldest human habitation yet to be discovered in the state of Minnesota.
The coming of the railroad in 1873 played a big role in the expansion of the village. By the time Mountain Lake was formally incorporated in 1886, it had a population of three hundred people, primarily composed of Mennonites immigrating from southern Russia (present-day Ukraine).
In 1873, Mennonite immigrants from the Ukraine (at that time, Ukraine was part of the Russian Empire) began to arrive in Mountain Lake, having been recruited by William Seeger, a member of the Minnesota State Board of Immigration. Seeger had specifically targeted Mennonites, "because they were believed to be hard workers of good character." The majority of these Mennonite families came from the Molotschna Colony, located near the present-day city of Melitopol, Ukraine. However, a number of Manitoba Mennonites originally from the Chortitza Colony, near the present-day Ukrainian city of Zaporizhia, also settled in the Mountain Lake area. By 1880, it is estimated that some 295 Mennonite families had settled there.
Because Mountain Lake was already an established community and its surrounding farmland largely surveyed, the Mennonites could not arrange themselves in the traditional communal villages they had been accustomed to in their Ukrainian colonies. This forced them to adapt to American-style, single family farms and to live amongst their non-Mennonite neighbors. As settlement continued, the Mennonites of Mountain Lake had soon established a successful and cohesive community, "based primarily on agriculture and local commerce." For many decades thereafter, they retained the speaking of Plautdietsch, the Mennonite variation of Low German.
On October 14, 1889, the Konference der Vereinigten Mennoniten-Brueder von Nord America, was founded in Mountain Lake. Elder Aaron Wall, founder of the Bruderthaler Church of Mountain Lake and Elder Isaac Peters of the Ebenezer Church of Henderson, Nebraska were instrumental in the establishment of this new Mennonite denomination. Known today as the Fellowship of Evangelical Bible Churches (FEBC), for many years the conference was popularly called the Bruderthaler Conference, because of the influential nature of the Mountain Lake founding church. In 1914 the name was officially changed to The Defenceless Mennonite Brethren in Christ of North America. The name was changed once again, in 1937, to Evangelical Mennonite Brethren (EMB). The denominational headquarters was located in Mountain Lake until 1956.
Around the year 1905, several local men founded the Mennonite hospital of Mountain Lake. The institution struggled until 1912, when it was sold and reorganized as the Bethel Deaconess Hospital. The physicians in charge were Dr. Piper of Mountain Lake and Dr. Sogge of Windom, who were assisted by three deaconess sisters. The hospital was managed by a local board of directors consisting of one member from each of the town's five Mennonite churches.
From Wikipedia, the free encyclopedia.
MOUNTAIN LAKE Township, organized May 6, 1871, derived its name from its former large lake, in which a mountainlike island rose with steep shores and nearly flat top about 40 feet above the lake, having similar outlines to those of the surrounding bluffs and general upland. "The upper part of the island was covered with trees, which could be seen for many miles. This spot served as a landmark and a guide for many of the early settlers. . . . The lake, as known to pioneers, is no more; it has long since been drained, and grains and grasses grow in its old bed." The city of Mountain Lake, of Midway and Mountain Lake Townships, was platted May 25, 1872. The post office was established in 1871, first located in Paul Seegers's general store. The village had a flour mill and grain elevators and a station of the Chicago, St. Paul, Minneapolis and Omaha Railroad in section 30. The village grew with an influx of Dutch-German Mennonites from southern Russia until about 1910.
Courtesy Minnesota Historical Society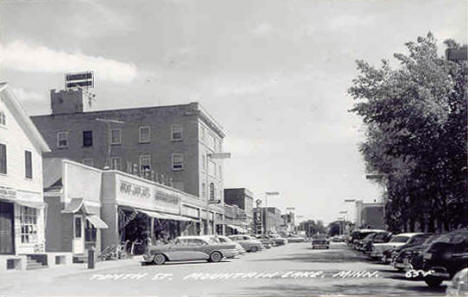 Tenth Street, Mountain Lake Minnesota, 1950s
LakesnWoods.com Postcard and Postcard Image Collection - click to enlarge

Visit The Mountain Lake Photo Gallery for more recent and historic area photos
---
Government:
Mountain Lake City Hall
930 3rd Avenue
PO Box C
Mountain Lake, MN 56159
Phone: (507) 427-2999

City Hall Hours
Monday - Friday 9:00 am- 4:00 pm

City Council Meetings
First and third Mondays of every month at 6:30 pm at City Hall Council Chambers.


Title
Term Ends
Name and Address
Phone
Mayor
12/31/2022
Mike Nelson
617 6th Avenue
Mountain Lake, MN 56159
(507) 381-7986
City Administrator/Clerk
appointed
Michael Schulte
930 3rd Avenue
Mountain Lake, MN 56159
(507) 427-2999
Council Member
12/31/2022
Dana Kass
1113 Castle Drive
Mountain Lake, MN 56159
(507) 227-0761
Council Member
12/31/2022
Andy Ysker
1304 6th Avenue
Mountain Lake, MN 56159
(507) 822-0394
Council Member
12/31/2024
Dean W. Janzen
1516 3rd Avenue
Mountain Lake, MN 56159
(507) 822-2261
Council Member
12/31/2024
Darla J. Kruser
610 7th Avenue
Mountain Lake, MN 56159
(612) 554-7274
---
Post Office:
US Post Office
211 10th Street N
Mountain Lake, MN 56159-1659
Phone: (507) 427-2434
Toll Free: (800) ASK-USPS
Fax: (507) 427-2315

Regular Business Hours:
Week Days 9:00 am - 11:30 am
12:30 pm - 4:30 pm
Saturday 9:30 am - 10:30 am
---
Utilities:
---
Major Employers:
---
---
News:
---
Weather:
---
Map:

Minnesota State Highway Map of the Mountain Lake Minnesota area
---
Events:
---
---
Attractions:
---
Recreation:
---
Lakes:
---
Health Care:
---
Schools:
---
Churches:
---
Media:
---
Motels:
Check for motel rates and availability on:
---
Resorts:
---
Campgrounds:
---
---
Businesses:
---
---
Aerial Photo:
---
Topographic Map: [click map to enlarge, zoom in or zoom out]