Navigation
LakesnWoods.com
Home Page
Contact Us
Privacy
Minnesota History Shop

Visit The Minnesota History Shop
www.minnesotahistoryshop.com
Historic maps
Historic books
Historic framed art
Historic postcards
Clothing with historic images
And much more!!!


Brandon Guide:
Photo Gallery
Location
Geography
Demographics
History
Government
Post Office
News
Weather
Street Map
Events
Attractions
Recreation
Lakes
Health Care
Schools
Churches
Media
Motels
Resorts
Campgrounds
Businesses
Aerial Photo
Topographic Map
© 2004-2023
Lakeweb1 Internet Services
All Rights Reserved
DCMA, Defamation, Copyright and Trademark Infingement Policy
WANTED!
Do you have photos, historical accounts or other items pertaining to the Brandon area? Would you like to share this historical information with the world? LakesnWoods.com would like to publish your Brandon photos (current or historical) or historical accounts on this website. Original materials can be returned and your privacy will be respected.

Brandon Minnesota Community Guide
---
Location:
---
Population:
Brandon (city)
1970
1980
1990
2000
2010
2000-2010 Change
Actual
Percent
Population
414
473
441
450
469
+19
+4.22
Land Area (sq. mile)
0.30
0.39
0.33
0.40
0.40
0
0.00
Density (persons per sq. mile)
1,380.00
1,212.82
1,336.36
1,120.24
1172.50
+52.26
+4.67
Housing Units
142
195
217
199
220
+21
+10.55
Households
--
177
176
187
207
+20
+10.70
Persons Per Household
--
2.67
2.51
2.41
2.27
-0.14
-5.81
---
Geography:
Brandon is a city in Douglas County, Minnesota. County Roads 7 and 82 are major routes in the community, and Interstate 94 is nearby. According to the United States Census Bureau, the city has a total area of 0.48 square miles (1.24 km2), of which 0.47 square miles (1.22 km2) is land and 0.01 square miles (0.03 km2) is water. The elevation is 1,398 ft (426 m) above sea level.
From Wikipedia, the free encyclopedia.
---
Demographics:
As of the census of 2010, there were 489 people, 207 households, and 139 families residing in the city. The population density was 1,040.4 inhabitants per square mile (401.7/km2). There were 220 housing units at an average density of 468.1 per square mile (180.7/km2). The racial makeup of the city was 99.2% White, 0.2% African American, and 0.6% Native American. Hispanic or Latino of any race were 2.2% of the population.
There were 207 households of which 29.0% had children under the age of 18 living with them, 54.6% were married couples living together, 10.1% had a female householder with no husband present, 2.4% had a male householder with no wife present, and 32.9% were non-families. 28.5% of all households were made up of individuals and 6.8% had someone living alone who was 65 years of age or older. The average household size was 2.36 and the average family size was 2.90.
The median age in the city was 34.5 years. 26.4% of residents were under the age of 18; 7.3% were between the ages of 18 and 24; 24.8% were from 25 to 44; 26.3% were from 45 to 64; and 15.3% were 65 years of age or older. The gender makeup of the city was 53.0% male and 47.0% female.
---
---
History:
BRANDON, settled in 1860, was established as a township September 3, 1867, and was then called Chippewa, for its lakes and river of that name, used as a "road of war" by the Ojibwe in their forays to the Dakota country. Previously it had a station, also named Chippewa, of the Burbank stage route from St. Cloud to the Red River at the home and hotel of Henry Gager, on a low hill about two miles north of the present railway village, which received its name of Brandon for the birthplace of Stephen A. Douglas in Vermont, as laid out in August 1879. The township was also renamed. The city of Brandon was incorporated November 22, 1881. It was laid out by its owner, Lt. George A. Freudenreich. Its post office was named Chippewa Lake, 1861-69, before its present name.
Courtesy Minnesota Historical Society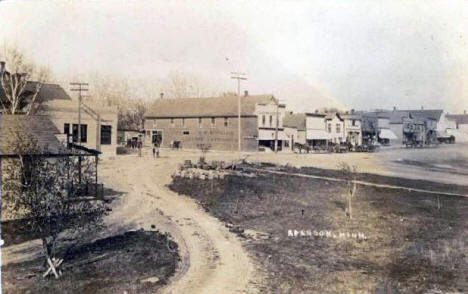 Street scene, Brandon Minnesota, 1900s?
LakesnWoods.com Postcard and Postcard Image Collection- click image to enlarge
Visit The Brandon Photo Gallery for more recent and historic area photos
---
Government:
Brandon City Hall
115 E Front Street
PO Box 137
Brandon, MN 56315
Phone: (320) 524-2260

Regular Business Hours:
Monday - Thursday 8:30 am - 4:30 pm

City Council Meetings:
1st Monday of each month at 6:30 pm



Title
Term Ends
Name and Address
Phone
Mayor
12/31/2022
Roger Campbell
209 Central Avenue N
Brandon, MN 56315
(320) 524-2457
Clerk/Treasurer
appointed
Debra Grommesh
115 Front Street
Brandon, MN 56315
(320) 524-2260
Council Member
12/31/2022
Scott R Pohlmann
508 Central Avenue
Brandon, MN 56315
(320) 491-1198
Council Member
12/31/2022
Mike Ranweiler
402 Hayes Avenue
Brandon, MN 56315
(320) 524-2697
Council Member
12/31/2024
Brad Klossner
403 Hayes Avenue
Brandon, MN 56315
(320) 808-1327
Council Member
12/31/2024
Jerry Bitzan
210 Hayes Avenue
Brandon, MN 56315
(320) 524-2667
---
Post Office:
US Post Office
101 E Front Street
Brandon, MN 56315-4502
Phone: (320) 834-4789
Toll Free: (800) ASK-USPS

Regular Business Hours:
Week Days 7:30 am - 1:30 pm
Saturday 9:30 am - 10:00 am
---
---
Utilities:
---
Major Employers:
---
---
News:
---
Weather:
---
Map: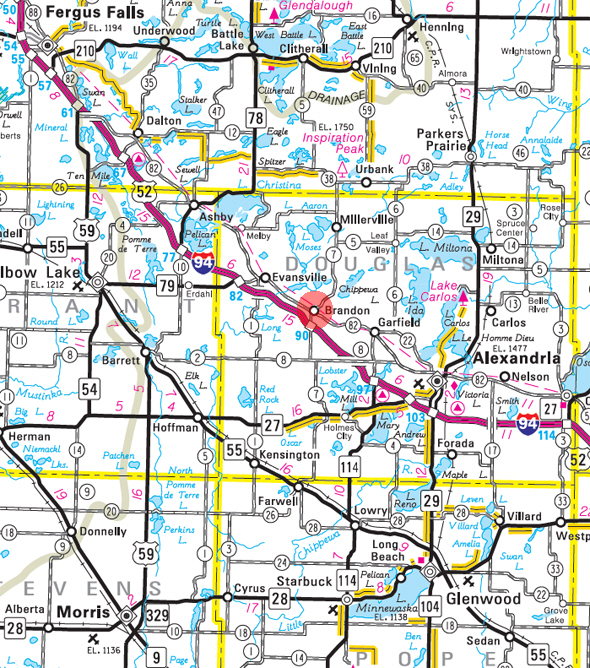 Minnesota State Highway Map of the Brandon Minnesota area
---
Events:
---
---
Attractions:
Inspiration Peak

In the southern part of Otter Tail County is a collection of glacial features known as the Leaf Hills. The highest among them is Inspiration Peak, just west of Urbank. It rises 1,750 feet, about 400 feet above the surrounding countryside Making it the highest point in the county and one of the highest points in the state of Minnesota. The vista was well-known to Sinclair Lewis. From the prairie-covered crest of the hill, he wrote, "there's to be seen a glorious 20-mile circle of some 50 lakes scattered among fields and pastures, like sequins fallen on an old paisley shawl." Lewis chided Minnesotans for not knowing the "haunts of beauty" in their own back yards
---
Recreation:
Central Lakes Trail

Get out and enjoy the beautiful gem known as the Central Lakes Trail! It begins at the southeast edge of Fergus Falls and is available for all to enjoy. This 14 foot wide, 55 mile long, nearly level, paved trail is a superb asset for residents of the region as well as visitors. It is one of the nicest paved trail corridors in the state. You will likely feel like you are in a narrow park that just keeps going on and on. The trail is built on a former railroad line stretching between Fergus Falls and Osakis. It additionally passes through the communities of Dalton, Ashby, Melby, Evansville, Brandon, Garfield, Alexandria, and Nelson. The trail traverses through, or next to, a scenic mixture of woodlands, grasslands, lakes, wetlands, and farm country.
---
Lakes:
Lake Name
Size
(acres)
Lake info
Lake Map
Rec Map
Topo Map
Aldrich
170
Amos
88
Barness
91
Brown
60
Chippewa
1,186
Devils
234
Golden Pond
26
Halluque
126
Jennie
295
Korkowski
41
Little Chippewa
269
Loves
n/a
Minister
97
Moon
139
Nelson
99
Quam
183
Stowe
376
Thorson
86
Thorstad
177
Whiskey
160
---
Health Care:
---
Schools:
---
Churches:
---
Media:
---
Motels:
Lake Country Motel
305 Central Avenue S
Brandon, MN 56315
Phone: (320) 524-2786
Check for motel rates and availability on:
---
Resorts:
Long Lake Lodge
Brandon, MN 56315
Phone: (320) 524-2755
Web: www.longlakelodge.net

Long Lake Lodge and Conference Center is a lodging, meeting, shooting sports, and hunting facility located in the heart of West Central Minnesota. The Main Lodge features a retail store, bar and restaurant facilities on the first floor. The second level, accessible by elevator, includes four bedrooms, sauna, 11-person hot tub, meeting room, and a great room with a large stone fireplace. All the rooms in the main lodge have access to the second level kitchen. The Northwoods Cabin has been fully remodeled and accommodates small groups. (4 to 7) Hunting opportunities at the licensed hunting preserve occur from September to April for pheasants and quail. No license required! Shooting enthusiasts can sharpen their skills at the lodge's sporting clay and five stand ranges.

Shady Creek Resort
14563 Lakes Road NW
Brandon, MN 56315
Phone: (320) 876-2228
Web: www.shadycreekresort.com

Shady Creek Resort lies on the banks of a creek that connects Lake Aaron and Lake Moses. It is located 7 miles north of Brandon and 2 miles west of Millerville. You will be immediately impressed by the relaxing atmosphere that surrounds it. It is 3 miles from Pine Ridge Golf Course and 5 miles from Inspiration Peak, the second highest landmark in Minnesota.

Westwood Beach Resort
10397 Chippewa Heights NW
Brandon, MN 56315
Phone: (320) 834-4090
Web: www.westwoodbeachresort.com

There is something for everyone at Westwood Beach Resort. Whether you're seeking a quiet week to relax or join in the festivities of the local community, veteran resort owners Ray and Diane Wood will ensure all your needs are met. Hang out at the resort and enjoy: sauna, playground, water trampoline, water skiing, tetherball, water volleyball, grilling, camp fire, horseshoes, open area ideal for your favorite ball game, paddle boat, and excellent fishing in Big Chippewa Lake. Westwood Beach Resort's guests also enjoy free use of the Pavillion, great for gatherings of up to 50 people.
---
Campgrounds:
---
---
Businesses:
1 Sweet Wrap
3067 County Road 15 NW
Brandon, MN 56315
Phone: (320) 815-5444
Ace Lawn Care Service
10429 County Road 7 NW
Brandon, MN 56315
Phone: (320) 834-4899
American Legion
Brandon, MN 56315
Phone: (320) 876-2269
Anderson Excavating Plumbing
108 Anderson Street
Brandon, MN 56315
Phone: (320) 834-4075
Andert's Beauty Salon
10405 Big Chippewa Road NW
Brandon, MN 56315
Phone: (320) 834-3269
Aqua Float Company
13393 Aldrich Road NW
Brandon, MN 56315
Phone: (320) 524-2782
Web: www.aquafloat.com

Certified Aqua Floats are have been manufactured for 40 years. We continue to expand the number of models of aircraft certified on our floats.(see "certified Aquas, what they go on & what they cost) Aqua now builds floats for the experimental market too--they are available fully built and ready to go on your airplane. For details see" KIT-built Aquas--doing it your way"

Arnie's Dairy Equipment
9800 Chippewa Heights NW
Brandon, MN 56315
Phone: (320) 524-2412
Austin Auto Repair
209 Front Street
Brandon, MN 56315
Phone: (320) 834-4649
Bernie's Gas & Oil
16751 County Road 7 NW
Brandon, MN 56315
Phone: (320) 876-2153
Bill Ness Construction LLC
Brandon, MN 56315
Phone: (320) 834-4702
Web: www.brandonhomebuilders.com

Bill Ness Construction LLC specializes in home remodeling, new construction, and additions for residential and commercial establishments throughout the Brandon, MN area. We deliver quality workmanship without compromise. Trust our highly skilled and professional workers to give you the highest standards of service every time. Our polite and professional staff are always ready to answer your questions, so don't hesitate to give us a call. We proudly serve Brandon, MN and surrounding areas.

Billmark's Lakes Area Insurance
105 Central Street
Brandon, MN 56315
Phone: (320) 524-2525
Web: www.billmarks.com

Billmarks Lake Area Insurance, Inc. is an independent full service insurance agency serving the greater Alexandria lakes area. We offer all types of insurance including: Personal Insurance - automobile, homeowners, seasonal homes, renters, farm owners, motorcycle, ATV, watercraft, personal umbrella liability, and collector cars. Business Insurance - contractor, commercial property, commercial general liability, business auto, bonds, employment practices and workerís compensation. Health Insurance - individual and group health insurance, medicare supplements, dental Financial Insurance - life insurance, annuities, disability Choose your best option with names like Grinnell Mutual, Allstate, Progressive, Austin Mutual, Cincinnati, North Star, Safeco, Blue Cross and Preferred One, to name a few.

Bitzan Drywall & Painting
10939 Burn Road NW
Brandon, MN 56315
Phone: (320) 834-4761
Bitzan Machine
12483 Lakes Road NW
Brandon, MN 56315
Phone: (320) 834-5302
Bob's Backhoe Service
13492 Devils Lake Road NW
Brandon, MN 56315
Phone: (320) 834-4487
Brandon Antiques
409 Front Street E
Brandon, MN 56315
Phone: (320) 834-4910
Brandon Auditorium
105 Holmes Avenue
Brandon, MN 56315
Phone: (320) 524-2260
Brandon Barber Shop
109 W Front Street
Brandon, MN 56315
Phone: (320) 834-2221
Brandon Communications
115 E Front Street
Brandon, MN 56315
Phone: (320) 524-2283
Brandon Fire Department
107 Holmes Avenue
PO Box 506
Brandon, MN 56315
Phone: (320) 524-2220
Web: public.brandonfiremn.org

The Brandon Fire Department was founded on January 4, 1889 and has been protecting the Brandon, MN area ever since. We currently serve the City of Brandon, Brandon Township and portions of Moe and Urness Townships. We protect properties valuated at over $99 million dollars.

Brandon Municipal Liquor Store
201 Front Street
Brandon, MN 56315
Phone: (320) 834-4547
Bremer Bank
113 E Front Street
Brandon, MN 56315
Phone: (320) 834-2249
Web: www.bremer.com

Bremer Bank offers banking services throughout Minnesota, Wisconsin and North Dakota. Bremer Bank also offers the convenience of internet banking for those on the go.

Brethorst Excavating
101 County Road 82 NW
Brandon, MN 56315
Phone: (320) 834-4646
Cheryl's Beauty Shop
410 5th Street E
Brandon, MN 56315
Phone: (320) 524-2471
Chippewa Farms Greenhouse
10295 Nursery Lane NW
Brandon, MN 56315
Phone: (320) 834-5111
Churchhill Creamery Apartments
102 2nd Street W
Brandon, MN 56315
Phone: (320) 834-4784
Curt's Badger Sanitary Service
14150 Edgefield Road NW
Brandon, MN 56315
Phone: (320) 876-2442
D 'N' R Sports
103 Central Avenue N
Brandon, MN 56315
Phone: (320) 524-2646
Doti's Gifts & Specialties
Brandon, MN 56315
Phone: (320) 524-2143
Douglas County Repair
203 2nd Street E
Brandon, MN 56315
Phone: (320) 834-4044
Excel Plumbing/Infloor Heating
6361 Utopia Drive NW
Brandon, MN 56315
Phone: (320) 834-6234
Financial Concepts Inc
10511 Big Chippewa Road NW
Brandon, MN 56315
Phone: (320) 834-2960
Gardonville Cooperative
800 Central Avenue N
Brandon, MN 56315
Phone: (320) 524-2211
Web: www.gctel.com

Gardonville provides service for four exchanges in west central Minnesota, servicing the towns of Garfield, Brandon, Evansville, Millerville, Erdahl, Leaf Valley and Melby. Its business office is located in Brandon, Minnesota. Gardonville is a member-owned cooperative that pays capital credits to its members.

H & R Tire Service
17429 Burlington Road NW
Brandon, MN 56315
Phone: (320) 834-4949
Hillside Styling
16540 County Road 7 NW
Brandon, MN 56315
Phone: (320) 876-2115
Hilltop Lumber
102 Central Avenue N
Brandon, MN 56315
Phone: (320) 524-2720
Web: www.hilltoplbr.com

Homeowners, contractors and do-it-yourselfers in the Alexandria, Minnesota lakes area have relied on Hilltop Lumber for over 20 years. You can depend on Hilltop Lumber for good advice, friendly prices and building products you can count on. Our knowledgeable staff dedicated to Hilltopís goal of 100 percent customer satisfaction. Once you have done business with us, you will see why you Build It Better With Hilltop Lumber!

Hobby Shop
14260 Pheasant Drive NW
Brandon, MN 56315
Phone: (320) 834-2476
Holmberg & Associates
9785 County Road 16 NW
Brandon, MN 56315
Phone: (320) 524-2456
JB Tractors
16634 County Road 156 NW
Brandon, MN 56315
Phone: (320) 876-2264
Web: www.jbtractors.com

JB tractors specializes in quality used tractors and handles a wide range of makes and models. We mainly deal in John Deere, Case-IH, New Holland and Mc Cormick. Most of our tractors are late models with low hours, they have MFWD, cab/air and new rubber all the way around. "We always have 50 tractors in stock."

Jim's Towing & Recovery
8940 County Road 16 NW
Brandon, MN 56315
Phone: (320) 834-5392
John Thoennes Trucking
10985 County Road 60 NW
Brandon, MN 56315
Phone: (320) 876-2242
Knotty Pine Bait & Gas
103 Central Avenue N
Brandon, MN 56315
Phone: (320) 524-2646
Knotty Pine Grill
103 Central Avenue N
Brandon, MN 56315
Phone: (320) 524-2814
Lake Country Assisted Living
305 Central Avenue S
Brandon, MN 56315
Phone: (320) 298-4784
Web: www.lakecountryassistedlivingmn.com

Lake Country Assisted Living Incorporated in Brandon, MN is a Class F home care provider, licenses by the State of Minnesota. Our facility is designed for those, who are 55 and older, who find it difficult to continue living in their own home, but do not require the care of a skilled nursing facility. We offer various levels of services, with the ultimate goal in promoting independence, dignity, privacy, and safety.

Lake Country Motel
305 Central Avenue S
Brandon, MN 56315
Phone: (320) 524-2786
Long Lake Lodge
Brandon, MN 56315
Phone: (320) 524-2755
Web: www.longlakelodge.net

Long Lake Lodge and Conference Center is a lodging, meeting, shooting sports, and hunting facility located in the heart of West Central Minnesota. The Main Lodge features a retail store, bar and restaurant facilities on the first floor. The second level, accessible by elevator, includes four bedrooms, sauna, 11-person hot tub, meeting room, and a great room with a large stone fireplace. All the rooms in the main lodge have access to the second level kitchen. The Northwoods Cabin has been fully remodeled and accommodates small groups. (4 to 7) Hunting opportunities at the licensed hunting preserve occur from September to April for pheasants and quail. No license required! Shooting enthusiasts can sharpen their skills at the lodge's sporting clay and five stand ranges.

Love Country Realty
505 Hayes Avenue
Brandon, MN 56315
Phone: (320) 524-2182
M/P Supermarket
111 W Front Street
Brandon, MN 56315
Phone: (320) 524-2251
Mike's Tree Service
18600 County Road 56 NW
Brandon, MN 56315
Phone: (320) 834-4403
Miles Tiling
101 County Road 82 NW
Brandon, MN 56315
Phone: (320) 524-2828
Mini Stor-All
Highway 7 N
Brandon, MN 56315
Phone: (320) 834-4845
Moe-Urness Lund Mutual Ins Co
103 E Front Street
Brandon, MN 56315
Phone: (320) 524-2294
Northern Lights Trucking Inc
804 Central Avenue N
Brandon, MN 56315
Phone: (320) 524-2800
Odyssey Steel & Trim
4550 County Road 7 NW
Brandon, MN 56315
Phone: (320) 298-4676
Web: www.odysseysteelandtrim.com

As a full-line steel manufacturer, Odyssey Steel & Trim operates using state-of-the-art machinery and technology, which offers complete accuracy. We are capable of providing steel and related products for a variety of building projects from a small fish house to a full length dairy barn. We also operate as a lumberyard offering all the materials to complete projects from start to finish. Aside from offering quality products, we also provide general contractor services that allows you to make one stop in locating quality materials as well as finding qualified individuals to complete the project. We strive to accommodate schedules, deadlines, and unexpected needs by contractors and individuals alike.

Off The Eatin Path Restaurant
16410 County Road 7 NW
Brandon, MN 56315
Phone: (320) 876-2244
One Sweet Wrap
3067 County Road 15 NW
Brandon, MN 56315
Phone: (320) 834-4680
Ostlund Hardware Hank
104 N Central Avenue
Brandon, MN 56315
Phone: (320) 524-2298
Paradigm Tool & Design
101 County Road 82 NW
Brandon, MN 56315
Phone: (320) 524-2191
Patt's Hair Den
311 3rd Street
Brandon, MN 56315
Phone: (320) 524-2469
Pioneer Orchards
16533 Pioneer Park Road SW
Brandon, MN 56315
Phone: (320) 834-4546
Pro Ag Farmer Cooperative
204 Front Street
Brandon, MN 56315
Phone: (320) 524-2286
Pro-Ag Farmers Co-Op
104 E Front Street
Brandon, MN 56315
Phone: (320) 524-2285
Process Thermal Dynamics Inc
801 Central Avenue N
Brandon, MN 56315
Phone: (320) 834-3373
Protherm Inc
801 Central Avenue N
Brandon, MN 56315
Phone: (320) 834-3370
Quality Upholstery
105 Nelson Avenue
Brandon, MN 56315
Phone: (320) 524-2330
Randen Cafe
107 Central Avenue N
Brandon, MN 56315
Phone: (320) 834-4070
Randt Trucking
13241 County Road 58 NW
Brandon, MN 56315
Phone: (320) 834-4778
Realty Executives Lake & Home
113 E Front Street
Brandon, MN 56315
Phone: (320) 524-2131
Roers Auction Service
19734 County Road 7 NW
Brandon, MN 56315
Phone: (320) 876-2200
Schaffer Machine Inc
12358 County Road 60 NW
Brandon, MN 56315
Phone: (320) 834-4502
Schiele Auction Service
202 Central Avenue S
Brandon, MN 56315
Phone: (320) 524-2605
Shady Creek Resort
14563 Lakes Road NW
Brandon, MN 56315
Phone: (320) 876-2228
Silbernick Accounting
113 E Front Street
Brandon, MN 56315
Phone: (320) 524-2666
Strom Construction of Brandon
411 2nd Street E
Brandon, MN 56315
Phone: (320) 834-4414
Superior Skidloader Dump Truck
13357 Lakes Road NW
Brandon, MN 56315
Phone: (320) 876-2405
Tasto Lawn & Dock Service
207 Holmes Avenue
Brandon, MN 56315
Phone: (320) 808-1111
Web: www.tastolawnanddock.com

For all your lawn care and dock services needs, contact Tasto Lawn & Dock Service of Brandon, MN. Our company offers quality lawn care maintenance and dock services to the Alexandria, MN and surrounding areas. With fully insured crew, we can assure 100% customer satisfaction. We also offer a free estimate. Snow removal and annual programs are available.

US Post Office
101 E Front Street
Brandon, MN 56315-4502
Phone: (320) 834-4789
Toll Free: (800) ASK-USPS
Web: www.usps.com
Vanalphen Transport
PO Box 131
Brandon, MN 56315
Phone: (320) 834-4463
Voyager Aluminum
803 Central Avenue N
PO Box 566
Brandon, MN 56315
Phone: (320) 834-4940
Web: www.voyageraluminum.com

VoyageR Aluminum is your "One Stop Aluminum Shop". We provide everything from your basic & custom extrusions to sheets & fabricated parts. VoyageR Aluminum has what you need for all the projects you need completed!

Wagner Country Club
7451 County Road 7 NW
Brandon, MN 56315
Phone: (320) 524-2464
Wagner Fran Gravel
804 Central Avenue N
Brandon, MN 56315
Phone: (320) 524-2393
Wagner Plumbing
14563 Lakes Road NW
Brandon, MN 56315
Phone: (320) 876-2228
Wagner Trucking Inc
15380 Long Lake Road
Brandon, MN 56315
Phone: (320) 834-4497
Wagner's Lock & Store
14563 Lakes Road NW
Brandon, MN 56315
Phone: (320) 876-2228
West Central Title Company
19508 Twin Lakes Road NW
Brandon, MN 56315
Phone: (320) 834-4705
Westwood Beach Resort
10397 Chippewa Heights NW
Brandon, MN 56315
Phone: (320) 524-2221
Wood Realty Inc
10397 Chippewa Heights NW
Brandon, MN 56315
Phone: (320) 834-4090
Zimmerman Tree Moving
10723 Big Chippewa Road NW
Brandon, MN 56315
Phone: (320) 834-3570
---
---
Aerial Photo:
---
Topographic Map: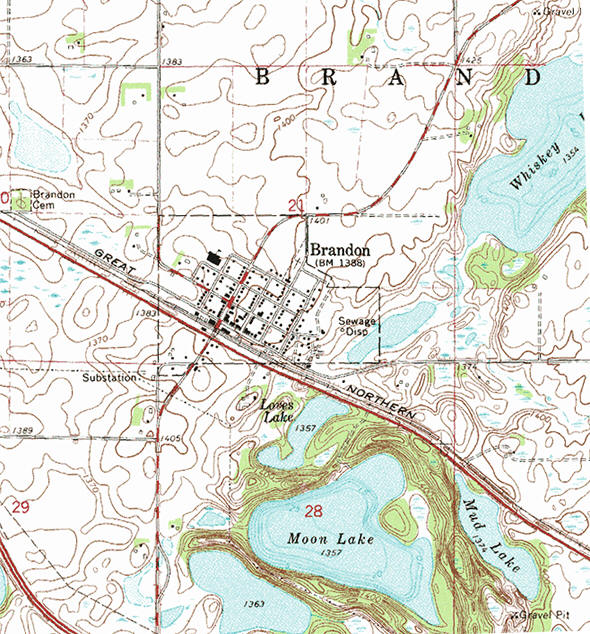 Topographic map is courtesy of the Minnesota DNR -
click map
to zoom or enlarge