Navigation
LakesnWoods.com
Home Page
Contact Us
Privacy
Minnesota History Shop

Visit The Minnesota History Shop
www.minnesotahistoryshop.com
Historic maps
Historic books
Historic framed art
Historic postcards
Clothing with historic images
And much more!!!


Zumbrota Guide:
Photo Gallery
Location
Geography
Demographics
History
Government
Post Office
News
Weather
Street Map
Events
Attractions
Recreation
Lakes
Health Care
Schools
Churches
Media
Motels
Resorts
Campgrounds
Food and Drink
Retail Shops
Businesses
Aerial Photo
Topographic Map
© 2004-2022
Lakeweb1 Internet Services
All Rights Reserved
DCMA, Defamation, Copyright and Trademark Infingement Policy
WANTED!
Do you have photos, historical accounts or other items pertaining to the Zumbrota area? Would you like to share this historical information with the world? LakesnWoods.com would like to publish your Zumbrota photos (current or historical) or historical accounts on this website. Original materials can be returned and your privacy will be respected.

Zumbrota Minnesota Community Guide
---
Location:
---
Population:
Zumbrota (city)
1970
1980
1990
2000
2010
2000-2010 Change
Actual
Percent
Population
1,929
2,129
2,312
2,789
3,252
+463
+16.60
Land Area (sq. mile)
1.50
2.02
2.02
1.97
2.68
+0.71
+36.04
Density (persons per sq. mile)
1,286.0
1,054.0
1,144.6
1,412.6
1,218.0
-194.57
-13.77
Housing Units
693
872
956
1,191
1,437
+246
+20.65
Households
--
848
931
1,141
1,349
+208
+18.23
Persons Per Household
--
2.43
2.41
2.40
2.41
+0.01
+0.42
---
Geography:
Zumbrota is a city in Goodhue County, Minnesota, along the North Fork of the Zumbro River. The population was 2,789 at the 2000 census. It promotes itself as "the only Zumbrota in the world." Zumbrota is the home of the Zumbrota Covered Bridge, the last structure of its kind in the state of Minnesota. U.S. Route 52 and Minnesota State Highways 58 and 60 are the three main highways in the city. According to the United States Census Bureau, the city has a total area of 2.68 square miles (6.94 km²), all of it land. The elevation is 991 ft (302 m) above sea level.
From Wikipedia, the free encyclopedia.
---
Demographics:
---
---
History:
The city in Zumbrota and Minneola Townships was incorporated as a village on February 14, 1877. Its first store was erected in October 1856 by Thomas P. Kellett, who became the first postmaster in 1857; other businesses included a cheese factory, mills, elevators, and a creamery. The city was the site of the 1857 Zumbrota Covered Bridge, the only existing covered bridge in Minnesota and the first bridge built over the North Branch of the Zumbro River. Flood damage in 1863, 1865, and 1869 required extensive replacement of bridge sections, the latter year's work remaining until 1932 when the bridge was removed to the fairgrounds.
Courtesy Minnesota Historical Society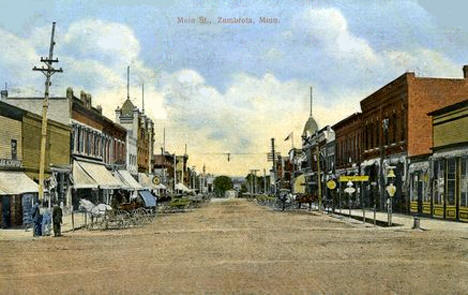 Main Street, Zumbrota Minnesota, 1912
LakesnWoods.com Postcard and Postcard Image Collection

Visit The Zumbrota Photo Gallery for many more recent and historic area photos

---
Government:
Zumbrota City Hall
175 West Avenue
Zumbrota, MN 55992


Phone: (

507) 732-7318


Fax: (

507) 732-7884

Regular Business Hours:
Monday - Friday 7:00 am - 530 pm

City Council Meetings:
1st and 3rd Thursdays at 6:00 pm at City Hall

City
Terms Ends:
Name & Address:
Phone:

Mayor

12/31/2022
Todd Hammel
590 Sequoia Lane
Zumbrota, MN 55992
(507) 259-7298
City Administrator
appointed
Brian Grudem
175 West Avenue
Zumbrota, MN 55992
(507) 732-7318

Council Member

12/31/2022
Chris Horvath
240 13th Street E
Zumbrota, MN 55992
(507) 732-4087
(612) 483-5630

Council Member

12/31/2022
Kristina (Tina) Hostager
1245 West Avenue
Zumbrota, MN 55992
(507) 398-8259

Council Member

12/31/2024
Sara Durhman
386 Main Street
Zumbrota, MN 55992


(507) 732-4191
(507) 259-2520

Council Member

12/31/2024
Bob Prigge
740 Willowmere Drive
Zumbrota, MN 55992
(507) 272-1692
State
MN House - District 21B
12/31/2022
Rep. Steve Drazkowski (R)
327 State Office Building
St. Paul, MN 55155


(651) 296-2273
(651) 564-0638
MN Senate - District 21
12/31/2024
Senator Michael P. Goggin (R)
Minnesota Senate Bldg. Rm 3203
St. Paul, MN 55155


(651) 296-5612
MN Governor
12/31/2022
Governor Tim Walz
75 Rev Dr. Martin Luther King Jr.
St. Paul, MN 55155


(651) 201-3400
(800) 657-3717
Federal
US House - District 2
12/31/2022
Angie Craig (DFL)
2442 Rayburn HOB Washington, DC 20515


(202) 225-2271
US Senate
12/31/2022
Amy Klobuchar (DFL)
425 Dirksen Senate Building
Washington, DC 20510


(202) 224-3244
US Senate
12/31/2022
Tina Smith (DFL)
720 Hart Senate Office Bldg.
Washington, DC 20510


(202) 224-5641
US President
12/31/2024
Joe Biden (D)
1600 Pennsylvania Avenue NW
Washington, DC 20500


not available
---
Post Office:
US Post Office
138 W 5th Street
Zumbrota, MN 55992-1651
Phone: (507) 732-5515
Toll Free: (800) ASK-USPS
Fax: (507) 732-5515

Regular Business Hours:
Week Days 9:00 am - 4:30 pm
Saturday 9:00 am - 11:00 am
---
---
Utilities:
---
Major Employers:
---
---
News:
---
Weather:
---
Map: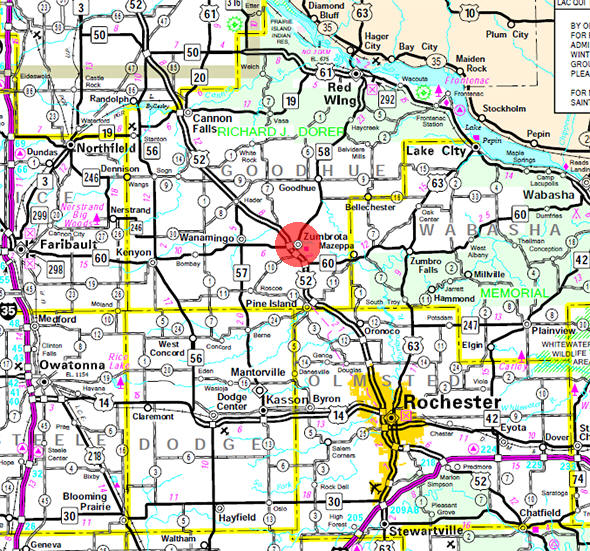 Minnesota State Highway Map of the Zumbrota Minnesota area
---
Events:
---
---
Attractions:
---
Recreation:
---
Lakes:
---
Health Care:
---
SchoolsSchools:
---
Churches:
---
Media:
---
Motels:
Check for motel rates and availability on:
---
Resorts:
---
Campgrounds:
---
---
Food and Drink:
---
Retail Shops:
---
Businesses:
---
---
Aerial Photo:
---
Topographic Map: [click map to enlarge, zoom in or zoom out]