Navigation
LakesnWoods.com
Home Page
Contact Us
Privacy
Minnesota History Shop

Visit The Minnesota History Shop
www.minnesotahistoryshop.com
Historic maps
Historic books
Historic framed art
Historic postcards
Clothing with historic images
And much more!!!


Wykoff Guide:
Photo Gallery
Location
Geography
Demographics
History
Government
Post Office
News
Weather
Street Map
Events
Attractions
Recreation
Lakes
Health Care
Schools
Churches
Media
Motels
Resorts
Campgrounds
Food and Drink
Retail Shops
Businesses
Aerial Photo
Topographic Map
© 2004-2023
Lakeweb1 Internet Services
All Rights Reserved
DCMA, Defamation, Copyright and Trademark Infingement Policy
WANTED!
Do you have photos, historical accounts or other items pertaining to the Wykoff area? Would you like to share this historical information with the world? LakesnWoods.com would like to publish your Wykoff photos (current or historical) or historical accounts on this website. Original materials can be returned and your privacy will be respected.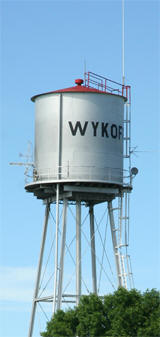 Wykoff Minnesota Community Guide
---
Location:
---
Population:
Wykoff (city)
1970
1980
1990
2000
2010
2000-2010 Change
Actual
Percent
Population
450
482
493
460
444
-16
-3.48
Land Area (sq. mile)
0.60
0.85
0.93
0.95
0.95
0
0.00
Density (persons per sq. mile)
750.00
567.06
530.11
483.99
467.37
-16.62
-3.43
Housing Units
172
192
210
216
217
+1
+0.46
Households
--
185
198
207
198
-9
-4.35
Persons Per Household
--
2.61
2.49
2.22
2.24
+0.02
+0.90
---
Geography:
Wykoff is a city in Fillmore County, Minnesota. According to the United States Census Bureau, the city has a total area of 0.96 square miles (2.49 km˛), all of it land. State Highway 80 and Fillmore County Road 5 are major arterials. The elevation is 1,322 feet (403 meters).
From Wikipedia, the free encyclopedia.
---
Demographics:
As of the census of 2010, there were 444 people, 198 households, and 126 families residing in the city. The population density was 462.5 inhabitants per square mile (178.6/km2). There were 217 housing units at an average density of 226.0 per square mile (87.3/km2). The racial makeup of the city was 98.9% White, 0.2% African American, 0.2% Native American, 0.2% Asian, and 0.5% from two or more races.
There were 198 households of which 24.7% had children under the age of 18 living with them, 48.5% were married couples living together, 8.6% had a female householder with no husband present, 6.6% had a male householder with no wife present, and 36.4% were non-families. 27.8% of all households were made up of individuals and 11.1% had someone living alone who was 65 years of age or older. The average household size was 2.24 and the average family size was 2.75.
The median age in the city was 44 years. 21.4% of residents were under the age of 18; 7.1% were between the ages of 18 and 24; 22.5% were from 25 to 44; 28.7% were from 45 to 64; and 20.5% were 65 years of age or older. The gender makeup of the city was 48.2% male and 51.8% female.
---
---
History:
WYKOFF, a city in Fillmore Township, sections 21, 22, 27, and 28, platted in 1871 and incorporated March 8, 1876, commemorates Cyrus G. Wykoff of La Crosse, Wis., who was the surveyor for construction of this railway and was one of the proprietors of this townsite. Its post office began in 1858 as Free Soil Prairie, changing to Wykoff in 1871.
Courtesy Minnesota Historical Society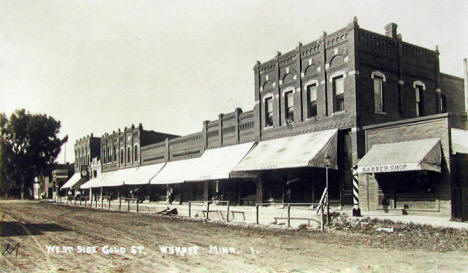 West side of Gold Street, Wykoff Minnesota, 1921
LakesnWoods Postcard Collection - click image to enlarge

Visit The Wycoff Photo Gallery for more recent and historic area photos
---
Government:
Wykoff City Hall
217 Gold Street N
PO Box 218
Wykoff, MN 55990
Phone: (507) 352-4011
Fax: (507) 352-2415

Regular Business Hours:
Monday - Thursday 8:00 am - 3:00 pm

City Council Meetings:
2nd Monday of the month at 7:00 pm


Title
Term Ends
Name and Address
Phone
Mayor
12/31/2022
Alan Dean Williams
200 Fillmore Street E
Wykoff, MN 55990
(507) 352-5791
appointed
Rebecca Schmidt
PO Box 218
Wykoff, MN 55990
(507) 352-4011
Council Member
12/31/2022
Lyle Morey
112 Main Street - PO Box 36
Wykoff, MN 55990
(507) 352-2040
Council Member
12/31/2022
Richard Gleason
408 Line Street N
Wykoff, MN 55990
(507) 208-3245
Council Member
12/31/2024
Ryan Breckenridge
207 Gold Street S
Wykoff, MN 55990
(507) 421-1272
Council Member
12/31/2024
Barbara Fate
317 South Street E
Wykoff, MN 55990
(507) 272-8288
State
MN House - District 28B
12/31/2022
Rep. Gregory Davids (R)
283 State Office Building
St. Paul, MN 55155


(651) 296-9278
(507) 951*3893
MN Senate - District 28
12/31/2024
Senator Jeremy Miller (R)
Minnesota Senate Bldg. Rm 3203
St. Paul, MN 55155


(651) 296-5649
MN Governor
12/31/2022
Governor Tim Walz
75 Rev Dr. Martin Luther King Jr.
St. Paul, MN 55155


(651) 201-3400
(800) 657-3717
Federal
US House - District 1
12/31/2022
Jim Hagedorn (R)
1433 Longworth HOB Washington, DC 20515


(202) 225-2472
US Senate
12/31/2022
Amy Klobuchar (DFL)
425 Dirksen Senate Building
Washington, DC 20510


(202) 224-3244
US Senate
12/31/2022
Tina Smith (DFL)
720 Hart Senate Office Bldg.
Washington, DC 20510


(202) 224-5641
US President
12/31/2024
Joe Biden (D)
1600 Pennsylvania Avenue NW
Washington, DC 20500


not available
---
Post Office:
US Post Office
110 Gold Street N
Wykoff, MN 55990-8734
Phone: (507) 352-5131
Toll Free: (800) ASK-USPS

Regular Business Hours:
Week Days 11:00 am - 3:00 pm
Saturday 10:15 am - 12:00 pm


---
---
Utilities:
---
Major Employers:
Employer
Products/Services

Employees

not available
---
---
News:
---
Weather:
---
Map: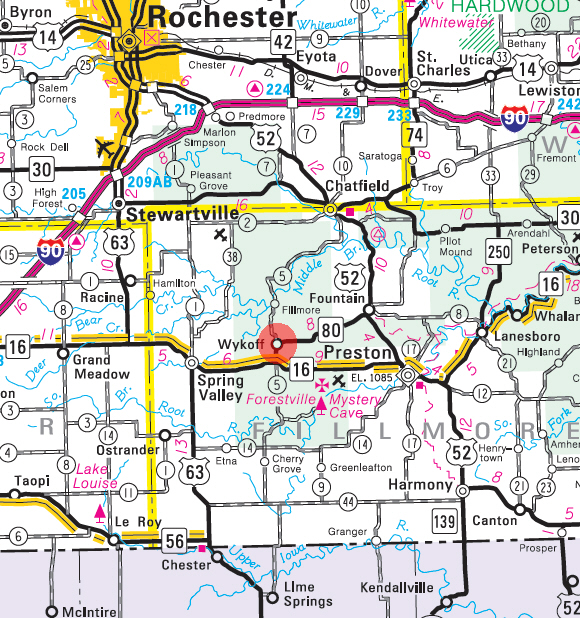 Minnesota State Highway Map of the Wykoff Minnesota area
---
Events:
Wykoff Fall Fest

3rd weekend in September



Wykoff Fest is on and ready for fun! It all starts Saturday with a Pumpkin Bake-off, Treasure Hunt and a Kiddie Pirate Parade! That is just some of the amazing events going on Saturday morning! Don't forget the Parade from 11am - Noon, music from New Blue Denim Farmers and Casey and the Good Times from 12-2 and 2-4! The fun continues in the afternoon with the Bouncy House at the city playground from Noon - 2pm, Ice Cream Social from 12-3 at the Fire hall and Bingo at the City Hall Meeting Room from 12:30-1:30pm! The Dance starts at 7:30 and goes till 11:30 with Greg hall & The Wrecking Ball! Sunday has Breakfast at the Community Center, the tractor pull starting at 12:30pm, the Chili Feed at the community center from 3-7pm and the raffle drawing at 7!
---
---
Attractions:
Ed's Museum
100 S Gold Street
Wykoff, MN 55990
Phone: (507) 352-4205

Visit Ed's Museum, a former Jack Sprat grocery store owned by Ed Krueger, Wykoff's historian and self appointed collector of Wykoff memorabilia. Open from Memorial Day weekend until last weekend of September


Forestville/Mystery Cave State Park
21071 County 118
Preston, MN 55965
Phone: (507) 352-5111



Mystery Cave is the longest cave in Minnesota, with over 13 miles of underground passages! Each guided tour takes you underground through different areas, and showcases scenic pools and a variety of cave formations. Choose from scenic, lantern, geology, photography, and wild caving tours.




Historic Forestville
21899 County Road 118
Preston, MN 55965
Phone: (507) 765-2785



Stop by Historic Forestville, a restored 1800s village operated by the Minnesota Historical Society (MHS). Fish three blue-ribbon trout streams for brown trout. Take in the soft pastels of wildflowers in spring or listen to ruffed grouse drumming and wild turkeys gobbling. Hike or bring your horse to ride the ridge tops and stream valleys. Observe interesting geologic features along the way including sinkholes and dramatic Big Spring. In the fall, don't miss the bold colors of the forest. Winter invites visitors to ski or snowmobile the Bluff Country.




Wykoff Balsam Fir Scientific and Natural Area
County Highway 8
Spring Valley, MN 55975



Wykoff Balsam Fir SNA is located in southeastern Minnesota's Driftless Area, a region of high topographic relief that escaped the scouring effects of the most recent (Wisconsin) glaciation and its overburden of till. Limestone or dolomite bedrock tends to be at or near the surface, often deeply dissected by streams. Surface water and groundwater interact relatively freely through sinkholes and fissures in the bedrock.




Wykoff Veterans Memorial
234 Line Street S
Wykoff, MN 55990



---
Recreation:
---
Lakes:
Lake Name
Size
(acres)
Lake info
Lake Map
Rec Map
Topo Map
none in the immediate area
---
Health Care:
---
Schools:
Kingsland Public Schools
Independent School District #2137
705 N Section Avenue
Spring Valley, MN 55975
Phone: (507) 346-7276
Fax: (507) 346-7278



Kingsland Public Schools was created in 1992 through the combined efforts and vision of two distinct communities, Spring Valley and Wykoff. The newly formed district is committed to providing a quality educational experience for each student



Grades: PK-12
Students: 600


Kingsland High School
705 N Section Avenue
Spring Valley, MN 55975
Phone: (507) 346-7276

Grades: 7-12
Students: 266


Kingsland Elementary School
409 S Broadway Street
Spring Valley, MN 55975
Phone: (507) 346-7358

Grades: PK-6
Students: 342


Kingsland Middle School
201 Bartlett Street W
Wykoff, MN 55990
Phone: (507) 352-2731

Grades: n/a
Students: n/a

Closed June 2018


St. John's Lutheran School
245 Line Street S
Wykoff, MN 55990
Phone: (507) 352-4671

Grades: PK-8
Students: 48


---
Churches:
---
Media:
---
Motels:
Historic Wykoff Jail Haus Bed and Breakfast
217 N Main Street
Wykoff, MN 55990
Phone: (507) 352-4205

1913 City Jail restored to an attractive & comfortable Bed and Breakfast. Unique, cozy, private accommodations for a couple or the family .......You will surely enjoy your night in jail! Breakfast coupon can be used at the local diner, the Gateway Inn. And while you're in town ask (at the Bank Gift Haus) about a tour of Ed's Museum.


Check for motel rates and availability on:
---
Resorts:
---
Campgrounds:
---
---
---
Retail Shops:
---
Businesses:
Bremseth Body Shop
402 Front Street E
Wykoff, MN 55990
Phone: (507) 352-7596

We are a full service body shop owned and operated by John and Cory Bremseth. Specializing in the restoration of classic automobiles, we've been handcrafting beautiful cars since 1991. John and Cory have decades experience restoring and repairing a wide range of classic vehicles; foreign and domestic. The list of vintage American muscle cars restored by Bremseth Body Shop is endless with examples such as Ford Shelby Mustangs, Dodge Vipers, Chevrolet Chevelles, Mercury Cougar Eliminators, Chevrolet Corvettes and many more.


CHS Rochester Elevator
216 Front Street E
Wykoff, MN 55990
Phone: (507) 352-5281

Our cooperative is one of many company-owned, locally governed service centers that are part of CHS Inc., a highly respected and financially stable Fortune 100 company committed to delivering value. Our member-owners and customers are connected from locations close to home in southeast Minnesota and northeast Iowa to essential global markets.


CSC Towing and Repair
203 Front Street E
Wykoff, MN 55990
Phone: (507) 352-3200


Concrete Construction
501 Fillmore Street E
Wykoff, MN 55990
Phone: (507) 259-8945


Denny's Trailer Sales
18880 County Road 8
Wykoff, MN 55990
Phone: (507) 352-5491

Denny's Trailer Sales is a family owned and operated business established in 1986, and located 3.5 miles north of Wykoff, Minnesota, by the village of Fillmore. We take pride in our customer service and satisfaction in this low pressure atmosphere. We have a large selection of trailers as well as a full service repair facility with over 20 years experience. We have a large selection of horse and stock trailers, new and used.


Dianne's Family Hair Quarters
306 Pearl Street E
Wykoff, MN 55990
Phone: (507) 352-2511


Dreamacres Farm
17289 County Road 8
Wykoff, MN 55990
Phone: (507) 352-4255

DreamAcres is an off-the-grid, organic farmstead that offers educational and cultural programs, and grows and produces darn good food. The farm is home of the Dreamery Rural Arts Initiative, a nonprofit which puts on Flourish Summer Camp, True Leaf and Thunderground Retreats along with many other events and performances throughout the summer months. In addition, the farm hosts school and family retreats, and facilitates custom-planned workshops in appropriate and alternative technologies.


Ed's Museum
100 S Gold Street
Wykoff, MN 55990
Phone: (507) 352-4205

Visit Ed's Museum, a former Jack Sprat grocery store owned by Ed Krueger, Wykoff's historian and self appointed collector of Wykoff memorabilia. Open from Memorial Day weekend until last weekend of September


Farmers Cooperative Dryers
315 Fillmore Street E
Wykoff, MN 55990
Phone: (507) 352-4701


Fillmore Sawmill Corporation
19277 County Road 8
Wykoff, MN 55990
Phone: (507) 352-6546

Custom sawing, Custom Lumber Orders, Firewood, Slabwood, Sawmill/Forestry Equipment


Gateway Restaurant
118 Gold Street N
Wykoff, MN 55990
Phone: (507) 352-4221


Goodies & Gas
104 E Front Street
Wykoff, MN 55990
Phone: (507) 352-2421

Wykoff Short Stop is a gas station and convenience store in Wykoff, MN. We are the closest grocery and gas station to Forestville State Park.


Hindt - Hudek Funeral Home
123 Gold Street N
Wykoff, MN 55990
Phone: (507) 352-4201



Losing a loved one is never easy. When people experience loss, they need a strong support network to provide comfort and offer encouragement. Jim Hindt and Katie Hudek are here to support you through this difficult time.




Historic Wykoff Jail Haus Bed and Breakfast
217 N Main Street
Wykoff, MN 55990
Phone: (507) 352-4205

1913 City Jail restored to an attractive & comfortable Bed and Breakfast. Unique, cozy, private accommodations for a couple or the family .......You will surely enjoy your night in jail! Breakfast coupon can be used at the local diner, the Gateway Inn. And while you're in town ask (at the Bank Gift Haus) about a tour of Ed's Museum.


Homestead Insurance and Financial Services
106 Gold Street N
Wykoff, MN 55990
Phone: (507) 352-8000

Why Homestead? Customized Protection With over 30 A rated companies compared, you'll get an insurance package tailored to your needs. Local Expertise Having grown up on a farm, Steve knows it's more than a job – it's who you are. Small-Town Service Friendly, personal, and just down the road. Or if you prefer, we can come to you.


Kelmar Studios
116 Gold Street N
Wykoff, MN 55990
Phone: (507) 352-5356


Kidd's Massage & Bodyworks Inc
106 Gold Street N # 1
Wykoff, MN 55990
Phone: (507) 352-7242


LKQ Heavy Truck
125 South Gold Street
Wykoff MN 55990
Phone: (507) 352-2435

Located in the rural southeast of Minnesota, LKQ Heavy Truck Wykoff, MN has a 15-acre heavy truck salvage yard filled with all the parts you need. In addition to Minnesota, we can also help you get your heavy truck parts in Iowa and Wisconsin too! Starting as a repair shop in 1940, LKQ Heavy Truck Wykoff has the experience and knowledge to help our customers with parts for repairs and more. With our highly-qualified retail truck sales department, we can assist in meeting all of your heavy-duty truck needs.


Mike Holzer Construction
214 E Fillmore Street
Wykoff MN 55990
Phone: (507) 951-8594


Minnwest Bank
101 Gold Street S
Wykoff, MN 55990
Phone: (507) 352-2321

Trust a family-owned banking operation that knows first-hand the challenges and risks you face and is committed to putting their customers first. We're big enough to get big deals done and small enough to truly listen and work with you as you work toward your goals. Most importantly, we're building lasting relationships with doers like you


Pete's Auction & Photo Inc
25664 County Road 5
Wykoff, MN 55990
Phone: (507) 352-4162

Since being established in 1956, Pete's Auction & Photo has been providing Internationally recognized Photography and Auctioneering Services. Some of our livestock photographs have graced the covers of Holstein World and other prominent publications.


Shooter's On & Off Sale
113 Gold Street N
Wykoff, MN 55990
Phone: (507) 352-2281

Shooters is your friendly hometown bar. I take pride that my customers are not just customers they are family, Pull tabs, Pool and Darts:-)


Stender Enterprises
215 S Line Street
Wykoff, MN 55990
Phone: (507) 438-5583



Plumbing, Heating, Air conditioning, Water Conditioning, Custom Sheetmetal work




Stevenson Insurance
100 Gold Street N
Wykoff, MN 55990
Phone: (507) 352-4224

We are an Independent Insurance Agency, which means we have made available some of our best companies for your online quick quotes.


US Post Office
110 Gold Street N
Wykoff, MN 55990-8734
Phone: (507) 352-5131
Toll Free: (800) ASK-USPS


Wykoff Coffee & Confections
105 Gold Street N
Wykoff, MN 55990
Phone: (507) 352-3000



Coffee, espresso, latte, cappuccino, as welll as pastries, soup & sandwich lunch, fudge, giftables, and so much more!




Wykoff Community Hall
226 Gold Street N
Wykoff, MN 55990
Phone: (507) 352-4685


---
---
Aerial Photo:
---
Topographic Map: [click map to enlarge, zoom in or zoom out]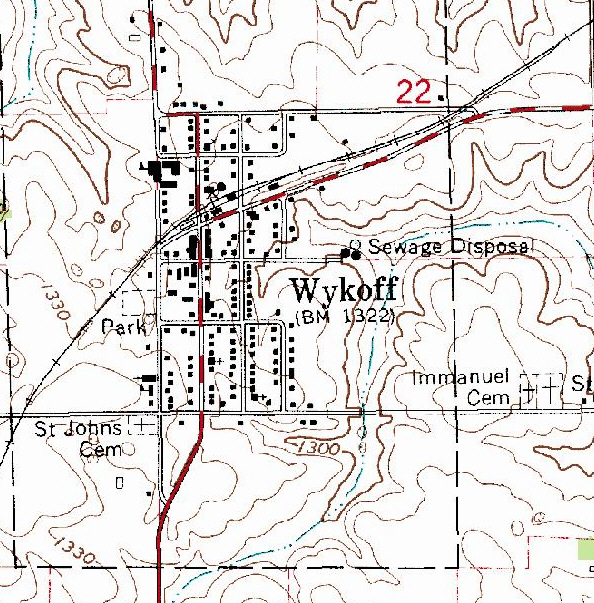 Topographic map is courtesy of the Minnesota DNR - click map to zoom or enlarge