Navigation
LakesnWoods.com
Home Page
Contact Us
Privacy
Minnesota History Shop

Visit The Minnesota History Shop
www.minnesotahistoryshop.com
Historic maps
Historic books
Historic framed art
Historic postcards
Clothing with historic images
And much more!!!


Wolverton Guide:
Photo Gallery
Location
Geography
Demographics
History
Government
Post Office
News
Weather
Street Map
Events
Attractions
Recreation
Lakes
Health Care
Schools
Churches
Media
Motels
Resorts
Campgrounds
Businesses
Aerial Photo
Topographic Map
© 2004-2022
Lakeweb1 Internet Services
All Rights Reserved
DCMA, Defamation, Copyright and Trademark Infingement Policy
WANTED!
Do you have photos, historical accounts or other items pertaining to the Wolverton area? Would you like to share this historical information with the world? LakesnWoods.com would like to publish your Wolverton photos (current or historical) or historical accounts on this website. Original materials can be returned and your privacy will be respected.

Wolverton Minnesota Community Guide
---
Location:
---
Population:
Wolverton (city)
1970
1980
1990
2000
2010
2000-2010 Change
Actual
Percent
Population
171
177
158
122
142
+20
+16.39
Land Area (sq. mile)
0.00
0.24
0.22
0.28
0.28
0
0.00
Housing Units
74
88
72
73
67
-6
-8.22
Households
--
74
61
55
58
+3
+5.45
Persons Per Household
--
2.39
2.59
2.22
2.45
+0.23
+10.36
---
Geography:
Wolverton is a city in Wilkin County, Minnesota. US Highway 75 and County Road 30 are major routes in the community. According to the United States Census Bureau, the city has a total area of 0.28 square miles (0.73 km2), all of it land. The elevation is 932 feet (284 m).
From Wikipedia, the free encyclopedia.
---
Demographics:
As of the census of 2010, there were 142 people, 58 households, and 39 families residing in the city. The population density was 507.1 inhabitants per square mile (195.8/km2). There were 67 housing units at an average density of 239.3 per square mile (92.4/km2). The racial makeup of the city was 95.8% White and 4.2% from two or more races.
There were 58 households of which 27.6% had children under the age of 18 living with them, 60.3% were married couples living together, 3.4% had a female householder with no husband present, 3.4% had a male householder with no wife present, and 32.8% were non-families. 31.0% of all households were made up of individuals and 12% had someone living alone who was 65 years of age or older. The average household size was 2.45 and the average family size was 3.05.
The median age in the city was 34 years. 28.9% of residents were under the age of 18; 3.5% were between the ages of 18 and 24; 30.9% were from 25 to 44; 21.7% were from 45 to 64; and 14.8% were 65 years of age or older. The gender makeup of the city was 52.1% male and 47.9% female.
---
---
History:
The city of Wolverton was incorporated as a village on April 24, 1913, and separated from the township on March 10, 1936; the townsite in section 28 was platted in 1884. Its post office (1878-81) began at the trading post called Miller's Station operated by Louis M. Miller in his home; it was then changed to Miller in 1881 and to Jacksville, 1881-86; in 1887 the name was changed to the present; it had a station of the Great Northern Railway.
Courtesy Minnesota Historical Society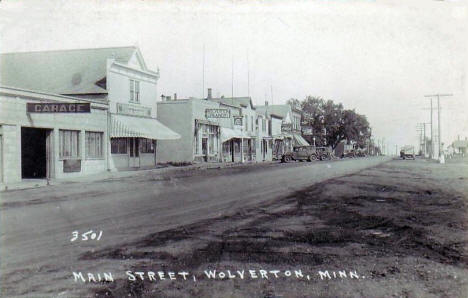 Main Street, Wolverton Minnesota, 1920s
LakesnWoods.com Postcard and Postcard Image Collection - click to enlarge

Visit The Wolverton Photo Gallery for more recent and historic area photos
---
Government:
Wolverton City Hall
301 Highway 75
PO Box 7
Wolverton, MN 56594
Phone: (218) 995-2526
Fax: (218) 995-2524

Regular Business Hours:
vary, call for hours

City Council Meetings:
2nd Tuesday of each month at 6:15 pm



City
Term Ends
Name and Address
Phone
Mayor
12/31/2022
Nancy Olthoff
209 2nd Street
Wolverton, MN 56594
(701) 361-2253
Clerk/Treasurer
appointed
Jesse Kappes
301 Highway 75 - PO Box 7
Wolverton, MN 56594
(218) 995-2526
Council Member
12/31/2022
Chad W. Erickson
115 1st Street
Wolverton, MN 56594
(218) 995-2456
Council Member
12/31/2022
Geoffrey Zibell
105 Lind Avenue
Wolverton, MN 56594
(701) 200-5506
Council Member
12/31/2024
Lisa Pool
121 1st Street - PO Box 55
Wolverton, MN 56594
(701) 893-5659
Council Member
12/31/2024
Luke Kratzer
PO Box 97
Wolverton, MN 56594
(218) 995-2220
State
MN House - District 12A
12/31/2022
Jeff Backer (R)
369 State Office Building
St. Paul, MN 55155


(651) 296-4929
(701) 361-1909
MN Senate - District 12
12/31/2024
Torrey Westrom (R)
Minnesota Senate Bldg. Rm 3201
St. Paul, MN 55155


(651) 296-0556
(218) 685-6299
MN Governor
12/31/2022
Governor Tim Walz
75 Rev Dr. Martin Luther King Jr.
St. Paul, MN 55155


(651) 201-3400
(800) 657-3717
Federal
US House - District 7
12/31/2022
Michelle Fischbach (R)
1237 Longworth HOB Washington, DC 20515


(202) 225-2165
(218) 422-2090
US Senate
12/31/2022
Amy Klobuchar (DFL)
425 Dirksen Senate Building
Washington, DC 20510


(202) 224-3244
US Senate
12/31/2022
Tina Smith (DFL)
720 Hart Senate Office Bldg.
Washington, DC 20510


(202) 224-5641
US President
12/31/2024
Joe Biden (D)
1600 Pennsylvania Avenue NW
Washington, DC 20500


not available
---
Post Office:
US Post Office
333 S Highway 75
Wolverton, MN 56594
Phone: (218) 995-2062

Regular Business Hours:
Week Days 9:00 am - 12:00 pm
Saturday 8:30 am - 9:30 am
---
---
Utilities:
---
Major Employers:
Employer
Products/Services
Employees

n/a
---
---
News:
---
Weather:
---
Map:

Minnesota State Highway Map of the Wolverton Minnesota area
---
Events:
---
Attractions:
---
Recreation:
---
Lakes:
Lake Name
Size
(acres)
Lake info
Lake Map
Rec Map
Topo Map
none in the immediate area
---
Health Care:
---
Schools:
Wolverton is served by Breckenridge Public Schools
---
Churches:
---
Media:
see also Breckenridge and Fargo/Moorhead media

KQWB-FM Transmitter Site
1580 170th Avenue
Wolverton, MN 56594
Phone: (218) 995-2667


---
Motels:
Check for motel rates and availability on:
---
Resorts:
---
Campgrounds:
---
---
Businesses:
C-W Valley Co-Op
402 Main Street
Wolverton, MN 56594
Phone: (218) 995-2565



C-W Valley Co-op is a locally owned cooperative formed by the merger of Comstock Farmers Elevator and Wolverton Farmers Elevator in August of 1999. We are a full service cooperative that includes grain, fertilizer, fuel, chemical, seed, and agronomy services. Grain facilities located in Comstock and Wolverton have a combined storage capability of 2.4 million bushels. Fertilizer plants are located in Wolverton, we offer blending, delivery, and custom application of dry fertilizer. Chemical is managed out of the new Comstock plant and we offer agronomy services and custom application. Our bulk fuel plant is located near Comstock and we have cardtrol retail pumps located at Comstock and Wolverton.




KQWB-FM Transmitter Site
1580 170th Avenue
Wolverton, MN 56594
Phone: (218) 995-2667


Minn-Dak Farmers Co-op
1760 110th Street
Wolverton, MN 56594
Phone: (218) 995-2377



Minn-Dak Farmers Cooperative (MDFC) is located in Wahpeton, a city in the southeast corner of North Dakota, in the heart of the Red River Valley. MDFC has a 1200 acre footprint in Richland County, North Dakota. The Cooperative is owned by approximately 500 sugarbeet Shareholders/Growers who collectively grow 115,000 acres of sugarbeets and is part of the domestic sweetener industry. MDFC employs about 390 year-round, 56 seasonal and 320 harvest employees MDFC Shareholders produce sugarbeets for processing at the Cooperative's plant in Wahpeton.




Nelson Organ
201 2nd Street
Wolverton, MN 56594
Phone: (218) 995-2829


Northern Plains Contracting
329 US Highway 75
PO Box 10
Wolverton, MN 56594
Phone: (218) 995-2012



Northern Plains Contracting provides professional construction services for today's water infrastructure and commercial needs. Over the years we've gained the reputation as an expert constructor with the successful completion of public and private projects within North Dakota, South Dakota, and Minnesota.




Turner Sand & Gravel Inc
1552 170th Avenue
Wolverton, MN 56594
Phone: (218) 995-2653



Turner Sand & Gravel Inc of Wolverton, MN offers all types of sand and gravel. Serving Moorhead and surrounding areas, we have various pit locations for your convenience. Our expert team guarantees prompt and reliable sand and gravel services.




US Post Office
333 S Highway 75
Wolverton, MN 56594
Phone: (218) 995-2062


Wilkin County Highway Garage
5 Schley Avenue
Wolverton, MN 56594
Phone: (218) 995-2166


Wolverton City Hall
301 Highway 75
PO Box 7
Wolverton, MN 56594
Phone: (218) 995-2526
Fax: (218) 995-2524


Wolverton Electric LLC
1345 140th Avenue
Wolverton, MN 56594
Phone: (218) 995-2424


---
---
Aerial Photo:
---
Topographic Map: [click map to enlarge, zoom in or zoom out]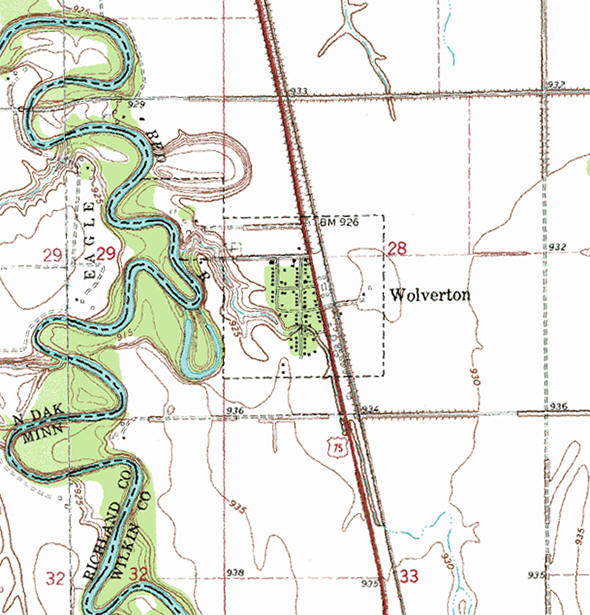 Topographic map is courtesy of the Minnesota DNR -
click map
to zoom or enlarge