Navigation
LakesnWoods.com
Home Page
Contact Us
Privacy
Minnesota History Shop

Visit The Minnesota History Shop
www.minnesotahistoryshop.com
Historic maps
Historic books
Historic framed art
Historic postcards
Clothing with historic images
And much more!!!

Winona Guide:
Photo Gallery
Location
Geography
Demographics
History
Government
Post Office
News
Weather
Street Map
Events
Attractions
Recreation
Lakes
Health Care
Schools
Churches
Media
Motels
Resorts
Campgrounds
Businesses
Aerial Photo
Topographic Map
© 2004-2023
Lakeweb1 Internet Services
All Rights Reserved
DCMA, Defamation, Copyright and Trademark Infingement Policy
WANTED!
Do you have photos, historical accounts or other items pertaining to the Winona area? Would you like to share this historical information with the world? LakesnWoods.com would like to publish your Winona photos (current or historical) or historical accounts on this website. Original materials can be returned and your privacy will be respected.


(design available on over 100 different items!)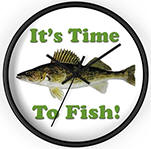 (design available on over 100 different items!)

Winona, Minnesota Community Guide
---
Location:
---
Population:
Winona (city)
1970
1980
1990
2000
2010
2000-2010 Change
Actual
Percent
Population
26,438
25,075
25,399
27,069
27,592
+523
+1.93
Land Area (sq. mile)
10.00
12.12
11.87
18.23
18.23
0
0.00
Density (persons per sq. mile)
2,643.8
2,068.9
2,139.8
1,485.0
1,513.6
+28.55
+1.92
Housing Units
8,312
9,202
9,682
10,666
10,989
+323
+3.03
Households
--
8,786
9,334
10,301
10,449
+148
+1.44
Persons Per Household
--
2.47
2.36
2.27
2.64
+0.36
+15.86
---
Geography:
Winona is a city in and the county seat of Winona County, in the state of Minnesota. U.S. Highway 14, U.S. Highway 61, and Minnesota Highway 43 are three of the main routes in the city. Interstate Highway 90 is located a short distance south of the city. According to the United States Census Bureau, the city has a total area of 24.13 square miles (62.50 km2); 18.84 square miles (48.80 km2) is land and 5.29 square miles (13.70 km2) is water. The elevation is 655 ft (200m) above sea level.
From Wikipedia, the free encyclopedia.
---
Demographics:
---
---
---
History:
WINONA, the county seat, platted June 19, 1852, was at first named Montezuma by Ervin H. Johnson, one of the proprietors of the site, for the Aztec war chief of Mexico at the time of the Spanish conquest, who was born in 1477 and died June 30, 1520. It was changed to Winona through request of Henry D. Huff, who in 1853 bought an interest in the townsite and platted an addition. This Dakota name has been fully noticed at the beginning of this chapter. A sobriquet often used is "the Gate City."
"The site of Winona was known to the French as La Prairie aux Ailes (pronounced O'Zell) or the Wing's prairie, presumably because of its having been occupied by members of Red Wing's band." It was latest occupied by Wabasha, the last of the Dakota leaders for whom the county next northward was named, whose village here was called Keoxa, "difficult of translation, but it may be rendered as 'The Homestead,' because in the springtime there was here a family reunion to honor the dead and invoke their blessings upon the land" (History of Winona County, 1883, p. 25). Prof. A. W. Williamson spelled and defined this name more correctly that "the name of the band was Kiyuksan, breakers in two, or violators, so called because they violated the custom forbidding relatives, however distant, to marry."
Courtesy Minnesota Historical Society
Winona (Images of America)
Located on an island in the Mississippi River in southeastern Minnesota, Winona has been home to the transportation industry from its earliest days. Before Winona was a city, Native Americans and European explorers sailed past "Wapasha's Prairie" in birch bark canoes, keel boats, or small sailboats. As early as the 1820s, steamboats plied up and down the "Father of Waters," carrying people and goods to and from the interior. Until bridges were built, it was necessary to use ferryboats to cross this great river. The first bridge to cross the river was a railroad swing bridge that allowed steamboats to pass by. With the bridge in place, rail traffic arrived in Winona and a terminal was established along the riverfront.
Buy This Book Now!
---
Government:
Winona City Hall
207 Lafayette Street
PO Box 378
Winona, MN 55987
Phone: (507) 457-8234
Fax: (507) 457-8293

Regular Business Hours:
Monday - Friday 8:00 am - 4:30 pm

City Council Meetings:
1st and 3rd Monday of the month at 6:30 pm


Title
Term Ends
Name and Address
Phone
Mayor
12/31/2022
Scott D. Sherman
631 West King Street
Winona, MN 55987


(507) 313-0676

appointed
Stephen T. Sarvi
207 Lafayette - PO Box 378
Winona, MN 55987


(507) 457-8234
Council Member - Ward 1
12/31/2024
Steve Young
208 Barbara Court
Winona, MN 55987


(507) 312-4491
Council Member - Ward 2
12/31/2022
Eileen Moeller
834 W Wabasha Street
Winona, MN 55987
(847) 890-5478
Council Member - Ward 3
12/31/2024
Pamela Eyden
267 E Sanborn Street
Winona, MN 55987
(507) 454-6758
Council Member - Ward 4
12/31/2022
George Borzyskowski
128 Lohse Drive
Winona, MN 55987
(507) 454-4463
Council Member - At Large
12/31/2022
Michelle Alexander
307 Sioux Street
Winona MN 55987



(507) 474-9179
Council Member - At Large
12/31/2024
Aaron Repinski
917 East 5th Street
Winona, MN 55987
(507) 458-7485
State
MN House - District 28A
12/31/2022
Gene Pelowski (DFL)
491 State Office Building
St. Paul, MN 55155


(651) 296-8627
(507) 454-3282
MN Senate - District 28
12/31/2024
Jeremy Miller (R)
Minnesota Senate Bldg. Rm 3107
St. Paul, MN 55155


(651) 296-5649
MN Governor
12/31/2022
Governor Tim Walz
75 Rev Dr. Martin Luther King Jr.
St. Paul, MN 55155


(651) 201-3400
(800) 657-3717
Federal
US House - District 1
12/31/2022
Jim Hagedorn (R)
1433 Longworth HOB Washington, DC 20515


(202) 225-2472
US Senate
12/31/2022
Amy Klobuchar (DFL)
425 Dirksen Senate Building
Washington, DC 20510


(202) 224-3244
US Senate
12/31/2022
Tina Smith (DFL)
720 Hart Senate Office Bldg.
Washington, DC 20510


(202) 224-5641
US President
12/31/2024
Joe Biden (D)
1600 Pennsylvania Avenue NW
Washington, DC 20500


not available
---
Post Office:
US Post Office
67 W 5th Street
Winona, MN 55987
Phone: (507) 454-5268
Toll Free: (800) ASK-USPS
Fax: (507) 452-0108

Regular Business Hours:
Week Days 8:30 am - 4:30 pm
Saturday 9:00 am - 12:00 pm
---
---
Utilities:
---
Major Employers:
| | | |
| --- | --- | --- |
| Employer | Products/Services | Employees |
| Fastenal Company | Hard., & Plumb. & Heating Equip. & Supplies Merchan | 1,420 |
| Winona Health | General Medical & Surgical Hospitals | 1,200 |
| BCS Automotive Interface Solutions | Industrial Machinery Manufacturing | 775 |
| Winona State University | Colleges, Universities, & Professional Schools | 712 |
| Winona Public Schools-District #861 | Elementary & Secondary Schools | 500 |
| Wincraft | Apparel Accessories & Other Apparel Manufacturing | 420 |
| St. Mary's University | Colleges, Universities, & Professional Schools | 391 |
| RTP Company | Resin, Synth. Rubber & Art. Synth. Fibers & Fil. Mfg. | 375 |
| Winona County | Executive, Legislative, & Other Gen. Govt. Support | 291 |
| Watlow Controls | Navig., Meas., Electromedical & Control Instrum. Mfg. | 289 |
| Hal Leonard Publishing | Newspaper, Periodical, Book, & Directory Publishers | 228 |
| Walmart | Other General Merchandise Stores | 225 |
| Peerless Chain | Spring & Wire Product Manufacturing | 206 |
| Watkins Inc | Miscellaneous Nondurable Goods Merchant Wholesalers | 200 |
| Solvay Composite Materials | Resin, Synth. Rubber & Art. Synth. Fibers & Fil. Mfg. | 128 |
---
---
News:
---
Weather:
---
Map: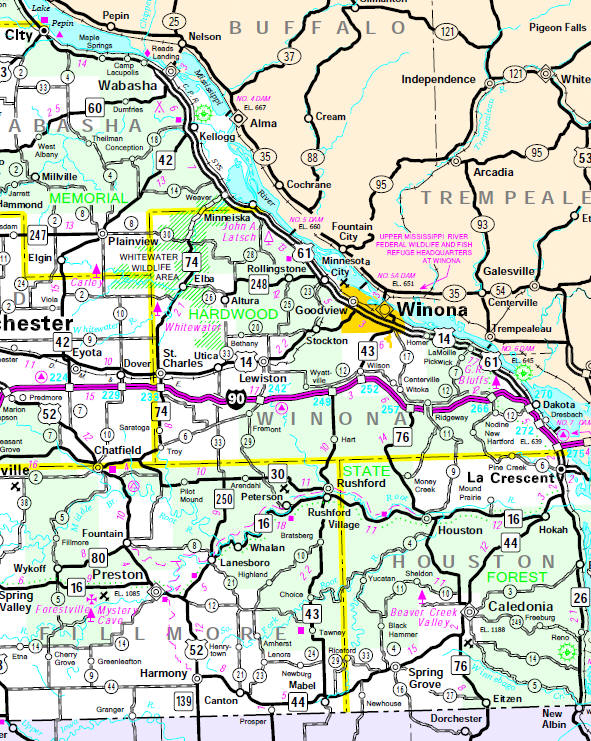 Minnesota State Highway Map of the Winona, Minnesota area
---
Events:
---
---
Attractions:
---
Recreation:
---
Lakes:
---
Health Care:
---
Schools:
---
---
Churches:
---
Media:
---
Motels:
Check for motel rates and availability on:
---
Resorts:
---
Campgrounds:
---
---
Businesses:
---
---
Aerial Photo:
---
Topographic Map: [click map to enlarge, zoom in or zoom out]