Navigation
LakesnWoods.com
Home Page
Contact Us
Privacy
Minnesota History Shop

Visit The Minnesota History Shop
www.minnesotahistoryshop.com
Historic maps
Historic books
Historic framed art
Historic postcards
Clothing with historic images
And much more!!!


Westbrook Guide:
Photo Gallery
Location
Geography
Demographics
History
Government
Post Office
News
Weather
Street Map
Events
Attractions
Recreation
Lakes
Health Care
Schools
Churches
Media
Motels
Resorts
Campgrounds
Businesses
Aerial Photo
Topographic Map
© 2004-2023
Lakeweb1 Internet Services
All Rights Reserved
DCMA, Defamation, Copyright and Trademark Infingement Policy
WANTED!
Do you have photos, historical accounts or other items pertaining to the Westbrook area? Would you like to share this historical information with the world? LakesnWoods.com would like to publish your Westbrook photos (current or historical) or historical accounts on this website. Original materials can be returned and your privacy will be respected.

Westbrook Minnesota Community Guide
---
Location:
---
Population:
Westbrook (city)
1970
1980
1990
2000
2010
2000-2010 Change
Actual
Percent
Population
990
978
853
755
739
-16
-2.12
Land Area (sq. mile)
0.80
0.79
0.77
0.77
0.77
0
0.00
Density (persons per sq. mile)
1,237.5
1,238.0
1,107.8
974.65
959.74
-14.91
-1.53
Housing Units
385
436
445
412
418
+6
+1.46
Households
--
413
400
367
345
-22
-5.99
Persons Per Household
--
2.27
2.01
2.06
2.14
+0.08
+3.88
---
Geography:
Westbrook is a city in Cottonwood County, Minnesota. State Highway 30 serves as a main route in the community. According to the United States Census Bureau, the city has a total area of 0.78 square miles (2.02 km≤), all of it land. The elevation is 1,427 ft (435 m) above sea level.
From Wikipedia, the free encyclopedia.
---
Demographics:

As of the census of 2010, there were 739 people, 345 households, and 192 families residing in the city. The population density was 947.4 inhabitants per square mile (365.8/km2). There were 418 housing units at an average density of 535.9 per square mile (206.9/km2). The racial makeup of the city was 97.7% White, 0.4% Native American, 0.9% Asian, 0.7% from other races, and 0.3% from two or more races. Hispanic or Latino of any race were 2.2% of the population.

There were 345 households of which 18.6% had children under the age of 18 living with them, 46.7% were married couples living together, 5.2% had a female householder with no husband present, 3.8% had a male householder with no wife present, and 44.3% were non-families. 40.9% of all households were made up of individuals and 23.4% had someone living alone who was 65 years of age or older. The average household size was 2.04 and the average family size was 2.71.

The median age in the city was 54 years. 18.7% of residents were under the age of 18; 4.8% were between the ages of 18 and 24; 17.6% were from 25 to 44; 25% were from 45 to 64; and 33.8% were 65 years of age or older. The gender makeup of the city was 44.2% male and 55.8% female.
---
---
History:
WESTBROOK, organized September 17, 1870, was named for the west branch of Highwater Creek, which flows across the southeast part of this township. The city of Westbrook, sections 29 and 30, was incorporated as a village on February 16, 1901, and platted June 8, 1900, by Interstate Land Co. The first building was a boardinghouse built by Sivert Noreem, who later built the Commercial Hotel. The general store of Ole A. Pederson became the site of the post office in 1888. An earlier post office, West Brook, 1873-87, with Frithsof Riis as postmaster, changed its name to Highwater until 1888, when the new post office organized at Westbrook. The village had a station of the Chicago, St. Paul, Minneapolis and Omaha Railroad.
Courtesy Minnesota Historical Society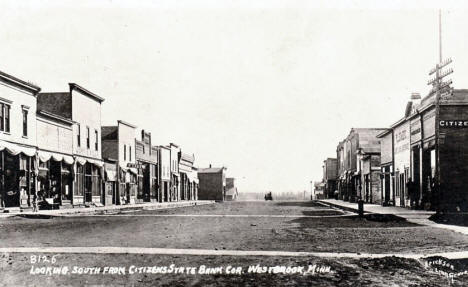 Looking south from Citizens State Bank corner, Westbrook Minnesota, 1910s?
LakesnWoods.com Postcard and Postcard Image Collection - click to enlarge

Visit The Westbrook Photo Gallery for more recent and historic area photos
---
Government:
Westbrook City Hall
556 1st Avenue
PO Box 367
Westbrook, MN 56183
Phone: (507) 274-5110

Regular Business Hours:
Monday thru Thursday 8:00 am. - 5:00 pm Friday 8:00 am. - 4:00 pm

City Council Meetings:
1st Monday of the month at 6:30 pm


Title
Term Ends
Name and Address
Phone
Mayor
12/31/2022
Dennis Phelps
824 Adams Avenue
Westbrook, MN 56183
(507) 227-2799
(507) 274-6512
City Clerk
appointed
Katie Steen
556 1st Avenue
Westbrook, MN 56183
(507) 274-5110
Council Member
Council Member
12/31/2024
Manda Jorgenson
745 Bell Avenue
Westbrook, MN 56183
(507) 317-4044
Council Member
12/31/2024
Dennis Jutting
452 Birch Avenue
Westbrook, MN 56183
(507) 317-5375
Council Member
12/31/2022
Janet Johnson
524 Cedar Avenue
Westbrook, MN 56183
(507) 274-6414
Council Member
12/31/2022
Kelly Brown
607 Cedar Avenue
Westbrook, MN 56183
(507) 824-4759
---
Post Office:
US Post Office
734 6th Street
Westbrook, MN 56183-9782
Phone: (507) 274-6711
Toll Free: (800) ASK-USPS

Regular Business Hours:
Week Days 7:30 am - 12:15 pm
1:45 pm - 3:00 pm
Saturday 8:30 am - 9:30 am





---
---
Utilities:
---
Major Employers:
Employer
Products/Services
Employees

n/a
---
---
News:
---
Weather:
---
Map: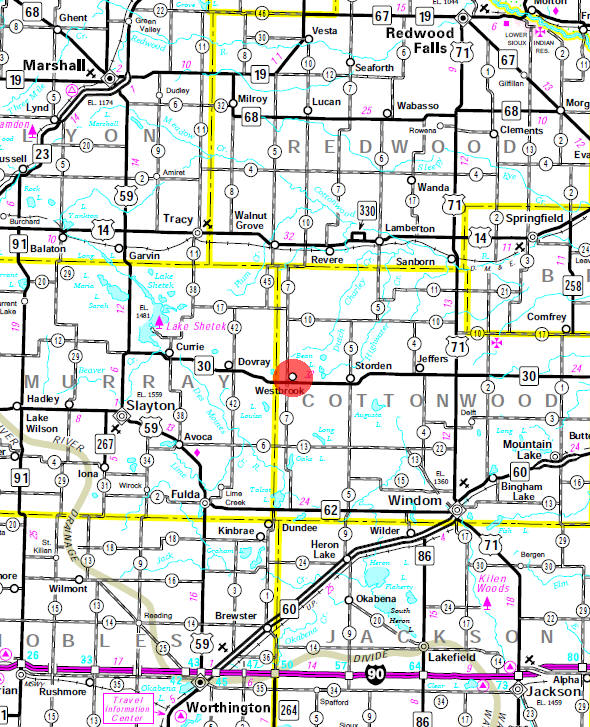 Minnesota State Highway Map of the Westbrook Minnesota area
---
Events:
---
---
Attractions:
---
Recreation:
---
Lakes:
Lake Name
Size
(acres)
Lake info
Lake Map
Rec Map
Topo Map
none
---
Health Care:
Sanford Westbrook Medical Center
920 Bell Avenue
Westbrook, MN 56183
Phone: (507) 274-1100
Web: www.sanfordhealth.org/community/sanford-westbrook



Sanford Westbrook Medical Center, a proud member of Sanford Health Network, is a diverse medical campus located in southwest Minnesota. Our philosophy is based on the belief that good healthcare is a right which should be guaranteed to everyone, regardless of financial status, personal beliefs, or geographic location. We are linked very closely with the rural community we serve, and there is a great concern on the part of the staff that the healthcare needs of the people in our area be met in an efficient and effective manner and with care given from the heart. Sanford Westbrook Medical Center works together with Sanford Tracy Medical Center to provide healthcare to the surrounding communities. Sanford Westbrook Medical Center includes a hospital, clinic, wellness center and visiting specialty outreach physicianís services.
---
Schools:
---
Churches:
---
Media:
---
Motels:
Check for motel rates and availability on:
---
Resorts:
---
Campgrounds:
---
---
Businesses:
A Place in the Country
1236 270th Avenue
Westbrook, MN 56183
Phone: (507) 274-6600
A-C Feeds
403 Adams Street
Westbrook, MN 56183
Phone: (507) 274-6363
Almlie Funeral Home
1110 11th Street
Westbrook, MN 56183
Phone: (507) 274-5464
Bank Midwest
640 1st Avenue
Westbrook, MN 56183
Phone: (507) 274-6133
Web: www.bankmidwest.com/location/westbrook-mn



Even though bank is in our name, we offer so much more! Whether itís saving time with online or mobile access to your money, financial protection for you and your family or help planning for your future, our professionals have experience helping people and businesses make the most of their money!

Birkholz Law
641 1st Avenue
Westbrook, MN 56183
Phone: (507) 274-6501
Web: www.birkholzlaw.com



For the past 12 years, Dan Birkholz has focused his practice on private criminal defense work. Dan vigorously defends his clients at every stage of the case from getting his clients immediately released from jail after being arrested; contesting the case at the omnibus hearing; to taking the case to Jury. Dan has tried cases ranging from First Degree Murder to Shoplifting and everything in between. Dan frequently handles drug cases, methamphetamine, cocaine and marijuana including both sales and possession cases. He has extensive experience representing DWI/DUI clients, including felony DWIís, license revocations, vehicle and plate impoundments. There isnít a case that is too complex or too simple for Dan to handle and get you the best result possible.

Bonnie and Clyde's 2
101 1st Avenue
Westbrook, MN 56183
Phone: (507) 274-5228
Duane's Body Shop
1018 4th Street
Westbrook, MN 56183
Phone: (507) 274-6655
Eric's Electric Motor Repair
745 Bell Avenue
Westbrook, MN 56183
Phone: (507) 836-6156
Evers Chiropractic
648 7th Street
Westbrook, MN 56183
Phone: (507) 274-5200
Expressway of Westbrook
102 1st Avenue
Westbrook, MN 56183
Phone: (507) 274-5300
Web: expresswaystores.com
Ferrellgas
32181 State Highway 30
Westbrook, MN 56183
Phone: (507) 274-6662
Web: ferrellgas.com/locations/detail/?id=247283



At Ferrellgas, we are in the business of providing meaningful moments, memories full of warmth, dependability you can trust, and outcomes you had only dreamed possible. Whatever your day has in store, we are here to provide you with the advantage. Propane is our supply; fueling what matters to you is our purpose.

First Avenue Salon
528 1st Avenue
Westbrook, MN 56183
Phone: (507) 274-6313
Gary's Service
1010 4th Street
Westbrook, MN 56183
Phone: (507) 274-6200
Good Samaritan Society
149 1st Avenue
Westbrook, MN 56183
Phone: (507) 274-6155
Web: www.good-sam.com/locations/westbrook

Good Samaritan Society Ė Westbrook has been serving the people in and around Westbrook for more than 50 years. Our center has many private rooms, each having its own bathroom. Staff members take exceptional care of your loved ones. The Good Samaritan Society also serves the Westbrook area through our home care agency.
Hi-Way 30 Self Storage
32279 State Highway 30
Westbrook, MN 56183
Phone: (507) 274-6767
KC's Repair
442 1st Avenue
Westbrook, MN 56183
Phone: (507) 274-6257
Klasse RV Sales & Service
702 1st Avenue
Westbrook, MN 56183
Phone: (507) 274-6166
Web: www.klassesalesandservice.com



We believe travel broadens the mind and gives each of us a different perspective on life. Get out and experience the world! You'll love it.

Knakmuhs Agency
535 1st Avenue
Westbrook, MN 56183
Phone: (507) 274-5962
Web: www.knakmuhsagency.com



Richard Knakmuhs formed the Knakmuhs Agency in 1960, when he bought a very small agency on Main Street in Walnut Grove. In 1977 his son Kerry joined the business and added real estate sales into the mix. In 1987 a major expansion was made when the Tracy Agency was purchased. In 1993 another opportunity came along and we expanded into Garvin. As more family became interested in joining the agency, we found an opportunity in Westbrook and purchased an agency there in 2001 and added real estate sales to the Tracy and Westbrook locations.

M L Grams & Associates CPA
628 1st Avenue
Westbrook, MN 56183-9586
Phone: (507) 274-6171
Maynard's Grocery Store
627 1st Avenue
Westbrook, MN 56183
Phone: (507) 274-5555
Web: www.maynardsfoods.com



We are your local community connection for high quality foods, friendly service and great prices. Our family-owned store offers a convenient one-stop shop where you can find everything you need from the everyday essentials to specialty items from around the world. Our friendly staff is here to help you find exactly what you're looking for and to offer you assistance regarding all the products we carry. We take pride in our community and appreciate your business. We know that you have many options for food purchases and want you to know that we're working hard each day to continue to earn your business.

Meadowland Farmers Co-op
400 Davis Street
Westbrook, MN 56183
Phone: (507) 274-6141
Web: www.meadowlandfarmerscoop.com
Muske Muske and Suhroff
611 1st Avenue
Westbrook, MN 56183
Phone: (507) 274-5980
Web: www.muskelaw.com



Founded by Paul N. Muske and Josephine L. Muske in 1978, the firm was joined by Maryellen Suhrhoff in 1999, Matthew L. Muske in 2010, and Jeanette Pidde in 2013.

Noomen Cabinets and Carpentry
832 5th Street
Westbrook, MN 56183
Phone: (507) 274-6310
Peterson Estates Congregate Living
1012 9th Street
Westbrook, MN 56183
Phone: (507) 274-1120
Web: www.sanfordhealth.org
Real Construction
1015 3rd Street
Westbrook, MN 56183
Phone: (507) 274-5261
Redwood Valley Funeral Home
716 6th Street
Westbrook, MN 56183
Phone: (507) 274-5261
Web: www.stephensfuneralservice.com

The Westbrook Funeral Home located in Westbrook has been serving the Westbrook area for over 80 years. We pride ourselves in the highest quality funeral services available without the high costs. We offer services from full traditional funeral services to various cremation services. What ever your needs, we can help you create a lasting memorial for your loved one that will stand out in the minds of family and friends. You will find our large facility is handicap accessible and comfortably decorated. We are located at 716 6th Street next to the Post Office, 1 block from downtown Westbrook.
Roger Haar Insurance
432 1st Avenue
Westbrook, MN 56183
Phone: (507) 274-5348
Web: www.statefarm.com
Ron's Electric
708 5th Street
Westbrook, MN 56183
Phone: (507) 274-5650
Rose Hill Country Service
34499 350th Avenue
Westbrook, MN 56183
Phone: (507) 274-5227
Sanford Westbrook Medical Center
920 Bell Avenue
Westbrook, MN 56183
Phone: (507) 274-1100
Web: www.sanfordhealth.org/community/sanford-westbrook



Sanford Westbrook Medical Center, a proud member of Sanford Health Network, is a diverse medical campus located in southwest Minnesota. Our philosophy is based on the belief that good healthcare is a right which should be guaranteed to everyone, regardless of financial status, personal beliefs, or geographic location. We are linked very closely with the rural community we serve, and there is a great concern on the part of the staff that the healthcare needs of the people in our area be met in an efficient and effective manner and with care given from the heart. Sanford Westbrook Medical Center works together with Sanford Tracy Medical Center to provide healthcare to the surrounding communities.

Scott's Repair
702 1st Avenue
Westbrook, MN 56183
Phone: (507) 274-5430
Shetek Therapy Service
648 7th Street
Westbrook, MN 56183
Phone: (507) 274-5197
Thrifty White Pharmacy
601 1st Avenue
Westbrook, MN 56183
Phone: (507) 274-6114
Web: www.thriftywhite.com



We are a pharmacy chain fully owned by our employees. We are committed to the communities we serve and believe that our services and products must exceed the expectations of our customers.

Tri-Town Plumbing and Heating
705 1st Avenue
Westbrook, MN 56183
Phone: (507) 274-5505
US Post Office
734 6th Street
Westbrook, MN 56183-9782
Phone: (507) 274-6711
Web:

www.usps.com

Veterans of Foreign Wars
652 1st Avenue
Westbrook, MN 56183
Phone: (507) 274-5661
Westbrook Ag Power
31424 State Highway 30
Westbrook, MN 56183
Phone: (507) 274-6101
Westbrook City Hall
556 1st Avenue
Westbrook, MN 56183
Phone: (507) 274-5110
Web:

www.cityofwestbrookmn.com

Westbrook Public Library
556 1st Avenue
Westbrook, MN 56183
Phone: (507) 274-6174
Westbrook Senior Citizen Center
2nd Avenue
Westbrook, MN 56183
Phone: (507) 274-6583
Westbrook Sentinel-Tribune
611 1st Avenue
Westbrook, MN 56183
Phone: (507) 274-6136
Westbrook Walnut
344 8th Street
Westbrook, MN 56183
Phone: (507) 274-6112
Wester's Locker
536 1st Avenue
Westbrook, MN 56183
Phone: (507) 274-5900
---
---
Aerial Photo:
---
Topographic Map: [click map to enlarge, zoom in or zoom out]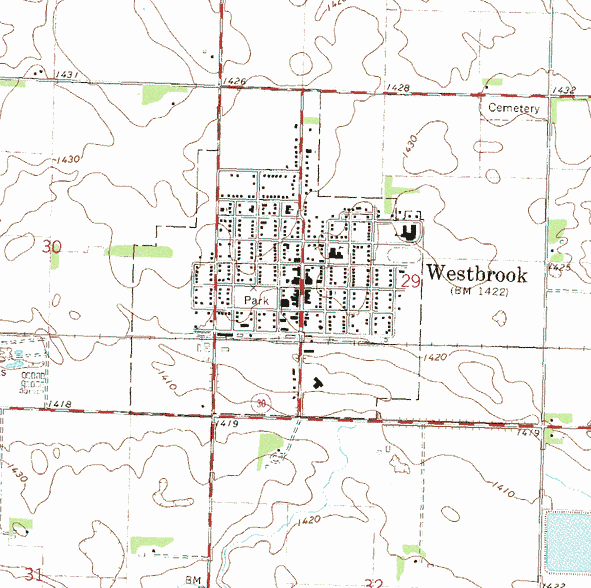 Topographic map is courtesy of the Minnesota DNR - click map to zoom or enlarge