Navigation
LakesnWoods.com
Home Page
Contact Us
Privacy
Minnesota History Shop

Visit The Minnesota History Shop
www.minnesotahistoryshop.com
Historic maps
Historic books
Historic framed art
Historic postcards
Clothing with historic images
And much more!!!


Wendell Guide:
Photo Gallery
Location
Geography
Demographics
History
Government
Post Office
News
Weather
Street Map
Events
Attractions
Recreation
Lakes
Health Care
Schools
Churches
Media
Motels
Resorts
Campgrounds
Businesses
Aerial Photo
Topographic Map
© 2004-2023
Lakeweb1 Internet Services
All Rights Reserved
DCMA, Defamation, Copyright and Trademark Infingement Policy
WANTED!
Do you have photos, historical accounts or other items pertaining to the Wendell area? Would you like to share this historical information with the world? LakesnWoods.com would like to publish your Wendell photos (current or historical) or historical accounts on this website. Original materials can be returned and your privacy will be respected.

Wendell Minnesota Community Guide
---
Location:
---
Population:
Wendell (city)
1970
1980
1990
2000
2010
2000-2010 Change
Actual
Percent
Population
247
216
159
177
167
-10
-5.65
Land Area (sq. mile)
1.00
0.92
1.05
1.05
1.05
0
0.00
Density (persons per sq. mile)
247.00
234.78
151.43
168.29
159.05
-9.24
-5.49
Housing Units
86
91
85
84
87
+3
+3.57
Households
--
86
72
77
76
-1
-1.30
Persons Per Household
--
2.51
2.21
2.30
2.20
-0.10
-4.35
---
Geography:
Wendell is a city in Grant County, Minnesota. Minnesota State Highway 55 serves as a main route in the community. According to the United States Census Bureau, the city has a total area of 1.05 square miles (2.72 km2), all of it land. The elevation is 1,145 ft (349 m) above sea level.
From Wikipedia, the free encyclopedia.
---
Demographics:
As of the census of 2010, there were 167 people, 76 households, and 52 families residing in the city. The population density was 159.0 inhabitants per square mile (61.4/km2). There were 87 housing units at an average density of 82.9 per square mile (32.0/km2). The racial makeup of the city was 100.0% White. Hispanic or Latino of any race were 0.6% of the population.
There were 76 households of which 22.4% had children under the age of 18 living with them, 53.9% were married couples living together, 9.2% had a female householder with no husband present, 5.3% had a male householder with no wife present, and 31.6% were non-families. 28.9% of all households were made up of individuals and 14.4% had someone living alone who was 65 years of age or older. The average household size was 2.20 and the average family size was 2.58.
The median age in the city was 50.2 years. 15% of residents were under the age of 18; 11.4% were between the ages of 18 and 24; 18% were from 25 to 44; 28.2% were from 45 to 64; and 27.5% were 65 years of age or older. The gender makeup of the city was 52.7% male and 47.3% female.
---
---
History:
WENDELL, a city in Stony Brook Township, platted in July 1889 and incorporated on March 3, 1904, as a village, received its name from the railway officials when the road was being built, with the location of a depot there in 1887. It was possibly named for Joseph H. Wendell, a judge in Wright County. Its post office began in 1887 with John A. Beck as first postmaster in his store. It is also the name of a town in Massachusetts and a village in North Carolina.
Courtesy Minnesota Historical Society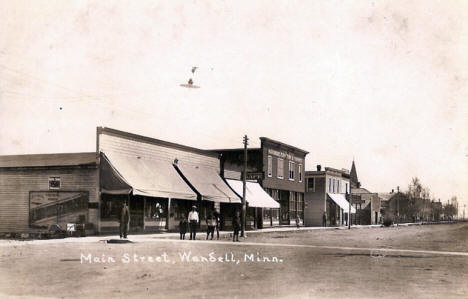 Main Street, Wendell Minnesota, 1910s
LakesnWoods.com Postcard and Postcard Image Collection- click image to enlarge

Visit The Wendell Photo Gallery for more recent and historic area photos
---
Government:
Wendell City Hall
590 State Highway 55
PO Box 98
Wendell, MN 56590
Phone: (218) 731-5027

Regular Business Hours:
Monday - Friday 8:00 am - 5:00 pm

City Council Meeting:
1st Monday of the month at 7:00 pm


Title
Term Ends
Name and Address
Phone
Mayor
12/31/2022
Tanner Davison
635 County Road 11 N
Wendell, MN 56590
(218) 458-2510
12/31/2022
Tanya Bakken
519 Minnesota Avenue
Wendell, MN 56590
(218) 770-8269
City Treasurer
12/31/2024
Sheila "Shelly" Olson
569 Olson Street
Wendell, MN 56590
(218) 458-2159
Council Member
12/31/2022
Darla Johnson

Wendell, MN 56590
(218) 731-4490
Council Member
12/31/2024


Wendell, MN 56590
(218) 458-
Council Member
12/31/2024


Wendell, MN 56590
(218) 458-
---
Post Office:
US Post Office
542 State Highway 55
Wendell, MN 56590-9998
Phone: (218) 458-2175
Toll Free: (800) ASK-USPS

Regular Business Hours:
Week Days 8:00 am - 12:00 pm
Saturday 8:30 am - 10:15 am
---
---
Utilities:
---
Major Employers:
Employer
Products/Services
Employees

n/a
---
---
News:
---
Weather:
---
Map: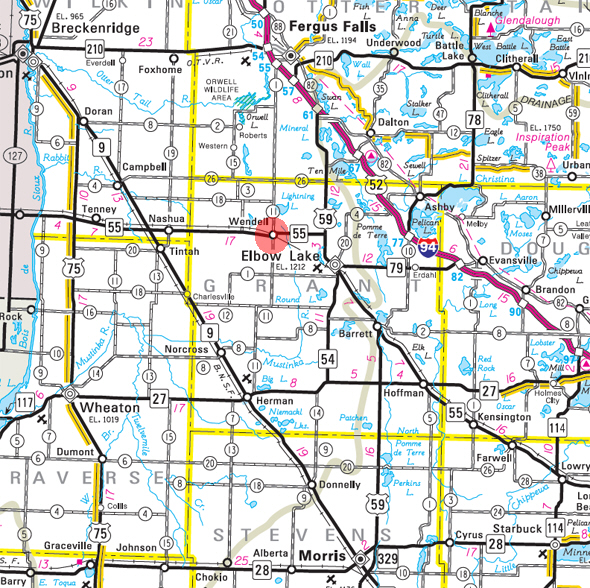 Minnesota State Highway Map of the Wendell Minnesota area
---
Events:
---
Attractions:
---
Recreation:
---
Lakes:
---
Health Care:
---
Schools:
---
Churches:
Trinity Lutheran Church
297 State Highway 55
Wendell, MN 56590
Phone: (218) 458-2464
---
Media:
---
Motels:
---
Resorts:
---
Campgrounds:
---
Businesses:
Adams Farm Seeds
29245 300th Street
Wendell, MN 56590
Phone: (218) 458-2151
Andy's Grocery
558 State Highway 55
Wendell, MN 56590
Phone: (218) 458-2188
Apple Electric
29669 County Road 11
Wendell, MN 56590
Phone: (218) 458-2109
Beckman Service
555 State Highway 55
Wendell, MN 56590
Phone: (218) 458-2181
Benny D's Bar & Grill
548 State Highway 55
Wendell, MN 56590
Phone: (218) 458-2422
Biss & Biss
27895 250th Avenue
Wendell, MN 56590
Phone: (218) 458-2429
Brutlag Farms
27418 280th Street
Wendell, MN 56590
Phone: (218) 458-2112
Carlson Ag Aviation
25445 300th Avenue
Wendell, MN 56590
(320) 284-2415
CHS Inc
651 State Highway 55
Wendell, MN 56590
Phone: (218) 458-2161
Don's Body Shop
551 State Highway 55
Wendell, MN 56590
Phone: (218) 458-2178
Eagle Bank
612 Torrisson Avenue
Wendell, MN 56590
Phone: (218) 458-2121
Grant County Highway Garage
652 State Highway 55 #652
Wendell, MN 56590
Phone: (218) 458-2468
Jennifer Winningham Designs
27736 County Road 1 E
Wendell, MN 56590
Phone: (218) 458-2217
Jensen Builders
543 State Highway 55
Wendell, MN 56590
Phone: (218) 458-2207
Lacey Ridge Farm Co
33157 320th Ave
Wendell, MN 56590
Phone: (218) 458-2595
Miller's Lawn Service
29499 300th Street
Wendell, MN 56590
Phone: (218) 739-3416
Peterson Farms
31760 County Road 11
Wendell, MN 56590
Phone: (218) 458-2528
Randy Olson Construction
569 Olson Street
Wendell, MN 56590
Phone: (218) 458-2159
Realty Executives
29856 County Road 11
Wendell, MN 56590
Phone: (218) 458-2600
Reeves Farrier & Corrective
27929 State Highway 55
Wendell, MN 56590
Phone: (218) 458-2440
Roger Gillispie Dry Wall
31097 247th Avenue
Wendell, MN 56590
Phone: (218) 458-2530
Runestone Cable TV
123 Memorial Drive
Wendell, MN 56590
Phone: (218) 458-6602
Thiel Seed Service
30232 320th Street
Wendell, MN 56590
Phone: (218) 458-2415
Trinity Lutheran Church
297 State Highway 55
Wendell, MN 56590
Phone: (218) 458-2464
US Post Office
542 State Highway 55
Wendell, MN 56590
Phone: (218) 458-2175
Valley Woods
543 State Highway 55
Wendell, MN 56590
Phone: (218) 458-2107
Village Smithy
28444 290th Street
Wendell, MN 56590
Phone: (218) 458-2550
Wendell Cafe
579 State Highway 55
Wendell, MN 56590
Phone: (218) 458-2183
Wendell Farmers Elevator Co
667 State Highway 55
Wendell, MN 56590
Phone: (218) 458-2127
Wendell Fire Department
607 State Highway 55
Wendell, MN 56590
Phone: (218) 458-2283
Wendell Mobile Welding
29468 260th Street
Wendell, MN 56590
Phone: (218) 458-2470
Wendell Town Hall
590 State Highway 55
Wendell, MN 56590
Phone: (218) 458-2165
Wendell-Pioneer Insurance
Wendell, MN 56590
Phone: (218) 685-4414
---
---
Aerial Photo:
---
Topographic Map: [click map to enlarge, zoom in or zoom out]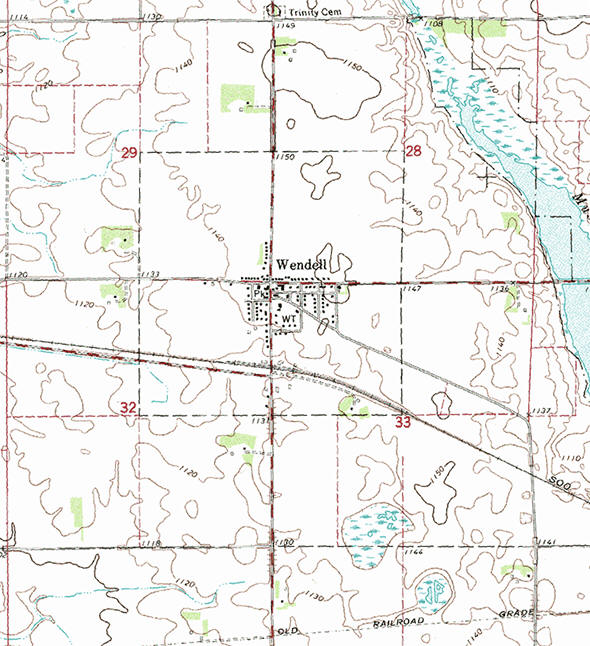 Topographic map is courtesy of the Minnesota DNR -
click map
to zoom or enlarge