Navigation
LakesnWoods.com
Home Page
Contact Us
Privacy
Minnesota History Shop

Visit The Minnesota History Shop
www.minnesotahistoryshop.com
Historic maps
Historic books
Historic framed art
Historic postcards
Clothing with historic images
And much more!!!


Wayzata Guide:
Photo Gallery
Location
Geography
Demographics
History
Government
Post Office
News
Weather
Street Map
Events
Attractions
Recreation
Lakes
Health Care
Schools
Churches
Media
Motels
Resorts
Campgrounds
Businesses
Aerial Photo
Topographic Map
© 2004-2022
Lakeweb1 Internet Services
All Rights Reserved
DCMA, Defamation, Copyright and Trademark Infingement Policy
WANTED!
Do you have photos, historical accounts or other items pertaining to the Wayzata area? Would you like to share this historical information with the world? LakesnWoods.com would like to publish your Wayzata photos (current or historical) or historical accounts on this website. Original materials can be returned and your privacy will be respected.

Wayzata Minnesota Community Guide
---
Location:
---
Population:
Wayzata (city)
1970
1980
1990
2000
2008
(est)
1990-2000 Change
Actual
Percent
Population
3,700
3,621
3,806
4,113
4,119
307
8.07
Land Area (sq. mile)
3.00
3.24
3.17
3.18
--
0.01
0.38
Density (persons per sq. mile)
1,233.3
1,117.6
1,200.6
1,292.6
--
91.99
7.66
Housing Units
1,297
1,674
1,831
2,047
--
216
11.80
Households
--
1,560
1,715
1,929
1,941
214
12.48
Persons Per Household
--
2.25
2.22
2.06
2.04
-0.16
-7.18
---
Geography:
Wayzata is a city in Hennepin County, Minnesota, United States and a western suburb of Minneapolis. U.S. Route 12 serves as a main route in the community. According to the United States Census Bureau, the city has a total area of 3.2 square miles (8.4 km≤)ó 3.2 square miles (8.2 km≤) of it is land and 0.1 square miles (0.1 km≤) of it (1.55%) is water. The elevation is 942 ft (287 m) above sea level.
From Wikipedia, the free encyclopedia.
---
Demographics:
As of the census of 2000, there were 4,113 people, 1,929 households, and 1,041 families residing in the city. The population density was 1,292.6 persons per square mile (499.4/km≤). There were 2,047 housing units at an average density of 643.3 per square mile (248.5/km≤). The racial makeup of the city was 96.11% White, 0.41% African American, 0.32% Native American, 1.34% Asian, 0.19% Pacific Islander, 0.75% from other races, and 0.88% from two or more races. Hispanic or Latino of any race were 1.41% of the population.
There were 1,929 households out of which 20.9% had children under the age of 18 living with them, 46.6% were married couples living together, 5.3% had a female householder with no husband present, and 46.0% were non-families. 39.5% of all households were made up of individuals and 17.0% had someone living alone who was 65 years of age or older. The average household size was 2.06 and the average family size was 2.77.
In the city the population was spread out with 19.3% under the age of 18, 6.0% from 18 to 24, 25.8% from 25 to 44, 28.1% from 45 to 64, and 20.8% who were 65 years of age or older. The median age was 44 years. For every 100 females there were 88.9 males. For every 100 females age 18 and over, there were 83.6 males.
The median income for a household in the city was $65,833, and the median income for a family was $96,859. Males had a median income of $51,000 versus $39,257 for females. The per capita income for the city was $63,859. None of the families and 2.3% of the population were living below the poverty line, including no under eighteens and 5.0% of those over 64.
---
---
History:
Early settlement
The first people to settle on the land around Lake Minnetonka were the Mdewakanton Dakota, a major division of the Sioux nation. They treasured the "Big Water" as an endowed hunting and fishing ground and protected this land from the rival Chippewa tribe, who were known as Ojibway.[3] While these natives had been living off the land for many years prior, in 1803 the land was claimed by France, who sold it to the United States as part of the Louisiana Purchase. The nearest Euro-American settlement then was Fort Snelling, and it wasn't until the Treaty of Traverse des Sioux was signed in 1851 that the lands west of the Mississippi River were opened for land claims to be filed. Although today the Sioux are no longer living on the land, their legacy lives on in the name of the city. The name Wayzata is derived from the American Indian word Waziyata, which had almost a mystical connotation to the Sioux tribes who originally inhabited the area. Waziya was their god of the North, a giant who blew the cold winds from his mouth. With the suffix ta added, the name meant "North Shore."
In 1852, two pioneer families settled on the present site of Wayzata, one of them being the family of Oscar E. Garrison. He built a cabin at what is now Lake Street and Broadway Avenue in downtown Wayzata. In 1854 he drew a survey of the area and filed his claim for most of what is now Wayzata proper. In 1855, Wayzata had an influx of settlers who built a sawmill, a hotel and a blacksmith shop. Most of these early settlers made their living off the land by clear cutting the trees to grow corn and wheat. But, in 1857, this growing economy was nearly terminated by a grasshopper plague. At the time, ginseng roots were in great demand as an aphrodisiac in the Orient and the eastern forests had been exhausted of their supply. When ginseng was discovered in the remaining hard wood forest which had been left standing, these trees being too great a distance from the lake to float down stream to the sawmill, Wayzata became a collection center for the roots discovered around the lake.
Resort town era
With commercial traffic by steamboats becoming common on Lake Minnetonka, Wayzata's position to St. Paul assured growth for the city. After the Civil War, vacationers from the south began enjoying cool breezy summers at the lake and the era of the resort arrived. In 1867, the St. Paul and Pacific Railroad (today's BNSF Railway) extended its tracks to Wayzata, making Wayzata the transportation hub of the area. James J. Hill, who would later have a major role in Wayzata's history, was at the time a St. Paul freight agent for the railroad. With numerous trains scheduled for activities in the area, hotels quickly popped up around the lake, one being built where Garrison's cabin had been, called the Maurer House-West Hotel. Boating, fishing, and picnicking would bring twenty thousand vacationers west, who would stay at seventeen hotels that were scattered around the 99 miles (159 km) of the lakeshore. Transporting the vacationers from the railroad landing in Wayzata to the hotels were large paddlewheel boats, some able to accommodate as many as 3,300 passengers. This era, the beginning of "The Gilded Age" reached its peak in 1882 when Hill, now owning the railroad he had renamed The Great Northern, built the 800 room Lafayette Hotel in Minnetonka Beach, a few miles further down the tracks.
Cottage era
By 1890, the height of the resort era on Lake Minnetonka had been reached. A nationwide financial depression and the migration of tourists to newer resort territory gradually transformed Wayzata and a new era began when the tourists moved on. Summer cottages began appearing along the shores, even on the grounds of the grand hotels. The cottage builders needed building materials, and then provisions when they moved in. In 1881 Wayzata broke away from Minnetonka Township and became a separate governmental entity, mainly as a reaction to the roaring tourist-resorter lifestyle. Feeling their new power, the first act of the village council was to ban the saloons, and the second would have a more profound impact: they started a fight with James J. Hill to get the railroad tracks moved from downtown. An 1883 town law required the tracks be relocated 300 feet (91 m) from the shoreline. Hill ignored the law, then in 1889 the council filed a lawsuit to force Hill to comply. Hill responded that he had state law on his side, and if they continued with their suit not only would he win, but he would make the town walk a mile for twenty years to catch a train. In 1891, the Minnesota Supreme Court denied the legality of the law, and Hill, as promised, moved the station to flat land beneath today's Bushaway Road railroad bridge. Wayzata was literally taken off the map, and for the next fifteen years the town barely grew. In 1905, the village council voted a Reconciliation Ordinance, and Hill responded that he would have the finest railroad station on his entire line built in Wayzata.
As the cottage era continued, downtown Wayzata became mostly residential, with small commercial centers at each end of Lake Street. The following era was again recreational, based on motorboats. By the 1920, motorboating was the rage, and once again Wayzata was at the center, with two nationally famous boat makers building speedboats located on the shore of Lake Minnetonka. Weekends brought thousands of spectators to the lake to watch the boats race, and many of the visitors realized they could be happy living in Wayzata.
In the 1930s, today's U.S. Route 12 had just reached Wayzata as a hard surfaced road, and realtor Sam Batson was praising the benefits of buying a summer cottage and modifying it for year-around living. The population nearly doubled in that decade, and Wayzatans were fortunate when one of their own, Rufus Rand, stepped forward to lead the town as it met the challenges of modernizing the infrastructure of a summer village. Under Mayor Rand, water and sewer service was provided to every building (lifting quite a burden off the lake), street lights were installed to light the newly hard-surfaced town roads, and the city public beach and park was opened.
As World War II approached Wayzata became a city with locally provided jobs and retailers that provided all of a family's needs. The boat building era was ending and homebuilding was starting to grow. During the war, wooden 8-man boats built in Wayzata were used by American soldiers to cross Europe's many rivers, and dairy farming became a large local activity. At wars end these farms were being converted into single family housing sites. Highway 12 was widened to four lanes, and the population swelled with commuters who worked in Minneapolis. Downtown residences were replaced by more stores serving not only Wayzata but the new families moving onto the former farmlands outside of Wayzata. Longtime locals were still the only candidates for public offices and the need for more schools was a growing concern. During the summers the lake continued to draw people for boating and fishing activities. Wayzata became a charter city at the same time people began considering it as part of the Minneapolis metropolitan area.
Small city to suburb
In the 1950s, Wayzata doubled in size when it annexed land from Minnetonka, Plymouth and Orono. Shopping centers were built to meet the daily needs of the residents, while the downtown shops focused on fashion and service businesses.
From Wikipedia, the free encyclopedia.
WAYZATA, a city in Minnetonka and Orono Townships, lying on the north side of Wayzata Bay, was platted in 1854, incorporated on May 5, 1883, and May 1, 1906, when it separated from the townships, and incorporated as a city in 1929. Its early development was as a summer resort area, with a subdivision called Fernwood, a summer residence site that expanded into large estates; it was platted by O. E. Garrison. The post office operated as Wyzata, 1856-61, South Plymouth, 1864, Wayzata, 1866, Freeport, 1867-69, changing back to Wayzata; it had a station of the Great Northern Railway.
This name was formed by slight change from Waziyata, a Dakota word meaning "at the pines, the north." Wazi is defined as "a pine, pines," and Waziya, "the northern god, or god of the north; a fabled giant who lives at the north and blows cold out of his mouth. He draws near in winter and recedes in summer." The suffix ta, denotes "at, to, on" (Riggs, Dictionary of the Dakota Language, 1852, pp. 192, 239). The name Wayzata, originated by white men, refers to the location at the north side of the east end of Lake Minnetonka, not to pine trees, which are found nearest, in very scanty numbers, on the Mississippi bluffs at Dayton and on Bassett's and Minnehaha Creeks in Minneapolis.
Courtesy Minnesota Historical Society
---
Government:
Wayzata City Hall
600 Rice Street E
Wayzata, MN 55391
Phone:

(952) 404-5300


Fax: (952) 404-5318

Regular Business Hours:
Monday - Thursday 7:00 am - 4:30 pm
Friday 7:00 am - 11:00 am

City Council Meetings:
1st and 3rd Tuesday of the month at 7:00 pm
Title
Term Ends
Name and Address
Phone
Mayor
12/31/2022
Johanna Mouton
205 Barry Avenue S
Wayzata, MN 55391



(612) 803-3038

City Manager
appointed
Jeffrey Dahl


600 Rice Street E


Wayzata, MN 55391

(952) 404-5309

appointed
Kathy Leervig


600 Rice Street E


Wayzata, MN 55391

(952) 404-530

3
Council Member
12/31/2022
Jeff Buchanan
173 Lakeview Lane
Wayzata, MN 55391

(612) 735-4479

Council Member
12/31/2022
Molly MacDonald
367 Park Street E
Wayzata, MN 55391
(612) 384-0990
Council Member
12/31/2024
Cathy Iverson
220 Central Avenue S
Wayzata, MN 55391



(612) 850-8660

Council Member
12/31/2024
Alex Plechash
475 Highcroft Road
Wayzata, MN 55391
(952) 476-1018
(952) 473-0011
---
Post Office:
US Post Office
229 Minnetonka Avenue S
Wayzata, MN 55391-1716
Phone: (952) 475-6809
Toll Free: (800) ASK-USPS



Regular Business Hours:
Week Days 8:30 am - 5:00 pm
Saturday 9:00 am - 12:00 pm
Latest Collection at Post Office:
Week Days 5:00 pm
Saturday 12:00 pm
---
---
Utilities:
| | | |
| --- | --- | --- |
| Utility Type | Utility Name | Utility Phone |
| Electricity | Xcel Energy | (800) 642-6066 |
| Natural Gas | CenterPoint Energy | (800) 269-1114 |
| Wastewater | Metropolitan Council Environmental Svc | (651) 222-8423 |
| Water | Wayzata Municipal | (952) 473-0234 |
| Telephone | CenturyLink Communications | (800) 603-6000 |
| Cable TV | Mediacom | (952) 440-9680 |
---
Major Employers:
| | | |
| --- | --- | --- |
| Employer | Products/Services | Employees |
| Wayzata Public Schools-ISD #284 | Elementary & Secondary Schools | 1,575 |
| Wayzata Auto Center | New Car Dealers | 382 |
| Coldwell / Burnet Realty Inc | Offices of Real Estate Agents & Brokers | 280 |
| Wayzata Country Club | Golf Courses & Country Clubs | 230 |
| TCF Financial Corp. | Offices of Bank Holding Companies | 152 |
| Edina Realty Inc | Offices of Real Estate Agents & Brokers | 128 |
| Sunsets on Wayzata Bay | Full-Service Restaurants | 90 |
| Foursome Inc | Men's & Boys' Clothing & Furnishings Merch. Whole. | 86 |
| Wayzata, City of | Other General Government Suppt. | 79 |
| Anchor Bank NA | Offices of Bank Holding Companies | 77 |
| Wells Fargo Bank | Offices of Bank Holding Companies | 75 |
| Copeland Buhl & Co | Offices of Certified Public Accountants | 55 |
| Roger Fazendin Realtors | Offices of Real Estate Agents & Brokers | 52 |
---
---
News:
---
Weather:
---
Map: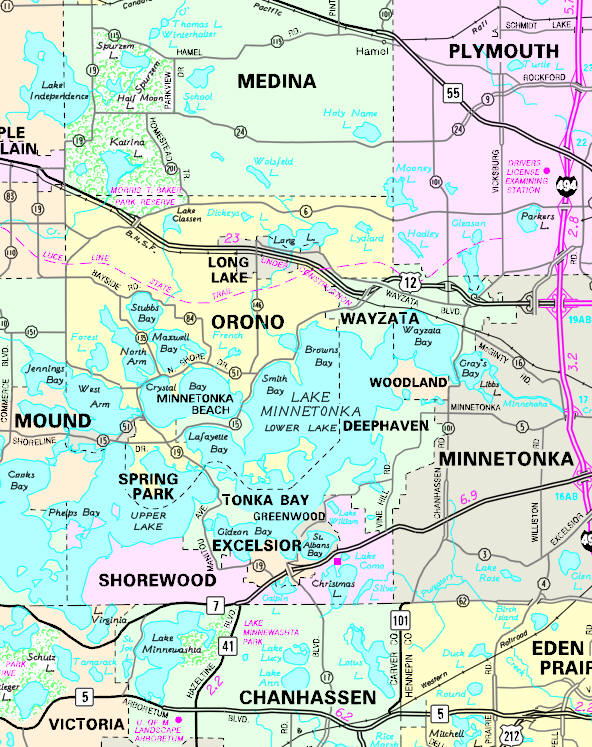 Minnesota State Highway Map of the Wayzata Minnesota area
---
Events:
---
---
Attractions:
---
Recreation:
---
Lakes:
---
Health Care:
---
Schools:
---
Churches:
---
Media:
---
Motels:
Check for motel rates and availability on:
---
Resorts:
---
Campgrounds:
---
---
Businesses:

The Wayzata Business Directory is Coming Soon!

---
---
Aerial Photo:
---
Topographic Map: [click map to enlarge, zoom in or zoom out]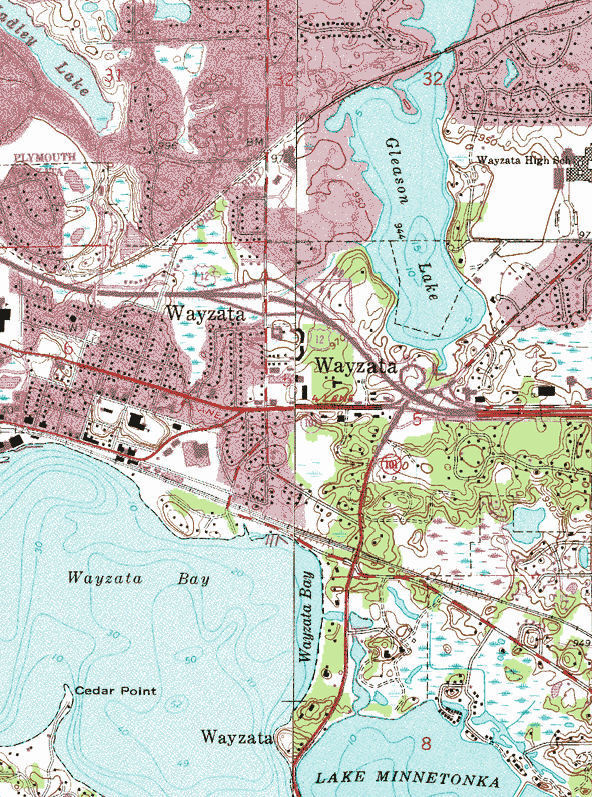 Topographic map is courtesy of the Minnesota DNR - click map to zoom or enlarge