Navigation
LakesnWoods.com
Home Page
Contact Us
Privacy
Minnesota History Shop

Visit The Minnesota History Shop
www.minnesotahistoryshop.com
Historic maps
Historic books
Historic framed art
Historic postcards
Clothing with historic images
And much more!!!


Villard Guide:
Photo Gallery
Location
Geography
Demographics
History
Government
Post Office
News
Weather
Street Map
Events
Attractions
Recreation
Lakes
Health Care
Schools
Churches
Media
Motels
Resorts
Campgrounds
Businesses
Aerial Photo
Topographic Map
© 2004-2023
Lakeweb1 Internet Services
All Rights Reserved
DCMA, Defamation, Copyright and Trademark Infingement Policy
WANTED!
Do you have photos, historical accounts or other items pertaining to the Villard area? Would you like to share this historical information with the world? LakesnWoods.com would like to publish your Villard photos (current or historical) or historical accounts on this website. Original materials can be returned and your privacy will be respected.


(design available on over 100 different items!)

Villard Minnesota Community Guide
---
Location:
---
Population:
Villard (city)
1970
1980
1990
2000
2010
2000-2010 Change
Actual
Percent
Population
221
275
247
244
254
+10
+4.17
Land Area (sq. mile)
0.80
0.81
0.79
0.79
0.79
0
0.00
Density (persons per sq. mile)
276.25
339.51
312.66
308.48
321.52
+13.04
+4.23
Housing Units
87
113
112
116
127
+11
+10.55
Households
--
99
94
99
115
+16
+16.16
Persons Per Household
--
2.73
2.63
2.46
2.21
-0.25
-10.16
---
Geography:
Villard is a city in Pope County, Minnesota. Minnesota Highway 28 serves as a main route in the community. According to the United States Census Bureau, the city has a total area of 0.80 square miles (2.07 km2), all of it land. The elevation is 1,362 feet (415 m).
From Wikipedia, the free encyclopedia.
---
Demographics:
As of the census of 2010, there were 254 people, 115 households, and 72 families residing in the city. The population density was 317.5 inhabitants per square mile (122.6/km2). There were 127 housing units at an average density of 158.8 per square mile (61.3/km2). The racial makeup of the city was 95.7% White, 2.0% Native American, 0.8% Asian, and 1.6% from two or more races. Hispanic or Latino of any race were 0.4% of the population.
There were 115 households of which 24.3% had children under the age of 18 living with them, 50.4% were married couples living together, 9.6% had a female householder with no husband present, 2.6% had a male householder with no wife present, and 37.4% were non-families. 33.0% of all households were made up of individuals and 13.1% had someone living alone who was 65 years of age or older. The average household size was 2.21 and the average family size was 2.79.
The median age in the city was 45.3 years. 22.4% of residents were under the age of 18; 6.3% were between the ages of 18 and 24; 20.8% were from 25 to 44; 31.6% were from 45 to 64; and 18.9% were 65 years of age or older. The gender makeup of the city was 49.6% male and 50.4% female.
---
---
History:
VILLARD, a city in Westport and Leven Townships, platted in August 1882, was named in honor of Henry Villard, who was born in Bavaria, April 11, 1835, and died at Dobbs Ferry, N.Y., November 12, 1900. He came to the United States in 1853, engaged in journalism and in the management of railroads, and was president of the Northern Pacific Railroad company in 1881-83, when the construction of its transcontinental line was completed. E. V. Smalley, in his history of this railroad, devoted two chapters (pp. 245-76) to the very remarkable career of Villard, up to the time of its publication in 1883. The city was incorporated as a village on October 4, 1883, and separated from the township on March 18, 1908; it had a station of the Northern Pacific Railroad in section 24 of Leven Township, and the post office was established in 1882.
Courtesy Minnesota Historical Society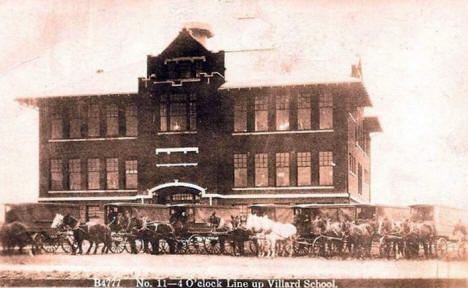 4 O'clock Lineup, Villard School, Villard Minnesota, 1916
LakesnWoods.com Postcard and Postcard Image Collection - click to enlarge

Visit The Villard Photo Gallery for more recent and historic area photos
---
Government:
Villard City Hall
PO Box 7
Villard, MN 56385
Phone: (320) 554-7800

Regular Business Hours:
unknown

City Council Meetings:
2nd Tuesday of the month at 6:30 pm



Title
Term Ends
Name and Address
Phone
Mayor
12/31/2022
Jason Rupp
510 Michigan Avenue
Villard, MN 56385
(320) 424-2893
(320) 554-6027
Clerk/Treasurer
12/31/2022
Jennie Mitchell
400 Washington Avenue
Villard, MN 56385
(320) 554-2902
Council Member
12/31/2022
Dean Chlian
211 State Avenue
Villard, MN 56385
(651) 269-0515
Council Member
12/31/2024
Ann Butler
441 Commercial Avenue
Villard, MN 56385
(320) 554-2313
Council Member
12/31/2024
Michael J Stein II
731 Washington Avenue
Villard, MN 56385
(320) 219-9341
---
Post Office:
US Post Office
602 Lake Street
Villard, MN 56385-4400
Phone: (320) 554-3444
Toll Free: (800) ASK USPS

Regular Business Hours:
Week Days 7:30 am - 11:30 pm
Saturday 9:00 am - 9:45 am
---
---
Utilities:
| | | |
| --- | --- | --- |
| Utility Type | Utility Name | Utility Phone |
| Electricity | Xcel Energy | (800) 895-4999 |
| Natural Gas | n/a | -- |
| Wastewater | n/a | -- |
| Water | n/a | -- |
| Telephone | CenturyLink | (800) 603-6000 |
| Cable TV | n/a | -- |
---
Major Employers:
Employer
Products/Services
Employees

not available
---
---
News:
---
Weather:
---
Map: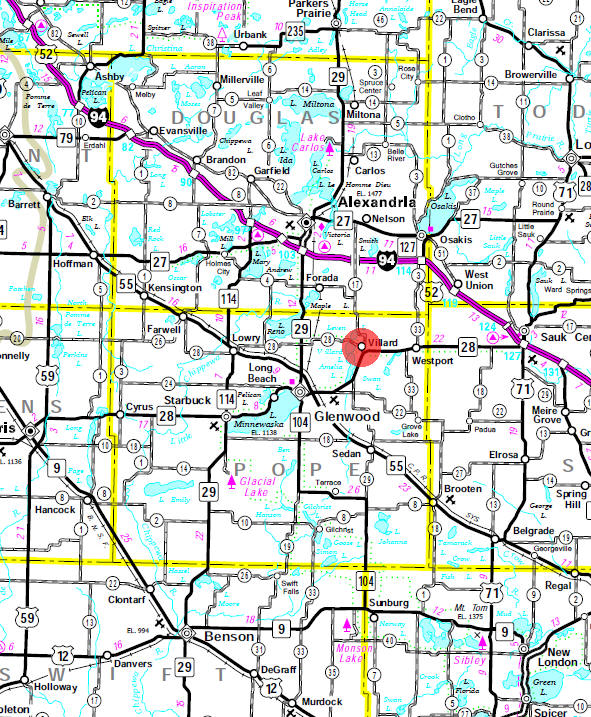 Minnesota State Highway Map of the Villard Minnesota area
---
Events:
---
---
Attractions:
---
Recreation:
---
Lakes:
Lake Name
Size
(acres)
Lake info
Lake Map
Rec Map
Topo Map
Amelia
934
Leven
159
Swan
189
Villard
544
---
Health Care:
---
Schools:
---
Churches:
St. John's Lutheran Church
301 Commercial Avenue
Villard, MN 56385
Phone: (320) 554-2166
Villard United Methodist Church
County Road 28 & 17
Villard, MN 56385
Phone: (320) 859-4277
---
Media:
---
Motels:
Check for motel rates and availability on:
---
Resorts:
Canary Beach Resort
17405 County Road 28
Villard, MN 56385
Phone: (320) 554-2471
Shady Rest Resort
16953 142nd St
Villard, MN 56385
Phone: (320) 554-2017
---
Campgrounds:
---
---
Businesses:
10 Mile Tavern
610 Old Highway 28
Villard, MN 56385
Phone: (320) 554-2939
Al's Country Foods
601 Washington Avenue
Villard, MN 56385
Phone: (320) 554-2611
Ashcreek Farms
10376 120th St
Villard, MN 56385
Phone: (320) 352-2424
Binful Inc
430 Michigan Avenue
Villard, MN 56385
Phone: (320) 554-2051
Buffington Chiropractic
430 Washington Avenue
Villard, MN 56385
Phone: (320) 554-2332
Canary Beach Resort
17405 County Road 28
Villard, MN 56385
Phone: (320) 554-2471
City of Villard
751 Washington Avenue
Villard, MN 56385
Phone: (320) 554-7500
Customs Sandblasting & Painting
421 Livingston Street
Villard, MN 56385
Phone: (320) 554-2407
Eagle Bank
541 Washington Avenue
Villard, MN 56385
Phone: (320) 554-2984
Feilder Family Farm
13209 100th Avenue
Villard, MN 56385
Phone: (320) 352-3894
First Rate Glass
15803 135th Street
Villard, MN 56385
Phone: (320) 554-2255
First Rate Glass
Highway 28
Villard, MN 56385
Phone: (320) 554-2255
Franklin Life Insurance
PO Box 9
Villard, MN 56385
Phone: (320) 554-2950
Gierke Pro Pumping
114 Washington St
Villard, MN 56385
Phone: (320) 554-2243
Gingerbread Inn
621 Washington Avenue
Villard, MN 56385
Phone: (320) 554-3377
Glenwood State Bank
440 Washington Avenue
Villard, MN 56385
Phone: (320) 554-3021
Hairitage Square
611 Washington Avenue
Villard, MN 56385
Phone: (320) 554-3282
Malecha Dairy Inc
14542 County Road 33
Villard, MN 56385
Phone: (320) 554-6077
Massman Automation Designs
1010 E Lake Street
Villard, MN 56385
Phone: (320) 554-2550
Office Bar
540 Washington Street
Villard, MN 56385
Phone: (320) 554-7511
Olson Machine Company
502 Commercial Street
Villard, MN 56385
Phone: (320) 554-3585
Pfeninger Trucking Inc
431 Washington Avenue
Villard, MN 56385
Phone: (320) 554-7220
Pope County Co-Op Oil Association
600 Washington Avenue
Villard, MN 56385
Phone: (320) 554-2211
R H Lodge
48663 Xenon Road
Villard, MN 56385
Phone: (320) 352-0223
Reichmann Trucking Inc
15290 127th Street
Villard, MN 56385
Phone: (320) 554-6222
Shady Rest Resort
16953 142nd Street
Villard, MN 56385
Phone: (320) 554-2017
St. John's Lutheran Church
301 Commercial Avenue
Villard, MN 56385
Phone: (320) 554-2166
Sunrise News Service
17440 140th Avenue
Villard, MN 56385
Phone: (320) 634-4340
Tank's TV & Appliance
671 Lincoln Avenue
Villard, MN 56385
Phone: (320) 554-3111
Trisha's Tiny Tots
11857 176th Avenue
Villard, MN 56385
Phone: (320) 554-2827
US Post Office
602 Lake Street
Villard, MN 56385
Phone: (320) 554-3444
Villard Implement Company
671 Lincoln Avenue
Villard, MN 56385
Phone: (320) 554-3111
Villard United Methodist Church
County Road 28 & 17
Villard, MN 56385
Phone: (320) 859-4277
Walker Plumbing Heating
98 Commercial Avenue
Villard, MN 56385
Phone: (320) 554-6601
Wangness, Jerry CPA
440 Washington Avenue
Villard, MN 56385
Phone: (320) 554-7216
Westcon Contracting
11873 County Road 33
Villard, MN 56385
Phone: (320) 352-3383
---
---
Aerial Photo:
---
Topographic Map: [click map to enlarge, zoom in or zoom out]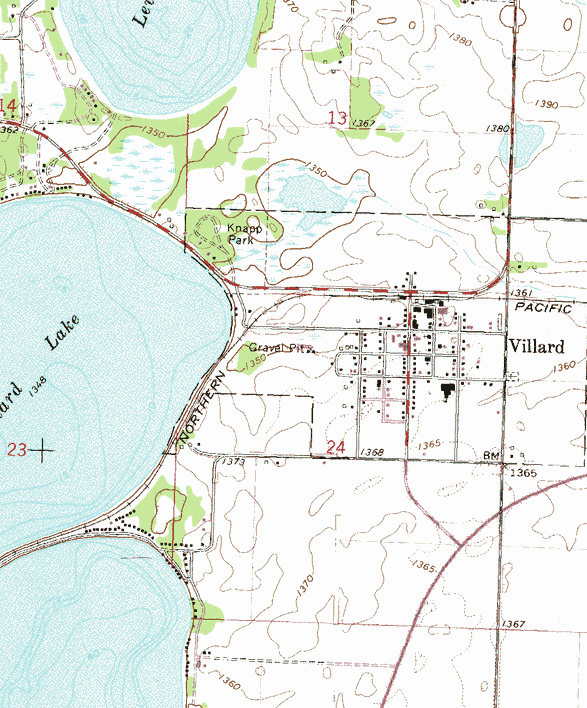 Topographic map is courtesy of the Minnesota DNR - click map to zoom or enlarge