Navigation
LakesnWoods.com
Home Page
Contact Us
Privacy
Minnesota History Shop

Visit The Minnesota History Shop
www.minnesotahistoryshop.com
Historic maps
Historic books
Historic framed art
Historic postcards
Clothing with historic images
And much more!!!


Swanville Guide:
Photo Gallery
Location
Geography
Demographics
History
Government
Post Office
News
Weather
Street Map
Events
Attractions
Recreation
Lakes
Health Care
Schools
Churches
Media
Motels
Resorts
Campgrounds
Businesses
Aerial Photo
Topographic Map
© 2004-2023
Lakeweb1 Internet Services
All Rights Reserved
DCMA, Defamation, Copyright and Trademark Infingement Policy
WANTED!
Do you have photos, historical accounts or other items pertaining to the Swanville area? Would you like to share this historical information with the world? LakesnWoods.com would like to publish your Swanville photos (current or historical) or historical accounts on this website. Original materials can be returned and your privacy will be respected.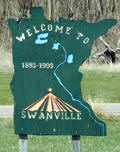 Swanville Minnesota Community Guide
---
Location:
---
Population:
Swanville (city)
1970
1980
1990
2000
2010
2000-2010 Change
Actual
Percent
Population
300
295
324
351
350
-1
-0.28
Land Area (sq. mile)
0.30
0.28
0.48
0.51
0.51
0
0.00
Density (persons per sq. mile)
1,000.00
1,053.57
675.00
693.96
686.27
-7.69
-0.28
Housing Units
122
123
140
148
157
+9
+6.08
Households
--
112
129
142
141
-1
-0.70
Persons Per Household
--
2.63
2.51
2.47
2.48
+0.01
+0.40
---
Geography:
Swanville is a city in Morrison County, Minnesota. Minnesota State Highway 28 serves as a main route in the community. According to the United States Census Bureau, the city has a total area of 0.52 square miles (1.35 km2), all of it land. The elevation is 1,181 ft (360 m).
From Wikipedia, the free encyclopedia.
---
Demographics:
As of the census of 2010, there were 350 people, 141 households, and 102 families residing in the city. The population density was 673.1 inhabitants per square mile (259.9/km2). There were 157 housing units at an average density of 301.9 per square mile (116.6/km2). The racial makeup of the city was 98.3% White, 0.3% African American, 0.3% Native American, 0.6% Asian, and 0.6% from two or more races. Hispanic or Latino of any race were 1.4% of the population.
There were 141 households of which 36.9% had children under the age of 18 living with them, 49.6% were married couples living together, 16.3% had a female householder with no husband present, 6.4% had a male householder with no wife present, and 27.7% were non-families. 26.2% of all households were made up of individuals and 12% had someone living alone who was 65 years of age or older. The average household size was 2.48 and the average family size was 2.91.
The median age in the city was 37 years. 26.3% of residents were under the age of 18; 9.2% were between the ages of 18 and 24; 24.6% were from 25 to 44; 26% were from 45 to 64; and 14% were 65 years of age or older. The gender makeup of the city was 51.4% male and 48.6% female.
---
---
History:
SWANVILLE Township, organized October 12, 1892, likewise crossed by the Swan River, took the name of its railway village, platted by John Williams, Jr. , and Henry Albert and Matilda Rhoda in section 7 in November 1882 and incorporated May 24, 1893; the name was selected by Williams. The major industry was lumber, and the village had a station of the Northern Pacific Railroad. Its post office in section 32 was first called Culdrum, 1867-83.
Courtesy Minnesota Historical Society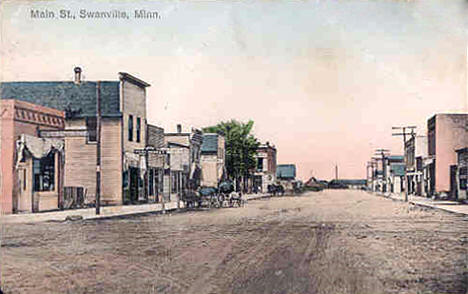 Main Street, Swanville Minnesota, 1916
LakesnWoods.com Postcard and Postcard Image Collection

Visit The Swanville Photo Gallery for more recent and historic area photos


---
Government:
Swanville City Hall
213 Degraff Avenue
PO Box 296
Swanville, MN 56382
Phone: (320) 547-2291

Regular Business Hours:
Monday - Friday 9:00 am - 4:00 pm

City Council Meetings:
1st Tuesday after the 1st Monday of each month at 7:00 pm


Title
Term Ends
Name and Address
Phone
Mayor
12/31/2022
Sandy Lange
PO Box 276
Swanville, MN 56382
(320) 360-9409
Clerk/Treasurer
appointed
Julie Hollermann
PO Box 296
Swanville, MN 56382
(320) 547-2291
Council Member
12/31/2022
Jim Molitor
PO Box 317
Swanville, MN 56382
(320) 250-8078
Council Member
12/31/2022
Tony Maciej
PO Box 74
Swanville, MN 56382
(320) 360-2548
Council Member
12/31/2024
Norman Carlson
PO Box 42
Swanville, MN 56382
(320) 547-2366
Council Member
12/31/2024
John Dragseth
PO Box 333
Swanville, MN 56382
(320) 547-2175
---
Post Office:
US Post Office
310 DeGraff Avenue
Swanville, MN 56382-4400
Phone: (320) 547-2922
Toll Free: (800) ASK-USPS

Regular Business Hours:
Week Days 7:30 am - 1:30 pm
Saturday 8:30 am - 9:30 am
---
---
Utilities:
---
Major Employers:
---
---
News:
---
Weather:
---
Map: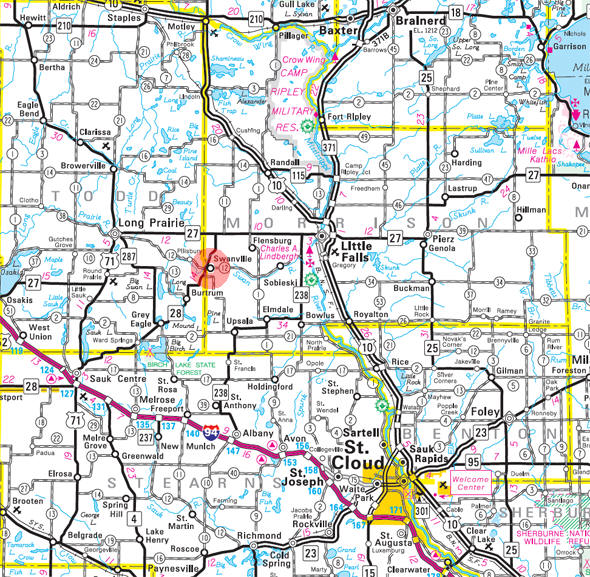 Minnesota State Highway Map of the Swanville Minnesota area
---
Events:
---
Attractions:
---
Recreation:
---
Lakes:
Lake Name
Size
(acres)
Lake info
Lake Map
Rec Map
Topo Map

none in the immediate area
---
Health Care:
---
Schools:
---
Churches:
St. John the Baptist Catholic Church
21 1st Street
Swanville, MN 56382
Phone: (320) 547-2920

Pastor: Father Ron Dockendorf
Sunday Service: 10:30 am
St. Peter's Lutheran Church
503 Berkey Avenue
Swanville, MN 56382
Phone: (320) 547-2928

Pastor: Kevin Zellers
Sunday Service: 9:00 am
Swanville Bible Church
301 Berkey Avenue
Swanville, MN 56382
Phone: (320) 547-2916

Pastor: Mike Gunner
Sunday Service: 10:30 am
---
Media:
---
Motels:
---
Resorts:
---
Campgrounds:
---
Businesses:
American Septic Pumping
33660 210th Street
Swanville, MN 56382
Phone: (320) 547-2469
Web: www.americansepticpumping.com
Autumn Antlers
1280 180th Street
PO Box 339
Swanville, MN 56382
Phone: (320) 547-2200
Toll Free: (866) 4BIGBUCKS
Web:
Bang Construction
5627 Baltic Road
Swanville, MN 56382
Phone: (320) 573-2278
Boater's Dream Marine Svc
15174 Bison Road
Swanville, MN 56382
Phone: (320) 632-8152
Bob & Fran's Grocery
309 Degraff Avenue
Swanville, MN 56382
Phone: (320) 547-2311
Fax: (320) 547-0090

Full line of groceries, fresh meats, full service. We deliver!

C & J Town & Country
301 De Graff Avenue
Swanville, MN, 56382
Phone: (320) 547-2424
C C Sharrow Co
215 Degraff Avenue
Swanville, MN 56382
Phone: (320) 547-9948
Web: www.ccsharrow.com
Cansrus
34078 County Road 12
Swanville, MN 56382
Phone: (320) 547-2478
Capko/Oak Hill Dairy
3352 140th Street
Swanville, MN 56382
Phone: (320) 573-4324
Debs Floral
101 Degraff Avenue
Swanville, MN 56382
Phone: (320) 732-6699
DeerStore.com
PO Box 128
Swanville, MN 56382
Phone: (320) 547-2010
Web: www.deerstore.com

At Deerstore.com you will find everything you need to handle deer efficiently, safely and without the use of drugs. As pioneers in the whitetail deer farming industry, our products are backed up with 20 years of deer handling experience.

Delclayna Manufacturing
22 5th Street
Swanville, MN 56382
Phone: (320) 547-2010
First State Bank
306 Degraff Avenue
Swanville, MN 56382
Phone: (320) 547-2442
Web: www.diversicommunity.com/
firststatebank

Geri's Klip & Kurl
6183 Balcony Road
Swanville, MN 56382
Phone: (320) 573-2218
Gessell Turkey Farms
11678 Springbrook Drive
Swanville, MN 56382
Phone: (320) 547-2336
Granny's Cafe
302 Degraff Avenue
Swanville, MN 56382
Phone: (320) 547-0050
Hollermann Repair
301 Highway 28
Swanville, MN 56382
Phone: (320) 547-2918
Jennie-O Turkey Store
21 3rd Street
Swanville, MN 56382
Phone: (320) 547-2247
Jennie-O Turkey Store
309 Rhoda Avenue
Swanville, MN 56382
Phone: (320) 547-9919
Kamps Korner Store
105 Degraff Avenue
Swanville, MN 56382
Phone: (320) 547-2492
Leading Edge Cabinets
4226 50th Street
Swanville, MN 56382
Phone: (320) 573-7700
Landmark Realty
308 Degraff Avenue
Swanville, MN 56382
Phone: (320) 547-2440
Web: www.schultzauctioneers
landmarkrealty.com

Schultz Auctioneers Landmark Realty, Inc. is your online home to auctions and real estate listings in Minnesota. We specialize in real estate auctions, traditional listings and specialty auctions!

Loven's Auto Center
22 3rd Street
Swanville, MN 56382
Phone: (320) 547-2465
Web: www.napalp.com/lovens.htm

Loxter Camp Farms
11926 10th Avenue
Swanville, MN 56382
Phone: (320) 547-9955
Loxterkamp Farms 2
12631 Highway 28
Swanville, MN 56382
Phone: (320) 547-0047
M T Repair
34 1st Street
Swanville, MN 56382
Phone: (320) 547-2410
Maciej Construction LLC
11224 30th Avenue
Swanville, MN 56382
Phone: (320) 547-9907
Marks Lil' Dipper
16993 Bison Road
Swanville, MN 56382
Phone: (320) 632-9730
Nilson Direct
207 Degraff Avenue
Swanville, MN 56382
Phone: (320) 547-2241
Toll Free: (888) 547-2241
Web: www.nilsondirect.com

Culligan water filters, water treatment and Culligan water replacement filters are just some of the services available at Nilsondirect.com. We carry "Water Factory" point-of-use filters and reverse osmosis systems and "Culligan" (formerly Ametek) water filters.



Nilson's Hardware & Rent-It
207 Degraff Avenue
Swanville, MN 56382
Phone: (320) 547-2241
Web: www.doitbest.com
Pep Up Your Style
312 Degraff Avenue
Swanville, MN 56382
Phone: (320) 547-2351
Perfection Crane & Hoist Inc
201 Degraff Avenue
Swanville, MN 56382
Phone: (320) 547-2401
Web: www.perfectioncrane.com

PERFECTION CRANE & HOIST, INC. is a master distributor for nearly every major brand of hoists and cranes. We are your supplier for all of your overhead material handling needs, whether it is replacement parts, new hoists, complete cranes, warranty repairs, or on-site services.

Roto Mold Inc
11496 Highway 28
Swanville, MN 56382
Phone: (320) 547-3003
Schultz Auctioneers
308 Degraff Avenue
Swanville, MN 56382
Phone: (320) 547-2440
Web: www.schultzauctioneers
landmarkrealty.com

Schultz Auctioneers Landmark Realty, Inc. is your online home to auctions and real estate listings in Minnesota. We specialize in real estate auctions, traditional listings and specialty auctions!

Shelley-Gibson Funeral Chapel
211 Degraff Avenue
Swanville, MN 56382
Phone: (320) 547-2462
Web: www.shelleyfuneralchapels.com

Shelley Funeral Chapels has been privileged to serve families for over 75 years in Central Minnesota. Our experienced and professional staff will provide you with caring and compassionate service during a difficult time.

Shooter's Pub
24 3rd Street
Swanville, MN 56382
Phone: (320) 547-2120
Ski's Lumber Inc
202 Degraff Avenue
Swanville, MN 56382
Phone: (320) 547-2339
Sonny Peterson Trucking
11502 Highway 28
Swanville, MN 56382
Phone: (320) 547-2489
St. John's Catholic Church
21 1st Street
Swanville, MN 56382
Phone: (320) 547-2920
St. Peter's Lutheran Church
503 Berkey Avenue
Swanville, MN 56382
Phone: (320) 547-2928
Swanville Bible Church
301 Berkey Avenue
Swanville, MN 56382
Phone: (320) 547-2916
Swanville City Offices
213 Degraff Avenue
Swanville, MN 56382
Phone: (320) 547-2291
Swanville Community Dental
213 Degraff Avenue
Swanville, MN 56382
Phone: (320) 632-6621
Swanville Cooperative Creamery
107 Rhoda
Swanville, MN 56382
Phone: (320) 547-2445
Swanville Feed Mill
21 3rd Street
Swanville, MN 56382
Phone: (320) 547-3063
Swanville Locker
103 Rhonda Avenue
Swanville, MN 56382
Phone: (320) 547-2414
Swanville Produce
107 Rhoda Avenue
Swanville, MN 56382
Phone: (320) 547-2455
Swanville Public Library
213 Degraff Avenue
Swanville, MN 56382
Phone: (320) 547-2346
Web: www.griver.org
Swanville Public School
602 Degraff Avenue
Swanville, MN 56382
Phone: (320) 547-2431
Web: www.swanville.k12.mn.us

Grades: PK-12
Students: 318

Swanville Redi Mix & Construction
2435 Cable Road
Swanville, MN 56382
Phone: (320) 547-2123
Swanville Rural Fire Association Inc
30 1st Street
Swanville, MN 56382
Phone: (320) 547-2421
Swanville Senior Citizens Center
305 Degraff Avenue
Swanville, MN 56382
Phone: (320) 547-2962
Tom Kuehne Agency Inc
303 Degraff Avenue
Swanville, MN 56382
Phone: (320) 547-2333
Twelve Mile Tavern
2102 Highway 27
Swanville, MN 56382
Phone: (320) 547-2911
US Post Office
310 DeGraff Avenue
Swanville, MN 56382-4400
Phone: (320) 547-2922
Toll Free: (800) ASK-USPS
Web: www.usps.com
Waltman Appraisal Service
308 Degraff Avenue
Swanville, MN 56382
Phone: (320) 547-2440
Woller Equipment
4054 50th Avenue
Swanville, MN 56382
Phone: (320) 573-2341
Woodland Acres
2244 Cable Road
Swanville, MN 56382
Phone: (320) 547-2224
---
---
Aerial Photo:
---
Topographic Map: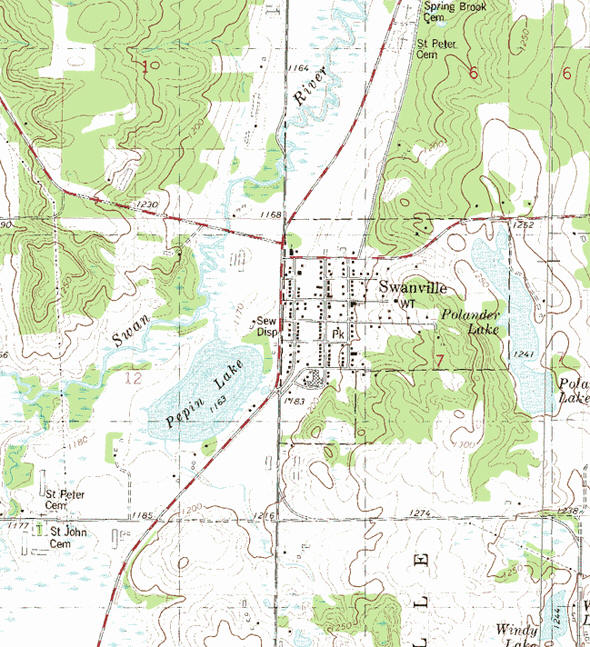 Topographic map is courtesy of the Minnesota DNR - click map to zoom or enlarge