Navigation
LakesnWoods.com
Home Page
Contact Us
Privacy
Minnesota History Shop

Visit The Minnesota History Shop
www.minnesotahistoryshop.com
Historic maps
Historic books
Historic framed art
Historic postcards
Clothing with historic images
And much more!!!


St. Joseph Guide:
Photo Gallery
Location
Geography
Demographics
History
Government
Post Office
News
Weather
Street Map
Events
Attractions
Recreation
Lakes
Health Care
Schools
Churches
Media
Motels
Resorts
Campgrounds
Businesses
Aerial Photo
Topographic Map
© 2004-2023
Lakeweb1 Internet Services
All Rights Reserved
DCMA, Defamation, Copyright and Trademark Infingement Policy
WANTED!
Do you have photos, historical accounts or other items pertaining to the St. Joseph area? Would you like to share this historical information with the world? LakesnWoods.com would like to publish your St. Joseph photos (current or historical) or historical accounts on this website. Original materials can be returned and your privacy will be respected.

St. Joseph Minnesota Community Guide
---
Location:
---
Population:
St. Joseph (city)
1970
1980
1990
2000
2010
2000-2010 Change
Actual
Percent
Population
1,786
2,994
3,294
4,681
6,534
+1,853
+39.59
Land Area (sq. mile)
0.40
0.70
0.91
1.86
1.86
0
0.00
Density (persons per sq. mile)
4,465.0
4,277.1
3,619.8
2,517.4
3,512.9
+995.50
+39.59
Housing Units
304
584
759
1,147
1,912
+765
+66.70
Households
--
544
746
1,120
1,845
+720
+64.29
Persons Per Household
--
3.10
2.92
2.74
3.54
+0.80
+29.20
---
Geography:
St. Joseph is a city in Stearns County, Minnesota. Stearns County Road 75 serves as a main route in the community. Other routes include County Roads 2, 3, 121, 133, and 134. Interstate 94 is nearby. According to the United States Census Bureau, the city has a total area of 3.89 square miles (10.08 km2), all of it land. The elevation is 1,096 ft (334 m) above sea level.
From Wikipedia, the free encyclopedia.
---
Demographics:
As of the census of 2010, there were 6,534 people, 1,845 households, and 1,184 families residing in the city. The population density was 1,679.7 inhabitants per square mile (648.5/km2). There were 1,912 housing units at an average density of 491.5 per square mile (189.8/km2). The racial makeup of the city was 93.7% White, 1.1% African American, 0.2% Native American, 2.4% Asian, 0.9% from other races, and 1.7% from two or more races. Hispanic or Latino of any race were 1.9% of the population.
There were 1,845 households of which 33.3% had children under the age of 18 living with them, 50.7% were married couples living together, 9.5% had a female householder with no husband present, 4.0% had a male householder with no wife present, and 35.8% were non-families. 21.2% of all households were made up of individuals and 5.3% had someone living alone who was 65 years of age or older. The average household size was 2.61 and the average family size was 2.96.
The median age in the city was 22.7 years. 17.1% of residents were under the age of 18; 37.7% were between the ages of 18 and 24; 22.3% were from 25 to 44; 15.1% were from 45 to 64; and 7.9% were 65 years of age or older. The gender makeup of the city was 37.2% male and 62.8% female.
---
---
History:
ST. JOSEPH Township, settled in 1854, organized in 1858, and its city, founded in 1855 and incorporated January 18, 1890, bear the name of its church. The first settler, German immigrant Peter Loso, came in 1854, made a claim on sections 9 and 10, on which the village was platted, owned a store, a mill, and a hotel, and died in 1877. The post office was established as Clinton in 1856, with John Linnemann as postmaster; when the name was changed to St. Joseph in 1870, Loso was postmaster; it had a station of the Great Northern Railway in section 10.
Courtesy Minnesota Historical Society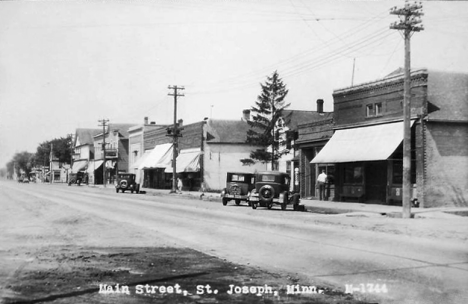 Main Street, St. Joseph Minnesota, 1930s
LakesnWoods.com Postcard and Postcard Image Collection - click to enlarge

Visit The St. Joseph Photo Gallery for more recent and historic area photos
---
Government:
St. Joseph City Hall
75 Callaway Street E
St. Joseph, MN 56374
Phone: (320) 363-7201
Fax: (320) 363-0342

Regular Business Hours:
Monday - Friday 8:00 am - 4:30 pm

City Council Meetings:
1st and 3rd Monday of the month at 6:00 pm


Title
Term Ends
Name and Address
Phone
Mayor
12/31/2022
Rick Schultz
326 7th Avenue SE
St. Joseph, MN 56374


(320) 260-0393
City Clerk
appointed
Therese Haffner
75 Callaway Street E
St. Joseph, MN 56374
(320) 363-7201
Council Member
12/31/2022
Anne Buckvold
27 1st Avenue NE
St. Joseph, MN 56374
(320) 339-1941
Council Member
12/31/2022
Brian Theisen
916 3rd Avenue NE
St. Joseph, MN 56374
(320) 293-4712
Council Member
12/31/2024
Kelly Beniek
118 17th Avenue SE
St. Joseph, MN 56374
(320) 469-0447
Council Member
12/31/2024
Bob Loso
301 Birch Street W
St. Joseph, MN 56374


(320) 363-8703
(320) 310-6378
---
Post Office:
US Post Office
117 W Ash Street
St. Joseph, MN 56374-4400
Phone: (320) 363-8360
Toll Free: (800) ASK-USPS

Regular Business Hours:
Week Days 8:30 am - 4:30 pm
Saturday 8:30 am - 10:00 am
---
Utilities:
---
Major Employers:
---
---
News:
---
Weather:
---
Map: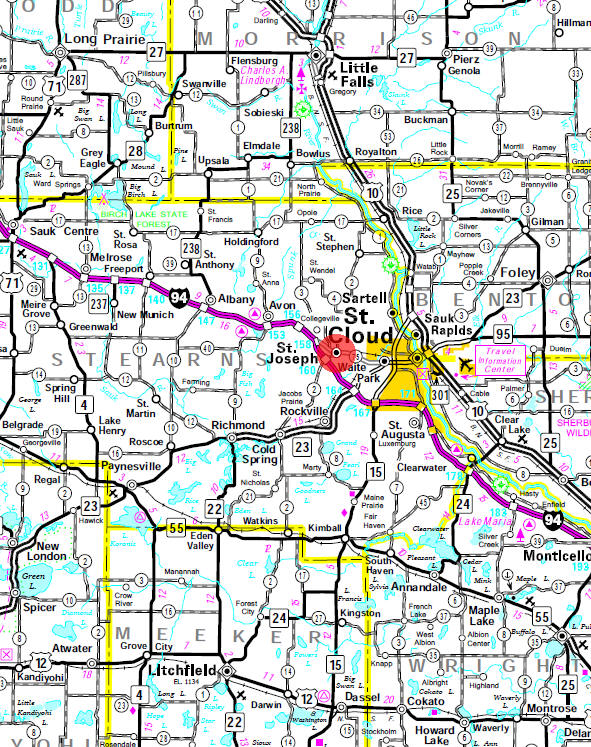 Minnesota State Highway Map of the St. Joseph Minnesota area
---
Events:
Millstream Arts Festival

Last Sunday in September

We are an outdoor, juried art show held on the last Sunday in September on Main Street in St. Joseph, Minnesota. The event is a festive environment with a wide variety of visual arts, music, dance, enticing foods, and hands-on art activities for children.
---
---
Attractions:
Art and Heritage Place - Haehn Museum
Saint Benedict's Monastery
104 Chapel Lane
St Joseph, MN 56374-0220
Phone:

(320) 363-7098


Web: www.sbm.osb.org

This museum is home to nearly 4,000 artifacts, dating back to 1857, which documents the lives and ministries of the Sisters. The exhibits capture and portray the strong cultural, social and religious influence the Benedictine Sisters have had in local, state, national and international ministries, both past and present. Also home to the Whitby Gift Shop, where the public can view and purchase works of art created by the Sisters.

Benedicta Arts Center
37 College Avenue S
St. Joseph, MN 56374
Phone: (320) 363-5777
Web: www.csbsju.edu/bac

The Benedicta Arts Center (BAC) of the College of Saint Benedict is comprised of 173,000 square feet of academic arts spaces and has long been considered one of the finest performance venues in the upper Midwest.
---
Recreation:
---
Lakes:
Lake Name
Size
(acres)
Lake info
Lake Map
Rec Map
Topo Map

none in the immediate area
---
Health Care:
---
Schools:
---
Churches:
---
Media:
Newspapers

St. Joseph Newsleader
32 1St. Avenue NW
St. Joseph, MN 56374
Phone: (320) 363-7741
Daily
St. Cloud Times
3000 7th Street N
PO Box 768
St. Cloud, MN 56302
Phone: (320) 255-8700
Fax: (320) 255-8775
Web: www.sctimes.com

Radio

660
WBHR-AM - "660 The Bear"
1010 2nd Street N
PO Box 366
Sauk Rapids, MN 56379
Phone: (320) 257-6403
Web: www.660wbhr.com
Power: Day: 10,000 watts Night: 500 watts
800
WVAL-AM - "Minnesota's Country Legend"
1010 2nd Street S
PO Box 366
Sauk Rapids, MN 56379
Phone: (320) 252-6200
Fax: (320) 252-9367
Web: www.800wval.com
Power: Day: 2,600 watts Night: 850 watts
1010
WMIN-AM - "Uptown 1010"
Sauk Rapids, MN

Web: www.wmin1010.com

Power: Day: 1,700 watts Night: 240 watts

1180
KYES-AM - "Relevant Radio"
PO Box 547
Sauk Rapids, MN 56379
Phone: (320) 257-9669
Toll Free: (877) 280-1188
Web: www.kyesradio.com
Power: Day: 50,000 watts Night: 5,000 watts
1240
WJON-AM - "Information Radio"
640 SE Lincoln Avenue
St. Cloud, MN 56304
Studio line: (320) 252-5852
Business line: (320) 251-4422
Web: www.wjon.com
Power: Day: 1,000 watts Night: 1,000 watts
1390
KXSS-AM - "The Fan"
1986 Julep Road
St. Cloud, MN 56301
Phone: (320) 251-4422
Fax: (320) 251-1855
Web: www.1390thefan.com
Power: Day: 2,500 watts Night: 1,000 watts
1450
KNSI-AM - "NewsTalk 1450"
619 St. Germain Street
St. Cloud MN 56301-3640
Phone: (320) 251-1450
Fax: (320) 251-8952
Web: www.1450knsi.com
Power: Day: watts Night: watts

KNSI has a variety of news and talk programming dealing with news, current events, politics, sports, and more. Its signature live and local show is Hot Talk which airs weekday mornings. KNSI also airs many syndicated talk show hosts such as Rush Limbaugh, Laura Ingraham, George Noory and Michael Savage.

88.1
KVSC-FM - "Your Sound Alternative"
720 Fourth Avenue S
27 Stewart Hall, SCSU
Saint Cloud, MN 56301-4498
Phone: (320) 308-5872
Fax: (320) 308-5337
Web: www.kvsc.org
Power: 16,500 watts
88.9
KNSR-FM - "MPR News"
PO Box 7011
Collegeville, MN 56321
Phone: (320) 363-7702
Fax: (320) 363-4948
Web: http://minnesota.publicradio.org/radio/stations/knsrksjr
Power: 100,000 watts
89.5
K208DV (translator)
KLRD-FM - "Air 1 Radio"
1425 N Market Blvd.
Sacramento, CA 95834
Phone: (503) 543-9700
Fax: (503) 543-9750
Web: www.air1.com
Power: 62 watts
90.1
KSJR-FM - "MPR Classical"
PO Box 7011
Collegeville, MN 56321
Phone: (320) 363-7702
Fax: (320) 363-4948
Web: http://minnesota.publicradio.org/radio/stations/knsrksjr
Power: 100,000 watts
91.5
KCFB-FM - "Minnesota Christian Broadcasters"
PO Box 409
Pequot Lakes, MN 56472
Phone: (320) 252-4214
Fax: (320) 252-2027
Web: www.ktig.org
Power: 15,000 watts
92.9
KKJM-FM - "Family Friendly"
1310 2nd Street N
PO Box 547
Sauk Rapids, MN 56379
Studio line: (320) 257-0929
Office Line: (320) 251-1780
Fax: (320) 257-1624
Web: www.spirit929.com
Power: 25,000 watts
94.9
KMXK-FM - "Mix 94.9"
640 SE Lincoln Avenue
St. Cloud, MN 56304
Studio line: (320) 251-KMXK (5695)
Office line: (320) 251-4422
Web: www.mix949.com
Power: 50,000 watts
96.7
KZRV-FM - "Modern Rock Revolution"
640 SE Lincoln Avenue
St. Cloud, MN 56304
Studio line: (320) 258-3REV (3738)
Office line: (320) 251-4422
Web: www.rev967.com
Power: 50,000 watts
98.1
WWJO-FM - "98 Country"
640 SE Lincoln Avenue
St. Cloud, MN 56304
Studio line: (320) 252-9897
Office line: (320) 251-4422
Web: www.98country.com
Power: 97,000 watts
98.9
KZPK-FM - "Wild Country 99"
619 W. St. Germain Street
St. Cloud, MN 56302
Office Line: (320) 251-1450
Fax: (320) 251-8952
Web: www.wildcountry99.com
Power: 47,000 watts
99.9
KCML-FM - "Lite Rock 99.9"
619 W. St. Germain Street
St. Cloud, MN 56301-3640
Studio Line: (320) 259-LITE
Office Line: (320) 251-1450
Fax: (320) 251-8952
Web: www.lite999.com
Power: 2,900 watts
101.7
WHMH-FM - "Rockin' 101"
1010 2nd Street North

Sauk Rapids, MN 56379
Request: (320) 252-6201
Toll Free: (866) 252-6201
Business Line: (320) 252-6200
Fax: (320) 252-9367
Web: www.rockin101.com
Power: 50,000 watts

103.7
KLZZ-FM - "The Loon"
640 SE Lincoln Avenue
St. Cloud, MN 56304
Studio line: (320) 257-1037
Office line: (320) 251-4422
Web: www.1037theloon.com
Power: 9,000 watts
104.7
KCLD-FM - "Today's Hit Music"
619 W St. Germain Street
St. Cloud, MN 56302
Studio Line: (320) 251-1047
Business Line: (320) 251-1450
Fax: (320)

251-8952


Web: www.1047kcld.com
Power: 100,000 watts

Television

2
4
WCCO-TV - CBS
90 S 11th Street
Minneapolis, MN 55403
Phone: (612) 339-4444
Toll Free: (800) 444-WCCO
Web: www.wcco.com
5
KSTP-TV - ABC
3415 University Avenue
St. Paul, MN 55114
Phone: (651) 646-5555
Fax: (651) 642-4409
Web: www.kstp.com
7
KCCO-TV - CBS
Simulcasts WCCO-TV
90 S 11th Street
Minneapolis, MN 55403
Phone: (612) 339-4444
Toll Free: (800) 444-WCCO
Web: www.wcco.com
9
KMSP-TV - Fox
11358 Viking Drive
Eden Prairie, MN 55347
Phone:

(952) 944-9999


Web: www.myfox9.com

11
KARE-TV - NBC
8811 Olson Memorial Highway
Minneapolis, MN 55427
Phone:

(763) 546-1111


Web: www.kare11.com

11.1 KARE-TV
11.2 KARE WX Now

13
WCMN- TV - A1( analog)
19
K19BG - TBN (analog)
Web: www.tbn.org

TBN is the world's largest religious network and America's most watched faith channel. TBN offers 24 hours of commercial-free inspirational programming that appeal to people in a wide variety of Protestant, Catholic and Messianic Jewish denominations.

23
WUCW-TV - CW
1640 Como Avenue
St. Paul, MN 55108
Phone: (651) 646-2300
Fax: (651) 646-1220
Web: www.thecwtc.com
29
WFTC-TV - My TV
11358 Viking Drive
Eden Prairie, MN 55347
Phone: (612) 379-2900
Web: www.my29tv.com
30
KTCJ-TV - GCN
Web: www.gcntv.org

GCN, the Global Christian Network, is a 501(c)3 non-profit organization. It was founded by a group of international visionaries who wanted to see the gospel broadcast around the world in the richness of diverse cultures, through the creation of innovative television programs. After joining in a covenant relationship, this group pooled their resources, and created a satellite network with an international flair unlike any other.

41
KPXM-TV - Ion
22601 176th Street NW
Big Lake, MN 55309
Phone: (763) 263-8666

41.1 Ion
41.2 qubo
41.3 ION Life
41.4 The Worship Network

45
KSTC-TV - Independent
3415 University Avenue
St. Paul, MN 55114
Phone: (651) 645-4500
Web: www.kstc45.com
---
Motels:
Check for motel rates and availability on:
---
Resorts:
---
Campgrounds:
---
---
Businesses:
---
---
Aerial Photo:
---
Topographic Map: [click map to enlarge, zoom in or zoom out]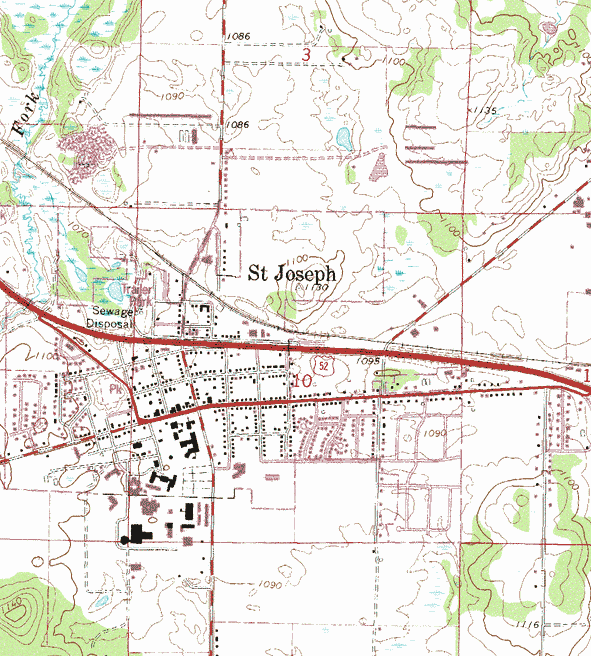 Topographic map is courtesy of the Minnesota DNR - click map to zoom or enlarge