Navigation
LakesnWoods.com
Home Page
Contact Us
Privacy
Minnesota History Shop

Visit The Minnesota History Shop
www.minnesotahistoryshop.com
Historic maps
Historic books
Historic framed art
Historic postcards
Clothing with historic images
And much more!!!


Sleepy Eye Guide:
Photo Gallery
Location
Geography
Demographics
History
Government
Post Office
News
Weather
Street Map
Events
Attractions
Recreation
Lakes
Health Care
Schools
Churches
Media
Motels
Resorts
Campgrounds
Businesses
Aerial Photo
Topographic Map
© 2004-2023
Lakeweb1 Internet Services
All Rights Reserved
DCMA, Defamation, Copyright and Trademark Infingement Policy
WANTED!
Do you have photos, historical accounts or other items pertaining to the Sleepy Eye area? Would you like to share this historical information with the world? LakesnWoods.com would like to publish your Sleepy Eye photos (current or historical) or historical accounts on this website. Original materials can be returned and your privacy will be respected.

Sleepy Eye Minnesota Community Guide
---
Location:
---
Population:
Sleepy Eye (city)
1970
1980
1990
2000
2010
2000-2010 Change
Actual
Percent
Population
3,461
3,581
3,694
3,515
3,599
+84
+2.39
Land Area (sq. mile)
1.30
1.46
1.43
1.67
1.67
0
0.00
Density (persons per sq. mile)
2,662.3
2,452.7
2,583.2
2,099.9
2,155.1
+55.20
+2.39
Housing Units
1,201
1,395
1,587
1,591
1,605
+14
+0.88
Households
--
1,343
1,468
1,479
1,475
-4
-0.27
Persons Per Household
--
2.54
2.42
2.37
2.44
+0.07
-2.95
---
Geography:
Sleepy Eye is a city in Brown County, Minnesota. U.S. Route 14 and Minnesota State Highways 4, and 68 are three of the main arterial routes in the city. According to the United States Census Bureau, the city has a total area of 2.02 square miles (5.23 km²), of which, 1.75 square miles (4.53 km²) of it is land and 0.27 square miles (0.70 km²) of it is water. The elevation is 1,024 ft (312 m) above sea level.
From Wikipedia, the free encyclopedia.
---
Demographics:
As of the census of 2010, there were 3,599 people, 1,475 households, and 931 families residing in the city. The population density was 2,056.6 inhabitants per square mile (794.1/km2). There were 1,605 housing units at an average density of 917.1 per square mile (354.1/km2). The racial makeup of the city was 94.3% White, 0.1% Native American, 0.9% Asian, 4.1% from other races, and 0.7% from two or more races. Hispanic or Latino of any race were 13.0% of the population.
There were 1,475 households of which 30.1% had children under the age of 18 living with them, 51.4% were married couples living together, 8.3% had a female householder with no husband present, 3.4% had a male householder with no wife present, and 36.9% were non-families. 33.4% of all households were made up of individuals and 17.8% had someone living alone who was 65 years of age or older. The average household size was 2.36 and the average family size was 3.04.
The median age in the city was 42.2 years. 25.6% of residents were under the age of 18; 6.5% were between the ages of 18 and 24; 21.1% were from 25 to 44; 27.3% were from 45 to 64; and 19.4% were 65 years of age or older. The gender makeup of the city was 47.4% male and 52.6% female.
---
---
History:
SLEEPY EYE, the city and railway junction in Home Township, platted by Thomas Allison and Walter Brackenridge as Sleepy Eye Lake, September 18, 1872, incorporated as a village February 14, 1878, and as a city in 1903, was named, like the adjoining lake, for a chief of the Sisseton Dakota. The post office was called Prairieville, 1871-72, when it was changed to Sleepy Eye. Businesses included a brewery, marble works, grain elevators, creameries, and mills; a Catholic seminary was located there, and a station of the Chicago and North Western was in section 32; a plant for canning peas and corn began operation in 1930.
Sleepy Eyes's favorite home and village during some parts of many years were beside this lake. He was born near the site of Mankato; became a chief between 1822 and 1825; signed the treaties of Prairie du Chien, 1825 and 1830, of St. Peter's in 1836, and Traverse des Sioux, 1851. Doane Robinson wrote: "Sleepy Eyes died in Roberts county, South Dakota, but many years after his death his remains were disinterred and removed to Sleepy Eye, Minn., where they were buried under a monument erected by the citizens" (Hodge, Handbook of American Indians, Part II, 1910). The monument, close to the railway station, bears this inscription beneath the portrait of the chief in bas-relief sculpture: "Ish-tak-ha-ba, Sleepy Eye, Always a Friend of the Whites. Died 1860."
An interesting biographic sketch of "Sleepy Eyes, or Ish-ta-hba, which is very literally translated," by Rev. Stephen R. Riggs in the Minnesota Free Press, St. Peter, January 27, 1858, is reprinted in the Minnesota History Bulletin, vol. 2, no. 8, pp. 484-95, November 1918.
Courtesy Minnesota Historical Society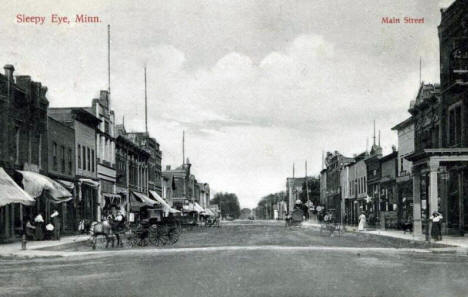 Main Street, Sleepy Eye Minnesota, 1909
LakesnWoods.com Postcard and Postcard Image Collection- click image to enlarge

Visit The Sleepy Eye Photo Gallery for more recent and historic photos
---
Government:
Sleepy Eye City Hall
200 Main Street E
Sleepy Eye, MN 56085-1638
Phone: (507) 794-3731
Fax: (507) 794-5799

Regular Business Hours:
Monday - Friday 7:30 am - 4:00 pm

City Council Meetings:
1st Tuesday of the month at 7:30 pm

Title
Term Ends
Name and Address
Phone
Mayor
12/31/2022
Wayne Pelzel
507 St. Mary's Street NE
Sleepy Eye, MN 56085
(507) 276-9558
(507) 794-7719
City Manager
appointed
Bob Elston
200 Main Street E
Sleepy Eye, MN 56085
(507) 794-3731
Council Member - Ward 1
12/31/2022
Douglas Pelzel
400 1st Avenue S
Sleepy Eye, MN 56085
(507) 794-6709
Council Member - Ward 1
12/31/2024
Scott M. Krzmarzick
716 Maple Street SW
Sleepy Eye, MN 56085


(507) 291-2347
(507) 227-0154
Council Member - Ward 2
12/31/2022
Gary Windschitl
727 6th Avenue NE
Sleepy Eye, MN 56085
(507) 794-2792
(507) 227-8649
Council Member - Ward 2
12/31/2024
Christina Andres
228 St. Mary's Street NE
Sleepy Eye, MN 56085
(507) 240-1267
Council Member - At large
12/31/2022
Nathan Stevermer
209 1st Avenue S
Sleepy Eye, MN 56085
(507) 676-0827
---
Post Office:
US Post Office
141 1st Avenue N
Sleepy Eye, MN 56085-1301
Phone: (507) 794-5081
Toll Free: (800) ASK-USPS



Regular Business Hours:
Week Days 8:30 am - 4:30 pm
Saturday 9:00 am - 11:00 am
Latest Collection at Post Office:
Week Days 5:00 pm
Saturday 5:00 pm
---
Utilities:
---
Major Employers:
---
---
News:
---
Weather:
---
Map: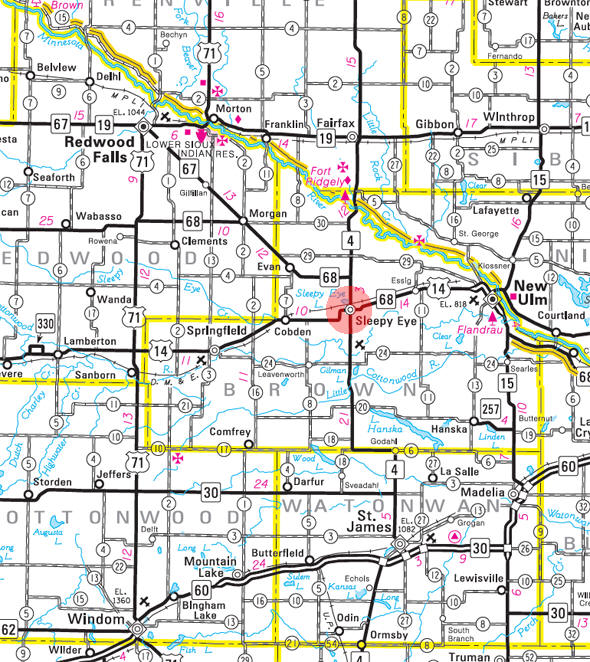 Minnesota State Highway Map of the Sleepy Eye Minnesota area
---
Events:
---
---
Attractions:
---
Recreation:
---
Lakes:
Lake Name
Size
(acres)
Lake info
Lake Map
Rec Map
Topo Map
---
Health Care:
Sleepy Eye Medical Center
400 4th Avenue NW
Sleepy Eye, MN 56085
Phone: (507) 794-3691
Web: www.semedicalcenter.org



Sleepy Eye Medical Center is an independent hospital owned and operated by the City of Sleepy Eye. The original 28-bed Sleepy Eye Municipal Hospital got its start in March of 1941 when the City Council issued a $75,000 bond for its construction. The hospital then opened in 1942. Over the years, several renovation and expansion projects have taken place, allowing Sleepy Eye Medical Center to meet the ever-changing health care needs of Sleepy Eye and the surrounding communities. Many of these projects were made possible through the support of local donors. After more than 75 years of exceptional care, our commitment to quality care continues as our team of compassionate, highly-trained employees strive to improve the lives of patients every day.
---
Schools:
---
Churches:
---
Media:
---
Motels:
AmericInn Hotel and Suites
1100 Main Street E
Sleepy Eye, MN 56085
Phone: (507) 794-9494
Web: www.americinn.com/hotels/mn/sleepyeye



Welcome to the AmericInn Hotel & Suites Sleepy Eye, Minnesota. We know there's no place like home, but with our newly updated furnishings, room décor, flat screen TV's and cozy Serta® Perfect Sleeper beds, the AmericInn Sleepy Eye will feel like your home away from home. Our Sleepy Eye hotel offers a variety of room types including suites. Wake up each morning to our free, hot, home-style AmericInn Perk breakfast and stay connected with free, hotel-wide, high-speed internet. Guests also enjoy our inviting, indoor pool and hot tub. The AmericInn Sleepy Eye hotel is conveniently located on Main Street, right on the outskirts of Sleepy Eye, Minnesota. The hotel is just minutes from downtown Sleepy Eye and is connected to the Sleepy Eye Convention Center.
Check for motel rates and availability on:
---
Resorts:
---
Campgrounds:
---
---
Businesses:
14 New China
132 Main Street E
Sleepy Eye, MN 56085
Phone: (507) 794-5118
A to Zinnia Florals and Gifts
1223 Cedar Street NE
Sleepy Eye, MN 56085
Phone: (507) 276-4183
Web: www.atozinniaflowers.com
American Family Insurance
101 Main Street E
Sleepy Eye, MN 56085
Phone: (507) 794-5999
Web: agent.amfam.com



I believe there's more to insurance than just a policy - it's about protecting the people and things that matter most to you. So no matter how life changes, I'm ready to provide the caring support and dependable service you deserve - from your home, to your car, and everything in between.

American Legion
109 1st Avenue S
Sleepy Eye, MN 56085
Phone: (507) 794-7391
Americana Community Bank
300 Main Street W
Sleepy Eye, MN 56085
Phone: (507) 794-3551
Web: www.americanafinancial.com



Welcome to Americana Community Bank! You'll find that we are the bank that provides excellent, friendly, down-to-earth service while actively participating in and supporting the communities we serve. Though our name has changed over the past 100 years, our knowledge, dedication and excellent service have been constant.

AmericInn Hotel and Suites
1100 Main Street E
Sleepy Eye, MN 56085
Phone: (507) 794-9494
Web: www.americinn.com/hotels/mn/sleepyeye



Welcome to the AmericInn Hotel & Suites Sleepy Eye, Minnesota. We know there's no place like home, but with our newly updated furnishings, room décor, flat screen TV's and cozy Serta® Perfect Sleeper beds, the AmericInn Sleepy Eye will feel like your home away from home. Our Sleepy Eye hotel offers a variety of room types including suites. Wake up each morning to our free, hot, home-style AmericInn Perk breakfast and stay connected with free, hotel-wide, high-speed internet. Guests also enjoy our inviting, indoor pool and hot tub. The AmericInn Sleepy Eye hotel is conveniently located on Main Street, right on the outskirts of Sleepy Eye, Minnesota. The hotel is just minutes from downtown Sleepy Eye and is connected to the Sleepy Eye Convention Center.

Anchor Wallace Publishers
1000 State Highway 4 S
Sleepy Eye, MN 56085
Phone: (507) 794-8059
Anytime Fitness
128 Main Street E
Sleepy Eye, MN 56085
Phone: (507) 794-2424
Web: www.anytimefitness.com



Anytime Fitness of Sleepy Eye, MN, is the fitness center that will fit your busy lifestyle. You can exercise any time using your own security-access key! That's 24 hours a day, 7 days a week, 365 days a year. Whether you're new to working out or a fitness regular, we've got the right staff, state-of-the art equipment, and services to meet your needs. It doesn't cost a lot to achieve your health and fitness goals! We offer training, tanning, massages and insurance reimbursements. NO MORE EXCUSES!

Arneson Distributing
120 7th Avenue NE
Sleepy Eye, MN 56085
Phone: (507) 794-7472
Auto Value
300 Main Street E
Sleepy Eye, MN 56085
Phone: (507) 794-4811
Web: locations.autovalue.com



Sleepy Eye Repair is a proud member of the Auto Value certified service center network. Our 3,500 certified repair facilities stretch throughout the United States and Canada. We're there for you, anywhere in North America with our Safe Route Roadside assistance program. If you're out of gas, or if the keys are locked in the car, need help with a flat tire, or when you need a jump or a tow – We've got your back! We are just a toll free phone call away – 877-230-0369.

BCA Products
24399 225th Avenue
Sleepy Eye, MN 56085
Phone: (507) 794-5411
Toll Free: (888) 454-4744
Web: www.bca-products.com



BCA Products has specialized in manufacturing lawn fertilizers and ice melt products in the Midwest for over 30 years. We focus on blending custom fertilizers for professional lawn care services, golf courses and retail distributors through branded and private label products. Whether you are a grounds manager at a golf course or for a front yard, we can manufacture a variety of organic, blended or liquid fertilizers to your request and package it in many different sizes and quantities. In addition to blending custom fertilizers, we also concentrate on creating a variety of ice melt products to make dealing with ice and snow as convenient as possible.

B J's Salon
236 Main Street E
Sleepy Eye, MN 56085
Phone: (507) 794-7200
Beltz Appliance Center
144 Main Street E
Sleepy Eye, MN 56085
Phone: (507) 794-5131
Berdan Plumbing and Heating
136 1st Avenue N
Sleepy Eye, MN 56085
Phone: (507) 794-6154
Beyond the Rainbow Massage
201 2nd Avenue S
Sleepy Eye, MN 56085
Phone: (507) 276-3307
Bic Graphic USA
1000 State Highway 4 S
Sleepy Eye, MN 56085
Phone: (507) 794-8000
Bolton and Menk Inc.
140 1st Avenue N
Sleepy Eye, MN 56085
Phone: (507) 794-5541
Borth Memorials
109 S Shore Drive
Sleepy Eye, MN 56085
Phone: (507) 794-3261
Braun and Borth Sanitation
809 Water Street SW
Sleepy Eye, MN 56085
Phone: (507) 794-7956
Braun Oil
27777 County Road 27
Sleepy Eye, MN 56085
Phone: (507) 794-7550
Bridging Brown County
115 2nd Avenue NE
Sleepy Eye, MN 56085
Phone: (507) 794-4733
Brown County
300 2nd Avenue SW
Sleepy Eye, MN 56085
Phone: (507) 794-7993
Brown County Rural Electric
24386 State HIghway 4
Sleepy Eye, MN 56085
Phone: (507) 794-3331
Bruggeman Company Inc.
22205 State Highway 4
Sleepy Eye, MN 56085
Phone: (507) 794-4701
C & S Grain Systems
134 2nd Avenue SE
Sleepy Eye, MN 56085
Phone: (507) 794-2163
Caring Times
120 Pine Street NE
Sleepy Eye, MN 56085
Phone: (507) 794-5132
Casey's General Store
1101 Main Street E
Sleepy Eye, MN 56085
Phone: (507) 794-3044
Web: www.caseys.com



With over 2,000 locations (and counting), your local Casey's is always just around the corner.

Cenex - ExpressWay
509 Main Street W
Sleepy Eye, MN 56085
Phone: (507) 794-3330
Central Region Co-op
27865 County Road 27
Sleepy Eye, MN 56085
Phone: (507) 794-3031
Web: www.centralregioncoop.com



Our legacy dates back to 1906, when local farmers who were disappointed in private grain merchants formed one of the first farmer-owned coops in Minnesota, making it clear that they would be true to their own needs. Their loyalty would be to each other. To date, Central Region Cooperative still operates under that philosophy to exclusively serve the needs of our members and to protect, grow and responsibility revolve member equity. The cooperative looks to serve the needs of today's producer and looks forward to the developing needs of producers in the future.

Century 21 Koeckeritz Realty
119 Main Street E
Sleepy Eye, MN 56085
Phone: (507) 794-5024
Christensen Farms
23971 County Road 10
Sleepy Eye, MN 56085
Phone: (507) 794-5310
Web: www.christensenfarms.com



Headquartered in Sleepy Eye, Minnesota, Christensen Farms is one of the largest, family-owned pork producers in the United States. With nearly 1,000 employees and 1,500 contract partners, our company spans across the Midwest to include facilities in Minnesota, Iowa, Nebraska, Illinois and South Dakota. We currently operate four feed mills, manage 145,000 sows on 44 farms, and oversee more than 350 nurseries and grow-finish sites.

Chuck Spaeth Ford
900 State Highway 4 S
Sleepy Eye, MN 56085
Phone: (507) 794-3673
Web: www.spaethford.com



Our locations, in New Ulm and Sleepy Eye, MN are well known as two of the premier dealerships in the area. From the moment you walk into our showroom, you'll experience our commitment to customer service as second to none. We strive to make your relationship with Chuck Spaeth Ford a great one for the life of your vehicle. Whether you need to purchase, finance, and/or service a new Ford or pre-owned car or truck, you've come to the right place. Call (888) 710-3801 for your No-Obligation Internet Price Quote. Or stop by one of our locations in Sleepy Eye and New Ulm.

City Limit Lounge
619 Main Street E
Sleepy Eye, MN 56085
Phone: (507) 794-9951
Community Insurance
225 Main Street E
Sleepy Eye, MN 56085
Phone: (507) 794-5010
Cook Electric
1001 3rd Avenue NE
Sleepy Eye, MN 56085
Phone: (507) 794-6892
Countryside Retirement Community
1100 1st Avenue S
Sleepy Eye, MN 56085
Phone: (507) 794-3200
Creative Hair Design
313 4th Avenue SE
Sleepy Eye, MN 56085
Phone: (507) 794-5757
Culligan Water Conditioning
130 1st Avenue S
Sleepy Eye, MN 56085
Phone: (507) 794-5561
Curtis and Larson
820 3rd Avenue SW
Sleepy Eye, MN 56085
Phone: (507) 794-2180
Dairy Queen
617 Main Street W
Sleepy Eye, MN 56085
Phone: (507) 794-5971
Del Monte Foods
100 9th Avenue SW
Sleepy Eye, MN 56085
Phone: (507) 794-8700
Web: www.delmontefoods.com



The Sleepy Eye plant, located in Sleepy Eye, Minnesota, is approximately 100 miles southwest of Minneapolis/St. Paul. Established in 1930, the facility produces the largest case quantities of peas and corn for the Company, planted by over 300 different growers on more than 22,000 acres. The facility currently employs 22 salaried and 50 hourly employees. The processing season begins in early June and ends in late September. During the processing season, up to 400 seasonal employees are needed.

Depot Antiques
200 Oak Street NE
Sleepy Eye, MN 56085
Phone: (507) 794-5275
Divine Providence Nursing Home
700 3rd Avenue NW
Sleepy Eye, MN 56085
Phone: (507) 794-3011
Web: www.divineprovidencehome.org



Divine Providence Community Home in Sleepy Eye has experienced over the years the significant changes of the Long Term Care Industry in providing services to our seniors, commonly called "our grandfriends." It is now home for fifty-eight men and women who are continuing life's journey with the help of family, friends, and professionals in all areas of long term care. Additionally, we have twenty-one apartments, which are considered "independent housing for seniors

Donan's Garage Door Company
613 Main Street E
Sleepy Eye, MN 56085
Phone: (507) 794-2021
Dyckman Free Public Library
345 Main Street W
Sleepy Eye, MN 56085
Phone: (507) 794-7655
Edward Jones
100 Main Street W
Sleepy Eye, MN 56085
Phone: (507) 794-5800
Web: www.edwardjones.com



As an Edward Jones financial advisor, I believe it's important to invest my time to understand what you're working toward before you invest your money. It's also important to understand the level of risk you're comfortable accepting when investing so we can balance it with the steps necessary to reach your long-term goals. Whether you're planning for retirement, saving for college for children or grandchildren, or just trying to protect the financial future of the ones you care for the most, we can work together to develop specific strategies to help you achieve your goals.

Elm Street Storage
701 Elm Street NE
Sleepy Eye, MN 56085
Phone: (507) 794-7986
Family Dollar Store
617 Main Street E
Sleepy Eye, MN 56085
Phone: (507) 794-5277
Web: locations.familydollar.com



Your neighborhood Family Dollar store has low prices on a wide assortment of items, including cleaning supplies, discount groceries, and seasonal items and toys. You'll also find great deals on kitchen essentials, laundry supplies, and food and beverages, including the basics like milk, eggs, and bread. Plus, you can use your Family Dollar app and easily clip Smart Coupons – our exclusive digital coupons – for even greater savings on your next shopping trip.

Farm Service Agency
1229 Cedar Street NE
Sleepy Eye, MN 56085
Phone: (507) 794-7997
Federal All Risk Crop Insurance
300 Main Street W
Sleepy Eye, MN 56085
Phone: (507) 794-7802
Finishing Touch Hair Removal
221 Main Street W
Sleepy Eye, MN 56085
Phone: (507) 794-5480
First Security Agency
113 1st Avenue N
Sleepy Eye, MN 56085
Phone: (507) 794-2156
Web: www.firstsecurityagency.net



First Security Agency was established in 1882. Our staff today has over 100 years of combined experience. We have worked with some of the same carriers we represent in our agency today for over 50 years, building strong relationships based on trust and integrity.

First Security Bank
100 Main Street E
Sleepy Eye, MN 56085
Phone: (507) 794-3911
Web: www.firstsecuritybanks.com



First Security Bank in Sleepy Eye, Minnesota is a full-service bank, offering consumer and commercial products specializing in Ag banking and small business lending. Our product lines include savings accounts, checking accounts, multiple loan programs, e-statements, internet banking, bill pay and more.

Food Shelf
130 2nd Avenue NW
Sleepy Eye, MN 56085
Phone: (507) 794-5969
Freedom Valu Center
400 Main Street W
Sleepy Eye, MN 56085
Phone: (507) 794-5724
Friendz Salon and Tanning
117 Main Street W
Sleepy Eye, MN 56085
Phone: (507) 794-2887
Furniture Gallery
200 Main Street W
Sleepy Eye, MN 56085
Phone: (507) 794-2531
Haala Industries
1201 State Highway 4
Sleepy Eye, MN 56085
Phone: (507) 794-5821
Web: www.haala.com



Haala Industries, Inc. was founded in 1974 and grew its first roots servicing the metal fabrication and repair needs of the local community. It has since developed into a leading innovator and manufacturer of metal fabricated products for a variety of customers. We offer: fabricated rebar products, wire cone cages, flared end cages, trash guards, safety grates, pipe ties, barrier pins, pond skimmers, custom grates and guards, lift bars/cables and stud welding to name a few of the services we provide.

Haala Truck and Trailer Service
601 Main Street E
Sleepy Eye, MN 56085
Phone: (507) 794-3028
Hacker's Tree Farm and Nursery
45372 190th Street
Sleepy Eye, MN 56085
Phone: (507) 794-5092
Hair Company
209 Main Street W
Sleepy Eye, MN 56085
Phone: (507) 794-5401
Hardee's
320 Main Street W
Sleepy Eye, MN 56085
Phone: (507) 794-3592
Hauser and Schmid
109 Main Street W
Sleepy Eye, MN 56085
Phone: (507) 794-3671
Heiderscheidt Digging
730 3rd Avenue NE
Sleepy Eye, MN 56085
Phone: (507) 794-2512
Herb Schreiner Repair
801 Main Street E
Sleepy Eye, MN 56085
Phone: (507) 794-4631
Hope and Faith Floral and Gifts
232 Main Street E
Sleepy Eye, MN 56085
Phone: (507) 794-2050
J & J Care Care
400 1st Avenue N
Sleepy Eye, MN 56085
Phone: (507) 794-2749
J & L Printing
225 Main Street W
Sleepy Eye, MN 56085
Phone: (507) 794-3543
Joinery
202 Rice Street NW
Sleepy Eye, MN 56085
Phone: (507) 794-2711
Just for Kix
130 2nd Avenue NW
Sleepy Eye, MN 56085
Phone: (507) 993-5870
Web: www.justforkix.com



In Sleepy Eye - MN we celebrate the achievements of every student, at any skill level. Our dance classes provide young dancers a learning environment focused on team work, proven dance technique and confidence building. Committed to youth dancers advancement through performance, we believe in every student. Backed by 35 years of experience, our dedication to enabling dancers to shine creates a learning environment like no other.

Kibble Equipment
1201 Main Street E
Sleepy Eye, MN 56085
Phone: (507) 794-5381
Web: www.kibbleeq.com



Thank you for being a friend, a neighbor, and a partner - we value our relationship with you and appreciate your patronage. Our Promise to You: To be a company you can count on. We strive to deliver superior results, push further, and do what we say we're going to do - every single time. To foster an environment for success - for you and for our employees - by surrounding ourselves with the very best products and people.

Kotten Law Firm
101 Main Street W
Sleepy Eye, MN 56085
Phone: (507) 794-2222
Krenz Real Estate and Auction
140 Main Street W
Sleepy Eye, MN 56085
Phone: (507) 794-2161
Web: www.krenzrealestate.com



Krenz Real Estate & Auctioneering, Inc. was founded in 1946 by my father, Ferdinand Krenz in the community of Sleepy Eye, Minnesota. Krenz Real Estate was founded on trust, honesty and integrity. Ferd believed in listening to his customers and treating them like family. He said, "everyone has a story, if they want to tell it, let it be shared". My father taught me a lot about life, the real estate business and how to be an auctioneer. "Ferd" was known as "The Colonel" in the auction industry in Southern Minnesota. He showed me how the auction and real estate business work hand in hand.

Lake Villa Maria
702 3rd Avenue NW
Sleepy Eye, MN 56085
Phone: (507) 794-5333
Lakeside Auto Body
1000 2nd Avenue NW
Sleepy Eye, MN 56085
Phone: (507) 794-5014
Legal Professionals PA
109 Main Street W
Sleepy Eye, MN 56085
Phone: (507) 794-3671
Lifetime Eyecare Center
105 Main Street W
Sleepy Eye, MN 56085
Phone: (507) 794-2126
Web: www.lifetimeeyecaremn.com



Your eyes are your window to the world. We can make your vision as sharp as possible with the latest technology in diagnostics and lenses. You can get a prescription anywhere, but at Lifetime Eyecare Center you'll get what's best for you. You'll be amazed at the difference. You can look really good while seeing really well. Imagine yourself in one of our designer frames. An artful detail can turn heads and bring out your best features.

Little Friends Daycare
815 Water Street SW
Sleepy Eye, MN 56085
Phone: (507) 794-5557
Main Street Stylist
115 Main Street W
Sleepy Eye, MN 56085
Phone: (507) 794-3091
Mark Thomas Company
120 Pine Street NE
Sleepy Eye, MN 56085
Phone: (507) 794-5100
Mathiowetz Body Shop
701 Main Street W
Sleepy Eye, MN 56085
Phone: (507) 794-6504
Mathiowetz Construction
30676 County Road 24
Sleepy Eye, MN 56085
Phone: (507) 794-6953
Web: www.mathiowetzconst.com



The Mathiowetz Construction Company is proud to be one of Minnesota's premiere earthwork and construction management contractors. Our staff of professionals deliver earthwork projects of all sizes and scopes from small railroad sidings and farm tiling, up to large grain loading sites and dairy barns and industrial sites. There is no project that we can't handle.

McCabe's Ace Hardware
1200 Main Street E
Sleepy Eye, MN 56085
Phone: (507) 794-3611
Meadowview Townhomes
301 5th Avenue SE
Sleepy Eye, MN 56085
Phone: (507) 794-5115
Meyer's Bar and Lounge
201 Main Street E
Sleepy Eye, MN 56085
Phone: (507) 794-6531
Mielke Accounting
105 Main Street E
Sleepy Eye, MN 56085
Phone: (507) 794-5501
Miller Sellner Equipment Inc.
22024 State Highway 4
Sleepy Eye, MN 56085
Phone: (507) 794-2131
Web: www.millersellner.com



Sleepy Eye Minnesota Dealer for Case IH, Cub Cadet, Can-Am and Ski-Doo is Miller Sellner; your source for new and used tractors, combines, planters, tillage, sprayers, and hay equipment serving Brown, Cottonwood, Nicollet, Blue Earth, Watonwan, Martin, Jackson, Murray, Lyon & Redwood Counties.

Minnesota Extension Service
300 2nd Avenue SW
Sleepy Eye, MN 56085
Phone: (507) 794-7993
NAPA Auto Parts
200 3rd Avenue SW
Sleepy Eye, MN 56085
Phone: (507) 794-3291
Web: www.napaonline.com



More than 85 years ago, the National Automotive Parts Association was founded to meet America¿s growing need for an effective auto parts distribution system. NAPA has been the industry leader ever since and an invaluable partner in the flow of parts from manufacturers to NAPA AUTO PARTS Stores.

New Ulm Brewing and Beverage
120 7th Avenue NE
Sleepy Eye, MN 56085
Phone: (507) 359-1919
Next Tu Nu II
205 Main Street E
Sleepy Eye, MN 56085
Phone: (507) 794-5881
Novotny Real Estate
132 Main Street W
Sleepy Eye, MN 56085
Phone: (507) 794-3061
Nu Telecom
121 2nd Avenue NW
Sleepy Eye, MN 56085
Phone: (507) 794-3361
Web: www.nutelecom.net



Enjoy the convenience of one provider for all your communication and entertainment needs in Sleepy Eye. Choose the services that are right for you including Digital TV, High-speed Internet, voice and wireless phone. NU-Telecom also offers a variety of money-saving bundles!

O N R National Inc.
700 3rd Avenue NW
Sleepy Eye, MN 56085
Phone: (507) 794-3014
Osmonson Plumbing and Heating
404 Main Street E
Sleepy Eye, MN 56085
Phone: (507) 794-7192
Pat Lowther Law Office
134 2nd Avenue SE
Sleepy Eye, MN 56085
Phone: (507) 794-5291
Web: www.patlowtherlaw.com



At Pat Lowther Law we understand your estate represents the values and traditions you hold dearly. If you own family farmland, a family business, a home or cabin, then a well-crafted estate plan will help protect your assets from nursing homes, divorce, creditors, predators, probate, and death taxes. Our estate planning services will will help you create a fair family succession plan, divide wealth and land fairly between your children or heirs, and eliminate estate taxes in Minnesota. We help you set up Revocable Living Trusts, Irrevocable Trusts where needed, Limited Liability Companies, General Durable Power of Attorney (for finances), comprehensive Health Care Directive (for medical decisions), and an up-to-date HIPAA Authorization which allows your family to talk to doctors in case of your incapacity.

Pat's Machining
440 Main Street W
Sleepy Eye, MN 56085
Phone: (507) 794-3169
Peterson Well Drilling
27943 US Highway 14
Sleepy Eye, MN 56085
Phone: (507) 794-6172
Pollard Dental Care
217 Main Street W
Sleepy Eye, MN 56085
Phone: (507) 794-4361
Web: www.pollarddentalcare.com



When you visit our office you will experience all that modern dentistry has to offer, including a comprehensive list of general, restorative and cosmetic dental services to meet the needs of the whole family. Our goal is to assist each patient in achieving and maintaining long term dental health and a beautiful smile.

Quality Car Care
800 1st Avenue S
Sleepy Eye, MN 56085
Phone: (507) 794-3029
Railway Bar
300 1st Avenue N
Sleepy Eye, MN 56085
Phone: (507) 794-5030
Randy's Family Drug
121 1st Avenue S
Sleepy Eye, MN 56085
Phone: (507) 794-3631
Web: www.randysfamilydrug.com



We've been proudly serving the community of Sleepy Eye and the surrounding area since 1987. Our dedicated pharmacists have 95 years of combined experience and our friendly staff will treat you like family. Here at Randy's Family Drug, we are dedicated to providing our customers with services that are customized to meet their needs. We also have an extensive Gift Shop with Hallmark, Willow Tree, Yankee Candles, and more! Whether it's prescription medications or over the counter products, we are here to answer any and all of your questions.

Riverside Animal Clinic
131 Main Street W
Sleepy Eye, MN 56085
Phone: (507) 794-5300
Web: http://www.rivanclinic.com



Riverside Animal Clinic provides veterinary services for livestock & pets in three convenient locations. The Springfield location also has pet boarding available by appointment.

Ross Park Apartments
313 4th Avenue SE
Sleepy Eye, MN 56085
Phone: (507) 794-5101
Web: www.sleepyeyehra.com



Welcome to Ross Park Apartments! We are a smoke-free, pet friendly, and convenient rental opportunity offering comfortable, secure housing for those on a limited income. Ross Park Apartments is a 45-unit, HUD-subsidized apartment building located on a large, beautifully landscaped city block in a quiet neighborhood, just a few blocks from downtown Sleepy Eye, MN. A variety of flowering trees, shrubs, and perennials compliment the building and patio areas.

Schieffert Finishing
701 Cedar Street NE
Sleepy Eye, MN 56085
Phone: (507) 794-5456
Schmid Financial Service
113 1st Avenue N
Sleepy Eye, MN 56085
Phone: (507) 794-7070
Schutz Family Foods
900 Main Street E
Sleepy Eye, MN 56085
Phone: (507) 794-5779
Web: www.schutzfamilyfoods.com



We are your local community connection for high quality foods, friendly service and great prices. Our family-owned store offers a convenient one-stop shop where you can find everything you need from the everyday essentials to specialty items from around the world. Our friendly staff is here to help you find exactly what you're looking for and to offer you assistance regarding all the products we carry. We take pride in our community and appreciate your business. We know that you have many options for food purchases and want you to know that we're working hard each day to continue to earn your business.

Schweiss Meats
120 1st Avenue S
Sleepy Eye, MN 56085
Phone: (507) 794-6328
Sellner Auto Sales
512 Main Street W
Sleepy Eye, MN 56085
Phone: (507) 794-5444
Servicemen's Club
109 1st Avenue S
Sleepy Eye, MN 56085
Phone: (507) 794-7391
Severson Construction
700 Birch Street NE
Sleepy Eye, MN 56085
Phone: (507) 794-4367
Sleepy Eye Ambulance Service
130 2nd Avenue SW
Sleepy Eye, MN 56085
Phone: (507) 794-3116
Web: www.sleepyeyeambulance.org



The Sleepy Eye Ambulance Service is a basic life support service that currently has 19 Minnesota Certified EMTS and 2 Minnesota certified First Responder who offer coverage 24/7. Other services offered to the community include CPR, First Aid and AED (defibrillator training) initial and refresher classes.

Sleepy Eye Chamber of Commerce
115 2nd Avenue NE
Sleepy Eye, MN 56085
Phone: (507) 794-4731
Sleepy Eye Area Home Health
1100 1st Avenue
Sleepy Eye, MN 56085
Phone: (507) 794-3594
Sleepy Eye Arena Association
620 Southdale Drive SW
Sleepy Eye, MN 56085
Phone: (507) 794-5406
Sleepy Eye Auction Market
211 7th Avenue NE
Sleepy Eye, MN 56085
Phone: (507) 794-4471
Web: www.sleepyeyeauctionmarket.com



Sleepy Eye Auction Market has been a family owned business for 68 years serving the south central Minnesota. True market values can only be established through competitive bidding at public auctions therefore we invite you to bring your livestock to our facility every Wednesday and let them all bid.

Sleepy Eye Bus Service
800 Main Street E
Sleepy Eye, MN 56085
Phone: (507) 794-7941
Sleepy Eye Care Center
1105 3rd Avenue SW
Sleepy Eye, MN 56085
Phone: (507) 794-7995
Sleepy Eye Chamber of Commerce
115 2nd Avenue NE
Sleepy Eye, MN 56085
Phone: (507) 794-4731
Web: www.sleepyeyechamber.com
Sleepy Eye Chiropractic PA
201 2nd Avenue SW
Sleepy Eye, MN 56085
Phone: (507) 794-4971
Sleepy Eye City Offices
200 Main Street E
Sleepy Eye, MN 56085
Phone: (507) 794-3731
Sleepy Eye Community Center
115 2nd Avenue NE
Sleepy Eye, MN 56085
Phone: (507) 794-5039
Sleepy Eye Depot Museum
100 Oak Street NW
Sleepy Eye, MN 56085
Phone: (507) 794-5053
Sleepy Eye Electric
220 Main Street W
Sleepy Eye, MN 56085
Phone: (507) 794-6099
Sleepy Eye Electric Plant
130 2nd Avenue NW
Sleepy Eye, MN 56085
Phone: (507) 794-6651
Sleepy Eye Fire Department
123 2nd Avenue SW
Sleepy Eye, MN 56085
Phone: (507) 794-6652
Sleepy Eye Golf Club
27898 US Highway 14
Sleepy Eye, MN 56085
Phone: (507) 794-5249
Sleepy Eye Herald Dispatch
119 Main Street E
Sleepy Eye, MN 56085
Phone: (507) 794-3511
Web: www.sleepyeyenews.com
Sleepy Eye Lanes
140 1st Avenue S
Sleepy Eye, MN 56085
Phone: (507) 794-5071
Sleepy Eye Liquor Store
200 Main Street E
Sleepy Eye, MN 56085
Phone: (507) 794-4040
Sleepy Eye Medical Center
400 4th Avenue NW
Sleepy Eye, MN 56085
Phone: (507) 794-3691
Web: www.semedicalcenter.org



Sleepy Eye Medical Center is an independent hospital owned and operated by the City of Sleepy Eye. The original 28-bed Sleepy Eye Municipal Hospital got its start in March of 1941 when the City Council issued a $75,000 bond for its construction. The hospital then opened in 1942. Over the years, several renovation and expansion projects have taken place, allowing Sleepy Eye Medical Center to meet the ever-changing health care needs of Sleepy Eye and the surrounding communities. Many of these projects were made possible through the support of local donors. After more than 75 years of exceptional care, our commitment to quality care continues as our team of compassionate, highly-trained employees strive to improve the lives of patients every day.

Sleepy Eye Police Department
130 2nd Avenue NW
Sleepy Eye, MN 56085
Phone: (507) 794-3711
Sleepy Eye Self Storage
711 Main Street W
Sleepy Eye, MN 56085
Phone: (507) 794-2509
Sleepy Eye Senior Center
115 2nd Avenue NE
Sleepy Eye, MN 56085
Phone: (507) 794-5039
Sleepy Eye Stained Glass
135 Main Street E
Sleepy Eye, MN 56085
Phone: (507) 794-6449
Web: www.sestainedglass.com



Our unique team specializes in custom fabrication, restoration, and the installation of stained glass. For over 30 years, we have worked with architects, interior designers, and individual customers on projects in churches, buildings, private homes, and memorials. Our store carries and sells one of the largest selections of stained glass and stained glass supplies in Minnesota. We believe that no project is too large or too small. If you have a stained glass project or idea, call or visit our shop. One of our friendly staff members will be happy to help you with any of your stained glass inquiries.

Small Wonders Childcare
813 4th Avenue SE
Sleepy Eye, MN 56085
Phone: (507) 794-2589
South Point Financial Credit Union
920 Main Street E
Sleepy Eye, MN 56085
Phone: (507) 794-6712
Stark Farmers Mutual Insurance
244 Main Street E
Sleepy Eye, MN 56085
Phone: (507) 794-3301
Web: www.starkfarmers.com



Stark Farmers Mutual Insurance Company was established in 1884. It's our goal to provide a competitive insurance product for the people in south central Minnesota with sound investments, reinsurance program, and to give policy holders the protection and peace of mind they deserve for their premium dollar.

State Farm Insurance
127 Main Street E
Sleepy Eye, MN 56085
Phone: (507) 794-2169
Stimpert Homes
501 Burntside Street SE
Sleepy Eye, MN 56085
Phone: (507) 794-3491
Web: www.stimperthomes.com



Whether you're building a house, garage, town home, duplex, a basement, or apartments, Stimpert's quality prefabricated walls will reduce time of construction and waste.

Sturm Funeral Home
301 3rd Avenue SW
Sleepy Eye, MN 56085
Phone: (507) 794-5221
Web: www.sturmfh.com



Please feel free to browse our pages to learn more about pre-planning a funeral and grief support, as well as the traditional funeral and cremation services that we have to offer. If you have any questions or concerns please feel free to contact us at anytime, we are available by phone or e-mail, or drop by the office in person. We are always here to help.

Subway Restaurant
421 Main Street W
Sleepy Eye, MN 56085
Phone: (507) 794-7827
Sunrise Manor
500 Remmele Street NW
Sleepy Eye, MN 56085
Phone: (507) 794-9631
Web: properties.commonbond.org



At Sunrise Manor we are committed to providing the services that make our community a place you will be proud to call home. With our convenient location and spacious yet affordable bi-level townhomes, who could ask for more? Established in 1872, Sleepy Eye was named after the beautiful lake that borders the North and West sides of the city. Today Sleepy Eye offers specialty shops, from crafts to groceries, gifts, and fine furniture. Its unique business opportunities, quality of life, and first-rate education make Sleepy Eye a great place to live!

Town's Edge Lumber
201 12th Avenue NE
Sleepy Eye, MN 56085
Phone: (507) 794-6243
Trackworks LLC
623 Walnut Street SW
Sleepy Eye, MN 56085
Phone: (507) 794-4123
US Post Office
141 1st Avenue N
Sleepy Eye, MN 56085
Phone: (507) 794-5081
Veterans of Foreign Wars
109 1st Avenue S
Sleepy Eye, MN 56085
Phone: (507) 794-7391
Volunteers of America
1105 3rd Avenue SW
Sleepy Eye, MN 56085
Phone: (507) 794-3594
W W Smith Inn
101 Linden Street SW
Sleepy Eye, MN 56085
Phone: (507) 794-5661
West Side Garage
109 5th Avenue SW
Sleepy Eye, MN 56085
Phone: (507) 794-6022
Windschitl Refrigeration and Appliance
105 1st Avenue S
Sleepy Eye, MN 56085
Phone: (507) 794-3032
Zarn Garage
113 7th Street SW
Sleepy Eye, MN 56085
Phone: (507) 794-7102
---
---
Aerial Photo:
---
Topographic Map: [click map to enlarge, zoom in or zoom out]
Topographic map is courtesy of the Minnesota DNR - click map to zoom or enlarge