Navigation
LakesnWoods.com
Home Page
Contact Us
Privacy
Minnesota History Shop

Visit The Minnesota History Shop
www.minnesotahistoryshop.com
Historic maps
Historic books
Historic framed art
Historic postcards
Clothing with historic images
And much more!!!


Sacred Heart Guide:
Photo Gallery
Location
Geography
Demographics
History
Government
Post Office
News
Weather
Street Map
Events
Attractions
Recreation
Lakes
Health Care
Schools
Churches
Media
Motels
Resorts
Campgrounds
Businesses
Aerial Photo
Topographic Map
© 2004-2023
Lakeweb1 Internet Services
All Rights Reserved
DCMA, Defamation, Copyright and Trademark Infingement Policy
WANTED!
Do you have photos, historical accounts or other items pertaining to the Sacred Heart area? Would you like to share this historical information with the world? LakesnWoods.com would like to publish your Sacred Heart photos (current or historical) or historical accounts on this website. Original materials can be returned and your privacy will be respected.

Sacred Heart Minnesota Community Guide
---
Location:
---
Population:
Sacred Heart (city)
1970
1980
1990
2000
2010
2000-2010 Change
Actual
Percent
Population
707
666
603
549
548
-1
-0.18
Land Area (sq. mile)
1.00
1.11
0.99
0.99
0.99
0
0.00
Density (persons per sq. mile)
707.00
600.00
609.09
554.54
553.53
-0.01
-0.18
Housing Units
285
297
296
290
282
-8
-2.76
Households
--
270
271
246
235
-11
-4.47
Persons Per Household
--
2.47
2.23
2.23
2.33
+0.10
+4.48
---
Geography:
Sacred Heart is a city in Renville County, Minnesota. U.S. Route 212 serves as a main route in the community. According to the United States Census Bureau, the city has a total area of 0.99 square miles (2.56 km2), all of it land. The elevation is 1,070 ft (326 m) above sea level.
From Wikipedia, the free encyclopedia.
---
Demographics:
As of the census of 2010, there were 548 people, 235 households, and 139 families residing in the city. The population density was 553.5 inhabitants per square mile (213.7/km2). There were 282 housing units at an average density of 284.8 per square mile (110.0/km2). The racial makeup of the city was 98.5% White, 0.2% African American, 0.9% Native American, and 0.4% from other races. Hispanic or Latino of any race were 9.1% of the population.
There were 235 households of which 29.4% had children under the age of 18 living with them, 42.1% were married couples living together, 9.8% had a female householder with no husband present, 7.2% had a male householder with no wife present, and 40.9% were non-families. 35.7% of all households were made up of individuals and 19.2% had someone living alone who was 65 years of age or older. The average household size was 2.33 and the average family size was 3.08.
The median age in the city was 36.6 years. 26.3% of residents were under the age of 18; 6.8% were between the ages of 18 and 24; 24.2% were from 25 to 44; 24.8% were from 45 to 64; and 17.9% were 65 years of age or older. The gender makeup of the city was 48.5% male and 51.5% female.
---
---
History:
Sacred Heart, a city in section 7, was platted in October 1878, was incorporated on May 16, 1883, was separated from the township on March 20, 1906, and was reincorporated on June 6, 1908. Settlement began in the early 1860s with many settlers from Norway. Post offices were established at three different times: the first, 1867-71, was transferred to Vicksburg; the second operated 1875-77; and the third was established as Minnesota Crossing, 1868-77, with German P. Greene, postmaster, township clerk, and first teacher in the township. Greene came to the township in 1865, naming the site, then in section 8, Minnesota Crossing for the ford in the river below his log house; the house was the center of township activity until 1876; the post office then became Reishus, 1877-78, with Olaf S. Reishus, postmaster, who continued when the name changed to Sacred Heart; it had a station of the Hastings and Dakota Railway and Soo Line.
Courtesy Minnesota Historical Society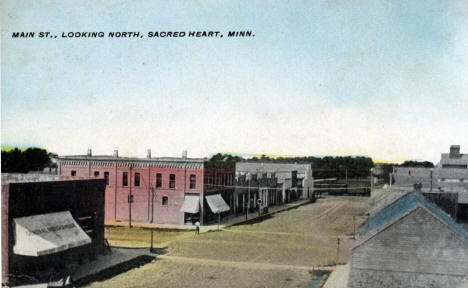 Main Street looking north, Sacred Heart Minnesota, 1908
LakesnWoods.com Postcard and Postcard Image Collection - click to enlarge

Visit The Sacred Heart Photo Gallery for more recent and historic area photos
---
Government:
Sacred Heart City Hall
309 1st Avenue
PO Box 128
Sacred Heart, MN 56285
Phone: (320) 765-2559
Fax: (320) 765-2661

Regular Business Hours:
Monday - Thursday 8:00 am - 4:00 pm
Friday 8:00 am - 1:00 pm

City Council Meetings:
2nd Monday of the month at 7:00 pm

Title
Term Ends
Name and Address
Phone
Mayor
12/31/2021
Dan Agre
316 1st Avenue - PO Box 16
Sacred Heart, MN 56285
(320) 765-2288
Clerk
appointed
Colette Santjer
309 1st Avenue - PO Box 128
Sacred Heart, MN 56285
(320) 765-2559
Council Member
12/31/2021
Randy Johnson
620 Harrison Avenue - PO Box 24
Sacred Heart, MN 56285
(320) 765-2530
Council Member
12/31/2021
Dick Ashburn
309 4th Avenue - PO Box 31
Sacred Heart, MN 56285
(320) 765-8878
Council Member
12/31/2023
Brooke Hebrink
702 Walnut Street E - PO Box 266
Sacred Heart, MN 56285
(507) 828-7409
Council Member
12/31/2023
Andrew Stauffer
500 1st Avenue - PO Box 93
Sacred Heart, MN 56285
(847) 718-1880
---
Post Office:
US Post Office
213 2nd Avenue
Sacred Heart, MN 56285-5000
Phone: (320) 765-2698
Toll Free: (800) ASK-USPS

Regular Business Hours:
Week Days 7:00 am - 1:00 pm
Saturday 8:30 am - 9:00 am




---
---
Utilities:
---
Major Employers:
Employer
Products/Services
Employees

n/a
---
---
News:
---
Weather:
---
Map: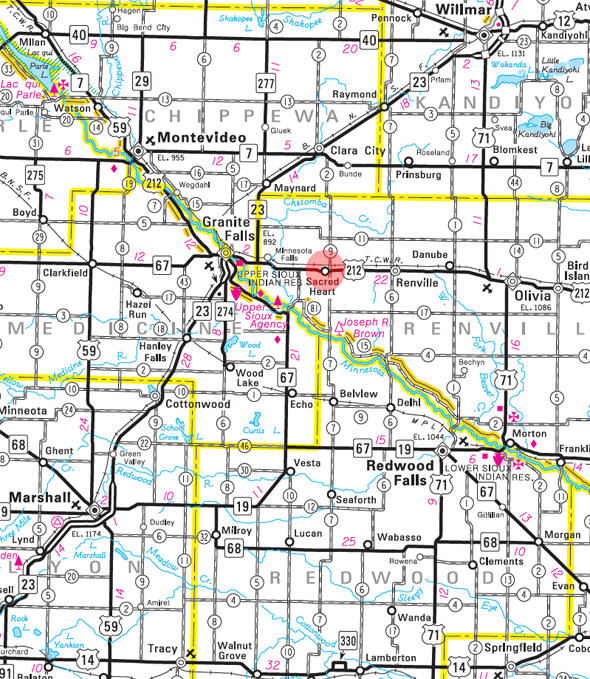 Minnesota State Highway Map of the Sacred Heart Minnesota area
---
Events:
---
---
Attractions:
---
Recreation:
---
Lakes:
Lake Name
Size
(acres)
Lake info
Lake Map
Rec Map
Topo Map
none in the immediate area
---
Health Care:
---
Schools:
---
Churches:
First English Lutheran Church
421 4th Avenue
Sacred Heart, MN 56285
Phone: (320) 765-2380
Hawk Creek Lutheran Church
520 Hazel Avenue
Sacred Heart, MN 56285
Phone: (320) 765-2783
Our Saviors Lutheran Church
400 1st Avenue
Sacred Heart, MN 56285
Phone: (320) 765-8823
---
Media:
---
Motels:
Check for motel rates and availability on:
---
Resorts:
---
Campgrounds:
---
---
Businesses:
Agree Insurance Company
200 W Maple Street
Sacred Heart, MN 56285
Phone: (320) 765-2252
Airway Lockers
201 W North Street
Sacred Heart, MN 56285
Phone: (320) 765-2551
B & J Berg Trucking
525 E Walnut Street
Sacred Heart, MN 56285
Phone: (320) 894-7926
Belfany Construction and Masonry
11604 US Highway 212
Sacred Heart, MN 56285
Phone: (320) 765-2359
Co-op Country Farmers Elevator
120 1st Avenue
Sacred Heart, MN 56285
Phone: (320) 765-2726
Dean Enestvedt Farms
78447 County Road 9
Sacred Heart, MN 56285
Phone: (320) 765-2382
Dirks Blem Funeral Home
229 2nd Avenue
Sacred Heart, MN 56285
Phone: (320) 765-8883
Farmers and Merchants State Bank
200 W Maple Street
Sacred Heart, MN 56285
Phone: (320) 765-2261
Farmers Cooperative Elevator
11091 840th Avenue
Sacred Heart, MN 56285
Phone: (320) 564-3835
Hawk Creek Farms
11547 US Highway 212
Sacred Heart, MN 56285
Phone: (320) 765-2691
High Plains Express
84494 150th Street
Sacred Heart, MN 56285
Phone: (320) 765-8845
Holmstrom and Kvam Law Office
233 2nd Avenue
Sacred Heart, MN 56285
Phone: (320) 765-2263
Huseby Insurance
307 2nd Avenue S
Sacred Heart, MN 56285
Phone: (320) 765-2909
J S Resources
16818 850th Avenue
Sacred Heart, MN 56285
Phone: (320) 765-2294
James Olson Trucking Service
416 5th Avenue
Sacred Heart, MN 56285
Phone: (320) 765-2257
Kathy's Place
101 E Maple Street
Sacred Heart, MN 56285
Phone: (320) 765-2229
Kelly's Korner
104 E Maple Street
Sacred Heart, MN 56285
Phone: (320) 765-2285
Margie's Therapeutic Massage
235 2nd Avenue
Sacred Heart, MN 56285
Phone: (320) 765-2337
Master Pak Containers
79493 160th Street
Sacred Heart, MN 56285
Phone: (320) 765-2251
Minnesota Falls Farmers Elevator
11091 840th Avenue
Sacred Heart, MN 56285
Phone: (320) 765-4100
Old Dominion Freight Line
14543 US Highway 212
Sacred Heart, MN 56285
Phone: (320) 765-2312
Orlyn's Radiator and Auto Repair
308 Washington Avenue
Sacred Heart, MN 56285
Phone: (320) 765-2719
Probst Jewelry
241 2nd Avenue
Sacred Heart, MN 56285
Phone: (320) 765-8800
Sacred Heart City Office
309 1st Avenue
Sacred Heart, MN 56285
Phone: (320) 765-2559
Sacred Heart Fire Department
201 1st Avenue
Sacred Heart, MN 56285
Phone: (320) 765-2292
Sacred Heart Historical Society
300 5th Avenue
Sacred Heart, MN 56285
Phone: (320) 765-8868
Sacred Heart Municipal Liquor Store
613 E Maple Street
Sacred Heart, MN 56285
Phone: (320) 765-2981
Sacred Heart Police Department
309 1st Avenue
Sacred Heart, MN 56285
Phone: (320) 765-2662
Sacred Heart Telephone Company
227 S Main Street
Sacred Heart, MN 56285
Phone: (320) 765-2235
Second Avenue Hair Company
234 2nd Avenue
Sacred Heart, MN 56285
Phone: (320) 765-2299
Skyway Agri-Service
83698 130th Street
Sacred Heart, MN 56285
Phone: (320) 765-2973
Thune Enterprises
77407 145th Street
Sacred Heart, MN 56285
Phone: (320) 765-2274
Total Mechanical Inc.
200 E Walnut Street
Sacred Heart, MN 56285
Phone: (320) 765-2281
US Post Office
213 2nd Avenue
Sacred Heart, MN 56285
Phone: (320) 765-2698
Warner Manufacturing Company
200 5th Avenue
Sacred Heart, MN 56285
Phone: (320) 765-2268
---
---
Aerial Photo:
---
Topographic Map: [click map to enlarge, zoom in or zoom out]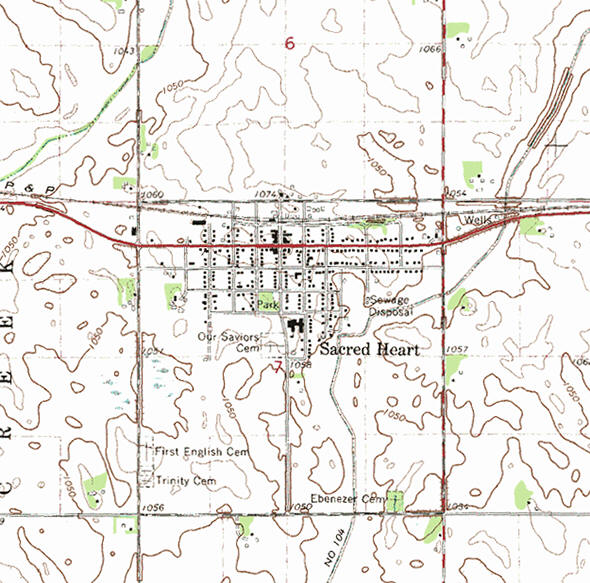 Topographic map is courtesy of the Minnesota DNR - click map to zoom or enlarge