Navigation
LakesnWoods.com
Home Page
Contact Us
Privacy
Minnesota History Shop

Visit The Minnesota History Shop
www.minnesotahistoryshop.com
Historic maps
Historic books
Historic framed art
Historic postcards
Clothing with historic images
And much more!!!


Raymond Guide:
Photo Gallery
Location
Geography
Demographics
History
Government
Post Office
News
Weather
Street Map
Events
Attractions
Recreation
Lakes
Health Care
Schools
Churches
Media
Motels
Resorts
Campgrounds
Businesses
Aerial Photo
Topographic Map
© 2004-2023
Lakeweb1 Internet Services
All Rights Reserved
DCMA, Defamation, Copyright and Trademark Infingement Policy
WANTED!
Do you have photos, historical accounts or other items pertaining to the Raymond area? Would you like to share this historical information with the world? LakesnWoods.com would like to publish your Raymond photos (current or historical) or historical accounts on this website. Original materials can be returned and your privacy will be respected.

Raymond Minnesota Community Guide
---
Location:
Traveling west, just 12 miles from Willmar on Highway 23, is the vibrant small town of Raymond. Itís where youíll find a safe neighborhood with a variety of fun and family-friendly recreational opportunities to keep residents active and healthy. In fact, itís where two of the countyís largest recreational businesses are locatedóTensen Marine and Apolís Harley Davidson.
Raymond takes great pride in the fact that it has established such a well-rounded community. Donít be surprised to find a cook-out or community picnic after church on Sunday or a patriotic celebration honoring the veterans whoíve fought for our country. The neighborhoods are not only friendly, but also safe for kids to race their bikes to one of the many parks. Itís hard to fully understand all of the reasons why ďEverybody Loves RaymondĒ until you experience it for yourself!
Courtesy Kandiyohi County Economic Development Commission
---
Population:
Raymond (city)
1970
1980
1990
2000
2010
2000-2010 Change
Actual
Percent
Population
589
723
668
803
764
-39
-4.86
Land Area (sq. mile)
0.40
0.44
0.47
0.61
0.88
+0.27
+44.26
Density (persons per sq. mile)
1,472.5
1,643.2
1,421.3
1,316.3
868.2
-448.1
-34.04
Housing Units
229
294
276
332
336
+4
+1.20
Households
--
290
264
310
307
-3
-0.97
Persons Per Household
--
2.49
2.48
2.59
2.49
-0.10
-3.86
---
Geography:
Raymond is a city in Kandiyohi County, Minnesota. Minnesota State Highway 23 serves as a main route in the community. According to the United States Census Bureau, the city has a total area of 0.88 square miles (2.28 km≤), all of it land. The elevation is 1,083 ft (330 m) above sea level.
From Wikipedia, the free encyclopedia.
---
Demographics:
As of the census of 2010, there were 764 people, 307 households, and 212 families residing in the city. The population density was 868.2 inhabitants per square mile (335.2 /km2). There were 336 housing units at an average density of 381.8 per square mile (147.4 /km2). The racial makeup of the city was 97.1% White, 0.4% African American, 0.1% Native American, 1.3% from other races, and 1.0% from two or more races. Hispanic or Latino of any race were 4.7% of the population.
There were 307 households of which 36.2% had children under the age of 18 living with them, 56.7% were married couples living together, 6.8% had a female householder with no husband present, 5.5% had a male householder with no wife present, and 30.9% were non-families. 29.0% of all households were made up of individuals and 10.1% had someone living alone who was 65 years of age or older. The average household size was 2.49 and the average family size was 3.04.
The median age in the city was 36.1 years. 29.2% of residents were under the age of 18; 6.4% were between the ages of 18 and 24; 25.1% were from 25 to 44; 25.2% were from 45 to 64; and 14% were 65 years of age or older. The gender makeup of the city was 50.0% male and 50.0% female.
---
---
History:
RAYMOND, a city in Edwards, section 19, platted in 1887, was named for Raymond Spicer, a son of John M. Spicer of Willmar, who was the founder of Spicer village. It was incorporated as a village on October 20, 1897, and was first known as Raymond Station; two post offices were established, the first operating February-July 1889, with Charles G. Squire as postmaster; the second began in August 1889 when transferred from Croydon, with William H. Harris as first postmaster.
Courtesy Minnesota Historical Society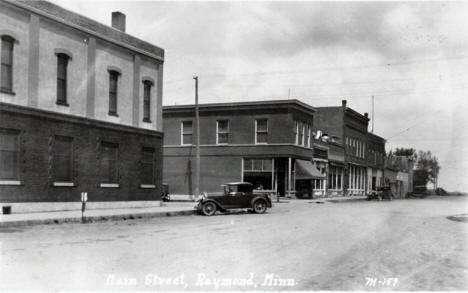 Main Street, Raymond Minnesota, 1920s
LakesnWoods.com Postcard and Postcard Image Collection - click to enlarge

Visit The Raymond Photo Gallery for more recent and historic area photos
---
Government:
Raymond City Hall
208 Cofield Street
PO Box 216
Raymond MN 56282
Phone: (320) 967-4226

Regular Business Hours:
Monday and Thursday 8:00 am - 4:00 pm

City Council Meetings:
2nd Monday of the month at 7:00 pm


Title
Term Ends
Name and Address
Phone
Mayor
12/31/2022
Ardell Tensen
502 8th Street
Raymond MN 56282
(320) 967-4557
(320) 894-9809
Clerk
appointed
Janice Piechowski
208 Cofield Street
Raymond MN 56282
(320) 967-4226
Council Member
12/31/2022
Brad Heida
505 1st Avenue
Raymond MN 56282
(320) 967-4394
Council Member
12/31/2022
Tim Stutleberg
113 4th Street S
Raymond MN 56282
(320) 444-3366
Council Member
12/31/2024
Cody Rand
413 Cofield Street S
Raymond MN 56282
(320) 220-4575
Council Member
12/31/2024
Jon Setrum
510 1st Avenue S
Raymond MN 56282
(320) 212-0954
(320) 967-4393
---
Post Office:
US Post Office
210 Spicer Avenue N
Raymond, MN 56282-5000
Phone: (320) 967-4434
Toll Free: (800) ASK-USPS

Regular Business Hours:
Week Days 7:00 am - 1:00 pm
Saturday 8:00 am - 9:15 am
---
---
Utilities:
| | | |
| --- | --- | --- |
| Utility Type | Utility Name | Utility Phone |
| Electricity | Xcel Energy | (800) 481-4700 |
| Natural Gas | n/a | -- |
| Wastewater | n/a | -- |
| Water | n/a | -- |
| Telephone | Frontier Communications | (800) 435-1504 |
| Cable TV | n/a | -- |
---
Major Employers:
Employer
Products/Services
Employees

n/a
---
---
News:
---
Weather:
---
Map: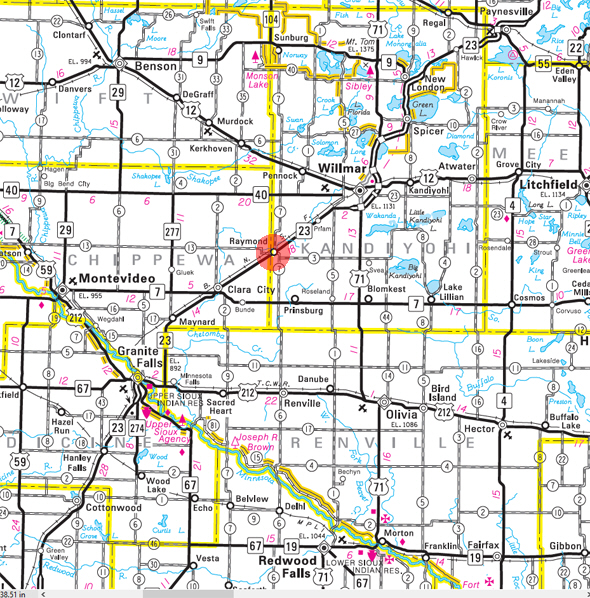 Minnesota State Highway Map of the Raymond Minnesota area
---
Events:
---
---
Attractions:
---
Recreation:
---
Lakes:
---
Health Care:
---
Schools:
---
Churches:
Raymond Christian Reformed Church
202 3rd Avenue S
Raymond MN 56282
Phone: (320) 967-4721
Web: www.raymondcrc.org

Pastor: John Bothof
Sunday Services: 10:00 am

St. John's Lutheran Church
401 Day Street N
Raymond MN 56282
Phone: (320) 967-4129

Pastor: Joyce Graue
Sunday Services: 9:30 am

United Methodist Church
411 Emerson Avenue
Raymond MN 56282
Phone: (320) 967-4134

Pastor: Barbara Jones
Sunday Services: 10:00 am
---
Media:
Raymond-Prinsburg News
204 Spicer Avenue N
Raymond MN 56282
Phone: (320) 967-4244
---
Motels:
Check for motel rates and availability on:
---
Resorts:
---
Campgrounds:
---
---
Businesses:
Artex
PO Box 88
Raymond MN 56282
Phone: (320) 637-2938
Brouwer Berries
12951 105th Street NE
Raymond MN 56282
Phone: (320) 967-4718
Brouwer Farms
145 150th Avenue NW
Raymond MN 56282
Phone: (320) 847-2559
Buckingham Equine Vet Clinic
13040 60th Avenue SW
Raymond MN 56282
Phone: (320) 967-4412
Cenex Convenience Store
104 Babcock Avenue
Raymond MN 56282
Phone: (320) 967-4274
Cheers
Highway 23 E
Raymond MN 56282
Phone: (320) 967-4427
Chippewa Acres SOCS
5035 140th Avenue NE
Raymond MN 56282
Phone: (320) 264-2723
Cruisin' Eagle Inc.
Highway 23
Raymond MN 56282
Phone: (320) 967-4511
Custom Interiors by Donna
8701 75th Street SW
Raymond MN 56282
Phone: (320) 231-1398
Divine House Inc.
14050 40th Street NE
Raymond MN 56282
Phone: (320) 967-4762
Fragodt Floor Covering
106 Babcock Avenue
Raymond MN 56282
Phone: (320) 967-4212
Harley Davidson
102 Cofield Street S
Raymond MN 56282
Phone: (320) 967-4511
Hawk Creek Country Club
100 Spicer Avenue N
Raymond MN 56282
Phone: (320) 967-4653
Heida's Woodworks
308 Spicer Avenue N
Raymond MN 56282
Phone: (320) 967-4848
Heritage Bank
202 Cofield Street N
Raymond MN 56282
Phone: (320) 967-4241
Homeinfomax
160 140th Avenue SE
Raymond MN 56282
Phone: (320) 847-4545
Hot Disch Farm LLC
12001 State Highway 23 SW
Raymond MN 56282
Phone: (320) 420-4012
Insurance Plus
4040 160th Avenue SE
Raymond MN 56282
Phone: (320) 847-2641
Joe's Auto Repair
6023 140th Avenue NE
Raymond MN 56282
Phone: (320) 894-6772
Leon's Motor and Machine
9510 45th Avenue SW
Raymond MN 56282
Phone: (320) 231-1887
Leroys Auto
Highway 23
Raymond MN 56282
Phone: (320) 967-4839
Marcus Building Movers
13700 County Road 5 SW
Raymond MN 56282
Phone: (320) 995-6246
Merle's Repair
402 Spicer Avenue N
Raymond MN 56282
Phone: (320) 967-4541
Minnesota Valley Investments
315 Washington Street
Raymond MN 56282
Phone: (320) 637-3344
Minnesota Valley Alfalfa Producers
7410 State Highway 23 SW
Raymond MN 56282
Phone: (320) 231-2400
Molenaar Farms LLC
6045 Kandi Chippewa Line NE
Raymond MN 56282
Phone: (320) 967-
N U Construction
160 140th Avenue SE
Raymond MN 56282
Phone: (320) 847-4545
Nails by Jodee Workman
304 Spicer Avenue N
Raymond MN 56282
Phone: (320) 967-4808
Neal Motors
13298 105th Avenue SW
Raymond MN 56282
Phone: (320) 967-4888
Peters Farm
16045 50th Street NE
Raymond MN 56282
Phone: (320) 967-4170
Pioneer Insurance LLC
202 Cofield Street N
Raymond MN 56282
Phone: (320) 214-3963
Priam Farm
5343 75th Street SW
Raymond MN 56282
Phone: (320) 235-9086
Raymond City Hall
208 Cofield Street
PO Box 216
Raymond MN 56282
Phone: (320) 967-4226


Raymond Civic and Commerce Club
203 5th Street S
Raymond MN 56282
Phone: (320) 967-4439
Raymond Community Center
Main Street
Raymond MN 56282
Phone: (320) 967-4594
Raymond Farmers Co-op
104 Babcock Avenue
Raymond MN 56282
Phone: (320) 967-4271
Raymond Public Library
208 Cofield Street N
Raymond MN 56282
Phone: (320) 967-4411
Raymond Supermarket
312 Spicer Avenue N
Raymond MN 56282
Phone: (320) 967-4141
Raymond-Prinsburg News
204 Spicer Avenue N
Raymond MN 56282
Phone: (320) 967-4244
Refsland Improvements
14330 1st Avenue SW
Raymond MN 56282
Phone: (320) 599-4557
Richard Ziehl Farm
195 150th Avenue SE
Raymond MN 56282
Phone: (320) 847-3103
Rod Miller Cabinets
14949 75th Avenue SW
Raymond MN 56282
Phone: (320) 967-4346
S & D Truck Repair
603 Babcock Avenue
Raymond MN 56282
Phone: (320) 967-4200
S & S Custom Meats
310 Spicer Avenue N
Raymond MN 56282
Phone: (320) 967-4276
Tensen Marine
205 Babcock Avenue E
Raymond MN 56282
Phone: (320) 967-4291
US Post Office
210 Spicer Avenue N
Raymond, MN 56282-5000
Phone: (320) 967-4434
Toll Free: (800) ASK-USPS

Regular Business Hours:
Week Days 7:00 am - 1:00 pm
Saturday 8:00 am - 9:15 am
---
---
Aerial Photo:
---
Topographic Map: [click map to enlarge, zoom in or zoom out]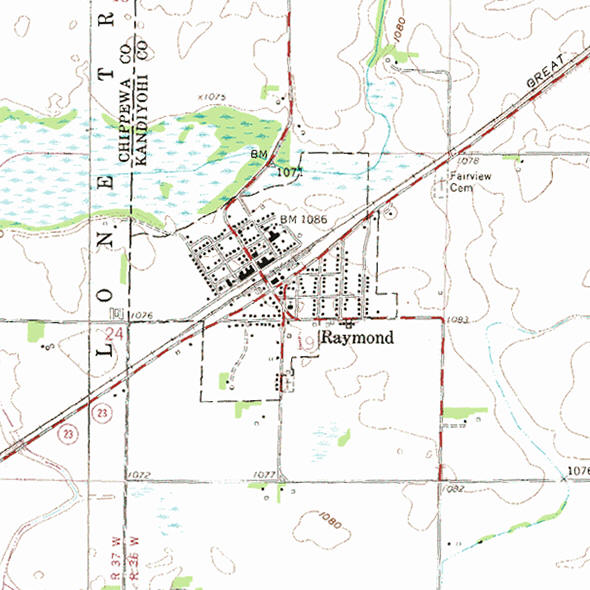 Topographic map is courtesy of the Minnesota DNR - click map to zoom or enlarge