Navigation
LakesnWoods.com
Home Page
Contact Us
Privacy
Minnesota History Shop

Visit The Minnesota History Shop
www.minnesotahistoryshop.com
Historic maps
Historic books
Historic framed art
Historic postcards
Clothing with historic images
And much more!!!


Prinsburg Guide:
Photo Gallery
Location
Geography
Demographics
History
Government
Post Office
News
Weather
Street Map
Events
Attractions
Recreation
Lakes
Health Care
Schools
Churches
Media
Motels
Resorts
Campgrounds
Businesses
Aerial Photo
Topographic Map
© 2004-2023
Lakeweb1 Internet Services
All Rights Reserved
DCMA, Defamation, Copyright and Trademark Infingement Policy
WANTED!
Do you have photos, historical accounts or other items pertaining to the Prinsburg area? Would you like to share this historical information with the world? LakesnWoods.com would like to publish your Prinsburg photos (current or historical) or historical accounts on this website. Original materials can be returned and your privacy will be respected.

Prinsburg Minnesota Community Guide
---
Location:
In the southwest corner of Kandiyohi County on Highway 7 is the town of Prinsburg. A town that has established itself as a close-knit community where faith and family are very important. These two Prinsburg values will be evident upon entering the town. With a population just under 500 people, Prinsburg manages to have two, large Christian Reformed churches and a new, private school. The religious dedication and spirit of Prinsburg residents carries out into the community. You'll find cosmetically neat housing and yards, as well as an overall safe and peaceful neighborhood ideal for raising a family.
Courtesy Kandiyohi County Economic Development Commission
---
Population:
Prinsburg (city)
1970
1980
1990
2000
2010
2000-2010 Change
Actual
Percent
Population
448
557
502
458
497
+39
+8.52
Land Area (sq. mile)
1.10
1.02
1.05
1.05
1.05
0
0.00
Density (persons per sq. mile)
407.3
546.1
478.1
434.3
473.3
+39.00
+8.52
Housing Units
145
190
194
192
216
+24
+12.50
Households
--
187
191
188
207
+19
+10.11
Persons Per Household
--
2.98
2.63
2.44
2.40
-0.04
-1.64
---
Geography:
Prinsburg is a city in Kandiyohi County, Minnesota. Minnesota State Highway 7 serves as a main route in the community. According to the United States Census Bureau, the city has a total area of 1.00 square mile (2.59 km2), all of it land. The elevation is 1,099 ft (335 m) above sea level.
From Wikipedia, the free encyclopedia.
---
Demographics:
As of the census of 2010, there were 497 people, 207 households, and 142 families residing in the city. The population density was 497.0 inhabitants per square mile (191.9/km2). There were 216 housing units at an average density of 216.0 per square mile (83.4/km2). The racial makeup of the city was 97.4% White, 1.2% African American, 0.4% Asian, 0.6% from other races, and 0.4% from two or more races. Hispanic or Latino of any race were 1.2% of the population.
There were 207 households of which 28.5% had children under the age of 18 living with them, 66.7% were married couples living together, 0.5% had a female householder with no husband present, 1.4% had a male householder with no wife present, and 31.4% were non-families. 30.0% of all households were made up of individuals and 21.2% had someone living alone who was 65 years of age or older. The average household size was 2.40 and the average family size was 2.94.
The median age in the city was 42.1 years. 25.8% of residents were under the age of 18; 5.9% were between the ages of 18 and 24; 21.2% were from 25 to 44; 21.8% were from 45 to 64; and 24.9% were 65 years of age or older. The gender makeup of the city was 49.1% male and 50.9% female.
---
---
History:
PRINSBURG, a city at the center of Holland Township, section 16, platted in 1886, commemorates Martin Prins, member of a land firm in Holland, who came here and in 1884 acquired about 35,000 acres of railroad lands, mostly in this county. He died in 1887. The city was incorporated as a village June 25, 1952; it began when acreage within the 34,000 acres of land in Kandiyohi and Renville Counties, owned by two partners, Prins and Theodore Koch, was offered for sale in 1885, with the promise that as soon as 20 Dutch families had settled, one half of the cost of a church would be contributed by the partners; 40 lots were sold, and 40 acres in the middle of the township were set aside for a village; the post office was established during three periods, 1887-89, 1896-1904, and from 1927, each time located in the general store.
Courtesy Minnesota Historical Society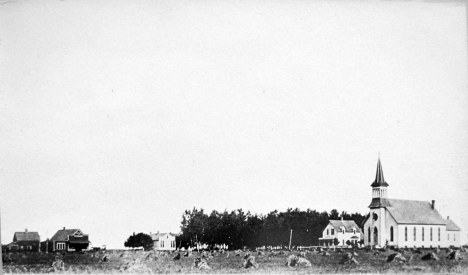 General view, Prinsburg Minnesota, 1900s
LakesnWoods.com Postcard and Postcard Image Collection - click to enlarge

Visit The Prinsburg Photo Gallery for more recent and historic area photos
---
Government:
Prinsburg City Hall
501 3rd Street
PO Box 7
Prinsburg, MN 56281
Phone: (320) 978-8081

Regular Business Hours:
Tuesday and Thursday 9:00 am - 1:00 pm

City Council Meetings:
2nd Tuesday of the month at 7:00 pm


Title
Term Ends
Name and Address
Phone
Mayor
12/31/2022
Roger Ahrenholz
121 Sunrise Lane - PO Box 42
Prinsburg, MN 56281
(320) 978-6221
Clerk
appointed
Sarah VanDyken
501 3rd Street - PO Box 7
Prinsburg, MN 56281
(320) 978-6094
(320) 220-4600
Council Member
12/31/2022
Greg Bonnema
107 3rd Street
Prinsburg, MN 56281
(320) 978-6018
Council Member
12/31/2022
Mitchell Swart
503 Bluejay Drive
Prinsburg, MN 56281
(320) 905-0541
Council Member
12/31/2024
Daniel Negen
330 Redel Drive
Prinsburg, MN 56281
(320) 978-9137
Council Member
12/31/2024
Dalen Folkerts
125 Elm Grove Lane
Prinsburg, MN 56281
(320) 978-6600
---
Post Office:
US Post Office
613 N 3rd Street
Prinsburg, MN 56281-5000
Phone: (320) 978-4671
Toll Free: (800) ASK-USPS

Regular Business Hours:
Week Days 8:00 am - 12:00 pm
Saturday 8:00 am - 9:15 am
---
---
Utilities:
| | | |
| --- | --- | --- |
| Utility Type | Utility Name | Utility Phone |
| Electricity | Xcel Energy | (800) 481-4700 |
| Natural Gas | n/a | -- |
| Wastewater | n/a | -- |
| Water | n/a | -- |
| Telephone | Frontier Communications | (800) 435-1504 |
| Cable TV | n/a | -- |
---
Major Employers:
Employer
Products/Services
Employees

n/a
---
---
News:
---
Weather:
---
Map: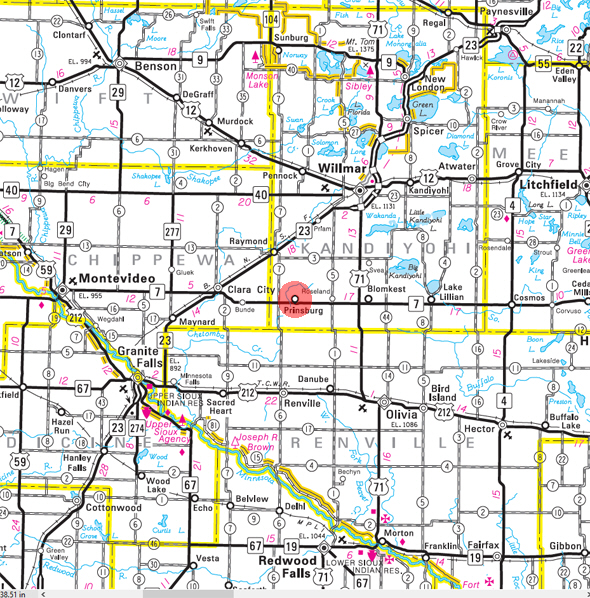 Minnesota State Highway Map of the Prinsburg Minnesota area
---
Events:
---
---
Attractions:
---
Recreation:
---
Lakes:
---
Health Care:
---
Schools:
Central Minnesota Christian School
204 School Street
Prinsburg, MN 56281
Phone: (320) 978-6797
---
Churches:
Prinsburg First Christian Church
106 6th Street
Prinsburg, MN 56281
Phone: (320) 978-6231
Unity Christian Reformed Church
510 6th Street
Prinsburg, MN 56281
Phone: (320) 978-4300
---
Media:
---
Motels:
Check for motel rates and availability on:
---
Resorts:
---
Campgrounds:
---
---
Businesses:
Auto Collision and Colour
302 Pleasant Avenue
Prinsburg, MN 56281
Phone: (320) 978-4114
Blue Rhino
101 3rd Street
Prinsburg, MN 56281
Phone: (320) 978-
Byron Link Trucking Inc.
606 Pleasant Avenue
Prinsburg, MN 56281
Phone: (320) 978-6068
CapFinancial II LLC
508 3rd Street
Prinsburg, MN 56281
Phone: (320) 978-
Central Minnesota Senior Care
403 Cardinal Drive
Prinsburg, MN 56281
Phone: (320) 978-8075
Chem-Dry
117 Elm Grove Lane
Prinsburg, MN 56281
Phone: (320) 978-6802
Country Pork
7360 195th Avenue SW
Prinsburg, MN 56281
Phone: (320) 978-6465
De Groot Farm and Land Sales
402 Pleasant Avenue
Prinsburg, MN 56281
Phone: (320) 978-6222
Duininck Inc.
408 6th Street
Prinsburg, MN 56281
Phone: (320) 978-6011
Gary's Cabinets
601 3rd Street
Prinsburg, MN 56281
Phone: (320) 978-6001
Grussing Bonnema and Rede
609 3rd Street
Prinsburg, MN 56281
Phone: (320) 978-6109
Kim's Electric
407 3rd Street
Prinsburg, MN 56281
Phone: (320) 978-6841
Lloyd's Electric Service
602 3rd Street
Prinsburg, MN 56281
Phone: (320) 978-8500
Lunchbox Cafe
613 3rd Street
Prinsburg, MN 56281
Phone: (320) 978-4187
Mulder Trucking
110 Prinsburg Avenue
Prinsburg, MN 56281
Phone: (320) 978-8160
Peterson Funeral Home
508 3rd Street
Prinsburg, MN 56281
Phone: (320) 978-4125
Prins Bank
508 3rd Street
Prinsburg, MN 56281
Phone: (320) 978-6351
Prinsburg Farmers Co-op Elevator
404 Railroad Avenue
Prinsburg, MN 56281
Phone: (320) 978-8100
Prinsburg Volunteer Fire Department
501 3rd Street
Prinsburg, MN 56281
Phone: (320) 978-8900
Prinsco Inc.
108 State Highway 7 W
Prinsburg, MN 56281
Phone: (320) 978-4116
Service Oil Enterprises Company
607 3rd Street
Prinsburg, MN 56281
Phone: (320) 978-8800
Tri County Funeral Home
508 3rd Street
Prinsburg, MN 56281
Phone: (320) 978-4125
US Post Office
613 N 3rd Street
Prinsburg, MN 56281-5000
Phone: (320) 978-4671
Toll Free: (800) ASK-USPS

Regular Business Hours:
Week Days 8:00 am - 12:00 pm
Saturday 8:00 am - 9:15 am

Vans Electric LLC
16073 105th Street SW
Prinsburg, MN 56281
Phone: (320) 978-4907
Varicore Technologies Inc.
15 6th Street
Prinsburg, MN 56281
Phone: (320) 978-8007
Warren's Sales and Service
101 3rd Street
Prinsburg, MN 56281
Phone: (320) 978-8900
---
---
Aerial Photo:
---
Topographic Map: [click map to enlarge, zoom in or zoom out]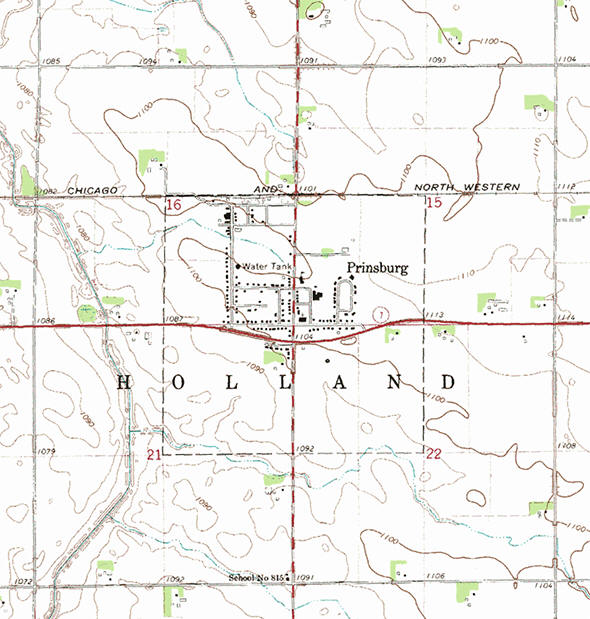 Topographic map is courtesy of the Minnesota DNR - click map to zoom or enlarge