Navigation
LakesnWoods.com
Home Page
Contact Us
Privacy
Minnesota History Shop

Visit The Minnesota History Shop
www.minnesotahistoryshop.com
Historic maps
Historic books
Historic framed art
Historic postcards
Clothing with historic images
And much more!!!


Plymouth Guide:
Photo Gallery
Location
Geography
Demographics
History
Government
Post Office
News
Weather
Street Map
Events
Attractions
Recreation
Lakes
Health Care
Schools
Churches
Media
Motels
Resorts
Campgrounds
Businesses
Aerial Photo
Topographic Map
© 2004-2022
Lakeweb1 Internet Services
All Rights Reserved
DCMA, Defamation, Copyright and Trademark Infingement Policy
WANTED!
Do you have photos, historical accounts or other items pertaining to the Plymouth area? Would you like to share this historical information with the world? LakesnWoods.com would like to publish your Plymouth photos (current or historical) or historical accounts on this website. Original materials can be returned and your privacy will be respected.

Plymouth Minnesota Community Guide
---
Location:
---
Population:
Plymouth (city)
1970
1980
1990
2000
2007
(est)
1990-2000 Change
Actual
Percent
Population
18,077
31,615
50,889
65,894
71,147
15,005
29.49
Land Area (sq. mile)
32.20
34.09
32.93
32.91
--
-0.02
-0.05
Density (persons per sq. mile)
561.4
927.4
1,545.4
2,002.0
--
456.59
29.55
Housing Units
4,825
11,039
19,616
25,258
--
5,642
28.76
Households
--
10,491
18,361
24,820
27,962
6,459
35.18
Persons Per Household
--
2.96
2.72
2.60
2.48
-0.12
-4.50
---
Geography:
Plymouth is located 15 miles (24 km) northwest of downtown Minneapolis in Hennepin County, Minnesota. Interstate 494, U.S. Route 169, and Minnesota State Highway 55 are three of the main routes in the city. According to the United States Census Bureau, the city has a total area of 35.3 square miles (91.5 km≤)ó32.9 square miles (85.2 km≤) of it is land and 2.4 square miles (6.2 km≤) of it (6.82%) is water. The elevation is 971 ft (296 m) above sea level.
From Wikipedia, the free encyclopedia.
---
Demographics:
As of the census of 2000, there were 65,894 people, 24,820 households, and 17,647 families residing in the city. The population density was 2,002.0 persons per square mile (773.1/km≤). There were 25,258 housing units at an average density of 767.4 per square mile (296.3/km≤). The racial makeup of the city was 91.36% White, 2.71% African American, 0.33% Native American, 3.79% Asian, 0.01% Pacific Islander, 0.50% from other races, and 1.31% from two or more races. Hispanic or Latino of any race were 1.64% of the population. 27.0% were of German, 13.1% Norwegian, 7.8% Irish and 7.5% Swedish ancestry according to Census 2000.
There were 24,820 households out of which 37.8% had children under the age of 18 living with them, 61.2% were married couples living together, 7.6% had a female householder with no husband present, and 28.9% were non-families. 21.8% of all households were made up of individuals and 4.7% had someone living alone who was 65 years of age or older. The average household size was 2.60 and the average family size was 3.09.
In the city the population was spread out with 27.1% under the age of 18, 7.4% from 18 to 24, 33.0% from 25 to 44, 25.0% from 45 to 64, and 7.6% who were 65 years of age or older. The median age was 36 years. For every 100 females there were 97.1 males. For every 100 females age 18 and over, there were 95.5 males.
The median income for a household in the city was $77,008, and the median income for a family was $90,134. Males had a median income of $59,751 versus $38,111 for females. The per capita income for the city was $36,309. About 1.5% of families and 2.6% of the population were below the poverty line, including 2.0% of those under age 18 and 1.5% of those age 65 or over.
---
---
History:
Plymouth's history can be traced back to the pre-Columbian period, 1400-1500 AD.[6] The original inhabitants were the Dakota. Their encampment was at the north end of Medicine Lake, whose name is derived from the Native American word "Mdewakan," meaning "Lake of the Spirit." The Dakota named it after a warrior overturned his canoe and his body was never recovered.
Antoine LeCounte, a guide and explorer, was the first settler to this area. He arrived in 1848, but did not settle until 1852. He carried mail from the Red River country to points south, trading goods to Native Americans for horses on the way. LeCounte built the first cabin at what is now East Medicine Lake Blvd. at 29th Ave. N. Plymouth's beginning as a town occurred in 1855 on the northwest shores of what is now known as Parkers Lake. A gristmill and other structures were built in the area. In the spring of 1857, when Parkers Lake flooded, the mill was taken down and moved to Freeport, Minnesota, known today as Wayzata.
As new settlers came to the area, they decided to organize. The Hennepin County Board of Commissioners named the new settlement Plymouth. On April 19, 1858, a group of townspeople met at the home of Francis Day to open elections for town offices. On May 11, 1858, the group voted to change the town's name to Medicine Lake. This was used once at the town meeting, but for reasons, which were not recorded, it was never used again.
During the Dakota War of 1862 between white settlers and the Dakota at Fort Ridgely, near New Ulm, the settlers of Plymouth formed a militia. When the Civil War started, Plymouth paid its volunteers $25 to enlist. At about this time, Plymouth's growth began to take on a new look. Schools and churches were built and a post office was located in Plymouth. By 1863, hotels were being built.
More changes occurred after the Civil War. By 1880, Plymouth boasted a population of 1,074, and reaped $667 in annual taxes. Farming became the trade of most settlers. Roads were built across Plymouth, making access to other towns possible. Medicine Lake had become a major tourist attraction and resorts were built around its shores.
As the character of the community evolved, so did local government. Plymouth incorporated as a village on May 18, 1955. The City adopted the Council-Manager form of government on August 1, 1968. Plymouth became a statutory city on February 7, 1974. It remained a statutory city until voters opted to make it a home rule charter city by adopting a City Charter on November 3, 1992. The City Charter went into effect on January 1, 1993. The Charter continued the Council-Manager form of government, and increased the size of the City Council. Prior to the adoption of the Charter, the City Council was made up of five members elected at-large. The Charter increased the Council to seven members elected from four wards.
In most recent news Plymouth was named by Money Magazine the number one city in which to live in the United States in 2008. The magazine gave top honors to Plymouth because of its inclusion of residential areas, industry, parks, schools, and other aspects which make Plymouth a self-contained and essentially autonomous city.
From Wikipedia, the free encyclopedia.
PLYMOUTH, first settled in October 1853, organized May 11, 1858, took the name of its village previously platted on Parkers Lake in 1856, but the village was only of short duration, in contrast with the township name, which, however, some of the settlers at first wished to change to Medicine Lake. Like all the many Plymouths of the United States, it commemorates the city of Plymouth at the mouth of the River Plym in Devonshire, England, whence the Pilgrims in the Mayflower sailed in 1620 to the site of Plymouth, Mass., landing there on a boulder of world renown, called Plymouth Rock.
The city of Plymouth was incorporated on May 18, 1955, and had a post office operating 1865-69, 1879-80, and 1886-1901; it had a station of the Minnesota and Pacific Railroad.
Courtesy Minnesota Historical Society
---
Government:
Plymouth City Hall
3400 Plymouth Boulevard
Plymouth, MN 55447-1482
Phone: (763) 509-5000
Fax: (763) 509-5060

Regular Business Hours:
Monday - Friday 8:00 am - 4:30 pm
Open until 6:00 pm on Tuesdays

City Council Meetings:
2nd and 4th Tuesday of the month at 7:00 pm


Title
Term Ends
Name and Address
Phone
Mayor
12/31/2022
Jeffry Wosje
1760 Ranier Lane N
Plymouth, MN 55447


(763) 509-5007
(952) 738-2399

City Manager
appointed
Dave Callister
3400 Plymouth Boulevard
Plymouth, MN 55447
(763) 509-5300
Council Member - Ward 1 (NW)
12/31/2024
Alise McGregor
5110 Quantico Lane
Plymouth, MN 55446


(763) 509-5001
(763) 269-2796
Council Member - Ward 2 (SW)
12/31/2022
Nick Roehl
415 Quantico Lane N
Plymouth, MN 55447


(763) 509-5002
(612) 599-7331
Council Member - Ward 3 (SE)
12/31/2024
Jim Davis
880 Trenton Lane N
Plymouth, MN 55447


(763) 509-5003
(612) 708-9704
Council Member - Ward 4 (NE)
12/31/2022
James Prom
5760 Oakview Lane
Plymouth, MN 55447


(763) 509-5004
(612) 940-4238
Council Member - At Large
12/31/2022
Ned Carroll
19010 11th Avemue N
Plymouth, MN 55447


(763) 509-5005
(612) 919-9717
Council Member - At Large
12/31/2024
Jim Willis
16511 26th Avenue N
Plymouth, MN 55447


(763) 509-5006
(651) 485-0700
---
Post Office:
US Post Office
3300 Plymouth Blvd.
Plymouth, MN 55447-9998
Phone: (763) 557-1372
Toll Free: (800) ASK-USPS



Regular Business Hours:
Week Days 8:30 am - 5:00 pm
Saturday 9:00 am - 1:00 pm
Latest Collection at Post Office:
Week Days 5:30 pm
Saturday 4:00 pm
---
Utilities:
---
Major Employers:
---
---
News:
---
Weather:
---
Map: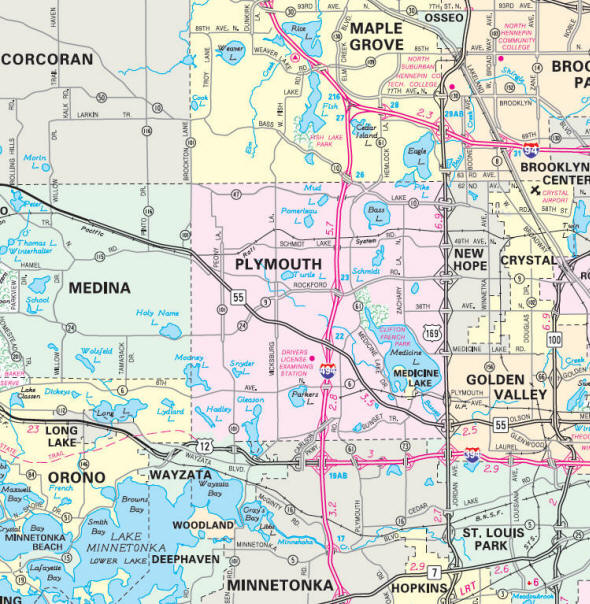 Minnesota State Highway Map of the Plymouth Minnesota area
---
Events:
---
---
Attractions:
---
Recreation:
---
Lakes:
---
Health Care:
---
Schools:
---
Churches:
---
Media:
---
Motels:
Check for motel rates and availability on:
---
Resorts:
---
Campgrounds:
---
---
Businesses:

The Plymouth Business Directory is Coming Soon!

---
---
Aerial Photo:
---
Topographic Map: [click map to enlarge, zoom in or zoom out]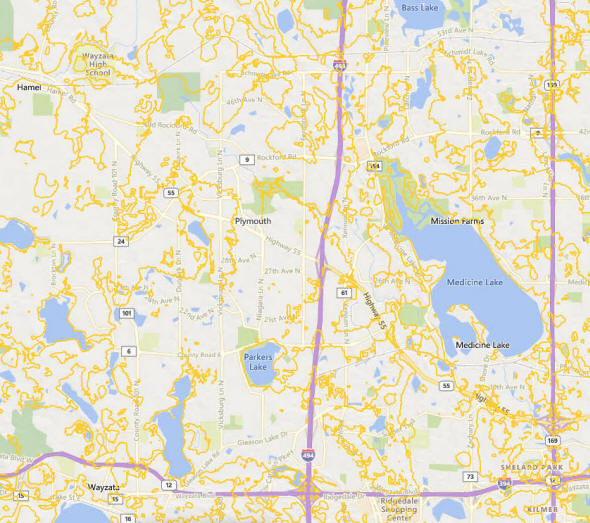 Topographic map is courtesy of the Minnesota DNR - click map to zoom or enlarge