Navigation
LakesnWoods.com
Home Page
Contact Us
Privacy
Minnesota History Shop

Visit The Minnesota History Shop
www.minnesotahistoryshop.com
Historic maps
Historic books
Historic framed art
Historic postcards
Clothing with historic images
And much more!!!

Peterson Guide:
Photo Gallery
Location
Geography
Demographics
History
Government
Post Office
News
Weather
Street Map
Events
Attractions
Recreation
Lakes
Health Care
Schools
Churches
Media
Motels
Resorts
Campgrounds
Businesses
Aerial Photo
Topographic Map
© 2004-2023
Lakeweb1 Internet Services
All Rights Reserved
DCMA, Defamation, Copyright and Trademark Infingement Policy
WANTED!
Do you have photos, historical accounts or other items pertaining to the Peterson area? Would you like to share this historical information with the world? LakesnWoods.com would like to publish your Peterson photos (current or historical) or historical accounts on this website. Original materials can be returned and your privacy will be respected.

Peterson Minnesota Community Guide
---
Location:
Nestled in the bluffs of southeastern Minnesota, just off scenic Minnesota State Highway 16, you will find the friendly, small community of Peterson. The Root River State Hiking & Biking Trail passes through the city, and a quiet, family-oriented campground is located adjacent to the trail.

Courtesy City of Peterson
---
Population:
Peterson (city)
1970
1980
1990
2000
2010
2000-2010 Change
Actual
Percent
Population
269
291
259
269
199
-70
-26.02
Land Area (sq. mile)
0.50
0.47
0.48
0.48
0.48
0
0.00
Density (persons per sq. mile)
538.0
619.2
539.6
557.5
414.6
-142.92
-26.02
Housing Units
107
114
109
118
108
-10
-8.47
Households
--
109
101
98
97
-1
-1.02
Persons Per Household
--
2.67
2.56
2.33
2.05
-0.28
-12.02
---
Geography:
Peterson is a city in Fillmore County, Minnesota. According to the United States Census Bureau, the city has a total area of 0.51 square miles (1.31 km²), of which, 0.49 square miles (1.27 km²) of it is land and 0.02 square miles (0.05 km²) of it is water. County Road 29 is a major route in the city and State Highway 16 is nearby. The elevation is 761 ft (232 m) above sea level.
From Wikipedia, the free encyclopedia.
---
Demographics:
As of the census of 2010, there were 199 people, 97 households, and 60 families residing in the city. The population density was 406.1 inhabitants per square mile (156.8/km2). There were 108 housing units at an average density of 220.4 per square mile (85.1/km2). The racial makeup of the city was 99.5% White and 0.5% Native American. Hispanic or Latino of any race were 1.0% of the population.
There were 97 households of which 19.6% had children under the age of 18 living with them, 51.5% were married couples living together, 8.2% had a female householder with no husband present, 2.1% had a male householder with no wife present, and 38.1% were non-families. 35.1% of all households were made up of individuals and 16.5% had someone living alone who was 65 years of age or older. The average household size was 2.05 and the average family size was 2.63.
The median age in the city was 50.4 years. 16.6% of residents were under the age of 18; 6.9% were between the ages of 18 and 24; 19% were from 25 to 44; 32.1% were from 45 to 64; and 25.1% were 65 years of age or older. The gender makeup of the city was 49.7% male and 50.3% female.
---
History:
In the year 1853, Peter Peterson Haslerud purchased and platted the village site of Peterson and was the major force behind its early growth and development. The community was named after him.[8][9] After buying the land and platting the town, he was elected to the Minnesota State Legislature, served in several appointed positions and in 1856 was appointed by the Governor of Minnesota as Immigration officer for the 14th District of Minnesota. Peter was instrumental in bringing the railroad through Rushford Township in 1867 and he gave the railroad company fifteen acres of land and along with other citizens contributed $800. to secure a station and warehouse at Peterson. Peter began buying wheat from local farmers and shipping it back to the eastern part of the U.S.
In 1870, a post office was established in Peterson and Even A. Hjelie was appointed first postmaster. In 1871, Peter Peterson Haslerud developed a "trout farm" on his property outside Peterson and continued to expand the boundaries of the town.
In 1873, Ole Ensberg started a blacksmith shop and in 1874 an additional quarter section of land was laid out into lots and added to the village of Peterson. In 1875, two general stores, a hardware store, and a drug store were established. In 1875, the telegraph was installed at the railroad station and G.P. Haslerud (Peter Peterson Haslerud's oldest son) was appointed agent. Also in that year fifteen additional acres were platted and Prospect Park, Mill, Centennial, Fillmore, Church, and Myrtle Streets were named. In 1876, a mill was built with farmers living in the surrounding areas subscribing most of the stock. A livery barn, a steam mill, the Peterson Hotel, the Northwestern Bar and other small businesses opened for business.
In 1882, the Minnesota and Dakota Gazetteer, gave a contemporary description of Peterson:
"An unincorporated village of 100 inhabitants in Rushford Township, northeastern part of Fillmore County, and a station on the Southern Minnesota Railroad, 25 miles from Preston and 120 miles from Minneapolis. It is situated on the Root Rover which furnishes power to a flour mill at this point. A steam flour mill is also in operation in the village and there is a Lutheran church and district school. The exports are flour and wheat. Modes of communication are: Western Union Telegraph, American Express, two stages semi-weekly from Pilot Mound to Peterson via Arendahl and daily mail service."
Peterson was organized as a village in 1909.
From Wikipedia, the free encyclopedia
PETERSON, a city in Rushford Township, sections 19, 29 and 30, was founded in 1867, when the railway was built, on land donated for this use by Peter Peterson Haslerud, who settled here in July 1853. It was incorporated in April 20, 1909. He was born in Norway, July 21, 1828; came to the United States in 1843; was a representative in the legislature, 1862; died September 23, 1880. The first post office, 1855-62, with Knud Peterson, postmaster, transferred to Windom; the current post office began in 1870. The city had a station of the Chicago, Milwaukee, St. Paul and Pacific Railroad.
Courtesy Minnesota Historical Society

General view, Peterson Minnesota, 1931
LakesnWoods.com Postcard and Postcard Image Collection- click image to enlarge

Visit The Peterson Photo Gallery for more recent and historic area photos
---
Minnesota's Lost Towns Southern Edition

Includes Amherst Village, Big Springs, Bratsberg, Carimona, Cherry Grove, Choice, Clear Grit, Elliota, Etna, Fillmore Village and 12 more in Fillmore County!





Pack your bags and come along as we journey to over 125 lost towns in Southern Minnesota. Read how the Civil War, changes in transportation, county seat disputes and other historical happenings changed Minnesota's landscape. Learn how and why lost towns and communities were created, how they thrived and why they eventually faded into history. Visit the people and places of Southern Minnesota in this fourth edition of the Minnesota's Lost Towns series. Be sure to check out the other titles in the series: Northern, Central, and Northern II.

Buy This Book
---
Government:
Peterson City Hall
118 Fillmore Street
PO Box 67
Peterson, MN 55962
Phone: (507) 875-2222
Fax: (507) 875-2288

Regular Business Hours:
Wednesday 12:00 pm - 4:00 pm or by appt.

City Council Meetings:
2nd Wednesday of the month at 6:00 pm


Title
Term Ends
Name and Address
Phone
Mayor
12/31/2022
Tim Hallum
130 Prospect Street
Peterson, MN 55962
(507) 875-2556
City Clerk
appointed
Christopher Grindland
118 Fillmore Street
Peterson, MN 55962

(507) 875-2222

Council Member
12/31/2022
Gail Barnard-Boyum
205 N Church Street
Peterson, MN 55962
(507) 875-2658
Council Member
12/31/2022
Dave Colbenson
170 Church Street N
Peterson, MN 55962
(507) 875-2855
Council Member
12/31/2024
Tracy Seelbinder
224 Mill Street
Peterson, MN 55962
(507) 458-4162
Council Member
12/31/2024
Chris Stenzel
481 Church Street S
Peterson, MN 55962
(507) 259-0515
---
Post Office:
US Post Office
328 Mill Street
Peterson, MN 55962-9774
Phone: (507) 875-2226
Toll Free: (800) ASK-USPS

Regular Business Hours:
Week Days 12:00 pm - 2:00 pm
Saturday 9:00 am - 11:00 am


---
---
Utilities:
---
Major Employers:
Employer
Products/Services
Employees

n/a
---
---
News:
---
Weather:
---
Map: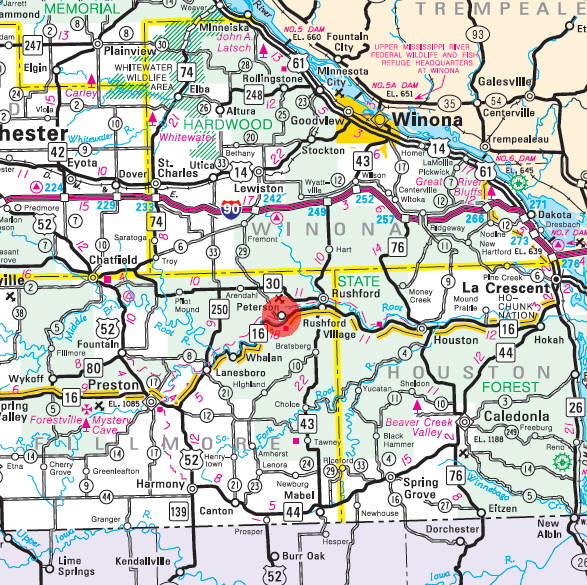 Minnesota State Highway Map of the Peterson Minnesota area
---
Events:
---
Attractions:
Peterson Station Museum
228 Mill Street
Peterson, MN 55962
Phone: (507) 875-2415
Web: www.petersonmn.org/museum.htm



Nearly 100 years after Peterson Station opened to serve Southern Minnesota Railroad customers, it welcomed the public again in 1974 – this time as a museum. Today, visitors can explore the area's past through historical memorabilia, photographs, and artifacts, or learn more about their family's history in the area at the genealogy center.
---
Recreation:
Geneva's Lodging, Canoe & Tube Rental
318 Mill Street
Peterson, MN 55962
Phone: (507) 875-7733
Web: www.genevashideaway.com



Biking, Hiking, Canoeing, Tubing, Hunting, Fishing, and much more are available here. The Root River State Bike Trail passes directly through Peterson. With over 30 miles of beautiful natural surroundings this trail is stunning year-round.. Traveling on the trail you can see white tailed deer, wild turkey, bald eagles, and much more. You may choose to take a canoe or tube down the lazy Root River for a more relaxing trip through nature. Canoes, kayaks, tubes, and bikes are available for rent.

Root River State Trail

Discover the dramatic river carved blufflands of southeastern Minnesota. The Root River State Trail is a 42 mile long multiple use trail through the quaint and picturesque rural communities of Fountain, Lanesboro, Whalan, Peterson, Rushford and Houston. This asphalt trail was mainly constructed upon an abandoned railroad grade which is generally level and wheelchair accessible. The eastern segment between Money Creek Woods and Houston is relatively more challenging than the western segment with a rather steep, half-mile segment that may not be suitable for all users.
---
Lakes:
Lake Name
Size
(acres)
Lake info
Lake Map
Rec Map
Topo Map
none in the immediate area
---
Health Care:
---
Schools:
Rushford Peterson School District
102 N Mill Street
Rushford, MN 55971
Phone: (507) 864-7785
Fax: (507) 864-2085
Web: www.r-pschools.com

Grades: PK-12
Students: 635

Rushford Peterson High School
102 N Mill Street
PO Box 627
Rushford, MN 55971
Phone: (507) 864-7786
Fax: (507) 864-2085

Grades: 9-12
Students: 195

Rushford Peterson Middle School
193 Park Street
PO Box 8
Peterson, MN 55962-0008
Phone: (507) 875-2238
Fax: (507) 875-2316

Grades: 6-8
Students: 140

Rushford Peterson Elementary School
102 N Mill Street
PO Box 627
Rushford, MN 55971
Phone: (507) 864-7787
Fax: (507) 864-3420

Grades: PK-5
Students: 300
---
Churches:
---
Media:
---
Motels:
Andor Wenneson Historic Inn
425 Prospect Street
Peterson, MN 55962
Phone: (507) 875-2587
Web: www.andorwennesoninn.com



The Andor Wenneson Inn was built in 1904 along the tracks of the Southern Minnesota Railroad, now the beautiful Root River State Trail. Built by businessman W. Andor Wenneson, the hotel served rail travelers coming through Peterson for many years. The building changed hands several times, also serving as a boarding house and eventually as apartments. It then sat empty for about ten years. In 1994, it was completely restored and renovated to its historical beauty and charm. In 2001, the carriage house was built into four more rooms, making a total of nine rooms in the Inn. Each room is complete with a private bath available for guests, including two with whirlpool tubs. The third-floor suite has two bedrooms and a sitting room; with elegant dormers and window seats overlooking the courtyard and bluffs.

The Crossing B&B
427 Prospect Street
PO Box 37
Peterson, MN 55962
Phone: (507) 875-2725
Web: www.thecrossingbb.com



Located at the original site of the 1877 Peterson Train Depot along the Root River Trail, The Crossing is a modern, well-appointed bed & breakfast built in 1999. It is decorated in Victorian style with train accents. Come to The Crossing for a refreshing respite, a quiet interlude from the hustle and bustle of your day's activities. Ask us about receiving FREE complimentary tickets to golf at Ferndale Country Club Monday through Friday.
Check for motel rates and availability on:
---
Resorts:
---
Campgrounds:
Peterson RV Campground
118 Fillmore Street
Peterson, MN 55962
Phone: (507) 875-2222
Web: www.petersonmn.org



Peterson's RV Campground is located next to the Root River Bike Trail and just a few blocks from the Root River. Each of the 9 sites has full electric, water and sewer hookups, picnic table & fire ring. You and your children will enjoy the large park and playground. Rent the picnic pavilion and/or the lighted softball field for large gatherings. Wake up to the sounds of birds and wildlife! Then walk to breakfast at Burdey's Cafe with a delightful menu and prices. Relax in our peaceful town or plan an active day!
---
Businesses:
Amber Torgerud Photography
204 Mill Street
Peterson, MN 55962
Phone: (507) 450-9372
Web: ambertorgerudphotography.smugmug.com
Andor Wenneson Historic Inn
425 Prospect Street
Peterson, MN 55962
Phone: (507) 875-2587
Web: www.andorwennesoninn.com



The Andor Wenneson Inn was built in 1904 along the tracks of the Southern Minnesota Railroad, now the beautiful Root River State Trail. Built by businessman W. Andor Wenneson, the hotel served rail travelers coming through Peterson for many years. The building changed hands several times, also serving as a boarding house and eventually as apartments. It then sat empty for about ten years. In 1994, it was completely restored and renovated to its historical beauty and charm. In 2001, the carriage house was built into four more rooms, making a total of nine rooms in the Inn. Each room is complete with a private bath available for guests, including two with whirlpool tubs. The third-floor suite has two bedrooms and a sitting room; with elegant dormers and window seats overlooking the courtyard and bluffs.

American Legion Post 526
410 Mill Street
Peterson, MN 55962
Phone: (507) 875-2235
Web: www.americanlegion526.org

Bar is open 7 days a week. Pizza, hot sandwiches, snacks, free popcorn. Off Sale available. Pool table, games, Wi-Fi, ATM. Park area. Open to the public.

Visit & enjoy our Veterans Memorial Park just off the Root River bike trail in scenic Peterson, MN. Take a break at one of our two shelters or come in and enjoy the club room. Pool & darts, pull tabs, Heggies pizza, garlic cheese bread, assorted snacks & hot sandwiches plus your favorite cold beverages. On and Off Sale, free Wi-Fi and ATM available on site.
Arendahl Town Hall
37555 State Highway 30
PO Box 34
Peterson, MN 55962
Phone: (507) 875-2210
Brush Poppin Ranch
28359 393rd Avenue
Peterson, MN 55962
Phone: (507) 875-2633
Web: www.brushpoppinranch.org



We are 2nd , 3rd, and 4th generation Appaloosa & Quarter horse breeders. We have continued the breeding program of Sylvia's father, Gordon Cox, who was one of the first Appaloosa breeders in the state of Minnesota. We breed for quality in conformation, disposition and color. Our horses are imprinted as foals, ready to go on and make a marvelous performance partner.

Burdey's Cafe
417 Mill Street
Peterson, MN 55962
Phone: (507) 875-2424



Burdey's Cafe, owned by Steven and Kristin Burdey, is located in beautiful Peterson, MN, right off of the Root River Trail. Featuring Daily lunch specials, homemade soups and pies, and a delicious variety of reasonably-priced breakfasts and lunches.

Chiglo Auto Salvage
27433 County 107 S
Peterson, MN 55962
Phone: (507) 875-2323
Chuck's Feed & Grain
427 Mill Street
Peterson, MN 55962
Phone: (507) 875-2247
Web: www.chucksfeedandgrain.com



Chuck's Feed and Grain has always been a local family business in Peterson, MN. The mill site was originally constructed by B.C. Benson, great-grandfather of current owner Mike Eidenshink. The mill was originally constructed in 1948 for B.C.'s sons, Clifford and Maynard and called Benson Feed Mill. Maynard's son-in-law, Chuck Eidenshink, purchased the site on January 1, 1984. He slowly began the feed and grain business without a previous successful turkey operation. With the help of many different dedicated, hard working employees including his son Mike and many different loyal customers, the business began to grow. Mike took over the business in 2010 and with the help of many dedicated current and former employees and with loyal customers has significantly expanded the business at CFG.

Crossing B&B
427 Prospect Street
PO Box 37
Peterson, MN 55962
Phone: (507) 875-2725
Web: www.thecrossingbb.com



Located at the original site of the 1877 Peterson Train Depot along the Root River Trail, The Crossing is a modern, well-appointed bed & breakfast built in 1999. It is decorated in Victorian style with train accents. Come to The Crossing for a refreshing respite, a quiet interlude from the hustle and bustle of your day's activities. Ask us about receiving FREE complimentary tickets to golf at Ferndale Country Club Monday through Friday.

Doggy Daycare
38252 182nd Street
Peterson, MN 55962
Phone: (507) 875-2263
Double G Electric LLC
42041 230th Street
Peterson, MN 55962
Phone: (507) 875-2399
Eaton Construction
22401 Alpine Drive
Peterson, MN 55962
Phone: (507) 864-8063
Peterson State Fish Hatchery
28376 County 25 S
Peterson, MN 55962
Phone: (507) 875-2625
Web: www.dnr.state.mn.us



The Peterson Hatchery produces Lake Trout and Splake Trout annually for Minnesota's Cold Water Trout Program. Our trout are stocked into cold, deep water lakes throughout northern Minnesota near the towns of Hinckley, Grand Rapids, International Falls, Tower and Grand Marais. Fish are stocked as 4" fingerlings in fall and as 8" yearlings. Peterson Hatchery also maintains a captive lake trout brood stock, which provide eggs for each years fish production.

Geneva's Lodging, Canoe & Tube Rental
318 Mill Street
Peterson, MN 55962
Phone: (507) 875-7733
Web: www.genevashideaway.com



Biking, Hiking, Canoeing, Tubing, Hunting, Fishing, and much more are available here. The Root River State Bike Trail passes directly through Peterson. With over 30 miles of beautiful natural surroundings this trail is stunning year-round.. Traveling on the trail you can see white tailed deer, wild turkey, bald eagles, and much more. You may choose to take a canoe or tube down the lazy Root River for a more relaxing trip through nature. Canoes, kayaks, tubes, and bikes are available for rent.

Johnson Rolling Acres
24486 Bear Paw Road
Peterson, MN 55962
Phone: (507) 864-7046
Peterson City Hall
118 Fillmore Street
PO Box 67
Peterson, MN 55962
Phone: (507) 875-2222
Fax: (507) 875-2288
Web: www.petersonmn.org
Peterson RV Campground
118 Fillmore Street
Peterson, MN 55962
Phone: (507) 875-2222
Web: www.petersonmn.org



Peterson's RV Campground is located next to the Root River Bike Trail and just a few blocks from the Root River. Each of the 9 sites has full electric, water and sewer hookups, picnic table & fire ring. You and your children will enjoy the large park and playground. Rent the picnic pavilion and/or the lighted softball field for large gatherings. Wake up to the sounds of birds and wildlife! Then walk to breakfast at Burdey's Cafe with a delightful menu and prices. Relax in our peaceful town or plan an active day!

Peterson Station Museum
228 Mill Street
Peterson, MN 55962
Phone: (507) 875-2415
Web: www.petersonmn.org/museum.htm



Nearly 100 years after Peterson Station opened to serve Southern Minnesota Railroad customers, it welcomed the public again in 1974 – this time as a museum. Today, visitors can explore the area's past through historical memorabilia, photographs, and artifacts, or learn more about their family's history in the area at the genealogy center.

Rushford Aviation Inc
32168 Airport Road
Peterson, MN 55962
Phone: (507) 864-2705
Rushford Peterson Chamber of Commerce
401 S Elm Street
PO Box 338
Rushford, MN 55971
Phone: (507) 864-3338
Web: www.rushfordpetersonvalley.com



Long ago, massive glacial ice dams gave way to release vast volumes of water defining what would create the awesome beauty of Rushford Peterson Valley; a distinctive natural habitat and a legacy for generations to come. Surrounded by impressive bluffs of limestone outcroppings, hardwood forests and prairie, the lush Valley is linked by watersheds and waterways feeding into the meandering Root River. Achingly beautiful and environmentally fragile, the Valley provides habitat for much of the state's plant and animal species listed as endangered, threatened, or of special concern. Bypassed by the last glaciers, the truly special Valley has been described as 'a fragment of the past, a small piece of what once was.' This four-season setting is a photographer's delight with outdoor pleasures for all ages. It is a secret laughing place for the soul.

The Crossing B&B
427 Prospect Street
PO Box 37
Peterson, MN 55962
Phone: (507) 875-2725
Web: www.thecrossingbb.com



Located at the original site of the 1877 Peterson Train Depot along the Root River Trail, The Crossing is a modern, well-appointed bed & breakfast built in 1999. It is decorated in Victorian style with train accents. Come to The Crossing for a refreshing respite, a quiet interlude from the hustle and bustle of your day's activities. Ask us about receiving FREE complimentary tickets to golf at Ferndale Country Club Monday through Friday.

Turned Write Handcrafted Art
322 Mill Street
PO Box 147
Peterson, MN 55962
Phone: (507) 875-2239



Quality writing instruments and unique gift items in exotic and domestic woods and acrylic. Call or message to set up a meeting or find out shop hours.

United Packaging Inc
40996 State Highway
Peterson, MN 55962
Phone: (507) 875-5000
Web: www.unitedpackaginginc.com



UPI specializes in the design, testing, high volume manufacturing and distribution of industrial packaging products serving the lawn and garden, appliance, window and door, recreational vehicle and OEM industries. We service our customers from large manufacturing plants located in Peterson, Minnesota, Windom, Minnesota, Reedsville, Wisconsin, Fond du Lac, Wisconsin and Tomah, Wisconsin.

US Post Office
328 Mill Street
Peterson, MN 55962
Phone: (507) 875-2226
Web: www.usps.com
W & H Cycle Parts
23195 State Highway 43
Peterson, MN 55962
Phone: (507) 864-2452
---
Aerial Photo:
---
Topographic Map: [click map to enlarge, zoom in or zoom out]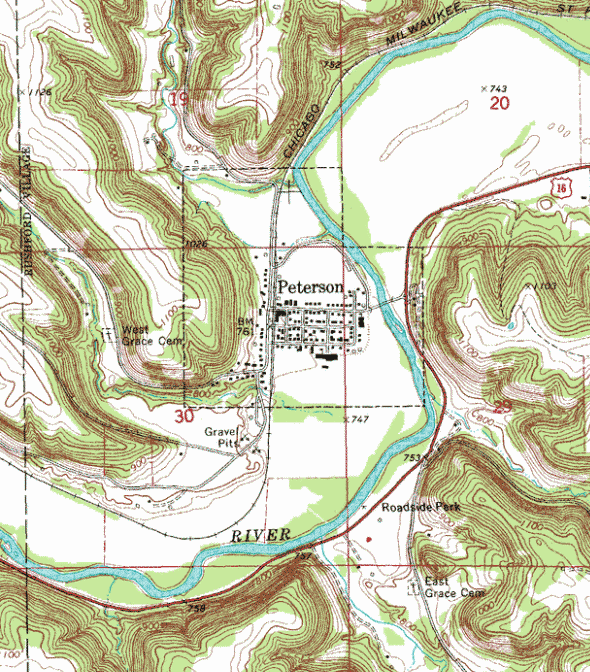 Topographic map is courtesy of the Minnesota DNR - click map to zoom or enlarge