Navigation
LakesnWoods.com
Home Page
Contact Us
Privacy
Minnesota Gift Guide

Oslo Guide:
Photo Gallery
Location
Geography
Demographics
History
Government
Post Office
News
Weather
Street Map
Events
Attractions
Recreation
Lakes
Health Care
Schools
Churches
Media
Motels
Resorts
Campgrounds
Businesses
Aerial Photo
Topographic Map
© 2004-2021
Lakeweb1 Internet Services
All Rights Reserved
Defamation, Copyright and Trademark Infingement Policy
WANTED!
Do you have photos, historical accounts or other items pertaining to the Oslo area? Would you like to share this historical information with the world? LakesnWoods.com would like to publish your Oslo photos (current or historical) or historical accounts on this website. Original materials can be returned and your privacy will be respected.

Oslo Minnesota Community Guide
---
Location:
---
Population:
Oslo (city)
1970
1980
1990
2000
2010
2000-2010 Change
Actual
Percent
Population
417
379
362
347
330
-17
-4.90
Land Area (sq. mile)
0.60
0.52
0.49
0.36
0.36
0
0.00
Density (persons per sq. mile)
695.00
728.85
738.78
973.03
916.67
-56.36
-4.90
Housing Units
145
168
160
162
158
-4
-2.47
Households
--
146
143
148
134
-14
-9.46
Persons Per Household
--
2.60
2.53
2.34
2.46
+0.12
+5.13
---
Geography:
Oslo is a city in Marshall County, Minnesota. Minnesota Highway 1 and Minnesota Highway 220 are two of the main routes in the community. Oslo is three miles east of Interstate 29 in nearby North Dakota. The Red River of the North flows through at the western edge of Oslo. According to the United States Census Bureau, the city has a total area of 0.38 square miles (0.98 km2), of which 0.36 square miles (0.93 km2) is land and 0.02 square miles (0.05 km2) is water.
From Wikipedia, the free encyclopedia.
---
Demographics:
As of the census of 2010, there were 330 people, 134 households, and 82 families residing in the city. The population density was 916.7 inhabitants per square mile (353.9/km2). There were 158 housing units at an average density of 438.9 per square mile (169.5/km2). The racial makeup of the city was 83.3% White, 1.8% Native American, 0.3% Asian, 13.0% from other races, and 1.5% from two or more races. Hispanic or Latino of any race were 20.3% of the population.
There were 134 households of which 33.6% had children under the age of 18 living with them, 48.5% were married couples living together, 4.5% had a female householder with no husband present, 8.2% had a male householder with no wife present, and 38.8% were non-families. 34.3% of all households were made up of individuals and 20.1% had someone living alone who was 65 years of age or older. The average household size was 2.46 and the average family size was 3.21.
The median age in the city was 35.5 years. 26.7% of residents were under the age of 18; 9.8% were between the ages of 18 and 24; 22.5% were from 25 to 44; 21.8% were from 45 to 64; and 19.4% were 65 years of age or older. The gender makeup of the city was 47.3% male and 52.7% female.
---
---
History:
OSLO, a city in sections 31 and 32 of Oak Park, bears the name of a large medieval city that occupied the site of Christiania, Norway. The old city was mostly burned in 1547 and again in 1624, and the new city was founded and named at the later date by Christian IV, king of Denmark and Norway. The city was incorporated on November 21, 1905, as Oslo; the name changed to Soo City in 1907 and back to Oslo in 1908; it was reincorporated on December 11, 1912, at which time it separated from the township. The post office began as Granville, Polk County, in 1881 and transferred to Oslo in 1905, associated with postmaster Andrew Hilden, who was born in Norway in 1853, moved to the United States in 1869 and to Granville, Polk County, in 1896, buying the one existing store and taking over the post office in 1897; he moved the store to the present Oslo in 1905 along with the post office; Hilden moved to Baudette in 1910, where he died in 1922.
Courtesy Minnesota Historical Society
---
Government:
Oslo City Hall
107 3rd Avenue E
PO Box 187
Oslo, MN 56744
Phone: (218) 695-3841

Regular Business Hours:
Monday - Friday 10:00 am - 3:00 pm

City Council Meetings:
2nd Tuesday of the month, call for time



Title
Term Ends
Name and Address
Phone
Mayor
12/31/2020
Erika Martens
503 4th Avenue E
Oslo, MN 56744
(701) 739-3738
Clerk-Treasurer
appointed
Debbie Goschke
107 3rd Avenue E
Oslo, MN 56744
(218) 695-3841
Council Member
12/31/2022
Tim Solem
206 6th Avenue E
Oslo, MN 56744
(218) 695-1315
Council Member
12/31/2022
Vickie Jamieson
308 Lake Street
Oslo, MN 56744
(218) 695-1038
Council Member
12/31/2020
Lacey Bayne
207 2nd Avenue W
Oslo, MN 56744
(701) 793-0660
Council Member
12/31/2020
vacant
--
---
Post Office:
US Post Office
312 Main Street
Oslo, MN 56744-9998
Phone: (218) 695-3362
Toll Free: (800) ASK-USPS

Regular Business Hours:
Week Days 8:00 am - 12:00 pm
Saturday 9:00 am - 9:30 am
---
Utilities:
---
Major Employers:
Employer
Products/Services
Employees
n/a
---
---
News:
---
Weather:
---
Map:
View Larger Map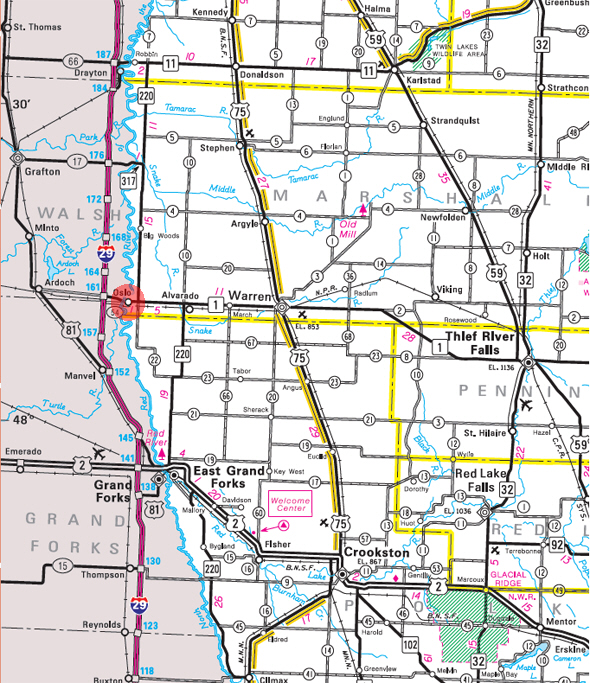 Minnesota State Highway Map of the Oslo Minnesota area
---
Events:
---
Attractions:
---
Recreation:
Oslo City Park

The Oslo City Park is south of the intersection of Hwy. 1 and Main Street. It contains 2 1/2 blocks of athletic field, baseball diamond, horseshoe court, tennis court, RV camping sights, picnic grounds with two shelter houses and a new playground. The City is in the final stage of the City Park Playground Project. This new playground facility will support integrated play between children of differing ages and provide a safe environment for children to play in. The equipment is fully handicap accessible and is in compliance with current safety standards.
---
Lakes:
Lake Name
Size
(acres)
Lake info
Lake Map
Rec Map
Topo Map

none
---
Health Care:
---
Schools:
---
Churches:
Bigwoods Lutheran Church
28993 State Highway 220 NW
Oslo, MN 56744
Phone: (218) 695-2501

Pastor: Deborah A Hanson
Sunday Worship: n/a

Kongsvinger Lutheran Church
15950 470th Avenue NW
Oslo, MN 56744
Phone: (218) 773-8137
Web: www.kongsvingerchurch.org

Pastor: Harvey Hoiberg
Sunday Worship: 9:30am
Sunday School: 11:00am

St. Joseph's Church
515 Main Street
Oslo, MN 56744
Phone: (218) 695-2641

Pastor: Fr. Gary LaMoine
Sunday Mass: 11:00am

Zion Lutheran Church
405 3rd Avenue E
Oslo, MN 56744
Phone: (218) 695-2501

Pastor: Bob Hanson
Sunday Worship: 10:45am
---
Media:
---
Motels:
Check for motel rates and availability on:
---
Resorts:
---
Campgrounds:
Oslo City Park

There are six camping sites with electrical and water hookups on the south side of the park.
---
Businesses:
Agri Sales, Inc.
Oslo, MN 56744
Phone: (218) 695-5566
Web: www.admworld.com
American Crystal Sugar Company
15919 Highway 54
Oslo, MN 56744
Phone: (701) 699-5121
Web: www.crystalsugar.com
American Legion - Klegstad-Gran Post 131
Oslo, MN 56744
Phone: (218) 695-5011
Web: www.mnlegion.org
Beamco
20455 470th Avenue NW
Oslo, MN 56744
Phone: (218) 695-4660

Injection molding & metal fabrication

Bigwoods Lutheran Church
28993 State Highway 220 NW
Oslo, MN 56744
Phone: (218) 695-2501

Pastor: Deborah A Hanson
Sunday Worship: n/a

BJ's Electronics
Oslo, MN 56744
Phone: (218) 695-2
Carpenter Construction
Oslo, MN 56744
Phone: (218) 695-5271
Cenex Farmers Union Oil Company
108 2nd Avenue W
Oslo, MN 56744
Phone: (218) 695-2131
Web: www.cenex.com
CHS Agriliance
110 Dyke Avenue
Oslo, MN 56744
Phone: (218) 695-2909
Web: www.agriliance.com
Community Bank of the Red River Valley
212 Main Street
PO Box 98
Oslo, MN 56744
Phone: (218) 695-2802
Fax: (218) 695-2803
Web: www.cbrrv.com

Lobby Hours:
9:00 a.m.-4:00 p.m. Monday-Friday

Community & Senior Center
107 3rd Avenue S
Oslo, MN 56744
Phone: (218) 695-3842
Corky's Gun Repair
16080 55th Street NE
Oslo, MN 56744
Phone: (701) 699-5101
Czapiewski Brothers Farm
15953 57th Street NE
Oslo, MN 56744
Phone: (701) 699-2480
Dahlstrom Motors Inc
1200 Main Street
Oslo, MN 56744
Phone: (218) 695-2721
Toll Free: (800) 760-0928
Web: www.dahlstrommotors.com

A small town dealership with big city selection. With over 200 New and Pre-owned vehicles on display we have a great selection presented to you in a relaxed and friendly environment so you can enjoy shopping for a vehicle without the high pressure of today's car business.

Drenckhahn & Williams Law Office
Oslo, MN 56744
Phone: (218) 695-3722
FAN Publishing
Oslo, MN 56744
Phone: (218) 695-3405

Athletic Coaches' manuals

Farmers Elevator of Alvarado
111 Dyke Avenue
Oslo, MN 56744
Phone: (218) 695-2301
Goschke Paint and Sandblast
48132 160th Street NW
Oslo, MN 56744
Phone: (218) 773-0504
Gowan Construction
3596 15th Street NE
PO Box 228
Oslo, MN 56744
Phone: (701) 699-5171
Web: www.gowanconstruction.com

Gowan Construction, Inc. is a full service general construction company.

Hair's the Place
Oslo, MN 56744
Phone: (218) 695-3835
Holty Contracting
404 2nd Avenue
Oslo, MN 56744
Phone: (218) 695-2099
Kongsvinger Lutheran Church
15950 470th Avenue NW
Oslo, MN 56744
Phone: (218) 773-8137
Web: www.kongsvingerchurch.org

Pastor: Harvey Hoiberg
Sunday Worship: 9:30am
Sunday School: 11:00am

Kosmatka's Market
206 Main Street
Oslo, MN 56744
Phone: (218) 695-3201
Mallinger Brothers Potato Warehouse
PO Box 7
Oslo, MN 56744
Phone: (218) 695-2311
Nordling Brothers Construction
Oslo, MN 56744
Phone: (218) 695-3405
Northstar Insulation
Oslo, MN 56744
Phone: (218) 695-3883
Oak Park Electric
Oslo, MN 56744
Phone: (218) 695-3201
Oslo Athletic Club
Oslo, MN 56744
Phone: (218) 695-2820
Oslo Bean
105 Oak
Oslo, MN 56744
Phone: (218) 695-3040
Oslo Cafe
205 Main Street
Oslo, MN 56744
Phone: (218) 695-2025
Oslo City Office
107 3rd Avenue E
Oslo, MN 56744
Phone: (218) 695-3841
Web: www.ci.oslo.mn.us
Oslo Community & Senior Center
107 3rd Avenue S
Oslo, MN 56744
Phone: (218) 695-3842
Oslo Fire Department
211 River Street
Oslo, MN 56744
Phone: (218) 695-2421
Oslo Plumbing & Heating
Oslo, MN 56744
Phone: (218) 695-3832
Parts City Auto Parts
106 East Industrial Road
Oslo, MN 56744
Phone: (218) 695-3030
Ray's Repair
Oslo, MN 56744
Phone: (218) 695-3582
Red River Bar and Grill
207 Main Street
PO Box 244
Oslo, MN 56744
Phone: (218) 695-5601
Red River Lumber
Oslo, MN 56744
Phone: n/a
Rod Cote Electric
210 3rd Avenue
Oslo, MN 56744
Phone: (218) 695-5208
Rural American Insurance Agency
Oslo, MN 56744
Phone: (218) 695-2802
St. Joseph's Church
515 Main Street
PO Box 97
Oslo, MN 56744
Phone: (218) 695-2641

Pastor: Fr. Gary LaMoine
Sunday Mass: 11:00am

Steve Nelson Construction
Oslo, MN 56744
Phone: (218) 695-3297
Street Is Neat Custom Bikes
101 Highway 1
PO Box 215
Oslo, MN 56744
Phone: (218) 695-2820
Toll Free: (866) 695-2820
Web: www.streetisneatinc.com

Authorized, and Factory trained
Conversion Specialists since 1994. Let us Convert your Harley-Davidson or GoldWing into a Lehman Trikes Three Wheeler.

T L Oil Company
200 Main Street
Oslo, MN 56744
Phone: (218) 695-2820
T R Enterprises
22392 500th Avenue NW
Oslo, MN 56744
Phone: (218) 695-2021

Auto Alarms & Security Systems

US Post Office
312 Main Street
Oslo, MN 56744
Phone: (218) 695-3362
Web: www.usps.com
Valley Bean Association
301 Oak Street
PO Box 250
Oslo, MN 56744
Phone: (218) 695-2201
Fax: (218) 695-3006
Winfield Solutions, Llc
110 Dyke Avenue
Oslo, MN 56744-4462
Phone: (218) 695-2909
Zion Lutheran Church
405 3rd Avenue E
Oslo, MN 56744
Phone: (218) 695-2501

Pastor: Bob Hanson
Sunday Worship: 10:45am
---
---
Aerial Photo: [click photo to enlarge, zoom in or zoom out]
---
Topographic Map: [click map to enlarge, zoom in or zoom out]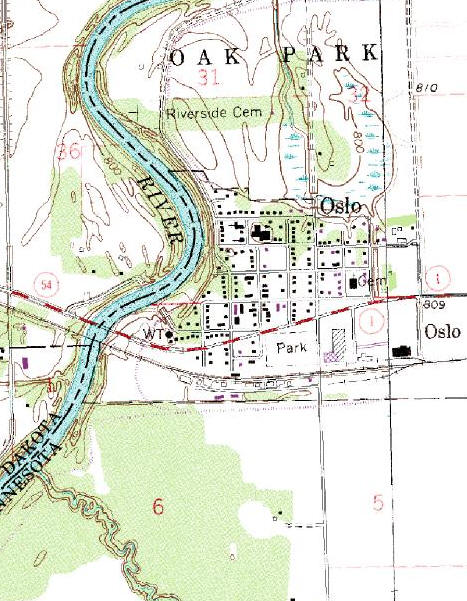 Topographic map is courtesy of the Minnesota DNR - click map to zoom or enlarge