Navigation
LakesnWoods.com
Home Page
Contact Us
Privacy
Minnesota History Shop

Visit The Minnesota History Shop
www.minnesotahistoryshop.com
Historic maps
Historic books
Historic framed art
Historic postcards
Clothing with historic images
And much more!!!


Nicollet Guide:
Photo Gallery
Location
Geography
Demographics
History
Government
Post Office
News
Weather
Street Map
Events
Attractions
Recreation
Lakes
Health Care
Schools
Churches
Media
Motels
Resorts
Campgrounds
Businesses
Aerial Photo
Topographic Map
© 2004-2023
Lakeweb1 Internet Services
All Rights Reserved
DCMA, Defamation, Copyright and Trademark Infingement Policy
WANTED!
Do you have photos, historical accounts or other items pertaining to the Nicollet area? Would you like to share this historical information with the world? LakesnWoods.com would like to publish your Nicollet photos (current or historical) or historical accounts on this website. Original materials can be returned and your privacy will be respected.
\

Nicollet Minnesota Community Guide
---
Location:
---
Population:
Nicollet (city)
1970
1980
1990
2000
2010
2000-2010 Change
Actual
Percent
Population
618
709
795
889
1,093
+204
+22.95
Land Area (sq. mile)
0.60
0.84
0.82
0.88
0.94
0.06
+6.82
Density (persons per sq. mile)
1,030.0
844.1
969.5
1,008.3
1,162.8
+154.5
+15.32
Housing Units
201
272
320
350
445
+95
+27.14
Households
--
252
300
344
429
+85
+24.71
Persons Per Household
--
2.81
2.65
2.58
2.55
-0.03
-1.16
---
Geography:
Nicollet is a city in Nicollet County, Minnesota. U.S. Route 14 and Minnesota State Highways 99 and 111 are three of the main arterial routes in the community. According to the United States Census Bureau, the city has a total area of 0.94 square miles (2.43 km2), all of it land. The elevation is 984 ft (300 m) above sea level.
From Wikipedia, the free encyclopedia.
---
Demographics:
As of the census of 2010, there were 1,093 people, 429 households, and 307 families residing in the city. The population density was 1,162.8 inhabitants per square mile (449.0/km2). There were 445 housing units at an average density of 473.4 per square mile (182.8/km2). The racial makeup of the city was 98.4% White, 0.2% African American, 0.2% Asian, 0.1% from other races, and 1.1% from two or more races. Hispanic or Latino of any race were 3.4% of the population.
There were 429 households of which 39.9% had children under the age of 18 living with them, 55.9% were married couples living together, 11.0% had a female householder with no husband present, 4.7% had a male householder with no wife present, and 28.4% were non-families. 23.5% of all households were made up of individuals and 7.9% had someone living alone who was 65 years of age or older. The average household size was 2.55 and the average family size was 3.00.
The median age in the city was 31.9 years. 29.8% of residents were under the age of 18; 7.8% were between the ages of 18 and 24; 30% were from 25 to 44; 22.4% were from 45 to 64; and 10.1% were 65 years of age or older. The gender makeup of the city was 49.8% male and 50.2% female.
---
---
History:
NICOLLET Township, named after the county, was first settled in the spring of 1854 and was organized May 11, 1858. An early village of this name, in section 17, was platted in 1857 but lasted only three years; "old" Nicollet was originally laid out in 1856 with a hotel, a sawmill, blacksmith shop, several buildings, and a stagecoach stop; the first post office, 1856-58, called Eureka, was a community in section 33 of 500 acres with a sawmill and moved to "old" Nicollet in 1857; the name was changed to Nicollet until April 1877; another post office was established as Nicollet Station in 1873 and combined with the first post office in 1878. The present city in sections 3 and 4 was incorporated November 17, 1881, and separated from the township on April 17, 1889; when the Winona and St. Peter Railroad was completed in 1870, the village (first called Nicollet Station) was laid out in section 3 along the tracks.
Courtesy Minnesota Historical Society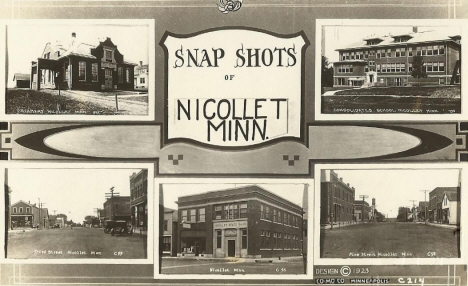 Multiple scenes, Nicollet Minnesota, 1923
LakesnWoods.com Postcard and Postcard Image Collection - click to enlarge

Visit The Nicollet Photo Gallery for more recent and historic area photos
---
Government:
Nicollet City Hall
401 Pine Street
PO Box 547
Nicollet, MN 56074
Phone: (320) 232-3474
Fax: (507) 232-3217

Regular Business Hours:
Monday - Friday 8:00 am - 3:00 pm

City Council Meetings:
Every 3 weeks on Monday at 6:00 pm


Title
Term Ends
Name and Address

Phone

Mayor
12/31/2022
Fred Froehlich
406 Heideman Ave - PO Box 386
Nicollet, MN 56074
(320) 232-3843
Clerk/Treasurer
appointed
Vanessa Drill
401 Pine Street - PO Box 547
Nicollet, MN 56074
(320) 232-3474
Council Member
12/31/2022
Thomas Rieke
808 Nicollet Avenue - PO Box 63
Nicollet, MN 56074
(320) 327-3260
Council Member
12/31/2022
James Anderson
912 Hillside Lane - PO Box 91
Nicollet, MN 56074
(320) 327-3993
Council Member
12/31/2024
Mary H. Wels
316 4th Street - PO Box 102
Nicollet, MN 56074
(320) 317-3411
(320) 232-3104
Council Member
12/31/2024
Matthew Anthony
402 6th Street - PO Box 23
Nicollet, MN 56074
(320) 469-8092
---
Post Office:
US Post Office
714 4th Street
Nicollet, MN 56074-2017
Phone: (507) 225-3838
Toll Free: (800) ASK-USPS

Regular Business Hours:
Week Days 8:00 am - 12:00 pm
1:00 pm - 4:00 pm
Saturday 8:45 am - 9:15 am
---
---
Utilities:
---
Major Employers:
---
---
News:
---
Weather:
---
Map: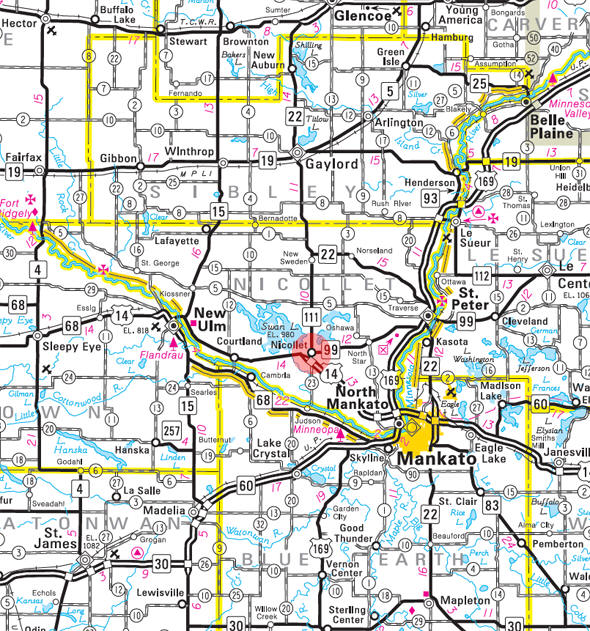 Minnesota State Highway Map of the Nicollet Minnesota area
---
Events:
---
---
Attractions:
---
Recreation:
---
Lakes:
Lake Name
Size
(acres)
Lake info
Lake Map
Rec Map
Topo Map
Duck
n/a
Middle
37
Peterson
70
Swan
6.018
---
Health Care:
---
Schools:
Nicollet Public School
Independent School District #507
1 Pine Street
Nicollet, MN 56074
Phone: (507) 232-3413
---
Churches:
Immanuel Lutheran Church - LCMS
50605 478th Avenue
Nicollet, MN 56074
Phone: (507) 359-2534
St. Paul Catholic Church
411 5th Street
Nicollet, MN 56074
Phone: (507) 232-3897
Trinity Evangelical Lutheran Church
520 6th Street
Nicollet, MN 56074
Phone: (507) 232-3888
---
Media:
---
Motels:
Check for motel rates and availability on:
---
Resorts:
---
Campgrounds:
---
---
Businesses:
Able Electric
311 Elm Street
Nicollet, MN 56074
Phone: (507) 327-1463
Advanced Overhead Door
PO Box 277
Nicollet, MN 56074
Phone: (507) 232-3014
Alesia's Hair Salon
1001 9th Street
Nicollet, MN 56074
Phone: (507) 232-3250



I have been working in the hair industry for 18 years! I attended the Model College of Hair Design in St. Cloud. I absolustely love my job and making clients feel good about themselves. I enjoy creating a natural and professionally designed look for each client. It's fun to be creative with colors, cuts, and foiling. It's very rewarding to make my clients feel good about their hair! In 2009, I opened my own salon in my home in Nicollet and it has been a great adventure for me! In 2011, I added tanning to my business which has also been a huge success.

American Legion
715 3rd Street
Nicollet, MN 56074
Phone: (507) 232-3850
Appliance Tek
301 5th Street
Nicollet, MN 56074
Phone: (507) 381-2686
Baby Raiders Day Care
1 Pine Street
Nicollet, MN 56074
Phone: (507) 232-3415
Back 40 Nursery and Landscaping
509 US Highway 14
Nicollet, MN 56074
Phone: (507) 404-0012
Cabin Bar
620 3rd Street
Nicollet, MN 56074
Phone: (507) 232-3790
Cal's Towing and Repair
627 3rd Street
Nicollet, MN 56074
Phone: (507) 225-3821
Community Insurance Agency
620 2nd Street
Nicollet, MN 56074
Phone: (507) 232-3701
Compart's Boar Store
40754 441st Avenue
Nicollet, MN 56074
Phone: (507) 225-3300
Concept and Design
208 Pine Street
Nicollet, MN 56074
Phone: (507) 232-3462
Countryside Repair
44110 State Highway 99
Nicollet, MN 56074
Phone: (507) 225-3665
Crystal Storage
320 3rd Street
Nicollet, MN 56074
Phone: (507) 232-3741
Crystal Valley Co-op
46567 471st Lane
Nicollet, MN 56074
Phone: (507) 232-3453
Dale Selby's Wildlife
221 Cedar Street
Nicollet, MN 56074
Phone: (507) 232-3760
Dale's Woodworking and Refinishing
929 4th Street
Nicollet, MN 56074
Phone: (507) 380-7039
Dan's Plumbing
43598 475th Avenue
Nicollet, MN 56074
Phone: (507) 232-3497
Davisco International Inc.
734 6th Street
Nicollet, MN 56074
Phone: (507) 225-3750
Dentist House
200 Main Street
Nicollet, MN 56074
Phone: (507) 232-3481
Dis Diner
308 Pine Street
Nicollet, MN 56074
Phone: (507) 232-
Douglas Schultz Farms
45763 County Road 15
Nicollet, MN 56074
Phone: (507) 246-5016
Embacher Autobody
210 Ash Street
Nicollet, MN 56074
Phone: (507) 232-3636
Enters Liquid Fertilizer Inc.
220 3rd Street
Nicollet, MN 56074
Phone: (507) 232-3639
Fashion Corner Salon
47972 478th Street
Nicollet, MN 56074
Phone: (507) 931-2880
George's City Meat Market
430 3rd Street
Nicollet, MN 56074
Phone: (507) 232-3502
Gleason Machine and Manufacturing
46159 Hill Top Lane
Nicollet, MN 56074
Phone: (507) 947-3845
Gold Crest Farms Inc.
43306 451st Avenue
Nicollet, MN 56074
Phone: (507) 232-3357
Hay Shakers Air Field
46386 471st Lane
Nicollet, MN 56074
Phone: (507) 232-3328
Huffer Law Office
621 4th Street
Nicollet, MN 56074
Phone: (507) 232-9860
JM Builders
39218 511th Avenue
Nicollet, MN 56074
Phone: (507) 276-0479
John's Body Shop
46237 Shady Ridge Lane
Nicollet, MN 56074
Phone: (507) 947-3120
Josie's Pork Farm
48827 478th Street
Nicollet, MN 56074
Phone: (507) 246-5356
Lakeview Pork
47760 US Highway 14
Nicollet, MN 56074
Phone: (507) 232-4499
Michel's Diesel Repair
1014 3rd Street
Nicollet, MN 56074
Phone: (507) 779-5089
Midwest Refrigeration and Heating
47780 451st Avenue
Nicollet, MN 56074
Phone: (507) 388-3055
New Sweden Dairy
43475 County Road 15
Nicollet, MN 56074
Phone: (507) 665-4540
New Sweden Mutual Insurance Company
714 3rd Street
Nicollet, MN 56074
Phone: (507) 232-3433
Nicollet Cabinet Shop
206 Pine Street
Nicollet, MN 56074
Phone: (507) 232-3770
Nicollet City Hall
401 Pine Street
PO Box 547
Nicollet, MN 56074
Phone: (320) 232-3474
Fax: (507) 232-3217

Regular Business Hours:
Monday - Friday 8:00 am - 3:00 pm

City Council Meetings:
Every 3 weeks on Monday at 6:00 pm


Nicollet Farmers Exchange Company
716 2nd Street
Nicollet, MN 56074
Phone: (507) 232-3482
Nicollet Food Products Inc.
734 6th Street
Nicollet, MN 56074
Phone: (507) 225-3750
Nicollet Mart
220 Main Street
Nicollet, MN 56074
Phone: (507) 232-3232
Nicollet Plumbing and Heating
220 Pine Street
Nicollet, MN 56074
Phone: (507) 225-3831
Nicollet Veterinary Clinic
1020 3rd Street
Nicollet, MN 56074
Phone: (507) 225-3401
North Star Taxidermy
800 Main Street
Nicollet, MN 56074
Phone: (507) 232-3337
Otto Electric
310 Ash Street
Nicollet, MN 56074
Phone: (507) 232-3182
Paisley Parrot Design
600 5th Street
Nicollet, MN 56074
Phone: (507) 380-2945
Pinpoint Research Inc.
45198 400th Street
Nicollet, MN 56074
Phone: (507) 246-5180
Prairieland Pork Inc.
42362 451st Avenue
Nicollet, MN 56074
Phone: (507) 225-3115
Pro Growth Bank
703 3rd Street
Nicollet, MN 56074
Phone: (507) 232-3488
Rapid Rick's Bar and Grill
234 Pine Street
Nicollet, MN 56074
Phone: (507) 232-3943
Ryan Kuttner Trucking
208 4th Street
Nicollet, MN 56074
Phone: (507) 232-4038
Schmidt's Meat Market
319 Pine Street
Nicollet, MN 56074
Phone: (507) 232-3438
Smithfield Packaged Meats
48595 US Highway 14
Nicollet, MN 56074
Phone: (507) 232-3029
Tim Wenner Construction Inc.
46187 Red Oak Drive
Nicollet, MN 56074
Phone: (507) 232-3500
Transformation Grooming Salon
600 4th Street
Nicollet, MN 56074
Phone: (507) 232-3064
US Post Office
714 4th Street
Nicollet, MN 56074-2017
Phone: (507) 225-3838
Toll Free: (800) ASK-USPS

Regular Business Hours:
Week Days 8:00 am - 12:00 pm
1:00 pm - 4:00 pm
Saturday 8:45 am - 9:15 am

West Side Transportation
48963 US Highway 14
Nicollet, MN 56074
Phone: (507) 232-9918
Xtreme Auto Glass
110 Ash Street
Nicollet, MN 56074
Phone: (507) 232-3109
Zins Inc.
20 Pine Street
Nicollet, MN 56074
Phone: (507) 232-9467
---
---
Aerial Photo:
---
Topographic Map: [click map to enlarge, zoom in or zoom out]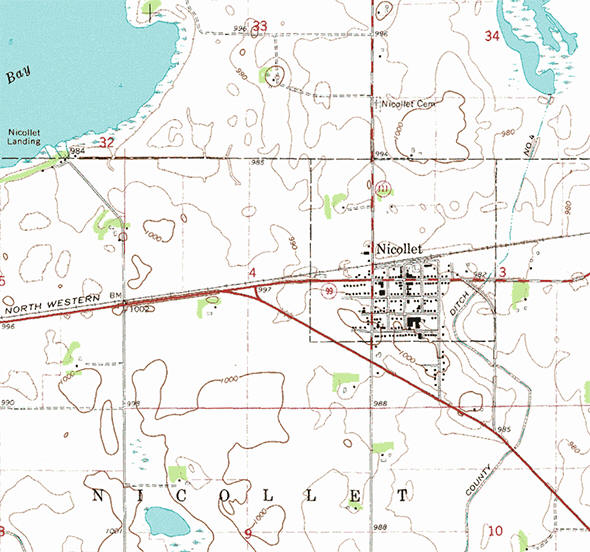 Topographic map is courtesy of the Minnesota DNR - click map to zoom or enlarge