Navigation
LakesnWoods.com
Home Page
Contact Us
Privacy
Minnesota History Shop

Visit The Minnesota History Shop
www.minnesotahistoryshop.com
Historic maps
Historic books
Historic framed art
Historic postcards
Clothing with historic images
And much more!!!


Newfolden Guide:
Photo Gallery
Location
Geography
Demographics
History
Government
Post Office
News
Weather
Street Map
Events
Attractions
Recreation
Lakes
Health Care
Schools
Churches
Media
Motels
Resorts
Campgrounds
Businesses
Aerial Photo
Topographic Map
© 2004-2023
Lakeweb1 Internet Services
All Rights Reserved
DCMA, Defamation, Copyright and Trademark Infingement Policy
WANTED!
Do you have photos, historical accounts or other items pertaining to the Newfolden area? Would you like to share this historical information with the world? LakesnWoods.com would like to publish your Newfolden photos (current or historical) or historical accounts on this website. Original materials can be returned and your privacy will be respected.

Newfolden Minnesota Community Guide
---
Location:
---
Population:
Newfolden (city)
1970
1980
1990
2000
2010
2000-2010 Change
Actual
Percent
Population
390
384
345
362
368
+6
+1.66
Land Area (sq. mile)
1.00
0.93
0.89
0.89
0.89
0
0.00
Density (persons per sq. mile)
390.0
412.9
387.6
404.9
413.5
+8.6
+1.66
Housing Units
148
174
171
176
176
0
0.00
Households
--
161
155
160
156
-4
-2.50
Persons Per Household
--
2.39
2.23
2.26
2.36
+0.10
+4.42
---
Geography:
Newfolden is a city in Marshall County, Minnesota, along the Middle River. According to the United States Census Bureau, the city has a total area of 0.89 square miles (2.31 km2), all of it land. The elevation is 1,096 ft (334 m) above sea level.
From Wikipedia, the free encyclopedia.
---
Demographics:
As of the census of 2010, there were 368 people, 156 households, and 94 families residing in the city. The population density was 413.5 inhabitants per square mile (159.7/km2). There were 176 housing units at an average density of 197.8 per square mile (76.4/km2). The racial makeup of the city was 97.0% White, 0.3% African American, 2.2% Native American, and 0.5% from two or more races.
There were 156 households of which 33.3% had children under the age of 18 living with them, 47.4% were married couples living together, 7.1% had a female householder with no husband present, 5.8% had a male householder with no wife present, and 39.7% were non-families. 35.9% of all households were made up of individuals and 12.2% had someone living alone who was 65 years of age or older. The average household size was 2.36 and the average family size was 3.00.
The median age in the city was 33.8 years. 29.9% of residents were under the age of 18; 5.6% were between the ages of 18 and 24; 29% were from 25 to 44; 19.5% were from 45 to 64; and 15.8% were 65 years of age or older. The gender makeup of the city was 49.2% male and 50.8% female.
---
---
History:
When the Soo Line Railroad decided to purchase land in a wooded area along the Middle River in 1903 for the establishment of a station and village, the decision provoked a bit of controversy among settlers who thought the station should be located in their little village of New Folden located two miles south - the settlement was in the center of New Folden township, had a post office and store and was popular meeting place for area residents.
The river and woods of the new site did, however, provide a more attractive spot for a village, and because the future townsite had been too wet for farming, the Soo Line could purchase it cheaply.
The Soo Line officially named most of its town sites and decided to name the new village "Baltic" in honor of the Baltic Elevators which were built along the Soo Line. The "foreign" name, however, was unacceptable to the Scandinavian community. Moving the post office to the new site, the village was named Newfolden - a shortened version of the often misspelled New Folden.
In 1904, the Soo Line purchased the swampy 160-acre homestead of Olaus (Oliver) Larson for $4,800. The purchase of an additional forty acres from Lewis Ekman was enough to complete the planned townsite.
In 1905, a Soo Line advertisement for the new town of Newfolden boasted a population of 180 and a number of businesses - a milling company, three merchandise stores, a lumber company, a livestock shipper, an implement dealer, two hotels, a restaurant, a "hard and soft drinks" establishment, a grist mill, a drug, confectionary and tobacco store and a bank.
Some of the new businessmen in Newfolden were outsiders, but many were area farmers who saw a business opportunity and took advantage of it. Within a year, the second Soo station north of Thief River Falls was surrounded by a thriving village. After the initial boom, the little community of Newfolden experienced a more gradual expansion.
Today's Newfolden has a population of approximately 345 people, and a number of businesses line its streets - gas stations, a hardware store, bar, cafe, a roofing company, grocery store, an insurance agency, bank, car wash and others. An elevator stands beside the railroad tracks. Several governmental offices are located within the city.
At the heart of the community is a Community Center which houses City offices and is attached to the fire hall of the volunteer fire department. Several churches, an elementary school, a new high school and streets lined with homes complete Newfolden's scenic picture.
Calling itself the "Rolling Pin Capital of Minnesota," Newfolden is home of the Lokstad rolling pin.
Courtesy City of Newfolden
NEWFOLDEN, a city in New Folden Township, was incorporated as a village on February 8, 1916; it was first settled in 1882 but not developed until the Soo Line came in 1904. The city was originally named Baltic by the Soo Line for the numerous Baltic elevators along the line; however, residents requested the name be the same as their post office, and the name Baltic was given to another community in the township in 1884 and changed to Newfolden in 1896; another site of this name, located two miles south, had developed in 1886 with several stores and disappeared almost overnight when the railroad platted the "new" Newfolden in 1904. The post office began as Humboldt and operated 1884-96 in section 14 of New Solum Township, first located on postmaster Ole Olson Lie's farm in New Folden Township; the name was changed to Newfolden in 1896, and the post office moved to Oyve B. Bakke's store, at which time he became postmaster.
Courtesy Minnesota Historical Society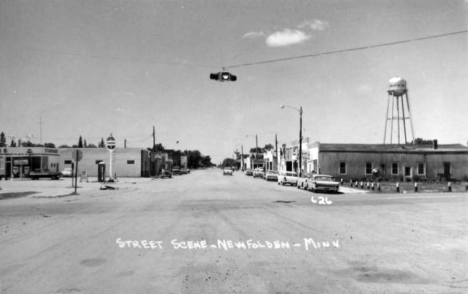 Street scene, Newfolden Minnesota, 1950s
LakesnWoods.com Postcard and Postcard Image Collection - click to enlarge

Visit The Newfolden Photo Gallery for more recent and historic area photos
---
Government:
Newfolden City Hall
145 E 1st Street
PO Box 188
Newfolden, MN 56738
Phone: (218) 874-7135
Fax: (218) 874-7136

Regular Business Hours:
Monday - Friday 8:30 am - 1:00 pm

City Council Meetings:
1st and 3rd Mondays of the month at 7:00 pm

Title
Term Ends
Name and Address
Phone
Mayor
12/31/2022
Lori Warne
255 Holmaas Avenue
Newfolden, MN 56738
(218) 874-8691

City Administrator

appointed

Tammy Hansen


145 E 1st Street
Newfolden, MN 56738
(218) 874-7135
(218) 686-1180
Council Member
12/31/2022
Darin Jacobson
625 E 1st Street
Newfolden, MN 56738
(218) 874-2884
Council Member
12/31/2022
Melissa Bjorgaard
102 E 6th Street
Newfolden, MN 56738
(218) 874-2021
Council Member
12/31/2024
Mark Augustine
508 Brekke Avenue
Newfolden, MN 56738
(218) 874-3033
Council Member
12/31/2024
Adam Gast
258 Carrol Avenue
Newfolden, MN 56738
(218) 686-4991
---
Post Office:
US Post Office
120 S Main Street
Newfolden, MN 56738-9998
Phone: (218) 874-4155
Toll Free: (800) ASK-USPS

Regular Business Hours:
Week Days 8:00 am - 11:30 am
12:00 pm - 2:30 pm
Saturday 9:00 am - 10:00 am
---
---
Utilities:
---
Major Employers:
Employer
Products/Services
Employees
n/a
---
---
News:
---
Weather:
---
Map: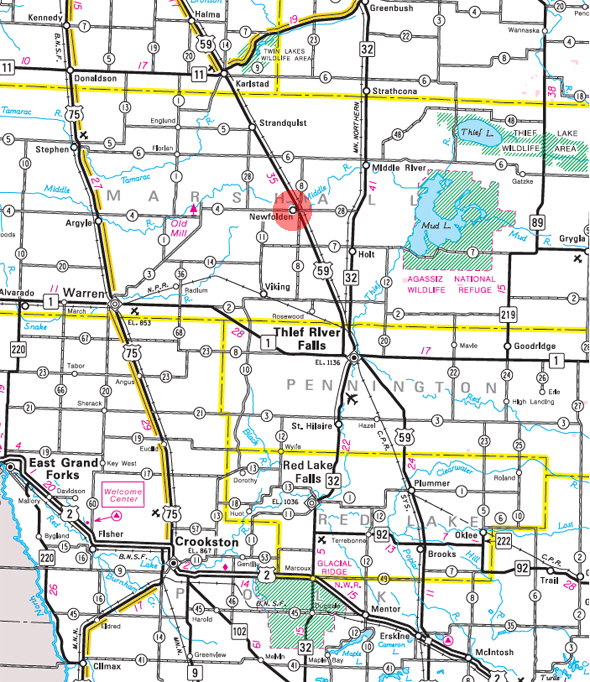 Minnesota State Highway Map of the Newfolden Minnesota area
---
Events:
---
---
Attractions:
---
Recreation:
---
Lakes:
Lake Name
Size
(acres)
Lake info
Lake Map
Rec Map
Topo Map

none in the immediate area
---
Health Care:
---
Schools:
---
Churches:
Bethlehem Lutheran Church
PO Box 39
Newfolden, MN 56738
Phone: (218) 874-7115

Pastor: n/a
Sunday Worship: n/a

Evangelical Free Church
128 2nd Street
PO Box 86
Newfolden, MN 56738
Phone: (218) 874-8785

Pastor: n/a
Sunday Worship: n/a

New Hope Lutheran Church
Iowa Avenue
PO Box 185
Newfolden, MN 56738
Phone: (218) 874-6611

Pastor: n/a
Sunday Worship: n/a

Westaker Free Lutheran Church
PO Box 187
Newfolden, MN 56738
Phone: (218) 874-7925

Pastor: n/a
Sunday Worship: n/a
---
Media:
---
Motels:
Check for motel rates and availability on:
---
Resorts:
---
Campgrounds:
---
---
Businesses:
Anderson Construction
36038 150th Avenue NW
Newfolden, MN 56738
Phone: (218) 874-4611
Anderson Electric
34280 180th Avenue NW
PO Box 212
Newfolden, MN 56738
Phone: (218) 874-2173
Angie's Salon
105 Minnesota Avenue E
Newfolden, MN 56738
Phone: (218) 874-2127
Auger & Crane Service
14530 270th Street NE
Newfolden, MN 56738
Phone: (218) 449-4431
B & D Construction Company
32639 140th Avenue NW
Newfolden, MN 56738
Phone: (218) 874-3171
Berggren Insurance
220 2nd Street SW
PO Box 65
Newfolden, MN 56738
Phone: (218) 874-7855
Best Body Shop
36948 180th Avenue NW
Newfolden, MN 56738
Phone: (218) 874-2431
Bethlehem Lutheran Church
PO Box 39
Newfolden, MN 56738
Phone: (218) 874-7115
Carlson Prairie Seed Farm
13071 260th Street NW
Newfolden, MN 56738
Phone: (218) 523-5072
Cloud Nine Quilt Shop
21822 130th Avenue NW
Newfolden, MN 56738
Phone: (218) 681-1704
Custom Wood Products
175 Minnesota Street
Newfolden, MN 56738
Phone: n/a
D & J Central Vacuum Systems
29417 150th Avenue NW
Newfolden, MN 56738
Phone: (218) 874-3462
Dahl's Service & Repair
611 Highway 59 S
PO Box 236
Newfolden, MN 56738
Phone: (218) 874-6141
Davidson Well Drilling
141 2nd Street SW
PO Box 281
Newfolden, MN 56738
Phone: (218) 874-6961
Evangelical Free Church
128 2nd Street
PO Box 86
Newfolden, MN 56738
Phone: (218) 874-8785
Express Mart
129 E 1st Street
PO Box 51
Newfolden, MN 56738
Phone: (218) 874-8411
Falls Electric
142 E 1st Street
Newfolden, MN 56738
Phone: (218) 874-2173
Toll Free: (888) 881-7299
Great Lakes Gas Transmission
10950 260th Street NE
Newfolden, MN 56738
Phone: (218) 449-4255
Hagenback Garage
204 Main Street S
Newfolden, MN 56738
Phone: (218) 874-7485
Hardware Hank
123 E Minnesota Avenue
Newfolden, MN 56738
Phone: (218) 874-7485
Heather's Hair Repair
115 E Minnesota Avenue
Newfolden, MN 56738
Phone: (218) 874-2803
Hjelle Roofing
33745 160th Avenue NW
Newfolden, MN 56738
Phone: (218) 874-7600

• Bonded & Insured
• Residential & Commercial
• Build-up Roofs
• One-Ply Systems

Hobo Haus Bar & Lounge
106 Main Street
PO Box 43
Newfolden, MN 56738
Phone: (218) 874-8111
Jason's Automotive & Car Wash
105 Minnesota Avenue E
Newfolden, MN 56738
Phone: (218) 874-3721
Johnson Oil Company
Newfolden, MN 56738
Phone: (218) 874-3851
L & M Construction
12295 320th Street NW
Newfolden, MN 56738
Phone: (218) 874-3243
Lee Prop Repair
34533 140th Avenue NW
Newfolden, MN 56738
Phone: (218) 874-4581
Lindemoen Farm Shop
32416 160th Avenue NW
Newfolden, MN 56738
Phone: (218) 874-7212
Lokstad Products
33205 Center Avenue N
Newfolden, MN 56738
Phone: (218) 874-4842
Made by Melanie
506 Bakke Avenue E
Newfolden, MN 56738
Phone: (218) 874-7485
Web: www.madebymelanie.net

One of my goals is to create the best-scented and cleanest-burning soy candles. My second goal is to create handmade cards that are unique as they are beautiful. My third goal is to develop body and bath products that are fun, functional, and have a fresh scent. My fourth goal is to create a natural handmade soap that is also moisturizing.

Marshall County Central High School
310 W Minnesota Avenue
Newfolden, MN 56738
Phone: (218) 874-8530
Marshall County Mutual Insurance
103 S Main Street
PO Box 247
Newfolden, MN 56738
Phone: (218) 874-7175
Marshall County School Superintendent
310 W Minnesota Avenue
Newfolden, MN 56738
Phone: (218) 874-7225
Marshall County State Bank
118 E Minnesota Avenue
PO Box 127
Newfolden, MN 56738
Phone: (218) 874-7265
Fax: (218) 874-7051

Hours of Operation:

Main Lobby
Monday 9am - 3pm & 6pm-8pm
Tuesday thru Friday 9am - 3pm

Drive up Window
Monday thru Friday 8:30am - 4:45pm

Minn Dak Asphalt
506 E Bakke Avenue
Newfolden, MN 56738
Phone: (218) 874-2648
Nelson Heat & Air
15625 360th Street NW
Newfolden, MN 56738
Phone: (218) 449-4141

Residential Heating & Air Conditioning

New Hope Lutheran Church
Iowa Avenue
PO Box 185
Newfolden, MN 56738
Phone: (218) 874-6611
Newfolden City Clerk
E 1st Street & Bakke
Newfolden, MN 56738
Phone: (218) 874-7135
Newfolden City Shop
109 E Minnesota Avenue
Newfolden, MN 56738
Phone: (218) 874-7138
Newfolden Co-Op Elevator Association
243 Railroad Street
PO Box 157
Newfolden, MN 56738
Phone: (218) 874-7465
Newfolden Co-Op Fertilizer
243 Railroad Street
PO Box 157
Newfolden, MN 56738
Phone: (218) 874-8890
Newfolden Co-Op Oil Company
142 E 1st Street
PO Box 58
Newfolden, MN 56738
Phone: (218) 874-6305
Newfolden Community Center
E 1st Street & Bakke Avenue
Newfolden, MN 56738
Phone: (218) 874-7137
Newfolden Elementary School
305 W Minnesota Avenue
PO Box 189
Newfolden, MN 56738
Phone: (218) 874-8805
Web: www.newfolden.k12.mn.us
Newfolden Fitness Inc
113 E Minnesota Avenue
Newfolden, MN 56738
Phone: (218) 874-2640
Newfolden Insurance
118 E Minnesota Avenue
Newfolden, MN 56738
Phone: (218) 874-7265
Newfolden Machining Company
119 E Iowa Avenue
Newfolden, MN 56738
Phone: (218) 874-7152
Newfolden Senior Citizens Center
E 1st Street
Newfolden, MN 56738
Phone: (218) 874-7137
Northland Realty Farm Sales
12679 330th Street NE
Newfolden, MN 56738
(218) 681-6036
Nu Moon Cafe
101 Main Street
PO Box 104
Newfolden, MN 56738
Phone: (218) 874-8361
NW Region Inter-District Council
201 W Minnesota Avenue
Newfolden, MN 56738
Phone: (218) 874-8770
Pine to Prairie Art Gallery
15 Old Ridge Road
Newfolden, MN 56738
Phone: (218) 449-2324
Quin County Community Health
136 W Minnesota Avenue
Newfolden, MN 56738
Phone: (218) 874-7845
Rob Anderson Construction
13977 330th Street NW
Newfolden, MN 56738
Phone: (218) 874-2051
Sethre's Store
117 E Minnesota Avenue
Newfolden, MN 56738
Phone: (218) 874-7405
Skjerping Brothers
12481 310th Street NE
Newfolden, MN 56738
Phone: (218) 449-3181
Taggart Excavating & Septic
28485 120th Avenue NW
Newfolden, MN 56738
Phone: (218) 874-2380
Theo-Mar Kennels
10412 260th Street NE
Newfolden, MN 56738
Phone: (218) 449-3575
Town & Country Meats
12831 265th Street NW
Newfolden, MN 56738
Phone: (218) 874-7355
TPI
32108 110th Avenue NE
Newfolden, MN 56738
Phone: (218) 874-6492
US Post Office
120 S Main Street
Newfolden, MN 56738
Phone: (218) 874-4155
Verdant Valley Farms
19250 350th Street NW
Newfolden, MN 56738
Phone: (218) 874-3742
Westaker Free Lutheran Church
PO Box 187
Newfolden, MN 56738
Phone: (218) 874-7925
---
---
Aerial Photo:
---
Topographic Map: [click map to enlarge, zoom in or zoom out]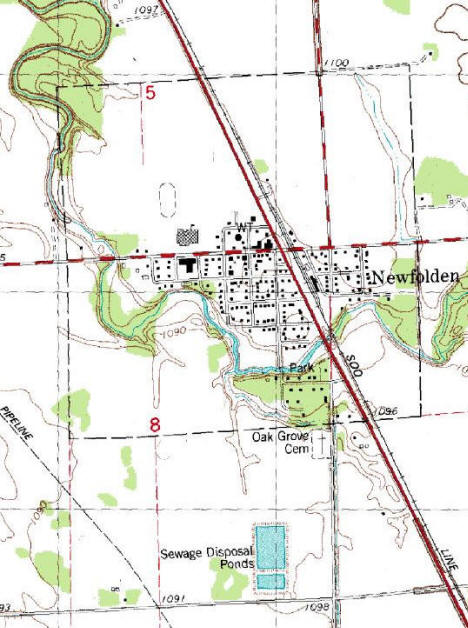 Topographic map is courtesy of the Minnesota DNR - click map to zoom or enlarge