Navigation
LakesnWoods.com
Home Page
Contact Us
Privacy
Minnesota History Shop

Visit The Minnesota History Shop
www.minnesotahistoryshop.com
Historic maps
Historic books
Historic framed art
Historic postcards
Clothing with historic images
And much more!!!
Motley Guide:
Photo Gallery
Location
Geography
Demographics
History
Government
Post Office
News
Weather
Street Map
Events
Attractions
Recreation
Lakes
Health Care
Schools
Churches
Media
Motels
Resorts
Campgrounds
Businesses
Aerial Photo
Topographic Map
Nearby Communities:
Aldrich
Baxter
Bertha
Brainerd
Browerville
Clarissa
Eagle Bend
Hewitt
Little Falls
Long Prairie
Nimrod
Nisswa
Randall
Staples
Verndale
Wadena
© 2004-2023
Lakeweb1 Internet Services
All Rights Reserved
DCMA, Defamation, Copyright and Trademark Infingement Policy
WANTED!
Do you have photos, historical accounts or other items pertaining to the Motley area? Would you like to share this historical information with the world? LakesnWoods.com would like to publish your Motley photos (current or historical) or historical accounts on this website. Original materials can be returned and your privacy will be respected.

Motley Minnesota Community Guide
---
Location:
---
Population:
Motley (city)
1970
1980
1990
2000
2010
2000-2010 Change
Actual
Percent
Population
351
442
441
583
671
+88
+14.7
Land Area (sq. mile)
1.30
0.97
1.12
1.21

1.33

+0.12
+9.02
Density (persons per sq. mile)
270.0
455.7
393.8
480.9
504.5
.+23.6
+4.68
Housing Units
154
205
219
268
338
+70
+23.12
Households
--
176
196
257
305
+48
+18.67
Persons Per Household
--
2.51
2.25
2.25
2.20
0.00
0.00
---
Geography:
Motley is a city in Cass and Morrison counties in the state of Minnesota. The main part of Motley is located Morrison County; only a minor part of the city extends into Cass County. U.S. Route 10 and Minnesota State Highways 64 and 210 are three of the main routes in the city. According to the United States Census Bureau, the city has a total area of 1.38 square miles (3.57 km²), of which, 1.33 square miles (3.44 km²) of it is land and 0.15 square miles (0.13 km²) of it (5.04%) is water. The elevation is 1,230 ft (375 m) above sea level.
From Wikipedia, the free encyclopedia.
---
Demographics:
As of the census of 2010, there were 671 people, 305 households, and 167 families residing in the city. The population density was 504.5 inhabitants per square mile (194.8/km2). There were 338 housing units at an average density of 254.1 per square mile (98.1/km2). The racial makeup of the city was 94.5% White, 0.1% African American, 0.4% Native American, 1.6% from other races, and 3.3% from two or more races. Hispanic or Latino of any race were 4.3% of the population.
There were 305 households of which 26.9% had children under the age of 18 living with them, 36.7% were married couples living together, 14.8% had a female householder with no husband present, 3.3% had a male householder with no wife present, and 45.2% were non-families. 38.7% of all households were made up of individuals and 17.1% had someone living alone who was 65 years of age or older. The average household size was 2.20 and the average family size was 2.90.
The median age in the city was 41.1 years. 23.5% of residents were under the age of 18; 10.1% were between the ages of 18 and 24; 19.7% were from 25 to 44; 25.1% were from 45 to 64; and 21.6% were 65 years of age or older. The gender makeup of the city was 48.6% male and 51.4% female.
---
---
History:
MOTLEY Township, organized in the spring of 1879, took the name of its railway village, founded in 1874, which was named by officers of the Northern Pacific Railroad company. The city, with Todd County, was organized in 1885, incorporated as a village on May 1, 1905, and separated from the township on April 1, 1918; it was originally platted in section 18 of Motley Township by the Lake Superior and Puget Sound Company in 1870 but not recorded until 1879; the post office was established in Todd County in 1873 and transferred to Morrison County in 1874; it had a station of the Northern Pacific Railroad.
Courtesy Minnesota Historical Society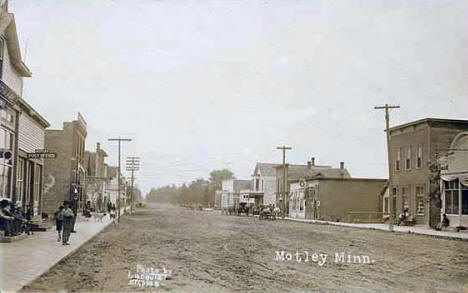 Street View, Motley Minnesota, 1913
LakesnWoods.com Postcard and Postcard Image Collection - click to enlarge

Visit The Motley Photo Gallery for more recent and historic area photos

---
Government:
Motley City Hall
316 Highway 10 S
Motley, MN 56466
Phone: (218) 352-6200
Fax: (218) 352-6092
Title
Term Ends
Name and Address
Phone

Mayor

12/31/2022

Al Yoder


464 Morrison Street E
Motley, MN 56466
(320) 630-9315
Clerk-Treasurer
appointed
Curt Bryniarski
316 Highway 10 S
Motley, MN 56466
(218) 352-6200

Council Member

12/31/2022

Amy Hutchison


448 S 1st Avenue
Motley, MN 56466
(218) 352-6084

Council Member

12/31/2022
Jace Carlson
216 4th Avenue S
Motley, MN 56466
(320) 352-6297

Council Member

12/31/2024
Steve S. Johnson
12859 67th Avenue SW
Motley, MN 56466
(218) 352-6630

Council Member

12/31/2024

Pat O'Regan


197 Highway 10 N
Motley, MN 56466
(218) 316-7570
---
Post Office:
US Post Office
97 Beaulieu Street W
Motley, MN 56466-4571
Phone: (218) 352-6438
Toll Free: (800) ASK-USPS

Regular Business Hours:
Week Days 8:30 am - 11:30 am
12:45 pm - 4:00 pm
Saturday 8:30 am - 9:30 am
---
Utilities:
---
Major Employers:
---
---
News:
---
Weather:
---
Map: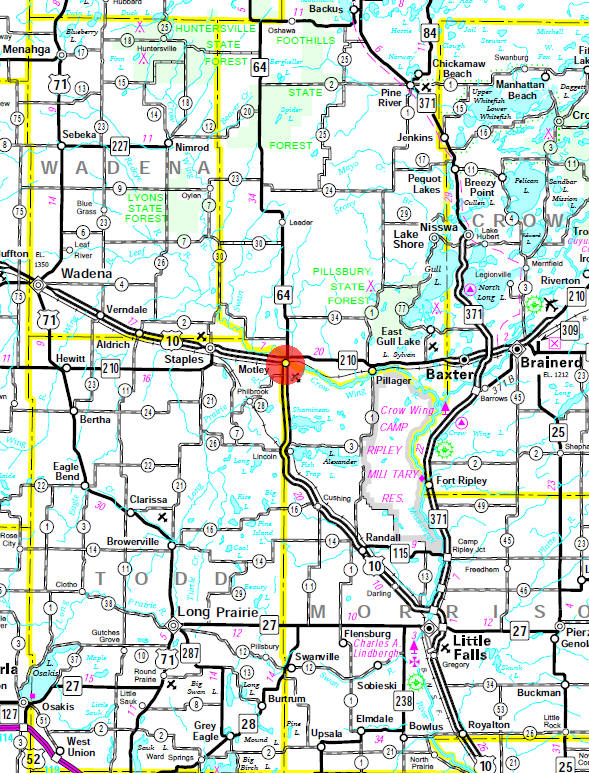 Minnesota State Highway Map of the Motley Minnesota area
---
Events:
---
---
Attractions:
The Motley Rodeo

Since its inception in 1998, the Motley Rodeo has existed first and foremost to promote America's greatest tradition, rodeo. The Motley Rodeo has become one of the most anticipated events in central Minnesota during the summer months
---
Recreation:
Pine Ridge Golf Club
34500 Hillcrest Road
Motley, MN 56466
Phone: (218) 575-3300

6449 yards of championship golf carved through over 280 wooded acres abundant with wildlife. Located in the heart of the Lincoln Lakes Recreational Area minutes from popular lakes: Alexander, Shamineau, and Fishtrap. Enjoy this well maintained, high quality course without the high prices.
---
Lakes:
Lake Name
Size
(acres)
Lake info
Lake Map
Rec Map
Topo Map
Alexander
2709
Fish Trap
1175
Shamineau
1428
---
Health Care:
Lakewood Clinic
1233 Highway 10 S
Motley, MN 56466
Phone: (218) 352-6922

We are proud to offer five Lakewood Health System clinics to meet a wide variety of our patients' medical needs. Our clinics are located in Staples, Motley, Eagle Bend, Browerville, and Pillager. We have approximately 30 dedicated family medicine medical staff members who rotate among the clinics, along with numerous other visiting specialists.
---
Schools:
Staples Motley Schools
Independent School District #2170
202 Pleasant Avenue
Staples, MN 56479
Phone: (218) 894-5400
Fax: (218) 894-2434

Grades: PK-12
Students: 1,341

Staples Motley High School
401 Centennial Lane
Staples, MN 56479
Phone: (218) 894-2431
Fax: (218) 894-2434

Grades: 8-12
Students: 483

Motley Staples Middle School
132 1st Avenue S
PO Box 268
Motley, MN 56466
Phone: (218) 352-6315

Grades: 4-7
Students: 300

Staples Motley Elementary School
Staples, MN 56479
Phone: (218) 894-2431
Fax: (218) 894-2434

Grades: PK-3
Students: 311
---
Churches:
Motley Free Methodist Church
33 Wellwood Street E
Motley, MN 56466
Phone: (218) 296-1445

Pastor: Jim Johnson
Sunday Worship: 9:00 am and 10:30 am

St. John's Lutheran Church - LCMS
497 3rd Avenue S
PO Box 231
Motley, MN 56466
Phone: (218) 352-6399

Pastor: Rev Paul Koehler
Sunday Worship: 9:30 am

St. Michael's Catholic Church
280 1st Avenue S
Motley, MN 56466
Phone: (218) 352-6520

Pastor: Fr. Gabriel Walz
Sunday Mass: 10:30 am

Swan Valley Lutheran Church - ELCA
7548 State Highway 64 SW
Motley, MN 56466
Phone: (218) 397-2470

Pastor: n/a
Sunday Worship: n/a

United Methodist Church
847 3rd Avenue S
PO Box 119
Motley, MN 56466
Phone: (218) 352-6466

Pastor: Reverend Greg Leslie
Sunday Worship: 10:00 am
---
Media:
---
Motels:
Eastwood Inn
900 US Highway 10 S
Motley, MN 56466
Phone: (218) 352-6386

Comfortable, friendly, and affordable; the Eastwood Inn, located in the heart of downtown Motley, Minnesota is minutes away from award winning Golf Courses, State Snow Mobile Trails, and the "fisherman's dream" Brainerd Lakes area. This 34 room hotel features a Heated Indoor Swimming Pool, Hot Tub, Jacuzzis, a Meeting Facility, and is steps from the Countryside Restaurant. We take pride in our clean, comfortable accommodations and gracious hospitality at this Motley, Minnesota landmark.
---
Resorts:
Auger's Pine View Resort
34052 Auger Road
Motley, MN 56466
Phone: (218) 575-2100
Toll Free: (888) 705-5253

Beautiful northwoods lakeside cabins, each having reserved dock space, A/C, campfire ring, picnic table, Weber grill, free Wi-Fi access, TV and DVD player. All cabins are close to the lake with gorgeous Lake Shamineau views!

Shamineau Acres Resort
34824 Aztec Road
Motley, MN 56466
Phone: (218) 575-2254

Open the door to your Minnesota family vacation and step into a warm and inviting cabin complete with a fantastic view of Lake Shamineau. Get comfortable and stay a while and you will begin to notice the great surroundings: authentic up north cabin décor, flat-screen TV, unique cabin furniture and wonderful services and amenities such as comfortable bedding, a microwave, refrigerator and coffee maker. Our guest cabins provide a relaxing getaway from the bustle and hustle of your busy everyday life, allowing your stay to take in the grander of the nature that surrounds our wonderful resort.
---
Campgrounds:
---
---
Businesses:
64 Stop
7596 State Highway 64 SW
Motley, MN 56466
Phone: (218) 397-2412



Stop in at the 64 Stop in Leader, MN home of the famous L.A Pig Races. Come see our unique store with a 50s theme!




Air Management Heating Air Conditioning
6165 108th Street SW
Motley, MN 56466
Phone: (218) 746-8355


Albrecht Construction
2279 E River Road
Motley, MN 56466
Phone: (218) 352-6807


Artesian Homes
12416 71st Avenue SW
Motley, MN 56466
Phone: (218) 575-6801


Auger's Pine View Resort
34052 Auger Road
Motley, MN 56466
Phone: (218) 575-2100
Toll Free: (888) 705-5253

Beautiful northwoods lakeside cabins, each having reserved dock space, A/C, campfire ring, picnic table, Weber grill, free Wi-Fi access, TV and DVD player. All cabins are close to the lake with gorgeous Lake Shamineau views!

Auger's Motley Express
1000 US Highway 10
Motley, MN 56466
Phone: (218) 352-6000


Bears Den
7063 76th Street SW
Motley, MN 56466
Phone: (218) 397-2331



Home of the L.A. Pig Races and Growler Days




Bell's Rawhide Ranch
6006 76th Street SW
Motley, MN 56466
Phone: (218) 397-2579


Belltech Machine Inc.
32517 US Highway 10
Motley, MN 56466
Phone: (218) 575-2575


Best Little Hair House in Motley
716 US Highway 10 S
Motley, MN 56466
Phone: (218) 352-6198



Full service hair salon offering haircuts, perms, colors/highlights, eyebrow waxing, manicures, pedicures, makeup applications. Thurs.: 10% Off for Seniors




Big Boyz Truck and Tire
297 US Highway 10 W
Motley, MN 56466
Phone: (218) 352-6510

Big Boyz Truck & Tire is a semi truck and trailer repair shop that also does washing and tire work. We proudly serve the Motley, MN area.


Bjerga Feed Store
81 Main Street W
Motley, MN 56466
Phone: (218) 352-6383



Bjerga Feed Store's in Motley, Little Falls, Brainerd, and Pine River carries a complete line of feed, seed, and fertilizer.




Bremer's Bar
48 Main Street W
Motley, MN 56466
Phone: (218) 352-6275


Brichacek Stone & Granite
333 US Highway 10
Motley, MN 56466
Phone: (218) 352-6061

You'll receive friendly service, old fashioned courtesy, and the highest attention to detail for your new construction or remodeling.


Bricks Travel Center
265 US Highway 10 W
Motley, MN 56466
Phone: (218) 352-6677



Conveniently located at the Intersection of Highways 10 & 210!! BRICKS has it all!! From Diesel for the "big rigs", snacks & deli items for those long road trips, a perfect gift for that special someone and of course LIVE BAIT.... you are sure to find just what you need at BRICKS! We also fill propane!! Truckers Fleet Cards Accepted at BRICKS




Camp Shamineau
2345 Ridge Road
Motley, MN 56466
Phone: (218) 575-2240

Camp Shamineau is a year round facility offering summer camps, trips, retreats, family camps, parent & child weekends, rental weekends, and community events. Our desire is to 'clear a way to the cross' by sharing Christ's love in a camp setting. You will be able to leave behind the distractions of everyday life, and enjoy exciting activities, worship times and fellowship with others. Come join us at Camp Shamineau to experience the love of Christ.

Central Biffs
8377 Arrow Drive SW
Motley, MN 56466
Phone: (218) 296-1091



Portable Toilet Rentals in Motley, Randall, Staples, Pillager, Leader and surrounding areas Open until midnight on Saturday




Country Terrace Apartments
448 Pine Avenue S
Motley, MN 56466
Phone: (218) 352-6105



Country Terrace Apartments is an apartment community with 2 & 3 bedroom units. Income restrictions apply.




Countryside Restaurant
880 US Highway 10 S
Motley, MN 56466
Phone: (218) 352-6777


Dairy Queen
264 Highway 10 S
Motley, MN 56466
Phone: (218) 352-6152



The Motley DQ is owned and operated by Nick and Staci Schultz and Heidi Johnson (July 2002). Our goal is to make each and every one of our fan's day with out of this world friendly service, amazing treats and food, and a welcoming facility! We hope once you've visited our restaurant you'll be a raving fan of the Motley DQ. Stop by and try an upside-down-thick Blizzard flavor treat of the month and our always fresh and tasty Chicken Strip Basket.




Dollar General
648 US Highway 11 S
Motley, MN 56466
Phone: (218) 894-7030



We strive to make shopping hassle-free and affordable with more than 15,000 convenient, easy-to-shop stores in 44 states. Our stores deliver everyday low prices on items including food, snacks, health and beauty aids, cleaning supplies, family apparel, housewares, seasonal items, paper products and much more from America's most-trusted brands and products




Eastwood Apartments
956 US Highway 10 S
Motley, MN 56466
Phone: (218) 352-6184


Eastwood Inn
900 US Highway 10 S
Motley, MN 56466
Phone: (218) 352-6386

Comfortable, friendly, and affordable; the Eastwood Inn, located in the heart of downtown Motley, Minnesota is minutes away from award winning Golf Courses, State Snow Mobile Trails, and the "fisherman's dream" Brainerd Lakes area. This 34 room hotel features a Heated Indoor Swimming Pool, Hot Tub, Jacuzzis, a Meeting Facility, and is steps from the Countryside Restaurant. We take pride in our clean, comfortable accommodations and gracious hospitality at this Motley, Minnesota landmark.

Fancy Colors Tattooing
49 Beaulieu Street E
Motley, MN 56466
Phone: (218) 352-6620

Frank & Cathie
Award Winning Artists


Fawn Lake Welding
42991 335th Avenue
Motley, MN 56466
Phone: (218) 575-3186



Fawn Lake Welding's Lightweight Safety Steps and Dock Ladders offer superior quality to ensure safety to both you and your customers. High quality and expert craftsmanship result in aesthetically pleasing safety steps and dock steps. All our Safety Steps boast of solid welded construction that is both durable and lightweight, with a 350 pound rated capacity.




First International Bank
96 Highway 10 S
Motley, MN 56466
Phone: (218) 352-6284



First International Bank & Trust is a growing, relationship-driven bank that provides complete financial solutions to our customers.




Four Legged Lodge
33602 US Highway 10 W
Motley, MN 56466
Phone: (218) 352-6886

Your pet will be comfortable, safe and happy with us at the Four Legged Lodge. You won't have to worry about relying on anyone to make sure your four legged friend is well taken care of. For a short stay or a long stay, your pet will receive loving, quality pet care, in a safe and friendly environment.

Friendly Inn
2321 330th Street
Motley, MN 56466
Phone: (218) 575-3295


H & R Ten Hi
133 Highway 10 N
Motley, MN 56466
Phone: (218) 352-6310


Harmony House of Motley
900 Eastwood Lane S
Motley, MN 56466
Phone: (218) 352-6941

Harmony House Memory Care Assisted Living homes are designed to meet the special needs of people living with advanced memory loss and dementia-related illnesses. Each home offers to promote social interaction, encourage involvement in life's daily routines and specialized services designed for people with memory loss.

Integrity Motors
496 Highway 10 S
Motley, MN 56466
Phone: (218) 352-6323

INTEGRITY MOTORS offers the buying power of a large dealership chain with the overhead and hometown feel of a small family owned business. INTEGRITY MOTORS utilizes all of today's cutting edge technology to bring our customers exceptional VALUE in their buying experience. INTEGRITY MOTORS buys vehicles direct off-lease from across the country every day of the week.

J P Jacklitch Contracting
33521 US Highway 10
Motley, MN 56466
Phone: (218) 839-5570

​

JP Jacklitch Contracting Inc is a premier builder in the Brainerd Lakes area for over 20 years. From building that custom dream lake home to that remodeling project you've always wanted.




Jerry's Handyman Service
38271 Highway 10
Motley, MN 56466
Phone: (218) 821-9644



Jerry Holker's Handyman Service of Motley, MN offers professional home repair service. We have a wide range of repair service and you can count on us for detailed estimates and prompt service.




John's Lawncare
33521 US Highway 10
Motley, MN 56466
Phone: (218) 838-4436



At John's Lawn Care it's more than just lawn mowing, we look at everything your yard needs. Our job wouldn't be complete without trimming around landscape and blowing off driveways/ walkways. Also improving your landscape or adding new landscape. John's Lawn Care is about having a healthy yard which starts with spring clean-up. This includes thatching and removal of leaves which will let your yard breathe. In the fall you need to get the leaves off so you don't get damage to your yard over the winter.




Jordahl Hardware
117 US Highway 10 S
Motley, MN 56466
Phone: (218) 352-6366


Karen's Daycare
7061 124th Street SW
Motley, MN 56466
Phone: (218) 352-6100


KLK Artistry
3309 Ridge Road
Motley, MN 56466
Phone: (612) 986-5396



Kerry Kupferschmidt has been creating artistic renderings for builders for twenty-five years. He works from blueprints or photos, primarily by phone and internet. Kerry has a Fine Arts degree from the University of Minnesota and has shown his artwork at the local, regional and national level.




Kropuenske Transport
33784 Timberlane Road
Motley, MN 56466
Phone: (218) 352-6308


Lake Country Insurance Inc
71 W River Road
PO Box 241
Motley, MN 56466
Phone: (218) 352-6622


Lakewood Clinic
1233 Highway 10 S
Motley, MN 56466
Phone: (218) 352-6922

We are proud to offer five Lakewood Health System clinics to meet a wide variety of our patients' medical needs. Our clinics are located in Staples, Motley, Eagle Bend, Browerville, and Pillager. We have approximately 30 dedicated family medicine medical staff members who rotate among the clinics, along with numerous other visiting specialists.

Lang Dental Lab
10729 Snake Trail SW
Motley, MN 56466
Phone: (218) 894-0011


Longbella Drug Motley
716 Highway 10 S
Motley, MN 56466
Phone: (218) 352-6337



Beginning in 1963 as a small, family-run pharmacy, Longbella Drug has expanded to four different locations throughout central Minnesota. Maintaining its family focus, we are now able to provide our customers with personalized care and assistance in the convenience of their own neighborhood. At Longbella Drug, we are committed to helping our customers and their families lead active and fulfilling lives. Our friendly, qualified, pharmaceutical and store staff will work with you to provide high quality, personalized assistance that makes you feel known and understood.




Markus Hair Design & Day Spa
49 Beaulieu Street E
PO Box 245
Motley, MN 56466
Phone: (218) 352-6234



Markus Hair Design & Day Spa is proud to be a full service salon. We offer hair, nails, tanning, ear piercing, makeup, and many other services in a pleasant, friendly and clean environment. We also offer a complete line of hair and skin care products so that you can have all of your needs addressed in one convenient trip to our salon.




Meadowbrook Landscaping
6874 100th Street SW
Motley, MN 56466
Phone: (218) 397-2562


Mid Minnesota Excavation
34759 US Highway 10
Motley, MN 56466
Phone: (218) 575-2469



Offering the Lincoln Lakes Area and surrounding counties of Morrison, Todd, Wadena, and Cass with the following services. Septic Systems Water and Sewer Service Driveway and Road Building Land Clearing Mid Minn ExcavationRip/Rap Boulders Rock Walls Black Dirt Gravel Building Site Work Licensed, bonded, and insured. References available upon request.




Morey's Seafood Markets
1218 US Highway 10 S
Motley, MN 56466
Phone: (218) 352-6345

Morey's specializes in fish and seafood products designed to fit the tastes and needs of consumers looking for delicious and easy seafood. From your old seafood favorites to new, convenient meal solutions, Morey's has the products that fit your lifestyle.

Motley Area Food Shelf
697 3rd Avenue S
Motley, MN 56466
Phone: (218) 352-6344


Motley Auto Repair Center
65 Cemetery Road
Motley, MN 56466
Phone: (218) 352-6615


Motley City Hall
316 Highway 10 S
Motley, MN 56466
Phone: (218) 352-6200
Fax: (218) 352-6092
Motley Discount Liquor
880 Highway 10 S
Motley, MN 56466
Phone: (218) 352-6681



Motley Discount Liquor has a full selection of beer, wine, and liquor. In fact, we have the largest wine selection in the area. And don't forget to start collecting your FREE beer tokens.




Motley Express
1000 US Highway 10
Motley, MN 56466
Phone: (218) 352-6000


Motley Fire Department
316 Highway 10 S
Motley, MN 56466
Phone: (218) 352-6200


Motley Police Department
316 Highway 10 S
Motley, MN 56466
Phone: (218) 352-6370


North Country Carpet
32477 Highway 10 W
Motley, MN 56466
Phone: (218) 352-6506


Northwestern Transit
65 4th Avenue N
Motley, MN 56466
Phone: (218) 352-6373



We are a family owned business with over 30 years experience providing safe and reliable motor coach transportation for the residents of central Minnesota to anywhere in the lower 48 states. Our motorcoaches are video and PA equipped serving 47-55 passengers with clean climate controlled air, restrooms and large storage areas.




OK Tire Store
432 US Highway 10 S
Motley, MN 56466
Phone: (218) 352-6535
Fax: (218) 352-6597



OK Tire Store is the place to go for world-class tires, low prices, and friendly service. We believe in giving the customer a "total" price when they call or come in to our stores. We do not give a price to get you in the door and then try to sell other necessities like valve stems, balancing, and road hazard and workmanshipmaterial warranties once you are here

.


Orton's Motley BP
16 US Highway 10
Motley, MN 56466
Phone: (218) 352-6756



A friendly face, a cup of Ronnoco coffee brewed to perfection, a delicious deli treat or a refreshing cold beverage - they all await your next visit to Orton's. All through out the day Orton's brings you the convenience you want, when you need it, for your fast paced lifestyle.




Pine Ridge Golf Club
34500 Hillcrest Road
Motley, MN 56466
Phone: (218) 575-3300

6449 yards of championship golf carved through over 280 wooded acres abundant with wildlife. Located in the heart of the Lincoln Lakes Recreational Area minutes from popular lakes: Alexander, Shamineau, and Fishtrap. Enjoy this well maintained, high quality course without the high prices.

R L Peterson Construction
4054 Azalea Road
Motley, MN 56466
Phone: (218) 820-4965



WIth 30 years experience in the building industry, you can put your trust in R.L.Peterson Construction LLC. We provide personal service and exceptional quality workmanship. All of our services and products are guaranteed.




Ringneck Ridge Shooting Reserve
33521 US Highway 10
Motley, MN 56466
Phone: (218) 575-2913


S & S Enterprises
117 US Highway 10 N
Motley, MN 56466
Phone: (218) 352-6511


Schmitt Chiropractic
180 US Highway 10 N
PO Box 86
Motley, MN 56466
Phone: (218) 352-6753


Shamineau Acres Resort
34824 Aztec Road
Motley, MN 56466
Phone: (218) 575-2254

Open the door to your Minnesota family vacation and step into a warm and inviting cabin complete with a fantastic view of Lake Shamineau. Get comfortable and stay a while and you will begin to notice the great surroundings: authentic up north cabin décor, flat-screen TV, unique cabin furniture and wonderful services and amenities such as comfortable bedding, a microwave, refrigerator and coffee maker. Our guest cabins provide a relaxing getaway from the bustle and hustle of your busy everyday life, allowing your stay to take in the grander of the nature that surrounds our wonderful resort.

Smitty's Music & Vending
533 3rd Avenue S
Motley, MN 56466
Phone: (218) 352-6422


Sportsman's Plumbing and Heating
1879 Ridge Road
Motley, MN 56466
Phone: (218) 831-8720



With over 20 years of experience, you can feel confident that our experts are knowledgeable in handling all your heating and air conditioning repairs.




Spot Cafe
116 US Highway 10 N
Motley, MN 56466
Phone: (218) 352-6262


Stenberg's Trailers and Cattle Supply
32530 US Highway 10
Motley, MN 56466
Phone: (218) 352-6598

Rely on Stenberg's Trailers and Cattle Supply for trailers of all shapes and sizes. We carry the best variety of trailers at highly competitive prices. FREE estimates are available for all our trailer repair services. You can also have your utility and cattle equipment repaired here as well.

Tire & Auto Lodge
6783 State Highway 210 SW
Motley, MN 56466
Phone: (218) 352-6661



Order from a good selection of tires, tire repairs ,we do car & truck repair with quality parts and laber. also car computer diagnostics, oil changes, vehicle pick up and return for convenience to customers, quality work with a smile!!. [your one stop shop{ing}] and remember most parts at cost NO part markup.




Tri County Livestock Auction
32638 Highway 10 W
PO Box B
Motley, MN 56466
Phone: (218) 352-6546



AUCTIONS EVERY WEDNESDAY – SELLING ALL CLASSES OF CATTLE, HOGS, & SHEEP!




Tri-County Septic Inspections
10851 65th Avenue SW
Motley, MN 56466
Phone: (218) 352-6903


Two Rivers Supermarket
17 Beaulieu Street W
Motley, MN 56466
Phone: (218) 352-6488


Unity Bank Central
1217 Highway 10 S
PO Box 130
Motley, MN 56466
Phone: (218) 352-6962


US Post Office
97 Beaulieu Street W
Motley, MN 56466-4571
Phone: (218) 352-6438
Toll Free: (800) ASK-USPS

Regular Business Hours:
Week Days 8:30 am - 11:30 am
12:45 pm - 4:00 pm
Saturday 8:30 am - 9:30 am

Verde Pepin
4982 Azalea Road
Motley, MN 56466
Phone: (218) 746-3863


Whispering Impressions
31248 450th Street
Motley, MN 56466
Phone: (612) 749-8880



Our Remarkable Images on Metal or Canvas! More information on our original 3D Framing that we developed, contact us directly or visit us at our next event! Must be seen to be believed! Not to mention NEW Images and New Frame choices! When Creativity, Quality, & Value Matter!




Wilhelmson Associates
2096 W Shamineau Drive
Motley, MN 56466
Phone: (218) 575-2647


Y-Knot Package Liquor
117 Highway 10 N
Motley, MN 56466
Phone: (218) 352-6511


---
---
Aerial Photo:
---
Topographic Map: [click map to enlarge, zoom in or zoom out]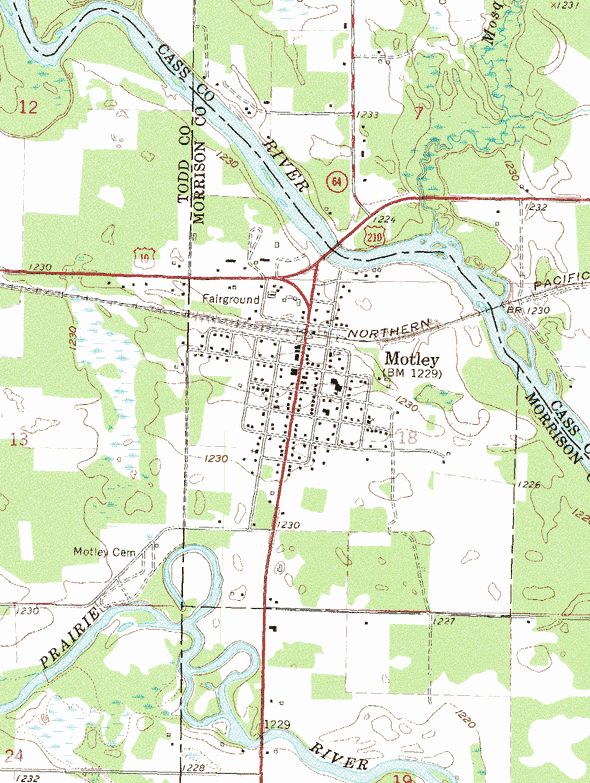 Topographic map is courtesy of the Minnesota DNR - click map to zoom or enlarge