Navigation
LakesnWoods.com
Home Page
Contact Us
Privacy
Minnesota History Shop

Visit The Minnesota History Shop
www.minnesotahistoryshop.com
Historic maps
Historic books
Historic framed art
Historic postcards
Clothing with historic images
And much more!!!


Minnetonka Beach Guide:
Photo Gallery
Location
Geography
Demographics
History
Government
Post Office
News
Weather
Street Map
Events
Attractions
Recreation
Lakes
Health Care
Schools
Churches
Media
Motels
Resorts
Campgrounds
Businesses
Aerial Photo
Topographic Map
© 2004-2022
Lakeweb1 Internet Services
All Rights Reserved
DCMA, Defamation, Copyright and Trademark Infingement Policy
WANTED!
Do you have photos, historical accounts or other items pertaining to the Minnetonka Beach area? Would you like to share this historical information with the world? LakesnWoods.com would like to publish your Minnetonka Beach photos (current or historical) or historical accounts on this website. Original materials can be returned and your privacy will be respected.

Minnetonka Beach Minnesota Community Guide
---
Location:
---
Population:
Minnetonka Beach (city)
1970
1980
1990
2000
2007
(est)
1990-2000 Change
Actual
Percent
Population
586
575
573
614
609
41
7.16
Land Area (sq. mile)
0.40
0.49
0.52
0.52
--
-0.00
-0.48
Density (persons per sq. mile)
1,465.0
1,173.5
1,101.9
1,186.5
--
84.53
7.67
Housing Units
194
203
220
224
--
4
1.82
Households
--
187
204
215
218
11
5.39
Persons Per Household
--
3.07
2.81
2.86
2.79
0.05
1.82
---
Geography:
Minnetonka Beach is a city in Hennepin County, Minnesota. County Road 15 serves as a main route through the community. According to the United States Census Bureau, the city has a total area of 0.5 square miles (1.3 km²), all of it land. The elevation is 942 ft (287 m) above sea level.
From Wikipedia, the free encyclopedia.
---
Demographics:
As of the census of 2000, there were 614 people, 215 households, and 176 families residing in the city. The population density was 1,186.5 people per square mile (455.9/km²). There were 224 housing units at an average density of 432.8/sq mi (166.3/km²). The racial makeup of the city was 97.88% White, 0.16% Native American, 1.30% Asian, and 0.65% from two or more races.
There were 215 households out of which 42.3% had children under the age of 18 living with them, 75.3% were married couples living together, 3.7% had a female householder with no husband present, and 17.7% were non-families. 14.4% of all households were made up of individuals and 5.6% had someone living alone who was 65 years of age or older. The average household size was 2.86 and the average family size was 3.16.
In the city the population was spread out with 29.2% under the age of 18, 5.4% from 18 to 24, 20.7% from 25 to 44, 35.3% from 45 to 64, and 9.4% who were 65 years of age or older. The median age was 42 years. For every 100 females there were 91.9 males. For every 100 females age 18 and over, there were 87.5 males.
The median income for a household in the city was $150,912, and the median income for a family was $168,868. Males had a median income of $100,000 versus $41,875 for females. The per capita income for the city was $91,844. About 1.8% of families and 2.7% of the population were below the poverty line, including 2.5% of those under age 18 and 16.7% of those age 65 or over.
---
---
History:
The history of the village, better known to its' residents as "The Beach", is as colorful as it is long. The following brief summary is, but, a little of the background of Minnetonka Beach.
The Beach history can be traced back as early as 1855, with records listing early settlers. However, the Village was not officially opened for settlement until 1872.
The present area of the Village was surveyed, platted and named Minnetonka Beach in 1883. At that time, an auction was held at the Old Hotel Lafayette, where prominent businessmen, including James J. Hill, paid then large amounts of money for plots of land – land that could not even be reached in the winter.
By 1879, Hill had chosen Minnetonka Beach as the site of the Great Northern Railroad's first great summer resort, the soon-to-be famous Hotel Lafayette, which opened for Hill in 1882.
Construction of the first road through the Village in 1887, further insured the popularity of Minnetonka Beach as a resort area for the rich and famous of the time.
The Hotel Lafayette has played a significant part in the shaping of the history of The Beach, right from the time of its grand opening in 1882. The early days were the glory days of the old Hotel Lafayette when formal dancing, military band concerts, and tennis were some of the activities at the beautiful hotel.
In 1897 the Hotel Lafayette was destroyed by fire. In 1889, the Minnetonka Club was incorporated at the site of the Hotel Lafayette. Its name was later changed to the Lafayette Club. The present club was erected in 1924, after a fire also destroyed the second building.
The Village of Minnetonka Beach was incorporated in 1894, with a resident population of 209. In 1922, by adoption of the present home rule charter, the Village was incorporated as a city of the fourth class. Now, officially The City of the Village of Minnetonka Beach, the Beach remains one of the smallest incorporated cities in the State. The population as of the 2000 Census was at 614, with 230 homes.
A boot-shaped peninsula jutting out into the center of the waters of Lake Minnetonka, the Village is comprised of a total area of some 296 acres, less than a half section of land.
The Beach recognized its centennial in 1994 with a week-long celebration including a dinner dance with art auction, home tour, picnic, ice cream social, mail box decorating contest, and the village in bloom with centennial colors of blue, yellow and white. An exquisite centennial quilt was hand sewn and hangs today in City Hall.
Courtesy City of Minnetonka Beach
MINNETONKA BEACH is a city in Excelsior Township, sections 15, 16, and 22, on a peninsula of Lake Minnetonka, between Crystal and Lafayette Bays, in Orono. It was first settled when John Herrill Holme purchased 100 acres in December 1855; its post office began in 1882; it was platted in 1883 by A. H. Bode of the St. Paul, Minneapolis and Manitoba Railroad and developed as a summer colony and resort area. It was incorporated as the Village of Minnetonka Beach on November 2, 1894; its full name is City of the Village of Minnetonka Beach.
Courtesy Minnesota Historical Society
---
Government:
Minnetonka Beach City Hall
2945 Westwood Road
Minnetonka Beach, MN 55361

Phone: (952) 471-8878

Fax: (952) 471-7412


Regular Business Hours:
Monday - Thursday 8:00 am - 4:30 pm
Friday 8:00 am - 12:00 pm

City Council Meetings:

2nd Monday of the month at 7:00 pm

Title
Term Ends
Name and Address
Phone
Mayor
12/31/2022
Jaci Lindstrom
2811 Westwood Road
Wayzata, MN 55391


(612) 382-7742
City Administrator
appointed
Pat Melvin
2945 Westwood Road
Minnetonka Beach, MN 55361
(952) 471-8878
City Treasurer
12/31/2022
Christopher P Zinn
2416 Lafayette Road
Minnetonka Beach, MN 55391
(952) 471-8878
(612) 386-8032
Council Member/td>
112/31/2024
Susan Enlow
1905 Beach Lane
Wayzata, MN 55391


(612) 860-4362
Council Member/td>
112/31/2024
Steve Howarth
2520 Arcola Lane
Minnetonka Beach, MN 55391
(952) 923-1620
Council Member
12/31/2022
Tracey T. Breazeale
1915 Beach Lane
Minnetonka Beach, MN 55391
(612) 747-1813
Council Member/td>
12/31/2022
VVibhu Sharma
2505 Lafayette Road
Minnetonka Beach, MN 55361
(612) 803-1320
---
Post Officea>:
US Post Office
2945 Westwood Road
Minnetonka Beach, MN 55361
Phone: (612) 349-6348
Toll Free: (800) ASK-USPS

&

Regular Business Hours: r> Week Days 10:00 am - 12:00 pm
Saturday Closed
Latest Collection at Post Office:
Week Days 4:30 pm
Saturday None
---
---
Utilities:
| | | |
| --- | --- | --- |
| Utility Type | Utility Name | Utility Phone |
| Electricity | n/a | -- |
| Natural Gas | n/a | -- |
| Wastewater | n/a | -- |
| Water | n/a | -- |
| Telephone | n/a | -- |
| Cable TV | n/a | -- |
---
Major Employers:
Employer
Products/Services
Employees

n/a
---
---
News:
---
Weather:
---
Map: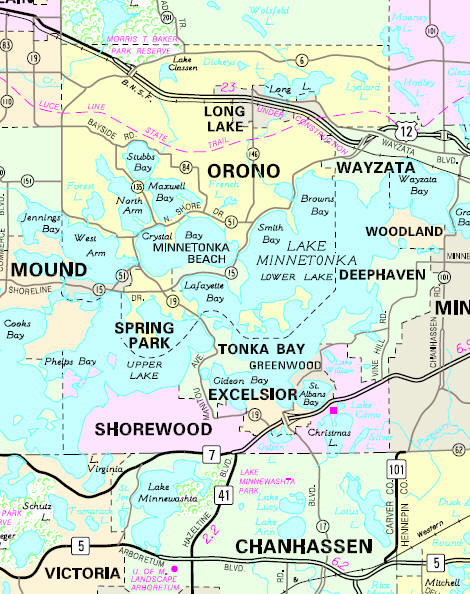 Minnesota State Highway Map of the Minnetonka Beach Minnesota area
---
Events:
---
---
Attractions:
---
Recreation:
---
Lakes:
---
Health Care:
---
Schools:
---
Churches:
---
Media:
---
Motels:
Check for motel rates and availability on:
---
Resorts:
---
Campgrounds:
---
---
Businesses:
---
---
Aerial Photo:
---
Topographic Map: [click map to enlarge, zoom in or zoom out]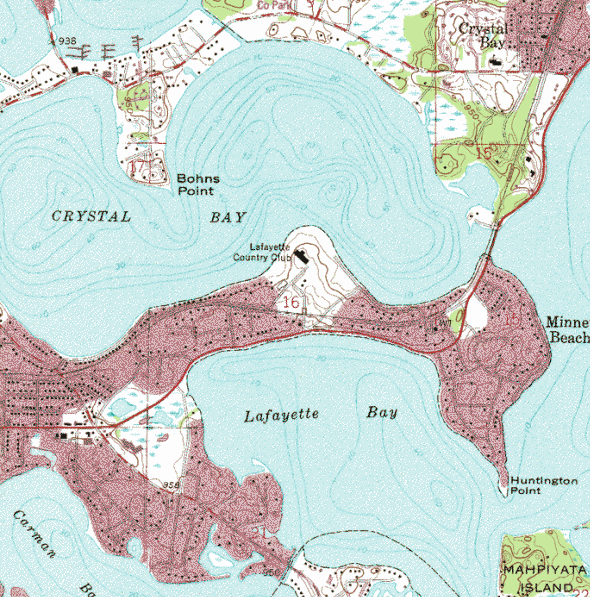 Topographic map is courtesy of the Minnesota DNR - click map to zoom or enlarge