Navigation
LakesnWoods.com
Home Page
Contact Us
Privacy
Minnesota History Shop

Visit The Minnesota History Shop
www.minnesotahistoryshop.com
Historic maps
Historic books
Historic framed art
Historic postcards
Clothing with historic images
And much more!!!


Minnetonka Guide:
Photo Gallery
Location
Geography
Demographics
History
Government
Post Office
News
Weather
Street Map
Events
Attractions
Recreation
Lakes
Health Care
Schools
Churches
Media
Motels
Resorts
Campgrounds
Businesses
Aerial Photo
Topographic Map
© 2004-2022
Lakeweb1 Internet Services
All Rights Reserved
DCMA, Defamation, Copyright and Trademark Infingement Policy
WANTED!
Do you have photos, historical accounts or other items pertaining to the Minnetonka area? Would you like to share this historical information with the world? LakesnWoods.com would like to publish your Minnetonka photos (current or historical) or historical accounts on this website. Original materials can be returned and your privacy will be respected.

Minnetonka Minnesota Community Guide
---
Location:
---
Population:
Minnetonka (city)
1970
1980
1990
2000
2007
(est)
1990-2000 Change
Actual
Percent
Population
35,776
38,683
48,370
51,301
51,499
2,931
6.06
Land Area (sq. mile)
26.90
27.71
27.10
27.14
--
0.04
0.16
Density (persons per sq. mile)
1,330.0
1,396.0
1,784.9
1,890.0
--
105.16
5.89
Housing Units
9,270
13,231
20,119
22,228
--
2,109
10.48
Households
--
12,667
18,687
21,393
22,092
2,706
14.48
Persons Per Household
--
3.00
2.56
2.37
2.29
-0.19
-7.27
---
Geography:
Minnetonka is a suburban city in Hennepin County, Minnesota, eight miles (13 km) west of Minneapolis. Part of the city includes the Eastern tip of Lake Minnetonka, one of the largest lakes in Minnesota. The outlet of Lake Minnetonka is Minnehaha Creek, which winds through South Minneapolis before ending at Minnehaha Falls and flowing into the Mississippi River. Interstates 394 and 494 are two of the main routes in the city. According to the United States Census Bureau, the city has a total area of 28.2 square miles (73.1 km˛)—27.1 square miles (70.3 km˛) of it is land and 1.1 square miles (2.87 km˛) of it (3.83%) is water. The elevation is 889 ft (271 m) above sea level.
From Wikipedia, the free encyclopedia.
---
Demographics:
As of the census of 2000, there were 51,301 people, 21,393 households, and 14,097 families residing in the city. The population density was 1,893.0 persons per square miles (729.7/km˛). There were 22,228 housing units at an average density of 818.9 per square mile (316.2/km˛). The racial makeup of the city was 94.40% European American, 1.50% African American, 0.20% Native American, 2.29% Asian, 0.03% Pacific Islander, 0.57% from other races, and 1.03% from two or more races. Hispanic or Latino of any race were 1.28% of the population. 24.7% were of German, 13.8% Norwegian, 9.1% Irish, 8.2% Swedish and 6.7% English ancestry according to Census 2000.
There were 21,393 households out of which 29.1% had children under the age of 18 living with them, 56.6% were married couples living together, 6.8% had a female householder with no husband present, and 34.1% were non-families. 27.3% of all households are made up of single individuals and 9.3% had someone living alone who was 65 years of age or older. The average household size was 2.37 and the average family size was 2.92.
In the city the population was spread out with 23.1% under the age of 18, 6.0% from 18 to 24, 28.5% from 25 to 44, 28.4% from 45 to 64, and 14.0% who were 65 years of age or older. The median age was 41 years. For every 100 females there were 91.8 males. For every 100 females age 18 and over, there were 88.7 males.
According to a 2007 estimate, the median income for a household in the city was $78,840, and the median income for a family was $101,793. Males had a median income of $57,439 versus $38,605 for females. The per capita income for the city was $40,410. About 1.5% of families and 2.6% of the population were below the poverty line, including 2.3% of those under age 18 and 4.1% of those age 65 or over.
---
---
History:
Since the mid-1800s Minnetonka has evolved from heavily wooded wilderness through extensive farming and thriving industrialization to its present primarily residential suburban character. The Dakota and Ojibway Indians were the first people to settle in the area. They believed the land around Lake Minnetonka (minne meaning water and tonka meaning big) was the legendary home of an extinct race. The first recorded exploration of the area by European settlers was in 1822, when a group from newly constructed Fort Snelling made its way up Minnehaha Creek (then known as Brown's Creek or Falls Creek) to the lake. In 1851 the Dakotah sold the area including Minnetonka to the United States with the Treaty of Traverse des Sioux. The first census, the Territorial Census of 1857, lists 41 households. Twenty-nine of the heads of households are listed as farmers. The occupations of the remaining twelve are associated with the operations of Minnetonka Mill and a nearby hotel.
In 1852 a claim was staked on Minnehaha Creek near McGinty Road. The sawmill that was constructed in the thick woods of maple, oak, elm, red cedar and basswood was the first privately-operated mill in Minnesota west of the Mississippi River. Oak timbers from this mill were used to build the first suspension bridge across the Mississippi River at St. Anthony Falls in 1853. The settlement of Minnetonka Mills that grew up around the mill was the first permanent European-American settlement west of Minneapolis in Hennepin County. In 1855 a two-story sawmill was constructed with a furniture factory on the second floor. A building for varnishing furniture was built on the south side of the creek, at the present Bridge Street. Production consisted mainly of chairs and bedsteads. The Minnetonka Republican at St. Anthony published a short article describing the area. The February 12, 1857 issue said:

" Minnetonka City - We have already called attention to the thrift and activity of that little town. Large investments are made there. On January 1, 40 hands were being employed turning out weekly 500 chairs and 200 bedsteads. By April it will be 2000 weekly. One million feet of lumber is in the pond, half of it nicely seasoned. Machinery is on the way for a flour mill. J. P. Miller is erecting a new hotel. "
But competition from the mills at St. Anthony, the drowning of the mill's manager in 1857 and a fire in 1860 dashed the lofty hopes. From 1860 to 1869 the mill area had no active mill. In 1869, Thomas Perkins constructed a 3˝ story flour mill and an ad joining cooper shop. At the peak of its production, around 1880, the mill ground about 400 barrels of flour daily and employed 18 men. One of its brands, "Snow Ball," was priced at $3.00 per hundred pound, and local farmers were paid $1.00 per bushel of wheat. From 1874 to the mid-1880s, Charles Burwell managed the Minnetonka Mill Company's operations.
Milling played a major role in the development of Minnetonka and Minnehaha Creek provided power to operate these mills. Most of the earliest settlers were from New England and other eastern and central states, with Irish people settling in northern Minnetonka later. In the 1860s Scandinavians came where the climate and terrain reminded them of their native land. Immigrants from Czechoslovakia settled in the southern part of Minnetonka from 1854 to 1871. They contributed greatly to the professional, business and agricultural segments of the population. The raspberries they grew in Minnetonka for sale in Hopkins prompted Hopkins to call itself "The Raspberry Capital of the World." The Cargill Lake Office, occupying a former mansion, houses the company's top executives.
In 1860, after only 8 years of operation, the sawmill closed. In 1869 a flour and grist mill were constructed and operated until the late 1880s. In 1874 Charles H. Burwell came to manage the Minnetonka Mill Company, and he built a Victorian home on the north bank of Minnehaha Creek (Minnetonka Boulevard at McGinty Road East) for his family. The Charles H. Burwell House is now on the National Register of Historic Places and is owned by the city. There were two other mills in Minnetonka. The St. Alban's Mill, which was less than a mile downstream from Minnetonka Mills on Minnehaha Creek, operated as a flour mill from 1874 to 1881. A grist mill built on Purgatory Creek was washed out in a flood shortly after construction. Minnetonka Mills, with its post office and port for Lake Minnetonka, was the principal business and trading center for a large area until the 1870s.
Between 1883 and 1956 the area within the original 36-square-mile (93 km2) township grew smaller as Wayzata, Hopkins, Deephaven, Woodland and St. Louis Park incorporated or annexed portions of Minnetonka. Excellent transportation facilities to Hopkins and Minneapolis began to transform Minnetonka township's economy. Train service to Minneapolis had been available since the 1880s and in 1905 streetcar service began. The attraction to become a city wage earner was great and rapid transit made it possible. In 1956, as a maneuver to prevent neighboring villages from continuing to annex portions of Minnetonka township, residents in 1956 voted to establish a village out of the remaining twenty-eight square miles and the area was incorporated as Minnetonka Village. However, Minnetonka Village lasted only thirteen years. The complexities and the heavy demands of administering a rapidly developing community required professional management and larger representation. In 1969 a city charter was approved to serve the 35,000 residents.
From Wikipedia, the free encyclopedia
MINNETONKA Township, first settled in the spring of 1852, organized May 11, 1858, received the name of the adjoining large lake. The earliest recorded exploration of this lake by white men was in 1822 by two youths, Joseph R. Brown, who became a leading figure in Minnesota history, and William Joseph Snelling, son of the commandant of the fort, accompanied by two soldiers. From their meager and magnified description, William H. Keating, the historian of the United States exploring expedition under Maj. Stephen H. Long in 1823, mentioned this lake, though it was not named nor shown on their map.
Twenty years later, in 1843, Joseph N. Nicollet's map and report of this region, based on preceding maps and filled out by much information from his own explorations and from Indians and white voyageurs whom he questioned, had no intimation of the existence of Minnetonka. It seems to have been entirely forgotten by the officers of the fort with whom Nicollet was intimately acquainted. Because it was in the Dakota country, not ceded for white immigration until the treaties of Traverse des Sioux and Mendota in 1851, ratified by Congress the next year, this fairest one of our myriad lakes remained to be named and published when its first white settlers came.
In the chapter on this township, contributed by Judge Henry G. Hicks to the history of the county in 1895, the exploration of the lower part of this lake by Simon Stevens and Calvin A. Tuttle in April 1852 is well narrated. Two days after their return, the St. Anthony Express for April 16 published an article titled "Peninsula Lake," in which it is truly remarked that "almost the entire shore appears to be a succession of bays and peninsulas."
The present more felicitous name was coined about six weeks later by Gov. Ramsey, when, near the end of May, he made a journey to this lake in a company of several prominent citizens from St. Anthony and St. Paul. An article by Goodhue in his newspaper, the Minnesota Pioneer, for July 1, says: "The lake was named by Governor Ramsey, Minnetonka, or 'Big Water,' who expressed great admiration of the beauties of the country surrounding."
Minne (also spelled mini) is the common Dakota word for water, and tonka (also spelled tanka) is likewise their common word meaning big or great, but the name thus compounded seems not to have been used by the Dakota till Ramsey coined it for the lake. So far as we have records, indeed, the Dakota appear to have had no term for this large and many-featured body of water.
Courtesy Minnesota Historical Society
---
Government:
Minnetonka City Hall
14600 Minnetonka Blvd.
Minnetonka, MN 55345
Phone: (952) 939-8200
Fax: (952) 939-8244

Regular Business Hours:
Monday–Friday 8:00 am–4:30 pm

City Council Meetings
Mondays at 6:30 pm


Title
Term Ends
Name and Address
Phone
Mayor
12/31/2021
Brad Wiersum
15920 Portico Drive
Minnetonka, MN 55345
(612) 723-3907
City Manager
appointed
Geralyn Barone
14600 Minnetonka Blvd.
Minnetonka, MN 55345
(952) 939-8200
Council Member
At Large
12/31/2021
Deb Calvert
3814 Baker Road
Minnetonka, MN 55345


(612) 205-5399
Council Member
At Large
12/31/2021
Susan Carter
3416 Fairlawn Drive
Minnetonka, MN 55345


(952) 381-4477
Council Member
Ward 1
12/31/2023
Brian J. Kirk
4916 Carleton Road
Minnetonka, MN 55345


(952) 451-6251
Council Member
Ward 2
12/31/2023
Rebecca Schack
3201 Plymouth Road
Minnetonka, MN 55305


(612) 590-3735
Council Member
Ward 3
12/31/2023
Bradley Schaeppi
315 Townes Lane
Minnetonka, MN 55345
(612) 770-7447
Council Member
Ward 4
12/31/2023
Kissy C. Coakley
16417 Hilltop Terrace
Minnetonka, MN 55345


(952) 486-9670
---
Post Office:
US Post Office
14702 Excelsior Blvd.
Minnetonka, MN 55345-6606
Phone: (952) 935-4909
Toll Free: (800) ASK-USPS



Regular Business Hours:
Week Days 9:00 am - 5:00 pm
Saturday 10:00 am - 12:00 pm
Latest Collection at Post Office:
Week Days 5:30 pm
Saturday 3:00 pm
---
---
Utilities:
| | | |
| --- | --- | --- |
| Utility Type | Utility Name | Utility Phone |
| Electricity | Xcel Energy | (800) 895-4999 |
| Natural Gas | Centerpoint Energy | (612) 372-4664 |
| Wastewater | Metropolitan Council | (612) 222-8423 |
| Water | City of Minnetonka | n/a |
| Telephone | CenturyLink Communications | (800) 603-6000 |
| Cable TV | Comcast | (800) 266-2278 |
---
Major Employers:
| | | |
| --- | --- | --- |
| Employer | Products/Services | Employees |
| Cargill | Support Activities for Crop Production | 3,400 |
| Carlson Companies Inc | Travel Agencies | 3,100 |
| St. Jude Medical | Surgical & Medical Instrument Mfg. | 1,300 |
| Allina Health System | Insurance Carriers | 1,200 |
| DataCard Corp | Office Supplies & Stationery Stores | 1,000 |
| Advantek Inc | Semiconductor & Other Electronic Component Mfg. | 600 |
| Osmonics Inc | Water Supply & Irrigation Systems | 520 |
| American Medical Systems | Scientific Research & Development Services | 500 |
| Opportunity Partners | Vocational Rehabilitation Svcs. | 500 |
| Scicom Data Service | Data Processing, Hosting, & Related Svcs. | 195 |
---
---
News:
---
Weather:
---
Map: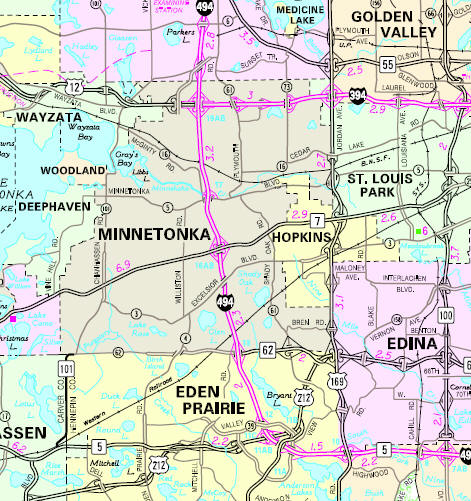 Minnesota State Highway Map of the Minnetonka Minnesota area
---
Events:
---
---
Attractions:
---
Recreation:
---
Lakes:
---
Health Care:
---
Schools:
---
Churches:
---
Media:
---
Motels:
Check for motel rates and availability on:
---
Resorts:
---
Campgrounds:
---
---
Businesses:

The Minnetonka Business Directory is Coming Soon!

---
---
Aerial Photo:
---
Topographic Map: [click map to enlarge, zoom in or zoom out]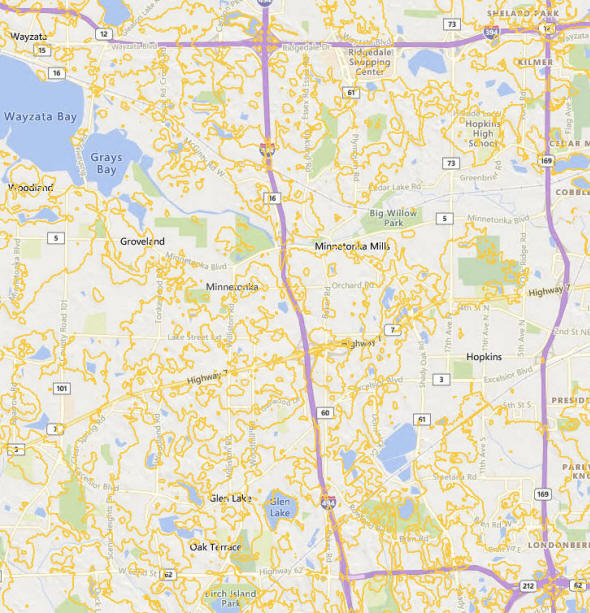 Topographic map is courtesy of the Minnesota DNR - click map to zoom or enlarge