Navigation
LakesnWoods.com
Home Page
Contact Us
Privacy
Minnesota History Shop

Visit The Minnesota History Shop
www.minnesotahistoryshop.com
Historic maps
Historic books
Historic framed art
Historic postcards
Clothing with historic images
And much more!!!


Minneota Guide:
Photo Gallery
Location
Geography
Demographics
History
Government
Post Office
News
Weather
Street Map
Events
Attractions
Recreation
Lakes
Health Care
Schools
Churches
Media
Motels
Resorts
Campgrounds
Businesses
Aerial Photo
Topographic Map
© 2004-2023
Lakeweb1 Internet Services
All Rights Reserved
DCMA, Defamation, Copyright and Trademark Infingement Policy

WANTED!
Do you have photos, historical accounts or other items pertaining to the Minneota area? Would you like to share this historical information with the world? LakesnWoods.com would like to publish your Minneota photos (current or historical) or historical accounts on this website. Original materials can be returned and your privacy will be respected.

Minneota Minnesota Community Guide
---
Location:
---
Population:
Minneota (city)
1970
1980
1990
2000
2010
2000-2010 Change
Actual
Percent
Population
1,320
1,470
1,417
1,449
1,392
-57
-3.93
Land Area (sq. mile)
1.20
1.43
1.43
1.43
1.43
0
0.00
Density (persons per sq. mile)
1,100.0
1,027.9
990.9
999.5
973.4
-26.1
-2.61
Housing Units
454
600
567
614
635
+21
+3.42
Households
--
570
524
590
582
-8
-1.36
Persons Per Household
--
2.43
2.48
2.32
2.29
-0.03
-1.29
---
Geography:
Minneota is a city in Lyon County, Minnesota. The South Branch of the Yellow Medicine River flows through the city. According to the United States Census Bureau, the city has a total area of 1.43 square miles (3.70 km≤), all of it land. The elevation is 1,168 ft (356 m) above sea level.
From Wikipedia, the free encyclopedia.
---
Demographics:
As of the census of 2010, there were 1,392 people, 582 households, and 365 families residing in the city. The population density was 973.4 inhabitants per square mile (375.8/km2). There were 635 housing units at an average density of 444.1 per square mile (171.5/km2). The racial makeup of the city was 95.8% White, 0.2% African American, 0.1% Native American, 0.3% Asian, 3.2% from other races, and 0.4% from two or more races. Hispanic or Latino of any race were 6.7% of the population.
There were 582 households of which 29.2% had children under the age of 18 living with them, 51.9% were married couples living together, 7.2% had a female householder with no husband present, 3.6% had a male householder with no wife present, and 37.3% were non-families. 33.0% of all households were made up of individuals and 16.5% had someone living alone who was 65 years of age or older. The average household size was 2.29 and the average family size was 2.92.
The median age in the city was 43.5 years. 24.4% of residents were under the age of 18; 5.7% were between the ages of 18 and 24; 21.5% were from 25 to 44; 26.2% were from 45 to 64; and 22.2% were 65 years of age or older. The gender makeup of the city was 45.9% male and 54.1% female.
---
---
History:
MINNEOTA, a city in Eidsvold Township, sections 25, 26, 35, and 36, which was incorporated on January 21, 1881. It was first known locally as Pumpa, so designated by early Norwegian settlers because of the railroad water pump, and then called Upper Yellow Medicine Crossing for its location. It was platted as Nordland village by the Winona and St. Peter Railroad in August 1876; when the post office was established in 1878, it was given the name Nordland, with railroad section boss Harvey D. Frink, postmaster, at his homestead store on railroad land, located on the left side of the tracks west of Yellow Medicine Creek; when the railroad built its depot on the right side of the tracks and other buildings went up nearby, the post office moved to new postmaster Nils Winther Luth Jaeger's store, and the name changed to Minneota, as suggested by Thomas D. Seals, another storekeeper. Jaeger was born in Norway in 1841, came to Minnesota in 1868 and to Lyon County in 1874, and was prominent in business for many years. The name Minneota is a Dakota name, meaning "much water." Prof. A. W. Williamson wrote of its origin, that it is "said to be so named by an early settler on account of an abundance of water flowing into his well."
Courtesy Minnesota Historical Society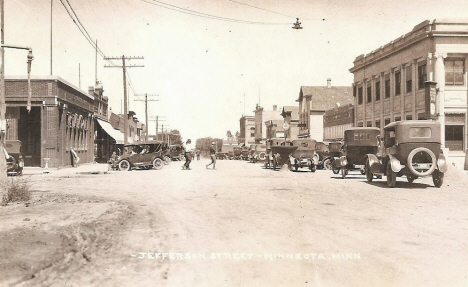 Jefferson Street, Minneota Minnesota, 1920s
LakesnWoods.com Postcard and Postcard Image Collection - click to enlarge

Visit The Minneota Photo Gallery for more recent and historic area photos
---
Government:
Minneota City Hall
129 E First Street
PO Box 307
Minneota, MN 56264
Phone: (507) 872-6144
Fax: (507) 872-6143

Regular Business Hours:
Monday - Friday 8:00 am - 5:00 pm

City Council Meetings:
2md Monday of the month at 6:30 pm


Title
Term Ends
Name and Address
Phone
Mayor
12/31/2022
John Rolbiecki
404 N Adams
Minneota, MN 56264
(507) 872-5157
City Administrator
appointed
Shirley Teigland
129 E First Street
Minneota, MN 56264
(507) 872-6144
City Clerk
appointed
vacant
129 E First Street
Minneota, MN 56264
(507) 872-6144
Council Member
12/31/2022
Nancy R Reisdorfer
306 E 1st Street
Minneota, MN 56264
(507) 828-6315
Council Member
12/31/2022
Timothy Koppien
200 S Jackson Street
Minneota, MN 56264
(507) 829-8382
Council Member
12/31/2024
Amber Rodas
402 E 3rd Street
Minneota, MN 56264
(507) 880-4885
Council Member
12/31/2024
Travis Gillund
309 N Madison Street
Minneota, MN 56264
(507) 829-9383
---
Post Office:
US Post Office
114 E 1st Street
Minneota, MN 56264-9637
Phone: (507) 872-6382
Toll Free: (800) ASK-USPS

Regular Business Hours:
Week Days

9:00 am - 4:15 pm


Saturday 8:30 am - 9:30 am




---
---
Utilities:
---
Major Employers:
---
---
News:
---
Weather:
---
Map: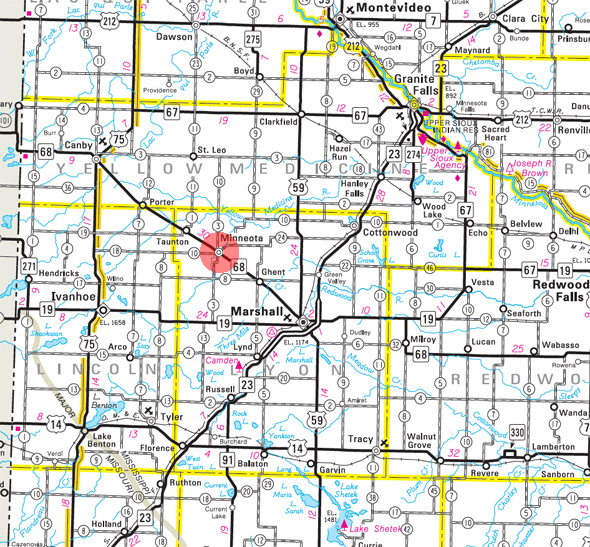 Minnesota State Highway Map of the Minneota Minnesota area
---
Events:
Boxelder Bug Days



Minneota Minnesot'as Boxelder Bug Days - small town celebration at its finest happens every year on the weekend after Labor Day. Join in the family-friendly fun.
---
---
Attractions:
---
Recreation:
---
Lakes:
Lake Name
Size
(acres)
Lake info
Lake Map
Rec Map
Topo Map
Minneota
---
Health Care:
Sanford Clinic Minneota
700 N Monroe Street
Minneota, MN 56264
Phone: (507) 872-7221
Web: www.sanfordhealth.org



At Sanford Health, we are dedicated to the work of health and healing. Every day, we show that commitment by delivering the highest quality of care to the communities we serve. We are leaders in health care and strive to provide patients across the region with convenient access to expert medical care, leading-edge technologies and world-class facilities.
---
Schools:
---
Churches:
---
Media:
---
Motels:
Check for motel rates and availability on:
---
Resorts:
---
Campgrounds:
---
---
Businesses:
Alley Repair Welding and Machine
203 N Madison Street
Minneota, MN 56264
Phone: (507) 872-6045
Arched Door
106 E 1st Street
Minneota, MN 56264
Phone: (507) 872-6472
American Legion Post
208 N Jefferson Street
Minneota, MN 56264
Phone: (507) 872-5243
B & B Electrical Contractors
706 E 1st Street
Minneota, MN 56264
Phone: (507) 872-6837
B Lenore
114 E 1st Street
Minneota, MN 56264
Phone: (507) 828-6833



Charming boutique owned by Beth Buysse featuring something handmade for everyone! Contact us for private appointments as well.

Bank of the West
123 N Jefferson Street
Minneota, MN 56264
Phone: (507) 872-6155
Web: www.bankofthewest.com



Millions of customers across 19 states choose us as their bank Our tie to BNP Paribas, a leading international bank, gives you the security and innovative thinking of a bank with global strength. Award-winning customer service Get personalized help at the branch or on the phone. Our Customer Service team is able to help you answer questions wherever you are.

Bauer Automotive
123 N Madison Street
Minneota, MN 56264
Phone: (507) 872-6100
Big Lou's Barbershop
109 Adams Street
Minneota, MN 56264
Phone: (612) 998-9942
Brad's Market
128 N Jefferson Street
Minneota, MN 56264
Phone: (507) 872-5183



Excellent steaks, chicken and pork. Fresh dairy and produce. Family owned full service grocery store.

City Hall Bar and Grill
118 E 1st Street
Minneota, MN 56264
Phone: (507) 872-6374



Bar, with plans to build a grill in the empty lot. With the help of local investors.

Countryside Golf Club
3508 160th Street
Minneota, MN 56264
Phone: (507) 872-6335



Countryside Golf Club is a fantastic 9 hole golf club located in Minneota, MN. The course is great for all skill levels from the scratch golfer to the beginner. With some of the best rates you will find in southwest Minnesota it is a must play.

Country Side Auto
113 W 1st Street
Minneota, MN 56264
Phone: (507) 872-5941
Web: www.csaminneota.com



Welcome to Countryside Auto in Minneota, MN. Take your time to browse through our inventory and enjoy the ride as you check out our selections on lot. If you are dreaming of a certain vehicle and do not see it here, give us a call, we will be happy to check out availability.

Custom Extruding LLC
704 E 1st Street
Minneota, MN 56264
Phone: (507) 872-5417
Dalager Service Station and Groceries
116 N Madison Street
Minneota, MN 56264
Phone: (507) 872-6128
Doyle Insurance Service
217 N Jefferson Street
Minneota, MN 56264
Phone: (507) 872-6124
Web: www.progressive.com/agent
Elsie's Joy Floral and Gifts
107 S Jefferson Street
Minneota, MN 56264
Phone: (507) 872-6513
Farmers Cooperative Elevator
215 E 1st Street
Minneota, MN 56264
Phone: (507) 872-6134
Web: www.farmerscoopelevator.com
FCA Cenex Convenience Store
301 E 1st Street
Minneota, MN 56264
Phone: (507) 872-6182
Web: www.farmerscoopassn.com/locations



Our C-Store in Minneota offers a full selection of convenience store products along with high quality Cenex fuels that are available 24 hours a day with pay at the pump convenience. Additional offerings at Minneota include: fíreal Milkshakes, Smoothies, & Cappuccino Hot Stuff pizza Dine-in seating available ATM Lottery DNR licensing station LP filling station Separate diesel island with #2, Winter Master (Seasonal), and Road Master (Seasonal).

Fiberglass Recycling Alternatives
113 W 1st Street
Minneota, MN 56264
Phone: (507) 872-5940
Frank's Electric and Plumbing
712 E 1st Street
Minneota, MN 56264
Phone: (507) 872-5007
Fran's Gun Shop
1938 340th Street N
Minneota, MN 56264
Phone: (507) 872-6884
Gislason Ace Hardware
106 E 1st Street
Minneota, MN 56264
Phone: (507) 872-6472
Web: www.gislasonhardware.com



Gislason's Ace Hardware has been around for quite a few years. It has gone through 4 generations starting back with W.B. Gislason, then handing over to V.V. senior, then V.V. junior and now Barb (Gislason) Rye and her partner Dave. The store has gone through quite a number of changes over the years, selling IH implements, appliances and hunting goods at various times during it's years of being open to now having a large line of your everyday needs to help the handyman in your household, plus the contractor too.

Green Door Steakhouse and Sports Bar
3375 220th Avenue N
Minneota, MN 56264
Phone: (507) 669-1470
Highway 68 Liquor
226 W 1st Street
Minneota, MN 56264
Phone: (507) 872-9914
Hoffman and Brobst PLLP
300 E 1st Avenue
Minneota, MN 56264
Phone: (507) 872-6186
Web: www.hoffmanbrobst.com/minneota



Since our inception in 1937, we at Hoffman & Brobst, PLLP have strived to be an accounting firm that focuses on meeting our clients' needs beyond their expectations. Since that time we have grown into a regionally recognized professional service provider. The firm currently has five partners and twenty-one other professional and support staff with offices in Marshall, Granite Falls, and Minneota, Minnesota.

HRT Small Engine
219 N Jefferson Street
Minneota, MN 56264
Phone: (507) 828-8874



I have over 20 years experience. I will work on motorcycle, four wheeler, snowmobile, trimmer, chain saws, lawn mowers, and inventive small engine projects

Hub International
123 N Jefferson Street
Minneota, MN 56264
Phone: (507) 872-6156
Jeremiason Farms
211 S Jefferson Street
Minneota, MN 56264
Phone: (507) 872-6893
Jibben Surveying
3246 160th Avenue
Minneota, MN 56264
Phone: (507) 872-6050
Jo's Beauty Shop
506 N Grant Street
Minneota, MN 56264
Phone: (507) 872-6171
Kack Construction
406 N Monroe Street
Minneota, MN 56264
Phone: (507) 872-6201
Kevin Anundson State Farm Insurance
100 E 1st Street
Minneota, MN 56264
Phone: (507) 872-6781
Web: www.statefarm.com
Lynns Woodworking
411 E 2nd Street
Minneota, MN 56264
Phone: (507) 872-5131
Lyon County Farm Service
117 Industrial Way
Minneota, MN 56264
Phone: (507) 872-6141
Web: www.lcfsjv.com



Agronomy is Our Business, Service is Part of Our Name. These are a few of the many Services offered by Lyon County Farm Service J.V. : -CustomFertilizer Spreading -Custom Spraying Post and Pre-emergence -Custom Anhydrous Application (Fall Season) -Liquid Fertilizer Available -Custom Chemical Impregnated Fertilizer -Airflow Seeding of Alfalfa and Soybeans with Fertilizer -Custom Fertilizer Blends -Full Line of Crop Protection Products -Crop Monitoring and Scouting -Full Line of Pittsburgh Paint, with Paint Sprayers and Boom Truck Available for Rent -Seed corn, soybeans, alfalfa, wheat, oats, barley, CRP and pasture seed,wild game feed seed, lawn grass seed, sunflowers, and more from Croplan Genetics, Asgrow/Dekalb, Mycogen, Syngenta, and Millborn Seeds -Soil Sampling -Personalized Chemical, Fertilizer and Seed Recommendations -Sales and Service of various drying systems, grain handling, spraying equipment, & sprayer parts -GPS Mapping of boundaries & Tile lines -Manure / Nutrient / Pest Management Plans -Feedlot PermittingEQIP Program -Crop Input Financing with Cooperative Finance Association, Inc. -Record Keeping -Federal Crop/Hail Insurance in association with ARMtech Crop Insurance Services -Satellite Field Mapping as part of our Crop Insurance -Notary Public -Agronomic Training sessions for Customers -Very Knowledgeable Staff to Answer Your Agronomic Questions

MGT Co-op
301 E 1st Street
Minneota, MN 56264
Phone: (507) 872-5099
Madison Avenue Apartments
700 N Madison Street
Minneota, MN 56264
Phone: (507) 872-5313
Midwest Ag Insurance
300 E 1st Street
Minneota, MN 56264
Phone: (507) 872-6333
Minneota Auto Body and Glass
104 N Grant Street
Minneota, MN 56264
Phone: (507) 872-6392
Minneota Auto Center
228 E 1st Street
Minneota, MN 56264
Phone: (507) 872-6111
Minneota Building Materials
115 W 1st Street
Minneota, MN 56264
Phone: (507) 872-6147
Web: www.mbmminneota.com



In business since 2003, our goal is to supply quality materials for all your building needs. Stop in and talk with Kevin, John, or Bruce. We offer start-to-finish solutions for every project. We also offer full design services.

Minneota City Hall
129 E First Street
PO Box 307
Minneota, MN 56264
Phone: (507) 872-6144
Fax: (507) 872-6143
Web: www.minneota.com
Minneota Family Dental
102 E 1st Street
Minneota, MN 56264
Phone: (507) 872-6403
Minneota Manor
700 N Monroe Street
Minneota, MN 56264
Phone: (507) 872-5300
Web: www.minmanor.com



Our facility has been providing skilled long-term nursing services to the surrounding communities since 1972. In 1986 we expanded our services to include a 30 unit assisted living facility, Madison Avenue Apartments. We also operate a Medicare Certified Home Health Agency that provides services in your home, Town & Country Home Health Care

Minneota Mascot
201 N Jefferson Street
Minneota, MN 56264
Phone: (507) 872-6492
Web: www.theminneotamascot.com
Minneota Public Library
200 N Jefferson Street
Minneota, MN 56264
Phone: (507) 872-5473
Web: www.plumcreeklibrary.org/minneota
Minneota Storage
103 Golf Course Road
Minneota, MN 56264
Phone: (507) 872-5272
Minneota Veterinary Clinic
714 E 1st Street
Minneota, MN 56264
Phone: (507) 872-6000
Web: www.minneotavet.com



At the Minneota Veterinary Clinic we focus on personalized, individual care for your pets. Our staff is friendly and accommodating. We would love to have you come and check out our facility. We offer compassionate and skilled care for your companion animal. We also offer in-house or on-farm care for your large animals, including horses, cattle, pigs, sheep and goats. We carry a full line of antibiotics and medications for farm animals. Our in-house facility is clean and we can provide safe handling of your livestock, with disease prevention in mind.

Minneota-Taunton VFW Post
205 N Jefferson Street
Minneota, MN 56264
Phone: (507) 872-6234
Otter Tail Power Company
108 N Market Street
Minneota, MN 56264
Phone: (507) 872-6196
Penny's P'sas
207 N Jefferson Street
Minneota, MN 56264
Phone: (507) 872-6813
Pioneer Seeds
708 E 1st Street
Minneota, MN 56264
Phone: (507) 872-6750
Prairie Diesel
2484 180th Avenue N
Minneota, MN 56264
Phone: (507) 872-6495
Prairie Winds Wellness
202 E 1st Street
Minneota, MN 56264
Phone: (507) 872-5200
Web: www.pwwellness.com



We aim to educate our patients about Chiropractic and other natural solutions to common health problems in order to motivate you to take a more active and responsible role in restoring and maintaining your own health as well as the people around you. As a chiropractor, we understand that although our patients may be diagnosed with the same condition, they respond very differently to treatments. For this reason, we tailor a specific plan of action to meet your needs, goals & unique medical and physical condition.

Rehkamp and Horvath Funeral Home
124 E 1st Street
Minneota, MN 56264
Phone: (507) 872-6119
Rick's Taxidermy and Bait
120 N Jefferson Street
Minneota, MN 56264
Phone: (507) 829-1084
(The) Roundup
213 N Jefferson Street
Minneota, MN 56264
Phone: (507) 872-6437
Rugged Rock Inc.
113 W 1st Street
Minneota, MN 56264
Phone: (507) 872-5940
Sanford Clinic Minneota
700 N Monroe Street
Minneota, MN 56264
Phone: (507) 872-7221
Web: www.sanfordhealth.org



At Sanford Health, we are dedicated to the work of health and healing. Every day, we show that commitment by delivering the highest quality of care to the communities we serve. We are leaders in health care and strive to provide patients across the region with convenient access to expert medical care, leading-edge technologies and world-class facilities.

Senior Citizens Center
202 N Jefferson Street
Minneota, MN 56264
Phone: (507) 872-5262
Shear Image
116 Jefferson Street
Minneota, MN 56264
Phone: (507) 872-6262
Skaar Show Pigs
1338 330th Street
Minneota, MN 56264
Phone: (507) 828-4475
Web: www.skaarshowpigs.com
Swede's Service Center
110 W 1st Street
Minneota, MN 56264
Phone: (507) 872-6206
Web: www.swedesservice.net



We are a full-service dealer, handling all makes of skid steer loaders, compact track loaders, tractors, toolcats, utility vehicles, and excavators. We offer Demco grain wagons and grain carts with Shurco roll tarps. We also handle Loftness shredders, snow blowers and Snapper Pro commercial mowers. We offer new and used equipment sales and rentals of used equipment.

UFP Minnesota
Highway 68
Minneota, MN 56264
Phone: (507) 872-5195
Web: www.ufpi.com/minneota



UFP Minneota is a leading, single-source supplier of industrial packaging, concrete forming products, lumber and trusses used in manufactured homes. We provide the flexibility and outstanding customer service you'd expect in a small business while offering the pricing and technology that only a large, national company can offer.

Ufkin's Furniture and Appliance
109 N Jefferson Street
Minneota, MN 56264
Phone: (507) 872-6159
Web: ufkinsfurnitureandappliance-minneota-mn.brandsdirect.com



Ufkins Furniture & Appliance carries a large selection of Appliances and Home Furnishings including refrigerators, cooktops, oven, ranges, washers, dryers, living furniture, bedroom furniture and more. If you are looking for appliances or home furnishings in the area, be sure to shop at Ufkins Furniture & Appliance. And before you go to their showroom be sure to check out Ufkins Furniture & Appliance special offers - discounts, rebates, and financing specials on top brand merchandise. Ufkins Furniture & Appliance is part of the Brandsdirect network of independent dealers.

US Post Office
114 E 1st Street
Minneota, MN 56264
Phone: (507) 872-6382
Web: www.usps.com
VK Ventures Custom Design and Fabrication
3601 160th Avenue
Minneota, MN 56264
Phone: (507) 829-8399
Web: www.vkvequipment.com



VK Ventures got their start raising one of the largest Boer goat herds in SW Minnesota. Through that experience with goats and before that, with sheep, they are turning their focus to designing and fabricating feeding equipment specifically for goats and sheep.

Wayne's Plumbing
314 N Grant Street
Minneota, MN 56264
Phone: (507) 872-8911
Yellow Medicine River Watershed District
122 N Jefferson Street
Minneota, MN 56264
Phone: (507) 872-6720
---
---
Aerial Photo:
---
Topographic Map: [click map to enlarge, zoom in or zoom out]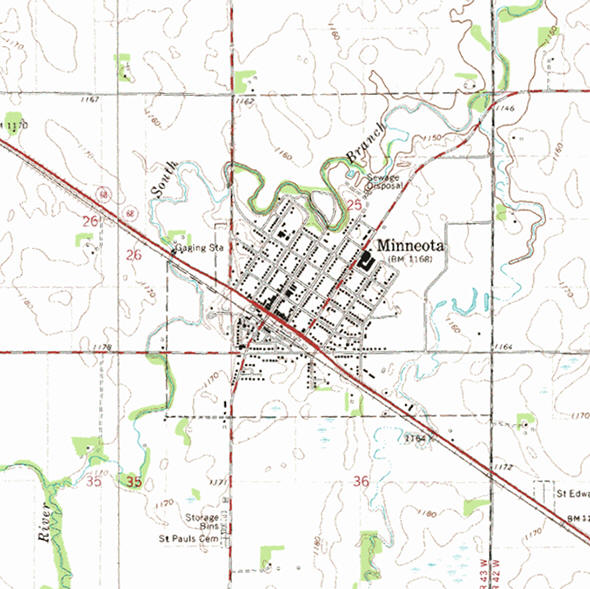 Topographic map is courtesy of the Minnesota DNR - click map to zoom or enlarge