Navigation
LakesnWoods.com
Home Page
Contact Us
Privacy
Minnesota History Shop

Visit The Minnesota History Shop
www.minnesotahistoryshop.com
Historic maps
Historic books
Historic framed art
Historic postcards
Clothing with historic images
And much more!!!


Minneapolis Guide:
Photo Gallery
Location
Geography
Demographics
History
Government
Post Office
News
Weather
Street Map
Events
Attractions
Recreation
Lakes
Health Care
Schools
Churches
Media
Motels
Resorts
Campgrounds
Businesses
Aerial Photo
Topographic Map
© 2004-2022
Lakeweb1 Internet Services
All Rights Reserved
DCMA, Defamation, Copyright and Trademark Infingement Policy
WANTED!
Do you have photos, historical accounts or other items pertaining to the Minneapolis area? Would you like to share this historical information with the world? LakesnWoods.com would like to publish your Minneapolis photos (current or historical) or historical accounts on this website. Original materials can be returned and your privacy will be respected.

Minneapolis, Minnesota Community Guide
---
Location:
---
Population:
Minneapolis (city)
1970
1980
1990
2000
2007
(est)
1990-2000 Change
Actual
Percent
Population
434,400
370,951
368,383
382,618
388,020
14,235
3.86
Land Area (sq. mile)
53.40
56.88
54.93
54.89
--
-0.04
-0.07
Density (persons per sq. mile)
8,134.8
6,521.6
6,706.4
6,970.3
--
263.94
3.94
Housing Units
167,214
168,859
172,666
168,606
--
-4,060
-2.35
Households
--
161,858
160,682
162,352
167,367
1,670
1.04
Persons Per Household
--
2.19
2.19
2.25
2.20
0.06
2.79
---
Geography:
Minneapolis is the largest city in the U.S. state of Minnesota and is the county seat of Hennepin County. The city lies on both banks of the Mississippi River, just north of the river's confluence with the Minnesota River, and adjoins Saint Paul, the state's capital. Minneapolis has a total area of 58.4 square miles (151.3 km2) and of this 6% is water. The city's lowest elevation of 686 feet (209 m) is near where Minnehaha Creek meets the Mississippi River. The site of the Prospect Park Water Tower is often cited as the city's highest point and a placard in Deming Heights Park denotes the highest elevation, but a spot at 974 feet (296.88 m) in or near Waite Park in Northeast Minneapolis is corroborated by Google Earth as the highest ground.
From Wikipedia, the free encyclopedia.
---
Demographics:
U.S. Census Bureau estimates in 2007 show the population of Minneapolis to be 377,392, a 1.4% drop since the 2000 census. The population grew until 1950 when the census peaked at 521,718, and then declined as people moved to the suburbs until about 1990. The number of African Americans, Asians, and Hispanics was growing throughout the past decades but that trend has now reversed.[38] As of the 2005-2007 American Community Survey conducted by the U.S. Census Bureau, the percentage of Non-Hispanic Whites stood at 63.3% of Minneapolis' population, up from 62.5% in the 2000 Census.[39] [40] Compared to the U.S. national average in 2005, the city has fewer Caucasian, Hispanic, senior, and unemployed people, while it has more people aged over 18 and more with a college degree.[41] Among U.S. cities, Minneapolis has the fourth-highest percentage of gay, lesbian, or bisexual people in the adult population, with 12.5% (behind San Francisco, and slightly behind both Seattle and Atlanta).
At the 2005-2007 American Community Survey Estimates, the city's population was 68.1% White, 17.7% Black or African American, 1.3% American Indian and Alaska Native, 5.1% Asian, 0.0% Native Hawaiian and Other Pacific Islander, 4.7% from some other race and 3.0% from two or more races. 9.5% of the total population were Hispanic or Latino of any race.[44] 41.2% of the total population had a Bachelor's degree or higher.
Compared to a peer group of metropolitan areas in 2000, Minneapolis-Saint Paul is decentralizing, with individuals moving in and out frequently and a large young and Caucasian population and a low unemployment rate. Racial and ethnic minorities lag behind Caucasian counterparts in education, with 15.0% of African Americans and 13.0% of Hispanics holding bachelor's degrees compared to 42.0% of the Caucasian population. The standard of living is on the rise, with incomes among the highest in the Midwest, but median household income among African Americans is below that of Caucasians by over $17,000. Regionally, home ownership among African American and Hispanic residents is half that of Caucasians though Asian home ownership doubled. In 2000, the poverty rates included Caucasians at 4.2%, African Americans at 26.2%, Asians at 19.1%, American Indians at 23.2%, and Hispanics at 18.1%.
---
---
History:
Dakota Sioux were the region's sole residents until French explorers arrived around 1680. Nearby Fort Snelling, built in 1819 by the United States Army, spurred growth in the area. The United States Government pressed the Mdewakanton band of the Dakota to sell their land, allowing people arriving from the east to settle there. The Minnesota Territorial Legislature authorized present day Minneapolis as a town on the Mississippi's west bank in 1856. Minneapolis incorporated as a city in 1867, the year rail service began between Minneapolis and Chicago, and joined with the east bank city of St. Anthony in 1872.
Minneapolis grew up around Saint Anthony Falls, the highest waterfall on the Mississippi. Millers have used hydropower since the 1st century B.C., but the results in Minneapolis between 1880 and 1930 were so remarkable the city has been described as "the greatest direct-drive waterpower center the world has ever seen." In early years, forests in northern Minnesota were the source of a lumber industry that operated seventeen sawmills on power from the waterfall. By 1871, the west river bank had twenty-three businesses including flour mills, woolen mills, iron works, a railroad machine shop, and mills for cotton, paper, sashes, and planing wood. The farmers of the Great Plains grew grain that was shipped by rail to the city's thirty-four flour mills where Pillsbury and General Mills became processors. By 1905, Minneapolis delivered almost 10% of the country's flour and grist. At peak production, a single mill at Washburn-Crosby made enough flour for twelve million loaves of bread each day.
Minneapolis made dramatic changes to rectify discrimination as early as 1886 when Martha Ripley founded Maternity Hospital for both married and unmarried mothers. When the country's fortunes turned during the Great Depression, the violent Teamsters Strike of 1934 resulted in laws acknowledging workers' rights. A lifelong civil rights activist and union supporter, mayor Hubert Humphrey helped the city establish fair employment practices and a human relations council that interceded on behalf of minorities by 1946. Minneapolis contended with white supremacy, participated in desegregation and the African-American civil rights movement, and in 1968 was the birthplace of the American Indian Movement.
During the 1950s and 1960s as part of urban renewal, the city razed about two hundred buildings across twenty-five city blocks—roughly 40% of downtown, destroying the Gateway District and many buildings with notable architecture including the Metropolitan Building. Efforts to save the building failed but are credited with jumpstarting interest in historic preservation in the state.
From Wikipedia, the free encyclopedia.
MINNEAPOLIS, founded by Col. John H. Stevens, builder of the first house on the west side of the Mississippi here in 1849-50, organized as a township May 11, 1858, was transformed in 1886 to the village organizations of Golden Valley and St. Louis Park, excepting the eastern part of the township, which had been comprised in the city area. On the original site of this city, platting of village lots was begun in the spring of 1854 by Stevens, to which other plats were added in 1854-55. The state legislature, in an act approved March 1, 1856, authorized a town government with a council, which was inaugurated July 20, 1858. The city of Minneapolis was incorporated under an act of March 2, 1866, and its first election of officers was held February 19, 1867. It was enlarged, through union of the former cities of Minneapolis and St. Anthony, by a legislative act approved February 28, 1872, and the new city council was organized April 9, 1872. The city's present boundaries were established in 1927; its post office was established in 1854.
The earliest announcement and recommendation of this name was brought by Charles Hoag to the editor of the St. Anthony Express, George D. Bowman, on the day of its publication, November 5, 1852. It was then published, without time for editorial comment, which was very favorably given in the next issue on November 12. Soon this new name, compounded from Minnehaha and the Greek polis, "city," displaced the various earlier names that had attained more or less temporary acceptance, including All Saints, proposed by James M. Goodhue of the Minnesota Pioneer, Hennepin, Lowell, Brooklyn, Albion, and others.
The distinguished parts borne by both Hoag and Bowman in this opportune coinage of the name Minneapolis have been many times related, with gratitude to Hoag for the bright idea and to Bowman for his effective advocacy of it by his newspaper.
But a new claim, for the origination of the name by Bowman during a horseback ride from St. Anthony to Marine Mills on the St. Croix River was published in the summer of 1915 by a posthumous letter of Benjamin Drake, Sr., a cousin of Bowman, printed on page 1583 in vol. 3 of the late Capt. Henry A. Castle's History of Minnesota. The circumstantial evidences of truthfulness there shown for Bowman, as the first to receive the inspiration of uniting "Minnehaha" and "polis" to form this city name, seem quite conclusive.
It is probable, however, that Bowman had mentioned this idea to his friend Mr. Hoag, and that some days or weeks later, when Hoag had entirely forgotten this, it may have come again to his mind and been thought new and original with himself, immediately before his writing the short article by which this name was proposed in November 1852.
So each of these excellent early citizens of Minneapolis may have honestly believed himself the favored first originator of the city's name. They worked together unselfishly and successfully for its adoption, and they seem equally deserving of enduring fame for this service to the young city.
The claims for each are quite fully stated and discussed in the Minneapolis Journal, by Hon. John B. Gilfillan, January 7, 1917, and by the present writer a week later on January 14.
Courtesy Minnesota Historical Society
---
Government:
Minneapolis City Hall
350 South 5th Street
Minneapolis, MN 55415
Phone: (612) 673-3000
Fax: (612) 673-5970

Regular Business Hours:
Monday - Friday 8:00 am - 4:30 pm

City Council Meetings:
Biweekly on Fridays at 9:30 am


Title
Term Ends
Name and Address
Phone
Mayor
12/31/2022
Jacob Frey
(612) 673-2100
Council Member - Ward 1
12/31/2022
Kevin Reich
(612) 673-2201
Council Member - Ward 2
12/31/2022
Cam Gordon
(612) 673-2202
Council Member - Ward 3
12/31/2022
Steve Fletcher
(612) 673-2203
Council Member - Ward 4
12/31/2022
Phillipe Cunningham
(612) 673-2204
Council Member - Ward 5
12/31/2022
Jeremiah Ellison
(612) 673-2205
Council Member - Ward 6
12/31/2022
Jamal Osman
(612) 673-2206
Council Member - Ward 7
12/31/2022
Lisa Goodman
(612) 673-2207
Council Member - Ward 8
12/31/2022
Andrea Jenkins
(612) 673-2208
Council Member - Ward 9
12/31/2022
Alondra Cano
(612) 673-2209
Council Member - Ward 10
12/31/2022
Lisa Bender
(612) 673-2210
Council Member - Ward 11
12/31/2022
Jeremy Schroeder
(612) 673-2211
Council Member - Ward 12
12/31/2022
Andrew Johnson
(612) 673-2212
Council Member - Ward 13
12/31/2022
Linea Palmisano
(612) 673-2213
---
Post Office: Main Post Office:
US Post Office
100 S 1st Street
Minneapolis, MN 55401-2002
Phone: (612) 349-4715
Toll Free: (800) ASK-USPS
Fax: (612) 349-4970



Regular Business Hours:
Week Days 7:00 am - 8:00 pm
Saturday 9:00 am - 1:00 pm
Latest Collection at Post Office:
Week Days 8:00 pm
Saturday 8:00 pm
---
Utilities:
---
Major Employers:
| | | |
| --- | --- | --- |
| Employer | Products/Services | Employees |
| University of Minnesota | Colleges, Universities, & Professional Schools | 30,000 |
| Target Corporation | Other General Merchandise Stores | 25,734 |
| Allina Health System | All Other Outpatient Care Centers | 22,105 |
| Wells Fargo Bank MN | Commercial Banking | 20,175 |
| Fairview Health Services | All Other Outpatient Care Centers | 18,500 |
| Hennepin County | Other General Government Suppt. | 12,171 |
| U.S. Bankcorp | Comm. Banking | 9,500 |
| Ameriprise Financial Inc. | Misc. Financial Investment Activ. | 6,000 |
| United Parcel Service | Postal Service | 5,400 |
| Xcel Energy Inc. | Electric Power Generation, Transmission & Dist. | 5,057 |
| Honeywell ACS | Engineering Services | 5,000 |
| CenturyLink | Power & Comm. Line & Related Structures Const. | 4,390 |
| Children's Hospitals and Clinics | General Medical & Surgical Hospitals | 4,233 |
| City of Minneapolis | Other General Government Suppt. | 3,945 |
---
---
News:
---
Weather:
---
Map: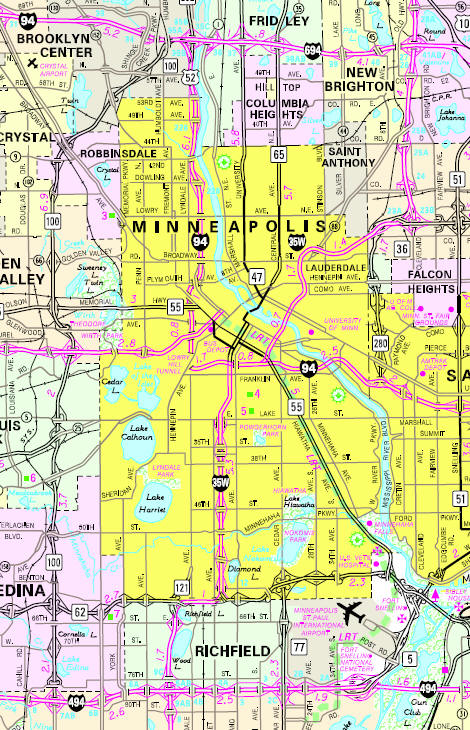 Minnesota State Highway Map of the Minneapolis, Minnesota area
---
Events:
---
---
Attractions:
---
Recreation:
---
Lakes:
---
Health Care:
---
Schools:
---
Churches:
---
Media:
---
Motels:
Check for motel rates and availability on:
---
Resorts:
---
Campgrounds:
---
---
Businesses:

The Minneapolis Business Directory is Coming Soon!

---
---
Aerial Photo:
---
Topographic Map: [click map to enlarge, zoom in or zoom out]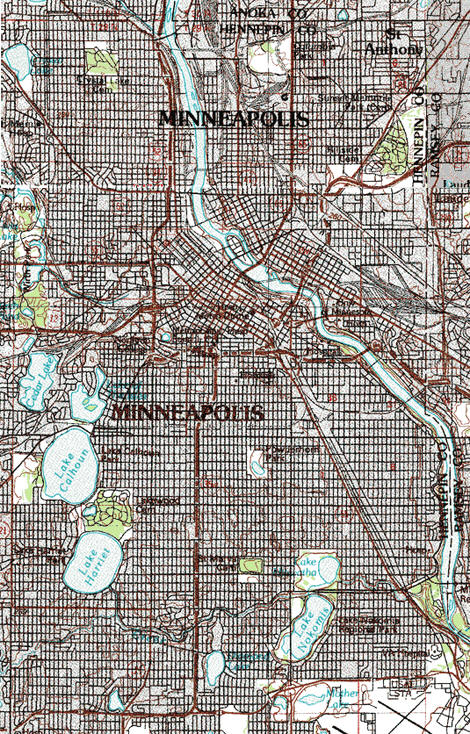 Topographic map is courtesy of the Minnesota DNR - click map to zoom or enlarge