Navigation
LakesnWoods.com
Home Page
Contact Us
Privacy
Minnesota History Shop

Visit The Minnesota History Shop
www.minnesotahistoryshop.com
Historic maps
Historic books
Historic framed art
Historic postcards
Clothing with historic images
And much more!!!


Mendota Heights Guide:
Photo Gallery
Location
Geography
Demographics
History
Government
Post Office
News
Weather
Street Map
Events
Attractions
Recreation
Lakes
Health Care
Schools
Churches
Media
Motels
Resorts
Campgrounds
Businesses
Aerial Photo
Topographic Map
© 2004-2023
Lakeweb1 Internet Services
All Rights Reserved
DCMA, Defamation, Copyright and Trademark Infingement Policy
WANTED!
Do you have photos, historical accounts or other items pertaining to the Mendota Heights area? Would you like to share this historical information with the world? LakesnWoods.com would like to publish your Mendota Heights photos (current or historical) or historical accounts on this website. Original materials can be returned and your privacy will be respected.

Mendota Heights Minnesota Community Guide
---
Location:
Mendota Heights is one of the Twin Cities' premier suburbs, offering high quality residential and business areas. The influence of river bluffs, rolling topography and wooded areas has provided an excellent setting for residential development. The topography led to the creation of a curvilinear local street system and allowed for intimate residential neighborhoods to be nestled amongst mature wooded settings, lakes, wetlands, nature preserves and the Mississippi and Minnesota River bluffs.

The nearly 11,000 residents of Mendota Heights enjoy close proximity to an extensive system of local and regional parks and convenient access to the regional highway system. Major employment centers such as downtown Minneapolis, St. Paul, MSP International Airport and the Mall of America are virtually only minutes away. These factors have help make Mendota Heights an attractive place to live and enable it to maintain a quiet, private way of life.

The city welcomes high quality business development, and approximately 25% of the city's 10 square miles has been reserved for that purpose. There are currently about 4,500 jobs in Mendota Heights, and that number is expected to grow to around 6,000.

Courtesy City of Mendota Heights
---
Population:
Mendota Heights (city)
1970
1980
1990
2000
2010
2000-2010 Change
Actual
Percent
Population
6,565
7,288
9,431
11,434
11,071
-363
-3.17
Land Area (sq. mile)
9.50
9.90
9.46
9.36
9.15
-0.21
-2.24
Density (persons per sq. mile)
691.1
736.2
996.9
1,222.2
1,209.9
-12.25
-1.00
Housing Units
1,657
2,292
3,410
4,252
4,620
+368
+8.65
Households
--
2,210
3,302
4,178
4,378
+200
+4.79
Persons Per Household
--
3.28
2.85
2.72
2.51
0.21
-7.72
---
Geography:
Mendota Heights is a city in Dakota County, Minnesota. It is a first ring southern suburb of the Twin Cities. Interstate Highway 35E, Interstate Highway 494, Minnesota Highways 55 and 62 are four of the main routes in the city. According to the United States Census Bureau, the city has a total area of 10.12 square miles (26.21 km2), of which 9.15 square miles (23.70 km2) is land and 0.97 square miles (2.51 km2) is water. The elevation is 912 ft (278 m) above sea level.
From Wikipedia, the free encyclopedia.
---
Demographics:
As of the census of 2010, there were 11,071 people, 4,378 households, and 3,204 families living in the city. The population density was 1,209.9 inhabitants per square mile (467.1/km2). There were 4,620 housing units at an average density of 504.9 per square mile (194.9/km2). The racial makeup of the city was 93.8% White, 1.5% African American, 0.2% Native American, 2.2% Asian, 0.6% from other races, and 1.8% from two or more races. Hispanic or Latino of any race were 2.9% of the population.
There were 4,378 households of which 29.1% had children under the age of 18 living with them, 64.4% were married couples living together, 6.4% had a female householder with no husband present, 2.3% had a male householder with no wife present, and 26.8% were non-families. 22.3% of all households were made up of individuals and 10.8% had someone living alone who was 65 years of age or older. The average household size was 2.51 and the average family size was 2.96.
The median age in the city was 47.5 years. 22.6% of residents were under the age of 18; 6.4% were between the ages of 18 and 24; 16.9% were from 25 to 44; 36.3% were from 45 to 64; and 17.7% were 65 years of age or older. The gender makeup of the city was 48.3% male and 51.7% female.
---
---
History:
Mendota Heights incorporated as a village in 1956 and was designated a city in 1974. While Mendota Heights is young in years, its heritage includes the first United States presence in Minnesota and, before that, French and English exploration and the fur trade.
In 1699 French explorer Le Sueur sailed past our bluffs looking for copper. In the 1700s both French and English pursued the fur trade at the confluence of the Mississippi and Minnesota rivers. Events at the confluence gave our city a special heritage. In 1805 Lt. Zebulon Pike selected a bluff at the confluence for Fort Snelling and purchased the property from the Dakota Indians. His military reservation extended across the river including almost half of today's Mendota Heights. In 1819 Col. Henry Leavenworth built cantonment New Hope (in our city) to assemble fort materials. With the construction of Fort Snelling, our neighboring historic village of Mendota formed around the American Fur Company post.
Mendota Heights shares National Register Historic Districts with Fort Snelling and the City of Mendota. Near the districts are the historic Mendota Bridge and Pilot Knob.
Fort Snelling Historic District: site of New Hope and a ferry crossing, which operated from 1836 to 1926. Early roads through Mendota Township terminated at the ferry.
Mendota Historic District: St. Peter's Church constructed with native limestone in 1853, is the oldest church in continuous use in Minnesota. There is also an 1864 stone arch rail bridge, and original St. Peter's log chapel site. The Mendota portion includes the homes of Sibley and Faribault and other period structures.
Fort-Snelling-Mendota Bridge: National Register site. When constructed in 1926, the Mendota Bridge was the world's longest concrete bridge. It spans the Minnesota River in 13 equal arches.
Pilot Knob. This prominent hill on the Minnesota Historic Inventory overlooks the confluence of the rivers. It is unusual in its broad scope of historical significance:
• Dakota Indians considered the hill sacred and often camped at nearby Lake Augusta.
• Steamboat pilots used it as a reference point, hence the name Pilot Knob. The first steamboat, the Virginia, arrived in 1823.
• Location of the 1851 Treaty of Mendota opening the Minnesota lands west of the Mississippi to settlement, including Dakota County. A marker is at the crest of hill.
• Named in the original Congressional Minnesota territorial bill as the capitol site.
Mendota Heights evolved from Mendota Township which, on May 4, 1858, was Dakota County's first township to organize. The Village of Mendota had been a city before the township formed, and after a brief return to the township, became a city again in 1887. Until 1950, truck and dairy farms were the business of Mendota Township. Clusters of urban type homes were within walking distance of the St. Paul border, and a few estates, two golf courses, and three cemeteries completed the landscape. The shopping center was Fischerville, which was also home to the volunteer fire department. In 1951 a portion of the township, Lilydale, incorporated as a village. On February 21, 1956, the residents of the remainder of Mendota Township voted to incorporte as the Village of Mendota Heights.
For a more complete history, read the Heritage of Mendota Heights brochure prepared by the Dakota County Historical Society.
Courtesy City of Mendota Heights
MENDOTA HEIGHTS, a city incorporated on February 21, 1956, as a village, absorbing Mendota Township.
Courtesy Minnesota Historical Society
---
Government:
Mendota Heights City Hall
1101 Victoria Curve
Mendota Heights, MN 55118
Phone: (651) 452-1850
Fax: (651) 452-8940

Regular Business Hours:
Monday - Thursday 7:00 am - 4:30 pm
Friday 7:00 am - 11:30 am

City Council Meetings:
1st and 3rd Tuesday of the month at 7:00 pm



Title
Term Ends
Name and Address
Phone

Mayor
12/31/2022
Stephanie Levine
1057 Overlook Road
Mendota Heights, MN 55118
(651) 686-0340

City Administrator
appointed

Mark McNeill
1101 Victoria Curve
Mendota Heights, MN 55118

(651) 255-1153

Council Member
12/31/2022
Ultan Duggan
2331 Copperfield Drive
Mendota Heights, MN 55118
(651) 452-5179

Council Member
12/31/2022
John R. Mazzitello
695 3rd Avenue
Mendota Heights, MN 55118
(651) 249-7306

Council Member
12/31/2024
Jay Miller
2475 Westview Terrace
Mendota Heights, MN 55118
(651) 994-0482

Council Member
12/31/2024
Joel Paper
1572 Boardwalk Court
Mendota Heights, MN 55118



(612) 237-1133
---
Post Office: Mendota Heights is served by the West St. Paul Post Office:
US Post Office
1201 Robert Street S
West St. Paul, MN 55118-2314
Phone: (651) 455-9551
Toll Free: (800) ASK-USPS

Regular Business Hours:
Week Days 9:30 am - 5:00 pm
Saturday 9:30 am - 1:00 pm
---
Utilities:
---
Major Employers:
Employer
Products/Services
Employees
not available
---
---
News:
---
Weather:
---
Map: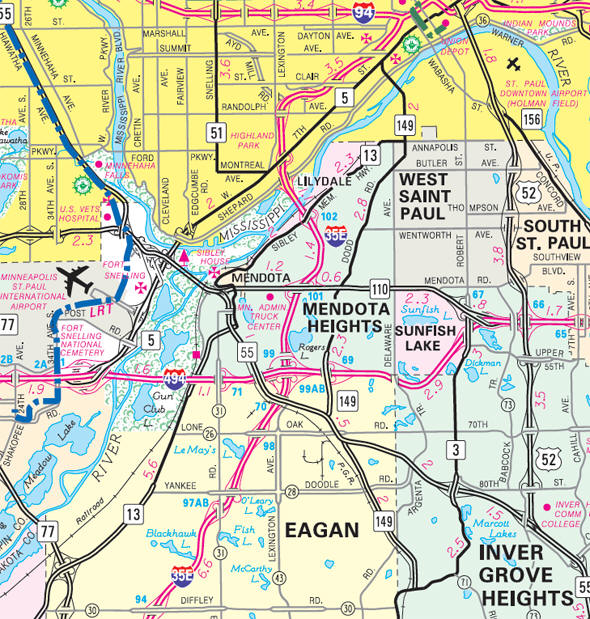 Minnesota State Highway Map of the Mendota Heights Minnesota area
---
Events:
---
---
Attractions:
Historic Pilot Knob Park
2100 Pilot Knob Road
Mendota Heights, MN 55118



Oheyawahi/ Pilot Knob is a place of cultural importance to the Dakota community and of significance in the history of Minnesota statehood. Visitors are treated to spectacular vistas looking northwest toward Historic Fort Snelling, Fort Snelling State Park, and downtown Minneapolis. It is a sacred site to the Dakota people. Wildlife also abounds here, particularly bird life and as the prairie restorations mature insects, such as pollinators, are also returning.




---
Recreation:
Big Rivers Regional Trail
1498 Mendota Heights Road
Mendota Heights, MN
Phone: (952) 881-7000

Located along the northern edge of Dakota County from Eagan to Lilydale, the Big Rivers Regional Trail is a scenic 4.5-mile paved trail that overlooks the confluence of the Minnesota and Mississippi Rivers. The trail also links to the 72-mile Mississippi National River and Recreation Area, hundreds of miles of trails throughout the greater Twin Cities area and historic landmarks including Fort Snelling, Pike Island and, one of Minnesota's oldest settlements, the city of Mendota. The Big Rivers Trailhead provides access to a nearly flat paved trail built on an abandoned railroad bed. Highway 55 in Mendota Heights, Interstate 494 in Eagan, and Interstate 35E in Mendota Heights are additional access points to the Big Rivers Regional Trail.


Friendly Hills Park
16 Navajo Lane
Mendota Heights, MN 55120



Located on 15 acres of land, Friendly Hills Park has a variety of amenities to offer residents of Mendota Hills. Different athletic opportunities are available with a softball field, soccer field, and skating rink open for residential use. Other amenities include picnic tables, warming house, two picnic shelters, and a playground. The park also features two tennis courts, volleyball courts, and a basketball court. For those looking for a peaceful walk outdoors, Friendly Hills is home a small pond surrounded by paved trails.




Kensington Park
2627 Concord Way
Mendota Heights, MN 55120



Kensington Park is split into north and south regions. In the south park, residents can enjoy two full-size adult soccer fields. Other amenities include a concessions building with restrooms, two picnic shelters, and playground equipment. Kensington's north end attracts more passive recreationists with a pond and nature area. An extensive trail system is spread throughout the both regions of the park.




Marie Park
Marie and Lilac Lane
Mendota Heights, MN 55118

During the winter months, Marie Park is the perfect destination to enjoy the outdoors. The park features a hockey and skating rink that are free of charge. A warming house is also maintained by the city for residents to use. Other amenities include a youth softball field, playground area, two tennis courts, and a concrete basketball court. A pond with walking trails is also located on the 6 acres park.


Mendakota Country Club
2075 Mendakota Drive
Mendota Heights, MN 55120
Phone: (651) 454-2822



Mendakota's beautiful and challenging golf course is just one of the many reasons to become a member. The Club features holiday events and member socials that are complemented by magnificent food. The picturesque patio, sophisticated dining room and relaxed grill make the private dining spaces perfect for celebrating milestones or unwinding on a casual night out.




Mendakota Park
2171 Dodd Road
Mendota Heights, MN 55120



Comprising almost 20 acres of land, Mendakota Park hosts the largest variety of amenities within the city. Four adult sized softball fields are located in the park, along with one full-sized soccer field. A full-sized, asphalt basketball court and athletic fields are also used by residents throughout the year. Another popular feature on Mendakota Park is its large playground area with a picnic shelter. Other amenities include a concessions building with restrooms, double batting cages, and paved trails.




Rogers Lake Park
994 Wagon Wheel Trail
Mendota Heights, MN 55120



Rogers Lake Park is one of Mendota Heights' featured lake parks. Besides water activities such as boating and fishing, Rogers Lake Park has a variety of amenities to offer to residents including a sand volleyball court, picnic shelter, and playground area. The most unique feature of the park, however, it its skate park. The fenced skate park is tier 1 and is one of the main attractions in the area. Other amenities include a fishing pier, concrete basketball court, and paved walking paths throughout the park.




Sibley Park




The premier park for athletic activities is Sibley Park. Located on Sibley High School, Sibley Park hosts many of the school's games. The park includes a soccer field, two softball fields, one full-sized baseball field, and double batting cages. A concessions building with restrooms is also located next to the fields and other football, track, and tennis facilities located nearby.
---
Lakes:
---
Health Care:
Concentra Mendota Heights Urgent Care
2520 Pilot Knob Road Suite 250
Mendota Heights, MN 55120



Concentra has been providing occupational medicine for more than 35 years, and offers urgent care, physical therapy and wellness services. We treat everything from sprains and broken bones to coughs, colds, and flu. Our clinical team includes board-certified doctors, licensed physical therapists, nurse practitioners, medical assistants, physician assistants, and other medical professionals.




---
Schools:
West St. Paul-Mendota Heights-Eagan Area Schools
Independent School District #197
1897 Delaware Avenue
Mendota Heights, MN 55118
Phone: (651) 403-7000



Welcome to West St. Paul-Mendota Heights-Eagan Area Schools, also known as School District 197! Our district is comprised of eight close-knit schools that serve more than 5,000 students from the communities of Eagan, Inver Grove Heights, Lilydale, Mendota, Mendota Heights, Sunfish Lake, and West St. Paul in Minnesota. School District 197 is fortunate to have a vibrant school community filled with a variety of academic, athletic, and artistic opportunities for students at every age, from early learning to grade 12.



Grades: PK-12
Students: 5,172


Henry Sibley High School
1897 Delaware Avenue
Mendota Heights, MN 55118
Phone: (651) 403-7100

Grades: 9-12
Students: 1,430


Friendly Hills Middle School
701 Mendota Heights Road
Mendota Heights, MN 55120
Phone: (651) 403-7600

Grades: 5-8
Students: 742


Heritage E-STEM Magnet School
121 W Butler Avenue
West St. Paul, MN 55118
Phone: (651) 403-7400

Grades: 5-8
Students: 759


Garlough Environmental Magnet School
1740 Charlton Street
West St. Paul, MN 55118
Phone: (651) 403-8100

Grades: K-4
Students: 446


Mendota Elementary School
1979 Summit Lane
Mendota Heights, MN 55118
Phone: (651) 403-8000

Grades: PK-4
Students: 427


Moreland Arts & Health Sciences Magnet School
217 W Moreland Avenue
West St. Paul, MN 55118
Phone: (651) 403-7800

Grades: K-4
Students: 409


Pilot Knob STEM Magnet School
1436 Lone Oak Road
Eagan, MN 55121
Phone: (651) 403-7900

Grades: K-4
Students: 395


Somerset Elementary School
1355 Dodd Road
Mendota Heights, MN 55118
Phone: (651) 403-8200

Grades: PK-4
Students: 414


---
Churches:
---
Media:
---
Motels:
Check for motel rates and availability on:
---
Resorts:
---
Campgrounds:
---
---
Businesses:

The Mendota Heights Business Directory is Coming Soon!

---
---
Aerial Photo:
---
Topographic Map: [click map to enlarge, zoom in or zoom out]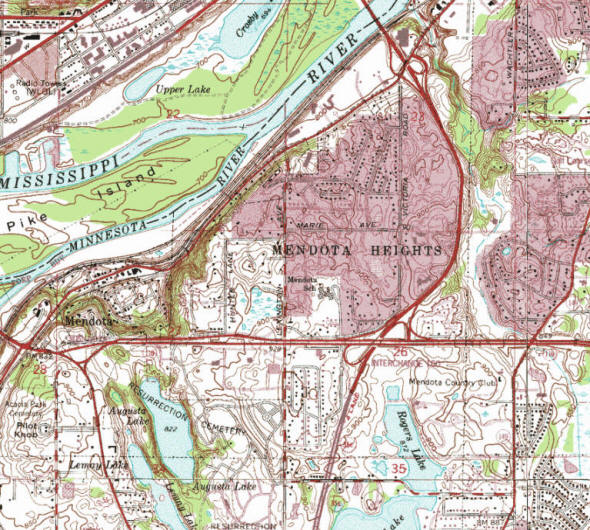 Topographic map is courtesy of the Minnesota DNR - click map to zoom or enlarge