Navigation
LakesnWoods.com
Home Page
Contact Us
Privacy
Minnesota History Shop

Visit The Minnesota History Shop
www.minnesotahistoryshop.com
Historic maps
Historic books
Historic framed art
Historic postcards
Clothing with historic images
And much more!!!


Maynard Guide:
Photo Gallery
Location
Geography
Demographics
History
Government
Post Office
News
Weather
Street Map
Events
Attractions
Recreation
Lakes
Health Care
Schools
Churches
Media
Motels
Resorts
Campgrounds
Businesses
Aerial Photo
Topographic Map
© 2004-2023
Lakeweb1 Internet Services
All Rights Reserved
DCMA, Defamation, Copyright and Trademark Infingement Policy
WANTED!
Do you have photos, historical accounts or other items pertaining to the Maynard area? Would you like to share this historical information with the world? LakesnWoods.com would like to publish your Maynard photos (current or historical) or historical accounts on this website. Original materials can be returned and your privacy will be respected.

Maynard Minnesota Community Guide
---
Location:
---
Population:
Maynard (city)
1970
1980
1990
2000
2010
2000-2010 Change
Actual
Percent
Population
455
428
419
388
366
-22
-5.67
Land Area (sq. mile)
0.50
0.68
0.65
0.65
0.65
0
0.00
Density (persons per sq. mile)
910.0
629.4
644.6
597.6
563.1
-34.5
-5.67
Housing Units
172
186
182
181
175
-6
-3.31
Households
--
166
164
163
158
-5
-3.07
Persons Per Household
--
2.58
2.55
2.38
2.32
-0.06
-2.52
---
Geography:
Maynard is a city in Chippewa County, Minnesota. Minnesota State Highway 23 serves as a main route in the community. According to the United States Census Bureau, the city has a total area of 0.6 square miles (1.7 km²), all of it land. The elevation is 1,030 ft (314 m) above sea level.
From Wikipedia, the free encyclopedia.
---
Demographics:
As of the census of 2010, there were 366 people, 158 households, and 99 families residing in the city. The population density was 563.1 inhabitants per square mile (217.4/km2). There were 175 housing units at an average density of 269.2 per square mile (103.9/km2). The racial makeup of the city was 92.6% White, 1.1% African American, 0.3% Native American, 1.1% Asian, and 4.9% from other races. Hispanic or Latino of any race were 5.5% of the population.
There were 158 households of which 27.2% had children under the age of 18 living with them, 51.9% were married couples living together, 6.3% had a female householder with no husband present, 4.4% had a male householder with no wife present, and 37.3% were non-families. 32.9% of all households were made up of individuals and 19% had someone living alone who was 65 years of age or older. The average household size was 2.32 and the average family size was 2.95.
The median age in the city was 43.3 years. 23.5% of residents were under the age of 18; 8.2% were between the ages of 18 and 24; 20.5% were from 25 to 44; 31.8% were from 45 to 64; and 16.1% were 65 years of age or older. The gender makeup of the city was 47.5% male and 52.5% female.
---
---
History:
MAYNARD, a city in Stoneham Township, sections 29 to 32, was platted in 1887 by John M. Spicer of Willmar, superintendent of this division of the Great Northern Railway, and was named "in honor of his sister's husband." The city was built on a townsite owned by J. V. H. Bailey and L. D. Ruddock and laid out by county surveyor Lycurgus Moyer; it was incorporated on January 8, 1897; its post office began in 1889. The city had five elevators, blacksmiths, hardware stores, grocery stores, banks, livery barns, and professional offices.
Courtesy Minnesota Historical Society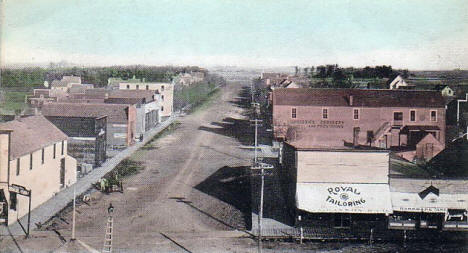 Birds eye view, Maynard Minnesota, 1900s
LakesnWoods.com Postcard and Postcard Image Collection - click to enlarge

Visit The Maynard Photo Gallery for more recent and historic area photos
---
Government:
Maynard City Hall
321 Mabel Street
PO Box 247
Maynard, MN 56260
Phone: (320) 367-2140
Fax: (320) 367-2504

Regular Business Hours:
Monday - Thursday 8:00 am - 4:00 pm

City Council Meetings:
2nd Monday of each month at 7:00 pm


Title
Term Ends
Name and Address
Phone
Mayor
12/31/2022
Richard Groothuis
141 Vardis Street
Maynard, MN 56260
(320) 367-2325
City Clerk
appointed
Nicole Strassburg
321 Mabel Street
Maynard, MN 56260
(320) 367-2140
Council Member
12/31/2022
Jay Maurice
441 Amy Street
Maynard, MN 56260
(320) 905-1871
Council Member
12/31/2022
Daniel J. Bristle
PO Box 22
Maynard, MN 56260
(320) 367-2486
Council Member
12/31/2024
Nancy Pierskalla
411 Cynthia Street
Maynard, MN 56260
(320) 250-9199
Council Member
12/31/2024
Kathryn Roberts
621 Cynthia Street
Maynard, MN 56260
(320) 367-2788
---
Post Office:
US Post Office
350 Spicer Avenue
Maynard, MN 56260-5000
Phone: (320) 367-2166
Toll Free: (800) ASK-USPS

Regular Business Hours:
Week Days 7:00 am - 11:00 am
Saturday Closed
---
---
Utilities:
---
Major Employers:
Employer
Products/Services
Employees

n/a
---
---
News:
---
Weather:
---
Map: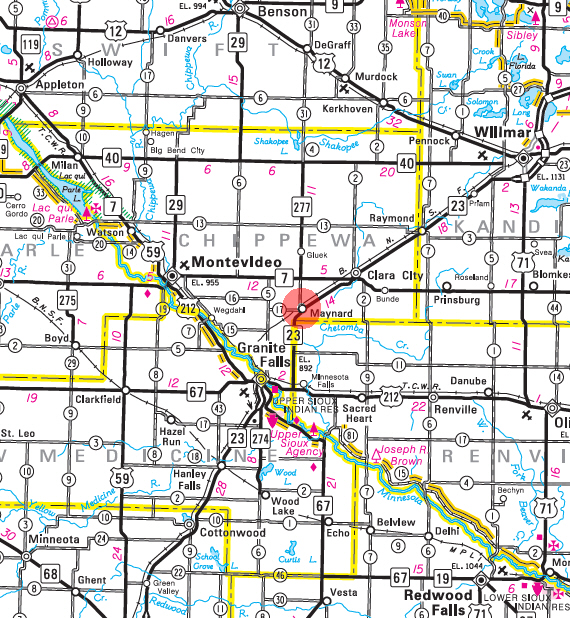 Minnesota State Highway Map of the Maynard Minnesota area
---
Events:
---
Attractions:
---
Recreation:
---
Lakes:
Lake Name
Size
(acres)
Lake info
Lake Map
Rec Map
Topo Map
none in the immediate area
---
Health Care:
---
Schools:
MACCRAY Schools
Independent School District #2180
711 Wolverine Drive
PO Box 690
Clara City, MN 56222
Phone: (320) 847-2154
Fax: (320) 847-3239
Web: www.maccray.k12.mn.us

Grades: K-12
Students: 674

MACCRAY High School
711 Wolverine Drive
PO Box 690
Clara City, MN 56222
Phone: (320) 847-2478
Fax: (320) 847-3239

Grades: 7-12
Students: 314

MACCRAY East Elementary School
309 Day Street
PO Box 215
Raymond, MN 56282
Phone: (320) 967-4281
Fax: (320) 967-4283

Grades: K-6
Students: 170

MACCRAY West Elementary School
180 Maccray Street
PO Box 276
Maynard, MN 56260
Phone: (320) 367-2396
Fax: (320) 367-2399

Grades: K-6
Students: 165
---
Churches:
First Presbyterian Church
651 Cynthia Street
Maynard, MN 56260
Phone: (320) 367-2700

Pastor: Beverly Crute
Sunday Worship: 11:00 am

Maynard Lutheran Church - ELCA
431 Dewey Avenue
Maynard, MN 56260
Phone: (320) 367-2465

Pastor: Kathy Skoglund
Sunday Worship: 9:30 am

Trinity Lutheran Church - LCMS
1055 20th Street NE
Maynard, MN 56260
Phone: (320) 367-2703
Web: www.sjlcmonte.com

Pastor: Rev. Kent Borglum
Sunday Worship:

varies - see website or call

Wang Lutheran Church - LCMC
12781 890th Avenue
PO Box 185
Maynard, MN 56260
Phone: (320) 367-2700

Pastor: Brad Larson
Sunday Worship: 10:30 am
---
Media:
---
Motels:
Check for motel rates and availability on:
---
Resorts:
---
Campgrounds:
---
---
Businesses:
80th Street Aggregates
1025 80th Street SE
Maynard, MN 56260
Phone: (320) 841-0472
Web: www.80thstreetaggregates.com



In addition to providing a number of gravel, fill, and topsoil products, we can help with landscaping, erosion control, tree removal, excavation and demolition, snow removal, and more.

Aeikens Farms
8010 80th Avenue SE
Maynard, MN 56260
Phone: (320) 367-2375
Bruce Soine Grain Dryer Repair
420 Cynthia Street
Maynard, MN 56260
Phone: (320) 367-2573
Budger's Dinner House
331 Cynthia Street
Maynard, MN 56260
Phone: (320) 367-2110



Budger's is independently owned and operated by the Beasley family. Over the years, we have become known for our hand cut steaks, real potatoes, fresh ground hamburger and homemade pork BBQ ribs. Year after year we strive to serve the best tasting food at a reasonable price.




Cargill Ag Horizons
250 Sheridan Street
PO Box 217
Maynard, MN 56260
Phone: (320) 367-2175
Web: www.cargillag.com
Citizens Alliance Bank
240 Spicer Avenue
Maynard, MN 56260
Phone: (320) 367-2183
Web: www.citizensalliancebank.com
Countryside Auto Body and Sales
8075 Chip Renville Street SE
Maynard, MN 56260
Phone: (320) 367-2335
Web: www.countrysideautobodyandsales.com



Countryside Auto Body & Sales is a Maynard Auto Repair, Framework Repair and Auto Glass Repair that offers superior Auto Repair, Framework Repair and Auto Glass Repair services to Maynard, Clara City, Granite Falls, and surrounding communities. Our mission is to service your vehicle as quickly and effectively as possible so that you experience the least amount of delay in getting back to your daily activities. We strive to offer the very best prices on both products and garage services, ensuring you are safely back on Maynard's roads without having to empty your wallet.

Cronen Construction
5075 100th Avenue SE
Maynard, MN 56260
Phone: (320) 847-3837
Dave's Plumbing Repair
6095 State Highway 7 SE
Maynard, MN 56260
Phone: (320) 847-2281
Drex Mart Inc.
221 Cynthia Street
Maynard, MN 56260
Phone: (320) 367-2167
Ellingboe Brothers
7045 80th Street SE
Maynard, MN 56260
Phone: (320) 367-2964
Gustafson Farms of Maynard
4090 60th Street SE
Maynard, MN 56260
Phone: (320) 367-2769
Harvey Koenen Farms
6065 100th Avenue SE
Maynard, MN 56260
Phone: (320) 847-2183
Impact Innovations
1 E Industrial Blvd.
Maynard, MN 56260
Phone: (320) 367-2355
Web: www.impactinnovationsinc.com



Our commercial products division, where we have been a pioneer in the use of UV Printing. We offer a broad range of products and capabilities including merchandising trays, displays and plastic cards to create successful innovative solutions to our clients printing, display, and promotional needs.

Maynard City Hall
321 Mabel Street
PO Box 247
Maynard, MN 56260
Phone: (320) 367-2140
Fax: (320) 367-2504
Web:

www.maynardmn.com

Maynard Public Library
321 Mable Avenue
Maynard, MN 56260
Phone: (320) 367-2143
Web: www.maynard.lib.mn.us
Mike McNeil Construction
4065 10th Street SE
Maynard, MN 56260
Phone: (320) 367-2197
Moldy's Liquor
350 Cynthia Street
Maynard, MN 56260
Phone: (320) 367-9191


Randall Rodney Farms
7075 80th Street SE
Maynard, MN 56260
Phone: (320) 367-2960
Soine Grain Systems Inc.
420 Cynthia Street
Maynard, MN 56260
Phone: (320) 367-2573
Sugar Beet Terminal
6050 50th Avenue SW
Maynard, MN 56260
Phone: (320) 367-2022
Sunderland Engineering
Maynard, MN 56260
Phone: (320) 226-6627
Web: www.sunderland-engineering.com
Transplant-E Inc.
5075 70th Street SE
Maynard, MN 56260
Phone: (320) 367-2368
Truwe Precision Machining
138 Vardis Street
Maynard, MN 56260
Phone: (320) 367-2832
Web: www.truwe.com
US Post Office
350 Spicer Avenue
Maynard, MN 56260-5000
Phone: (320) 367-2166
Toll Free: (800) ASK-USPS
Web:

www.usps.com
---
---
Aerial Photo:
---
Topographic Map: [click map to enlarge, zoom in or zoom out]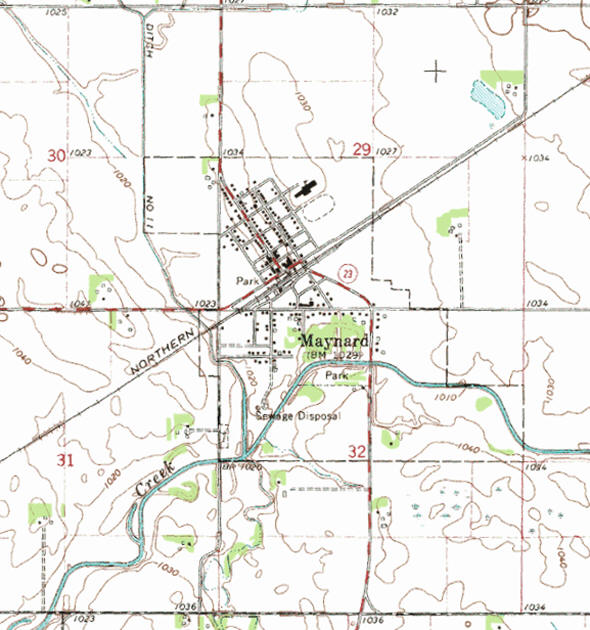 Topographic map is courtesy of the Minnesota DNR - click map to zoom or enlarge