Navigation
LakesnWoods.com
Home Page
Contact Us
Privacy
Minnesota History Shop

Visit The Minnesota History Shop
www.minnesotahistoryshop.com
Historic maps
Historic books
Historic framed art
Historic postcards
Clothing with historic images
And much more!!!


Mapleton Guide:
Photo Gallery
Location
Geography
Demographics
History
Government
Post Office
News
Weather
Street Map
Events
Attractions
Recreation
Lakes
Health Care
Schools
Churches
Media
Motels
Resorts
Campgrounds
Businesses
Aerial Photo
Topographic Map
© 2004-2023
Lakeweb1 Internet Services
All Rights Reserved
DCMA, Defamation, Copyright and Trademark Infingement Policy
WANTED!
Do you have photos, historical accounts or other items pertaining to the Mapleton area? Would you like to share this historical information with the world? LakesnWoods.com would like to publish your Mapleton photos (current or historical) or historical accounts on this website. Original materials can be returned and your privacy will be respected.


(design available on over 100 different items!)


(design available on over 150 different items!)

Mapleton Minnesota Community Guide
---
Location:
---
Population:
Mapleton (city)
1970
1980
1990
2000
2010
2000-2010 Change
Actual
Percent
Population
1,307
1,516
1,526
1,678
1,756
+78
+4.65
Land Area (sq. mile)
1.50
1.83
1.47
1.50
1.46
-0.04
-2.67
Density (persons per sq. mile)
871.3
828.4
1,038.1
1,117.8
1,202.7
+84.9
+7.60
Housing Units
446
589
587
656
715
+59
+8.99
Households
--
547
560
637
681
+44
+6.91
Persons Per Household
--
2.63
2.59
2.49
2.58
+0.09
+3.61
---
Geography:
Mapleton is a city in Blue Earth County, Minnesota. Minnesota State Highways 22 and 30 are two of the main routes in the city. According to the United States Census Bureau, the city has a total area of 1.46 square miles (3.78 km²), all of it land. The elevation is 1,037 ft (316 m) above sea level.
From Wikipedia, the free encyclopedia.
---
Demographics:
As of the census of 2010, there were 1,756 people, 681 households, and 475 families residing in the city. The population density was 1,202.7 inhabitants per square mile (464.4 /km2). There were 715 housing units at an average density of 489.7 per square mile (189.1 /km2). The racial makeup of the city was 97.4% White, 0.8% African American, 0.1% Native American, 0.5% Asian, 0.1% Pacific Islander, and 1.1% from two or more races. Hispanic or Latino of any race were 1.9% of the population.
There were 681 households of which 37.0% had children under the age of 18 living with them, 52.0% were married couples living together, 11.6% had a female householder with no husband present, 6.2% had a male householder with no wife present, and 30.2% were non-families. 26.9% of all households were made up of individuals and 14% had someone living alone who was 65 years of age or older. The average household size was 2.48 and the average family size was 2.99.
The median age in the city was 36.9 years. 27.4% of residents were under the age of 18; 6.4% were between the ages of 18 and 24; 25.8% were from 25 to 44; 23% were from 45 to 64; and 17.5% were 65 years of age or older. The gender makeup of the city was 48.4% male and 51.6% female.
---
---
History:
MAPLETON, first settled in April 1856, was named Sherman in 1858 for Isaac Sherman, an old settler of Danville, or perhaps for Asa P. Sherman of this township. It was organized, with its first town meeting, April 2, 1861, taking its present name from the Maple River, which received this name from the government surveyors in 1854 for its plentiful maple trees. The site of the city of Mapleton, in section 4, was first settled in 1856 by a colony named the Minnesota Settlement Association from New York. The first townsite was platted in section 7 in 1858 but was soon superseded by a new townsite, platted January 21, 1871, on land owned by David Smith in section 4. The city was incorporated on February 23, 1878. The city had a station of the Southern Minnesota Railroad; its post office, begun in 1857, was called Mapleton, Old Mapleton, Hawkins (Sylvester Hawkins being postmaster, 1863-66), and then Mapleton Station until 1888, when it was reestablished as Mapleton.
Courtesy Minnesota Historical Society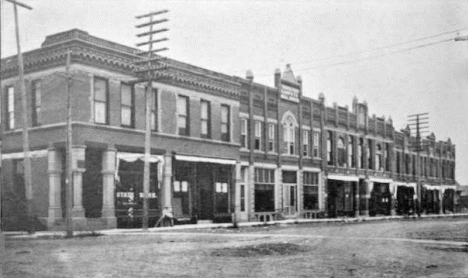 Street scene, Mapleton Minnesota, 1910s
LakesnWoods.com Postcard and Postcard Image Collection - click to enlarge

Visit The Mapleton Photo Gallery for more recent and historic area photos

---
Government:
Mapleton City Hall
104 2nd Avenue NE
PO Box 366
Mapleton, MN 56065
Phone: (507) 524-3492
Fax: (507) 524-4536

Regular Business Hours:
Monday Tuesday Friday 8:00 am - 4:30 pm
Wednesday and Thursday 8:00 am - 2:00 pm

City Council Meetings:
1st and 3rd Tuesday of the month



Title
Term Ends
Name and Address
Phone
Mayor
12/31/2022
John Hollerich
506 1st Avenue SW
Mapleton, MN 56065
(507) 995-4228
City Clerk
appointed
Amber Duncanson
104 2nd Avenue NE
Mapleton, MN 56065
(507) 524-3492
Council Member
12/31/2022
Annie Froehlich
207 Maple Street
Mapleton, MN 56065
(952) 797-6544
Council Member
12/31/2022
Kevin Maslakow
205 4th Avenue SE
Mapleton, MN 56065
(507) 420-1961
(507) 524-4559
Council Member
12/31/2024
Kenneth Warner
207 2nd Avenue SE
Mapleton, MN 56065
(507) 524-3291
Council Member
12/31/2024
Mathew Malone
101 Scott Court NW
Mapleton, MN 56065
(507) 469-8822
---
Post Office:
US Post Office
315 Main Street E
Mapleton, MN 56065-4402
Phone: (507) 524-3688
Toll Free: (800) ASK-USPS

Regular Business Hours:
Week Days 9:00 am - 12:30 pm
1:30 pm - 4:30 pm
Saturday 9:00 am - 10:00 am





---
---
Utilities:
---
Major Employers:
---
---
News:
---
Weather:
---
Map: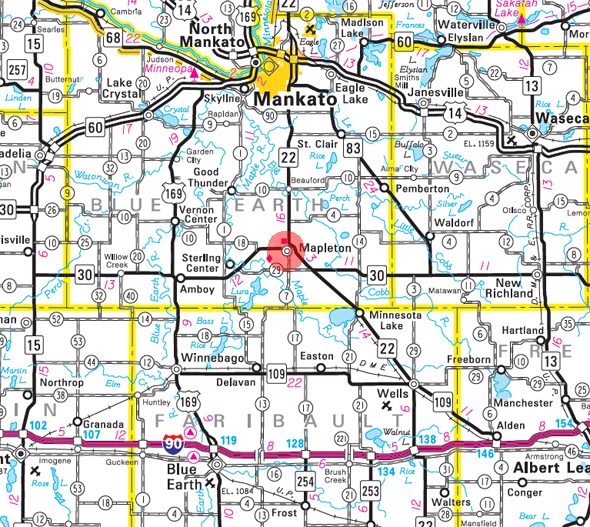 Minnesota State Highway Map of the Mapleton Minnesota area
---
Events:
Town and Country Days

Second weekend in June



Carnival, Free music, Street Dance, Beer Garden, Kiddie Parade, Grand Parade, Bingo, Food Stands, Demo Derby, Kids Pedal Pull, Quilt Show, Museum, Pancake Breakfast, Silent Auction, Pie & Ice Cream Fundraiser, Petting Zoo, Walking Tour, Bean Bag Tournament, Make and Take model building class.




---
---
Attractions:
---
Recreation:
Daly Park
11056 571st Lane
Mapleton, MN 56065
Phone: (507) 304-4040



Daly Park is on the northeastern shore of Lura Lake off County Road 191, about 4.5 miles southwest of Mapleton. This scenic, wooded / open-space park provides a wide range of facilities for overnight campers and picnickers. An island with a 0.5 mile-long primitive trail allows exploration of the natural state of the island. A caretaker is in residence year round. To reserve a shelter call (507) 524-3000. To reserve a campsite you do so online or call (507) 524-3000.




---
Lakes:
---
Health Care:
Mankato Clinic
305 Main Street E
Mapleton, MN 56065
Phone: (507) 524-3835
Web: www.mankatoclinic.com/mapleton

The Mankato Clinic is now one of Minnesota's largest physician owned, multi-specialty regional group practices and represents the most comprehensive array of high-quality, professional health-care services in the area. With over 90 years and 115 physicians and healthcare professionals providing care to the region, the philosophy of the Mankato Clinic has always been to bring quality healthcare services to the community, close to home whenever possible.


---
Schools:
Maple River School District
Independent School District #2135
101 6th Avenue NE
Mapleton, MN 56065
Phone: (507) 524-3915
Fax: (507) 524-4882
Web: www.isd2135.k12.mn.us

Grades: PK-12
Students: 1,085

Maple River High and Middle School
101 6th Avenue NE
Mapleton, MN 56065
Phone: (507) 524-3930
Fax: (507) 524-4882

Grades: 6-12
Students: 587

Maple River West Elementary School
311 Willard Street
Good Thunder, MN 56037
Phone: (507) 278-3039
Fax: (507) 278-4266

Grades: K-5
Students: 258
---
Churches:
---
Media:
---
Motels:
Check for motel rates and availability on:
---
Resorts:
---
Campgrounds:
Daly Park
11056 571st Lane
Mapleton, MN 56065
Phone: (507) 304-4040



86 mobile sites, 67 electric, plus tent camping. Resident caretaker, 2 bath houses with showers, playground equipment, volleyball, tennis, horseshoes, swimming beach, hiking trails, 9 hole disc golf course, picnic shelter, boat ramp & fishing docks. This 93-acre park is located on the shores of Lura Lake with many scenic attractions to offer. For camping and shelter reservations, phone (507) 524-3000.




---
---
Businesses:
21st Century Ag
502 Silver Street E
Mapleton, MN 56065
Phone: (507) 524-4906
Web: www.21stcenturyag.com

You want responsive fertilizer products that work where and when you need them. Agro-Culture Liquid Fertilizers deliver unsurpassed nutrient efficiency and application flexibility. Your fertilizer investment is too important to risk! No matter what your method of application, you can rest assured that the investment you make in Agro-Culture Liquid Fertilizers will be money well spent.


Aberfoyle Vineyards & Nursery
58143 111th Street
Mapleton, MN 56065
Phone: (612) 481-8115
Web: www.aberfoyle.org



Specialists in cold hardy grape vines from the University of Minnesota and Elmer Swenson. UMN wine and table grapes for cold climates, retail to wholesale.




Agri Sources LLC
502 Silver Street E
Mapleton, MN 56065
Phone: (507) 524-4906
Fax: (507) 524-3642
Web: www.agsolutionsmn.com



You want responsive crop products that work where and when you need them. We can help you create a customized program to fit your budget and operation. Our key products Agro Liquid fertilizer and GYPSOIL brand gypsum deliver unsurpassed nutrient efficiency and application flexibility.




All Pets Medicine Surgery and Rehab
106 State Highway 22
PO Box 477
Mapleton, MN 56065
Phone: (507) 524-3748
Web: www.allpetsvetmed.com

Located in Mapleton, Minnesota, (only 15 minutes South of Mankato), we are committed to providing quality, friendly care to all pets in the South Central Minnesota Area.


B & R Auto and Truck Salvage
15930 State Highway 22
Mapleton, MN 56065
Phone: (507) 524-3735
Web: www.bandrautotrucksalvage.com



B & R Auto & Truck Salvage, southern Minnesota's premier shop for used auto parts, scrap metal, and junk vehicles.




Balloon Art and Decorating
57988 229th Street
Mapleton, MN 56065
Phone: (507) 387-3326
Web: www.balloonartanddecorating.com



Whether you are planning a large or a small event, let Balloon Art And Decorating prepare that special attention to detail that captures your unique style. We assure you that all the details you have planned for your special occasion will be carried out with personalized care. We offer you the latest in design and decor. Check out our portfolio and start planning your next event.




Beacon at Mapleton
206 3rd Avenue SE
Mapleton, MN 56065
Phone: (507) 524-4990
Web: www.monarchmn.com/the-beacon-at-mapleton



The Beacon at Mapleton offer residents the freedom of independent living blended with privacy and around-the-clock services of assisted living tailored to meet our customers' needs. Our residents enjoy a vibrant atmosphere that enhances independence and that has a variety of services that give our customers peace of mind. Monarch Healthcare Management professionals are on duty 24-hours per day to assist our residents with any needs.




Beam Builtin Vacuums
103 Calm Court SW
Mapleton, MN 56065
Phone: (507) 345-3873


Bernie Langworthy Painting
104 Main Street NE
Mapleton, MN 56065
Phone: (507) 524-4619
Web: www.blangworthypainting.com

B. Langworthy Painting and Finishing Inc. is a painting contractor for residential and small commercial jobs. We have been servicing Southern MN with quality painting and decorating services for 35 years.


Boening Brother Construction
117 State Highway 22
Mapleton, MN 56065
Phone: (507) 524-3730


Casey's General Store
504 Central Avenue N
Mapleton, MN 56065
Phone: (507) 524-4555
Web: www.caseys.com

Casey's customers have come to know that inside each store they will find dedicated, helpful, and well-trained employees, exceptional prepared food items, and a clean environment in which to shop.


CFS (Central Farm Service)
404 State Highway 22 S
Mapleton, MN 56065
Phone: (507) 524-3130
Web: www.cfscoop.com



Formed by the union of strong, successful ag-focused cooperatives with rich traditions and deep roots in the communities we serve, CFS turns progress into powerful solutions for our customers. We are shaped by our past experience, not bound by it. We use what we have learned as a foundation that allows us to work efficiently in the present, and we are focused on shaping the future.




Child Care Center
604 Main Street E
Mapleton, MN 56065
Phone: (507) 524-4541


Choice Connection
15503 State Highway 22
Mapleton, MN 56065
Phone: (507) 462-3714


Community Closet
201 Main Street
Mapleton, MN 56065
Phone: n/a


Curb Appeal of Southern Minnesota
402 3rd Avenue SE
Mapleton, MN 56065
Phone: (507) 381-0111
Web: www.curbappealsomn.net



Curb Appeal Of So MN Inc offers the greater Mankato, MN area professional landscaping services. We specialize in building custom dividers to separate your garden from the rest of your lawn.




Dick's Designs Inc.
24501 470th Avenue
Mapleton, MN 56065
Phone: (507) 524-3275

Dick and Marion Sonnek are retired dairy farmers who have gardened for forty years. It was Marion who persuaded Dick to begin designing garden ornaments, leading to Dick's Designs, Inc.


Dietz Foods
200 Main Street NE
PO Box 335
Mapleton, MN 56065
Phone: (507) 524-3833
Web: www.dietzfoods.com

We are your local community connection for high quality foods, friendly service and great prices. Our family-owned store offers a convenient one-stop shop where you can find everything you need from the everyday essentials to specialty items from around the world. Our friendly staff is here to help you find exactly what you're looking for and to offer you assistance regarding all the products we carry.


Dirt Cheap Landscaping
58796 158th Street
Mapleton, MN 56065
Phone: (507) 995-8435
Web: www.dclandscapingmn.com



Dirt Cheap Landscaping was founded in 1989, and has been providing quality landscaping to commercial and residential customers ever since. D.C. Landscaping is based out of Mankato, MN, yet services all of southern MN. We are happy to provide free estimates to any potential customers and help to make your landscaping dreams come true.




Ero-Guard
412 State Highway 22
Mapleton, MN 56065
Phone: (507) 524-3394
Web: www.ero-guard.com

Ero-Guard is pleased to offer a new updated website with more resources for all your erosion needs. Over the last 5 years Ero-Guard has grown to become one of the premier erosion control blanket manufactures in the country. Centrally located in the Upper Midwest with capabilities to make both 16' and 8' wide products along with a complete line ranging from straw, excelsior, straw/coconut, pure coconut to TRM's. We're small enough to know you and large enough to get ANY job done!


Extra Storage
201 State Highway 22
PO Box 335
Mapleton, MN 56065
Phone: (507) 524-3833


Garage Ink, LLC
108 Scott Court NW
Mapleton, MN 56065
Phone: (507) 524-4715
Web: www.garageinkllc.com


Gartner Garage
104 1st Avenue NW
Mapleton, MN 56065
Phone: (507) 524-3515


Generator System Services, Inc.
407 3rd Avenue SE
Mapleton, MN 56065
Phone: (507) 524-4940
Web: www.generatorsystemservices.com

Generator System Services, Inc. started operation in February 2003. The company was founded by Tim Miller and Robert Ryg who have over 28 years of combined experience in the standby generator industry.


Grandpa's Workshop
12704 565th Avenue
Mapleton, MN 56065
Phone: (507) 524-4661


Hair Designers
207 Main Street E
PO Box 483
Mapleton, MN 56065
Phone: (507) 327-6813

Services include hair styling, coloring, highlighting, coloring; other services including tanning beds, facial waxing and ear piercing


Hatanpa Insurance
217 Main Street E
Mapleton, MN 56065
Phone: (507) 524-4145
Web: www.aaronhatanpa.com


Hawk Alarm Systems
201 Main Street NE
PO Box 336
Mapleton, MN 56065
Phone: (507) 524-4194
Web: www.hawkalarm.net

With a Hawk system, your property is monitored by trained professionals 24 hours a day, 7 days a week. You have 24-hour access to our customer service experts. Every home and every business is unique. That's why we custom design a system to meet your specific needs. We've been in the business for over 25 years and are currently doing business in 15 states.


Head Start
104 Main Street E
Mapleton, MN 56065
Phone: (507) 524-4478


Healy Electric
208 1st Avenue SE
Mapleton, MN 56065
Phone: (507) 524-4053


Heather Curling Club
315 Silver Street W
Mapleton, MN 56065
Phone: (507) 524-3733
Web: www.mapletoncurlingclub.org

I am sure that somewhere in the United States there is a town small than ours that has a four sheet curling rink, but I doubt that there are many. Our community of 1700 is fortunate to have a curling rink. Curling is sometimes called the "Grand Old Game," and the grand game is thought to be about five hundred years old although historians still debate whether it began in Scotland or Europe. With Mapleton's Scottish roots, it's not surprising that most of our club members probably favor the idea of a Scottish origin to curling.


Heritage Place of Mapleton
303 Troendle Street SW
Mapleton, MN 56065
Phone: (507) 524-3315


Homestead Realty
306 Main Street E
PO Box 447
Mapleton, MN 56065
Phone: (507) 524-3595
Web: www.homestead4sale.com


Innate Wellness Center
306 Main Street NE
Mapleton, MN 56065
Phone: (507) 524-4000


Ireland Electric
56403 State Highway 22
Mapleton, MN 56065
Phone: (507) 524-4918


Isebrand Rolloffs
701 Troendle Street SE
Mapleton, MN 56065
Phone: (507) 420-5547
Web: www.isebrandrolloffs.com



We are a local dumpster rental company located south of Mankato, MN. We serve all of Blue Earth County, Faribault County and Waseca County areas. We offer 10, 15 and 20 yard rolloff containers!




Jenkins Auto Body and Sales
203 3rd Avenue SE
Mapleton, MN 56065
Phone: (507) 524-4088


Kaduce Tire
408 State Highway 22
Mapleton, MN 56065
Phone: (507) 524-4999
Web: www.kaducetire.com

Kaduce Tire located in Mapleton, MN offers a full tire service for all tire brands. All brands are available, and we accept special orders for Bridgestone and Firestone.


Krengel Brothers Tiling and Excavation
401 Central Avenue N
PO Box 385
Mapleton, MN 56065
Phone: (507) 524-3635
Web: www.krengelbrothers.com

For over 56 years, Krengel Bros Tiling & Excavation in Mapleton, MN has been providing professional drainage and septic services in the locality. Our company guarantees you excellent workmanship on your systems to ensure their efficiency. We offer only a full service quality service at an affordable price.


Kunkel Electric
58799 142nd Street
Mapleton, MN 56065
Phone: (507) 524-3170
Web: www.kunkelelectric.com


Lawn Pro Lawn Tree and Landscape
15399 615th Avenue
Mapleton, MN 56065
Phone: (507) 869-3847
Web: www.lawnpromn.com

LawnPro of Mankato provides lawn care, tree care and landscape service throughout much of Southern Minnesota. LawnPro has been in business since 1973 and growing ever since. We are a locally owned and operated company with offices in the Mankato and Rochester, Minnesota areas.


M & M Insurance
302 Main Street E
Mapleton, MN 56065
Phone: (507) 524-3810
Fax: (507) 524-4155
Web: www.mminsagency.com

Our insurance agency is here to help you and your business. From requesting a quote on your car, business or home to a custom package that fits all of your needs, we're your one-stop shop for all things Insurance-related.


Maggie J's
203 Main Street E
Mapleton, MN 56065
Phone: (507) 524-3663
Web: www.maggiejsmapleton.com



Maggie J's is a premier restaurant and bar located in downtown Mapleton, Minnesota. Maggie J's was established in 2015 by owner, Jason Langworthy. On our menu, you will find a varitey of American foods including salads, homemade soups, pastas, sandwiches, burgers, wraps, entrees, and homemade desserts. All of our sauces, batters, and dressings are made in house.




Mainstream Cabinets
306 Main Street E
PO Box 386
Mapleton, MN 56065
Phone: (507) 524-3377
Web: www.mainstreamcabinets.com

The Mainstream Cabinets Showroom is conveniently located at 306 Main St. in Mapleton, MN (just 16 miles south of Mankato). The showroom has Frameless, European and Traditional Face Frame cabinets, in standard overlay, full overlay and inset styles. Various wood types and countless door styles are on display. Many choices of stain and paint colors, some with glazing and distressing techniques, are also there for viewing.


Mankato Clinic
305 Main Street E
Mapleton, MN 56065
Phone: (507) 524-3835
Web: www.mankatoclinic.com/mapleton

The Mankato Clinic is now one of Minnesota's largest physician owned, multi-specialty regional group practices and represents the most comprehensive array of high-quality, professional health-care services in the area. With over 90 years and 115 physicians and healthcare professionals providing care to the region, the philosophy of the Mankato Clinic has always been to bring quality healthcare services to the community, close to home whenever possible.


Maple Mart
407 Silver Street E
Mapleton, MN 56065
Phone: (507) 524-4400


Maple River Chamber of Commerce
301 Main Street E
PO Box 288
Mapleton, MN 56065
Phone: (507) 524-4756
Web: www.mapletonchamber.com

The mission of the Maplet River Chamber of Commerce is to lead, inform, advocate and advance business interests for members and to promote a healthy community and growing economy.


Maple River Loaves and Fishes
104 Central Avenue N
PO Box 277
Mapleton, MN 56065
Phone: (507) 524-3046


Maple River Messenger
309 Main Street W
PO Box 425
Mapleton, MN 56065
Phone: (507) 524-3212
Web: www.maplerivermessenger.com



For us, community is number one. We believe in hometowns with both roots and a future. We believe that everyday we vote by the choices we make. We vote by where we spend our time and our money. We vote by what we give our attention to. We vote by the company we keep and the standards we uphold. As a family and as a business, we try and cast our vote for all things local, for small business, for education, for family, for health, and for our faith. We thank you for taking the time to get to know a little more about us, and we look forward to getting to know more about you.




Maple River Welding
12314 560th Avenue
Mapleton, MN 56065
Phone: (507) 524-4422


Mapleton Car Wash
407 4th Avenue NE
Mapleton, MN 56065
Phone: (507) 524-4644


Mapleton City Hall
104 2nd Avenue NE
PO Box 366
Mapleton, MN 56065
Phone: (507) 524-3492
Fax: (507) 524-4536
Web: www.mapletonmn.com


Mapleton Community Home
301 Troendle Street SW
Mapleton, MN 56065
Phone: (507) 524-3315
Web: www.mapletoncommunityhome.com

Our nursing home and rehabilitation center was founded in 1965 by the local community. We are currently a sixty bed, nonprofit skilled nursing facility. Our dedicated 9 member board of directors oversee operations and expenditures. We feature a staff that have more than 20 years of nursing care experience. Our highly respected nursing facility is known for our talented and committed staff.


Mapleton Elevator
502 Silver Street E
Mapleton, MN 56065
Phone: (507) 524-4404
Web: www.mapletonelevator.com

We provide a grain company where the elevator still provides services for its customers. Our customers are intelligent business people who want practical solutions, in getting grain profits from opportunity markets that come from normal carries of a given annual market movement. They expect to accomplish this task through as little expenditure of time and money as possible.


Mapleton Family Dentistry
102 Main Street N
PO Box 710
Mapleton, MN 56065
Phone: (507) 524-3830
Fax: (507) 526-3140
Web: www.mapletonfamilydental.com



Dr. Samantha Seys took over from Dr. Jeff Taylor, D.D.S. in the fall of 2016 and is happy to continue the high standard of care that was set in place by Dr. Taylor, with an emphasis on prevention. Dr. Taylor had a true passion for the cutting edge technology and treatments in dentistry and for the community of Mapleton. Samantha wants to continue this and is excited about the community of Mapleton and it's growth.




Mapleton Farm and Home
216 Main Street E
Mapleton, MN 56065
Phone: (507) 317-2481
Web: www.mapletonfarmandhome.com



For as long as Mapleton residents can remember, the local hardware store, now Mapleton Farm & Home, has been the area's source for tools, home goods, ag supplies, equipment service and more. Proud to be a part of the community, Mapleton Farm & Home carries the brands you can count on, along with friendly, knowledgeable, hometown service.




Mapleton Fire Department
103 3rd Avenue SE
Mapleton, MN 56065
Phone: (507) 524-3332
Web: www.mapletonmn.com/fire


Mapleton Laundromat
103 1st Avenue NE
Mapleton, MN 56065
Phone: (507) 524-3568


Mapleton Marine
304 State Highway 22
Mapleton, MN 56065
Phone: (507) 524-4588
Web: www.mapletonmarine.com

Mapleton Marine is a locally owned and operated boat, pontoon, dock and boat lift sales and service that has been in business for over 25 years. Mapleton Marine takes pride in customer satisfaction in both sales and service. Whether you're shopping for a new or used pontoon, boat, motor, trailer, dock or a lift, we hope you'll check us out today.


Mapleton Municipal Liquors
102 2nd Avenue NE
Mapleton, MN 56065
Phone: (507) 524-9994
Web: www.mapletonmn.com/muni


Mapleton Public Library
104 1st Avenue NE
PO Box 405
Mapleton, MN 56065
Phone: (507) 524-3513
Web: www.beclibrary.org


Mapleton T & C Leisure Center
304 2nd Avenue NE
Mapleton, MN 56065
Phone: (507) 524-4868


Massop Electric
1409 Silver Street E
Mapleton, MN 56065
Phone: (507) 524-3726
Web: www.massopelectric.com

We are a proud dealer of Behlen Mfg. Co., Delux Mfg. Co's grain dryers, Hutchinson Mayrath augers, Meridian Mfg. grain tanks, and MFS York Stormor grain storage. We design and build our own heavy-duty grain legs ranging from 3000 BPH to 7000 BPH.


Midtown Auto
205 2nd Avenue NE
Mapleton, MN 56065
Phone: (507) 524-4888


Minnesota Buildings and Equipment
12076 590th Avenue
Mapleton, MN 56065
Phone: (507) 524-3400
Web: www.minnesotabuildings.com

We provide EPS building packages specializing in post frame, solid core and agricultural buildings. We also provide a full line of swine confinement equipment and offer the service to stand behind what we sell.


Northwest Gas
314 Main Street E
PO Box 721
Mapleton, MN 56065
Phone: (507) 524-4103
Web: www.nwngas.com



Northwest Natural Gas now employs six full-time and three part-time employees. As a family-owned entity, Northwest Natural Gas continues to serve its residential and commercial customers with the best of service.




Olson-Tichenor Funeral Home
306 Main Street W
Mapleton, MN 56065
Phone: (507) 524-3616
Web: www.mankatomortuary.com



For more than 25 years,Mankato Mortuary with our affiliated locations has been and continues to be a locally owned and community based service provider. Our full range of personalized services, from funeral preplanning to management of after-service needs, ensures we will be meaningful, attentive and helpful to those who are grieving.




Optimal Performance Specialists
306 Main Street
PO Box 718
Mapleton, MN 56065
Phone: (507) 524-4000



Optimal Performance Specialists provides High Quality Specific Chiropractic Adjustments, Effective Rehabilitation, and Research Based Supplemental Protocol Services. You will quickly realize you are a part of the future of Chiropractic Care! categories




Pioneer Bank
301 Main Street E
PO Box 306
Mapleton, MN 56065
Phone: (507) 524-3630
Web: www.bankwithpioneer.com

Pioneer Bank is more than just any old bank; we're dedicated to being the leading financial institution for the communities we serve. From Elmore to Lewisville, Madelia, Mankato, Mapleton, North Mankato, St. James, and a loan production office in Lake Crystal we're going above and beyond to offer a better banking experience.


Plaid Piper Gift and Floral
308 Main Street W
Mapleton, MN 56065
Phone: (507) 524-4222


Protein Sources Milling
503 Silver Street E
Mapleton, MN 56065
Phone: (507) 524-4511
Web: www.proteinsources.com

Protein Sources-Milling Division, LLC (PSM) provides independent swine toll milling and feed transportation services to swine producers, principally in southern Minnesota. The Company's state-of-the-art milling facility and transportation fleet located in Mapleton, Minnesota is fully capable of meeting the swine nutrition needs of producers of all sizes.


Schull Crop Insurance
502 Silver Street E
Mapleton, MN 56065
Phone: (507) 524-4435


Scissors and Sun
302 3rd Avenue NE
Mapleton, MN 56065
Phone: (507) 524-3444


Scott's Body Shop
407 Central Avenue N
Mapleton, MN 56065
Phone: (507) 524-4766
Web: www.scottsbodyshopinc.com

Scott's Body Shop, located in Mapleton Minnesota, has been in business for over 25 years providing full collision and mechanical repair services for southern Minnesota. From minor door dents to major accident repairs, we can do it all. Our team of highly trained and certified professionals will take care of everything.


Sellers Construction
1012 Silver Street E
Mapleton, MN 56065
Phone: (507) 524-4800


Sports Headquarters
101 State Highway 22
Mapleton, MN 56065
Phone: (507) 524-3222


Tyson Fresh Meats
14264 State Highway 22
Mapleton, MN 56065
Phone: (507) 524-4451


US Post Office
315 Main Street E
Mapleton, MN 56065-4402
Phone: (507) 524-3688
Toll Free: (800) ASK-USPS
Web: www.usps.com


Wallace Electric
409 4th Avenue NE
PO Box 185
Mapleton, MN 56065
Phone: (507) 524-4338


Wendland Sellers Bromeland PA
306 Main Street E
Mapleton, MN 56065
Phone: (507) 524-4110
Web: www.wendlandlaw.com

Wendland Sellers and Bromeland PA is a Blue Earth Area Law Firm with offices in Mapleton Minnesota and Blue Earth Minnesota that serve clients in Southern Minnesota and Northern Iowa. Counties serviced include Blue Earth County, Faribault County, Freeborn County and Martin County.


Windmill Bar and Lounge
13201 State Highway 22 S
Mapleton, MN 56065
Phone: (507) 524-9894


---
---
Aerial Photo:
---
Topographic Map: [click map to enlarge, zoom in or zoom out]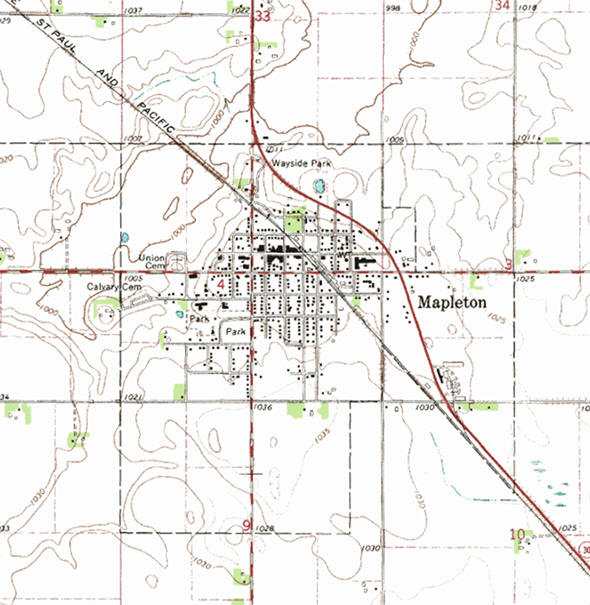 Topographic map is courtesy of the Minnesota DNR - click map to zoom or enlarge