Navigation
LakesnWoods.com
Home Page
Contact Us
Privacy
Minnesota History Shop

Visit The Minnesota History Shop
www.minnesotahistoryshop.com
Historic maps
Historic books
Historic framed art
Historic postcards
Clothing with historic images
And much more!!!


Lowry Guide:
Photo Gallery
Location
Geography
Demographics
History
Government
Post Office
News
Weather
Street Map
Events
Attractions
Recreation
Lakes
Health Care
Schools
Churches
Media
Motels
Resorts
Campgrounds
Businesses
Aerial Photo
Topographic Map
© 2004-2023
Lakeweb1 Internet Services
All Rights Reserved
DCMA, Defamation, Copyright and Trademark Infingement Policy
WANTED!
Do you have photos, historical accounts or other items pertaining to the Lowry area? Would you like to share this historical information with the world? LakesnWoods.com would like to publish your Lowry photos (current or historical) or historical accounts on this website. Original materials can be returned and your privacy will be respected.

Lowry Minnesota Community Guide
---
Location:
---
Population:
Lowry (city)
1970
1980
1990
2000
2010
2000-2010 Change
Actual
Percent
Population
257
283
233
271
299
+28
+10.33
Land Area (sq. mile)
0.50
0.49
0.37
0.37
0.37
0
0.00
Density (persons per sq. mile)
514.00
577.55
629.73
729.68
808.11
+78.43
+10.33
Housing Units
95
112
108
122
141
+19
+15.57
Households
--
105
95
110
130
+20
+18.18
Persons Per Household
--
2.70
2.45
2.46
2.30
-0.16
-6.50
---
Geography:
Lowry is a city in Pope County, Minnesota. Minnesota Highway 55 and Minnesota Highway 114 are two of the main routes in the community. According to the United States Census Bureau, the city has a total area of 0.37 square miles (0.96 km2), all of it land. The elevation is 1,371 ft (418 m) above sea level.
From Wikipedia, the free encyclopedia.
---
Demographics:
As of the census of 2010, there were 299 people, 130 households, and 83 families residing in the city. The population density was 808.1 inhabitants per square mile (312.0/km2). There were 141 housing units at an average density of 381.1 per square mile (147.1/km2). The racial makeup of the city was 98.0% White, 0.3% Pacific Islander, and 1.7% from two or more races. Hispanic or Latino of any race were 0.3% of the population.
There were 130 households of which 29.2% had children under the age of 18 living with them, 52.3% were married couples living together, 7.7% had a female householder with no husband present, 3.8% had a male householder with no wife present, and 36.2% were non-families. 32.3% of all households were made up of individuals and 14.6% had someone living alone who was 65 years of age or older. The average household size was 2.30 and the average family size was 2.90.
The median age in the city was 35.6 years. 23.4% of residents were under the age of 18; 7.7% were between the ages of 18 and 24; 28.2% were from 25 to 44; 25.1% were from 45 to 64; and 15.7% were 65 years of age or older. The gender makeup of the city was 50.8% male and 49.2% female.
---
---
History:
LOWRY, a city in section 24 of Ben Wade Township, platted in March 1887 and incorporated as a village on May 5, 1896, was named in honor of Thomas Lowry, who was born in Logan County, Ill., February 27, 1843, and died in Minneapolis, February 4, 1909. He was admitted to the bar in 1867 and in the same year came to Minnesota, settling in Minneapolis, where he practiced law and dealt in real estate; was president and principal stockowner of the company operating the street railways of Minneapolis and St. Paul, called the Twin City Rapid Transit Company. The post office began as Ben Wade in 1884, with John L. Johnson, postmaster; when the Soo Line came in 1887, the name was changed to Lowry, and John E. Benson, who had a store in the township for many years, moved it to Lowry, becoming the first postmaster.
Courtesy Minnesota Historical Society
---
Government:
Lowry City Hall
206 Maple Street
PO Box 56
Lowry, MN 56349
Phone: (320) 283-5411

Regular Business Hours:
Monday - Friday 10:00 am - 4:00 pm
(close at 3:00 pm on Thursdays)

City Council Meetings:
1st Tuesday of the month at 7:00 pm


Title
Term Ends
Name and Address
Phone
Mayor
12/31/2022
Daniel Sutton
204 Cherry Street - PO Box 71
Lowry, MN 56349
(320) 808-8985
Clerk/Treasurer
12/31/2024
Kristi Kramber
206 Maple Street
Lowry, MN 56349
(320) 283-5411
(320) 634-5467
Council Member
12/31/2022
Virgil Coziahr
201 Cherry Street
Lowry, MN 56349
(320) 283-5419
Council Member
12/31/2022
Patricia McCrory
230 Florence Avenue
Lowry, MN 56349
(320) 283-5055
Council Member
12/31/2024
DJ Ashler
321 Drury Avenue - PO Box 51
Lowry, MN 56349
(320) 760-6346
(320) 283-5777
---
Post Office:
US Post Office
421 Florence Avenue
Lowry, MN 56349-4400
Phone: (320) 283-5275
Toll Free: (800) ASK USPS

Regular Business Hours:
Week Days 8:00 am - 2:00 pm
Saturday 8:00 am - 10:00 am
---
---
Utilities:
---
Major Employers:
Employer
Products/Services
Employees

not available
---
---
News:
---
Weather:
---
Map:

Minnesota State Highway Map of the Lowry Minnesota area
---
Events:
---
---
Attractions:
---
Recreation:
---
Lakes:
Lake Name
Size
(acres)
Lake info
Lake Map
Rec Map
Topo Map
Ann
356
John
116
Malmedal
220
Reno
3793
Strandness
98
---
Health Care:
---
Schools:
---
Churches:
Ben Wade Covenant Church
316 Bryce Avenue
Lowry, MN 56349
Phone: (320) 283-5146

Pastor: David Wallin
Sunday Worship: 11:00 am

Norunga Lutheran Church
30899 120th Street
Lowry, MN 56349
Phone: (320) 283-5202

Pastor: Alden Bachman
Sunday Worship: 9:00 am

St. John's Catholic Church
25890 110th Street
Lowry, MN 56349
Phone: (320) 283-5273
Web: www.renocatholicchurch.org

Pastor: Rev. Roger J. Thoennes
Saturday Mass: 8:00 pm
Sunday Mass: 10:00 am

St. Paul's Lutheran Church
201 Maple Street
Lowry, MN 56349
Phone: (320) 283-5412

Pastor: Curt Larson
Sunday Worship: 9:00 am
---
Media:
---
Motels:
Check for motel rates and availability on:
---
Resorts:
---
Campgrounds:
---
---
Businesses:
Advanced Building & Materials
28617 State Highway 55
Lowry, MN 56349
Phone: (320) 283-5850
American Legion
429 Florence Avenue
Lowry, MN 56349
Phone: (320) 283-5462
Ben Wade Covenant Church
316 Bryce Avenue
Lowry, MN 56349
Phone: (320) 283-5146
Bob's Custom Cycle
637 Cherry Street
Lowry, MN 56349
Phone: (320) 283-6178
Bolas Photography
27605 State Highway 55
Lowry, MN 56349
Phone: (320) 283-5498
Chan's Auto Sales
457 Florence Avenue
Lowry, MN 56349
Phone: (320) 283-5947
Elvehjem Tech Support
414 Florence Avenue
Lowry, MN 56349
Phone: (320) 283-5684
Farwell Lutheran Church
PO Box 95
Lowry, MN 56349
Phone: (320) 283-5413
Griffin Bailbonds Inc
10677 Easy Street SW
Lowry, MN 56349
Phone: (320) 283-5332
Hatchery Bar & Grill
406 Florence Avenue
Lowry MN 56349
Phone: (320) 283-5377
His & Hers Hair Salon
410 Florence Avenue # 4
Lowry, MN 56349
Phone: (320) 283-5864
Hometown Family Grocery
424 Florence Avenue
Lowry, MN 56349
Phone: (320) 283-5448
Independent Drying Systems
28685 State Highway 55
Lowry, MN 56349
Phone: (320) 283-5421
Larry's Auto Body Shop
28637 State Highway 55
Lowry, MN 56349
Phone: (320) 283-5142
Lowry City Hall
344 Florence Avenue
Lowry, MN 56349
Phone: (320) 283-5327
Lowry Community Center
206 Maple Street
Lowry, MN 56349
Phone: (320) 283-5411
Lowry Dairy Sales
27970 County Road 28
Lowry, MN 56349
Phone: (320) 283-5182
Lowry Fire Hall
344 Florence Avenue
Lowry, MN 56349
Phone: (320) 283-5327
Lowry Hatchery
28627 State Highway 55
Lowry, MN 56349
Phone: (320) 283-5316
Lowry Insurance
417 Florence Avenue
Lowry, MN 56349
Phone: (320) 283-6175
Lowry Manufacturing Company
317 Cherry Street
Lowry, MN 56349
Phone: (320) 283-5450
Web: www.lowrymfgco.com

Manufacturer of Quality Receiving, Holding and Dispatching Equipment

Lowry Plumbing Heating AC
304 Elm Street
Lowry, MN 56349
Phone: (320) 283-5912
Lowry State Bank
400 Florence Avenue
Lowry, MN 56349
Phone: (320) 283-5149
Web: www.lowrystate.com

We have been providing banking services in west central Minnesota since 1899. That is 109 years of being locally owned and meeting the needs of the communities we serve.

Lowry Telephone Company
422 Florence Avenue
Lowry, MN 56349
Phone: (320) 283-6600
Lowry Transfer Inc
28646 County Road 28
Lowry, MN 56349
Phone: (320) 283-5308
Memory Mercantile Antiques
301 Elm Street
Lowry, MN 56349
Phone: (320) 283-5120
Minnewaska Heating & Cooling
249 Drury Avenue
Lowry, MN 56349
Phone: (320) 283-5415
Musselman Accounting
29165 115th Street
Lowry, MN 56349
Phone: (320) 283-5685
Norunga Lutheran Church
30899 120th Street
Lowry, MN 56349
Phone: (320) 283-5202
Old World Upholstery
11395 300th Avenue
Lowry, MN 56349
Phone: (320) 283-5092
P & L Surge Sales & Service
Lowry, MN 56349
Phone: (320) 283-5169
Prairie Lakes Co-Op
516 Florence Avenue
Lowry, MN 56349
Phone: (320) 283-5143
Quinco Press
411 Elm Street
Lowry, MN 56349
Phone: (320) 283-5151
Rainbow Rider
249 Poplar Avenue
Lowry, MN 56349
Phone: (320) 283-5065
Ray Lundblad & Sons Excavating
101 Poplar Avenue
Lowry, MN 56349
Phone: (320) 283-5427
Ronald Klimek Construction
12326 Iris Lane SW
Lowry, MN 56349
Phone: (320) 283-5338
St. John's Catholic Church
25890 110th Street
Lowry, MN 56349
Phone: (320) 283-5273
St. Paul's Lutheran Church
201 Maple Street
Lowry, MN 56349
Phone: (320) 283-5412
Stivland Gardens
30085 110th Street
Lowry, MN 56349
Phone: (320) 283-5185
Stoen Farm Supply
28687 State Highway 55
Lowry, MN 56349
Phone: (320) 283-5283
T & B Lawn Care
8961 Teal Trail SW
Lowry, MN 56349
Phone: (320) 283-5812
Todd's Rod Shop
639 Cherry Street
Lowry, MN 56349
Phone: (320) 283-5542
US Post Office
421 Florence Avenue
Lowry, MN 56349-4400
Phone: (320) 283-5275
Toll Free: (800) ASK USPS
Web: www.usps.com
---
---
Aerial Photo:
---
Topographic Map: [click map to enlarge, zoom in or zoom out]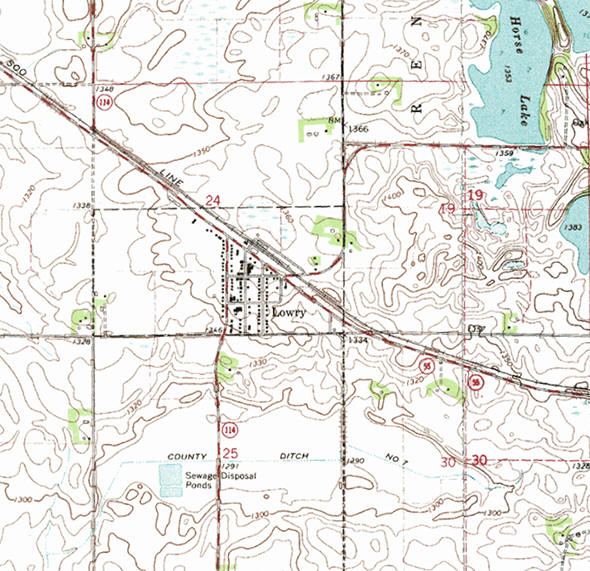 Topographic map is courtesy of the Minnesota DNR - click map to zoom or enlarge