Navigation
LakesnWoods.com
Home Page
Contact Us
Privacy
Minnesota History Shop

Visit The Minnesota History Shop
www.minnesotahistoryshop.com
Historic maps
Historic books
Historic framed art
Historic postcards
Clothing with historic images
And much more!!!


Lismore Guide:
Photo Gallery
Location
Geography
Demographics
History
Government
Post Office
News
Weather
Street Map
Events
Attractions
Recreation
Lakes
Health Care
Schools
Churches
Media
Motels
Resorts
Campgrounds
Businesses
Aerial Photo
Topographic Map
© 2004-2023
Lakeweb1 Internet Services
All Rights Reserved
DCMA, Defamation, Copyright and Trademark Infingement Policy
WANTED!
Do you have photos, historical accounts or other items pertaining to the Lismore area? Would you like to share this historical information with the world? LakesnWoods.com would like to publish your Lismore photos (current or historical) or historical accounts on this website. Original materials can be returned and your privacy will be respected.

Lismore Minnesota Community Guide
---
Location:
---
Population:
Lismore (city)
1970
1980
1990
2000
2010
2000-2010 Change
Actual
Percent
Population
323
276
248
238
227
-11
-4.62
Land Area (sq. mile)
0.30
0.36
0.34
0.34
0.36
+0.02
+5.88
Density (persons per sq. mile)
1,076.7
766.7
729.4
696.9
630.6
-66.3
-9.51
Housing Units
110
114
99
103
107
+4
+3.88
Households
--
101
95
97
96
-1
+1.03
Persons Per Household
--
2.73
2.61
2.45
2.36
-0.09
-3.67
---
Geography:
Lismore is a city in Nobles County, Minnesota. County Highways 16 and 71; and nearby Minnesota State Highway 91 are three of the main routes in the community. According to the United States Census Bureau, the city has a total area of 0.36 square miles (0.93 km²), all of it land. The elevation is 1,683 ft (513 m) above sea level. Lismore is situated on the western slope of the Buffalo Ridge, a drainage divide separating the Mississippi River and Missouri River systems.
From Wikipedia, the free encyclopedia.
---
Demographics:
As of the census of 2010, there were 227 people, 96 households, and 64 families residing in the city. The population density was 630.6 inhabitants per square mile (243.5 /km2). There were 107 housing units at an average density of 297.2 per square mile (114.7 /km2). The racial makeup of the city was 96.0% White and 4.0% African American. Hispanic or Latino of any race were 0.9% of the population.
There were 96 households of which 26.0% had children under the age of 18 living with them, 54.2% were married couples living together, 6.3% had a female householder with no husband present, 6.3% had a male householder with no wife present, and 33.3% were non-families. 27.1% of all households were made up of individuals and 16.7% had someone living alone who was 65 years of age or older. The average household size was 2.36 and the average family size was 2.92.
The median age in the city was 44.1 years. 24.2% of residents were under the age of 18; 6.6% were between the ages of 18 and 24; 20.7% were from 25 to 44; 26% were from 45 to 64; and 22.5% were 65 years of age or older. The gender makeup of the city was 48.9% male and 51.1% female.
---
---
History:
The town of Lismore was named after Lismore Township which, in turn, was named after a village in County Waterford, Ireland, noted for its beautiful castle. The name for Lismore Township was suggested by Father C. J. Knauf of Adrian.
Lismore owes its existence to the building of the Burlington Railroad through northeast Nobles County. The railroad established the towns of Reading and Wilmont in 1899. When the railroad reached present-day Lismore at 3:00 pm on Saturday, June 9, 1900, construction of the town immediately commenced.
The first business on site was the St. Croix Lumber company which sold its wares from a tent pitched next to a large pile of lumber hauled in from Wilmont. The first building in town was built by James Beacom and was used as a saloon. The second building in town was the O. B. Bratager store building. James Montgomery started a small grain elevator, and James Ramage opened a lumber yard and hardware store under the management of Arch Priest. The Bank of Lismore opened its doors on September 1, 1900, and was incorporated as the State Bank of Lismore three months later. A livery stable, a butcher shop, a restaurant, and a blacksmith shop were also opened in that first year. A school house, churches, several businesses, and many residences were constructed in 1901.
On December 6, 1901, the Lismore Leader was able to boast: Lismore, for a place only a little over one year old, has made good and substantial growth... Lismore has one bank, two general merchants, one furniture store, two saloons, two pool rooms, two lumber yards, three elevators, four coal dealers, one hotel, one hardware store, two machinery firms, one blacksmith shop, one livery stable, one dray line, and one newspaper.
A census taken on April 10, 1902, showed a population of 186. The town was quickly incorporated, and its first municipal council meeting took place on June 17, 1902, with Emil Graf selected as president. Lismore's population in the 2000 census was 238.
Read more on the Lismore History Page
From "An Illustrated History of Nobles County" by Arthur R. Rose, published 1908
LISMORE Township, organized August 9, 1880, to which many Irish Catholic settlers came during that year, was named after a village of County Waterford in Ireland, noted for a fine baronial castle. The city of LISMORE in sections 1 and 12 was platted in the summer of 1900 and was incorporated May 31, 1902. The first business was the St. Croix Lumber Company, the first building was a saloon owned by James Beacom, and the second building was a general store owned by Ollis B. Bratager, first postmaster in 1900; the village had a station of the Cedar Rapids, Iowa Falls and Northwestern Railroad.
Courtesy Minnesota Historical Society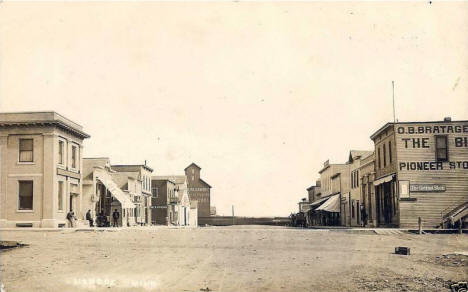 Street scene, Lismore Minnesota, 1912
LakesnWoods.com Postcard and Postcard Image Collection - click to enlarge

Visit The Lismore Photo Gallery for more historic and recent area photos

---
Government:
Lismore City Hall
249 E 2nd Street
PO Box 188
Lismore, MN 56155
Phone: (507) 472-8779
Fax: (507) 472-8769

Regular Business Hours:
Monday - Wednesday 8:00 am - 3:30 pm
Thursday 8:00 am - 1:00 pm

City Council Meetings:
1st Tuesday after 1st Monday of each month at 6:00 pm


Title
Term Ends
Name
Phone
Mayor
12/31/2022
Steve Wieneke
376 2nd Street
Lismore, MN 56155
(507) 360-2206
(507) 472-8259
Clerk/Treasurer
appointed
Kate McCann
249 E 2nd Street
Lismore, MN 56155
(507) 472-8779
Council Member
12/31/2022
Vickie Leinen
145 1st Avenue
Lismore, MN 56155
(507) 472-8229
Council Member
12/31/2022
Ryan Schieck
16647 Cory Avenue
Lismore, MN 56155
(605) 360-1517
Council Member
12/31/2024
Cliff Altman
115 S Weside Avenue
Lismore, MN 56155
(507) 472-8415
Council Member
12/31/2024
Kris Weidert
477 E 2nd Street
Lismore, MN 56155
(507) 472-8285
---
Post Office:
US Post Office
173 S 3rd Avenue
Lismore, MN 56155-1106
Phone: (507) 472-8279
Toll Free: (800) ASK-USPS

Regular Business Hours:
Week Days 8:00 am - 12:00 pm
Saturday 8:30 am - 9:45 am




---
---
Utilities:
---
Major Employers:
---
---
News:
---
Weather:
---
Map: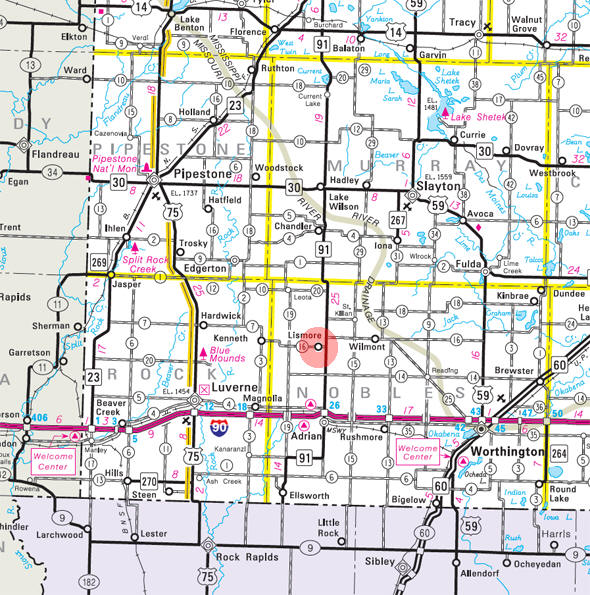 Minnesota State Highway Map of the Lismore Minnesota area
---
Events:
---
Attractions:
---
Recreation:
---
Lakes:
Lake Name
Size
(acres)
Lake info
Lake Map
Rec Map
Topo Map
none in the immediate area
---
Health Care:
---
Schools:
---
Churches:
First Presbyterian Church
105 E 2nd Street
Lismore, MN 56155
Phone: (507) 472-8746

Pastor:
Sunday Worship:
St. Anthony Catholic Church
310 3rd Avenue S
PO Box 475
Lismore, MN 56155
Phone: (507) 472-2317
Web: www.stadriancluster.org

Pastor: Fr. Andrew Beerman
Saturday Mass: 5:00 pm
Sunday Mass: none



St. Anthony Catholic Church, situated in the town of Lismore, Minnesota in Nobles County, is a beautiful, twin-spire church. Its 85-foot steeples are the focal point of this rural farming community. The parish was founded in 1905 and with the help of volunteer parishioners, along with their pastor, Fr. Mathias Graeve, completed the work on the building. In 1995, the parish was clustered into a 4-Parish cluster under the leadership of a parish director.
---
Media:
---
Motels:
Check for motel rates and availability on:
---
Resorts:
---
Campgrounds:
---
---
Businesses:
American Legion Post 636
PO Box 7
Lismore, MN 56155
Phone: (507) 472-8221
Web: www.lismorepost636.com
Agronomy Center
106 3rd Avenue N
Lismore, MN 56155
Phone: (507) 472-8545
B & L Construction
180 W 4th Street
Lismore, MN 56155
Phone: (507) 472-8756
Drenth Implement
235 Westside Avenue S
Lismore, MN 56155
Phone: (507) 472-8522
DuPont Pioneer
13510 Chaney Avenue
Lismore, MN 56155
Phone: (507) 472-8531
Eastern Farmers
265 3rd Avenue S
Lismore, MN 56155
Phone: (507) 472-8211

Electric Motor Center
290 S 3rd Avenue
Lismore, MN 56155
Phone: (507) 472-8551

Frank Kemper Trucking
165 3rd Avenue N
Lismore, MN 56155
Phone: (507) 472-8717
G & J Hog Farms
16197 140th Street
Lismore, MN 56155
Phone: (507) 472-8413
Heartland Mutual Insurance Company
161 3rd Avenue S
PO Box 98
Lismore, MN 56155
Phone: (507) 472-8216
Web: www.hmicmn.com



The Heartland Mutual Insurance Company HMIC was organized as a township mutual insurance company in 1996 by the merger of Delafield Mutual of Lakefield Minnesota (organized in 1888) and Wilmont Mutual of Lismore Minnesota (organized in 1895). This merger would allow HMIC to meet the needs of homeowners and farmowners in southern Minnesota. To further meet those needs, in January 2007 HMIC filed for and received a new Charter to operate as a statewide mutual insurance company. This new Charter allows HMIC to write additional perils and expand its operating territory from 14 counties to the entire State of Minnesota. HMIC is currently comprised of approximately 2,500 members.

J & N Multi Fuel Stoves
15535 Chaney Avenue
Lismore, MN 56155
Phone: (507) 472-8513
Jim's Service
301 E 4th Street
Lismore, MN 56155
Phone: (507) 472-8794
KW Trucking
17475 Chaney Avenue
Lismore, MN 56155
Phone: (507) 472-8516
Web: www.kwtruckingllc.com



We specialize in drop deck freight, and can help you safely and securely ship almost anything to almost any location in the United States. Customer service is our top priority because we depend on repeat customers like you for our livelihood and long term success. Freight transportation is complex and getting the load from point a to point b is about more than just throwing it on to a truck. We understand that your operations need to function as planned, and have the expertise to make sure your freight is the least of your concern

Lee's Locker & Market
170 3rd Avenue S
Lismore, MN 56155
Phone: (507) 472-8525



Custom butchering, meat bundles, groceries

Leinen Cabinets
145 1st Avenue S
Lismore, MN 56155
Phone: (507) 472-8228



Custom-built kitchen & bathroom cabinets & countertop. New Construction or Remodeling - Specialized Furniture Construction

Lenz Farms
18789 Bulick Avenue
Lismore, MN 56155
Phone: (507) 472-8586
Lismore Bar & Grill
185 3rd Avenue S
Lismore, MN 56155
Phone: (507) 472-8515
Lismore City Hall
249 E 2nd Street
Lismore, MN 56155
Phone: (507) 472-8779
Lismore Coop Telephone Company
230 3rd Avenue S
Lismore, MN 56155
Phone: (507) 472-8748
Web: www.lismoretel.com



Your Local Agent for Verizon Wireless, Directv, Exede satellite internet, and Lismore Local Telephone and Internet Services.

Lismore Fire Hall
249 E 2nd Street
Lismore, MN 56155
Phone: (507) 472-8779
Lismore State Agency
190 3rd Avenue S
Lismore, MN 56155
Phone: (507) 472-8221
Loosbrock Digging Service
221 W 4th Street
Lismore, MN 56155
Phone: (507) 472-8448
Web: www.loosbrock.com



Loosbrock Digging Service, Inc. is a family owned business established in 1968 by Florian Loosbrock. The company began working with underground cable installation and other underground excavation needs. In 1995, current owner Bruce and his wife, Brenda, bought the company from his father. In 1997 the company was incorporated. Today we employee 18-25 employees that are broken down into 3-4 crews

New Vision Elevator
115 3rd Avenue N
Lismore, MN 56155
Phone: (507) 472-8233
Web: www.newvision.coop



New Vision was born in 1999 from the merger of two strong, service-focused, community based cooperatives—Prairieland and Consolidated. Each cooperative brought a feed mill (Prairieland/Windom and Consolidated/Worthington) and a commitment to the feed business into the new union.

New Vision Fertilizer
106 N 3rd Street
Lismore, MN 56155
Phone: (507) 472-8545
Web: www.newvision.coop



New Vision was born in 1999 from the merger of two strong, service-focused, community based cooperatives—Prairieland and Consolidated. Each cooperative brought a feed mill (Prairieland/Windom and Consolidated/Worthington) and a commitment to the feed business into the new union.

Snapshot Graphics
180 W 4th Street
Lismore, MN 56155
Phone: (507) 472-8750
State Bank of Lismore
190 3rd Avenue S
PO Box 8
Lismore, MN 56155
Phone: (507) 472-8221
Web: www.statebankoflismore.com



The State Bank of Lismore is an independently owned community bank that was chartered in 1900. The bank is over $47 million in assets strong and has consistently achieved Bauer Financial's five star "SUPERIOR" rating, indicating that it is one of the safest banks in the United States. Defined in one sentence, "Not the biggest, but the only bank you'll ever need."

Stoney Meadows
14365 120th Street
Lismore, MN 56155
Phone: (507) 443-5034
T & S Truck Repair
265 3rd Avenue S
Lismore, MN 56155
Phone: (507) 472-8253
Web: www.tandstruckrepair.com



One of the most important things on your farm or for your business is your Trucks and Trailers. They are always on the job or road working to make your job easier and to make you money. Keeping them up and running and maintained doesn't have to be a hard Job. T & S Truck Repair can make sure that your truck or trailer is ready to work for you. With over 40 years combined Professional Truck and Trailer experience, Steve VanDerBrink and Travis Luettel will make sure your Truck or Trailers will be ready for the field or road.

US Post Office
173 S 3rd Avenue
Lismore, MN 56155-1106
Phone: (507) 472-8279
Toll Free: (800) ASK-USPS
Web: www.usps.com
Veld Lumber
130 3rd Avenue S
Lismore, MN 56155
Phone: (507) 472-8224
Weidert Dairy
16419 Durfee Avenue
Lismore, MN 56155
Phone: (507) 472-8265
---
---
Aerial Photo:
---
Topographic Map: [click map to enlarge, zoom in or zoom out]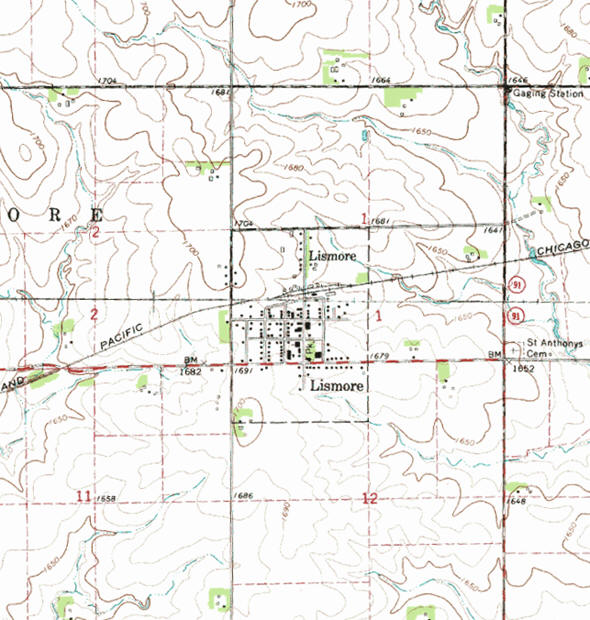 Topographic map is courtesy of the Minnesota DNR - click map to zoom or enlarge