Navigation
LakesnWoods.com
Home Page
Contact Us
Privacy
Minnesota Gift Guide
Laporte Guide:
Photo Gallery
Location
Geography
Demographics
History
Government
Post Office
News
Weather
Street Map
Events
Attractions
Recreation
Lakes
Health Care
Schools
Churches
Media
Motels
Resorts
Campgrounds
Businesses
Aerial Photo
Topographic Map
© 2004-2022
Lakeweb1 Internet Services
All Rights Reserved
DCMA, Defamation, Copyright and Trademark Infingement Policy
WANTED!
Do you have photos, historical accounts or other items pertaining to the Laporte area? Would you like to share this historical information with the world? LakesnWoods.com would like to publish your Laporte photos (current or historical) or historical accounts on this website. Original materials can be returned and your privacy will be respected.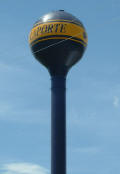 Laporte Water Tower


(design available on over 100 different items!)

Laporte Minnesota Community Guide
---
Location:
---
Population:
Laporte (city)
1970
1980
1990
2000
2010
2000-2010 Change
Actual
Percent
Population
154
160
101
145
111
-34
-23.45
Land Area (sq. mile)
0.70
0.65
0.70
0.70
0.70
0
0.00
Density (persons per sq. mile)
220.0
246.1
144.2
208.0

158.6

-49.4
-23.45
Housing Units
64
106
70
79
80
+1
+1.27
Households
--
61
41
57
55
-2
-3.51
Persons Per Household
--
2.62
2.46
2.54
2.02
-0.52
-20.47
---
Geography:
Laporte is a city in Hubbard County, Minnesota. Minnesota State Highway 200 serves as a main route in the community, and Minnesota State Highways 64 and 371 are nearby. According to the United States Census Bureau, the city has a total area of 0.70 square miles (1.81 km²), all of it land. The elevation is 1,352 ft (412 m) above sea level.
From Wikipedia, the free encyclopedia.
---
Demographics:
As of the census of 2010, there were 111 people, 55 households, and 30 families residing in the city. The population density was 158.6 inhabitants per square mile (61.2/km2). There were 80 housing units at an average density of 114.3 per square mile (44.1/km2). The racial makeup of the city was 87.4% White, 0.9% African American, 4.5% Native American, and 7.2% from two or more races. Hispanic or Latino of any race were 0.9% of the population.
There were 55 households of which 23.6% had children under the age of 18 living with them, 36.4% were married couples living together, 9.1% had a female householder with no husband present, 9.1% had a male householder with no wife present, and 45.5% were non-families. 32.7% of all households were made up of individuals and 12.8% had someone living alone who was 65 years of age or older. The average household size was 2.02 and the average family size was 2.40.
The median age in the city was 47.3 years. 16.2% of residents were under the age of 18; 9.9% were between the ages of 18 and 24; 20.7% were from 25 to 44; 37.8% were from 45 to 64; and 15.3% were 65 years of age or older. The gender makeup of the city was 55.0% male and 45.0% female.
From Wikipedia, the free encyclopedia.
---
---
History:
LAPORTE meaning, in French, "the door or gate"), a city in Lakeport Township, was incorporated as a village in May 4, 1908, separating from the township on June 22. The first post office, 1899-1901, was established with the arrival of the Northern Pacific Railroad; Nelson Daughters, who had come in 1898 with his wife, Ann, who died shortly thereafter in childbirth, became first postmaster, naming the site Ann in memory of his wife. In 1899, some Indians came to Daughters, requesting whiskey; when he refused, they returned to Walker, charging him with liquor trafficking; while being taken to Walker for trial, he escaped, returned to Ann, and died in a gun battle with the sheriff's posse. When the post office was reestablished in 1900 with justice of the peace J. C. Stuart as postmaster, the name was changed to Lake Port; the mail was being confused with Lake Park, so Mrs. Stuart named it Laporte after the Iowa town where she was married. Most of the village burned on May 11, 1911, but the community immediately began rebuilding; major fires occurred again in 1930, 1931, 1934, and 1936.
Courtesy Minnesota Historical Society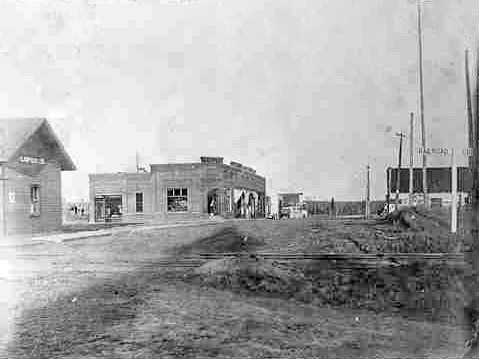 Street scene, Laporte Minnesota, 1910s
LakesnWoods.com Postcard and Postcard Image Collection
Visit The Laporte Photo Gallery for more recent and historic area photos
---
Government:
Laporte City Hall
120 Main Street W
PO Box 42
Laporte, MN 56461

Regular Business Hours:
not available

City Council Meetings:
2nd Tuesday of the month at 6:00 pm


Title
Term Ends
Name and Address
Phone
Mayor
12/31/2020
Patricia Gendron
150 2nd Avenue NW
Laporte, MN 56461
(218) 224-2837
Clerk
appointed
Heidi Gustafson
PO Box 42
Laporte, MN 56461
(218) 760-9884
Treasurer
appointed
Tammy Hamilton
PO Box 42
Laporte, MN 56461
(218) 224-2787
Council Member
12/31/2022
Tim Formo
address not available
Laporte, MN 56461
not available
Council Member
12/31/2022
Matt L Sconce
110 Main Street E
Laporte, MN 56461
(218) 224-2607
Council Member
12/31/2020
Justin Lindahl
195 Main Street E
Laporte, MN 56461
(612) 598-0673
Council Member
12/31/2020
Dwight Powell
145 2nd Avenue NW
Laporte, MN 56461
(218) 760-9445
---
Post Office:
US Post Office
80 Main Street E
Laporte, MN 56461-4500


Phone:

(218) 224-2462
Toll Free: (800) ASK-USPS
Fax: (218) 224-3654

Regular Business Hours:
Week Days 7:00 am - 11:30 am
12:00 pm - 3:00 pm
Saturday Closed


---
---
Utilities:
---
Major Employers:
Employer
Products/Services
Employees
n/a
---
---
News:
---
Weather:
---
Map: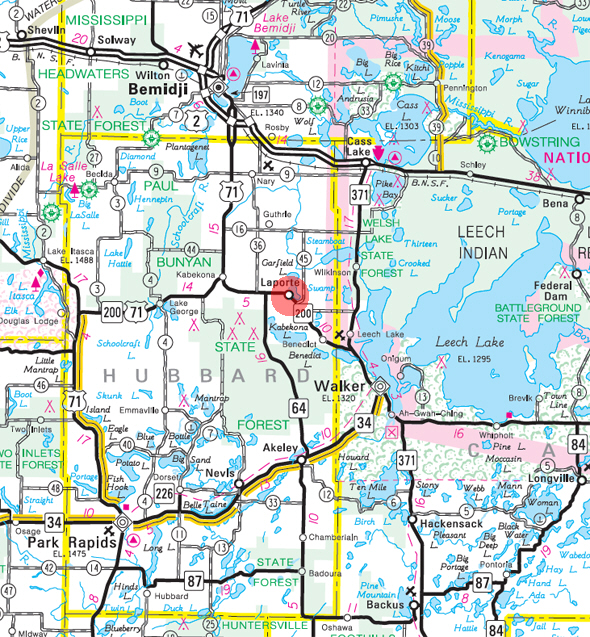 Minnesota State Highway Map of the Laporte Minnesota area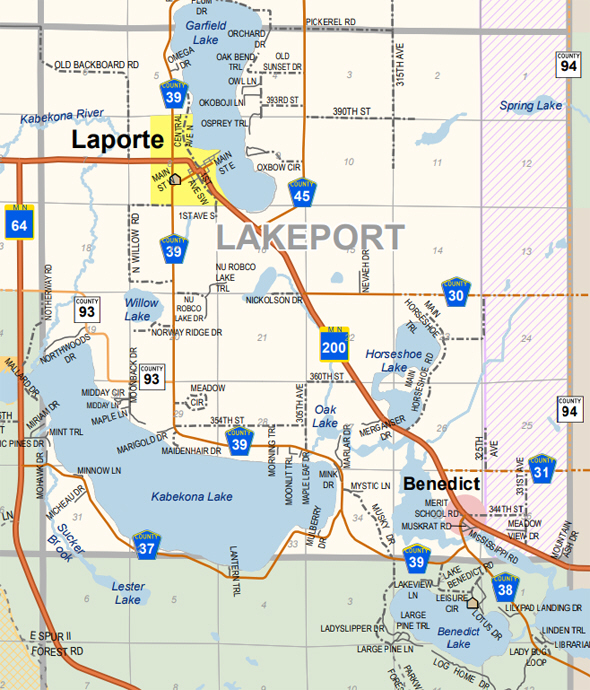 Map of Lakeport Township Minnesota - Courtesy Hubbard County
---
Events:
---
---
Attractions:
Forestedge Winery
35295 State Highway 64
Laporte, MN 56461
Phone: (218) 224-3535
Web:

www.forestedgewinery.com

Located on the edge of the Paul Bunyan State Forest, Forestedge Winery and Farm offers it's visitors a peaceful setting in the woods. Enjoy the gardens and cobblestone patio; taste our elegant fruit wines; visit our gallery with art and fine crafts made by MN artisans. Stay for an hour or for the day. Bring a picnic, share wine by the glass or bottle on the patio; and be sure to take some Forestedge wine home with you to share with family and friends.
---
Recreation:
Paul Bunyan State Forest



Paul Bunyan State Forest's 105,113 acres feature a terrain that's rough and hilly, with many tiny ponds and bogs. Paul Bunyan State Forest's hundreds of miles of trails among pine forests makes it one of premier state forest destinations. Visitors choose among Paul Bunyan State Trail, North Country National Scenic Trail, Martineau OHM Trails, and Round River Drive ATV Trail to explore. Gulch Lake and Mantrap Lake campgrounds and day-use area in the Paul Bunyan State Forest can serve as handy overflow campgrounds or as a great alternative to the more developed and heavily used Itasca State Park.

Paul Bunyan Trail



The trail pathway follows the original railroad line built in 1893 by Burlington Northern and abandoned in 1983. It is now among the longest paved "Rails to Trails" in the nation. This new Trail will ultimately link 16 communities between it's source in Brainerd/ Baxter and Lake Bemidji State Park on the north. It is non-motorized, except for snowmobiles. Uses of the Paul Bunyan Trail will include bicycling, hiking, in-line skating, and it is fully accessible for persons with disabilities. The Trail showcases area pine forests, sparkling lakes, colorful wildflowers and wildlife. The user will pass along the shorelines of 21 lakes, through scenic wetlands, and cross bridges over streams and rivers.
---
Lakes:
Lake Name
Size
(acres)
Lake info
Lake Map
Rec Map
Topo Map
1st Little Gulch
11
n/a
2nd Little Gulch
19
n/a
Bass
n/a
n/a
n/a
Garfield
960
Horseshoe
264
Kabekona
2,433
Nelson
40
n/a
Twenty-One
36
n/a
---
Health Care:
---
Schools:
---
Churches:
Christ Gospel Church
State Highway 39
Laporte, MN 56461
Phone: (218) 224-2800

Pastor: n/a
Sunday Worship: n/a

Guthrie Bible Chapel
43948 275th Avenue
Laporte, MN 56461
Phone: (218) 224-2110

Pastor: n/a
Sunday Worship: n/a
Kabekona Community Church
24044 Old Cemetery Road
Laporte, MN 56461
Phone: (218) 224-2827
Web: www.kabekona.org

Pastor: Randy Reimer
Sunday Worship: 10:45 am
Kabekona Free Methodist Church
23576 398th Street
Laporte, MN 56461
Phone: (218) 224-2548

Pastor:
Sunday Worship:
Laporte Community Baptist Church
155 Main Street W
PO Box 177
Laporte, MN 56461
Phone: (218) 224-2542

Pastor: n/a
Sunday Worship: n/a
Malvik Lutheran Church
27689 474th Street
Laporte, MN 56461
Phone: (218) 751-7538

Pastor: n/a
Sunday Worship: 10:00 am

The Malvik Lutheran church congregation was first organized in January of 1897 by Norwegian settlers. Services were held at the Paulson schoolhouse till 1912 when construction of the new church building by Bungashing Creek in rural north east Hubbard county was complete. Over the years, the church has undergone numerous renovations and additions (most recently in 2014) to the structure we have today which includes a full basement and fellowship hall with our chapel.
St Theodore's Catholic Church
580 County Road 39
Laporte, MN 56461
Phone: (218) 224-3135
Web: ccnevislaporte.org/st-theodore-of-tarsus-laporte

Pastor: Fr. Tony Fernando
Sunday Mass: 8:30 am
Trinity Lutheran Church
150 2nd Street NW
Laporte, MN 56461
Phone: (218) 224-2417

Pastor: n/a
Sunday Worship: n/a
---
Media:
---
Motels:
---
Resorts:
Borde du Lac Lodge
34217 County Road 39
Laporte, MN 56461
Phone: (218) 224-2384
Web: www.bordedulaclodge.com



We have over one-quarter mile of shoreline and one hundred acres of land at the northwest part of Benedict Lake in the beautiful Paul Bunyan State Forest. Our land area consists of tall pine, spruce, balsam and white birch trees and wildlife is everywhere! Our cabin areas are mowed and kept clean and neat. In addition to all the lovely trees, We have many varieties of wild flowers, and in their season, wild berries for your picking and eating pleasure.

Pine Beach Resort
39494 County Road 39
Laporte, MN 56461
Phone: (218) 224-2313
Web: www.pbrmn.com

A Minnesota Resort for families, couples and singles alike, Pine Beach Resort and Campground is located in Laporte, MN. Within 15-40 miles of The Headwaters of the Mississippi River,Bemidji, Walker, Cass Lake, and Park Rapids, Minnesota, a vacation at Pine Beach Resort offers a variety of experiences. Many opportunities for dining, shopping at antique malls, Reed's, Gander Mountain, clothing and novelty stores, horseback riding,movie theaters, amusement parks, water slides, a hands on science experience at the Headwaters Science Center, and golf courses including Maple Ridge Golf Course, Tianna Country Club, and Longbow Golf Club.
Point of Pines Resort
27930 County Road 37
Laporte, MN 56461
Phone: (218) 224-2227
Web: www.pointofpinesresort.com



Welcome to Point of Pines Resort & Lodge on beautiful Kabekona lake . Kabekona lake is known for its trophy walleye and northern pike, also abounds with small mouth bass and rock bass. Kids enjoy catching perch, rock bass and the occasional big game fish right off our docks. We carry the live bait and gas you will need. Our clean, clear waters invite you for swimming, jet skiing, canoeing, paddle boating, and the like, or just relax on our nice sandy beach.
---
Campgrounds:
Gulch Lakes Campground
E Gulch Forest Road
Laporte, MN 56461
Phone: (218) 266-2100



Located in Paul Bunyan State Forest, managed by Lake Bemidji State Park. The 14 campsites are considered "primitive," designed to furnish only the basic needs of the camper. The campsites consist of a cleared area, fire ring, and picnic table. Vault toilets, garbage cans, and drinking water are available. The campground and day-use area is located in a game refuge and non-motorized recreation area. No ATV use. Cluster of small lakes, water access, fishing, two picnic sites.
---
Businesses:
371 Cafe
533 1st Avenue NW
Laporte, MN 56461
Phone: (218) 335-2687
3rd Base Bar and Grill
330 1st Avenue NW
Laporte, MN 56461
Phone: (218) 224-3856
Web: 3rdbasebar.weebly.com
Adam Smith Construction
43741 County Road 45
Laporte, MN 56461
Phone: (218) 224-3568
Advantage Carpet Cleaning
25642 County Road 93
Laporte, MN 56461
Phone: (218) 224-3569
Affordable Towing & Recovery
44271 275th Avenue
Laporte, MN 56461
Phone: (218) 224-3869
Aspen Plumbing Service
19101 County Road 118
Laporte, MN 56461
Phone: (218) 766-6997

Bayside Plumbing
6715 108th Street NW
Laporte, MN 56461
Phone: (218) 444-6548
Web: www.baysideplumbingmn.com



Bayside Plumbing has been offering plumbing services throughout Northern Minnesota the past 25+ years. It is our goal to provide professional service to both residential and commercial property owners at an affordable price.

Bob's Boat Storage & Repair
31284 County Road 30
Laporte, MN 56461
Phone: (218) 224-2505
Borde du Lac Lodge
34217 County Road 39
Laporte, MN 56461
Phone: (218) 224-2384
Web: www.bordedulaclodge.com



We have over one-quarter mile of shoreline and one hundred acres of land at the northwest part of Benedict Lake in the beautiful Paul Bunyan State Forest. Our land area consists of tall pine, spruce, balsam and white birch trees and wildlife is everywhere! Our cabin areas are mowed and kept clean and neat. In addition to all the lovely trees, We have many varieties of wild flowers, and in their season, wild berries for your picking and eating pleasure.

Brian's Log Furniture
11291 390th Street
Laporte, MN 56461
Phone: (218) 224-3443
Web: www.brianslogfurniture.net



Brian offers you quality furniture that is handcrafted and customized just for you, Brian offers the clean pine look , skipped peeled and now Cedar, all furniture is made to your preference.

BWB Ranch
34445 County Road 39
Laporte, MN 56461
Phone: (218) 821-1602
Web: www.bwbranch.com



Country weddings have a very special charm to them. There is a certain calm pace of life that people find in the country. BWB Ranch is set on 120 acres of high rolling hills full of white pine, maples and various hardwoods giving spectacular show of fall color with a stellar view of nature! BWB Ranch venues allow brides and grooms to tailor make their special day according to their individual style. Full of vintage charm, BWB awaits you on your wedding day!

Camp Birchwood
6983 N Steamboat Lake Drive NW
Laporte, MN 56461
Phone: (218) 335-6706
Web: www.campbirchwood.com



Perched on the shores of sparkling Steamboat Lake - a 600-acre body of water in Minnesota's "Northwoods" - Camp Birchwood is a 3.5 hour's drive north from the Twin Cities. Nestled atop a white-sandy beach surrounded by tall, fragrant pine trees, Camp Birchwood enjoys scenic vistas of Steamboat Lake from morning to night. Rarely visited by outside anglers or boaters—Steamboat is a pristine, quiet lake known for its peaceful surroundings and sparkling clean waters. Its shallow, gradual slope to the center allows its waters warm up quickly in May, offering a full summer's worth of fun and comfortable aquatic amusement.

Chickadee Farm
31463 County Road 16
Laporte, MN 56461
Phone: (218) 224-2186

Chickadee Farms has been family owned and operated since 1991. We specialize in all metal, squirrel and critter proof bird feeders that will last for years and years. Our reputation is based on quality, reliability, durability and economy. We will go to any lengths to satisfy our customers.

City Sanitary Service
34506 Musky Drive
Laporte, MN 56461
Phone: (218) 547-3633
Corson Inc.
40674 County Road 36
Laporte, MN 56461
Phone: (218) 224-2718
Country Cottage
23524 470th Street
Laporte, MN 56461
Phone: (218) 224-2768
Dale's Septic
38795 County Road 36
Laporte, MN 56461
Phone: (218) 224-2369
Degrote Construction
33421 County Road 31
Laporte, MN 56461
Phone: (218) 224-3574
Donat's Repair
23958 480th Street
Laporte, MN 56461
Phone: (218) 751-3088
Downare Roofing
30696 County Road 30
Laporte, MN 56461
Phone: (218) 224-2749
Embellished Cowgirl Boutique
20260 County Road 118
Laporte, MN 56461
Phone: (218) 854-7488
Web: www.embellishedcowgirlboutique.com
Floor Zone
31930 State Highway 200
Laporte, MN 56461
Phone: (218) 224-2828

Floor covering sales and installation. Carpet from Mohawk and Shaw. Vinyl from Congoleum and Armstrong. Laminate, hard wood, and engineered wood from Mohawk. Ceramic and Porcelain tile from Daltile, Mohawk,and Katelo. Lots of in-stock carpet, vinyl and tile. As well as remnants and bound area rugs. Open Monday-Saturday. Sunday by appointment.

Forestedge Winery
35295 State Highway 64
Laporte, MN 56461
Phone: (218) 224-3535
Web:

www.forestedgewinery.com

Stroll along our nature trails, visit our gift shop, view local art displayed in our gallery, and taste our elegant wines. Stay for an hour or the whole day. Remember to take some Forestedge Wine home to share with friends and family.

Forseman Construction
40988 County Road 45
Laporte, MN 56461
Phone: (218) 224-2275
Web: www.forsemanconstructionllc.com



Building our homes for you one home at a time. As a licensed builder Forseman Construction can offer you the best advice and building for your project. We know what it means to build a home unique to you and your tastes. We do projects ranging from full home construction all the way to small repair work. We take the most pride in being able to work with clients intent on improving the energy effiency of their homes.

Gifts O' The Wild
47974 US Highway 71
Laporte, MN 56461
Phone: (218) 224-4914



Specializing in wild rice, Minnetonka moccasins, and Native American items.

Gladen Construction
40739 US Highway 71
Laporte, MN 56461
Phone: (218) 224-2237
Web: www.gladenconstructioninc.com



Gladen Construction, Inc. is a third generation, family owned company located in north central Minnesota. Our clients are both public and private entities in the tri-state area of Minnesota, North Dakota and South Dakota. The projects consist mainly of highway construction, installation of underground utilities and other earthwork.

Grandy Inc.
42488 315th Avenue
Laporte, MN 56461
Phone: (218) 224-3888
Halo Salon
150 Central Avenue S
Laporte, MN 56461
Phone: (218) 224-3621
Hooker's Cabinet Shop
46225 US Highway 71
Laporte, MN 56461
Phone: (218) 224-2232
In-Plant Printing Service
36591 County Road 39
Laporte, MN 56461
Phone: (218) 224-3185
James Janitorial Service
44224 Rail Road
Laporte, MN 56461
Phone: (218) 224-3430
Joe's Northwoods Pest Control
48364 County Road 45
Laporte, MN 56461
Phone: (218) 444-7060
John's Backhoe Service
37306 County Road 39
Laporte, MN 56461
Phone: (218) 224-3236
Kabekona Accounting
Laporte, MN 56461
Phone: (218) 224-2444
Web: www.kabekonaaccounting.com



With 35 years of tax preparation you can be assured that your taxes will be prepared correctly at a reasonable rate. Need advice on setting up your business books? We can help with reasonable rates for small business bookkeeping. Located 16 miles south of Bemidji at Kabekona Corner.

Kabekona Greenhouse
35563 Moonback Drive
Laporte, MN 56461
Phone: (218) 224-2268
Kabekona Kennels
23944 420th Street
Laporte, MN 56461
Phone: (218) 209-5300
Kabekona Kustom Boats and Storage
26903 346th Street
Laporte, MN 56461
Phone: (218) 224-3457
Kelly Hanson Construction
24580 470th Street
Laporte, MN 56461
Phone: (218) 444-9203
Kent Reeve Locksmithing
32915 MeadowView Drive
Laporte, MN 56461
Phone: (218) 224-2252
Web: www.kentreevelocksmithing.com



Kent Reeve Locksmithing has a long history of providing professional locksmith services, quality security products, expert installation and service to the Northcentral Minnesota area. We invite you to join our long list of satisfied customers! Your security is our only business!

Laporte Grocery
20 East Main Street
Laporte, MN 56461
Phone: (218) 224-2202
Web: www.laportegrocery.com



Laporte Grocery & Meats has everything you need. Sit down and have a burger at our Small Town Grill or try one of our extra cheesy take & bake pizzas. Stop by next time you're on the bike trail and try an ice-cream cone or smoothie. We've also got fine meats, delicious bakery products, fresh produce, movie rental, and supplies for hunters and anglers.

Laporte Styling
35211 Maidenhair Drive
Laporte, MN 56461
Phone: (218) 224-2460
Lighthouse Lodge
40294 County Road 4
Laporte, MN 56461
Phone: (218) 224-3429
Web: /www.lighthouselodgeinc.com



Lighthouse Lodge Inc. has 5 homes that have 24/7 staffing to help fit the needs of individuals who are developmentally disabled. Lighthouse Lodge acknowledges the intrinsic value of each individual, regardless of position. We strive to acknowledge each person's need for respect, privacy, meaningful work, recreation, community involvement and lasting friendships. The primary goal of our program is to provide and facilitate the best possible living situation for each individual we serve. We achieve this by meeting their need for a home where emotional, spiritual, and physical needs are fully met.

LLB Decorative Concrete
6954 108th Street NW
Laporte, MN 56461
Phone: (218) 547-4040
Lowell's Tire & Oil
39946 US Highway 71
Laporte, MN 56461
Phone: (218) 224-2411
Web: www.lowellstire.com



Our locally owned and operated shop is right down the road! Pay us a visit during our convenient weekend hours, and enjoy affordable prices on all kinds of tires.

You can count on us for quality products, because we're the authorized and certified source! Buy from our team and enjoy the protection of our service GUARANTEE.

Mag Graphics
23567 398th Street
Laporte, MN 56461
Phone: (218) 209-7007
Michael R. Ruffenach Attorney
23665 Otter Drive
Laporte, MN 56461
Phone: (218) 751-6116
Mike's Auto Salvage & Auto Body
46181 US Highway 71
Laporte, MN 56461
Phone: (218) 227-2850
Miller's Gas and Service
10 Central Avenue S
Laporte, MN 56461
Phone: (218) 224-2774
Mobile Repair Service
48190 County Road 36
Laporte, MN 56461
Phone: (218) 751-1722
Web: www.mobiletrucktirerepairbemidjimn.com



Certified Vehicle Repair Services The ASE-certified mechanics from Mobile Repair Service and Equipment Inc. can repair your automobile, trucks, tractors, and other utility and forestry equipment.

Mommykins Creations
23654 398th Street
Laporte, MN 56461
Phone: (218) 224-2444
Mother Earth Sanctuary
23665 Otter Drive
Laporte, MN 56461
Phone: (218) 224-2414
Web: www.motherearthsanctuary.org



Mother Earth Sanctuary is dedicated to developing and growing sustainable food throughout the Northern Minnesota area. With the desire to live a Green life growing, many people are looking for alternatives to chemical and tilled based food production, or traditional agriculture. Through the use of permaculture sustainable food methods, use of companion crops and natural water sources, Mother Earth Sanctuary is able to supply and teach proper growing techniques and outcomes.

North Country Custom Cabinets
36860 County Road 39
Laporte, MN 56461
Phone: (218) 444-4896
North Country Electrical Service
27766 County Road 37
Laporte, MN 56461
Phone: (218) 224-2704
Web: www.ncesi.net



North Country Electrical Services, Inc. is a full-service electrical contractor serving commercial, residential, and industrial properties throughout Northern Minnesota. From remodeling and upgrades to electrical maintenance and troubleshooting, we're specialists in the service and installation of electrical systems and the latest technology.

Northern Industries of Laporte Inc
28407 Maple Lane
Laporte, MN 56461
Phone: (218) 224-2659
Northwoods Log Homes Inc
36303 County Road 39
Laporte, MN 56461
Phone: (218) 224-2251
Peddler
23528 398th Street
Laporte, MN 56461
Phone: (218) 224-3369
Pine Beach Resort
39494 County Road 39
Laporte, MN 56461
Phone: (218) 224-2313
Web: www.pbrmn.com

A Minnesota Resort for families, couples and singles alike, Pine Beach Resort and Campground is located in Laporte, MN. Within 15-40 miles of The Headwaters of the Mississippi River,Bemidji, Walker, Cass Lake, and Park Rapids, Minnesota, a vacation at Pine Beach Resort offers a variety of experiences. Many opportunities for dining, shopping at antique malls, Reed's, Gander Mountain, clothing and novelty stores, horseback riding,movie theaters, amusement parks, water slides, a hands on science experience at the Headwaters Science Center, and golf courses including Maple Ridge Golf Course, Tianna Country Club, and Longbow Golf Club.
Pine Valley Trophy Case
24330 480th Street
Laporte, MN 56461
Phone: (218) 751-9624
Web: www.customengravingminnesota.com
Point of Pines Resort
27930 County Road 37
Laporte, MN 56461
Phone: (218) 224-2227
Web: www.pointofpinesresort.com



Welcome to Point of Pines Resort & Lodge on beautiful Kabekona lake . Kabekona lake is known for its trophy walleye and northern pike, also abounds with small mouth bass and rock bass. Kids enjoy catching perch, rock bass and the occasional big game fish right off our docks. We carry the live bait and gas you will need. Our clean, clear waters invite you for swimming, jet skiing, canoeing, paddle boating, and the like, or just relax on our nice sandy beach.

Popple Bar
230 Central Avenue S
Laporte, MN 56461
Phone: (218) 224-2281



Beautiful view from back patio of Garfield Lake. Enjoy lunch and glass of wine. ( Under new ownership)

Rocky Meadow Farm
26055 450th Street
Laporte, MN 56461
Phone: (218) 224-2484
Web: www.rockymeadowmn.com



Rocky Meadow Farm is a professional horse training facility located in Northern Minnesota that is owned and operated by trainer Leah Rogers-Boucher. Leah has been training horses for over 10 years. While Leah starts and trains horses of all kinds, her talent lies in developing young horses into capable, versatile show horses that are of sound-mind and excellent work ethic.

Shepard Excavating
42554 County Road 45
Laporte, MN 56461
Phone: (218) 760-7341
Web: www.shepardexcavating.com



From land clearing to demolition, we can help you with your next project. If you are making room for a new field or pasture, or want to clear up construction space, we can make it happen. You can work with a team that is fully dedicated to meeting your specific needs. We offer the best septic services in the area, with expert maintenance and affordable repairs. Let us help you with complete septic service and your system will run great for years to come.

Shot Guide Service
29229 470th Street
Laporte, MN 56461
Phone: (218) 224-2951
Spicer Stained Glass Studio
42964 County Road 45
Laporte, MN 56461
Phone: (218) 224-2123
US Post Office
80 Main Street East
Laporte, MN 56461
Phone: (218) 224-2462
Web: www.usps.com
---
Aerial Map:
---
Topographic Map: