Navigation
LakesnWoods.com
Home Page
Contact Us
Privacy

Lanesboro Guide:
Photo Gallery
Location
Geography
Demographics
History
Government
Post Office
News
Weather
Street Map
Events
Attractions
Recreation
Lakes
Health Care
Schools
Churches
Media
Motels
Resorts
Campgrounds
Businesses
Aerial Photo
Topographic Map
© 2004-2023
Lakeweb1 Internet Services
All Rights Reserved
DCMA, Defamation, Copyright and Trademark Infingement Policy
WANTED!
Do you have photos, historical accounts or other items pertaining to the Lanesboro area? Would you like to share this historical information with the world? LakesnWoods.com would like to publish your Lanesboro photos (current or historical) or historical accounts on this website. Original materials can be returned and your privacy will be respected.

Lanesboro, Minnesota Gallery
---
---
---
---
---
---
---
---
---
---
---
---
---
---
---
---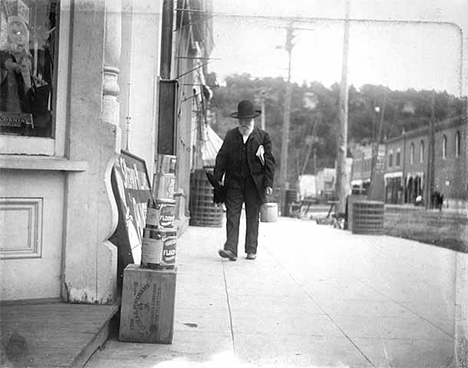 Dr. J. C. Hroslef on sidewalk of Lanesboro business street, Lanesboro, Minnesota, 1900s
Courtesy Minnesota Historical Society - click image to enlarge or purchase
---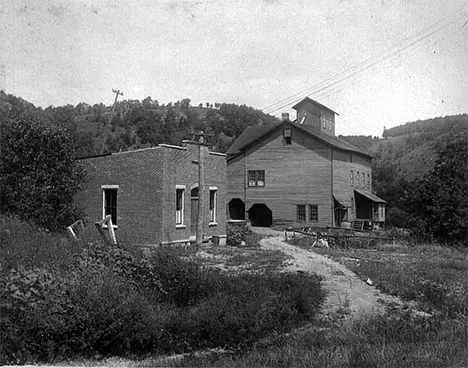 Lanesboro village electric plant and flour mill, Lanesboro, Minnesota, 1900s
Courtesy Minnesota Historical Society - click image to enlarge or purchase
---
---
---
---
---
Steam Railroads of
Northern Iowa and Southern Minnesota
Steam railroading became an integral part of the communities in northern Iowa and southern Minnesota in the late 1800s. The railroad provided hundreds of jobs and the ability to transport both goods and passengers across the Midwest. The Chicago & North Western Railway, the Chicago Great Western Railroad, the Minneapolis & St. Louis Railway, the Chicago, Rock Island, & Pacific Railroad, and the Chicago, Milwaukee, St. Paul & Pacific Railroad (called the Milwaukee Road by employees) served five principal gateways, which included Chicago, Illinois; Minneapolis-St. Paul, Minnesota; Omaha, Nebraska; and Kansas City and St. Louis, Missouri. Operating steam engines required tremendous manpower, and by the 1920s, some steam passenger trains were replaced by more efficient motor cars, fueled by oil-powered engines. Steam engines could no longer compete with the reduced operating costs, smaller crew requirements, and time savings provided by diesel, which ultimately led to the fall of steam in 1955.
Buy This Book Now!
---
---
---
---
---
---
---
---
---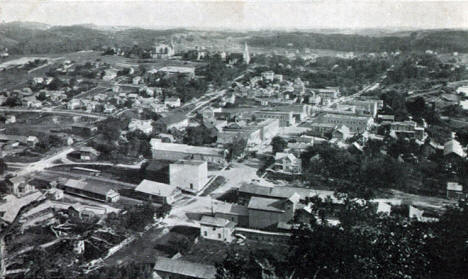 Birds eye view of Lanesboro, Minnesota, 1907
LakesnWoods.com Postcard and Postcard Image Collection- click image to enlarge
---
---
Lanesboro, Minnesota: Historic Destination
In 1942, Pulitzer Prize-winning author Sinclair Lewis wrote that the Lanesboro area was ..".worthy of Vermont in its sturdy quietude. Through all this district, secret little valleys branch off from the major valleys of the Root River, and there is room enough and view enough for 11,000 poets." Promoted in the late 1860s to east coast investors as an idyllic retreat, Lanesboro was established as a resort community and soon realized an impressive boom due to its unparalleled waterpower. Progressing not as a tourist area, but rather along other avenues of commerce, the community once hailed as the 'biggest little town in southeastern Minnesota' fell off the fast track of growth before its charm could be diminished by too much progress. Today Lanesboro's beautiful 1870s downtown is on the National Register of Historic Places, and the entire city is a haven for the arts-a showcase for the natural beauty that Sinclair Lewis touted more than sixty years ago.
Buy This Book Now!
---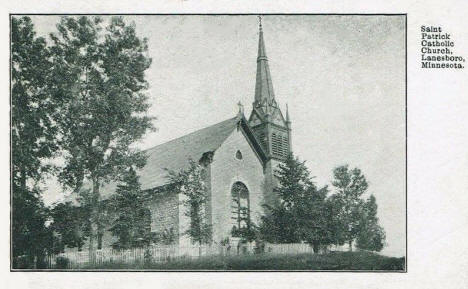 St. Patrick Catholic Church, Lanesboro, Minnesota, 1907
LakesnWoods.com Postcard and Postcard Image Collection- click image to enlarge
---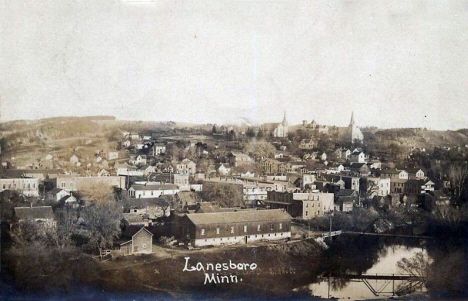 Birds eye view, Lanesboro, Minnesota, 1908
LakesnWoods.com Postcard and Postcard Image Collection- click image to enlarge
---
---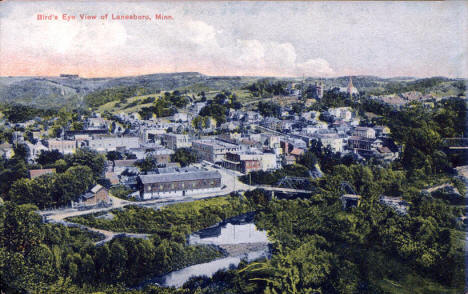 Birds eye view of Lanesboro, Minnesota, 1909
LakesnWoods.com Postcard and Postcard Image Collection- click image to enlarge
---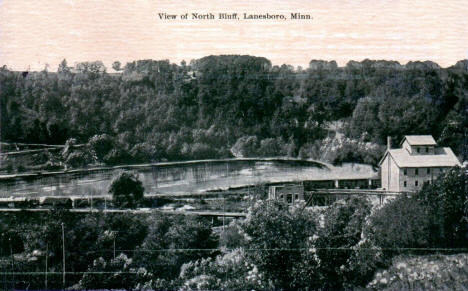 View of North Bluff, Lanesboro, Minnesota, 1909
LakesnWoods.com Postcard and Postcard Image Collection- click image to enlarge
---
---
---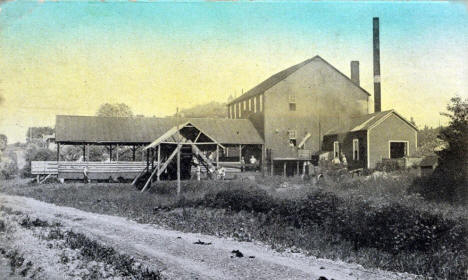 Canning Factory, Lanesboro, Minnesota, 1910
LakesnWoods.com Postcard and Postcard Image Collection- click image to enlarge
---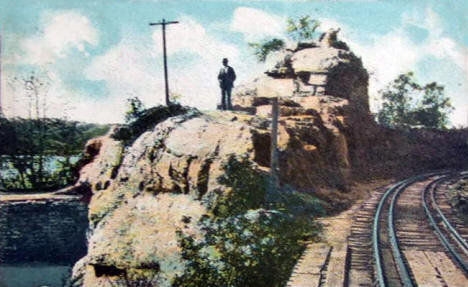 Railroad cut near dam, Lanesboro, Minnesota, 1910
LakesnWoods.com Postcard and Postcard Image Collection- click image to enlarge
---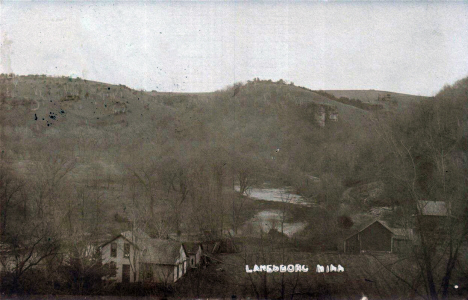 General view, Lanesboro, Minnesota, 1910
LakesnWoods.com Postcard and Postcard Image Collection- click image to enlarge
---
---
---
---
---
---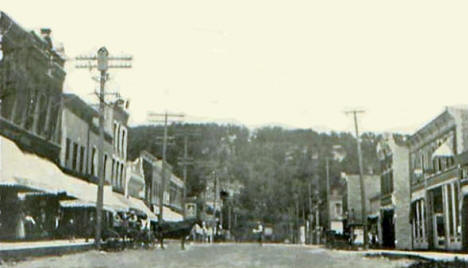 Main Street looking north, Lanesboro, Minnesota, 1910s
LakesnWoods.com Postcard and Postcard Image Collection- click image to enlarge
---
---
---
---
---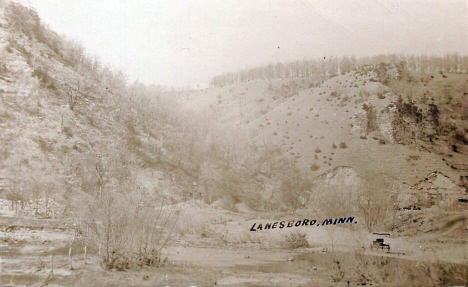 Wagon by Quarry, Lanesboro, Minnesota, 1913
LakesnWoods.com Postcard and Postcard Image Collection- click image to enlarge
---
---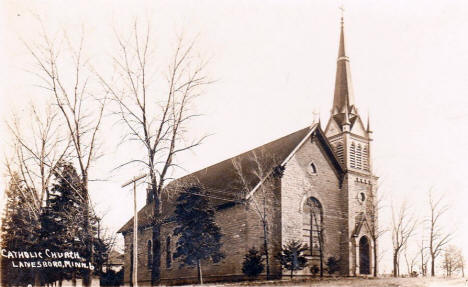 Catholic Church, Lanesboro, Minnesota, 1916
LakesnWoods.com Postcard and Postcard Image Collection- click image to enlarge
---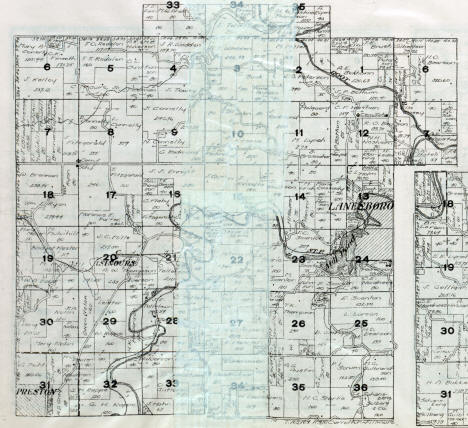 Plat map of Carrollton Township in Fillmore County, Minnesota, 1916
[shows land ownership]
Courtesy John R. Borchert Map Library - click image to enlarge
---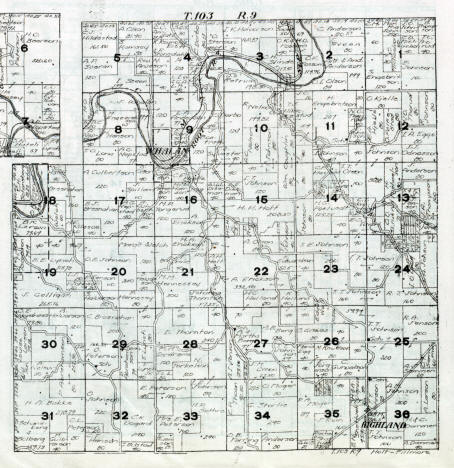 Plat map of Holt Township in Fillmore County, Minnesota, 1916
[shows land ownership]
Courtesy John R. Borchert Map Library - click image to enlarge
---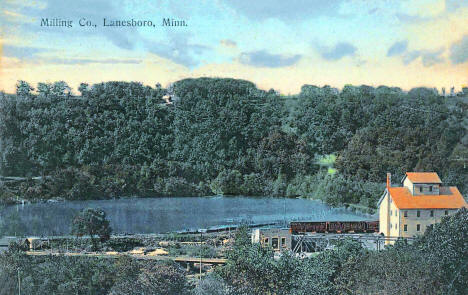 Milling Company, Lanesboro, Minnesota, 1917
LakesnWoods.com Postcard and Postcard Image Collection- click image to enlarge
---
---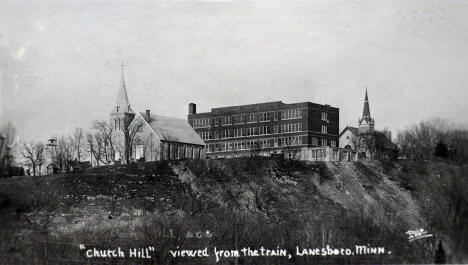 Church Hill viewed from the train, Lanesboro, Minnesota, 1920
LakesnWoods.com Postcard and Postcard Image Collection- click image to enlarge
---
---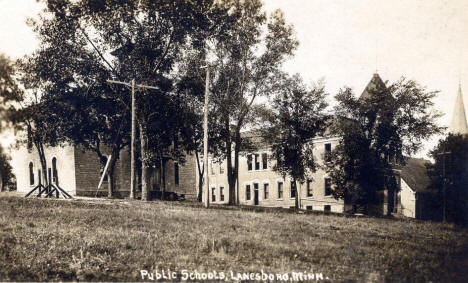 Public Schools, Lanesboro, Minnesota, 1920s
LakesnWoods.com Postcard and Postcard Image Collection- click image to enlarge
---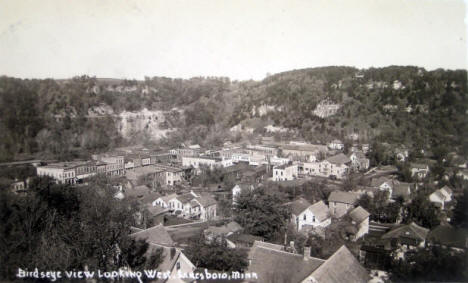 Birds eye view looking west, Lanesboro, Minnesota, 1920s?
LakesnWoods.com Postcard and Postcard Image Collection- click image to enlarge
---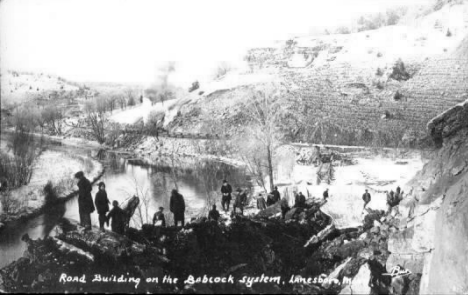 Road Building on the Babcock System, Lanesboro, Minnesota, 1920s?
LakesnWoods.com Postcard and Postcard Image Collection- click image to enlarge
---

High School, Lanesboro, Minnesota, 1921
LakesnWoods.com Postcard and Postcard Image Collection- click image to enlarge
---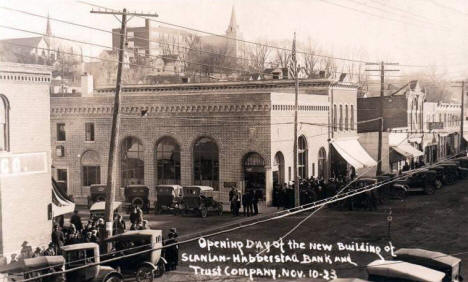 Opening day of the new building of Scanlan Hubberstad Bank and Trust, Lanesboro, Minnesota, 1923
LakesnWoods.com Postcard and Postcard Image Collection- click image to enlarge
---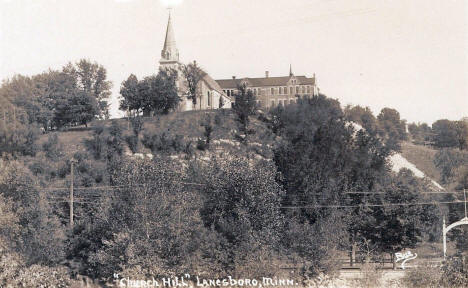 Church Hill, Lanesboro, Minnesota, 1925
LakesnWoods.com Postcard and Postcard Image Collection- click image to enlarge
---
---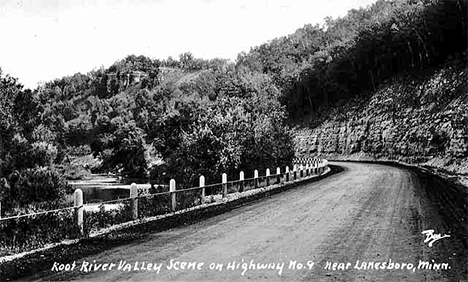 Root River Valley scene on Highway Number Nine near Lanesboro, Minnesota, 1930
Courtesy Minnesota Historical Society - click image to enlarge or purchase
---
---
---
---
---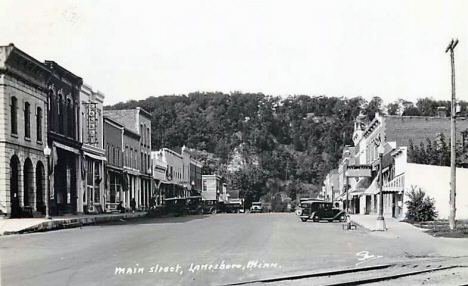 Main Street, Lanesboro, Minnesota, 1940s
LakesnWoods.com Postcard and Postcard Image Collection- click image to enlarge
---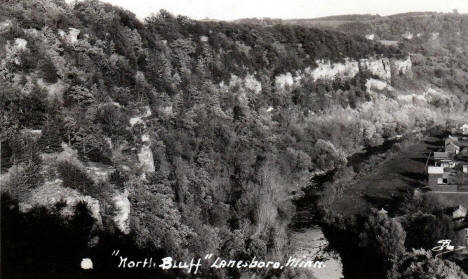 North Bluff, Lanesboro, Minnesota, 1940s
LakesnWoods.com Postcard and Postcard Image Collection- click image to enlarge
---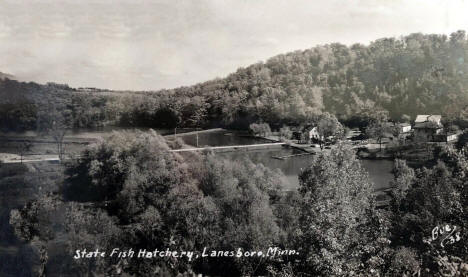 State Fish Hatchery, Lanesboro, Minnesota, 1940s
LakesnWoods.com Postcard and Postcard Image Collection- click image to enlarge
---
---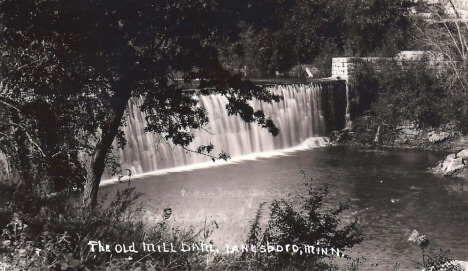 The Old Mill Dam, Lanesboro, Minnesota, 1947
LakesnWoods.com Postcard and Postcard Image Collection- click image to enlarge
---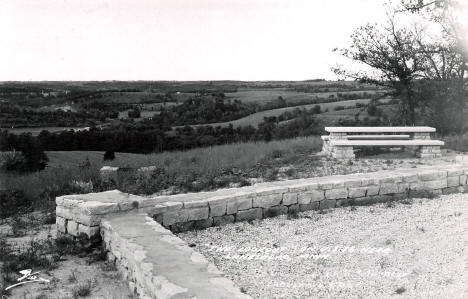 "The Lookout" on US Highway 16 near Lanesboro, Minnesota, 1950s
LakesnWoods.com Postcard and Postcard Image Collection- click image to enlarge
---
---
---
---
---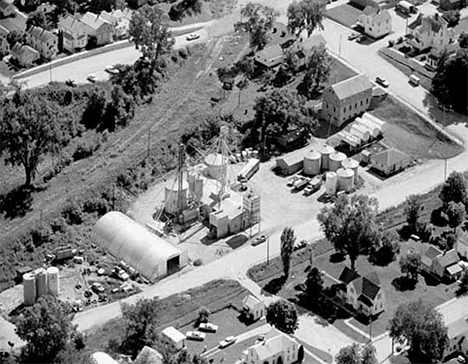 Aerial view, Feed mill and surrounding area, Lanesboro, Minnesota, 1972
Courtesy Minnesota Historical Society - click image to enlarge or purchase
---
---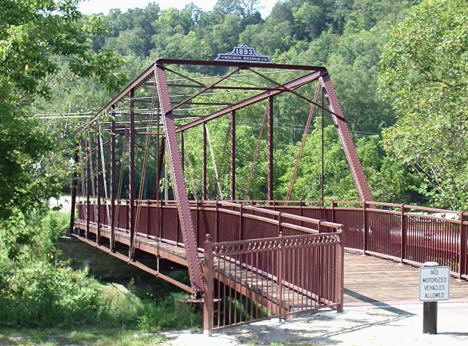 Root River Bridge, Lanesboro, Minnesota, 2004
Courtesy momarques- - click image to enlarge
---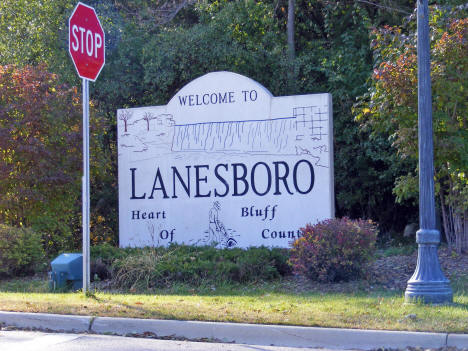 Welcome sign, Lanesboro, Minnesota, 2009
LakesnWoods.com Photo - click image to enlarge
---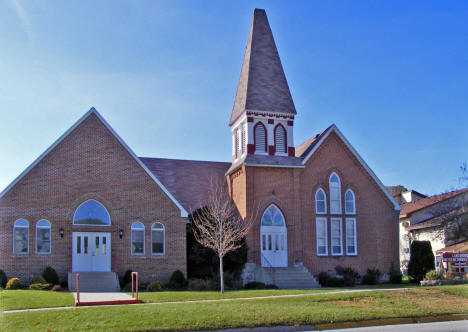 United Methodist Church, Lanesboro, Minnesota, 2009
LakesnWoods.com Photo - click image to enlarge
---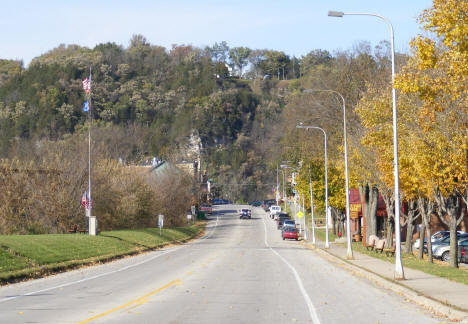 Street scene, Lanesboro, Minnesota, 2009
LakesnWoods.com Photo - click image to enlarge
---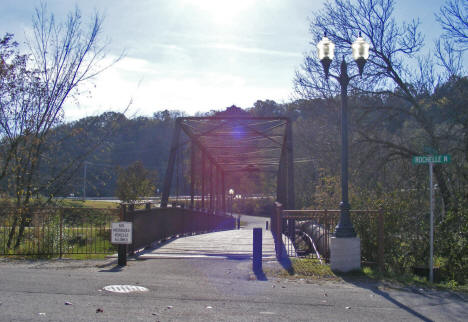 Old Bridge, Lanesboro, Minnesota, 2009
LakesnWoods.com Photo - click image to enlarge
---

Fire Department, Lanesboro, Minnesota, 2009
LakesnWoods.com Photo - click image to enlarge
---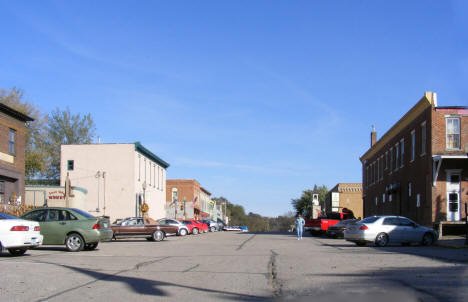 Street scene, Lanesboro, Minnesota, 2009
LakesnWoods.com Photo - click image to enlarge
---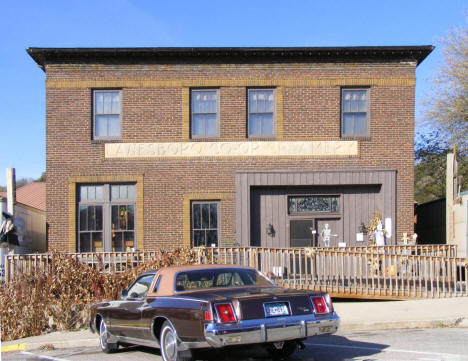 Former Lanesboro Co-op Creamery Building, Lanesboro, Minnesota, 2009
LakesnWoods.com Photo - click image to enlarge
---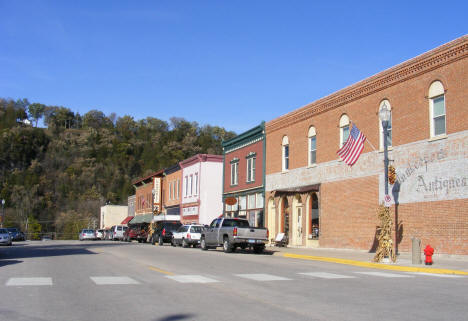 Street scene, Lanesboro, Minnesota, 2009
LakesnWoods.com Photo - click image to enlarge
---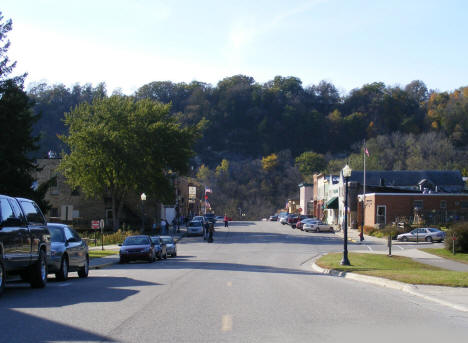 Street scene, Lanesboro, Minnesota, 2009
LakesnWoods.com Photo - click image to enlarge
---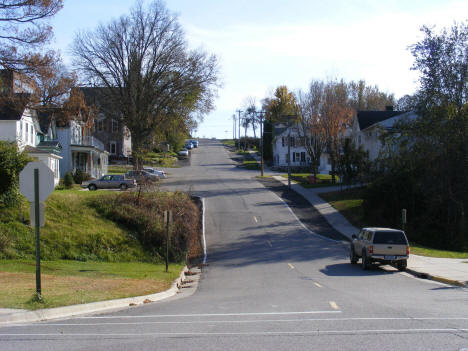 Street scene, Lanesboro, Minnesota, 2009
LakesnWoods.com Photo - click image to enlarge
---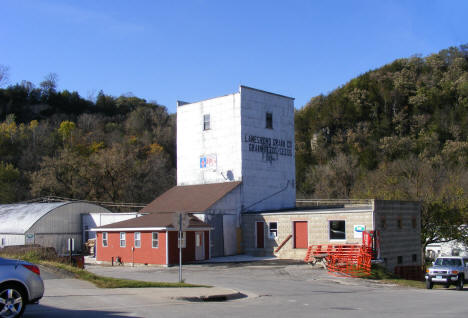 Feed Mill, Lanesboro, Minnesota, 2009
LakesnWoods.com Photo - click image to enlarge
---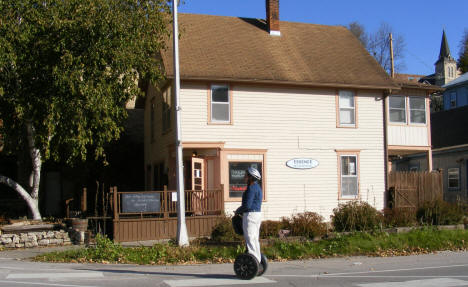 Segway rider touring Lanesboro, Minnesota, 2009
LakesnWoods.com Photo - click image to enlarge
---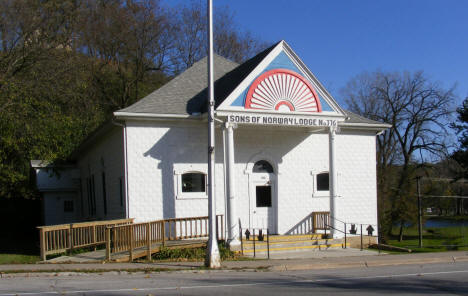 Sons of Norway Lodge, Lanesboro, Minnesota, 2009
LakesnWoods.com Photo - click image to enlarge
---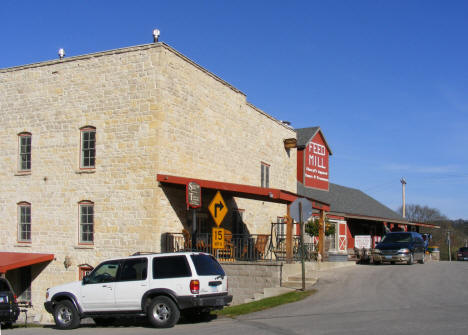 Stone Mill Suites and Old Feed Mill, Lanesboro, Minnesota, 2009
LakesnWoods.com Photo - click image to enlarge
---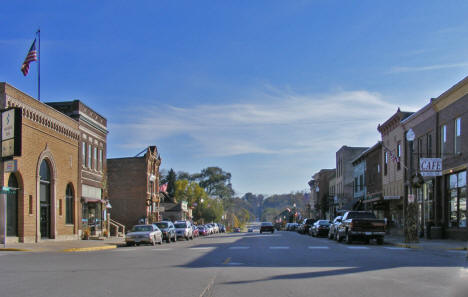 Street scene, Lanesboro, Minnesota, 2009
LakesnWoods.com Photo - click image to enlarge
---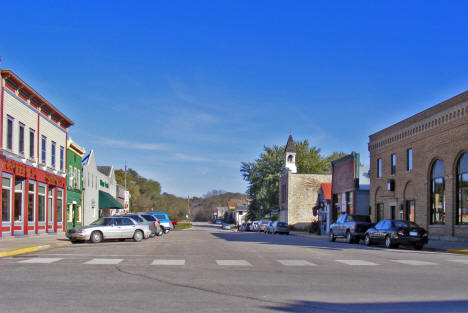 Street scene, Lanesboro, Minnesota, 2009
LakesnWoods.com Photo - click image to enlarge
---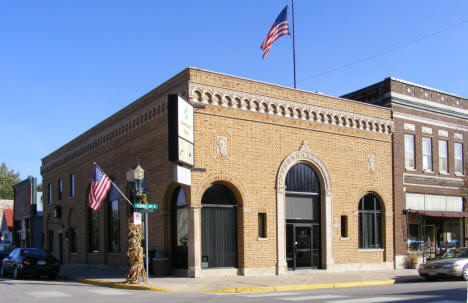 Associated Bank Building, Lanesboro, Minnesota, 2009
LakesnWoods.com Photo - click image to enlarge
---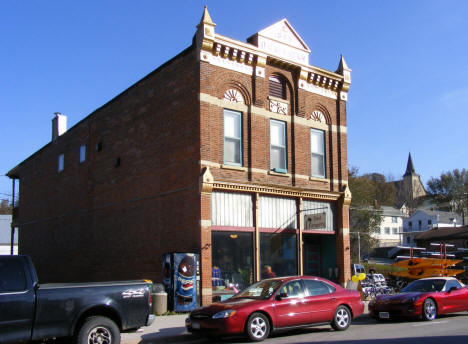 Street scene, Lanesboro, Minnesota, 2009
LakesnWoods.com Photo - click image to enlarge
---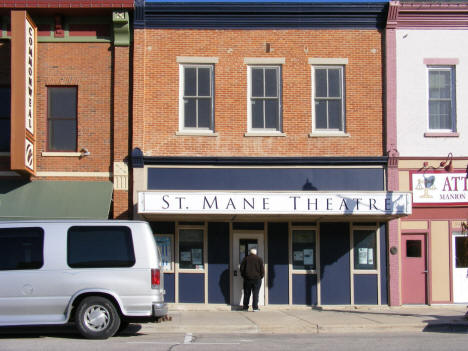 St. Mane Theatre, Lanesboro, Minnesota, 2009
LakesnWoods.com Photo - click image to enlarge
---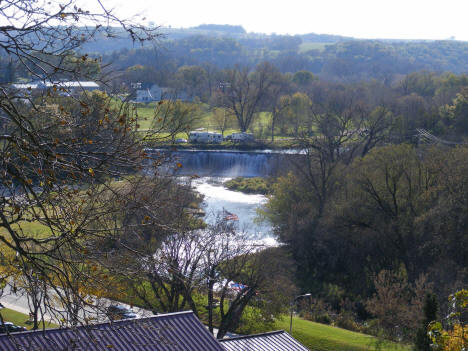 Root River from Church Hill, Lanesboro, Minnesota, 2009
LakesnWoods.com Photo - click image to enlarge
---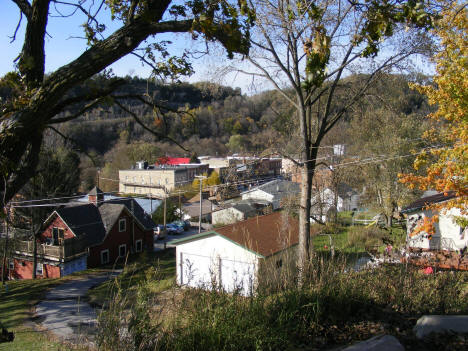 Birds eye view of Lanesboro from Church Hill, 2009
LakesnWoods.com Photo - click image to enlarge
---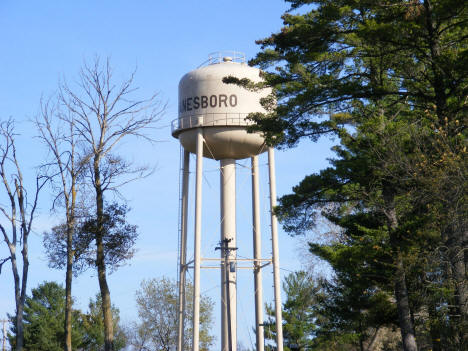 Water Tower, Lanesboro, Minnesota, 2009
LakesnWoods.com Photo - click image to enlarge
---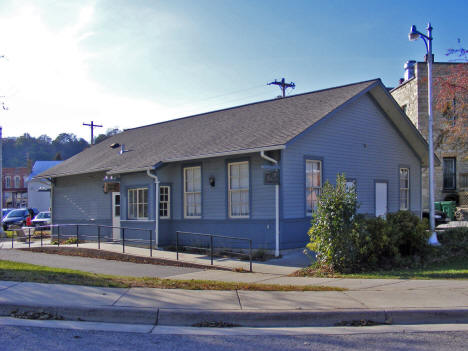 Old Railroad Depot, Lanesboro, Minnesota, 2009
LakesnWoods.com Photo - click image to enlarge
---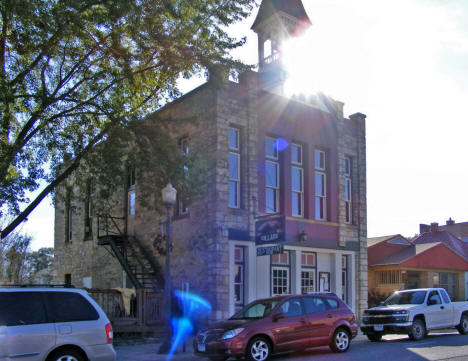 Old Village Hall, Lanesboro, Minnesota, 2009
LakesnWoods.com Photo - click image to enlarge
---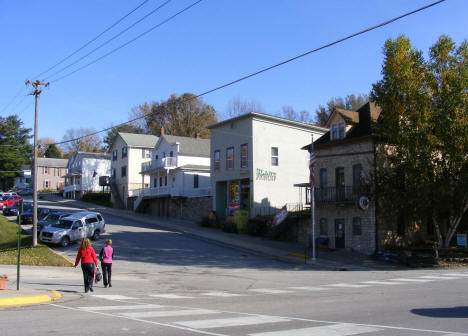 Street scene, Lanesboro, Minnesota, 2009
LakesnWoods.com Photo - click image to enlarge
---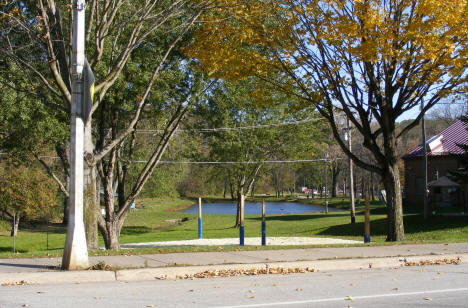 Root River, Lanesboro, Minnesota, 2009
LakesnWoods.com Photo - click image to enlarge
---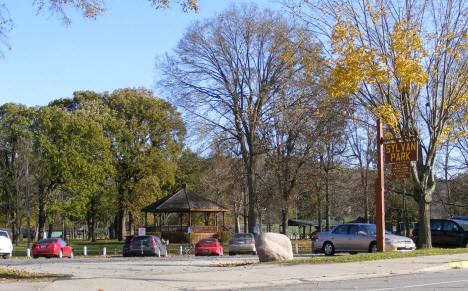 Sylvan Park, Lanesboro, Minnesota, 2009
LakesnWoods.com Photo - click image to enlarge
---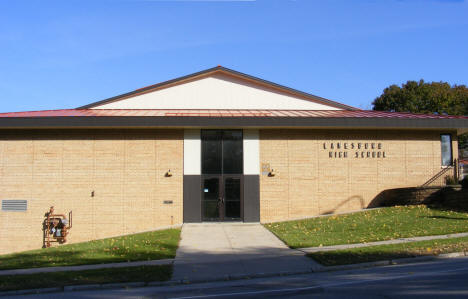 High School, Lanesboro, Minnesota, 2009
LakesnWoods.com Photo - click image to enlarge
---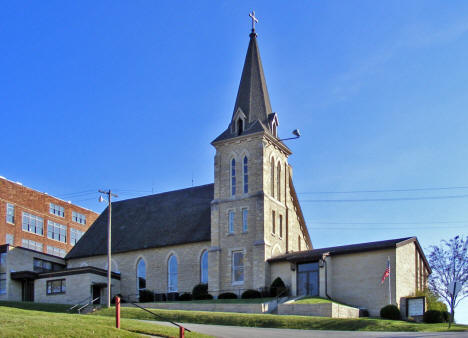 Bethlehem Lutheran Church, Lanesboro, Minnesota, 2009
LakesnWoods.com Photo - click image to enlarge
---
---
---